First full week bicycle touring in Germany | Too much? #02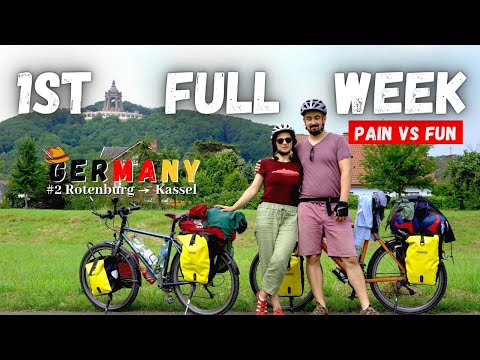 Show Video
Cycling across Germany is our final test. Can we make up with motivation what we lack in experience? We are Arev and Mathias and in this episode we will take you with us on week one of our amazing world bike tour. Amazing? Well see for yourself. As you might remember after cycling over 90 kilometers on the first day, we had just arrived in Rotenburg Wümme, tired and late in the evening. We just did spent a very nice evening with our first warmshowers host Lutz. He did some cooking, we did some guitar playing and singing… Yep, it got a little late, as we had a great time with Lutz.
Though he had not yet been on a big bicycle tour himself, that did not stop him from inviting many other cyclists into his home. It is always exciting to get to know someone, and it seems like warmshowers is a fantastic way to meet people with a great attitude. After all they like cycling! While it takes some effort using a platform like this, we loved it and will definitely do it again.
After a short, but restful night on a comfy couch, we shared a nutritious breakfast together and swung ourselves back on the saddle. Our general idea is to follow the Weser river south for the coming days. Our time-frame to reach Freiburg is about two weeks, as we would like some time to spend with friends and family.
We will need to cover close to 1000 kilometers in total, roughly 80 kilometers every day, or even more if we want to take some breaks along our way. As you probably know from our last episode, we are not exactly in a good shape, so hugging rivers and avoiding mountains is kind of anecessity for us. We made it to the Weser… … and the Weser-Radweg, one of Germany's many long-distance cycling routes, stretches over 500 kilometers.
It follows the river from Hannoversch Münden all the way to Cuxhaven at the North Sea, but we will follow it the opposite direction. Apparently, it is also one of the most popular ones and it is easy to understand why: It passes a lot of picturesque landscapes, is rather flat, continuously paved and keeps a healthy distance to busy roads. Even though Germany is quite a car country, many people enjoy cycling, at least as a leisure activity. Right now in the second half of July it is very busy.
That is why I was sometimes afraid to cause an accident. Our fully-loaded bikes are pretty wide and as a beginner cyclists I need even more space. So, when we pass other cyclists, it is stressful for me, especially if they carry panniers as well or shoot past me on super fast e-bikes. But meeting plenty other cyclists has also many advantages: you will not get lost easily and if you would need help it is easy to find someone. Also you don't have to search for a long time to find a nice place for a comfortable break.
All along the river there are wooden benches and tables, where a hungry and tired cyclist can sit, listen to the river, the birds and enjoy a simple meal. Furthermore, there are many official camp grounds as well. End of the normal life and here begins the Campingplatz. Where to? Bicycles to the left! So, I think we'll stay here. This is a really nice place with a table and this nice lake, and its really easy, because there is nobody here for the registration. So, this is the information desk, here are the prices, and you just write your name and throw the money here.
Really uncomplicated, I love this system. Oh, they even have their pen. Yeah, great. Have you forgotten anything? Oh, by bike? Ooops... Really beautiful... This is the first time a have a trip in Northern Germany and I'm really fascinated how green it is here, and that they take care of nature so much, yeah, it's really nice here.
Where do you want to camp? We can put the tent here, then we don't get very much sun in the morning. But then the tent will be very wet. You think so? I mean, we want to get up early anyway.
Let's put the tent! Good morning! Mathias, what are you up to? I'm trying to get our batteries charged. Apparently this one is just got charged. That's very good. And, yeah... I'm looking forward to reach the 200 km mark today, may be even more.
If we are really good, we could do 250km. Yeah let's try that.. I slept too long, I was lazy in the morning, my wife is angry with me, now I have to make up for it.
What is the next stop? The next stop is that we... -Post station.. To get rid of some stuff. We have a little... not just a little... - actually one bag full of stuff that we don't need. So probably 5 or 4 kg less weight, which will be great and also more room to stuff things... - That we don't need. Actually we need may be more space for food, so we don't have to buy food every day...
... and just that the packing goes quicker… What do we need? One of the big questions in the beginning of any journey or maybe even in life. Most of the time we buy things to make our life more comfortable. Obviously it is not just about things, but right now making our lifes easier means less. Of course we read some guides that pointed out the stuff that you need on a bike tour.
While packing our gear we already knew in theory that less is more, but bringing certain items gave us an illusion of security and at the time that was a big need too. Long story short, we packed too much. And that was a rookie mistake.
One important note: We had been living together in a one room apartment for years and, though we had figured out our life together pretty well, turns out, when you put your way of life upside down you face a considerable amount of potential and actual disagreements in your partnership as well. Things we sent home: about 4 kilograms of clothing, sanitary products and equipment, that seemed critical to our survival just three days ago and yet, suddenly they turned out to be a heavy annoyance at best. Our comfort zone starts to shift.
Getting rid of stuff feels great, not only while on the bicycle. In the evening of day 3 we reach Minden. Since our first experience being hosted went so well, we thought we do it again. We found a nice host at the Warmshowers, but we need to do a COVID Test, before we go to him. Now we are at the Test Center. We are outside in the fresh air most of the time, but how goes the saying? Better safe than sorry! This is the city Minden.
And our next stop is in an Italian restaurant, where our host is waiting for us. He is actually having a dinner with a friend. And everything was very spontaneous today, so we are also invited to this dinner. I think, now we are going to have dinner and then take a shower. Good morning, we are starting in Day 4, we just left Minden, where we had a great night with Norbert and Iris, our warmshower hosts and we are about to enter Porta Westfalica.
Arev, dear, how are you feeling today? I'm actually still fine and my muscles and my butt are fine, but I'm a little hungry, Hungry? OK! I don't know why. Well, we just had breakfast. May be it's the cycling you know? That we are very hungry ppl. Yes. First task of the day will be finding a supermarket here in Porta Westfalica, which we are about to enter and get some supplies for the day, the journey ahead.
We are hitting 245 kms total from the Hafencity to where we are right now. We will cross 300 kms at least today. and then we will see, what our butt situation is and everything.
We continue our journey. The villages here are beautiful, green, quiet and clean. The conditions are perfect! Sunny, warm and long summer days are just what we need to get to Freiburg in time. But, we start to feel some fatigue and have to make more and more short breaks.
So, right now we are licking our wounds in Minden… Minden? I think so! I think, this is Minden. No, we were in Minden this night… What is this then? Okay! It's a bigger city, anyways it's on the Weser. I don't know, may be it's not Minden. It's 30km more to go to our camping site, right now I'm not sure, if we can make it.
We are in a lot of pain, are tired. Tomorrow we really need to do a very slow, easy day. Even though we kind of realized on the very first day that we should pay more attention to our physical limits, we are still determined to reach our goal. The pressure is definitely there. If we can not even make it to Freiburg in two weeks, how are we going to cycle around the world?! We have to make it! This is so easy in comparison! We do not speak about it openly, but it is what keeps us pushing.
We just hit the 300km mark. I guess, this should by now officially be our longest tour so far. Yeah, and it's one third of the planned route.
Our longest tour so far had been last summer at the Baltic Sea, where we did close to 200 kms in 3 days. Since then we barely cycled, but that is no excuse! We are excited to get further and further. For years we have been saving up for this.
Now that we are so close to the big journey we can't give up just because we are tired or have some pain! So, now we are not that far from the camping site, but first we should go to the supermarket to buy some food. I have the feeling, we didn't do anything today... Sure, we have to take it much slower now. Our bodies demand frequent breaks. We rarely manage to ride for a whole hour at a time. Butt, back, wrists, neck, knee, basically everything hurts.
First news of the day, it's Arev's birthday which I totally not forgot. Because yesterday I had to check in at this camping site and they wanted to know the birthday of my wife and I figured oh, that's in couple of hours. But at least she had a very good sleep, I try to be a very nice husband today. Where are we? We are in Bewerungen, still at the Weser...
When I married you, I hoped you would be a very nice husband every day. Oh, okay well, what can you do... We are still at Weser river, we will continue upwards, but will leave it very soon, because we decided to do a little shortcut to get to Kassel. 25 km less way ahead of us, which will be a little more hilly obviously.
Also we learned today that Arev's… I don't know what is this called... Where the bandages are, basically here at the back she has pain and we figured it's because I put her saddle too high. When the saddle is too high, she has to stretch the tip of the foot too much, when the pedal is at the down position, so this is why she has pain there. Which you did without asking me. That's my mistake, again, yeah. So we lowered the saddle, and hopefully this will make things a little bit better.
We'll see, how it goes. We'll soon start, we woke up early this morning for the first time, so we'll be able to leave... What is it now? Maybe 9:30… Which is about 2 hours or more than we ever managed to do so far, so... No, that's not true. Once we started at 10 o'clock. Yeah, that was a good day.
Today is an even better day, not only because it's her birthday, also because we start very, very early. After following the river for 4 days, we turn southwest towards Kassel on day six. Our previous tours had been limited to mostly flat terrain. Therefore, the first climbs present us with new challenges. At the start, I weighed just under 100 kgs.
My bike comes to almost 20 kg empty, plus the luggage, food and water. We didn't weigh it, but all in all probably over 150 kg, certainly more than Arev. As a result, she pulls away with ease on every climb, making fun of me in the process.
While the first hills are quite hard for us, there are of course some nice side effects to riding cross-country. It is a welcome change to get unleashed from the river and after a tedious climb, the following descent is almost effortless. It's a fantastic feeling when we blast through the countryside.
The wind whirls around our heads and dries off the sweat at the same time. In these moments everything is just amazing. Day 6 of our journey, we have a slight headwind for the first time, which I can tell already isn't fun at all… Yeah, we have another 26 kms to Kassel, that's a good thing, but I'm really struggling today, I have a little pain in my right knee, I think some rest is desperately needed. Hopefully we get some today, right early… not at 8 or 9 in the evening… may be we'll need to plan ahead, because in 2 days approx. we'll hit mountains, like real mountains with more than 1200m elevation and with that baggage I'm not really looking forward to that, to be honest, we will see….
So, how are you feeling today? As you can see from my face and from my feet, I think. Swollen ankles. Swollen, yeah.
I think we desperately need a break, at least one day no cycling, 6th day now… Actually 420 kms since Hamburg, we'll do another 15 today, so 435, which is about half the distance towards Offenburg, where we are going to visit my parents. Yeah, I think we deserve a break, let's see. We are closing in on Kassel. Off camera we just started to consider our options.
It's clear to us that we can't continue tomorrow. We are now even discussing whether we should take a regional train for part of our remaining journey. Maybe from Kassel to Mannheim, where we want to visit a good friend.
But just thinking about that feels like self-deception and failure. Beautiful It's still the same day and it's actually raining, tiny little bit, it's refreshing and we are so so tired, that we can only go couple of kms and then we already need another break, so we are still I believe we are half an hour away, we'll rest here and then meet our third Warmshowers host - Dany. We still don't know if we put the tent in his garden, or there is a room free in the flat, we'll see and hopefully we'll celebratea little Arev's birthday…. That was the first week of our not yet so amazing, not yet quite around the world bike tour. Will we end up taking the train? Or can we rest at our host Dani's and his flatmates' place? And would that be enough for our bodies to recover from the unfamiliar strain of the past days or do we have to abandon our dream before it has even begun? Thanks to all of our subscribers! We are overwhelmed by your feedback for our first episode. Thumbs up! It gives us extra motivation to keep going … and do the editing.
The editing feels like cycling on sand... Anyhow if you liked our video, and have not yet subscribed to our channel, it's just one more click. You won't even sweat like us.
Give the bell a swing too and you'll get a little notification and be one of the first to see our next video. That would be amazing! Thanks for staying with us till the end and may the wind be in your back.
2022-12-03 20:32
Show Video
Other news