Finally Arrived in Ajmer Sharif from Jodhpur EP.24 | Pakistani Visiting India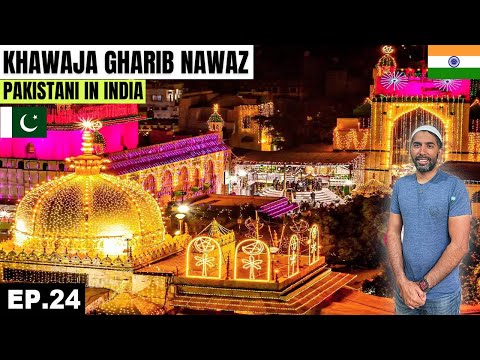 Show Video
For instance, I never had dahi barray in breakfast. There are many such things that we do eat but in the afternoon. Such as jalebi... Right now, you are looking at the Umaid Bhavan Palace.
We have finally reached Ajmer Sharif. Walking through the bazaar... on our way to the shrine. At the shrine of Khawaja Gharib Nawaz. Assalam Alekum. Good morning. Namaste. Sat Sri Akal to everyone from Jodhpur.
It's our third day here. We reached here the day before yesterday and explored the city yesterday. I hope you must have enjoyed that vlog. Right now we are standing at one of the places that we missed yesterday.
This is called Toorji Ka Jhalra; a beautiful stepwell. I already showed you one stepwell in Ahmedabad. You'll find similar stepwells not just in Ahmedabad or Rajasthan but at many other places.
Some of them are so skillfully constructed that they leave you spellbound. After all, it's just a system to store water. Still they put so much thought to it.
This is one of those stepwells. For years, it was hidden from everyone as it had gradually gotten buried. It was only when it was rediscovered that everyone realized how beautiful it was. It's almost 4 to 5 stories deep.
You can use these stairs to go down to the pool. Just like many other buildings in this region, it's made from red sandstone. It was constructed in 1740. As per traditions, the Maharanis were in charge for building stepwells. Most of the stepwells you see in Rajasthan were constructed by the women of the royal family. You'll see beautiful carvings along its sides.
People are busy in cleaning duty early in the day. It's quite well maintained. Today we plan to ride towards Ajmer Sharif which is almost 200 km from here.
However, since the road is in very good condition, we hope to get there in 3.5 hours or so. We have started packing our luggage. We'll just leave and have our breakfast. One of the guys we met yesterday has invited us to his place for breakfast. After that, we'll visit another palace here.
And finally we'll head towards Ajmer Sharif. So lets bid farewell to Jodhpur and start our ride. We are having a goodbye photograph here. Thanks bro. See you again. Bismillah... In the name of Allah...
*Prayer for the journey* We pray for a safe and fun filled day ahead. We pray the same for our viewers. Riding through the streets of old town Jodhpur. Please give us room here. Oops Looks like we have hit this cart.
It's on the move now. Our side pannier touched it. It's gonna take 20 minutes to reach Ataurahman's house.]
Most probably we'll be riding in old town for some time. Then we'll be moving in new town. We've almost reached the clock tower. It will be quite crowded at the moment. Not as crowded as I anticipated.
Google was showing red sign though. There's the clock tower. Sardar Market. Watch out...
He almost had me. He took a turn without watching. Almost out of old town now. The roads here are relatively wider. A bit more comfortable to ride here.
We are in the neighborhood now. Lets see which one is his house. He's standing there. He's making our video with his camera. The whole family is waiting for us. Should we park outside or...?
Welcome Abrar. Thank you so much. How are you? Alhamdulillah. Assalam Alekum Sir. How are you? He's Haji Abdul Rahman.
We have a rather lavish breakfast here. I'm not sure if everyone in Jodhpur has a breakfast like this. For instance, we don't have dahi barray in our breakfast. Similarly there are other items that we do eat but in the afternoon. Such as jalebi and some non-veg items.
We have been following you for 3 years or so. I'm very happy to have you here. We are glad that you visited Jodhpur which is our native town.
The pleasure is all mine, Abrar. And the same for my family as well. We saw in the videos that people invite you to their place for meal. But we didn't expect to see you with us so soon. Thank you so much.
Please start. We cook minced meat in breakfast. Okay Sir. Thanks very much for the hospitality. Allah Hafiz. So we are done with breakfast as well as brunch.
Now we'll head straight to Umair Bhavan Palace. We planned to visit that yesterday but could not due to rain. We'll give that place a visit before we leave for Ajmer. The navigation says that it's 9 km from here.
So, roughly 20 minutes. Looks pretty amazing from the outside. Right now you are looking at the Umair Bhavan Palace.
One of the biggest private residencies. This used to be the residency of the royal family of Jodhpur. It still is.
It is spanned over a huge area. But the 80 percent of it is now Taj Hotel; a 5 star hotel. I just checked the prices and you can get a room here for 850 USD per night. That's quite expensive. That's why we stayed here.
There are a total of 347 rooms. 10% of the remaining space is a museum. The last 10% is used by the royal family. As 80% of it is the hotel. And we can neither visit the hotel nor the private residency. I'm not sure what's in there at the remaining 10%.
But they told us it's a museum. Let's go and find out. We are standing in the courtyard of the palace.
The whole palace is made from red stone. Even the courtyard area as you can see behind me. Really impressive. The palace was completed in 1943 and took 15 years for that. It was built by Maharaja Umaid Singh. That's why it's called Umaid Palace.
But we can only see the 10% area which is open for public. The museum has a lot of pictures. And contains info about the royal family and Jodhpur. If you are interested in history, there is a lot for you to learn here. Also some of the items from the time of royals are also put on display. A couple of rooms also have paintings.
This is what you can see here. Okay Sachin. Safe travels. See you next time. Enjoy yourself. We are now leaving for Ajmer whereas Sachin will go back to Mumbai. It's gonna be a 2 day ride for him; May be more than 2 days.
Sachin also recorded some vlogs here. I'll share the link of his channel. Please do check it out.
Karthikeyan doesn't make vlogs. So you'll see his Instagram only. Lets see how the next part of our journey turns out to be. Rajasthan is amazing. It was quite hot in Jodhpur when we left. As you can see, it has gotten quite pleasant now.
Almost feels like a hill station. The air has gotten much cooler. Looks like we must have gained some altitude. Although we didn't realize it on our motorcycle. However...
I initially thought that Rajasthan is mainly a desert region. But ever since we got here, we have been seeing variations in the scenery everyday. We got to see mountains... Culture and history are a given. But I didn't expect to see such a landscape here.
Amazing. We are having a great ride. Towards our left side, you can see railway tracks.
Can't see any train though. We might catch a glimpse of the train if we keep riding along these tracks. We are finally in Ajmer Sharif.
It's almost 6 pm now. So, we rode for almost 4 hours. That included a couple of short breaks. The amazing roads made our ride great.
And the weather is very pleasant now. It was a bit warm in the morning. But we have a cool breeze now.
We also saw a light drizzle at a couple of places along the way. Ideal conditions for riding. We'll now go straight to our hotel. That's almost 6 km from here.
Could be another 15 to 20 minutes. It will be best to park the motorcycle at the hotel and then go to the shrine. Well... I was afraid that my side bags might touch the railings. This is the first time that I'm crossing a bridge like this one.
It's built over railway tracks. A train is passing below the bridge. The bridge is only for motorcycles and bicycles.
Riding through the main market area now. You can see the hustle and bustle of Ajmer. Seems like quite a lively city.
What's that building over there? Everything is written in Hindi so I can't read. Need to take a turn here. On our left side... You can see steel and copper utensils being sold. Bangles...
You can buy anything in this market. Hotel Plaza Inn. That's the place. As you can see we have checked in to our room. Let me give you a brief tour. A decent room. The room that we were offered before were a little better.
We paid 22 USD here which is around 1800 INR. Keeping the price in mind, the room is alright. There are many options here but this had the best rating on booking.com
So we opted for this one. Let's go out and visit the shrine. We are making our way through the bazaar of Ajmer, towards the shrine. Just a 10 to 12 minute walk from our hotel. It's a small bazaar in the old town; much like the bazaars in any old town.
Quite crowded though. Add rickshaws and motorcycles to this equation. And the noises that they make. That makes it quite difficult to even walk here. That's how crowded it is at the moment. We are trying to get to the shrine as fast as we can.
This bazaar is quite lively. That's not totally unexpected. A touristic place like this ... Near a shrine ... A bazaar is always like this.
How do you like this area? Noise pollution... We are... Cameras not allowed inside. Can we take our mobile phone in? Yes you can.
You can record videos using your mobile phone. We are at the shrine of Khawaja Gharib Nawaz. You can say that it's the most visited shrine in the Indian subcontinent.
Not just from India, but the followers of Khawaja come from around the world to pay their respects. The actual name of Khawaja Gharib Nawaz was Moinuddin Chishti. Some sources say that he was born in Iran.
While some others mark Herat in Afghanistan as his birthplace. So he migrated at first to Delhi and from there he moved to Ajmer. He was a great Sufi saint and Islamic scholar of 13th century. His followers include many saints and Sufis. I've been told that this evening the shrine isn't as crowded as it usually is.
Normally, the place is jam packed. People usually pay their respect here by offering flowers or a piece of holy cloth. We can't make a video inside the shrine. But we'll try to capture as much as we can from the outside. We are here for our first dinner in Ajmer. Took help from Google to find a non-veg place.
So we found this restaurant named Sky Grill. The location also looked fine. But we found out that it's also a veg restaurant. We have a veg pizza in front of us right now. I almost got sick of eating cheese for quite some time now. Let me introduce you to Mr Haider.
Assalam Alekum He's been out since 5 in the morning. Well. I left from Kota around 5 in the morning. And have been waiting for Abrar at the shrine. But he didn't reach.
Eventually he posted a story in the evening. And that's how I met him. Thanks to Khawaja Gharib Nawaz that I got a chance to meet with Abrar. That's what I believe. Thank you so much Sir.
I had replied to him on Instagram but there was no network coverage inside the shrine. As I got out of the shrine, I texted him and here we are. What's not allowed? Camera. No problem. Turn off the camera please. Without sugar? We were having our dinner when few other fellows came to meet us. Please go ahead and introduce yourself.
Just tell your names. Shahadat Ali? Yes. You have already met Haider. I'm Haider from Kota Rajasthan.
I've especially come here to meet Abrar. I didn't expect to be greeted so warmly by him. That made my whole journey worth its while. Thank you so much.
I'm Sameer. Sameer has been texting me from quite some time and finally we met today. My name is Syed Amaan.
Have been following Abrar for a long time now. He's my younger brother. I'm Syed Kamran. He really wished that you come to Ajmer and we could meet you. Your visit to Ajmer has made us proud. Thank you so much for visiting our city. People from all around the world come to visit your city.
Thank you so much for being so kind. Hopefully you must have enjoyed this vlog. Remember me in your prayers. Please Like, Subscribe and Share. Allah Hafiz
2023-05-03 18:01
Show Video
Other news