FINALE! Mit dem FAHRRAD ans NORDKAP. Wie geht es weiter? | Radreise NORWEGEN EP7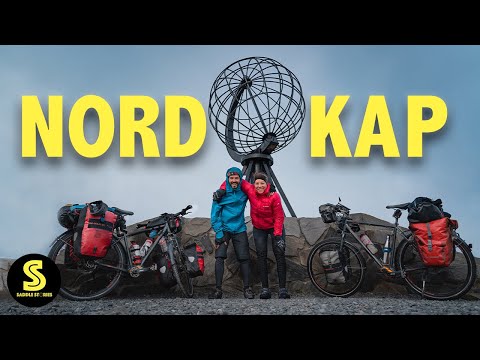 Show Video
We like the area so much here! We were soaking wet... it was cold! We're just so lucky! That can't be healthy. We start the last leg to the North Cape, namely from Tromsø to the North Cape! There are still about 600 km ahead of us. We're just leaving Tromsø and off we go north! For two months we have been on the road to reach what is perhaps the most beautiful end of the world by bike.
It feels like the North Cape is within reach! We are only 44 km away from Tromsø and here we are in a super cool nature. It's so gigantic, we're surrounded by high mountains. Nothing is going on here, on the small street a car comes by every now and then. I hope it stays that way until North Cape because that's the best! In the far north, our journey becomes really intense again. Through a few unforgettable coincidences, we come into close contact with the people who live here. Even in the south we were told that the Norwegians in the north were particularly warm and open.
And based on our experiences, we can confirm this supposed rumor 100 percent. Let our stories convince you! Because even on this evening, when the weather is becoming more than uncomfortable and wind and rain are lashing around our ears, we can enjoy Norwegian hospitality: outside it's raining, it's stormy, it's cold. And we are so lucky again that we can stay in a house. This time even something very special: We have never been allowed to stay overnight in a sewing studio on our trip. This is a little house just for sewing. The owners live in the house opposite.
This is a large property up here in the middle of nowhere in northern Norway. Here they have built a few separate houses. One of them is a sewing workshop. We like that so much. Such beautiful pictures on the wall! Sewing threads everywhere. Here you can get really creative.
If you can dry your wet clothes in the evening, get a warm shower and spend a quiet night protected from the rain, you will feel reborn the next day and you will start the day with an extra portion of energy! I'm so happy right now! The weather is crazy, ahead of us it's pouring like hell, the sky is blue above us, there was just a rainbow back there. Then the wind comes strong again from the front, then it's gone again. It's all so mixed up. This is so fun!
But it's fun because we come into contact with people so much. Because our things aren't wet because we can sleep under cover every night. The north of Norway is already our highlight. Albeit the most challenging route at the same time. But it's always like that on our journey. The most challenging things are the most beautiful.
Where you really feel your body, where you have to challenge yourself, where you are satisfied at the end of the day and proud of what you have achieved. That feels very good. The worries at the beginning were for nothing. Hopefully! I'm still not quite sure.
Most say Alta is where things get really intense. We're not there yet. We will see! What we have no idea at this point is that Norway has an unforgettable surprise in store for us that evening.
Before we get closer to the incredible landscapes of the North Cape, let's introduce you to the sponsor of today's video. We are happy that CyberGhost supports another video from us, because for us a VPN is part of the standard equipment in our luggage. CyberGhost VPN is a Virtual Private Network that offers you more security when surfing the Internet. We often use public WiFi when we're on the go, and that's where a VPN offers the best security. The software hides your IP address and routes your data through an encrypted VPN tunnel.
So nobody really knows what you are looking at on the internet. Not even CyberGhost itself. But CyberGhost VPN can do a lot more than that. With a VPN you can easily bypass geo-blocking on 40 streaming platforms such as Amazon Prime, Disney+ or in TV libraries. Netflix, for example, has very different films in its program depending on the country. So if you want to watch a movie that is only available on Netflix in the US, you can still watch the movie with CyberGhost VPN.
You can use the app on all common platforms such as Windows, Mac, Android or iOS, whether on a smartphone, laptop or SmartTV. With one subscription you can protect up to 7 devices at the same time and if you don't have that many devices you can easily share the subscription with friends and family. CyberGhost VPN now has 38 million users and if you would like to try the service, then we have a really good offer for you: With the link in the video description you can get the VPN for only 1.94 euros a month and get 4 months on top of that free! That's a 84% discount! Give it a try and if you don't like it, there's always a 45-day money-back guarantee! So click on the link in the info box and take advantage of the great offer. And now we continue to the North Cape Island, a highlight of our time in Norway! We left Tromsø two days ago, where we stayed with a super nice family.
They organized a place to sleep for us yesterday so that we could sleep dry again. And today it was dry until about 4 p.m., but then it started to pour. It didn't stop until evening. Then we decided that we would ask a few houses if we could sleep in the garage.
We took all our courage and asked at houses. We asked at three houses, but they weren't that helpful. Then we drove on and decided to set up the tent, because that won't work anymore. And then we continue along the road and see in a big building that there are a lot of goats inside.
We stopped and looked in from the street and saw that goats were being milked there. The goat farmer was in there too and saw that we were looking so curiously. She came out right away and it was immediately a nice conversation. We asked if we could watch and she explained everything to us and showed us how milking works.
After we got to know the process a bit, I asked her if she knew if we could sleep in a garage somewhere. She immediately said her garage was huge, so we can definitely sleep there. But she will ask her husband.
She said her husband would know something better than the garage. Then he came and said we have a caravan. We could sleep there. Then he unlocked the caravan, connected the electricity, connected the gas, brought us fresh towels. Now we're inside this trailer.
And I have to say, today is my birthday. It's really cool that we don't have to spend my birthday in the rain and can end it like this. That's a cool birthday gift! It's really so beautiful, the rain is pattering on the roof. We are dry and have eaten well. Now we're looking forward to putting the bed together and sleeping in here. So beautiful. In the dry.
We were so on the same wavelength with the goat farmers that they immediately invited us to their place for a second night. And for my birthday they even opened a bottle of sparkling wine! But for us it has to go further and as soon as we have left our new friends, Norway's wildlife offers us a little show: We have arrived at the top of the pass. The landscape is amazing again! We finally saw reindeer! loads! And the reindeer ran across the street in front of Angi! We like the area so much here. We'll look for a nice spot on the pass, enjoy the view and eat something! We just drove up a pass that is 401 meters high! Haha! Now we're not even on the level of Salzburg! It feels like we are in the high mountains and there is a huge mountain lake down here. It's a fjord! We spent the last two nights with a goat farmer family. Hilde, the goat farmer, has organized a place for us 70 km away where we can sleep.
This time it's her cousin's son, who has a house here and a company that obviously deals with wood. We were allowed to set up our tent in the garage. He's not here himself, we haven't even seen him yet.
The house is over there. Apparently he will come later. We have set up our tent here now, we will spend the night here.
In the dry, because it looks like it could rain again at night. It's nice when you have a dry spot. We continue to Alta, the last major town before the North Cape. From here, we are told, the weather gets really nasty. Was it all just a children's birthday party up until now and will Norway show us its true colors over the last few kilometers? For me, that was the biggest concern of this trip. Write us in the comments what would scare you the most on a bike tour to the North Cape? Is there something that worries you so much that you would not embark on such a journey in the first place? We are still spared from the supposedly indomitable weather, enjoy the many reindeer that watch us from the roadside and meet more and more Sami, the natives of the far north.
There are lots of reindeer walking around, especially in northern Norway. We have already learned that the reindeer all belong to someone. There seem to be hardly any wild reindeer in Norway. Everything you see here belongs to a Sámi. The Sámi are the indigenous people of Norway.
They live specifically here in the north in Finnmark. We've been taught never to ask a Sami how many reindeer they have. That would be like asking someone how much money they have in their account.
You don't do that. It's so beautiful, I love such a landscape! WOW! I have goosebumps! These endless roads, the mountains, the mood with the clouds. IT'S SO COOL! After we left Alta, we drove over a 400m high pass. And from one second to the other the vegetation was different.
There are no more trees! When driving up there were still many birch trees and dense forest. But suddenly there is nothing up here. So beautiful! It reminds us so much of Kyrgyzstan. In Kyrgyzstan it looks the same as here. Except that in Kyrgyzstan we were above 2000 to 4000m most of the time. A beautiful landscape here.
For us, cooking on a bike tour is part of the overall experience. Spaghetti is the classic, but you can read about the fact that we have a lot more recipes up our sleeves on our blog. There you will find our most important tips & tricks for cooking on a bike tour and we will tell you our best, tried and tested recipes. You can find the link in the info box! It's still 140km to the North Cape! Our original plan was to drive north-west off the main road to Havøysund.
We would have liked to take the Hurtigruten to Honningnsvåg. Unfortunately it is now the case that the boat does not sail exactly on the day when we would arrive in Havøysund. Too bad. Now we have to drive the original route, through the endlessly long North Cape tunnel. doesn't help! But super good weather is announced for the next two days. Now we're going to step on the gas so that we're up at the North Cape in two days.
Then we will camp at the top and hopefully have a nice sunrise at the North Cape! Phew, it's going uphill! We already had problems with Angi's front pockets in Southeast Asia. Because everything is damp and everything has started to mold. Also up here in Norway the bags got so damp and wet. Now I've pulled out the inside pocket and it's so disgustingly moldy. That can't be healthy.
We're just going to cut that out now. The bag should be replaced soon, it already has a hundred holes. They're not really good anymore. Ahhh that's gross . Now Reini just cut my pockets apart.
But yeah...it was a bit gross. We drove 90 km today and we are really exhausted. Now we've decided, we're going to find a place to camp. We've been driving along what's left of an old road and we're going on and on because we're about to come across such beautiful scenery! The main road goes down by the sea, but we follow an old road.
There's nothing there anymore, it's actually closed off, no more cars can get there. And here are just mountains, lakes, reindeer and us. Yes, amazing. So beautiful! I went to fetch water. There should be a brook up ahead, if necessary we'll take it out of the lake.
Then we have to boil it. Then it should fit. I drove up a hill and discovered a small river. I'll follow that upstream. With so many reindeer, you have to be careful because many reindeer produce a lot of faeces. If you don't boil the water, you may catch a gastrointestinal issue.
Therefore, it is good to go further up, so that there is less chance of contamination. It is always important to accept a small detour, because it makes you feel better afterwards. Oh dear...in this case the effort was for nothing.
The water is very brown. I'm way up It's very boggy up here. There is probably a lot of humic acid in here.
That makes it brown. It's not that bad, but I think we take it from the lake, that's where the water comes in straight from the mountain. It's crystal clear there. We'll boil it then, in case we need another one.
You're not always lucky, I tried it, back to Angi. The weather forecast was spot on and a few kilometers before our arrival on the North Cape Island we have bright blue skies. What timing! After all the hardships of the last few weeks, this is the best reward we can imagine. The euphoria in us grows immeasurably, not even 100 kilometers separate us from our big goal. Actually, nothing can go wrong now, right? But there is one last big hurdle to overcome: The infamous 7km long tunnel that connects the North Cape with the mainland. Under the sea. After 10 weeks of bitter fear, we have now arrived at Hell's Gate.
At least hell for me! The North Cape Tunnel is 7km long and goes under the sea. That means you now ride 3km long 200 meters downhill, then a bit flat and then uphill again 200 meters. In the tunnel. 7km long. I can't say I'm looking forward to it! We wanted to avoid it, but that didn't work out. Eyes shut and go for it! Boa... One should always jump over one's own shadow, right? I would say successfully mastered. I still don't like tunnels.
Nothing can really stop us now. The North Cape is actually within reach, the weather is like out of a picture book and our hearts couldn't be happier. In this light, the North Cape Island shows its most idyllic side and we enjoy every moment. We are currently sitting on a plateau on the northernmost island in Europe.
Only 20 km away from the North Cape. You can even see the North Cape back there! And to celebrate the day, because we made it from Salzburg to the North Cape after more than 10 weeks and 4200km, we treat ourselves to a luxury breakfast today! An Iranian egg dish! Exactly, so chopped tomatoes with 6 eggs. We should have enough! So that we have enough energy for the last 20km to the North Cape. You can't believe it.
How long were we on the road? Almost 11 weeks. Yes, awesome. Now we're sitting here and over there is the northernmost point of Europe. I'm so glad that's not the final goal. That would mean it's over now.
But thank good it goes on. And where? We don't know that ourselves yet. No...
Now it's only 1 km, then we're really at the North Cape! boom boom I'm really nervous. YEAH!!! We have arrived. We hug each other and are proud, relieved and grateful. We have the North Cape sphere to ourselves for a short moment and the emotions boil over! At that moment, the North Cape is the most beautiful end of the world for us. We actually saved the decision on how to continue our journey until the end. At the last moment we decided to stay in Europe to see more of this corner of the world.
That's why we're now on our way to the Finnish border to cross Finland from north to south by bike! And of course we will take you with us on this adventurous journey! If you are looking for more practical information about cycling in Scandinavia, you are welcome to visit our website where we share GPX tracks, route information and show you our equipment . And don't forget to check out CyberGhost VPN! For us, a VPN is indispensable in our luggage and we are therefore pleased that you can get the VPN for only 1.94 euros per month via our link in the video description. Take a look at what's on offer and we'll see you in the next video when we head across Finland!
2022-05-10 15:50
Show Video
Other news