FAMOUS GRAVE TOUR - Viewers Special #17 (Randy Rhoads, The Lady in Black, etc.)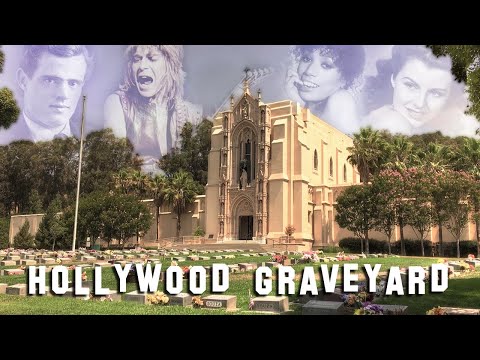 Show Video
Welcome to Hollywood Graveyard. Today we conclude our tour filmed by you, the Hollywood Graveyard community, as we travel the world to visit famous and historical graves in your neck of the woods. In this tour we land back home in California, to find legends like Jack London, John Steinbeck, The Lady in Black, Randy Rhoads, and many more. My friends, the time is yours. After 10 videos spanning the globe, our final video in this second viewers series brings us right back home to California.
If you've followed our channel, you'll know we've already covered a lot of ground here in California, particularly in the Los Angeles area. But there is always more to discover, more stories to tell, and our fellow friends here in California will be taking us to new sites from north to south across the Golden State. And a very special shoutout to our California friends for their patience, having to wait longer than anyone else to see their videos featured after submitting last year.
Let's begin up north, in the Sonoma County area. This is the Jack London State Historic Park Cemetery, in which we find its namesake, Jack London. He was one of the great American novelists of the early 20th Century. A pioneer of commercial fiction and magazines, he was one of the first American authors to become an international celebrity and to make a large fortune from writing.
He spent some of his early years in the Klondike searching for gold. His experiences there would serve as the inspiration for his most famous works, The Call of the Wild, and White Fang. Both of these have been adapted on screen numerous times. Other of London's famous works include the dystopian novel The Iron Heel, and the adventure novel, The Sea-Wolf. At the time of his death in 1916 at age 40, he was suffering from various ailments, including dysentery and uremia, for which he was taking morphine.
Jack was cremated, his ashes interred beneath this boulder. This is Santa Rosa Odd Fellows Cemetery, which hosts a man synonymous with, well, odd fellows, as well as the unbelievable: Robert Ripley. Most of us know Robert Ripley as the originator of Ripley's Believe it or Not, on television, and the museums, one of which can be found back home in Hollywood. But did you know Ripley's Believe It or Not started out as a cartoon series? Yes, believe it or not, Robert Ripley began a comic strip in the 19-teens which dealt with the bizarre and unusual. The syndicated series became immensely popular, and would lead to other outlets, including books, radio, television, short films, and of course, the museums… "Believe it or not." …all of which satisfying our love of oddities, and our curiosity about the strange and unusual.
Ripley died from a heart attack at age 59. Moving on to San Rafael, and Mount Tamalpais Cemetery. Here we find the grave of June Pointer.
She was a founding member of the vocal group, The Pointer Sisters. They achieved mainstream success in the 70s and 80s, with hits like "Jump (For my Love)" and "I'm So Excited." The group would earn three Grammys in this era, and their music has been featured in countless film and TV productions. Cocaine addiction led to June's departure from the group in 2004.
She died from cancer two years later, at the age of 52. Our next stop is the Luther Burbank Gardens in Santa Rosa. Fertilizing the ground here is its namesake, Luther Burbank. And I don't say that to be flippant.
Burbank was a botanist who, upon his death, requested a natural burial near the base of his favorite tree, saying, quote, "I would like to know that the strength of my body is going into the strength of a tree." Burbank was a pioneer in agricultural science, developing more than 800 strains and varieties of plants, including numerous varieties of fruits and vegetables, like the shasta daisy, and the russet Burbank potato. He also developed varieties of spineless cacti, which were especially useful for consumption during periods of drought. Burbank became something of an international celebrity in the world of gardening and agriculture. After his death in 1926 at age 77, he was buried near this spot, where once stood his favorite Cedar of Lebanon tree.
This is Calvary Catholic Cemetery in Santa Rosa, where we find the tomb of Bob St. Clair. He was a professional football player for the San Francisco 49ers for 11 seasons. Drafted as a tackle out of the University of Tulsa in 1953, he soon established himself as one of the best passing and rushing blockers of his era. A five-time Pro Bowler and an NFL Hall of Fame inductee in 1990, he ranks among the greatest players of his generation. St. Clair died after complications of a broken hip in 2015 at age 84.
We've arrived now in the capital of California, Sacramento, and Sacramento City Cemetery. Here is the tomb of a genuine forty-niner, Mark Hopkins. He was a businessman, one of the four principal investors that funded the Central Pacific Railroad, which built a rail over the Sierras from Sacramento to Promontory, Utah, where the Golden Spike was driven to complete the first trans-continental railway.
Known for his thriftiness, Hopkins would become the treasurer of the organization, said to be able to squeeze 106 cents out of every dollar. After his death at age 64, he was entombed in this sarcophagus formed from Rocky Mountain red granite. Our travels take us now to East Lawn Memorial Park in Sacramento.
Let's head into the mausoleum. Here we find the niche of Neville Brand. He was an actor, known particularly for playing tough guy roles. He had memorable roles in films like Stalag 17, Riot in Cell Block 11, and Birdman of Alcatraz.
And on television he played Al Capone on "The Untouchables," and Reese Bennet on "Laredo." Brand was also a highly decorated WWII combat soldier. He died from emphysema at age 71. Cherokee Memorial Park is in Lodi, south of Sacramento.
Here we find two brothers known for their work in the adult industry, Jim and Artie Mitchell. They're considered pioneers in the adult industry, with popular adult theaters and strip clubs around the San Francisco area such as the O'Farrell Theater, and perhaps most notably, discovering adult film star Marylin Chambers, with whom they made the 1972 film "Behind the Green Door." It would be the first hardcore feature to gain wide release in the US and attain a cult following. In 1991 Jim fatally shot his brother Artie during an argument. Jim would be convicted of voluntary manslaughter, and spent just 3 years in prison.
Jim died from a heart attack in 2007 at age 63. Their story was dramatized in the film Rated X, starring real life brothers Charlie Sheen and Emilio Estevez. We've arrived in Stockton, and Stockton Rural Cemetery. Several notable figures to find here. First among them, cult filmmaker Russ Meyer. He was known for his sexploitation films, dubbed "King of the Nudies."
His films were distinct for their campy humor, sly satire, and bevy of buxom beauties. Among these are the 1965 cult favorite, Faster, Pussycat! Kill! Kill!, and what he considered his definitive work, Beyond the Valley of the Dolls, released in 1970. Russ Meyer died from complications of pneumonia at age 82. Moving on to block six we find Olympe Branda.
The French-born actress can be seen in 13 films in the 30s and 40s. She began performing in Paris in her youth, including dancing in the famed Follies Bergère, before making her way to Hollywood to appear in films. Among her best-known roles are as Maria in The Last Train from Madrid, and alongside Ronald Reagan in 1941's International Squadron. Olympe retired after making that film, and dedicated herself to her family and philanthropy. She lived to be 92.
This tomb belongs to an inventor named Benjamin Holt. He's remembered for patenting and manufacturing the first practical crawler-type tread tractor, which allowed for heavy agricultural or engineering machinery to operate without sinking into the ground, by spreading the weight of the vehicle over a larger area. Holt's tractors were used to replace horses to haul artillery during WWI. He died in 1920 at age 71.
No trip to Northern California would be complete without a little wine. This is Saint Stanislaus Cemetery in Modesto, where we find the grave of winemaker and brothers, Julio and Ernest Gallo. In 1933 the two partnered up to open a winery in Modesto. Following their natural inclinations, Julio became the grape grower and winemaker, while Ernest handled the business end. Their first year they sold over 170,000 gallons of wine, and grew steadily to become one of the biggest names in California winemaking.
In 1999 they'd be named the "Winery of the Century" by the LA County Fair's Wines of America competition. In 1993 Julio died then the vehicle he was driving veered off the road and crashed. He was 83. Ernest, who rests in the nearby mausoleum, passed away in 2007 at age 97. Moving on to Hughson California, and Lakewood Memorial Park. Here we find a folk figure known as Migrant Mother, Florence Thompson.
You may not know her name, but I'd wager most of you know her worry-worn face, a face which became a symbol of the Great Depression. Florence was the subject of Dorothea Lange's famous photograph, "Migrant Mother," taken in 1936. By the great depression, Thompson was pregnant with her sixth child, and her husband died of tuberculosis, leaving her to fend for herself and her brood as a migrant farm worker, and any other means she could find.
She'd have 4 more children in the years that followed, and after settling in Modesto, lived to be 80. Her epitaph reads, "Migrant Mother: A legend of the strength of American motherhood." This is Turlock Memorial Park. And inside the mausoleum we find the niche of Wesley "Freckles" Barry. He began his career as a child actor during the silent era, appearing alongside Mary Pickford in Rebecca of Sunnybrook Farm and Daddy Long Legs, and becoming a star in his own right, headlining films like 1920's Dinty. By the 40s and 50s he shifted his focus behind camera, as a director and producer, working on shows like Adventures of Wild Bill Hickock, and directing films like The Creation of the Humanoids.
Wesley Barry lived to be 86. Next up is Lakewood Memorial Park, and the grave of Dean Jagger. He was an actor of film, stage, and television, remembered for his Academy Award-winning role as Major Stovall in 1949's Twelve O'Clock High. Other memorable film roles include as Major General Waverly in White Christmas, and on television he was nominated for an Emmy for his role in the 60's series, Mr. Novak.
Jagger died in his sleep at age 87. This beautiful replica of William Story's Angel of Grief welcomes us to Chapel of the Chimes in Hayward. Here we find the crypt of Spade Cooley. He was a fiddler, a popular musician during the heyday of Western Swing in the 40s and 50s.
His song "Shame on You" would be top the country music charts. His popularity led to roles in Western films, often as himself, in a musical capacity. Then in 1948 he began hosting his own variety TV show, The Spade Cooley Show. But in the early 1960s, Cooley would gain notoriety for a much darker reason.
In 1961, in the wake of accusations of infidelity and in a drunken rage, he murdered his wife Ella Mae, in front of their 14-year-old daughter. The ensuing trial became a media circus, and Spade Cooley was sentenced to life in prison. In 1970 Cooley was granted parole, and three months before the parole was granted a three-day furlough to perform at a benefit concert. After the concert, which ended in a standing ovation, Cooley died from a heart attack backstage.
He was 58. Lone Tree Cemetery is also in Hayward. Here is someone familiar to you fans of The Wizard of Oz, Charlie Becker. He had six film roles in the 20s and 30s, one of which would make him immortal. Charlie played the Mayor of Munchkinland in the beloved classic.
"As mayor of the Munchkin city, in the county of the land of Oz." Charlie Becker lived to be 81. Also here at Lone Tree is Bob Sweikert. He was a racecar driver, remembered for being the winner of the Indianapolis 500, the National Championship, and the Midwest Sprint Car Championship, all in 1955. But his career came to a violent end the following year at the Salem Speedway.
While completing the third lap of the race his car clipped a steel beam and flew over the edge of the track and down an embankment. He was taken to the hospital but pronounced dead at age 30. This lovely view comes to us courtesy of Holy Sepulchre Cemetery in Hayward. Here is the grave of Fran Ryan.
The character actress had a number of recurring roles on television, including as Aggie Thompson on the Doris Day Show, Rosie on Days of Our Lives, and Sister Agatha on General Hospital. Fran also appeared in films like Private School, and Stripes. She passed away from natural causes at age 83. Our next stop is Oakmont Memorial Park in Lafayette. Here lies Brent Mydland. He was a musician, best known as keyboard player and vocalist for the band The Grateful Dead from 1979 to 1990… the longest tenured keyboard player in the history of the band.
He'd become an integral part of the groups sound in this era, including writing a number of songs, like "Hell in a Bucket." Brent died from a drug overdose in 1990 at age 37, making him the third Dead keyboardist to die. This is Sunset View Cemetery in El Cerrito. Here we find a tragic pair in the world of figure skating. Laurie and William Hickox were brother and sister, and a figure skating pair. They won the 1960 National Junior Pairs championship, and placed third at the 1961 National Pairs figure skating championship.
In 1961 the pair were part of the US Figure Skating Team. In February 1961 the entire team, including coaches and family, were aboard a flight from New York to Brussels for the World Figure Skating Championship. On approach to the Brussels airport, the plane crashed, killing all 72 on board… the entire US Figure Skating Team. Laurie was just 15, William 18. Also here we find musician Paul Baloff.
He was a thrash metal vocalist, lead singer of the band Exodus. He joined the group in 1982, and would become a key figure in the thrash metal sound of that era. He can be heard on their 1985 album, Bonded by Blood. He would sing in a number of other bands, like Heathen.
But in 2002 Paul had a stroke that left him in a coma. He died while on life support at just 41. Let's cross over now into the San Mateo area.
Here we reach Colma, the city of the dead, where the dead outnumber the living. We first visited here in our tour of San Francisco, so for more from this legendary Necropolis, be sure to check out that video. One of the sites we visited here in Colma was Woodlawn. We're going to re-visit someone here we've visited before, because today we have a special guest taking us there. The man you see here is local tour guide Joseph Amster, and that delightfully eccentric garb is him portraying the man we'll be visiting next: Norton I, Emperor of the United States and Protector of Mexico. In September of 1859, Joshua Abraham Norton took out ads in San Francisco newspapers to declare himself "Emperor of the United States, and Protector of Mexico."
He would issue decrees, largely ignored of course, to dissolve Congress and both political parties. The eccentric Emperor Norton would stroll the streets of his dominion of San Francisco in an elaborate blue uniform, attending to the needs of his subjects. While he had no real political power, he became something of a beloved local icon in that era, and his call to build a bridge between San Francisco and Oakland was indeed eventually realized in the form of the Bay Bridge in the 1930s. His whimsical 21-year reign over America came to an end in 1880 when Emperor Norton passed away.
Another of the 17 or so cemeteries here in Colma is Holy Cross, where you'll recall legends like Joe DiMaggio are laid to rest. We're back today to find George Moscone. He was an attorney and politician, remembered for being the 37th mayor of San Francisco, from 1976 to 1978. He was known as "the people's mayor", who opened up City Hall and its commissions to reflect the diversity of San Francisco. But his tenure ended in violence, when he was shot and killed by a disgruntled former supervisor in 1978.
He was 49. George's assassin, Dan White, is in a cemetery just south, Golden Gate National Cemetery. Dan also killed Harvey Milk at the same time, the first openly gay man to be elected to public office in California. White only spent 5 years in prison for the two murders, being convicted only of voluntary manslaughter, which led to outrage in the community.
Dan White took his own life two years after his release. These events were dramatized in the 2008 film, Milk. One of the great military leaders resting here at Golden Gate is Chester Nimitz. He was a Navy Fleet Admiral, whose naval career spanned some 60 years. He was the commander of the Pacific Fleet during WWII. The Battle of Midway was one of his greatest victories.
And Admiral Nimitz was among those who accepted the Japanese surrender in 1945. The USS Nimitz, a supercarrier, is named in his honor. He lived to be 80. Chester Nimitz has been portrayed in film numerous times, by the likes of Henry Fonda, and Woody Harrelson.
Let's head to Stanford University in Palo Alto, where students strolling to class may just pass by the mausoleum of the university's namesake, Leland Stanford. He was the 8th Governor of California, from 1862 to 1863, and also served in the Senate. While in office he started colleges, cut the state's debt in half, and advocated for the conservation of forests. Stanford was also another of the founding members of the Central Pacific Railroad, for which he would later be named president. Stanford had a lasting impact on California, passing away from heart failure at age 69.
This is the Garden of Memories in Salinas. In these grounds rests a giant of American letters, John Steinbeck. He authored 33 books, including novels, non-fiction, and short stories. Among his best-known works are East of Eden, Of Mice and Men, and The Grapes of Wrath, which earned him the Pulitzer Prize, and is considered a masterpiece of American literary canon.
The Grapes of Wrath would be made into an Academy Award-winning film in 1940. In 1962 John Steinbeck would be awarded the Nobel Prize in Literature, for his realistic and imaginative writings, combining as they do sympathetic humor and keen social perception." John Steinbeck died from heart failure at age 66. Next up is Monterey City Cemetery.
Here lies David Jacks. The Scottish-born businessman immigrated to Monterey California during the 1849 gold rush. Here he owned a dairy where he made a white cheese originated by Franciscan friars in the 18th Century.
The cheese would become known as Jack's Cheese, later, Monterey Jack Cheese. So if you've ever wondered where the name came from, it's from Monterey California, and its popularizer, David Jacks. He lived to be 86. Also here in Monterey we find an actress named Viola Richard. She's remembered as a leading lady of silent comedy films of the 20s, alongside the likes of Laurel and Hardy, Max Davidson, and Charlie Chase. These include Why Girls Love Sailors, Do Detectives Think, and Came the Dawn.
She retired from film in the 1930s, and lived to be 69. This is the grave of Don Hanmer. He was an actor with close to 100 credits to his name. Among his film roles are as the butterfly trader in Papillon, and Sid in Rhinestone. And Hanmer would make guest appearances on most of the major shows, from the very early days of television, like Suspense, Tales of Tomorrow, and Alfred Hitchcock Presents. He lived to be 83.
Our last Monterey City Cemetery stop brings us to the final resting place of Steve Cochran. The rugged actor was known for playing swarthy, villainous characters in the 40s and 50s. His best-known role is that of Big Ed Somers, power hungry henchman of James Cagney in 1949's White Heat.
Other notable films include Tomorrow is Another Day and The Damned Don't Cry. And like so many of this era, he'd make guest appearances in various shows, like The Twilight Zone, The Untouchables, and Climax. But at the age of 48, Cochran would die under mysterious circumstances. He boarded his yacht with three female acquaintances and headed to Central and South America to scout locations. 10 days later the boat drifted ashore in Guatemala, and Cochran was dead on board. The three women were left distraught, not knowing how to operate the boat, and simply waited for it to drift ashore.
Rumors of foul play swirled, but no evidence was ever uncovered, and his cause of death was given as a lung infection. Also here in Monterey is California Central Coast Veterans Cemetery. This is the niche of actor Ken Swofford. His best-known television role is that of vice principal Quentin Morloch on the TV adaptation of Fame, in the 1980s. He also made quite a few appearances on Murder, She Wrote and Gunsmoke.
And Ken's film roles include Annie, and The Andromeda Strain. He lived to be 85. Let's make a big jump down to the San Diego area, shall we? This will be our second time here, so for more around this area check out our other San Diego videos. Let's begin in Escondido, and Oak Hill Memorial Park. Here is the grave of Billy Bevan. He was a vaudevillian who would become a key figure in silent comedies, a star of the Mack Sennett studio.
Over his career he'd appear in over 250 film and television productions. And while principally known for his work in the silent era, he had something of a second career in the talkies, playing supporting roles in films like Mrs. Miniver, and Dr. Jekyll and Mr. Hyde. Bevan died at the age of 70.
Also here we find the grave of a wrestler named Jim Londos, sometimes known as "The Golden Greek." He'd become one of the most popular stars of the professional wrestling circuit in the 30s and 40s. In 1938 he won the World Heavyweight Wrestling title, which he would hold for 8 years. Posthumous honors include induction into the WWE and International Professional Wrestling Halls of Fame. Londos died from a heart attack at 81. Our next Oak Hill stop is a pioneering businesswoman named Sophie Cubbison.
In an age when business was dominated by men, Sophie Cubbison parlayed her cooking skills and business savvy into the company that bears her name, Mrs. Cubbison's Foods. She specialized in stuffing, becoming a staple of holiday meals across the nation. The company would expand into other food products, like croutons, and meat loaf mix.
Sophie Cubbison lived to be 92. Over now to section 11, we find the grave of Billy Vaughn. He was one of the great saxophone artists and band leaders of the 50s and 60s. His 1960 album Theme from a Summer Place topped the Billboard charts for two weeks. He would rake in more pop hits and gold records than any other orchestra leader in the age of Rock and Roll, and found considerable success touring internationally. Billy Vaughn died from mesothelioma at age 72.
Here's another one for you baseball fans: Pete Coscarart. He played in the major leagues from 1938 to 1946, for the Brooklyn Dodgers, and Pittsburgh Pirates. He was considered among the top defensive second basemen of his era, and would appear in the All-Star game of 1940.
In 1996 he'd be inducted into the Dodgers Hall of Fame. Pete died from an aneurysm at age 89. Dearborn Memorial Park is in Poway.
Here we find another baseball player, Deron Johnson. He played for numerous teams between 1960 and 1976, including the World Series-winning Oakland Athletics in 1973. He was known as one of the great hitters in the 60s.
After retiring from playing, he would be a hitting coach in the MLB for some 12 seasons. He was just 53 when he died from cancer. Sticking with the theme, we find the grave of Tony Gwynn next. He played 20 seasons with the San Diego Padres.
During that time he won 8 batting titles, tied for the most in National League history. This would make him one of the greatest hitters of all time. He made two World Series appearances, and was inducted into the Baseball Hall of Fame in 2007. Mr. Padre was just 54 when he died from cancer. And we haven't forgotten about you football fans. Here lies Jerry Smith.
He played for the 49ers and Packers in the 1950s. Smith found more success however as a football coach, in the role of assistant or defensive coach for numerous teams, including the San Diego Chargers. He lived to be 80. This charming gateway leads us into Laurel Cemetery in Murrieta. Oh look at that… better safe than sorry I suppose.
In these grounds we find Douglas Fowley. The prolific actor had over 300 credits to his name. He's fondly remembered for his role as Roscoe Dexter in 1952's Singin' in the Rain. And on television he played Doc Holliday on the series The Life and Times of Wyatt Earp. He'd also make appearances on shows like The George Burns and Gracie Allen Show, and The Adventures of Rin Tin Tin.
Fowley lived to be 86. Our next stop is San Jacinto Valley Cemetery. In these grounds rests a woman who made her mark on Hollywood death lore: The Lady in Black, also known as Ditra Flame, resting hereunder as Princess O. Wilson. As the story goes, Miss Flame knew Rudolph Valentino as a teenager. He would visit her bedside and bring her a rose when she was deathly ill.
Valentino told her she was not going to die, and would likely outlive him, asking her to visit him after he died so he would not be alone. That date would come tragically soon when Valentino died from appendicitis at age 31. For approximately 30 years, Flame would make an annual visit to Valentino's crypt, dressed all in black, and leave a single rose. Her own celebrity grew as the mysterious annual visitor, who would be dubbed simply "The Lady in Black." There have been many copycat Ladies in Black since, but Ditra Flame is believed to be the original.
She died at age 78, surrounded by pictures of Valentino. Inching closer to home, we've made it to Riverside. This is Riverside National Cemetery, which in recent years has become the largest and most active national cemetery in the US -- eternal home of those who served, and a few, who also entertained us….
oh, and a few butterflies as well. First up here is Stanley Clements. As an actor he's remembered for portraying Stash in the East Side Kids films, and Duke in the related Bowery Boys films. The East Side Kids and Bowery Boys were a series of popular films in the 40s and 50s, following the antics of a group of young New York hooligans. Outside these series he had notable roles in films like Going My Way, and Salty O'Rourke.
Stanley was just 55 when he died from emphysema. Next up we head to section 46. Here lies Woody Strode. He began his career as a professional football player, playing for the LA Rams in 1946. Acting roles would follow, often cast as warriors or gladiators for his rugged athleticism. Among his best-known roles are as Draba in Spartacus, the title character in Sergeant Rutledge, and Jake in The Professionals.
He'd become one of Hollywood's early black stars of Western cinema. Woody Strode would even be the namesake of another cowboy Woody, this one, from Toy Story. Strode died from lung cancer at age 80. Over to the columbarium, we find a name familiar to you if you saw part 15 of this series. Here is the niche of Noble Willingham. As an actor he's best remembered for playing CD Parker, the Saloon Keeper, in over 150 episodes of Walker, Texas Ranger, in the 1990s.
He played John Binford on Home Improvement, and made appearances in films like City Slickers, and Ace Ventura: Pet Detective. After his death at age 72, Noble was cremated, his ashes inurned here. There is also a monument to Noble Willingham in his native Texas. This is section 55A, a cremation section, where we find the grave of John Agar.
He starred alongside John Wayne in a number of films, like Fort Apache, and Sands of Iwo Jima. Later in his career he'd become a cult favorite for starring in B movie sci-fi and horror films of the 50s and 60s, like The Mole People, Invisible Invaders, Tarantula, and Daughter of Dr. Jekyll. John died from emphysema at age 81.
Our next stop is section 61, and the grave of Bernie Hamilton. He's best remembered for his role as Capt. Harold Dobey on the popular 70s series, Starsky and Hutch, in just shy of 100 episodes.
His big screen debut was in 1950, in The Jackie Robinson Story. In 1964 he bucked stereotypes and social norms of the era with his co-starring role in One Potato, Two Potato, in which he was in an interracial marriage with a white woman. Remember that in the early 1960s, interracial marriage was still illegal in dozens of U.S. states.
Bernie died from cardiac arrest at age 80. You fans of rock and roll will appreciate this next one. Here lies Earl Palmer, the heartbeat of early rock and roll. Earl was a drummer, who innovated the drumming style and sound of rock and roll as it emerged in the 50s.
As a session drummer he played on thousands of recordings, including nearly all of Little Richard's and Fats Domino's hits. These would include "Tutti Frutti," "La Bamba," and "The Fat Man." He also played drums on The Righteous Brothers' "You've Lost That Lovin' Feeling."
Palmer was inducted into the Rock and Roll Hall of Fame in 2000. He lived to be 83. Back to the columbarium, we find another musician, Ed Townsend. His epitaph "Let's Get it On," gives us a clue as to who he was. Ed was a songwriter, who wrote and performed the doo wop classic, "For Your Love," in 1958.
But as his epitaph notes, he's perhaps best-remembered for co-writing the Marvin Gaye hit, "Let's Get it On," in 1973. Ed Townsend lived to be 74. Rounding the corner, along the bottom row, we find a glamorous movie star of the 40s named Vivian Austin.
Her big break came when she was cast as the romantic lead in the 1940 12-chapter movie serial, The Adventures of Red Ryder. She played Beth Andrews in the series. Prior to entering the movies she had been named "Miss Hollywood." But her career was cut short in the 40s when she was struck with kidney failure, which left her mostly blind.
Vivian lived to be 84. If you saw our Twilight Zone Special, you'll recall that George Clayton Johnson is buried here. He was a noted science fiction writer.
He's perhaps best-known for co-writing the novel Logan's Run, which would be the basis of the 1976 film of the same name. And George took us on a journey through the Twilight Zone in seven episodes, including "Nothing in the Dark," and "A Game of Pool." You Star Trek fans will remember that he wrote the first broadcast episode of Star Trek, "The Man Trap."
And it was George Clayton Johnson's story that was the basis of Ocean's 11. A legend doesn't die because the man does… and though Johnson died at age 86 from cancer, his legend lives on. This columbarium is in section CJ. Here is the niche of Paul Comi. Speaking of Star Trek and the Twilight Zone, Paul appeared in both… in three episodes of the Twilight Zone, including "People Are Alike All Over," and in the Star Trek episode, "Balance of Terror." He'd make appearances on many of the other great shows of the era, like The Wild Wild West and The Virginian, extending all the way into the 90s when he made his final appearance on Baywatch.
And his big screen roles would include The Towering Inferno, and Cape Fear. He died from complications of Alzheimer's at age 84. Back out to the grounds, our last Riverside National stop is the grave of Tommy Bond. He gained fame as a child actor, playing Alfalfa's bullying nemesis in the Our Gang shorts, and later playing Jimmy Olsen in the Superman serials of the 40s and 50s.
As an adult he shifted his focus behind camera to production, as a stage and props manager, including for Rowan and Martin's Laugh-In. Bond died from complications of heart disease at age 79. Crestlawn is also here in Riverside. First up here is Darwood Kaye.
The bespectacled young actor was another regular feature in the Our Gang shorts of the 30s and 40s, as bookish rich kid Waldo. After Our Gang he could be seen in films like Best Foot Forward, alongside Lucille Ball. He left acting though as an adult and became a pastor. Darwood died at age 72 after being struck by a hit and run driver in 2002. In Sunset Lot we find a young actor named Roland Harrah III. He was a child actor, known for appearing in adventure dramas.
He had a prominent role alongside Chuck Norris in Braddock: Missing in Action III. He would be nominated for the Young Artist Award for the role. Other films include Shadow of China, and he appeared on episodes of Magnum PI, and Airwolf. Tragically, Roland took his own life at age 21. In the Garden of Resurrection, we find the grave of Mike Darr. He was a major league baseball player from 1999 to 2001, playing for the San Diego Padres, principally as an outfielder.
But just as his star was beginning to rise, he died in a single car accident in 2002 at the age of 25. Darr had been drinking and was not wearing a seat belt. Let's move on now to Olivewood Cemetery here in Riverside. In the Urn Garden we find the grave of Darwyn Swalve. He began his career in the Broadway show, "City of Angels." He would then appear in films in the 80s and 90s.
At 6'9" he would play imposing figures, like Ox in Police Academy 6, and a wrestler on Barton Fink. Swalve died after suffering a heart attack at age 52. Next up here we visit Del Lord.
He was a prolific director of short comedies in the 20s through the 40s. These would include Keystone comedies in the 20s, and perhaps most notably, he was one of the main directors of the Three Stooges shorts. Lord is credited with having helped develop the unique comic style of the Stooges.
Before directing he would actually hone his comedic skills through acting, appearing as one of the original Keystone Kops… the driver of the Keystone Kop van. Del Lord lived to be 75. Over now to section W3, we pay a visit to Eric Show.
He was a professional baseball player who spent most of his career with the San Diego Padres. He was a pitcher, and holds the record for most career wins with the team. With the Padres he would play in the 1984 World Series. After retiring, Show struggled with drug abuse.
In 1994 he was found dead in his room at a rehab facility. He was 37. Our next Riverside stop is Evergreen Memorial Park. Heading toward the southern end of the cemetery we find the grave of Al Wilson.
He was a soul singer, who had a number of hits in the 60s and 70s. His first hit was "The Snake" in 1968. He would then have a number 1 hit in 1973 in the song "Show and Tell," which is referenced right here on his stone. Al Wilson lived to be 68. Turning the compass north to San Bernardino, this is Mountain View Cemetery, and the tomb of Randy Rhoads. He was a heavy metal guitarist, known as a founding member of the band Quiet Riot, which rose to fame in the 70s and 80s.
Rhodes would also be the original guitarist for Ozzy Osbourne's band, playing on classic hits like "Mr. Crowley" and "Crazy Train." Rhodes is credited with having helped craft the fast technical playing style which defined heavy metal in this era. But Rhoads would be another tragic musical figure to die in a plane crash. In 1982 their tour bus stopped at an air field for repairs.
While some band members slept in the bus, including Ozzy, Rhoads went up in a small private plane to take pictures. The pilot then began to buzz the tour bus, for fun, to try to wake the other sleeping band members. On a third pass, the plane dipped too low, and the wings clipped the bus, sending it careening and crashing into a nearby building. Randy Rhoads, the pilot, and a makeup artist, were all killed instantly. He was just 25, and would posthumously be inducted into the Rock and Roll Hall of Fame.
This is Forest Lawn Covina Hills. Here is the grave of Gilberto Rosiles, known as "Toker." As his marker indicates, he was the King of Chicano rap. He was part of the group Brownside, created in the 90s by Eazy-E as something of a chicano rap equivalent of NWA. Toker showed his love for the city of LA in the track "Dodger Blue."
Toker was just 51 when he was killed while in Rosarito Mexico. Bellevue Memorial Park is in Ontario. Here is the grave of Blackie Fontana. He was an up-and-coming rapper in the Los Angeles scene, releasing two albums in 2016 and 2017. He found serious traction with "Hood Life," released in 2017. But later that same year he would become another promising musician to meet a tragic end.
Very little information has been uncovered about what happened that night, but on October 21, Blackie was shot and killed at a residential gathering in the San Gabriel Valley. He was 32. We're in Monrovia now, and Live Oak Memorial Park. This is where a legendary jockey named Milo Valenzuela is laid to rest. His 29-year career was marked by highlights such as Kentucky Derby and Preakness wins in 1958 and 1968, among many other victories.
Valenzuela retired with an astounding 2,545 career wins. In 2008 he was inducted into the National Museum of Racing Hall of Fame. On the back of his marker is a monument to his champion horse, Kelso.
Milo Valenzuela lived to be 74. This Forest Lawn is located down in Long Beach. Let's spend a little time in the mausoleum. You'll find a Foucault pendulum here in, which demonstrates the rotation of the earth. In these halls we find the crypt of Earl Daugherty. He was a pioneer of early aviation, among the first to earn a pilot's license here in California.
In 1919 he opened his own air field here in Long beach, where he would offer instruction, put on air shows, and even work in some early aviation films. He became the king of aviation in Long Beach, and his air field would grow into what is now the Long Beach Airport, sometimes called Daugherty Field, after Earl here. But marking yet another death in an aviation accident, Earl died when the wings of the plane he was piloting collapsed, causing him to lose control and crash. He was 41.
Joshua Memorial Park is up in the Lancaster area. A handful of famous folks to find here. First up, Raymond Hatton. He was prolific in his screen appearances, topping 400 credits from the very early days of the silent era, well into the 1960s.
He appeared in the first feature produced in Hollywood, The Squaw Man in 1914, and in the 20s he was paired with Wallace Beery in a series of comedies. Through the 40s he was a staple in B Westerns, and by the 50s began making the rounds through many of the great TV show's we love, like Adventures of Superman, and Adventures of Wild Bill Hickock. One of his final appearances was as the Elderly Hitchhiker in 1967's In Cold Blood. Hatton lived to be 84.
We're close to Edwards Air Force Base, and there are a few famed aviators here, like John B. McKay. He was a pilot, aeronautical engineer, and astronaut in the post-war era. He worked for NASA in the 50s where he'd specialize in high-speed flight programs, testing many of the early experimental aircraft to come out of NASA, including early space aircraft like the X-15. During one of these flights his aircraft experienced a mechanical failure and forced an early landing. The plane rolled upon landing.
McKay survived, but suffered injuries which forced his early retirement. His early death years later at the age of 52 was partly blamed on the injuries and chronic pain he had suffered from the crash. Nearby we find fellow flier, Milton Thompson. He too was an aviator and engineer. And like McKay he was among the pilots who flew the experimental space plane, the X-15. After his time as a test pilot, Thompson would hold various administrative positions at NASA, overseeing research projects and engineering.
He lived to be 67. Praying hands show us the way to the grave of Clarence White. He was a bluegrass and country musician.
In the 1960s he was part of the bluegrass group, The Kentucky Colonels. Later he would join The Byrds as their guitarist. He would become a pioneer of the country rock sound of this era. Clarence White died on July 15, 1973 when he was struck and killed by a drink driver while loading equipment into their car after a concert.
He was 29. Fellow bandmate Gram Parsons was especially devastated by his death, penning his final song, "In My Hour of Darkness," partially as a tribute to White, just months before his own death. Our last stop here, near the veteran's memorial, is the grave of John Quade.
The actor's hulking build and unconventional rough features made him perfect for the roles of villains and toughs. He's remembered for appearing alongside Clint Eastwood in several of his films, like as Cholla in Every Which Way but Loose and its sequel, and as Comanchero Leader in The Outlaw Josey Wales. And his television appearances include in shows like The A-Team, and Galactica 1980.
John died in his sleep at age 71. We're back again at Inglewood Park Cemetery, where you'll recall stars like Ray Charles, Ella Fitzgerald, and Betty Grable are laid to rest. Here too is a name synonymous with reality stars and the OJ trial, Kardashian… Robert Kardashian. Robert was an attorney who came to national attention when he represented his friend OJ Simpson in his 1995 murder trial. He was part of the team of defense attorney's which included Johnny Cochran and Robert Shapiro that got OJ acquitted for the murders of his wife and Ronald Goldman. OJ and Robert Kardashian had a subsequent falling out after Kardashian commented publicly afterword that he doubted OJ's innocence.
Robert was married to Kris Kardashian, now Jenner, and had four children with her: Kourtney, Kim, Khloe, and Rob. They would become infamous in the world of reality television, in Keeping up with the Kardashians. But years before his name would become synonymous with being famous for being famous, Robert Kardashian died from cancer, at the age of 59. He was portrayed by David Schwimmer in the FX miniseries about the case. If you've followed our channel, you'll also recognize this magnificent building as the mausoleum at Holy Cross in Culver City.
We've found numerous stars in these halls, like John Candy and Ray Bolger, but there's always more to discover. Meet Al Martino. As a singer he ranks among the great Italian American pop crooners of the 50s to the 70s. He'd become known for hits like "Here in My Heart," and "I Love You Because."
Martino would also dabble in acting, most significantly, playing Johnny Fontane in The Godfather. He would also contribute to the film's soundtrack. Curiously, in a case of real-life imitating art, Martino gained role by getting a little help from his own godfather, mob boss Russell Buffalino, who put a little pressure on the production to hire him. Al Martino died from a heart attack at age 82. And finally, what more fitting place is there to conclude our worldwide gravehunting odyssey filmed by you than Hollywood Forever Cemetery, something of a second home for us here at Hollywood Graveyard. Countless are the stars that rest in these historic grounds and mausoleum halls.
Let's head into a very familiar building, the Cathedral Mausoleum, to find one more. Occupying one of these glass-front niches is musician named Bob Kulick. The guitarist and producer worked with some of the biggest names in rock, including Kiss, Alice Cooper, Lou Reed, and WASP. He would play on 3 Kiss albums between 1977 and 1982, and he played on the WASP albums The Crimson Idol, and Still Not Black Enough. He would also produce for bands like Motorhead, and even wrote and performed a song for SpongeBob Square Pants: "Sweet Victory." Bob died from heart disease at the age of 70, and is now, according to his brother Bruce, "at peace… playing his guitar as loud as possible."
And that, my friends, concludes our tour, and this viewers series. And what a series it was. It was such a treat for me to ride along with you in the passenger seat as we explored the graveyards of the world.
With your help we reached far off places I never could have gotten to on my own – exotic locales like Japan, Iceland, Brazil, to across Europe and Canada, and nearly every US state. As we wrap up this adventure, I wanted to take a moment to thank each and every one of you who participated in this viewers special. I apologize if your video wasn't featured. I included as many as I possibly could, which is why they were so long, and there were so many in this series… I just didn't have the heart to cut out too many. But as this adventure ends, another continues, as we move forward with our regular series here in Hollywood. I'll be back behind the camera once again – lots to catch up on here around LA.
And we've got some exciting special editions in the works, most notably, our Edgar Allan Poe special, which will be released this October to mark the anniversary of his death, just in time for Halloween. It will be our most ambitious video to date, very much in the same spirit as our Twilight Zone Special: part famous grave tour, part documentary, and part narrative film. We're very excited to share it with you. So stay tuned, lots to come from Hollywood Graveyard. Thanks for watching, we'll see you on the next one!
2022-07-31 16:46
Show Video
Other news