Extreme Travel to the City Which Administer Aksai Chin (REALLY SHOCKING )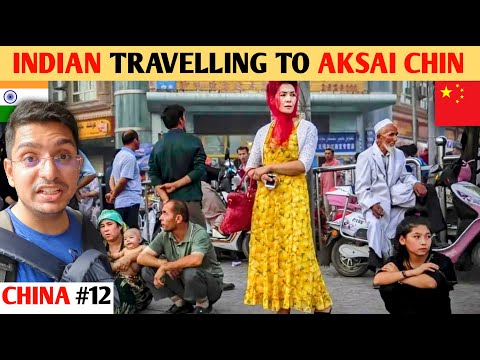 Show Video
He might not allow me. I have to pass a lot of security checks. The security checks were very hard, I will tell you guys. It is very strange because the police are taking videos of all Passengers.
She is playing Indian songs again and again. Police checking after every half an hour. What is this? What did the police tell the driver? Hey guys, very good morning and welcome back to the new vlog. My name is Tourvashu. Currently, I am in Kashgar which is the autonomous city of Xinjiang province.
You might have seen Kashgar in my previous two videos. Now, it's time to go to the next city. Nobody can even imagine visiting the place. Today I am going to the place where Aksai Chin is administered. I am going to Hotan which is 500 km from Kashgar.
This is the neighbor of Tibet's autonomous region. Ladakh and Eastern Kashmir region is controlled by Hotan. I have come out of my hostel and I was the only one in my hostel.
I was the only tourist. I can see police after every minute and I can also see a police post after every 5 minutes. The time is 9:45 and I have a train at 10:45. From Kashgar Railway station to Hotan. I will take a taxi after going to the main road. I woke up at 8 am and there was no sunlight.
The time is 9:45 and now I can see the light and I can see some people outside. There is police here also. Many times you will also have to scan your bag while coming in. I have come to the main road and I cannot see a taxi. I am already late.
I had to leave at 9:15 but it is already 9:45. I should get the taxi from somewhere there. There is a language problem here. Very less people understand the Chinese language. Most of them only know the Uyghur language.
The majority of the people are Uyghur and Chinese are very less. But the place where I am going is very extreme. From where should I get a taxi? All the taxis are occupied. I think this is going to get empty. I will ask him.
Railway station in Uyghur language. Why isn't this working? I will keep my bag. This is the local taxi. In China, roads are washed morning and evening. Although the roads are already clean. There is no dust or mud on the roads.
I did not see it anywhere in China. I observed that the roads are cleaned every morning and evening. Even the small and big towns are cleaned. He is cleaning the road. The train station is 6 km from here and I will reach within 10 minutes.
My hostel receptionist told me to go 1 hour early. Because no foreigner travels to Hotan. They might create a problem so I have to go early. Because I have to pass a lot of security checks. In the railway station and also in the Hotan. There are a lot of complications, I will tell you about later.
I am going to Hotan from where Aksai Chin is administered. The trip was not planned because I was not sure about going. I was not sure whether I will get an entry in the city. I asked for some people and some people were not even talking to me. After researching, I got to know that there is no hotel. There are many hotels but foreigners are not allowed inside them.
Only mainland Chinese people can stay in the hotel. Even Taiwan and Hong Kong people cannot stay in the hotel. My plan was almost canceled because there was no place to stay. I asked my hotel receptionist to talk to a hotel in Hotan. They have told me to come and they might allow me. The hotel has a rule that only mainland Chinese people are allowed, anyways let's go there and check it out.
Hotan is a very interesting place, I will go and tell to you. I am in Kashgar and many parts of India are right below this city. From Hotan, there will be Ladakh part. Ladakh and Tibet is the neighboring places. It is not allowed to go beyond that point. It is very difficult to enter the place where I am going.
I saw some reports that if a non-Chinese visits Hotan, Chinese police and security get behind the person. To monitor the traveler. Look at the camera, it's there in a line.
The camera is taking photos after every two seconds, you can see the flash. This is the driver ID card, it has been written in both Chinese and Uyghur. Uyghur language uses Arabic script. This is very common in public transport in China. The cameras are installed even in taxis. A camera has been installed in this taxi.
This is all Police vehicle. Sometimes we get scared. This is a very sensitive area. I have reached but this doesn't look like a train station.
What is the bill? For 5-6 KM the fare is 3$. Let me take my bag. All the people speak Uyghur language but Chinese language has dominance here. This is the train station and Security Check looks like an Airport Security Check.
I have to turn off my camera. Security Check is done and it was very hard. It is not allowed to record video. Since I am in the underpass, I am recording this video. I will tell you after sitting inside the train. I thought that the police will not allow me.
They allowed me after asking a lot of questions. Let me first bored the train because only 5 minutes are left. This is the regional train in the Xinjiang area. I have come inside the train and the train started to move.
We stopped in a small station. Police came and took a video of all the passengers. Police were screaming in their language. I think they were screaming in Chinese language, I don't know what they were telling. Strangely, the police took video of all the passengers. This is the train and I have kept my baggage up there.
Nobody is talking with anyone, this is a very weird environment. Everybody is sitting silently. She is playing Indian songs. I was shocked when I heard the Indian songs on her phone. Back to back listening to Indian songs.
The bus also operates from Kashgar to Hotan. The bus takes 10 hours. The train takes only 6 hours, half the time is saved. I booked this train is yesterday night from trip.com 13$ for the train and 2$ for the window seat.
I did a payment of 15$ from my card. Whenever we book a train in China it is an Electronic booking. We can book the train electronically and we can directly board the train. But this is not the same situation here. Even after booking the ticket, I have to go to the ticket counter. I have to pass the security clearance.
They have given the small two tokens after passing the security checks. After showing the token, I got to sit inside the train. I will not tell you the procedure done at the security check now. There are many people here and I cannot talk more.
I will tell you what happened to me after getting off at Hotan. She is playing Indian songs back to back. Police are checking the bags after every half an hour. After passing security checks similar to the airport I got inside the train. But even after that, the police is checking the bags which is kept up. He is checking the bags from the device he has after every 15 minutes.
Police come and take a video every 15 min. This area has some issues security-wise. The landscape outside is very dynamic, and it is changing. It is green and sometimes it is muddy.
And sometimes it also has Barren land. I can see 2-3 mountain range there, but I don't know the names. There are many mountains but it is not clear due to fog and mist.
But I can see it in reality, there are many mountains. Similar to the regions in Kashmir and Ladakh. The region is the same. I was sleeping and I got here many people playing Bahubali movie and songs.
Bahubali is very famous here. The highway which you are seeing sometimes comes close to the train and sometimes goes away from the train. The name of the highway is the Xinjiang-Tibet Highway. This is also known as the Aksai Chin Highway. This Highway is there from Xinjiang to Tibet.
This has passed a hundred kilometre inside Aksai chin. China started to build this road in 1950. In 1957, China announced that the highway is completely ready.
China constructed this road to control the region. India only got to know this after two years of constructing the road. I have come to Hotan after traveling 500 km from Kashgar. This was a 6-hour journey. I am still inside the railway station. I have come outside, my passport was checked multiple times.
While getting inside the train, while getting off the train. This is the Hotan railway station. I don't know whether it is being constructed or the color is only like this. It is completed from the inside but it looks like this from out. There is a very long line under the hot sun.
Many people have opened their umbrellas. This is how it looks. This is a very big line. I have to turn off my camera. It was cold in the morning, but now it is hot I have to remove my denim jacket. This is the railway station of Hotan.
Hotan, Hation or Kothan is written on the top. Something might have been written in Chinese and Uyghur. The Chinese name is Kashi and Uyghur name is Kashgar. Similarly, Hotan also has four different names. Before the name was different and now the name is different. It has two names in Chinese and Uyghur. This is a very long line and police officers are standing.
Checking is going on, I will turn off my camera and meet you afterward. They might stop me and tell me to delete the video. I will turn off the camera. What did the police officer tell to the driver? The police officer is taking the number of Taxi Driver.
This is the railway station and there are many security officers. Let me first leave this place. The fare is starting from 47 Yuan. The fare is starting from 47 Yuan.
Then the bill will come to 100 Yuan. The police officer has taken the driver's number. Police might call the driver and ask where he dropped me. I will tell you the story afterward. The hotel is 7 km from here.
I think the meter is not working. They were sharing a taxi, 4 people could sit in a single taxi. The police officer did not allow me and told me to go alone.
So, I am going alone. Many officials saw my passport. It has been clearly mentioned as 'India' but they are telling Pakistan again and again. I am telling the officers that it is India, but they are telling Pakistan.
Initially, I did not get entry to the train station. Here also they did not allow me, but somehow I managed to come out from the station. More than 95% of the population in Hothon town is Uyghur Muslims. Very less people know Chinese.
This is how the town looks in Hotan. We are in the City Centre and everything looks very well developed. Buildings and roads are very well maintained. Constructions are going on and new buildings are being made. There are some high-rise buildings but many buildings are being constructed. This is a very small town but still it has hotels.
But no foreigner is allowed to stay here. I got this hotel through my Kashgar hostel receptionist. They also have a policy, but they have given me an exception, I can stay for a day. I am going to stay here for only one day. Tomorrow, I am going to a very amazing place. Hotan towns looks very interesting.
It looks like a very new city. The population of the city is 5 lakhs, it is 0.5 million. The population is half of Kashgar. Aksai Chin is controlled by Hotan. This is the closest City to Aksai chin.
No other city is near to Aksai chin. You can call this as a gateway for Aksai chin. This is the society and it is very well developed. The architecture is very nice. Roads are being Cleaned. Aksai chin starts from the southern West.
Tibet's autonomous region starts from the south. Tibet has a boundary here. This is a highly sensitive area. This area is not available in Google Maps even after using the VPN. This is the Chinese local map, I am using this.
Places names have been given and I can manage. Everything is in Chinese and I cannot read anything, but I can manage. I have to go straight. This is the circle and this is the hotel in which I am staying. After a lot of tries and after a long time I got the permit to stay in this hotel.
I will tell details about the hotel later. This is the hotel in which I am going to stay. A very big screen has been put outside. I estimated 15 Yuan but it is 14.5(2.08$) Yuan for 7 km. The bill is 14.5, I will give him 15 Yuan (2.08$) This city is very sensitive.
Non-Chinese people are not allowed to stay in these hotels. I am checking my location on Google Maps. I will zoom and show you the location. I don't know whether it is visible on the camera, but you will understand.
Since we are in China the Aksai chin part is connected to China. The Kashmir boundary has not been defined. It is dotted and sometimes there is no International boundary. They have shown Kashmir in both India and Pakistan. They have shown the complete Aksai Chin in China.
That is why this part is empty. If we look at the map in India, this location will come inside India. This is Xinjiang and this is Tibet. We are here and this is the boundary of Tibet. Tibet's autonomous region starts from here.
2023-07-08 12:32
Show Video
Other news