Exploring Hidden Gems with Thai & American Friends - Cycling & Food Tour in Bangkok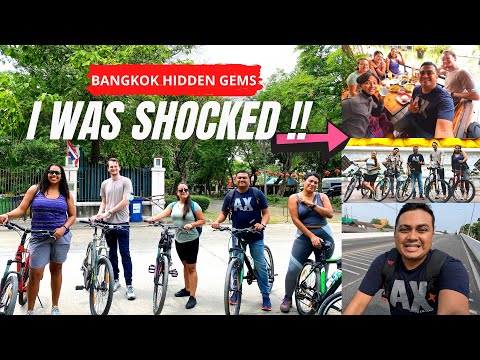 Show Video
Hi How about going around Bangkok on a cycle? You have seen many videos on Thailand and Bangkok I am going to show you some unseen places of Bangkok. Today we are going to explore some hidden places of Bangok on a cycle. There will be 2-3 people with me. I have booked a Grab to travel 9kms from the hotel To travel this 9kms, Grab has charged me 150Baht which is around Rs400/- My cab has reached. It took me nearly 30mts to reach here. Nice lady. We spoke all along the drive.
I was asked to come to Tsai Eatery. Nice place. Finally, Vatt is here. By the time we had juice and tea, 3 more people joined us. Today is their last day and they will be with us. We are going to start our journey. Bangkok River Park hotel is the tall building there.
Before we leave here, lets see on top. They made steps to go up the tree. We have a lot of restaurants like this at Fort Kochi. Its fun and a good ambiance. You can see people have food down there. I never expected it to be so nice up here
Its a different feel when you come up here and look around. Today the 5 of us are going to travel on these cycles. Which one to take? Green or red? Shall take the green one. Its very hot here in Thailand. We are going to cycle in this hot climate. Great. It would be a different experience
Vatt is going to take us on todays trip. I booked this trip through Airbnb. I shall post the link to Vatts tour in our description box Today we are going on a tour to a place where the local people here lives. Going on a cycle to explore the life of the locals here. We are cycling through the narrow passages. Can see a mom putting her clothes to dry
Its going to be a different experience. I wonder why the cycle is making noise. An old woman's shop. You can see they have filled water in bottles and kept it here. We used to do the same in our place to scare stray dogs. Look at the routes through where we are cycling. Its fun. I am holding the camera in one hand and cycling with the other
You might be wondering why cant I cycle all alone. Its different when you have a local person with you Now Vatt is with us. Few tourists from America joined us and we go to know them There are lots of stalls on the streets. There are specialists in that.
We will be coming up with videos of food exploring in the coming days Vatt is riding in the front. He is giving us a hand signal on where to go. Before beginning our journey, Vatt gave us a class on how to go, how to ride, Which side to ride, should listen to him etc Even though these are small streets, all are well maintained and neat n clean. You cannot see any waste here and there. Its very comfortable to ride a cycle. Since its a city, there are no ups and down on the road. Its a straight road to cycle. People here drive cars in a very disciplined manner. You can see that there is no horning or overtaking on the roads.
Bangkok is well known for its horrible traffic. So people use more of cycles and bikes here Motorbike taxis are much easier than hiring car taxis They stopped to give us way to the right. You can see a Church here. A Church in Bangkok. Awesome. Thailand respects and gives priorities to all the religions. The church looks same like in our place. Santa Cruz church is a Catholic church. Vatt told me that Christians are less than 1% of the population here.
We have stopped in front of the church to experience some local food. Lets go and check out. We have to remove our footwears here and get in. I have not been able to say the name of this dish. We have to first mix this well and then have it.
Rice flour noodles with coconut milk and grinded green chillies, spring onions, chicken Awesome food. I didnt eat anything before coming because he had said we would be trying some food We had food and left from there. Dont ask me the name of the dish. You heard him say it. I couldnt say or understand it. It was good. I shall post this location in the video description. Now lets go to the next place. We are again riding through narrow passages.
What you see on both the sides are places where the locals here live. Full of plants and decors. They have kept it so well. In between you can see small shops like this too. I dont have to ring the bell, brake will do
Thanu Singha Bakery House Its written bakery house. I think its the olden times traditional bakery We have come to see a place where they bake Portuguese dry cakes. Its done in the traditional style in the name of Portuguese dry cake. Like you saw a church earlier, these people also came years ago and settled here. Thai food wasnt spicy originally. Once the Portuguese came, they began using chillies
Thats when Thai food turned out to be spicy food. Just like how many controversies took place in our place, many happened here too. Connected to that, you can see many things in this place. They used duck eggs, sugar and wheat flour to make this cake that you see.
We can see how do they do it. Its handmade. This has to be done very carefully. Look at that. I think this is a traditional oven. They make the cake in this We can taste it from here. The food and expenses in this trip is by him only. Its nearly Rs 3800/- per head. We paid through Airbnb He takes care of our water, welcome drink, food etc. We dont have to spend anywhere
Its really worth it. This is good. Its very soft. Got cut when I caught it itself. Its crispy. Can know the egg flavour in it. They use duck eggs in this. We have a vettucake in our place. Its somewhat like that.
We came to the bakery Thanu Singha Bakery house. As soon as we got out, I saw many plants and trees that we see in India. Many tourists come to this place. We can see that here. Is there any place that the Portuguese has not gone? Its such a nice feel to walk through these streets. I had this flower in my house earlier Hats off to the people staying here. They cannot bring a car here. Its just bikes n cycles.
But you can feel a richness here. Its the greenery that gives us that feel. This is a front door. A bell is hung on it, probably to ring. I am anyways not ringing it You can see these kind of bells in front of many houses.
Most of the houses have a wood finished entrance. Saw the same at many places In front of a house here, they are making and selling some traditional drink. Pineapple tart The person there is doing the business in a small way. By the time I looked at that, I cannot find the people who were in front of me. This is a superb experience. I loved it. Look at how people live here. Amazing. Its actually a slum area.
We have slums in our places too. This is one of its kind in Bangkok. You can see washing machines in front of a house. Its a laundry unit. People can come and wash their clothes from here. We have seen this at many places
You can see photo posters. Like that we have got out of the slums and entered a road. This is a sticky rice. I can smell nice fish here. That sounds great. He has bought it for us to have later. This is a school and this is right in front of it. Sang Arun school. This is a beautiful temple. Wat in their language means temple. I think its a beautiful Buddha temple. Looks so good. Reminds me of our Bhutan trip.
We had seen many Buddha temples there. The olden type temples are here in Bangkok too If you are interested in all these, you have a temple tour. They will show you the temples here and tell you the history of it. If you are all alone, you can find out places and go. Wat Kalayanamit is a temple here. You dont have tourists visiting this temple Here its more of locals. Tourists visiting temples are there else where.
Lets go inside. Ladies have to wear a shirt on their dress like this. Men should wear a dress that covers below their knees. Its a part of their tradition. Wow! Footwears are allowed at this area. You have to remove them when getting in there. This is beautiful. Wat is giving all of us essence sticks.
Lets go inside and burn it. Its not very old. Just 80-85 years old. But doesnt look that old too. They have done it in stones. Lets light this essence stick first. This is a place to light them. Mine is done.
I love visiting Buddha temples anywhere around the world. They are so colourful. The entrance is also very colourful. We have to remove our shoes here before entering. We sat inside for nearly 15-20mts. Wat told us about Buddhism, Buddhism in Thailand etc We spoke a lot with each other. The main benefit of traveling in groups like this is, Along with the places we see, we share our experiences with the people with us.
We have seen prayer wheels at many places. But here its like this. Prayer wheels are the roatating ones. But Thailand Buddha temples have these. This is that sticky rice he had bought earlier. Lets have and see how is it. They have made sticky rice and dipped it in coconut milk.
They have filled it with sweet potato, then covered it in banana leaf and grilled it. Its sweet. Its like the ada we make in our place. We saw the places there, ate and left for the next place. Getting to see nice places, eating nice food, good ambiance. No tourists here as of now. They are just beginning to come to Thailand
You have public washrooms here for use. Its seen at many places and is free of cost We have again entered small passages like before. Look at the hotels here. So small. If you want to eat typical local food, come to places like this. Now on, all our videos will be showing you how you can travel all alone. Those watching our videos can see how you can explore different countries all alone. Its a slope here. Will have to put in some effort to ride up.
Usually many people come to Thailand to visit places where only tourists visit. If you go to such places, you come up with only a bad impression. There you have more of sex tourism, massage and its like going to Red street Mumbai Thailand has a deep history, culture and heritage to know about. I will be focusing on showing more on such things in our videos. Now we have to ride up a bridge. Its a gear cycle, so its ok.
We rode up and down the bridge. Now we are going under it. We are again going through small passages. There is a mosque here. We saw temples, church, mosque. You have all religion sacred places here. I loved this. If I had not know Wat, I would have never come to a place like this. How do we find out all these places. We are now again near a temple.
I think this is older than the temple we saw earlier. You can see small houses where the locals live. Its made of wood. You have the house on top and a workshop below. We took a round about the temple and going through a passage in front of it. Beautiful You have nice wall painted passages here. We had seen some at Varanasi too.
I am riding with a camera on one hand and cycle in the other. Warning here to lower head We are now going through the interior places of Bangkok where the locals live. Today the climate is very good. The days I came, it was very hot. People out here are very friendly. You wont feel much issues anywhere here.
All friendly people wherever you go. We have come to another place now. This is a holy pool. The holy water from many places in Thailand is kept here. Its a sacred pool. You can see 8 Buddha statues here.
You know which day you were born. You have to take some water and pour it over the Buddha as per the day mentioned here. This is for Sunday, Monday, Tuesday, Wednesday morning, Wednesday evening, Thursday, Friday, Saturday and one for those who dont know which day they were born. They and I were born on a Thursday. So pour water over that idol 3 times. Do that and drink little of this holy water, their tradition tells us we recover from sickness That temple is connected the building here. You have lots of banyan trees here.
Awesome. Look at their tatoo. Too good. Wat has bought us coconut icecream, local made. They topped it with roasted peanuts You can feel the roasted peanut and coconut flavour. I am drenched in sweat. After having ice cream, we are again continuing our ride.
You have idols around a tree here, small temple setup, a small tea stall. Can hear the dogs barking. Wont be an issue I guess. Should go through this small narrow gap now. Its adventurous but fun. Its a canal that goes next to the drainage. We are going through the sides of it. Look at people living this side Hats off.
Can you see through where I am riding a cycle? If I fall down, I am done. This is a great experience I can see bitter gourd, jackfruit, sugarcane, plantain. What all do they have here They have mangoes. Drumsticks are all dry. Looks like nobody wants them. A lot of small shops in between. Am I really in between Bangkok city?
They have made a resting place here. This is added to Tom Yam soup. Its a leaf. Wat has bought bottles of water for us. He has done and bought everything for us
Some people just collect the money and dont work properly. But he has bought us water, food, showed us around, speaks to us on all. I loved that. A very good man. Finally we rode and rode and reached a main road. You can see the metro line above us We have to cross the road. There is a highway below this and a metro above us.
Oh my! A bike is coming. There are lots of this poisonous fruit like here. Banana flowers kept for sale. Its nearly 30mts since we are cycling now. He said let us really feel hungry and then he will take us to have food. My hands and legs are aching cycling for a long time. You have to carry and climb up Earlier this for a floating market area. Later they changed it to a normal market
I am feeling tired. I havent cycled this much in my whole life. Have been cycling for so long now. Look at the way he is bringing down his bike. I can smell nice fish fry. I think we are going to have our food from here.
This is where we are going to have food from. Wat will order for us. You have a counter that sells smoothies. He said we could buy any we like. I have ordered lemon pepper mint. They have passion fruit and many others Hi. Look at the number of ice cubes they have added.
They are making a smoothie with passionfruit and orange. Look at this. This is like our pringles. Full colourful. They have fried and packed it. Can see a squirrel here. Looks like the dog is trying to catch it. If this was in Kerala, the forest people would put you behind bars. We have come to restaurant that has a house next to it. You have a coffee shop also here.
This is where they are cooking the food too. We had seen a canal earlier. This restaurant comes besides it. How would it be if you make restaurants like this beside the canals in Kochi? It does smell here. But the vibe here is different. So many catfishes. What we saw earlier was fish food. So many of them. They are serving tom yam soup Lets see how the soup is. This is tom yam chicken soup. You have veg and seafood of it
Food is awesome. It tastes awesome. Chicken is so tasty. Its not too spicy. Soup was great Adam is tired eating. He will get up only after finishing that omelette. The food was fantastic. Our tour isnt over. We have another 2-3 more places to see. Lets go We began cycling after food. As usual after food the speed of the cycle has reduced.
You have a Buddha temple here. These temples look so good. You can hear the Buddha prayers being chanted from inside. Its an old traditional Buddha temple. Its a great exercise. Climbing up and down the steps carrying the cycle in one hand. What is this? Is it gold? Its shining. This is the biggest Buddha statue here. Next to it is a pagoda. I think its their temple.
I think you have shoe thieves here. They have asked us to be careful. It opens at 8am and closes at 6pm. So you have to come before 6pm to get inside. Its so beautiful in here. 3 of us are in here and the sound you hear is people speaking in the other room. We are not screaming here. If you stand on a side and speak, its heard on the other side This is amazing. It looks so good.
We stood here and Watt took a photo for us. Look at it. It was taken from here. Awesome. This is a must visit location. Dont miss it. When you come outside you can see this statue. I have put my GoPro to a super view model and taken the whole of the statue in a frame To know the size of the statue, that building's 5 floors including the roof is near Buddhas leg The rest of it is still there. I think it would be around 15 floors of a building, the statue. Awesome right? I am drenched in sweat.
We are now in front of the Buddha statue. The name of the place is Wat Traimit, Bangkok. All of us stood here and took lots of pictures. It was a lovely day. We saw a lot of places and cycled a lot. I am super tired now. See you with another video tomorrow. If you want to book this trip, you can contact Wat. I shall post their link in our description box.
Hope I was able to show you some new places.
2022-04-22 09:33
Show Video
Other news