Expedition Frozen Landscape - Part 1 - A Ski Touring Adventure Above The Arctic Circle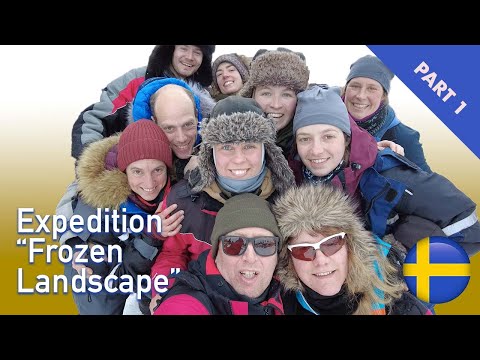 Show Video
We must leave. So. Slept well? Yes, slept well. I'm ready for it. I slept well too. We are excited to start! Let's see if we get everything on the pulk. There's enough prepared anyway.
I am Karin. And I pretend I can do this. I am Onno. And I'm the assistent. I am Christiaan. And I am the gorilla. I am Kelly. And I can be found in everyones sleeping bag. I am Lonneke. And I'm known as "The Tank".
I am Loys. And I eat the most reindeer meat. I am Sylvia. And I am the youngest around. And I am Gerben. I am the most flexible of the bunch.
It's a super beautiful day today. Very cold. It was minus 23 degrees this morning. It's slightly warmer now. Minus 19 or so. But sunny. So it feels warmer anyway. Just had a break. And we're going through "the beautiful path". Looking forward to it for two days.
I hope the battery lasts. Love that lamp in my face. You're causing quite a bit of fog. Are you moist? Yeah. I'm moist.
The weather forecast for today. It snowed a little last night. And today it continues to snow.
There is a little breeze. And where last night it cooled down to ... ... -26 degrees ... ... -27 degrees. It even got to -28 degrees. And after that there was no more enthusiasm to go outside to look at the thermometer. Far too cold. Now it's like ... ... -18 degrees or so.
And it is lovely to walk. We have just arrived at a beautiful lake. And I'll show you that. Yes, I think that's fine. - Can't we just do this? - Yes of course. - I think you can.
The young ones! - Weirdos, let's go. The weather forecast for last night. We had 14 degrees below zero. And everyone thought it was very warm.
We were able to take off a lot of clothes in the tent. And there was hardly any ice on things. The mood was optimal. The mood was certainly +14. It's gotten a bit colder.
We are going to sleep on an island tonight. Everyone likes that. And the most beautiful thing is actually that ... ... it seems that the snow has already been trodden down ... ... by a group somewhere ahead of us. / ... that you keep it at 45 degrees relative to the wood. And press the tip really really well into the ground. - Close your eyes. We don't see anything. Everyone just touched it with their wet claws. - Yes, Karin just hit it with her wet hand.
* incoherent chatter * We have built a complete village. Everyone has chosen their own place to sleep. Everyone is scattered all over the place. We have the porch on the left here. Here are three people. Then we come to the sauna. Hello, we cook in the sauna? - Yes, we are getting cooked in the sauna. - You are being cooked!
And what is the temperature here? - It's definitely ... - I think 20 degrees or more by now. Then ... - The ladies' sleeping place. - You standing here? ... - Welcome!
- Show me, show me! Where are you going to sleep? # Welcome, welcome to the 3 little pigs. # # Welcome, welcome, what fun we have. # The three little pigs built something here? The door is already a bit crooked.
- I wouldn't film in that hole if I were you. - Oh that was the toilet. Let's see. You just sleep at minus 27 ... ?
- Yes, that's us. - Then we walk to the campfire place. Where the campfire is still burning.
Sylvia and I will sleep here. A nice night in the small tent? - Yes and it is a spacious tent. - Not in the tipi for the first time. There are normally 3 people here. We are staying with 2 people tonight. Now that's going to be fantastic! Good morning! - Good morning! Was it a bit doable? - Yes, slept well. - Yes, had a good night. - Not bothered by the wind? - No. - You were low enough? - Yes.
- What is your motto for today? - TO ENJOY! - Dwell on! - Letting go! The weather forecast. It's snowing again today. It also snowed last night. But during breakfast it was wonderfully sunny. Completely ideal. How much did I get if I licked this, Onno? - You can lick it. I have tested it.
- Onno, we get 10 euros! - Yes, we licked! The very last piece. The very last stretch on skis ... and sleds. It goes to the dog kennel. Tonight we sleep in a cabin near the kennel. Tomorrow ... will be the icing on the cake. Then we go for a day trip ...
... with each our own sled and each our own team of dogs. We have to deal with that all day long. There are worse things that can happen to you. Uh, this is video.
- Enjoy your dinner. - Enjoy your dinner.
2022-04-18 15:36
Show Video
Other news