EP 7 Tawang to Bumla Pass | India-China Border | Arunachal Pradesh Tourism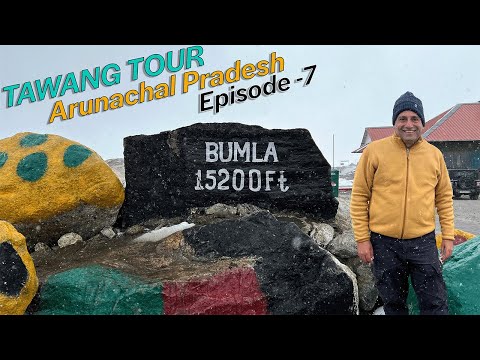 Show Video
Bum-La is 4 KM away. It has started snowing. Down there, you can see a beautiful lake. And here, on the mountain, there is snow everywhere. Namaskar friends! Welcome to Visa2explore! This is your host, Harish Bali.
We are in Tawang. We have with us owners of our homestay. Lam Ji and Sang Torima Ji. Namaskar! We reached here at 7.30 or 8 pm last night.
So, I couldn't show you the outside view of this location. You can see that now. In the surroundings, you will see lots of houses built on the mountains. And, if you look this side.... ...you'll see mountains covered in lot of greenery, trees and shrubs, etc. It is 8 am and we are leaving for Bumla Pass.
So, now I will meet you guys, hopefully, by 6 pm today. Alright! Then I will sit with you and talk. Because, yesterday, I didn't have enough time to talk with you. I would really like to understand more about Tawang and its culture. Alright! So, bye-bye for now. See you in the evening! We are going to Bumla with Tenzing Bhai.
This is his car. You cannot take your private car or outside taxi to Bumla. You need to hire a local taxi from here. So, we asked Tenzing Bhai to take us there. So, it will take, what, 1.5 hours to reach Bumla?
And if we stop on the way, then, obviously, it will take more time. The to and fro cost of visiting Bumla is Rs 5500. The cost includes a pass too, which they get for you. For pass, you need to submit ILP & Aadhaar card of the travellers. So, shall we go? We've travelled 14 KM so far. Look at the lake view! It is called Panga Teng Tso Lake.
In short, P.T. Tso lake. Isn't it looking good? We have clear visibility here. We can see the lake absolutely clear till far.
And, on this side, the movement of clouds is really amazing! I can see clouds moving so close to me, hardly 40 meters away! Beautiful & down there, see, ice! We saw snow 2 KM back on this road. That's when we thought we would stop here. Right! We will stop here for another 10 minutes.
After that, Tenzing bhai suggested we should visit Madhuri lake first. The reason is a lot of vehicles have gone ahead for Bumla. They allow cars only in groups. So, we will first visit Madhuri lake.
We travelled for 4 more KMs from our last stop. And we've reached Nagula Lake. Let us go closer to the lake. Wow! This looks great! It isn't a huge lake! The view is great, though! And I can see snow all around me.
Tenzing Bhai just told me that it is from last night's snowfall. Wah! What a beauty! Tenzin Bhai, how many lakes are there on the way to Bumla? There are a total of 15 lakes. Really! What is the actual name of Madhuri Lake? Actual name is Sangestar lake. Sangestar lake! A movie was shot there Sir... Koyla! Koyla! After that, people started calling it Madhuri Lake.
Alright! Now it is known as Madhuri Lake! How far is it? Sir, it is about 12 KM from here. 12? Great! So, we are going there first... After that we will go to Bumla.
We have covered about 20 KM since Tawang. I see a board here, which says "Teesri Udassi Guru Nanak Dev Ji" gurudwara. We will stop here for 5-10 minutes. There is a chai (tea) langar being served. Let us go. Sat Sri Akal Ji! Can anybody among you tell us about the history of Gurudwara Sahib? Wahe Guru ji ka Khalsa, Wahe Guru ji ki Fateh! The gurudwara you see here is the place of "Teesri Udassi" of...
...the first Sikh Guru, Guru Nanak Dev Ji. Guruji reached here in 1514 A.D. He was accompanied by Bhai Mardana ji and Bhai Bala Ji. So, the Gurudwara is there, on the top? It is on the last peak! How much does it take to reach there? 15-20 minutes! 20 minutes! So, as you told me, Guru Nanak Dev came here between 1514-1515 A.D.
I also read it here on the board that he also visited Tibet twice. Once he took this route and another time, he went from U.P. side. He came to Tibet twice between 1515 and 1517 A.D. During this time, he visited Tibet, Japan, China and Taiwan.
So, you run this Chai langar and, as I can see, Guru ka Langar here. We run this 24-hour langar for tea, water and snacks. What is the last time till when the tourists can return from here? Like you must know the routine, do tourists come here even after 4 pm? No, the tourists leave before 4 pm. Everybody leaves before 4 pm.
We are actually a bit behind our schedule. So, earlier we had thought we would go up to the Gurudwara. But, if we do that, it will take up at least one hour or more.
And we could get late in reaching Bumla. And the weather further seems to be a bit rough. It could be more foggy. Thank you! Wahe Guru Ji Ki Fateh! We've reached Sangestar Lake. The lake view from here looks so beautiful.
Mountains on either side. There are trees in the lake. Let us take a closer look.
Look how clearly the underwater stones can be seen. The water is flowing down from here before going into the lake. This water comes from the snow melting on the mountains. I've seen a lot of lakes in the past few years. But never a lake like this. Lots of lakes have trees in them.
But so many trees, first time! The history of the lake goes like this - about 50 years ago, this area was a jungle. After a landslide occurred, some parts of the mountains fell down.... ...and this natural lake was formed. So, these trees are from that time. These trees belonged to the jungle and now, only the stem part is left. There is maggi, chhole bhature and tea.
A plate of maggi costs Rs 50. Good taste! This maggi is well-cooked and the weather is awesome! Just imagine, sitting in this lovely place and enjoying maggi. On one hand is lake, this beautiful scenic view. Very nice! There is a diversion about 300 m from the lake. If you want to go to Taktsang Gompa, you may go 7 KM in this direction. We had planned to do that earlier.
But now, it is 11.45 am. It will take us about an hour and we might miss going to Bumla. I was telling you about how the lake was formed a few years ago. It is written here tha an earthquake came in 1971.
After that, mountains fell down and this natural lake was formed. One more thing, it is written here that the two roads go towards.... Y-junction and Bumla. If we go straight for 13 KM from here, we would reach Y-junction. From there, we've to take left towards Bumla.
Let's go We are still 4 KM away from Bumla. It has started snowing. Look down there, it is such a beautiful lake. And so much snow on the mountains. We've reached Bumla Pass.
In fact, we've been here for the past 30 minutes now. When we reached here, we were told to speed up our visit. Because even if we were 5 minutes late, we would have had to return as it is. This meant we were already late. The time is 1.20 pm.
I just checked time on my mobile, and it shows 3.50 pm. So I was left confused as to what is the deal. Why is the mobile showing 1.20 pm as 3.50 pm and then.....
....it struck me that it is showing me the Chinese time. That should give you an idea about the place where we are standing right now. We are at a height of 15200 ft. I can see hardly 6 or 7 cars around here. Today, 105 cars have visited this place. Everybody else has left, except for us 7 cars. So we've to leave now but I will tell you what I saw on the border.
As soon as you park your car, you need to get the entry done, have some snacks. You can eat if you have time. Tourists are taken to the border in groups of 20-25 persons. You will be taken to the border, which is just 50 meters away.
At the border, just 50 meters from you, 4-5 Chinese soldiers will be standing. I also noticed that both the armypersons weren't carrying any weapons. Since it is LAC, it is a no-weapon zone. It has been a no-weapon zone since 1962 war. During the briefing, we were told that the whole border was LAC.
Line of Actual Control. On the Pakistan side, we have LoC, Line of Control. LoC denotes a clear line of demarcation between two countries. LAC means that the line is not clear and there is still some confusion prevailing. That includes the whole area from Sikkim to Arunachal Pradesh.
During the briefing, they also entertain questions from the audience. Somebody asked a question about the Chinese soldiers standing there. Till what time do they keep standing there.
He was told that they leave at 3 or 3.30 pm. But the Indian troops remain posted here for 24 hours. By post, I mean exactly on the border point. Whether it is day, night, morning, afternoon, Indian Army remains posted at border.
They keep a watch on the border with binoculars as well as physically. One thing that I've clearly understood during his visit is that.... We went first to Sangestar Lake.
We spent quite sometime there. If we had been even 10 minutes late in reaching here.... ...we would have missed this point. We had to request at two points on our way here since it has started snowing. You can see, this has been going on for the past one hour. Continuously, I have been facing snow, either from this side or from that side.
Whenever you visit here, keep in mind that.. ...you need to leave early. By early, I mean the entry begins at 6.45 or 7 am. You need to try and enter in the first 5 or 10 cars. Though the lake is also important but try coming to this point first. The obvious advantage is that you'll get more time to explore this place. There is lot of snow here.
Also, you will see the place where the BORDER PERSONNEL MEETING or BPM... ...takes place nine times in a year. The meeting happens 5 times in India and 4 times in China. Apart from visiting that complex, you can explore this place with your eyes.
The border point is hardly 70 meters from here. After a certain point here, no photography or videography is allowed. To sum up, when you visit Tawang, you must come here first.
You would enjoy here. Now we must leave here in the next 5 or 7 minutes. There are hardly 2-3 cars left now. Rest of them have left while I was recording this video. So, it is bye-bye for now. Will join you again in Tawang. We've reached Y-Junction after travelling for 20 minutes from Bumla.
In the morning, we went straight to go to Sangestar lake. The distance is written here - 13.6 KM. There are light snowflakes falling right now. The weather up there had already worsened. I am sure it must have started snowing there by now. All the snow that you see in the surroundings is from today's snowfall.
All of it has collected in the past 2-3 hours. There is no doubt that coming here was fun. We have reached Ani Gompa now. This is the entry gate, on which is written Tashi Delek.
It means something like welcome. Before we go inside, let me show you the scenic view from here. Do you see that river? Actually it is a small river called Tawang Chhu.
It will meet a bigger river in the distance. While coming back, I saw a number of locations from where.... ...one can see straight from the mountain top to down below. We were able to see despite a constant snowfall.
And there were some magnificent views of roads passing through mountains. However, since the snow was falling constantly, we could not get down. But I have to say we enjoyed the journey. It feels good standing here. Let's go into Ani Gompa. First of all, Tashi Delek to you.
Tashi Delek Sir. Tashi Delek means 'Namaste'? Yes Sir We visited Lord Buddha here. Please give us some information about the brief history of this monastery. Okay Sir. The monastery's name is Chung Gun Thukje Chueling. Our monastery is older than the Tawang monastery.
It is so old? Yes Sir. After very heavy snowfall, we had to get this monastery renovated Sir. You got it renovated. Yes Sir. So, by old, you mean 500-600 year old monastery? Yes Sir, something like that.
And generally, at a given time, how many nuns reside here? Sir, here, we have a total of 47 nuns. And does this monastery come under the Tawang monastery? Yes Sir. We also belong to the Gelukpa sect. Alright. Thanks for this information. You're welcome Sir. Thank you so much. We have returned from Bumla to our homestay. So I requested both of them to sit with me for some time.
Let's have tea together. Till the tea comes, please tell me something about your culture. Some such things that outsiders aren't aware of. Or such things that tourists are totally unaware of. Tell us of a few such things. Our Mon region is by and large peace-loving region.
Being Buddhist people, one of our main religious teachings is that.... ...we must be peaceful and we must not harm anybody. That is why wherever you go, a tourists won't face any kind of problem. One more thing that I've observed, not just about Tawang district. Ever since we began our Arunachal tour, since leaving Guwahati behind.... ...I see smiling faces everywhere. Which is a good thing, right? Although, it happens in other parts of the country as well. However, this is something that I've been noticing recently, since 4-5 days.
Tell me some more. As for the culture Sir, unlike other parts of India, we don't have dowry system here. Like in a marriage... Like in a marriage, you give a bride car, or a house, nothing like that happens here. In Dirang, I was told that the groom's parents even give ...... ...a yak or a Mithun (Drung Ox) to the bride's family. Tell me more about it.
They give yak Sir. Alright. In our Tawang Monpa area, they don't give yak. This is a custom of Dirang Monpa area. Yesterday, we were passing near a river.
There, I read a board, which said, animal slaughter isn't allowed. Please tell me more about it. Sir, slaughtering is absolutely prohibited in our religion. As a Buddhist, slaughtering is a grave sin for us.
Thus, slaughtering is prohibited. Actually, we were getting to know things in bits and pieces while travelling. So we wanted to learn from you in detail. Very nice. We've had a comfortable stay with them.
We came here last night. And I forgot to tell you this that you both are very hardworking. Thank you Sir. I mean imagine, from 6 am till your last guest has had dinner....
...you keep working side by side. All we can say is Sir 'Atithi Devo Bhav.' (Guest is God) See I had to highlight what I liked the best about you. It is a challenge for you since you've got limited accommodation here.
For us as well, it was a struggle to find a room because they were also booked. So, the learning is that if you are travelling in Arunachal,.... ...don't know about other parts, but in Tawang circuit.... ....whether it is Dirang, Bomdilla or Tawang itself.... ...you must come with your accommodation pre-booked. Though you'll get a hotel or homestay even if you come otherwise.
But chances are you may not get what you are expecting. That is my personal thought. I will tell you one thing, you tell me if I am right or wrong. Some places have 3, some have 4 seasons. But this place has only two seasons - monsoon and winter? Is it true? Yes Sir, it is true.
Sir, October, September.... Which period did you say? Like September, October, November. These 3 months are best for tourists because of clear visibility. Visibility is good and there are no rains either.
And it isn't cold either. Alright, alright. Nice.
Today will be our 3rd night stay here in Dirang. Not Dirang but Tawang. And I see non-stop rain. It rains for 30 minutes, then after a 30-minute gap,... ...it starts to rain again, and then it stops before starting again. It goes on like this. Yes Sir. That is how it has been. During June-July, it must be raining for days on end? 4-4 days maybe.
I know I've said too much but I mean it must be a continuous rainfall. Yes Sir, we don't get to see sun for a long time. It rains most of the time. Fantastic. So we had a good day today. Our stay with them has been comfortable. I will take from you the contact details of 2-3 more homestays.
Because you have limited accommodation. So, at least, I can share more such details with them in the video description. Accommodations that are of the same level as yours. Great. So, that is it for today. As for tomorrow's plan, to be honest, it is 5.30 pm and I am not sure.
That is the state of affairs right now. Now they have given us a hint. Tell me about that waterfall once again. 108 waterfall. Chumi Gyatse. Pardon.
Chumi Gyatse Chumi Gyatse Great. So this place is at a 3 hours' drive from here. So they suggest that we should go there, spend 2-3 hours there, and then return. There is a hot water spring and a huge waterfall with 108 holes in the mountain. Am I right? That is where the water comes out of. That way we can come back in time.
But our problem is that we cannot go there non-stop. We have a lot of stops on the way. So that we will have to decide. Then there is an Iron Bridge too. It is one hour away? Yes, we are interested in visiting that as well. In next 30 minutes, we'll decide whether or not we'll go direct to Dirang tomorrow. The weather forecast predicts lots of rainfall for tomorrow and day after.
So we need to keep that in mind as well. Alright? So today's episode ends here. In a short while, we will also plant out our tomorrow's journey. Bye-bye for now. Thanks for your time.
We've stopped our car again to watch the lake from a height. The weather, right now, is clear. So, I can make out a heart-shaped lake down there. It feels so good standing here. Take a look at the surroundings.
I had shown you the snow earlier. And right there, you can see fresh snow.
2022-06-12 17:56
Show Video
Other news