Ep 7 Pangong Lake to Hanle | Worl's higest salt water lake - Pangong | Ladakh Tourism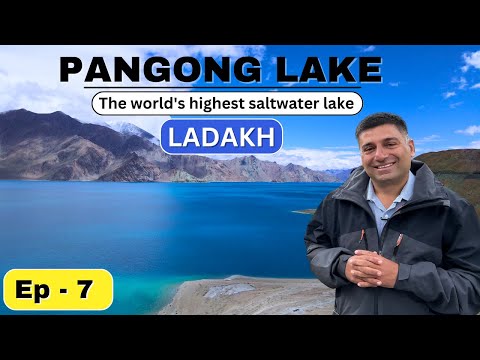 Show Video
How can water be this blue in colour! I haven't seen such a lake view in my entire life. Namaskar friends! Welcome to Visa2explore! This is your host, Harish Bali. We are enjoying the Ladakh tour. Yesterday, we left Leh in the morning and spent the night in Tangtse.
We were headed towards Pangong but being late, we had to stay in Tangtse. Today, we left Tangtse half an hour ago. We've covered 12-14 KM so far. We've stopped our car here to show you this beautiful view. See, isn't this view too good! Clouds are moving slowly across the mountain peaks in the front. And on this side, the clouds seem to be sitting on the mountain tops.
Down here, do you see this stream, flowing through this grassland? This is a marvellous view. So beautiful! Let me show you the scene in front of me. This whole area is rocky terrain. This area is covered in rocks of all sizes.
While travelling in Ladakh, I noticed there is hardly any greenery on mountains. We are in the Trans-Himalayan region, which is covered in snow.... ...for 6-7 months in a year. Thus, you feel attracted to whatever little greenery you get to see while travelling. The Pangong lake is at a distance of 35 KM from Tangtse.
We will follow this road straight up to Pangong lake. We will try to enjoy there as long as we can. We will visit the Lake properly. From there, we will go to Hanle.
Apart from this, our night stay would be at Hanle today. Really wonderful! Let us move around a bit and take in the scenery. After that, we will begin our journey to the Pangong Lake. Here is the first view of the lake right after we got down from our car. So beautiful! Do you see what I am seeing from here? Still, blue water! And someone has placed a thin sheet of glass over it! This is what I feel right now.
Let us go near water! Please come! It is after ages that I am seeing a lake this clear. You can see across the water, starting right at the edges. I can see clearly right up Visibility is awesome! Absolutely crystal clear! Shall we have a sip of the lake water? First thing first, water is very cold! I put my hand in water for just 2 seconds and these turned red! Let's have a sip of this water.
It is salty water. The water is salty. Usually, lakes have fresh water, not salty! Do you know why? Let me walk over to that side and I will tell you simultaneously. You must have heard what happened millions of years ago. The Indo-Australian tectonic plate collided with the Eurasian plate. This collision didn't happen overnight but over a period of thousands of years.
The Himalayas started forming during this collision. Those are known today as Lesser Himalayas, Middle Himalayas.... ...and Greater Himalayas. Highest peaks form the Trans-Himalayas and the lower ones are Greater Himalayas. At the time of this collision, the Australian part remained behind. The Indian subcontinent was pushed forward into a collision. At that time, this whole are was an ocean called Tethys Sea.
Since it is sea, it would have salty water. Water from the Tethys Sea merged into that of the modern-day Bay of Bengal. And the salt was left here. Let me tell you the main sources of water for this lake.
The melted glacier water flows through the mountains before reaching here. Monsoon is another source. But it isn't a major source like there is a light drizzle going on even as I talk to you. Monsoon isn't as big a source as the glaciers. The glacier water melts and flows into the lake along with minerals, rocks, etc. The minerals also have a salty character.
That also adds to the saltiness of this water. These are the two primary causes of this lake's water being salty. If there had been a river emerging out of this lake...
...salt content of the lake would have been reduced over time but... ...the water keeps evaporating, leaving the salt behind. I hope you know now why the water of this lake is salty. I've tasted this water myself and I know it is salty. It's a fact that one can't survive here, today on 13th of July, without woollen clothes. That will help you imagine how cold the local weather must be. This is what I am feeling during the day time. It must be really cold during nights.
Let me tell you one more interesting thing about this lake. When the winter comes, this whole lake freezes all over. While walking, I've reached a point where a number of scooters are parked.
Seeing these scooters parked here reminds me of the movie "3 Idiots." One of the movie's sequences was shot at Pangong Lake but.... ...that shooting point is a little further. These scooters have been parked here just for the benefit of tourists. I also feel that Ladakh has become a more popular tourist destination after 3 Idiots. This movie has a major contribution in enhancing Ladakh's popularity.
As a tourist destination! Now, let's go back to the car. By road, we will go up to that point where the '3 Idiots' movie was shot. Little further is the location where another movie "Jab Tak Hai Jaan" was shot.
We've travelled 5 KM from where we were earlier. This board says that the Pangong Lake is 160 KM long. One-third of the lake is located in India and the rest in China. And it is situated at an altitude of 4350 meters. We have walked up to the point where 3 Idiots was shot.
These scooters are parked here. If you want to click a photo sitting on this scooter, charges are Rs 50 per photo. We will stay here for another 10-15 minutes. Our car is parked right there. We will go further along the lake in our car.
Let me also show you a glimpse of the Spangmik village from here. It is hardly 2 to 2.5 KM from here but we won't stop there. We will continue our journey further. You will find accommodation facilities at the camp site a little before the lake. Those camps, that you see, would be about 2 KM from here.
We passed it earlier. Accommodation is also available in the Spangmik village. We travelled straight on this road, while catching a glimpse of Spangmik village.
We travelled 4-5 KM more to reach the Maan village. These villages are located next to this lake. Like, right now, we might be not more than half a kilometer from the lake. We are watching the lake from this height. Down there, you can see camping sites. We've stopped here for some food.
We've come to this eatery known as 'Paramount.' We have already placed our order for Momos and Thukpa. Now that we are here, let us check their room facility. The lady who owns the hotel doesn't want to be on camera, so I'll be showing around. The room charge is Rs 2500, which includes breakfast and dinner.
Double occupancy! I have got for myself a plate of Momos and a bowl of Thukpa. The taste of these Momos is okay. I think I was expecting a lot more. This Thukpa tastes very different. In the past 7-8 days, I have had Thukpa at least 5 times.
The soup of this Thukpa is different in taste. It is good! Something different! The veg soup of this dish also has a hint of soy sauce. This soup is really delicious. The taste of this Thukpa is improving with every sip of this soup. After Maan village, we continuously saw the aerial view of the lake. So, it felt that the lake had started looking more beautiful.
Anyways, we travelled for another 4 KM. And now, we have stopped our car. The view that I'm going to show you now is something I haven't ever seen in my life. See this view! Lifetime view of water! I am thinking how can water be this blue in colour! Never before seen this view! If I have to describe it in minimum words.... ...I would say I can't believe my eyes! It is quite possible that one could achieve this level of colour correction....
...and we would respond by saying "Good job done on colour correction!" But to see this view with my naked eye is a first for me in my life! Tourists travelling on this route have their eyes fixed on the lake. So, there are more people who've parked their car nearby and... ...are feeling excited about the marvellous view in front of them. Do you know the first thing everyone here is saying? We have never seen a lake view like this! They are clicking photographs and enjoying the view.
I will also tell you the scene vis-a-vis mobile network here. The mobile network of Jio was available at the '3 Idiots' point. It is gone now. At this moment, there is no BSNL network available here.
Since last 5-6 KM, there has been no mobile network available in this area. After leaving Tangtse this morning, we've covered 65 KM so far. By now, we've reached near the Chushul village. In fact, Chushul village was left far behind. Do you see this road? We came here from this direction.
We've seen the Chushul village. It isn't very large, hardly 100-150 families there. A little further from there, we saw this memorial here. Do you see, it is written here - "Abode of Chushul Bravehearts!" Let's go in and I will tell you more about it. During the Indo-China war that took place in Oct-Nov 1962...
...Chushul sector and Rezang La Pass played significant roles. In that war, in Chushul sector, several Indian Armymen were martyred. This Memorial is built in the memory of those martyrs. That is the place we are visiting today. And we are paying our tributes to those bravehearts.
The place where I am standing right now, let me tell you about it. I will tell you how far it is from Leh and where does the Chinese territory begin! Take a look! The mountains in the front are a part of India & the ones behind are of China. From here, we will be travelling 5 KM to reach Rezang La. Rezang La is a mountain pass with a museum. The museum displays detailed information about the 1962 Indo-China War.
Come, let's go to Rezang La. We have reached the Rezang La Memorial. You need to show your Aadhar Card while entering here. We are now inside the Memorial.
Let us visit the Memorial. And we will share the information that we will receive here with you as well. Please come! In October 1962, the Indian Army created the "Charlie Company" out of...
...13 Kumaon Regiment to fight against China. This Company was posted near Rezang La, where the Chinese had attacked. Now where is Rezang La? We are standing at a Memorial right now. Do you see the mountains in front of us? These brown-coloured mountains! See behind this light (electricity) pole. There is a mountain located right behind it. The top of that mountain is actually Rezang La.
'La' means a mountain pass. Rezang La! If we look below that... ...we see some bunkers there. The area where those bunkers are is under Indian control. The top, as of today, is under Chinese control. The mountain in its front is No Man's Land, nobody is allowed there.
Do you see the Ahir Dham? This is the place where last rites were performed for the 131 Indian soldiers... ...martyred during this war. Major Shaitan Singh was one of the Indian soldiers to be martyred here. His last rites were performed in Jodhpur. When this war happened between October-November 1962... ...his body was recovered 3 months after the war ended from these mountains. The memorial we are visiting today was built during 1963.
It was renovated during 2021. The lion symbol on top of this memorial represents the 13 Kumaon Regiment. And if you look at these small pillars! I am talking of these. If you count, these are 12 in number. The pillar in the centre is 13th in number.
These 13 pillars together represent the 13 Kumaon Regiment. On the left and right side of this pillar are written names of 114 jawans. These were the soldiers who were martyred during the 1962 Rezang La war. Videography isn't allowed inside the gallery, so I am telling you about it here.
As soon as we entered the gallery, we saw a huge photograph. Under that photograph, it is written that in 2020, soldiers of 8 Kumaon Regiment... ...built a memorial for Major Shaitan Singh atop the Rezang La Pass. The memorial is built at the spot where Major Shaitan Singh breathed his last. So, that is the photograph we saw. We also saw the weapons displayed here. These include both Indian as well as Chinese weapons.
During 1962, the Indian Army didn't possess too many automatic weapons. A large part of the battle was fought as hand-to-hand combat. When the ammunition was over, both armies engaged in physical confrontation. China possessed automatic weapons at that time. Looking at the display inside, it was clear that what we used were older weapons. Those weapons were not in use anymore after the World War II.
But India had to still use those weapons. Now we are going to Hanle from here. We will be visiting the scenic points on the way to Hanle. I've been told that the road to Hanle is not in a good condition. So, we might take more than usual time to get there. When the road is in good condition, it is easier to reach the destination.
Let's go now. We've travelled just 10 KM from the Memorial. We've reached a point where this stream is flowing by. What would you think if you aren't travelling in a taxi but are self-driving? You would think to ask someone for a road to Hanle, because this can't be the road! Actually this is the road! For now, it is submerged in water. And this stream has started flowing over it. Though I don't know whether it is always like this, I believe this is a proper stream.
See, its path is already designated. It isn't made due to rain. It is a proper path for water to flow by. A lot of people had suggested I should go to Hanle from Leh. They had said I should go back to Leh from Pangong & then go to Hanle... ...because it was a straight road. They said it would be easy because the road is smoother, without any bumps. But since this is a shorter distance, we chose to travel from here.
Moreover, Dorje Bhai is an experienced driver on this road. So, all the more good! There are a couple of eateries where we have stopped. I am telling you this so that you get an idea about this landmark. There are also two bikes parked next to the eateries.
Shall we move? Come! I think I am always looking for a chance to stop the car and get down! The time is 7.40 PM. It is almost dark. It will probably be completely dark in another 2-3 minutes. I am going to show you an exclusive place! See, this is all sand here. I haven't seen this kind of view in the past 7-8 days of our Ladakh journey.
We were travelling on an offbeat path for a long time. But now, we've reached a road like this. We'd been driving a little more comfortably since last 7-8 KM.
Look at this beautiful stream of water! Every day I say we should reach our destination before it is dark. Like reaching by 7 PM or so but we get delayed because of one reason or another. We didn't pass a single car coming in from the opposite direction in past 1.5 hours. Neither did any car overtake us nor did we see any biker going in the same direction.
So, that gives you an idea that this route is less-visited! Tourists travelling from Pangong mostly leave early in the day! That way, they can reach Hanle by 3 or 4 PM. We are awfully late! However, we couldn't help but stop here to enjoy this view for just 5 minutes. You know how an inner voice tells you to stop, that is why we stopped here.
But we must move now. This was a short break for us. Finally we've reached Hanle.
Moments ago, we parked our car and came to our room with our luggage. Our room is booked in the 'Hanle House.' When I asked the owner how old was this homestay, she said 5 years old. She said she had been running this homestay since 2017.
That way, it has been more than five years. So, take a look, this is the accommodation. The tariff we are going to pay is Rs 5000 for double occupancy.
The tariff includes breakfast and dinner. Now, we need to stay here for two nights. For today and tomorrow. Tomorrow, they are fully booked! This means, tomorrow we will have to look for another place to stay. My basic requirement was to get enough electricity to charge all my gadgets.
They have that facility. Now the difficult question is to get another guest house in Hanle... ...with this kind of power backup. Tomorrow, I am going to spend another half an hour or more....
...and freeze the place where we are going to stay tomorrow. Otherwise, we will come back from Umling La tomorrow and.... ...face this pertinent question about where to stay next. Moreover, if batteries get discharged, I will have to narrate my journey to you verbally. What is the use of our journey if I am not able to show you the visuals too? I have already told you tomorrow's plan, we will travel to Umling La and return here.
Let me also tell you our plan for the day after tomorrow. The day after tomorrow, we are planning to visit the Tso Moriri Lake. This is our plan for tomorrow and day after tomorrow. Let me also tell you about another attraction of Hanle. Tourists also come here for star-gazing! This is a huge attraction of this place. Because after 11 PM, this place is pitch dark.
We had started seeing beautiful stars in the night sky while on our way here. Today, we are a bit tired. That is why we want to eat dinner and go to sleep. We might just look at the stars for a bit and click photographs. But tomorrow, we will try to shoot a proper video of the stars. I want to get proper sleep today because I couldn't sleep well yesterday as well.
I slept only for a short while. Alright! So, I will say bye to you now. We will meet again soon! Thanks for your time!
2023-10-15 23:58
Show Video
Other news