EP 7 BTS Kokernag to Sinthan top to Daksum to Srinagar | Kashmir Tour season 2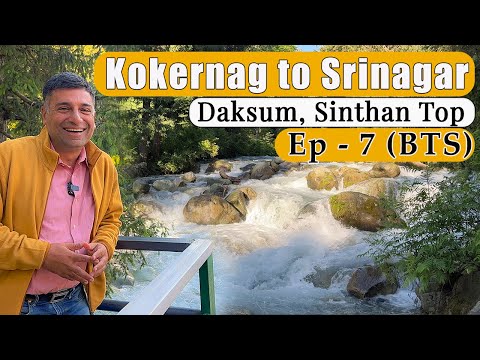 Show Video
Hello.. Good morning! I am currently in Kokernag Kokernag of Kashmir is an offbeat destination in a way when you're going from Pahalgam to Srinagar So if you want, you can add Kokernag to your itinerary. but I see very few people add it. Now, tomorrow we'll be back..
and I haven't got my ticket yet so I said without loss of time get tickets Tickets will be done in the next five to seven minutes then we people will go for a walk in this garden Will trout fish be available here? Yes sir let's find it out There are only two - four shops Well one thing is right I may forget but you don't absolutely sir --Hearty Laughter-- Come On Do you have trout fish? We won't get it here Let's check it out ahead This place is popular for Trout Fish Brother Irfan, the matter of the fact is We won't stop anywhere en route Ok sir Because I've done re-calculation If we stop en route, we'll miss out on Achabal We won't able to explore around ..upon reaching there in the dark Now, we'll stop straight at Daksum only Ok sir We'll behold good scenery by slowing the car Ok Till that time, let me check some comments Sir, please do a tour to Lakshadweep as you haven't visited it yet Yes, you're saying right Lakshadweep is pending I'll plan for it But, it's difficult in this year I'll plan for the next year Ok, thank you! In this way, I check some comments intermittently If I didn't see them then there'd be around 100 DMs by the evening that went unread by me In between, when I get 10-15 minutes time While travelling, I do it all by myself And, when I'm not travelling then.. Both my team & I answer those comments Why did Tourism Police stop you? Sir, entry is made at this point Here, they grant us serial number Our serial is 73 It means, your car is 73rd that has entered the region Yes, sir Currently, many tourists are visiting Sinthan Yes, sir Crowd is relatively lesser due to Eid Otherwise, around 400 tourist vehicles ..travel up to Sinthan Top 400 tourist vehicles everyday? Yes Despite labelling it 'off-beat destination', around 400 vehicles are going to Sinthan How many would go there if it got popular? When snow melts all across Kashmir, all the same, you get it at Sinthan Top This is the main point Where will you stop the car? There's one viewpoint (waterfall) ahead we'll stop our car at that point Nice viewpoint is visible from low level as well From there, try to find out Where can we get good quality Trout? What we will do After visiting Sinthan, we'll have Trout during return journey Ok, sure sir. That's better Otherwise, most of our time will go waste here Do we need to take out our Jackets.. before reaching Sinthan Top? Yes, sir This plate is available here How many same plates do you have? Six Six plates I've decided to eat Maggi only from.. that person having steel plates So, you've 6 plates That's the good thing Prepare Maggi for us What's the cost per plate? Rs. 50/- Ok, good thing Make one plate out of 2 Maggi packets I'll soon tell you about number of plates Till the time, have it with you And, Daksum is also very beautiful How do we pronounce "Daksum"? Daksum For the first time, I've got Decathlon Jacket And, the second thing is..
It is a Double (Nested) Jacket How to wear this jacket is also a mess Now, it's fine Has it fitted well? Where is Himanshu? Lock it from the back This jacket has 3 locks These 2 jackets get locked together First time ever I've got such an expensive jacket Worth Rs. 7000/- It is said to keep warmth up to -5* C All good! Today is the first time I'm wearing a jacket Ever since I've purchased it I won't need it after Sinthan Top After that as we go to Ladakh, there we'll need in a few places Ok, brother, thank you so much Should we visit again in our returning Yes, we will have a stopover here Let's go People tell me in the comments that.. I don't wear outfit to the occasion As you go on a Jungle Safari, you wear outfits unsuitable for Safari Or, say, you're on a hilly terrain, you'd wear different kind of clothes Now, I need to pay attention to this aspect Because our entire focus goes on gadgets This is what I am perceiving I make sure we don't miss out on any gadget required in shooting Outfits for me is actually the last thing Rather than being last, the outfit priority should be in between Because different kind of things are.. ..suitable for different kind of terrains I cite a small example what kind of slip-ups we make It's the reality that at this moment we don't have even a single umbrella You might think what kind of truths we're revealing in Behind The Scenes I'm telling you the truth we don't have an umbrella In case, it starts raining heavily then it'll spoil our scene Apart from that, we also do many other slip-ups relating to our travelling For instance, We'd have advance bookings done at least 48 hours beforehand theoretically.
at least Not to speak of 'practically' Theoretically, we'd book it 48 hours before Now, the today's truth is.. Tonight we need to stay in Srinagar And we don't have any booking for that Now, Network went down 2-3 km before Daksum It is a 'No Network Zone' Our returning time will be around 4 to 5 PM At that time also, there'll be no network We'll get network around 6:30 PM Then we'll frantically use our mobiles searching for staying options in Srinagar I'm trying to find out other ways so that.. our stay is confirmed 48 hours in advance I can't move with my whole itinerary packed In case, I pre-confirm my all days booking then we'll miss out on flexibility in schedule On the way, sometimes, an unexpected beautiful place necessitates days' extension I want to carry along that flexibility It looks right. Doesn't it? It'll take us one & half hour to reach.. ..Sinthan Top from here. Let's enjoy our travel Let's wind down our window a little and relish the cool breeze to utmost degree As we're going to return tomorrow Now, we've had 30 hours left in total ..to greatly enjoy the Kashmir's undiluted air Thereon, we won't get Kashmir's air Lovely! Especially, we won't this sort of weather as we once travel down past Kashmir Weather is cold with freshness in the air and we're miles away from the traffic Nothing is visible from here So dense are the clouds we are standing amid these clouds Lot of people has swarmed this place On the way, we thought we're the..
.. only ones travelling through the route Oomph! Come & enjoy at Sinthan Top Get a pair of shoes Hello We'd fun Awesome! Highway signboard reads.. Jammu only 315 KM from here This route also leads to Jammu Does this route lead to Jammu? Yes, sir Which way is it? Batote & Kishtwar comes en route to Jammu Hello brother How come you got here? I came here with my passengers Ok, you came with your passengers Are you fine? We're fine, or rather, very fine. Come, we'll meet you at down Introduction of Zakhir brother goes this way..
he takes tourists to Pahalgam, Aru, Betaab Valley, Do you have Dzire car? Today, I've got Innova Do you also drive Innova? Yes, sir Ok His 2nd introduction is that.. he is an excellent photographer When I went to Pahalgam, ..in the month of March, We shot our episodes in April ..before that month Zakhir brother clicked some of my fantastic pictures Let's come to this side Zakhir brother clicked some of my pictures.. Oh, sorry Zakhir brother clicked some of my pictures.. How are you? Awww Your hands are so cold We've come here after watching your videos I too have come here for the first time Not here Pahalgam Oh, lovely! You'd gone to that place.. Doodhpathri Oh, great! You made 6-7 videos Yes It's great to meet you Have you put your hands in the snow? Sir, we went over there You also go there Ok Bye until we meet again Surely, we will meet again.
So nice Zakhir brother is an excellent photographer Did you know you're an excellent photographer? Or it was I who revealed it to you Sir, you've told me this Very nice Have you brought tourists along? From Pahalgam, you came here where will you go next? Now, I'm returning to Pahalgam Very nice Brother, you're wearing only single jacket Yes, sir, it's a single jacket Are you not feeling the cold? No, sir I'm feeling little bit cold Shall I give you my jacket? No, sir, we're just leaving now Ok, you're about to leave Yes, sir Ok, brother, nice to meet you Too much cold here.. .. is not just for you, but for everyone Now, we need to take out some stuff Matter of the fact is.. where's he gone? Put on this one No, problem we'll do Put it on You're carrying only one sweater in biting cold Is it a joke? Sir, it's worth enjoying Sir, one should also enjoy the cold Otherwise, it is so hot One can't enjoy at the expense of one's health Sir, do you need to take out anything else? I don't need to take out anything else You, rather, should put on this cap Me? No sir, I won't put it on Don't do such kind of bloopers In lieu of cap, put on the warm cap Sir, you made me look like a tourist How does it matter? We're continuously walking up the slope Today, I got pleased having visited Sinthan Top What a scintillating view! Well, there's one more thing As we're gradually gaining height Tourists aren't reaching this place Maximum number of tourists just walk.. ..a few meters ahead from the parking below. At this point, only those come.. ..who wish to ride on a sledge See, this entire place wears a deserted look It's nice. Isn't it? Wind was so fast at the top It is comparatively nothing at the bottom Wind was blowing too fast at the top We found it hard standing on our feet Brother, if rain comes, we'll get drenched thoroughly Did you enjoy? "Enjoy" is a small word Add word "unforgettable" before it Today is my day If the weather was clear then it'd have been altogether a different experience It's called 'Dil Mange More' --Hearty Laughter-- Have it What is it? Do you know what it is? Khumani (Apricot) I'm giving all what I have Ok, listen There's one biscuit packet Divide up and share out among all Right? Ok Where do you live? In the vicinity It'll take us half an hour more to reach Daksum Very nice What our habit is that..
we can't move non-stop We stay & move alternately for a while Having walked for 45 minutes then we thought to take a break Let's behold the scene, then, we'll move forward Now, we've reached Daksum we wanted to take a break of 15 - 20 minutes then move on to Achabal So first... we have seen JKTDC That was closed It meant JKTDC in't operational here ..at present times. then above is the Daskun view hotel & restaurant written we thought they should make.. .. some pakoras and bread butter toast. so I've already spoken they are preparing So 15, 20 or 25 minutes whatever time it takes I'll eat and go to Achabal from here Let's do one thing..
till that thing is getting ready Walking over there in front Let's take a close-up view of this river once again as we saw in the morning But the view point we saw in the morning that I showed you That river is coming from above the mountain so.. that view point was 2 km ahead from here so at this place we didn't stop in the morning come on There is a huge temperature difference between.. Sinthan Top and at this point. It was so cold in the Sinthan Top That you couldn't walk in open jacket like this But here..
it's okay even if you don't wear a jacket See I 'm the only one wearing a jacket Otherwise, people walking on the road are all in T-shirts Weather is nice here Any day better than Srinagar weather The temperature here is better than.. the temperature in Srinagar today. Means weather is cold here Looking nice This small bridge is made of iron Carefully, you stand here and do great photography Very nice! Look at this side of scene It's also very beautiful Wherever I see flowing water, my heart becomes happy. My heart wishes that, for a long time may be for half an hour or an hour could sit on a rock, beholding that view and if the current of flowing water is high So it's obvious that the fun is more. like this side look here What is the speed of water? It looks great Especially the way water smashing against ..
..the big rocks is flowing forward. very nice Let's take a few minutes walk over here then Let's see our butter toast will be ready ok Brother, where are you from? just down here in the village Ok, you belong to this village Which all videos have you seen of ours? I've watched a lot of videos watched Doodhpathri video How was it? It was truly a special video Did you like it? Didn't you? very good Now we're eager to see Daksum episode We will see Daksum episode today Daksum episode will not come today We'll go to Delhi now then will post video after editing It's ok Yes, it will come So now our Chitrakoot series of UP is going on after that it will start We have come after being in Gurez Let's sit together and have tea You take We'll have our tea down there ok Never mind; let's have tea again with us it's good to meet you again It's great and how We liked the Daksum very much This specially your river that flows The river is moving but it has not developed Has it not been developed? It has not been developed Can you take out this umbrella? Take it out Well, look what the matter is Come on guys Fritters are coming coming come on so now You will take this man don't act like that It's okay if you don't drink tea, but have this what are you doing sir? No problem come & have a seat Take this have tea sit Irfan brother It's perfect Irfan bhai Have this You know the point of Daksum is Neither will you.. too cold nor too hot here It has better temperature than Srinagar Means it is also a good place to live The fact of the matter is.. if there is some development a few more hotels are opened then tourist will come and there's one more thing if someone stays at Daksum then you You can also visit Verinag & Kokernag together Absolutely sir Within five - ten minutes we'll finish it and go from here Irfan bhai how long will it take for Achabal half an hour or quarter past one? We didn't even release What time is it? 6:35 It means that If it gets dark then the garden will not be visible There is light till eight o'clock No, it's getting dark by 7:50 PM the sunset time But let's take an idea, how does the garden look like in the soft light? There is also a light system Are the lights on? How is the garden of Achabal? It's a special garden There's one Chasma over there Is there a Chasma at that point too? Yes Those watching this video may think.. what kind of people we are..
it's about to get dark We need to go to Achabal We prefer having fritters over going there I don't have any answer to it I mean to say that.. we travel to the tunes of our instinct we stop where we feel like stopping , forgetting where we need to go ahead. We hit the "Forward Push" button then But it's good if we reach there.. before it gets dark Very nice! We've reached Heemal Hotel at 10:25 PM I phoned them As last time also I stayed in Heemal I asked them for room accommodation They said that though there was no room But there're a few cancellations Owing to that, we got 2 rooms here Otherwise, it'd have been difficult Because Srinagar tourism is at its peak now I mean Kashmir Tourism We're into Last Week of June So..
Accommodation becomes a challenge I requested them to get my little work done Place our order in advance So that, by the time, we reach here, Our food is ready No sooner had our luggage reached the room than we took our seats to have food We ordered Tomato Cheese along with Aloo Gobi Owing to rainfall in Srinagar in last few days, the weather now is quite open & clear Today is 2nd last day of our journey It's almost end of the day now Tomorrow, we'll return Now, let me tell you one thing As I reached here, we met a few subscribers who're going to Pahalgam tomorrow So, They told me their departure time was 9:00 AM I rather suggested them leave by 6:00 AM As, tomorrow onwards, Amarnath Yatra is set to begin There're restrictions in place over there So whenever you travel in July month & plan to visit either Pahalgam or Sonamarg First, read through the Government's Advisory So that you can customize your journey Otherwise, wrong planning will waste a few hours I shared this just for your knowledge We're the last guest here Dinner is available here 10:00 PM We've got a bit late They've made simple yet tasty dinner Overall, it's quite edible I will re-join you soon to show my room before bidding adieu to all of you Have a look at my room Tariff: Rs. 4000+ Tax When I came here 3 months back I'd stayed in the same hotel. I found it nice that's why.. I stayed here again There's a balcony outside overlooking the Dal Lake At the first sight, you see their lawn then the road & then the Dal Lake Ok, our today's episode finishes here We'll be in Srinagar during 1st half of the day Then, we'll be back our home I mean we will go back to Delhi As of now, I bid bye to all of you Thanks for your time!
2023-09-08 10:07
Show Video
Other news