EP #36 സ്ത്രീകൾ കൂട്ടത്തോടെ ആത്മാഹുതി ചെയ്തിരുന്ന Chittorgarh Fort | Padmaavat | Rajasthan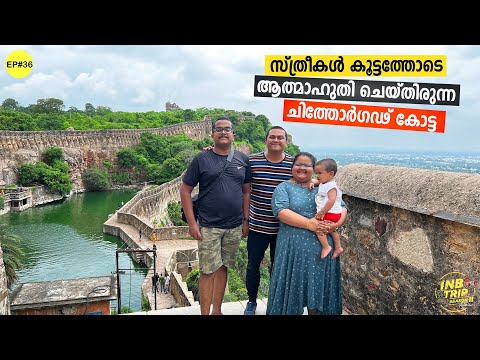 Show Video
Saying bye to this awesome bungalow, we are going to Chittorgarh today. From Udiapur we are going to Chittorgarh. I heard Chittorgarh for the first time in the movie Padmavat Those who have seen that movie would be knowing.
We have even learn these in history. I have told you that I did not learn history. I didnt like history classes. You are watching videos from Rajasthan. Now we will go to Chittorgarh
We havent decided whether to go to Ajmer or Jaipur from Chittorgarh Anyways we have planned to go to Chittorgarh from here. We will decide from the car where all to visit. We will surely visit the fort. Today we are going to see the fort that was seen in Padmavat. Welcoming all of you to a new video of Tech Travel Eat. We have bought a lot of things from here. We havent couriered it. So please adjust. We have stuffed things into the car. Shall wash the car from Jaipur.
Come, lets go to Chittorgarh. He will pull down everything now. I somehow managed to fit all in. Don't pull anything. Why isn't he feeling sleepy today? Looks like he is in a very good mood today.
To reach Chittorgarh it shows 118km and 127 minutes. How much is the rate for diesel here in Rajasthan? 94/- Petrol 109/-. Isn't that too much? They have decreased for diesel and increased for petrol. Petrol 109 and diesel 94.4 From here to Delhi, its just 685km If we leave now, we can reach Delhi in the evening. But we wont reach. We will cover Rajastan, Punjab, Jammu Kashmir, Leh.
Only then we will go to Delhi Awesome 6 lane express highway like road to Chittorgarh. It is actually the road to Delhi. Nothing much to see around. We were just talking There was a toll. It was around 100+ That is Rajasthan state road transport corporation Scania is what you see.
Our KSRTC Scania is better than this. Graphics looks good but very poor maintenance. Its not just the looks but most important is the performance. That is our KSRTC. Scania has shut down in India. Now only its service is here.
They wont sell buses in India anymore. I heard that they will sell only lorries again. Isnt it written Chittorgarh welcomes you? We have reached Chittorgarh.
Chittorgarh was Mewar's capital. Many bikers are surrounding us. Trying to attack us I guess. Will our car pass through here. Be careful. Why are they following us? I dont know. What you see there is the fort. It's from one end to the other. It is a big fort.
The whole top of the mountain is fort. People are showing their hand from the middle of the road People are coming on bikes from the side. What is this? So many are following us on bikes. We are now going up there. It seems we can drive and see the place.
It is very irritating when people follow us like this. The person driving gets more irritated. How was it when we went to see the City palace? Everything was so well organized. It should be organized like that. We are going on top of the fort now.
So good. From here we begin driving to the top most part of the fort. People have taken over this place and now there are houses here.
You can see a living fort like this at Jaisalmer. You cannot take big vehicles to the top. Will have to catch an auto and go. Here we can drive our car and go. What a big route to cross in. All these are the doors of the fort. And these are the fort walls.
There are lot of stories to say about this place. Shall say when we stop somewhere You have a lot of fort doors like this on the way. This is a place that has got a position in UNESCO.
We are going up a hair pin curve of the fort. Have the bikers gone? Are they still behind us? They may not have entry inside here. This door is named as Jerla Paul.
Each door of the fort has a name. See how pretty this looks. What a construction This door is called Lakshman Paul This door is renovated. When we came up here, it is full of houses and people. Awesome. There is a village up here in the fort.
We can go up here with our car. The guides come in their bike. It is very irritating. How much ever we tell them no, they follow us. We take a guide wherever we go but not when they follow us like this. So many houses on top of the fort. People would have took over these long back.
It should be like that only. You have a ticket counter here. We shall take a ticket from this ticket counter. It is 40/- per head to go inside. For the car it is 35/- You can see a route map of the fort here. They say we can drive this 13km stretch and see the places there.
You will have may people approaching to you. You can hire them or dont. When I stood there, it was like being surrounded by flies. It is sad that there are nobody to control them Stop here. We shall get in here.
You can stop and see places like this. It would be nice to call them but when you have 100 together, whom to call? Can call 1 person. But when 100 come together, what to do Government should control such places. You just have to have a system. An entrance point and people ther.e
They dont let you drive properly horning and covering us. We loose our concentration while driving They come on both the sides as if to attack us and keep horning. We feel scared first of all and then we loose our mood. We have stopped our car near the first place. Let us go inside. We are now going to Rani Kumbh palace.
All are under Archeological survey. Just imagine this is a fort. This might be the biggest one in Rajasthan. Not only Rajasthan It will be the world's largest fort for sure.
This is not only India's or Asia's. It is the world's largest fort. Really. We are now in that fort. We are on top of the mountain we saw earlier. When we looked earlier, we saw a stretch from one end to the other. Just imagine a fort on top of the mountain completely. From there you can go up to the fort, drive 13km and watch each place of the fort Awesome.
Today Swetha is going to tell us the history of this fort Before that let us see the beauty from outside. See how beautiful it is. I wonder why I took so long to reach here. Its that beautiful. I read a lot about his before coming to Chittorgarh. At each place it is written in each way.
How old is this actually? I think it is very old. May be during the 15th century. Not 15th. It was there before the 13th century Many have different interpretations on it. It mainly has 3 occupants. I shall speak on that first.
Morians have come here. Occupants means who all have ruled this place. Maurians, Gahaliyas, Shishodyas have ruled this place. Shishodyas is a famous royal family Those 3 people have ruled this place. The first battle took place in 1303. You mean Mughals came here and began the battle. Here a battle is going on She is saying a story. Dont pull her hair in between
It is said that the Mughals are the ones who came and attacked Leave him down. Let him play. Or else he will make a scene here. This is the battle of Swetha. Let me tell a story. Dont I tell you a story? The first sage, also known at battle or war The first sage took place in 1303 Alauddin Khilji who ruled Delhi at that time came here. He then came to capture this place. Ratan Simha ruled this place then. It seems Allauddin Khilji came here in love with Ratan Simha's wife.
That is the story in Padmavat. But many say that is wrong. That is a controversial topic. Let us not go to that. There are many interpretations over this. He is taking photographs there.
So it is said he came and stayed here and then conquered the place by cheating That is what is said but we don't know the fact. There are interpretations on that too To be frank, this place has a lot of twisted histories. Things keep changing here. Anyways let us not go into that. You can read about Chittorgarh fort in trusted social media like Wiki or Google We shall share the information what we see at places we visit.
If you take a guide from here, he comes on a bike with us. If you are alone, you can park your vehicle and join him on his bike. I dont think they're professional guides. Such people wont approach like this
They will always stand on their way. We will have to go to them and hire. We did that at Ajanta Ellora caves too Archeological survey should make a decision on their matter.
That is very important. Let us go see the other places here. When you come here, you will know how big the fort is and is in acres of land. I think you'll need a whole day to go around the fort in your car n see the places Look at this. Looks like a ghost town Swetha, light and sound show takes place here. You can see chairs for people to sit. There is a haunted like temple behind there. Hello Sir, what are your plans? Do you know where have we come? It is a big fort.
Swetha, did you notice that they have concreted and rebuilt many here. They have maintained it well. He liked this. They have done their best. I've heard that the fort looks awesome at night. It is full lit from one end to the other You didnt have plans to come here. You would have missed this place.
True. We came on Swethas suggestion. Sir, could you take few pics of our. You have been walking with a camera for long. He is lazy to take ours. What is his problem? He is happy, right? He slept well till Chittorgarh. Why did you leave him down?
Oh God! She has left the child on the floor and gone to take a picture. How could you put him on the floor to take a picture? No problem. Let him play in the mud. Abhi is calling from somewhere saying some good view.
Abhi, where are you? Looks like we got lost. He is taking photos of us walking and coming. Awesome view wherever you go Show the pic. Wow! Awesome! Oh my God! Amazing. That is the way we drove up here. Looks like the view we see from Tirupati. I think this is where they used to fire from.
Can se the gun poles there. We can see the village Chittor from Chittorgarh fort This is just a part of the fort. Take the satellite view of the fort in google map. You will then understand what this fort is How about going to the next place? Taking photos from where? Oh, Madam went down and took pictures from there.
Looks like it is going to rain. Let's go. I think this is a place where people gather. It is in the center of the fort. When you look into history, most of the forts in India were ruled by Kings. Mughals came and attacked all these places in those days. You can read that in many places in history.
Abhi, that blue shirt guy looks genuine. Call him. The other bikers have gone, right? Yes, then we shall call him. We selected a senior citizen. His name is Sathynarayan. He was telling us his qualification. MA, LLB etc. He will lead us on his bike to show us places. Only if you have a guide, you will understand places It is always better to select elderly people as guide They would be knowing more.
Not only information, they will take us to more places too. What a situation it was earlier when the bikers surrounded us. All looked like goons too with shades n so We are going to the next place now. We are at our next spot. We parked our car at the parking.
The same ticket we used down can be used here too. With one parking ticket, you can park you car everywhere. We are now going to see a beautiful temple. See how pretty this is.
Beautiful. We are so late to come and see these places. This temple is made up of stones. See how beautiful it is. He told us the history for nearly 10-20mts. Finally Rishi cried. He is hungry. That is why he is crying. Come let us go.
He told us everything so much in detail. Told us so many stories and history. I felt goosebumps listening to them. This is how temples should look like. I think they have renovated it too Isnt it? They have renovated it well. They have maintained it very well. They have really put in their efforts. Most of the temples here have lost its charm
There are temples that are spoilt and destroyed too. All are very old temples. Happy to see these are renovated and well maintained. The highlight or the ambience in this temple is a person singing a bajan here All the temples have a huge compound wall.
Most of them are at least 10 ft tall. Drinking your milk or was acting? Finished? Once we are hungry, then we dont look at the surroundings. Earlier when we came, there were many bikers behind us.
Their main aim is that they will tell us they will come with us for 50, 100 or free. They will take us to 2-3 places and then for shopping. They will get a 50% commission from the shopping stalls.
They will make us buy a 1000/- product for 2000/- 1000/- will be for them. Ultimately they would stick to us for a business and wont be original guides Always select original guides wisely. We reached the next place and parked our car. Its getting crowded now. If we came on a bike, we could go around all the places stopping. When in a car, it is fun. Not saying no. Let us see what is here.
Look at the horse. We are here to see Vijaya Stambah This building is tall as 10 floors. Vijaya Stambah Vijaya Stambah is the Hindi name. In English it is known as Victory tower. Rana Khumbaha made this in before 1440 The history of Vijaya Stambah is written here. In 1448, Maharana Kumbah did this.
Look at the monkeys. He is roaring like a lion seeing the monkey. What are they doing? All neat monkeys. We have come to the cremation ground of the royal members here. You can see a lot of temples here. Look at the way this monkey is sitting. Looks like he is meditating.
Take a picture. All of them sit the same way. This is where Sati took place in the olden days. All of us know about Sati. When a husband dies, the wife jumps into the same burning body of his.
We have learnt that Sati was banned or stopped by Raja Ram Mohan Roy. This is the place where Sati and others took place. The guide was telling us that many have suicided here He said there is a pond here. People bathe there and go to the temple later. So many complicated things. We cannot accept all those. You can come here, hire a guide and know all these.
Many things they say are difficult to accept. Anyways many things like that happened in our place in those days. Monkeys are very busy here. Some are hugging, some kissing, some eating.. Look at that one going with a baby. He said when unmarried people die in the royal family, memorials are built.
This is such a kind of memorial. That is another beautiful temple. He carried Rishi. If you make sound, he will take you away. Be quiet.
Look at the work on the temple. Looks like the one we saw at Dwaraka. That would be 10-15 times bigger than this. Look at the artwork on stone. Too good. Did he say it is a Shiva temple or Shiva, Vishnu and Brahmas? A temple with all 3 of them. They have made a huge Shiva idol there and not Shivling It is written Samadheeshwara temple. Those who want to read the history can pause and read this.
These temples dont have much of worshipers. I am first time seeing a Trimurti temple. Brahma, Vishnu n Maheshwara. They are Shiva, Vishnu and Bhrahma. We have learnt that they are Trimurti. I am first time seeing a temple of trimurti.
They have made the Trimurti by carving them on the wall itself. When you come out of the temple, you can see a Nandi idol here. This is the best place to take photographs. This is what you see when you say Chittorgarh fort. Wherever you type the name of this fort in google map or google, This is the view you see Have you noticed that? This is the angle you see.
You can see people bathing in it. I too feel like bathing in it. How deep is this? 40ft deep Oh it's so deep. Let's not take the risk. You can see a complete view of Chittor from here.
Chittorgarh, Ghar is fort.. So Chittorgarh is Chittorfort. It is even known as Chitrakudam. There is a temple here. You can see the view from the lake We can see the view of the lake from here. Look at people bathing there.
This is a Jain temple. It was made during Jainism. I really feel like going and having a bath in that green water. Let us have bhelpuri from here. We have asked for 2. Its 2pm and I feel hungry. We didnt have anything for long Look at the horse parked at the parking spot. We are here to see Rani Padmini's summer palace.
It is beautiful. They can actually have one parking slot down. And each team can come with a vehicle and guide up It would be so good if it's like that. Just imagine, an authorised guide is paid 700/- This is the rate declared by the government.
He said he shall come for 300/- That is because many are coming for 50 and 100. Their intention is different Nobody calls them paying 700/- then We will surely pay him more. He is drenched in sweat He is taking us to many places, telling us all in detail too He is aged too. I guess he would be 70 years for sure.
At this age, he is struggling a lot to live. Many people watch our video while having food. Especially during lunch and dinner Just for that reason, I am not showing you the inside of the toilet behind me You cannot enter it even if you close your nose. It is so dirty. This is one thing we have to see and learn. The fort we saw in Udaipur. It was in the hands of private I didnt faint in the bathroom luckily The fort that we saw at Udaipur. They have maintained it so well.
Even if they have charged us 350/, it had all the facilities. Nobody would have any trouble. Look at the one in the hands of the government. This is the world's largest fort.
Look at the condition of the place. Can you do anything here? Any facilities for people here? Nothing is organized too. This is how it is here. You can see a huge water tank here where they used to reserve water Only the walls are here. The rest all have been destroyed.
You can only see the walls in here now. We feel very sad seeing such a lovely place not maintained at all. It is so sad. If this was in some foreign country, they would done wonders. Its too bad.
This was a summer palace under construction. It is built in such a way that it is in the middle of water when water comes. What all was done those days. Thank you so much brother. Bye,
We are happy. I gave him 500/- and he said he would give me 200/- back. I said no need. You can keep it. He is so good. He has told us so much about this place. He is not letting us go. He is happy. He is asking us to see more and not to go.
This guy was cranky. That is why Swetha didnt come here When he is hungry, he wont eat or drink That is his problem. Nothing else. Have you understood one thing. The Mughal and others kept the fort as it is
Later the people staying here have really taken over the fort. Else where would they all stay? Wouldn't they have conquered it? I think it would be like that. If the government could maintain and improved tourism, It would be very helpful and interesting for tourists coming. We dont have a good bathroom in this huge tourist place. Anyways, now we are off to Jaipur. It shows 313km
Google map says 5.5 hours. In that case, we will reach Jaipur by 8-8.30pm. 313km to Jaipur. 115km will be a straight road. It is a concrete road. The journey looks to be boring now. We have to stop somewhere for food. I am very hungry.
After having food, I shall drive. We saw a hotel named sevan. Dont know if they meant 7 It may be Sevan only. In the front you have lorry parking and car parking inside. When you come in the heat, you have place to park your car like this. We have parked our car. It is very hot now. Will be the same further Less chances to have rains. Let us go inside and see what food is available.
We have asked for dal kichadi. This is rice Swetha? Don't they add dal to it? This is dal kichadi. But I think because they made it for us in a hurry, it's like this I am first time having such a horrible kichadi.
The kichadi you make at home is awesome. When we added salt, it became better. But the kichadi Swetha makes is tasty. This is nothing compared to yours. This isn't good at all. I stopped eating. Dont flatter me like this.
I am seriously saying that yours is good. Your kichadi is really good. Right Abhi? Yes, its very tasty. No doubts. We just crossed a toll 10mts back. The next toll has come so soon? What is this? Tolls in the gap of 10mts? Cant you go slowly then? They had shown 9 as arrival time earlier, now it shows 8.26
Let me book a room to stay at Jaipur. I shall drive after that. We are checking airbnb instead of a hotel room. It would be awesome then. I am messaging few people on it in airbnb. Swetha, we have booked an airbnb in Jaipur. His name is Harwinder. He is a Punjabi. Might be Harwinder Singh.
Harwinder Singh and Gagan. They are couples. Dentist couples. They have a bungalow like we stayed in Udaipur. They too stay there. They have 5 rooms. I have taken rooms for 2 days for time being. For 2 days, our expenses are 6600/- which is really worth. For 1 hotel room, we would have to pay 3500-4000 with all the facilities.
So we have chose that place. Another 200km to Jaipur. We are expecting to reach by 8.23pm as of now. Stopped at a pump and lets see if his need was fulfilled. No, why so? It is horrible.
I have visited 20 countries so far. The worst public toilets is only in our India. It's very bad. No point saying. That's how it is. Very bad.
Let me say about English mitra now. If you want to learn English through Whats App, you can join them English mitra teaches you English wherever in the whole world you are It is very simple. You will have a personal tutor on Whats App. You can learn English with them through chats. You can chat telephonic. I shall post the link to English mitra in the description box for you to know more. You can contact them and learn English easily sitting at any part of the world You may contact them anytime.
I shall drive for a while now. There are lots to Jaipur. I shall drive for a while and then go behind. I drove halfway. You can drive the rest. I feel like sitting with him behind. It's been long since I sat behind. That's ok. He is asleep. You can drive.
I can sit behind only when he is sleeping. Stop at a place to have tea. Ok then. See how pretty this is. I feel like I am driving in a foreign country.
Except for the toilet, rest everything is good. The roads from the time we got into Rajasthan is good. All 6 lane roads. In that case, Rajasthan is awesome.
Compared to Gujarat, the roads are so good Let it be infrastructure and the people here. All good people. There may be some bad here or there. But I liked them a lot. Its so nice to drive looking at he google map here. We try to make 8pm to 7.45pm. Then to 7.30pm.
Its so nice to see the destination time and we reaching earlier. From Ernakulam- Kozhenchery, we switch on the google map It will show 3.3 hours for 125km. But we reach in 2 hours. When we leave at 7, google map shows reaching time as 10 That is at night. When we reach at 9 or 9.30, we are like we reached in 1.5 hours. It makes us happy. Google maps calculates according to traffic or so So it is always good to drive using google map Even if it is a regular route, if you drive with the google map on, If there is any traffic or congestion, it will be shown. That is very helpful
If you get an alert that there is traffic, if you want you can divert. You can take an alternate route if you have one. Sometimes it's perfect, sometimes there may not be traffic even if shown. You can see in Tv and newspapers that google map has cheated us People fell in pits and other etc. Actually they are not using the Google map correctly. It shows accurately. Never put a destination blindly.
If I am going to Jaipur, I should know through where all does it go Is it highway or small routes. We got stuck in a dead end like place in Bujh. I had told you let's not go forward and return from here.
You will know that you will get stuck if you move forward. Never take such routes. We will get stuck if we go like that. There is no point blaming the google map then.
Google map wont cheat us. We fall in danger just because we were not careful. We are now on NH48. It is a part of golden quadrilateral. Chennai, Bangalore, Pune, Mubai, Ahmedabad, Udaipur, Jaipur, Delhi. This is a part of the golden quadrilateral highway. A 6 lane highway.
We know Chennai-Bangalore are all 6 lane highways. An express highway from Chennai-Bangalore is under construction. Awesome road connectivity work is going on all over our country. 6 lane roads are coming up in Kerala too. If that is done, we can easily reach our destinations easily.
Both are sleeping behind with their mouth open He woke up and went and slept on Swetha now. He had already woke up. Went to her and is now sleeping on here I made 8.15 to 7.45 It was 9 in the beginning. I have made it 7.45 now.
Now it shows 33km and 53 minutes. You want you can drive. I am feeling sleepy. Now it will get crowded. Entering the city. That is it. You can drive the rest. I shall stop here.
Look at the traffic from here onwards. I dont like driving in the crowd. What are father and son upto? We are having a banana. By the time we woke up, our tummy is full of air. Thought of having a banana Tried making him bite the banana and have. But he is biting big pieces.
So I thought of giving with my hand only. Look at that big lorry. It's full of lorries here. All big big lorries.
He saw a dog there. So that sound. Finally we have reached Jaipur. It shows 15mts to travel the last 4km It's fully blocked and the time is 7.30pm It was raining heavily outside. Finally we have reached the big bungalow that we are staying in Jaipur. Not like Udaipur, here also we are staying at a good bungalow only.
We booked an awesome bungalow at the city of Jaipur through airbnb The bungalow is owned by Harwinder Singh and Gagan. Both are dental doctors. They live downstairs and we are staying upstairs. There are 2 rooms in here. Show Abhi's room. Both Abhi and we have got separate rooms with bathrooms. Abhi has a big balcony too. Dont you want to see the house? It's an awesome house.
Shall show the details and where the house is in tomorrow's video. We have to go to explore good food at Rajasthan tomorrow. Yes, he is waiting to explore food Have to explore food and see some places. Swetha, he is crying for you There is another bathroom down too. It is needed in Rajasthan After 2 videos, you will will see an awesome surprise.
That would be an unexpected twist going to happen in our INB trip. An awesome twist. Right Swetha? Yes! Of course. See you tomorrow with another video. Bye bye. Say bye.
Bye bye.
2022-07-29 02:04
Show Video
Other news