EP 2 Srinagar to Doodhpathri, Kashmiri food at Ahdoos, Srinagar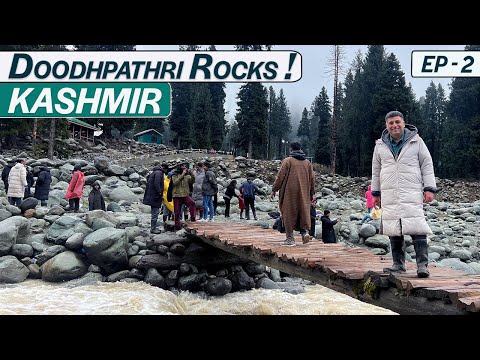 Show Video
Hello friends ! Welcome to Visa2Explore I'm your host Harish Bali Day 2 in Srinagar At 9:30 AM, our today's morning ..will kick off from the breakfast As of now, from Dal Lake, at a very close distance, We've come here for breakfast At Krishna Vaishno Bhojanalaya in front We'll have our breakfast here Let's come Having come in Krishna restaurant, I for myself have already ordered "Aloo Prantha" This is the menu card This side is mentioned North Indian And on that side is South Indian They also have so many options.. ..in both lunch & dinner That have been written on backside I've got it learnt.. this restaurant opens at 8:00 AM So, It remains open till 9:00 PM Nice At moment, seating is almost full It's 9:30 AM We're waiting for.. Prantha to have my breakfast Then we'll go to Doodhpathri The only matter is.. if it rains in Doodhpathri Our day would go waste then I'd told them to put little butter on prantha They've put butter This Aloo Prantha is made in Tandoor Seeing its texture, I'm feeling..
It'll taste good Nice Awesome.. Stuffing is good Very tasty And best thing you know what is.. Apart from the Prantha, Take some green chutney Butter is already there Have it along with curd Had we got 10 minutes late to reach here, then.. We'd have to wait for at least 15 minutes Doodhpathri is 10 KM far from here We've stopped here to buy jacket So, shall you.. ..give us jacket as well as boots Yes, sir So, we won't get wet No, sir, then you won't get wet By the way, it's raining so hard, It's good we stopped by you Otherwise, it'd be tough Yes, right sir So, where are the boots? Here, sir Are they fine sir? ok Size is aptly fitting Yes, this jacket is great Since, it's raining today That's why, we stopped here Usually, tourists here.. why would they purchase these items? Because after this point, you won't find any shop Means, when it's not raining why'd one purchase them? Yes, why they'd purchase them.
Then, they won't purchase these items Or, they'll buy them in snowfall Ok, it's fine brother One second sir Rest I've understood.. and that I'll do on my own Ok, done ! Let's go as we've bought the jacket Usually, they charge Rs. 500/- From our group, they're charging, Rs. 400/ per person
After covering 3 to 4 KMs ahead, Now, we've stopped at.. ..to eat 'Makki Ki Roti' What all do you have? Sir, we've Makki Ka Roti Sarson Ka Saag and... ..onion chutney and pickle Ok Do you Sarson Ka Saag or... ..do you have local saag? Sir, we do have local saag It's locally called "Karam Saag" Yes Karam Karam is called in Hindi Is it also called Haakh Saag Yes, in Kashmiri, it's called Haakh Otherwise, called Karam Saag Where is it? Here it is Ok Very good It seems to be recently made Brother, give us Makki ki roti and this..
Do you have "Kahwa" also? Yes, sir, we'd have Kahwa as well It's best then While beholding such a wonderful view, You're eating Makki Ki Roti and.. ..with saag & pickle What a great temptation I mean.. Second-by-second, I'm enjoying..
I'm getting that feeling here It's been 5 minutes; not long time, since we came here It's awesome Where do you live brother? Sir, I hail from Srinagar Ok Yes, sir So, how're you here? With tourists? Yes, with tourists Because, I'm also a taxi driver I'm carrying my client to Doodhpathri This "Makki Ki Roti" ..is usually eaten more in winters At moment, it's winter here I really enjoyed it Sir, you must have eaten in 5 or 7 stars There hi-fi chefs cook food But, what you're eating right now is.. It is the local food Are you seeing a lady prepare food here? with her own hands It tastes very different Yes, it tastes like home-made food Ok, one more thing.. Along with that, they.. ..have served us with pickle & chutney It is radish chutney Radish & onion chutney Nice, very good taste I really enjoyed it Though, anybody will get impressed by this view In addition, if you get such tasty breakfast What else you'd wish for Let's enjoy the view here Wow ! So, good We're seeing the clouds so closely Yes sir, but.. we're yet to get into those clouds Will the sight be even better.. ..as we advance to it ?
Yes, sir It's nothing, just take it as trailer Picture is pending Ok, picture is pending I really enjoyed it Thank you so much sir Would you like to have something? No, thank you sir How beautiful this meadow is I really enjoyed it Since, it's monsoon season Water has also pooled in patches Like over there Let's do one thing After walking up a little, Parking made above, Let's walk up to that point So, brother, what do you do here? Sir, I provide a pony service here Ok Yes, sir Which all places do you take tourists to? There're 5-6 famous places nearby Doodhpathri + highlighting few places nearby And Shali Ganga River We show tourists round 5 to 6 places How far are all these points from one another? All these spots are located.. only 1 Km away from one another Ok How much do you charge for a horse ride? Here, charge is Rs. 500 per hour How long you ride.. ...would make the final riding cost I got your point Horse riding charge is on hourly basis Yes, sir I just got to know..
If you want to ride on ATV, These 5-6 points you can go on They charge around Rs. 2500/- In which You can ride for around 2-3 hours Rest, we learnt horse charges.. Rs. 500/ per hour They told us Let's do one thing We've seen this parking side Now, we go down We'll hang around the meadow And then... ..we'll go to see the waterfall How far is it? 3 Kms? Yes, it's located at 3-4 KMs distance Ok, thank you brother Bilal Thank you sir Ok, thank you It's nice meeting you Very nice Having visited Doodhpathri, my heart got pleased See in front See how clouds are slowly floating over meadow They're not floating across slowly They're rather drifting at very high speed At least, they must have speed of 20-25 km/hr They're hardly 100 metres away from me or..they're 150 meters away
If I go over there, I'll get into the clouds Few moments ago, Clouds were over our heads Now, they've instantly come down Wow.. My heart got pleased After coming here, I came to understand this much If you come to explore Srinagar, And you don't come to Doodhpathri So understand this, you've missed a very important destination By the way, after coming here, what one needs to do is.. ..book a pony ride Then, see all points on pony It's a full day affair by itself It's not scenic view of 2 hours Since, I'd a surgery, therefore, I couldn't ride on a pony But, going by the rule, Ride on a pony, If you don't want to ride on pony, Walk to as many places as you can You can drive to one place in car where we're going to right now Don't stay here for long In case, we reach river point, and if there's heavy rain then We couldn't see that view Which we can see without rain Come Let's quickly sit in our car & move on After covering 3 kms distance, We've reached Shaliganga River Point And here.. Parking lot isn't that spacious See from here Pleasant sightseeing is from this side We're seeing from a height River current can easily be sensed from here How strong it is All tourists are standing there, doing their photography That's the main photography point here And, so many rocks Big, small Amid them is flowing the river ... smashing into the rocks What an impressive advancing speed it has Let's go near to it Initially, I was thinking, ..to see it from there but, when I saw this wooden bridge Then I crossed the bridge to other side There's snow over that side Right.. Flow of the river is awesome Too good There're large rocks over here If somebody wants to go over step-by-step, they can walk up further And after reaching there One would get different view to behold As of now, I don't want to undertake..
daring venture to go there But.. This much I understood coming here, Doodhpathri rocks ! We set off from Doodhpathri We travelled for 5 kms At beginning, we got too much fog Continuing our travel, now we.. we've reached that point that we saw in morning also but where we didn't make a halt Are you seeing in front? These all.. ..are street-food sellers here.. they sell combo of makki ki roti & saag Now..
it's 3:15 pm I'm feeling it'll be better if ..we eat again makki ki roti & saag here because our today's lunch is skipping So, we eat it along with 'Noon Chai' is also famous here Let's drink 'noon chai' as well Thereon, we'll go towards Srinagar Come.. Let's go this way With pickle and Haakh Saag Makki ki roti Their combination is awesome Pickle, Haakh Saag And it's too juicy Now.. After finishing it, I'll see in person, how 'noon chai' is being prepared We'll drink noon chai Then, we'll leave for Srinagar I've cut Makki roti into small pieces ..for feeding these birds So, if I place the plate like this they won't come First we put some pieces over here By watching this bird, other birds will follow suit So, see, 'noon chai' has come Do you, whether or not, use water in it? Yes, we do use little water in it Less amount of water is used Is this the chai patti (tea leaf) ? Yes, sir, it's chai patti Which chai patti is it? Sir, it's namkeen (salty) chai patti No, I mean to ask.. Is it available separately in market? Yes, separately This isn't the normal chai patti No, sir Really From perspective of trying it ..it's nice and rest... It needs to be drunk twice or thrice ..to adapt to its taste because.. ..it has taste of salt in it And chai patti's taste is also too different I've almost drunk the tea We'll leave within 5-7 minutes After going half a km ahead, We need to return our jacket & make payment And recollect our original footwears And then When would we reach Srinagar? It'll surely be 5:30 PM as we get there We've reached Srinagar To have our early dinner, we're standing near Lal Chowk; outside Ahdoo's Are you seeing in front Ahdoo's? We'll have our dinner here It offers both good veg & non-veg food Let's come After coming in the restaurant, I've ordered two things for myself One is "Nadru" Lotus stem It is prepared in curd It's a main item in vegetarian food If you say Nadru in Kashmir, it needs no introduction .. so much it's famous And "Aloo Dum" "Aloo Dum" is also very famous because..
Generally, in India, wherever, you get Kashmiri food If you say to somebody, Aloo Dum Before its name gets added "Kashmiri Aloo" Because it's preparation style is very different They're very tasty also By the way, only once, I'd eaten Aloo Dum at somebody's home Since then it's in my mind When I go Kashmiri, I will surely eat Kashmiri Aloo So, We'll have little "Aloo Dum" Nice preparation I don't know why I anticipated, Aloo Dum would have sweet in it Means, it's gravy would have sweet element Raisins would be added Why so? I don't know But, nothing here is what I thought Its taste is good Let's taste "nadru" along with it Owing to presence of curd, gravy has full sourness in it Very good taste Somebody was telling me in morning When "Nadru" is prepared in weddings Large large pieces are cut But, in restaurants, if they keep, large pieces, people mightn't like them So, they serve it in small pieces here Very nice Firstly they boil Nadru to soften it Then, it's added in the gravy And, one thing I want to share I'm unable to make out from taste But, I am telling you It's called as "praan" Praan masala So, basically, we can't it onion exactly It is red onion type It is Junglee Piyaaz Though I haven't seen it in person After frying it, it is put to use ..to prepare Wazwan dish It'll be used when Wazwan dish is made I don't have requisite expertise, that I discern its taste just by eating it Whether or not, it's taste of praan in it But, this is what everyone says, when Praan is added ..in the gravy Its flavour easily stands out Aloo Dum It's good Let's finish our food now And after some time, When we go down, Since restaurant is on 1st floor, So, after going down, They've bakery on ground floor We'll taste one or two items there Then we'll leave for our hotel After finishing my meal at restaurant, I came down I noticed, Bakery is closed now When I'd come, it was open then Anyways Our today's episode is finishing here Our tomorrow's program is.. We'll go to Sonmarg in morning We'll try to leave before 8:00 AM for Sonmarg And, we return to Srinagar by evening By the way, if somebody wants, They can stay in Sonmarg That's better option because, It'll take 2.30 to 2.45 hours to reach there Same time will it take to return Rest is your choice Our choice was to operate from Srinagar base Rest.. Every tourist has their own plan Right Tell us how did you like today's episode Today was very interesting especially, our breakfast in morning And then Doodhpathri, Entire journey ahead you saw With dinner, we ended our day one two thoughts were in my mind where I wanted to go means destinations which I missed visiting today I wanted to do boating on Dal Lake in evening Because boating feel in evening at ..around 5-5:30 PM is very different So, it couldn't be done today I wanted to visit Pari Mahal That couldn't happen either I wanted to visit some dry fruits shop at Lal Chowk ..to get some dry fruits for home That also didn't happen Because we're late in our program So, all these things couldn't happen Besides, there's one "chai jaai" shop ..at Lal Chowk I couldn't visit that shop as well So, no problem, sometimes it happens We tend to plan over-optimistically At times, we won't get to visit those destinations No problem As of now, I bid bye-bye to all We'll see you again soon Thanks for your time What a crazy scene it is! The entire snow on our car that ..slid down onto car's windscreen Now, even the wiper won't work Oh, God!
2023-05-18 19:42
Show Video
Other news