Ep 2 BTS Gwalior & Jhansi Fort,, Madhya Pradesh | Local Sightseeing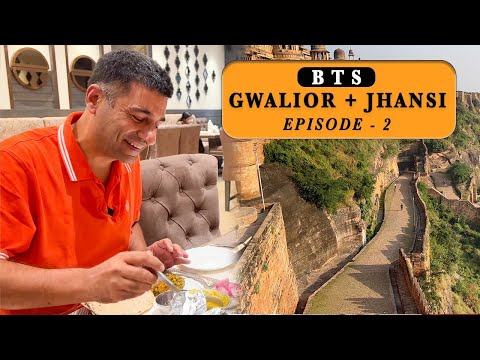 Show Video
Good morning! Our day in Gwalior begins at 7.30 am today. We are going to visit the Fort. Yesterday, we couldn't identify a guide for us in the Fort. That is why I am going to the Fort early in the morning. After that, I've booked myself on a train to Jhansi. I will go to Jhansi for 2-3 hours and then return to Gwalior.
Now, we've already taken the turn to the Fort. You can see the road climbing in front of us. We will have to go straight for 1 to 1.5 KM before we'll reach the Fort. We've reached the Fort parking.
We have with us some channel subscribers. We had met last evening. They offered to help us with the Fort visit this morning & identification of a guide. I think we've reached here too early. Tourists don't come here at this hour. No tourists means no guides yet! Let's do one thing, let's start walking inside. Thereafter we will identify a guide for the fort visit.
Do you get to see the city view from this side? You can see it from there. It is a good view. Shall we see it once? Yes, sure! Oh wow!! It is amazing!! Gwalior city view from across this Fort wall. It looks amazing! It may not seem like it but we've climbed quite a height in just 1.5 KM of distance. Oh! Bhai Sahab! You're also here? Good morning! Wonderful! They were with us yesterday as well. Nice! Good morning! Hello! Yes sir, how are you? Hello Sir! Please introduce yourself! What is your name? Pawan Kumar. He is Pawan Bhai.
We met him last evening. All of them live in Gwalior. So, Good Morning! Welcome here! My name is Pawan Kumar. Local guide of Gwalior Fort. We all are in Madhya Pradesh right now, which is famous for its jungles. And Madhya Pradesh has more jungles than any other state in the country.
That is what is believed. Also, the Gwalior Fort, which you're visiting today, lies in the Chambal Sambhag (division). Division of Chambal. This Fort is believed to be the oldest in the country. Because its construction began during 5th century A.D.
This Fort is 1400 years old and at that time, there was nothing else around it. There wasn't any palace, as is behind us, nor were there any temples inside the Fort. This area was all hills & jungles. Now let us climb upto the palace and see the panoramic view from there. Alright! My papa is here. Ohh Namaste Ji! He comes here for daily walk.
How are you? He is a huge fan of yours. Did you see our videos? He is a bigger fan of yours. Okay then! Too good! We spent about 3 hours to visit the Fort. We will come again tomorrow and make a proper video, which we couldn't shoot today.
We made a casual video today. We will drop you and then leave here. My train to Jhansi leaves at 11.09 am. Gatiman Express! I came from Delhi to Gwalior on the same train & now I'll take it to go to Jhansi. And I will be returning from Jhansi on the same train. I will leave here at 11 am and be back from Jhansi by 5 pm.
There were very few cars in the morning but now, at 10.15 am, a few more cars are parked here. The traffic will start building up in the city so we need to leave now. If we get caught up in the jam, then there would be no journey to Jhansi. Where has the driver gone? Yes! For this 4-hour journey through Gwalior, we've hired a car along with Raju Bhai.
Its charge is Rs 1400. We had hired him from 7 am to 11 am after which he would drop us at Gwalior station. How much time will it take us to reach the station? 15-20 minutes! 20 minutes! They told us it would take us 40 minutes because of the traffic jam.
There won't be! That is good then. Let us leave then! Why to take risk? We will drop you and then go further. Right? Come! Come, come, come! Okay! So you guys are leaving? Thank you so much! Bye bye! The train will arrive in 10 minutes. We've reached the station.
Take a look at the Gwalior Station. We couldn't see it properly when we arrived yesterday. We just came out of the station, climbed an auto and left. How did you....
I've been walking behind you for a long distance Sir. Alright! Are you coming or going? Sir, right now, I am going. Where to? Agra! But I've seen all your vlogs.
You've seen all. Yes Sir! I've seen all your videos. Really! Sir, can I have a photo with you? Our train will be here in a few minutes. So, it was good meeting you here. Where are you going? We are going to Jhansi.
Okay! So nice of you! Thank you! Thank you so much sir! Thanks! I ate one boiled egg before checking out of the hotel. I had thought we would be free by 10 am, return to Gwalior and have breakfast. But we are late now. That is why we couldn't eat proper breakfast. Now we'll either have breakfast on train or an early lunch in Jhansi.
Its time to board the train, our coach number is C2. This is where C8 will arrive. We'll have to walk till that point. Usually while travelling, I don't walk on the platform like this. Since I usually have luggage with me, roaming around isn't logical. It is after a long time that today I am without much luggage and roaming on a platform.
From one end of the platform to another to see the hustle-bustle. Nice! I couldn't see much facility for eatables here. This was the only decent stall I could find where you could have a coffee & a samosa, if you want. Samosa I am not going to have because I am really avoiding deep fried food these days. Good, good! Okay.
Now, let us have this coffee while waiting for the train. Okay, so, the Gatiman Express is here. Is this closed? No, it is open! Okay. I thought it was closed.
Fearing that I would miss the train, I got into the C4 coach. The train halts here only for two minutes. Come! This is C2, our coach. Which is our seat? This is our seat. We received breakfast on train. I forgot I had selected food option while booking my ticket on Gatiman.
Okay, good! Now, what have they served us for breakfast? Sandwich. This would have either kachori or samosa. Will know what it is once I open it. Yes, kachori. It is hot.
I'll have tea later on. And there is bhel. Let's taste kachori first. It is okay. Not that tasty! You see we go around places, taste different kachoris. Therefore, our expectation levels have gone really up.
That is what I feel. Now, unless it is the best taste, I don't enjoy it. However, overall, this food is okay by the standards of food served in a train.
Now it will take us just 1.5 hours by train to reach Jhansi. By road, this journey would be at least 2 hours long. Although the road is in good condition but still it takes 2 hours. This is why I booked the train ticket so that we could travel comfortably & reach faster. I don't have to worry about too many stops on the way.
The train will stop at Jhansi and from there, I'll come straight to Gwalior. For me, the road journey is difficult. With me the problem is, I'd take so many halts on the way that I would reach Jhansi by evening.
Then I won't be able to visit the Fort there or return to Gwalior in time. Nice! More than 50% of the seats are unoccupied on the train. It is 12.30 pm and we've reached Jhansi. This train will stay here on the platform.
At 3.05 pm, the same train will return to Delhi. And at 3.20 pm, we've to board the Taj Express for Delhi. We will have to reach here by 3 or 3.05 pm. Our ticket is booked on the 3.20 train. Now we will leave to visit the fort. Before that, let me find out if we can have lunch somewhere nearby. We will have lunch or, we'll see what to do.
2022-12-15 01:30
Show Video
Other news