EP 131 രണ്ട് ദിവസം നീണ്ടുനിന്ന പൊട്ടിപ്പൊളിഞ്ഞ യാത്ര | 600 Kms in 2 Days | Trashiyangtse to Thimphu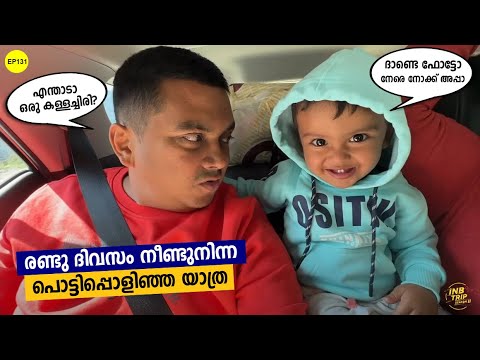 Show Video
Welcome to a new video of Tech Travel Eat We are going to start a terrible journey today We are now at the Eastern end of Bhutan, Thrashiangtse No more to go in Bhutan at this side We saw everything From Thrashiangtse, where are we off to? Thimphu How long from here? 2 days 2 days to Thimphu We are going in our Toyota Fortuner KL03 AG 5353 Now we are going from one end of Bhutan to its capital Thimphu We have to travel 600km All are backs are going to ache in this journey It was the same when we came Rishi, let us go? You went behind? Are you going to sit in the front? You have to shoot for me Or I wont let you sit here. You will have to go behind I shall shoot for you We are starting our journey We traveled 6570km so far We shall see how far it is to Thimphu. Google map shows one distance The road shows another distance We are beginning our journey from Chorten Kora From Thrashiangtse to Thimphu It will be full of humps and pits. Dont expect any mercy from me I would like to say so but I wont do that It is my car. I will take good care of it Not only my car, let it be anybodys If we respect the car, the car will respect us Why have you stopped here? I want some water I am thirsty Where is my purse? I shall buy water and come My ears are blocked. Last 3-4 days we are going up and down 2000ft-5000ft-6000ft-2000ft-4000ft above sea level You go mad like this This is the place taxis take a break after climbing up What all did you buy? I would have flown away in the wind It is windy Rest are all pineapple. You drink pineapple this time
Pineapple is good. Have it I bought an apple because she doesnt have pineapple I shall change it for you. He behaves like a small child It is made at Mongar Today we will be staying at Mongar Look at him looking Rishi, look at the dog It looks like a beach down there People have walked there Do you want to walk? Wild cow When it is seen in the forest, it is a wild cow That is someones cow You called it wild cow Where are you going? He tried putting him to sleep and he slept Put Rishi to sleep Sleep fast What a beauty. You can see water flow down step by step from there Look at the railings on the bridge So beautiful. We are going Swetha You stay here. Bye
You come in the next taxi coming behind We say bye to the last province here, Thrashiangtse Shall see you next time when we come to Bhutan We never expected to come here Last time when we came to Bhutan, we werent given permit to come here This time we dont need a permit You just need a good guide like Thashi with you We can go anywhere in Bhutan. Now we are leaving Thrashigang and getting into the next province There is a check post here. We have to show our QR code here It has to be shown to the police here Thashi has it. He will show and come
Usually they come to our car. Thashi goes to them Both foreigners and locals have to do it Everybody has to do this Has he slept? His eyes are still open It will be a help for them too Nice beans. This is what we ate yesterday It is boiled We shall buy another one then Give us back 50/- Do you know Hindi? We need just the beans. You can give us the remaining cash Pretty mothers They have many things for sale on the side of the road They are people in this village 3-4 of them I didnt understand what they meant Rishi is done with a short sleep. Now we are on top of a mountain pass
We stopped for all to go to the washroom This is the pass from where I had stomach upset last time That is all I remember He began turning the steering He might be feeling hungry Will you eat something? Look at him turning the steering We have reached Mongar, a small town here Today we are staying here. It is 4pm now Little further there is a road closure Either we should pass it before 6am or between 11.30am -1.30pm So we cannot drive further today or we should drive at night We shall have food from a restaurant here We have parked our car. Did you take the keys? I think I took it Is that a dog or cow? A dog as big as a cow The cat is going near the dog without any fear They have chilli bajji, dry fish fry and many more items here We have ordered some food. Till then we shall have chilli bajji with pickle Is it hot or kept in the fridge? They have heated the chilli bajji How is it? Ours is tastier. The bajji or the pickle? The bajji The pickle is very spicy Take one. Let me taste. Looks like our jalebi
Give Rishi one No special taste Why are you laughing? You always order noodles. Cant you have rice? I want to have rice, but I didnt like Ema datshi In this country, they have only Ema datshi as a main curry I think we have got something and all special because we are Indians Bitter gourd fry like we make at home Pappad White rice. Why did you take pappad You have only this and dont eat anything else Dal curry. They are serving in an awesome plate Ema datshi. This is full of chillies. Not ema datshi, this one I meant Rice and curry is awesome Too good Dal and ema datshi are all very tasty They made everything for us now We ordered food and waited for 30mts They made all fresh for us. It is 5pm. Starting to get dark
The time is 5pm. It is getting dark It is 5.30 now Let us go to our room. Are you taking his photo? Come let us go to our room. I am feeling cold This is where they wash their hands from. All are kept outside Nice to see the town at night O Let us go to our room. Our hotel is just above
This is at Mongar It is at Eastern Bhutan. This is where we are going to stay tonight Let us take our dress and go to our room Parking is at the road only There is a chair with a board saying parking reserved for guests A ball is coming. I thinks kids are playing on the road It looks nice at night Beautiful Now we are at our room This is the view from our balcony You have a road down there and this is the room He is saying it is food looking at the menu This is our room By the time we came, they kept our extra bed ready There is a heater for the cold climate A kettle to heat water An extra bed is kept here Good room. I liked it
There is a sofa here. We can sit and work here Fruits are kept here. Nice 1 apple and 3 persimmon Saw this? Persimmon We had planned to buy it tomorrow You have a locker and tv there There is a balcony there. You have a nice view from there
This is our bathroom There is a heater. A big bathroom with towels in it Awesome You can call and find out I didnt know the whole area was ours. I thought only the room The whole place is ours. So the main door is there Then why did we sit in the room all this long? How much did he say is for this? 3300/- That is so reasonable We should give Thashi a very good gift before we leave We arent so hungry for food We ordered spring rolls and pizza to share. This is a chutney to eat with the pizza Didnt they give straws? Why do you want a straw? Cant you drink without that? What is this? Milkshake There are lot of stickers in front of the hotel reception I stuck my sticker too So many people stick stickers here It is the next day 4am We are leaving from Mongar I think we have a 10-15 hours drive today We have to cross a particular area before 7am. That is why we are leaving at 4am I am going to drive in the morning The bad roads have begun now How long is the bad roads? 10-13km That is upwards. Then dont we have to drive down too?
You have curves and this road is not tarred I think nearly 50km. We took 5 hours this way Since we left this early, I thought by the time we reach up, the sun will be out But we are already up and it is only 5.15am Sunrise is only after 6am By then we will reach up Do you know the specialty of this route? When we started from down, it was 2200ft high altitude We will climb up and reach 12000ft high I dont think there is any other mountain that goes 10000ft high in a stretch I am first time climbing a high altitude in a go like this It is muddy here now The car may slip It is a part of widening. You can see rocks cut and put as a part of it He said he is feeling hungry. Took the apples seeing a stream and has gone to wash them He is going to wash them in the cold water That water would be very cold You can wash all of them Rishi woke up in the morning and is having biscuits Did you wash them properly? My hand has gone Where has the sun risen? Tell me where is it We left Morgan and traveled 81km in 3.5hrs The last 40km didnt have roads. It was off road
Road work is going on. Another 40km is the same We have reached Sengor. This is where we had food last time from There was a toilet there Now it is only 7.30am. We shall see if they will make us something We will have to wait till they cook, then have and go. Morning all are feeling hungry Will we get anything? They said yes. Where is our sticker? Yes it is here We are going to have rice in the morning This is ema datshi, cabbage datshi Dry beef, chutney and dal We are having ema datshi, kewa datshi, cabbage datshi with rice at 10000ft high at 7.30am
So nice to have rice in the morning You will have energy in the morning I think they take carbohydrates 3 times a day because it is cold now It is to stay warm Dont put your finger in this Look at the kids go to school in the morning That is their uniform for boys and girls Even at school they wear their traditional dress A small bus going from one village to another It is a bus only It has been 3-3.5 hours since we began driving up We still havent reached 12000 ft high We are climbing up slowly You climb lot of mountains and reach another mountain From there to another mountain and then again another mountain We had food from 10000 ft high, did our morning needs and continued our journey The road is better now. You dont have pits now But lot of stones. So cannot drive in speed You can see buses coming. Lot of luggage on top of those buses Finally we have reached 12000 ft high. It is 9am now The temperature outside is 5 deg C Let us take a round around the stupa though the roads are bad We dont know when will we come here next We have a bigger pass than this to see We shall go to Thimphu Paro airport and do flight spotting You should check the timings And then we shall do flight spotting We are driving down now We are going to drive down on bad roads again Can you see this on the road? Get down and touch it There was snowfall here last night If you drive in speed here, the car will slip If you drive fast or even apply brakes, the car will skid I drove for 6 hours and now Abhi will drive He was creating a scene saying I wasnt letting him drive You can drive till Thimphu now Shall think about it Dont get out of the driving seat now Thashi also went to the front. Now 3 of us are going to sleep
Both of them were sleeping here. Now I shall sleep We reached Trongsa. We have to fill diesel and AdBlue The car drinks adblue like diesel Yes, we are going to give our car liquid You drank, now let the car drink Rishi finished drinking his milk He will hit me and then give me a kiss Do we have money left? Will I have to take again? To go from Trongsa to Assam, you have a border Gelephu Around 160km from here 5-6 drive from here If you want you can go to India from here You have 3 ways to enter Bhutan Pheuntsholing , Gelephu and Samdrup Jongkhar routes All 3 are close to India. Phuentsholing is close to West Bengal.
Gelephu and the other are close to Assam 107.32/- for diesel. Did you know? Are you knowing when the rate of diesel is going up? We have a check post here. We should show our QR code here Rishi is speaking to that grandma Where is the grandma? So many foreigners are coming here.
We had seen man in front of the cafe All are elderly people Did you notice that? All are aged people Dont you want to drive now? Are you fed up? He became fed up driving for 2 hours In the morning, I drove for 6 hours You wanted to push me out of the seat at that time Now he doesnt want to drive Now he is sitting behind Rishi and I am sitting here Both of them are sleeping. Thashi is driving now I didnt sleep On the way, the police stopped us Last day a lorry slipped down and they are lifting it now That is what you see here now They are lifting the lorry using their recovery van That truck was taking potatoes It is coming up very slowly Very very slow This is the one that is pulling it up For a support, they have pulled and tied it there That is how they are doing it A lorry like this that went with potatoes is what fell down It would be a family's or a teams one year's hard work of potato harvesting I think nothing has happened to anyone. It happened days ago See how patiently and disciplined are these people and vehicles Is anyone trying to come in front? Thats it Look at the traffic police's bike The lorry is almost up You shouldnt stand near that, its dangerous. I am standing this far Only the workers are standing there They are experts. If the wire breaks or anything happens, it is very dangerous They have lifted it up Look at him removing the support given on top They are real experts Now they will leave vehicles from one side We have stopped for lunch It is 2.30pm We have again stopped at the same restaurant we had food from that day Let us have something light from here Rice for Rishi and Chowmein for us Koka chowmein He has learnt to stay in the cap. Now you can sleep
You had lunch This is not food. It is medicine It is not for you to eat I enquired about the apple vehicle. For 5mts, it's 1700/- Where are you going Rishi? Come here. Let us sleep. You can go to Akku later on
Now he wants only Akku Let Akku check out for hotel After a long drive, we have reached on top of Dochula pass It is 4.45pm Its been 13 hours since we left All three of us drove I am the one who drove all the bad roads But was it comfortable? It was ok for me How was the journey? Was it comfortable? It was ok We drove such a long distance with so much of curves and bends for the 1st time I liked that Our car is amazing The only issue is that it drinks a lot of fuel and adblue Rest everything is fine. The car is amazing We stopped to go to the wash room Akku has gone to the washroom It is 6.30pm We reached Thimphu We have reached the hotel we are staying at We are staying at the same hotel Khamsum Inn where we stayed 1st day They will give us tea as welcome drink. We shall have that and go to our room We have experienced the hospitality at the hotels in Bhutan All good people, good behaviour, body language etc all to be appreciated They give us tea as welcome drink It was 6.30pm by the time we reached Thimphu
All of us were tired. We drove 14-15 hours It is very cold here in Thimphu Not as cold as we felt few days back But the cold climate of Thimphu is different Our car is here in the front I shall go to the hotel room and end our video Hotels at Thimphu are expensive compared to other places They said they have buffet breakfast today We shall have it Our room is in the 2nd floor There is parking fee for cars here After 9pm, they dont have parking fee Parking fee begins from 9am Last time they collected parking fee and cheated us This time Thashi said to pay parking fee only after 9am So I went to keep our car on another side This is the hotel. I had not shown you the room yesterday 204. Open please Whats up? Had your bath? Rishi had bath I am going to have my bath now Why are you laughing? Swetha, arent you done? They charged 3500/- for this small room Our permit expires today Our permit and the cars permit expires today ie our visa expires today We have to go to the immigration office and extend our visa Have to pay for the car too. We plan to stay few more days We have more to see in Bhutan We are yet to go to Paro airport Lot of places to see. We shall do all that
Have to take a Bhutan lottery. Should go to Bhutan post office and stamp our face Have to fill deff in the car .. so many things to do I am ending the video here Tomorrow onwards we shall see different place from Thimphu to this side See you tomorrow with new places on Tech Travel Eat at 12 noon Until then this is Sujith Bhakthan, Abhijith Bhakthan, Swetha Bhakthan and Rishi Bhakthan signing off
2022-11-19 01:33
Show Video
Other news