Ep 11 Bhimkund- Geographical miracle | Dhubela museum, Pitambara Peeth, Datia | MP Tourism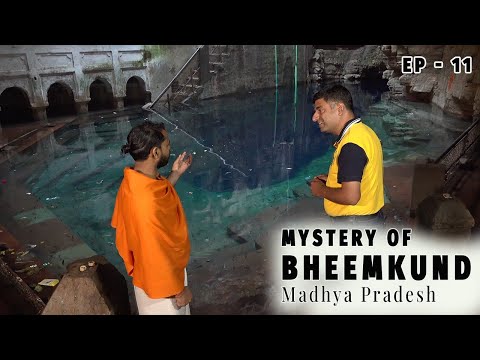 Show Video
Namaskar friends! Welcome to Visa2explore. This is your host, Harish Bali. Right now, we've come to visit Bhimkund, which is 105 KM from Khajuraho. It took us almost 2.5 hours to reach here.
This place is 78 KM from Chhatarpur. That journey would take 1.5 hours to complete. Here is a basic introduction of this place. Inside, you'll witness a wonderful geological miracle.
No scientist in this world has been able to decipher this miracle till date. This is the path to enter the Kund (pool). How many steps are these? Sir, these are total 80 steps.
80! And at the end of these stairs, you'll reach the Kund. Where are these stairs headed towards? These stairs lead up to the Vaishno Bhima Devi Temple. Swami ji Maharaj placed an idol of the Devi there in 2003.
That is the temple. We will go further downstairs. This rock is huge! This is a single rock, it hasn't been cut or divided at any place. All that you see here is natural environment. Pandit ji, this water is completely different in colour!! Sir, this water is blue in colour, so this place was also known as Neelkund earlier. To be honest, I've never seen water of this colour in my whole life.
Such blue water!!! This pool also has small fish. Yes, there are lots of fish in this pool. It also has bigger fish, weighing up to 1 or 1.5 quintal (1 quintal = 100 kg)... It doesn't swim up to the surface.
This water is so clear that if you throw a coin into it,... ...you will be able to watch it sinking right till the bottom. You can watch the coin till as deep as you can see with the naked eye. During the monsoon, even when water from elsewhere flows in.... ...or even when devotees take a dip in it, this water doesn't change colour. The water here doesn't get dirty ever. So good! What is that on the side? Is it a gufa (cave)? No, it isn't a gufa. That is just the deeper part of this Kund. That has water even beneath the rocky surface.
As per my knowledge, though you can confirm the same to us,... ...that nobody has been able to measure the depth of this Kund till date. Also, no one has information about the source of this water. That is right! During 2006, when a huge earthquake struck Nepal and Indonesia... ...the tsunami waves had an impact on the water here as well. The water rose in waves that were 10-15 feet high. Usually, the coins or anything else thrown into it stay at the bottom.
But with the upheaval in the water, everything rose to the surface. The water also became murkier. The water rose in waves that were 15 feet in height. That means the water level must've risen up to those stairs in front of us. Yes, completely immersed in water. The water level in the cave also started rising.
Right up to the entrance up there. Well, it is believed that the Ganga could be its source. Because there are no insects in this water. The water of the Ganga river has this quality. Because of which we can store water from that river at our homes for years. Similarly, if we keep this water stored in a bottle for even thousands of years...
Similarly, the water won't get spoiled. Among other qualities, if there is a patient of asthma or skin disease... ...this water can cure all those conditions. Really! That was some good information you shared. Alright! And someone also told us that as per the local folk tales... ...during exile period, the Pandavas were roaming from one location to another. When they reached here, they felt thirsty.
To quench the thirst, it is said that Bhim struck his Gada (mace) here. Yes! This is it, right! It is said that Bhim had the power of a thousand elephants. So, he struck his gada here... He struck the gada right here. ...and created this kund, which perhaps goes right upto Pataal (nether world). Someone told us in Khajuraho yesterday that there was a death here few years ago. So, the family approached divers in Mumbai to come here & extract the body.
It is said that those divers went down to 300 meters! They swam to 300 meters, that is what we've heard too. It was a long time ago. Once they were at that depth, they found the pool to be even deeper. They also told us that the water current was very fast down below. And they weren't capable of going further deep.
They must've cameras on them? Yes, they did. This is a wonderful place. Yes, it is a wonderful place. You can visit the temple inside Sir. There are fish swimming inside. They will scatter away.
Huh! Those will move away. They don'tbite. Just hold on to the wall. Pandit ji... Yes! From here, it is clearly visible that this huge rock goes straight down.
Yes! And as we were talking, the rock was cut from above here till down below. Yes! That is how it is. Amazing! Let us see how deep the coin goes. You see the leaves in the centre? Between these two leaves. So that we can watch clearly. Here goes the coin.
I can see it, can see it, can see it. Still visible! 5 seconds, 7 seconds! I was able to watch the coin till 8 seconds passed. Almost. But not beyond that. So, as we'll keep going further, the pool will keep getting deeper.
Yes Sir. Isn't it? Amazing! Look up there. You have a tree here as well. Extremely beautiful! I'll return now. Yes! My jeans got wet but doesn't matter, these will dry up. What we saw from up there would be a lifetime memory! Sir, this is the entrance to the gufa. Let me show you the path further.
This is the cave that led the Pandavas to Panna Valley at that time. In the present times, somebody must have tried to go into this cave? Yes, a lot have tried that but this cave is difficult to navigate. The cave is quite narrow at places. How far inside have people been able to reach in this cave? People have gone 10-20 meters into the cave. (Singing devotional songs) If you are travelling in this region, you must visit here. I've already shared the distances with you.
Pandit ji, thank you very much. Jai Shri Ma! This dhaba is right outside the temple. To save time, we'd already ordered them to cook an aloo (potatoes) paratha for us.
It comes with tomato chutney and this pickle. Very good! It is piping hot. I can see in front of me that this paratha is being cooked over wood fire. This may be called tomato chutney but it should actually be known as chilli chutney.
It has a good amount of chilies in it. It is more chili chutney than tomato chutney. And it has a bit of tomatoes. Though its high on chilies, I've to admit, I'm not missing having curd or butter. Usually, it is my habit to eat aloo paratha with butter.
Also with curd, but not with chutney. But this combination is working here. Adding just a bit of chutney is enough but still, it is sufficiently spicy. Bhaiya give me tea as well. Alright! I've to say this, this meal is delicious.
I've searched on Google Maps, even if I go directly to Datia railway station,... ...it will take me 4.5 hours to reach and the time is already 9.45 am. We have to catch the 3.40 pm train from there. So, now we'll have to make some adjustments to our tour planning. Let me do some time management. And we would visit the Chhatrasal museum for a short duration. It would be better to watch a bit of it instead of not watching anything at all.
Also, we don't need to deviate too much, just 2-3 KM of diversion from main route. Now, see, the amount of planning that goes into selecting an itinerary and... ...what it ends up as in real time. In any case, I'd planned an aggressive tour today. And I'd also planned to have lunch at Jhansi on the way. But now I'm not even talking of Jhansi because even without going there...
...we might not be able to manage time for today's trip. Anyways, I'm going to spend 5 minutes enjoying the taste of this paratha. Thereafter, we'll be en route to Maharaja Chhatrasal Museum. We've reached Maharaja Chhatrasal Museum. This place is known as Dhubela.
Entry ticket is for Rs 20 per person. This used to be the Durbar Hall of Raja Chhatrasal. On this side is the Jain Gallery. It contains some ancient idols of Jain Teerthankars (religious figures). This is an idol of Laxmi Narayan Bhagwan. Below it is written '11th century.'
These sculptures are antique. We've entered the Shiv Gallery now. At the entry, I'm showing you this 11th century idol of Ma Saraswati. It is mentioned here that this idol was discovered in Dhubela, where we are now. Uma Maheshwar! Don't touch the sculptures.
What beautiful idols are these! Though it is broken a bit. This idol belongs to one of the Devis (goddesses) known as "Chaunsath Yogini." This 10th century idol was discovered in Reeva.
It depicts the talent of the sculptor and the art work behind it. How old it must be! It belongs to the 10th century. Chakreshwari! She is also one of the Chaunsath Yogini (64 women sages). Shri Bhanawa! This place has a good collection of antique idols. The 64 Yogini Devis are also connected to Tantra knowledge.
Looking at this 10th century idol, you'll notice the detailing on stone surface. Look at this idol. I really wish I was able to read what we are seeing in this idol. But it is still beautiful! Awesome! A few days ago, when I visited the Gujari Mahal in Gwalior... ...I saw some really ancient sculptures there as well. I felt nice visiting the Gujari Mahal.
Here also, we can see some really old sculptures. I am able to understand how these idols are placed here for tourists to visit & know about the history. Really beautiful! There is also an open gallery here, to see individual sculptures. In the centre is the statue of Maharaj Chhatrasal, the famous Bundelkhandi ruler. Looking at this statue, it becomes clear how he held a sword in one hand and a spear in the other.
Now let me share what I know about him. He lived till 82 years of age. During his life, he fought a total of 52 battles & was never defeated. He was a prominent ruler of his time in Central India.
We came to know this at the light & sound show in Orchha. It is also said that he was accorded the title of "Maharaja Adhiraj" (King of kings). Maharaj Chhatrasal Bundela. Beautiful! Let us now visit the gallery there. Fine Art Gallery. Lalit Kala! Look at this impressive sculpture! It looks like it has been carved out of a single stone.
I think it is made out of a single stone. It is title "Departure of an army." Shiva 12th century. Here is the Tamrapatra (royal decree) of Maharaj Chhatrasal. Maharaj Chhatrasal's 'Angarakha' (outfit).
This is his personal outfit, which he wore in those times. I'd been told that I would also get to see the clothes worn by Mastani as a child. Now let us go into the gallery there. Painting Gallery. These paintings look very old. These paintings were received from the State of Reeva...
... while the museum was being built. Reeva was a state during historic times. There is some information given here about the then king of Reeva. Like what the period during which he ruled, etc.adds
There is a painting of Maharaja Chhatrasal. I'm in another gallery in the museum and we can see some antique weapons here. On one side, we have a collection of swords.
Do you see this gun here? The write up reads that this gun belonged to Emperor Adil Shah. Another description reads "one of the oldest guns of India." These spears, etc belong to the 16th century. Oh! Look at this gun! What a size! I had seen a similar gun at the Udaipur City Museum.
This gun is almost similar in size to that one. Huge! Huge! This gun or rifle also looks to be quite heavy. Here, on this board, you can read about certain nearby archaeological sites... ...and their distance from this location. Good that we visited the museum. In my opinion, whenever you travel towards Khajuraho,... ...you can make a similar itinerary. You can go from Khajuraho to Bhimkund and on your return journey...
..you can visit the Chhatrasal Museum. Gwalior would be a long distance away but you can return to Orchha. Or you can return in the reverse direction because Gwalior would be distant. Our car is ready so we shall leave now.
We've reached the Pitambara Peeth. Videography isn't allowed inside the temple. That is what somebody told me So, I am going to go inside. Have darshan. Then I will come outside and tell you about the significance of this temple.
Inside the temple, we had darshan of Maa Baglamukhi. Today is a weekday so there were not many devotees inside. So, we had very good darshan. I was reminded later on that on Saturdays, there is a huge crowd waiting to get in. Maa Baglamukhi is also known as PItambara Devi.
She is offered yellow-colored food items like yellow fruits & vegetables or sweets. Like Besan or Boondi Laddoos. Within this complex is another temple, that of Maa Dhoomawati.
To visit that temple, devotees must be aware of the timings. On Saturdays, temple remains open for two hours each in mornings & evenings. The time is probably from 7.15 am to 9 am.
On Saturdays, it is from 6 to 8. For the aarti timings, the Maa Dhoomawati temple remains opens at 8 am & 8 pm. This time, we didn't visit the temple of Maa Dhoomawati... ...but we visited Ma Pitambara Devi Temple. I would say this place is quite popular because though ...
...we might refer to a place as a Shaktipeeth in the day-to-day language. But this Shaktipeeth isn't part of the 52 designated Shaktipeeths in India. You might want to think of it as there is a Devi who is incharge of 10 different skills. The two Devis, whose temples are here, are responsible for two of those 10 skills.
So, I've shared with you all the information that I had. So if you are visiting Khajuraho or Orchha in the region... ...you need to take a small diversion of 2-3 KM from the main road to reach here. Have darshan of Maa and... ...there is one special fact that 8-10 people have told me in the past few days. If you have a reasonable wish to be fulfilled and you convey it here... ..there is a good chance that your wish would be fulfilled. There is a prasad counter outside, let me buy prasad from here. I'll take it home.
We must leave here now because we have a train to catch at 3.40 pm. We will reach the railway station by 3.20 or 3.25 pm. So, I am ending today's episode here and our this series also concludes today. Till this moment, I haven't decided what would be my next destination.
In the coming two weeks or so, I will decide up on our next tour plan. Right? I am hoping you would have enjoyed this whole series. For us, today was a fun day. Right? Now I will say bye-bye to you here. Thanks for your time!
2023-02-18 22:35
Show Video
Other news