Delicious SHEDIAC New Brunswick World Capital of Lobster | CANADA 2022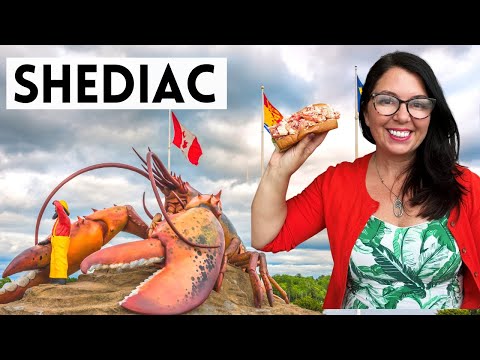 Show Video
So good, this is pure lobster. I love it. Welcome to Shediac New Brunswick. This small town in Atlantic Canada is only half an hour from Moncton and three hours from Halifax. It's also the world capital of lobster.
And that's my favorite food. So in this video I'm going to share with you all of the delicious things to eat in Shediac and of course the beautiful sights Now, although Shediac is the lobster capital of the world isn't the only thing you should eat here. There's so much fantastic seafood, I'm at Chez Leo, or Leo for us Anglophones and it's been around since 1961. It's been owned by the Bourgeois family and it is definitely a fixture here.
This is a true local spot. And so they still have the original structure. And then they have this dining room to the side, which is really nice because today is beautiful and sunny outside, but it's also really windy and so a lot of people are coming in, there are a lot of things so you can get scallops and a bunch of things. You can get a full size portion you can get a half size portion, you can get a snack size portion, which comes with fries and so that's what I got. This is snack size, clams and fries. And then they also give you sides of tartar sauce and ketchup.
Local clams. Caught fresh. Oh yeah. These are really good.
Very light, light light batter like not too heavy at all. does not feel greasy. The clams are actually a little bit briny.
So I don't think there's actually seasoning like salt on it. Because there's brininess and they're also a little bit sweet. Like sweet and brining light.
Not chewy at all. If you've never had clams and chips before, this would be the place to try it. But then you'll be ruined for life.
Because this is the best clams and chips I've ever had never had anything even close to as this good. Wow Now I know for a fact if you come to Shediac you're going to want to move here and that's because this place is so quaint in the most beautiful way. They have brightly colored houses the downtown historic buildings are well maintained. People here are so friendly, and the food here is so good all the seafood. Now as Atlantic Canadian and Nova Scotian it feels similar.
We have a lot of those things but it also feels different. And that's because 75% of the population here are Acadian so in the mid 1700s, there was the Acadian migration. Many left some went to New Brunswick some went down to Louisiana later known as Cajuns, and so 75% today are Acadian when you go anywhere you're first greeted in French however, they know a lot of us are not Acadian and so English is also readily available, but it's just a really nice beautiful touch and also for me to come here it's just like it's like home but just a little bit different so it feels like a vacation. So just 15 minutes out of the town of Shediac if you've got Aboiteau Beach, and this is a beach that looks spectacular if you want to park and $7 outside the beach area and then $12 Inside I believe that goes actually to conservation and some other work that they're doing here at the beach.
So funny because I can hear reggaeton playing so it's like I leave Latin America but it continues to follow me. I didn't realize that it made it mainstream. Anyway. I wish I brought my bathing suit.
It looks so nice here. Here it's got moon mist so you know the kids are going to be happy this is full service beach with both washrooms, showers for men and women. They also have an unsupervised playground, drinking water, they've got fountains here. So you just need to bring a reusable container and you're set. This is a water wheelchair for people of reduced mobility, it's free of charge, you just have to contact staff. At first I thought it was a something for kids.
This is a great way for everyone to be able to enjoy the beach. So I left the main core hub of Shediac town and I'm out at Aboiteau Wharf in Cap-Pele I have to thank my server for explaining to me how to pronounce that. This restaurant is attached to a fish market. And when you look out, you can see lots of boats and people working. And so this is where you're going to get really good seafood.
And so I decided this would be where I would have the lobster roll. Look at this. It doesn't look fancy. But lobster rolls weren't fancy. Lobster was considered a poor man's food for a long time. And so I love that they just stick to their roots, knowing that the thing that makes it the best is the actual lobster.
And there's so much lobster in it. I'm just going to first try just a little bit of lobster. Yeah, it's amazing. What I love about this is there is mayo on it, but there's not a lot people just they do too many things to it. Either too much mayo or they decided it needed some kind of spice. There's a little bit of lettuce in it.
That's all it needs. Let us a little bit of mayo. That's it.
Good bun. Not a fancy bun. Just a good bun. The bun toasted a little bit buttery.
This is just a little bit outside of Shediac as I said, but there's a beach nearby. So I think it would be great to go to the beach and they come here for lunch or for dinner. And they also have an upstairs patio where you can look out onto the water. It's beautiful out here. This roll has made my day. Now you don't want to miss the giant lobster on your way into Shediac.
It weighs 90 tons. It's concrete reinforced steel, 11 meters long, five meters high. It was commissioned by a local Rotary Club in dedication, appreciation to the culture and heritage of this hard working fishing community. It was sculpted by a Canadian artist, and it's concrete and reinforced steel.
And so right now they're doing a little bit of repair work on it. But it looks like it's going to be ready soon because this is an amazing spot to take some photos. And also it's not the largest lobster in the world. Actually there are two larger there's one in China which is 100 tons. However, it's still very impressive and draws 500,000 people every year. You got to see it.
3pm on a Friday, I am at Parlee beach. So Parlee Beach is home to some of the warmest saltwater in all of Canada. It's a provincial park when I was young as a kid in Nova Scotia, they always had these like big concerts that looked so much fun. I have got to say this is a pretty cool Provincial Park.
And that's because there's so much to do here. You see people out on their bikes, there's camping. There's that traditional Provincial Park kind of stuff. But then there's also restaurants so this is Euston Park. It is a licensed restaurant. And there's also a location in Moncton and so and so I was really excited to come here because it looks like they have some really great things on the menu.
I wanted to try the lobster roll. But you know, I already tried it. And so I asked them what was the most popular dish here. And they said the burger is most popular and the chicken burger is most popular. And then next up was the poutine hot dog guys.
This is a poutine hot dog. And so basically it's a hot dog with gravy and cheese curds on it. So if you've never had poutine it's Quebecois dish. So it's a French Canadian dish with french fries, cheese curds, not just cheese. It's got to be cheese curds. And then really good gravy.
And so what they've done is they turned it into a hotdog. All of the ingredients are local. Again, we are in a region that 75% Acadian. And then it's just like so beautiful.
It's like the prettiest poutine hotdog I ever thought I would order. And I asked them what they had. They're licensed here. They have lots of local beer and lots of other things. But they have these slushies. So this is a strawberry slushy.
They also have it in peach. And then what you do is you order the slushie and then you can put some booze in it. So I think we have got rum vodka, tequila and gin. Oh, wow, that is a really good strawberry slushy.
Anyway, let's try this poutine hot dog. So I'm gonna give it a shot I can't believe I'm saying this, this actually works. So wow, this is really interesting.
The gravy is very rich that's gonna be a brown bun. I don't know if it's a whole wheat or brown bread, gravy and the cheese on the hotdog. Really tasty.
Really, really good. They also have fish tacos here. Lots of other fun things like that truffle fries, lots of snacks. This is a place that just a really great outside patio.
I love it. Now I don't believe that you can come Shediac without trying some Acadian food after all 75% of the people here are Acadian. And so yes, it is the lobster capital of the world and there's so much seafood, but also you need to try some of the local eats and so I'm at Menu Acadien, and I'm here to try what they say is the most popular traditional Acadian food of this region. It's called poutine rapee I was so excited not because anything about this looks so exciting, actually looks a little bit weird.
However, when they explained it to me, it actually reminded me of an Ecuadorian dish actually two dishes like a combination of bolon de verde and corviche. Because they said the way this is made it is potato so it's a mixture of mashed potato and shredded potato that is made into a ball and then there's pork inside. So there are two ways to eat it. You can either have it sweet or salty so I prefer to have it salty and so they gave me some butter some salt and pepper but also it's very common for some people to have this with a little bit of brown sugar.
Makes sense because pork brown sugar fantastic. But I'm going to give this a shot I am just so excited Wow, it smells like like sweet ground pork. So so good. Now pork and potato at least potato I am tempted to put ketchup on it.
But I'm going to eat it the traditional way. So this is actually margarine. A little over the top this comes out steaming. And so just a little bit of butter. I don't think I'm going need the salts because it is ground pork and pepper.
And then the interesting thing is that actually comes in this almost like viscous sauce. I'm assuming that's potato. Yeah, I guess it's like a potato water. This is this is like a meal for laborers. It's for people who are going out fishing The potato the way it's worked is a little bit gelatinous.
The pork is really good. Now I can see why people would have this with brown sugar because I think the sweetness would be good but I really like it with a margarine this is awesome. I'm here at Captain Dan's on the Pointe-du-Chene Wharf I hope I'm pronouncing that right I'm forgetting all of my French lessons.
But here on this wharf, it's a tourist area with a lot of different seafood restaurants ice cream shops there's a lighthouse at the end it is perfect for photos. It costs $3 to get in. But that goes to the maintenance and upkeep of this spot which is 150 years old, so well worth it. And here at Captain Dan's, I decided to get the seafood pasta so it's got lobster, scallops, shrimp, garlic, white wine sauce, cream, tomatoes, I think it has everything delicious.
And for those of you that are not Canadian, I wanted to get this to show you which is the Caesar the Canadian Caesar. It's like the Bloody Mary in the US, however, uses clamato juice, which is a mix of clam juice and tomato. The only other place of seeing clamato juice is actually in Mexico. Mexicans Canadians we like it Oh it's good. I mean, normally I would have it was vodka but I am driving today. Still very good this seafood pasta is $31.99 good size portion for the prize.
See lots of chunks of lobster also you've got these scallops, not the little tiny bay scallops, but you know good size scallops. I can smell that garlic. Let's try the pasta first rich flavor.
You've got like that tomato cream sauce with just enough garlic. Lobster. The lobster's good.
Very sweet. Really good lobster. Oh, looks like we've got some shrimp here as well. And now the scallops. Sometimes you have to choose between.
Do you want lobsters, do you want scallops, do you want shrimp? here you get all of it. You know, everything here is cooked so well. None of the seafood is overcooked. It's just a really tasty meal.
I can see why this place is so popular. Captain Dan's, I'm a fan. I'm at Lenny's Takeout, which is the takeout spot. It looks like it's been around for generations. On the website, it says hours vary and to check their Facebook page. So I'm guessing it's quite seasonal.
And the food is seasonal too, because it's well known for fried chicken. But when I showed up I wanted to know what the most popular seafood dish was. And it's lobster roll right now.
So I've heard they've got fantastic clams and chips. Right now. It's lobster roll season time. Now I had said that I was only going to have one type of lobsterat every place, but rules are meant to be broken. If this is the time that you're supposed to get lobster rolls from Lenny's it looks like it's like garlic buttered, toasted, split hamburger bun. I've got light light mayo on this and then just a little bit of lettuce.
I think that's the way it's supposed to be. So I'm so glad that I decided to get it. I was thinking about fish and chips because I heard so many great things about fish and chips. And they also told me that clams and chips are all supposed to be fantastic but I've already had the best clams and chips in the world. So I'm just going to end it I'm not going anywhere else. It's only going to be Chez Leo.
Oh yeah, this is good. The lobster here is pretty sweet. I think it might be because of the warm waters.
Similar to what you would find in PEI. In Nova Scotia, the waters off of Yarmouth are really deep. And so it's just a different kind of flavor. Lobster. I'm sure most people outside the Maritimes would not even know there's a difference between lobsters. But yes, you can taste it.
Now it's time the garlic and the herbs just on the side are really nice touch. They've just given a really generous portion, full pieces. It's not like it's cut up and like little bits of things. It's lots of claw here this place is packed. So line up out the door.
You need to order inside. And then you wait and you get your food. Oh that lobster is so good. So I think this was a really smart decision to come here. It's rated number one on a lot of lists. And I think Atlantic Canada just really does takeout spots really well in the summer.
It's one of my favorite spots to eat All right now for something a little bit different. I'm at Adorable Chocolat. This is a chocolate making pastry, coffee shop cafe. I've heard amazing things about this place and so it's run by two people one is a 25 years working as a pastry chef chocolatier here. The other a chocolatier who was also singer songwriter. There are no artificial ingredients, no hydrogenated oils, nothing fake in any of the chocolates, but I'm actually here for something else.
I heard that they have amazing croissants. Now, I don't love sweets. But there is something so perfect about croissant that is made well that it just buttery, chocolatey, flaky.
And then also it's a little bit later in the day, so I decided not to get coffee, but instead I'm having a chocolat chaud, a hot chocolate. So I'm going to give it a shot. This is so good. You know when you have one bite of something and you immediately think I'm going to get one to go. That's exactly what I think of this chocolate is so tasty.
It's fluffy. It's buttery. This hot chocolate oh yeah. It's basically melted hot chocolate. This place has been around, they said this location for maybe six years.
It's right on Main Street, they have this really lovely outside patio. They also have indoor seating. And so when you come in, you'll see all of the chocolates that they have. I mean, you can get a number of different kinds of drinks, gourmet drinks, either coffee, or chocolate.
And then they're also selling macarons, and a number of other things. So if you have a sweet tooth if you want, like our real French bakery, a boulangerie or a patisserie? I think it's called. This is the place you want to go.
And get in, like, get this. If it's not a croissant, whatever it's called. It's so so good.
Le Moque Tortue is an Alice in Wonderland inspired restaurant. It is so eclectic. Lots of things to look at on the walls, including over 300 stopped clocks.
And that's because you're supposed to relax and enjoy your time here. They also have fantastic board games and trivia nights. And it's also known for incredible Atlantic Canadian food.
So first taste in Shediac. Of course, you know, I learned to have lobster and the lobster capital of the world. But I'm starting with one of my favorite dishes. This is lobster chowder. Now what I love about lobster howder is that even in the Maritimes it's very different. So I would say in PEI it tends to be a little bit thicker.
in New Brunswick, it tends to be a little bit thinner. Nova Scotia is somewhere in the middle. But really all three are good. Not one is not better than the other that they're just really different. So here what is so lovely, you know, it's going to be good as they put a big lobster claw on top, I can see some potato, two types of potato I think I've got some white potato, yellow potato, and then I've got a little shrimp and it's some celery, some onion, the broth looks rich, let's start with that first.
This was a fantastic choice. The broth is really really rich, sometimes when it's a little bit thinner or they use a lower fat milk. You just kind of feel like it's lobster in milk, but this is just a really great lobster broth.
And then let's get some of this lobster so so good. Now they serve thiswith basmati rice, then also some bread and then also a whole salad. This is a huge amount of food.
Normally I would probably split this with someone because it's a lot or you can just take the leftovers home it's that good. You don't want to skip this broth good chowder local New Brunswick oysters they do try to bring everything locally as possible and New Brunswick is well known for its oysters briny fresh with just a little bit lemon. This is perfect. This Shediac hotel recently opened on Main Street.
It's located in a heritage home and is modern and yet so comfy. They also have a restaurant and bar and a gorgeous front yard patio. I get asked a lot where people should visit or holiday in Atlantic Canada.
And I would say Shediac should definitely be considered because it ticks off so many boxes of fantastic beaches, great food, lots of seafood. It's affordable, and also that Acadian culture. In Nova Scotia I've always considered the Acadian community to be one of the friendliest and I'm finding the same thing here. People are are just so welcoming I have really enjoyed it.
Join my Patreon community for more behind the scenes and exclusive content you won't find elsewhere you can also find me on Instagram and be sure to like this video and subscribe to my channel all of these things make my day thank you so much for your support
2022-06-24 00:49
Show Video
Other news