Dark Tourism for Sabah (Malaysia). Are we marketing ghost tours?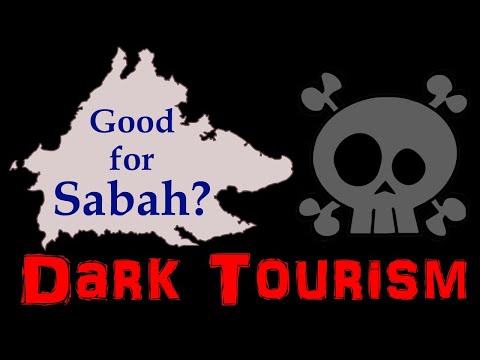 Show Video
First impression, when we mention Dark Tourism, what comes to your mind? Crowd: black, ghost, eerie, horror, no light... Like right now? No light. Academically, the Dark Tourism theme was created by Professor John Lennon and Malcom Foley in 1996.
Dark Tourism is defined as any form of tourism that is related to death, suffering, cruelty, tradegy and crimes. Therefore, are the sites you visited today related to Dark Tourism? (We went to Kinarut Mansion, Pogunon Museum, Petagas Memorial Garden, Double Six Gallery) That's it. There are many other terms for Dark Tourism. You can call it Pelancongan Gelap in Malaysian language. But here we refer it as Dark Tourism.
For example, Thana tourism, black tourism, morbid tourism, or grief tourism. The research outlines 5 different forms of dark tourism. I move aside so I won't block the slides.
The first form is museum. For instances, like the Pogunon Museum we visited earlier, which has burial jars (Slide: museum that exhibits death incidents, e.g. Penang War Museum) Next, participation or observation on simulations of death incidents, like what we will experience tomorrow (at Sulug Island) (Slide: demo famous battle scenes, hanging, guillotine) Number 3, witness the dead in public is also one of the dark tourism forms. To see the replay of these happening. (Slide: e.g. dead penalty in public, gladiator fight) Visit the memorial sites If you have been to Kundasang War Memorial.. It's also one of the packages of dark tourism, whether you are aware or not. The last one is journey to the site of the perished individual or group, or tradegy site. Like in Bali, where there's a horror place becomes an attraction. (Slide: e.g. historical battlegrounds (Waterloo, Gettysburg), massacres (Rwandan genocide, Holocaust, Bali bombing))
Ok, these are the opinions of the researchers on dark tourism Why do people want to visit these sad sites? Here are a few studies. The first and the primary reason is - they are curious. What has happened there? Like we went to Pogunon Museum, to know what the burial jars doing there. The most important thing about dark tourism is its values in education and studies, like what happened at the site Motivation no.3 is interest in history and a particular mortality event, like the death of ???, is also made in foreign countries. Then again, why people want to visit? Because the event is related to their family, relatives, or someone they know. Motivation no.5, as an entertainment. Just explore it for fun.
And also for remembrance. For example, the monument for the victims of earthquake in Kinabalu Park So that's one of the reasons people want to join dark tourism tour Dark Tourism is already very popular overseas, but it's not the case in Malaysia. One of the reasons why it's popular is because people want to know what happened in the past, and to pay tribute to those who lost their lives. Actually, many dark tourism tours are educational in nature. But we need to differentiate it from heritage tourism. Like the first site we went today, the Kinarut Mansion. It's a heritage tour. It's not dark tourism.
Last year our chief minister encouraged the development of dark tourism because it has great potential. So we can look at some districts that have such element. Ok, people visit dark tourism sites to show respect.
There are two types (typologies) of dark tourism. First one is related to natural sites, as well as the sites of disasters. Another type is related to people. For natural dark tourism sites, the near one is..? The one happened in 2015. Yes, earthquake 2015 at Mount Kinabalu. It's a disaster site and can be a dark tourism site. For dark tourism sites related to people, Pogunon Museum that we visited is one of them.
Also battleground... Is there any? Ya! Tomorrow we will go to one of them (Sulug Island). You can bring your blowpipe haha. Holocaust tour, more on memorials for concentration camp, genocide and massacres.
Prisons like Penjara Pudu. But none in Sabah I think? Here we have communist, cold war... (Slide: e.g. North Korea, four big tomb: Lenin. Cold War and Iron Curtains: e.g. Berlin wall) And nuclear... (Slide: Chernobyl in Ukraine, Fukushima, Hiroshima and Nagasaki in Japan)
One of the examples is Mamut Copper Mine in Ranau Then we have killing sites, squatters, terrorism etc. That includes paranormal. (Slide: Jack the Ripper in London. Ghetto in India, Brazil, Kenya, Indonesia, Korea. Ground Zero in New York City and Bali) Dark Tourism is not paranormal tour. Paranormal is just part of Dark Tourism. (Slide: UFO, crop circles, haunted houses. Black Magic: Salem City in Massachusetts) The list goes on, like accidents, medical, dark entertainment... (Slide: Accidents: Pont de l'Alma tunnel in Paris, Princess Diana car accident site. Medical Tours: Meguro Parasitological Museum in Tokyo, human body exhibition such as Bodies Revealed. Dark Entertainment: theme parks such as Dungeons exhibition in London and Berlin, Dracula in Romania, London ghost tours) People visited abandoned theme parks and learn what has happened there. Ok, now I want to tell you the dark tourism in Sabah Parks In a workshop last year, we identified 40 dark tourism products in the parks managed by Sabah Parks. Sabah Parks have 9 parks, from Tunku Abdul Rahman Park in KK, until... Tawau.
So we have 40 potential dark tourism products in 6 terrestrial parks and 3 marine parks. But today I'll present only 7 of them (out of 40) that can be considered as a dark tourism product. The first one is Earthquake Tradegy on Mount Kinabalu. As we know, this tradegy happened on 5th June 2015 and took the life of 18 people. Therefore, for this tradegy, we proposed a dark tourism site for climbers, in fact we've started, we will have site and gallery for this product. ...to show what happened during the event. e.g. the rescues, traces of disaster This is the dark tourism product to commemorate the tradegy on Mount Kinabalu.
Now Kinabalu Park plans to combine ecotourism and dark tourism for the visitors. But you have to visit the site to see it. Ok, the second one is the grave of Si Gunting, a Kadazandusun warrior from Serinsim (Kota Marudu). You can visit his grave (which is called Makam Si Gunting) in Serinsim substation of Kinabalu Park. Next, Sulug Island, where we will visit tomorrow. The history of Sulug Island is about a village head of Sulug Island. His name is Panglima Ali (or Ali Imam Abbas Sani), a Bajau (sub-ethnic: Ubian).
On 10 Oct 1943, he led an attack to fight Japanese invaders. 14 days after the uprising, 54 villagers were executed on Sulug Island and 60 others were captured, included Panglima Ali. These prisoners of war were beheaded by Japanese at Petagas and there is a memorial for this event. Tomorrow probably we will see the bone remains in the water, beach or graves of Sulug Island if we are lucky. We also can see the village site, graves and some traces they left behind.
Next is Gaya Island, its story is about the rebellion by Mat Salleh. Mat Salleh fleed because he killed a British clerk on Gaya Island. In the past, Gaya Island was owned by the Sultan of Brunei. He rented the island to British who settled on that island later. The British built shops and police station on Gaya Island and fully operated there in 1882. This is from the history book. I just copy and paste it here. The born of Jesselton (now Kota Kinabalu) started with the base of Gaya Island. Today you still can find the fortress on Gaya Island.
In 1897, Mat Salleh and his 40 to 50 followers attacked Gaya Island from Inanam River and burnt down the administration office and many houses of British on Gaya Island. Mr. F.S Neubronner (British accountant clerk) was kidnapped and a constable police was killed. Mat Salleh fleed to Ranau and built a fortress there. When British attacked, he ran to Tambunan and died there. The legend of Supirak at Malubang of Pitas. The Supirak Island looks like a ship and its story is similar to Si Tanggang. This is the legend we want, the one that people can see.
The local community researches on these attractions, refine them and share with the tourists to promote this place. The Arung Salamiah legend in Semporna is about the love story between Salamiah and Tanjung Kalang. After Tanjung Kalang was killed by Datu Atik, heart broken, Salamiah hide in Bohey Dulang Island to escape the forced marriage by Datu Atik. Some believe the 7 wells near the peak of Bohey Dulang is where Salamiah bathed. Ok, last. Pirate attack on Pearl Island which was operated by Japanese (Kaya Pearls Company) since 1962.
Attacked by pirates in 1983, the manager of Kaya Pearls Company was killed and two others were wounded. This place is closed then. Even nowadays we can see the staff quarters, hiding place, and other abandoned structures left after the attack by pirates. Here is a tunnel that the staffs went in and got out from here. We plan to make this site a new attraction, to go together with ecotourism.
That's all from me. So we continue our workshop with more presentation by our panels, Puan Roslinah and Mr. Julinus. I try to continue the discussion about the involvement of government in dark tourism.
Tourism is one of the important economy sectors in many countries, includes Sabah State. Some don't know what really happened to a place. From what I see, when talk about history, many kids nowadays only google for information. There are many facts and evidents that we don't know. The local authority of every districts plays an important role to deliver a tourism product and they should work with the private sector. To maintain the tourism organisations and relevant benefits, every authority must ensure a solid foundation and an accurate delivery structure. While the authority should serve as a centre role in expanding tourism sector in a cohesive manner, efficiency is very important as well, but government is facing many challenges to execute the policies.
Because dark tourism is very new and not well recognised in Sabah. To develop dark tourism, we hope district government identifies potential locations to develop. Without the help of local authority, it'll be difficult for tourism sector and other agencies to identify and develop such places. We need the local authorities to keep an eye on this, very important. This is just one of the things caused by divided attitudes toward tourism and require a lot of support from the ministry in core level, and different local government to play the supporting roles in politics, social, networking and technology trend to influence the tourists. This matter is very important for the tourism sector in our state. The potential of Dark Tourism in Sabah No.1 Giving more choices on tourism destinations, besides eco-tourism and agro tourism.
Like what I said just now, islands, mountain, sea, and others (are standard attractions). So we add one more (dark tourism) product to earn more income from overseas tourists who are interested in dark tourism, and the heritages and history of a site. No.2 Offer a different experience to tourists, to enjoy a heart-pounding and thrilling tour at the dark tourism sites. One of the identified dark tourism locations under Sabah Parks is Sulug Island, where we will explore tomorrow. On Sulug Island, there will be a heart-pounding, thrilling, and saddening experience, so I hope everyone of you can feel the life of the village there and what the villagers felt during the Japanese occupation. No.3 To tell the history and cultures of Sabah related to dark tourism, in a different angle but with more in-depth understanding.
As an example, does anyone know where is Jesselton Hospital? Old RTM, that's the Jesselton Hospital. It's at Karamunsing, next to Audit. It's bombed, rebuilt and became RTM. No.4 More marketing content to promote tourism, culture and environment, created by many content creators proficient in social media.
Now we can see many social media misunderstand dark tourism as paranormal tour. For example, Dark Tourism Malaysia is doing paranormal activities. Actually Dark Tourism is not about paranormal. Paranormal is under ghost tourism and only a (small) part of Dark Tourism. No.5 With support from the government, dark tourism can help to develop socioeconomics and environment of Sabah.
If a dark tourism location is developed, the local commmunity there will be benefited. No.6 Dark Tourism will help to generate income that increases the opportunities for travel agencies, education and infrastructure by funding the restoration works of history, and to promote more responsible tourism in local and national level. No.7 This will help in preserving the dark tourism history, and developing a potential tourism product at the same time. Just now Puan Sofiana has shared the dark tourism locations in the parks managed by Sabah Parks. So I'll share a few dark tourism sites outside Sabah Parks. This is Kota Batu Brunei Kinarut.
Anyone here likes fishing at Kinarut? Its location is in front of Seaside Beach Inn. Kota Batu is the defense fortress of Sultan Brunei in the conflict zone of Sabah. (Slide: At the end of 17th century (1660-1673), the fight for the throne of Sultan caused a civil war in Brunei.) Until today Kota Batu still can be seen in the base of Kinarut River during low tide. (Slide: Sultan Abdul Hakkul Mubin, who had influence in west coast of Sabah, owned some defense fortress based in Kinarut.) Part of the fortress is damaged as a result of river deepening works. (Slide: One of the fortress of Sultan Abdul Hakkul Mubin was constructed by the rocks at Kinarut River. It can fend off the attack by the Brunei army of Sultan Muhyiddin. The war lasted for 10 years and both sides suffered heavy casualties.) When you enter Kinarut where there is a tower, there is where the arch reaches, that's how wide the fortress is. (Slide: The war lasted for 10 years and both sides suffered heavy casualties.) This is one of the dark tourism locations that still exists and can be developed.
We spent 3 years with researchers from Brunei to find its exact location. Some of the artifacts we found are already sent to Brunei. Next site, Berhala Island of Sandakan Any Sandakanian here been to this place? Now Berhala Island has become a settlement with a lot of population right? However, Berhala Island was used to be a quarantine site to isolate leprosy patients in the past. They were left to die on the island. It was also a prison for prisoners of war during Japanese occupation. The PoW were tortured before they were killed.
In Binunuk Village of Beaufort, there is a Japanese fortress that was used for storage of food and weapons (during WWII). This fortress is right in front of Padas River. About 1980s, a fire caused the door of fortress closed by landslides. Anyway, the fortress still can be seen there. And until now, villagers still can find bullets around the fortress and river. The problem is people going there to search for treaure. The door of the fortress is totally closed.
I guess you all know about the Tropical Storm Greg disaster in Keningau that took 200 lives. 100 people were missing and buried in riverbed. Those from Keningau would know. The place is in front of a new housing area. The flood happened so quick.
I hope the local authority becomes the eyes of tourism ministry to identify locations with potential to develop dark tourism. In a discussion in this workshop, Sabah Tourism Board and Sabah Parks is planning to organise a dark tourism adventure race that will involve different districts. That's why we hope that local authority will identify these spots that could become one of the checkpoints in Dark Tourism Adventure Race.
We will directly promote districts and help the local communities. Because in my views, dark tourism is very important. The history, the sacrifice in the past... People in the past, left their children, wives and family, sacrificed their lives to oppose Japan (in WWII)... So we all can be sitting in this hall today and have this moment. So I hope the local authority will have follow-up discussion after this, to identify dark tourism sites that are fit to develop.
2022-08-15 19:11
Show Video
Other news