Caravan Salon 2022 – Alle Highlights in diesem Jahr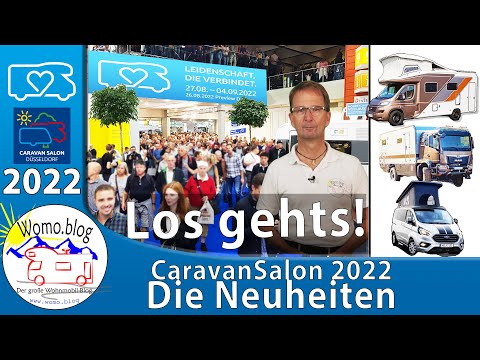 Show Video
Welcome to Womo.blog and welcome to the Caravan Salon 2022 Like last year, we have given you an overview of interesting new products and gadgets and things that you should definitely take a look at this year. A lot has changed compared to last year. We are still not rid of Corona, but there are many simplifications and hardly any restrictions.
And before we get to the highlights, first the special features of this year's Caravan Salon: There will be no box office again - like last year, you have to book your admission ticket and parking permit online in advance. The day ticket for adults costs 18 euros at the weekend and 16 euros on weekdays, children are discounted and there are also afternoon tickets from 2 p.m. to 6 p.m. All this can be booked via the homepage. You can now find the link in the text below the video or if you are watching on a smart TV, it is best to go to Womo.blog, where we have collected all the important links for you. Of course, the online ticket also has the advantage that there are no queues in front of the entrance and you can start right away.
While some large manufacturers were missing in the last two years due to Corona, many are now back on board. First and foremost the Hymer Group, which after two years of abstinence will be showing its full range again in Düsseldorf. You should definitely use the CARAVAN SALON app! It saves you a lot of time searching and if you already save your favorites at home you can make optimal use of the time at the fair.
For those who have never been there: the fair is huge and impossible to cover in one day. At least not if you want to compare many different concepts. If you prepare well, you might be able to do it in one day, but the accessories and special halls alone offer so many attractive things that I can warmly recommend planning at least two days.
So download the app, prepare yourself at home and then start early in the morning! Another tip: Everyone goes out to eat at 12:30 p.m. – that's when many halls are emptier. So go for lunch at 11 a.m. or 2 p.m. and use the lunchtime to have a little more peace.
And a few sentences about the new hygiene concept: The exhibitors and the organizers are again doing everything they can to ensure your safety. Even if masks are no longer compulsory, the trade fair expressly recommends wearing a medical mask. This is effective protection, especially when things get tight and the halls are very full. And use the disinfectant dispensers accordingly: You attack so much in the caravan or mobile home that others before you have also attacked.
Simply disinfecting again and again helps you and others immensely. Apart from that, there are no restrictions or restrictions this year, and there will be no limit on the number of visitors. That's good news! Special shows: This year's "do-it-yourself adventure " is special in the outdoor area between Halls 5 and 9. There are practical tips for anyone interested in converting and converting a vehicle into a motorhome. Here you can also find out from the experts from the scene about floor plan planning, electrical and water supply, interior design and about the actual costs and time required for the expansion.
I know some boys and girls who are also bloggers and if you can talk to a professional like that, it's worth its weight in gold. Then there is the special show "Travel & Nature" Here everything is shown that the heart of the outdoor fan desires. In addition to the equipment with collapsible and tent caravans, roof tents as well as camping, igloo and trekking tents, it is above all the dream destinations near and far that inspire there. So be sure to plan some time to stop by there. Most do it for the last half hour before closing and afterwards regret not having been longer in this part of the fair! By the way, this year there are 736 exhibitors in Düsseldorf in 16 halls on 250,000 square meters. So you should bring good shoes with you - and if you really want to see everything, then better plan several days.
It's usually three days for us, and that's actually not enough. And that's why I can't possibly present you all the novelties now, but at least the ones that caught our eye or that we think are really interesting: Mercedes Sprinters everywhere. That is probably the main theme of the fair. At first we thought: Wow, you probably have the well-heeled clientele in mind, because the same structure based on the Sprinter is often significantly more expensive than the same floor plan based on the Ducato.
But an insider told us last spring that this is simply due to necessity , since Fiat is not supplying enough power cars and is said to have discontinued entire model series. So is built on Mercedes or Ford Transit, which, however , came into disrepute because of its engine damage in the years 2006-2011. The Ford Transit gets a new chance.
Hopefully this will not be to the detriment of the buyers, who at that time were often only affected by engine damage due to the low mileage per year outside the guarantee and who were then left out in the cold by Ford. So let's wish the new Ford Transit is better and if not, Ford won't dump customers again this time. Adria definitely relies on Mercedes and is showing eight new models. Classy, ​​expensive and big - I could now make the whole film just about it. Top series Supersonic - Supreme - Coral - Matrix And with the Chic C-Line T 4.9 LE, Carthago also has the first addition to the C-Line T series on Mercedes Benz Sprinter.
Gradually, all layouts of the series should be available on the base vehicle with the star . With the Chic C-Line T 4.9 LE, Carthago relies on a classic and popular floor plan with single beds above a spacious rear garage, bathroom with separate shower cubicle and a comfortable L-shaped seating group. With a length of 7.5 metres, the Carthago offers a dignified ambience for customers with a high demand for comfort. Everything is a bit more expensive - and that's not just because of the base.
If you are now surprised that I don't give you any prices, it's simply because there's little point in naming or showing the basic price here. With a few clicks in the respective configurator you are miles away from it. Let's take a look at the ideas and the processing and you can find the prices on the manufacturer's website.
Which brings us to this year's eye-catcher: Bürstner shoots the bird at the trade fair this year: Lyseo Gallery Under the motto travel small - live big, you drive a normal semi-integrated vehicle, which then, thanks to a sophisticated system , transforms into a huge alcove at the push of a button. A compressor blows air into the side walls of the folded alcove. In no time at all, two people can find a place to sleep on the inflated upper floor and the air chambers in the side walls have been tested in storms, frost and heat and are also said to provide good insulation. Later I am very excited about the suitability for everyday use and after a few years the field reports - a real eye-catcher! Definitely have a look, even if the queue in front of the mobile will be long! Bimobil EX 600 its new flagship on a MAN TGM 4x4 chassis.
The 16.5-tonne expedition vehicle accommodates plenty of comfort over its length of around 8.5 meters. Among other things, two single beds, a bathroom with a separate shower room, a seating area for up to five people and a spacious kitchenette with an oven. The robust living cabin is decoupled from the driver's cab in order to be able to negotiate difficult terrain with large entanglements. If you want something a little smaller, you can reach for the expedition vehicle under 7.5 tons, and the new Bimobil LBX 4x4 on Iveco Daily all-wheel drive can be moved without a "big" C driver's license.
Alcoves with longitudinal beds, bathroom and kitchenette in the middle part and a U-shaped seating area in the rear characterize the "light" expedition vehicle. A huge topic at the trade fair is the topic of separate toilets. Never before have there been so many separation toilets or toilet concepts to admire as this year. A few years ago there were only a few do-it-yourselfers and expedition drivers, the topic of separating toilets is in the middle of society - ok, that was a phrase - but with campers the topic is really taking off. And I have a brand new and exclusive one here for you based on the Eurobox: Lokus Flatus It fits into existing Eurobox systems, can be easily increased - simply add a suitable box to it or underneath it.
It's lightweight and has a great engraved wooden lid that seals properly - good for odor control. Aaund, inside it has a stable toilet insert, really robust Underneath an opaque canister, you won't be stared at when you carry it away, and the lid has an odor trap - you won't smell any urine either. Robust, stable and cheap and small and a real toilet. Locus Flatus Because there is nothing worse than when people continue to claim that there are no toilets in small vans and that all campers do their business behind hedges.
So there are no more excuses, because this toilet really fits in everywhere - and works - we have already told you everything in our long-term conclusion By the way, it also fits in the caravan. Blyss, for example , is now presenting the Speedcaravan, a combination of transport trailer and caravan. There are three models in different sizes, either for self-assembly or already equipped. This is really something different now.
And if only as a source of ideas for self-builders. Some people have a trailer at home for all kinds of work - here you have both: caravans and everyday trailers Completely different league: Carthago Chic C-Line T 4.9 LE is the first addition to the C-Line T series on Mercedes Benz Sprinter. Gradually, all layouts of the series should be available on the base vehicle with the star . With the Chic C-Line T 4.9 LE, Carthago relies on a classic and popular floor plan with single beds above a spacious rear garage, bathroom with separate shower cubicle and a comfortable L-shaped seating group.
With a length of 7.5 metres, the Carthago offers a dignified ambience for customers with a high demand for comfort. Chausson and Dethleffs rely on Ford, with Dethleffs there are three semi-integrated layouts with a length of 6.99 to 7.36 meters, an optional fold-down bed above the seating area turns the semi-integrated for two people into a motorhome with four sleeping places Dethleffs puts its first camper van under it of its own brand With the campervans, Dethleffs is showing the new Globetrail model based on Ford Transit and seven new Globetrail models based on Ducato, Peugeot or Citroen. There are long and short ones
and even with a bathroom that can be enlarged. All of this also with an optional lifting roof Let 's take a look at the accessories hall: You can find power stations at the Caravan Salon like sand on the sea, but as far as I know only Anker has a 5-year guarantee and a 10-year service life with daily use. Are you looking for a power station to be self-sufficient for longer, or do you have a mini van and are looking for an all-in-one device? Then Anker has something for you: Anker, these are the chargers for smartphones and cables, etc.
They have been on the market for quite a long time and are high-quality and well-engineered, and now they also have power stations. The largest, the Anker 757, has a 1229WH lithium LiFePO4 battery and a 1500 watt inverter. Anker promises 3000 complete charging cycles and thus 6 times longer service life. Charged to 80% in just one hour - we easily did home office with it all day - we presented in one of the last films. With 1500 watts, we were able to operate everything from gaming PCs to coffee machines and drills. These are real jacks of all trades, and I really recommend them for times of need.
The anchors are currently available at a discount at the end of summer - I'll link you below in the text or on Womo.blog and if the large anchor is too big for you, there are also smaller ones like the 521 or 535. Watch out if you have a power station for charging want to take of your mobile home. So the battery in the mobile home is empty and you hang the shore power cable of the mobile home here on the inverter, then you should secure it additionally - I will also link you to a good film by an electrician. Dreamer: Dreamer D51 Select Premiere is a panel van based on Ford Transit and the bathroom is interesting. This runs with a sloping wall and in this way you have more space behind you in the kitchen.
Interesting idea – the box has a length of 5.98 meters and a transverse double bed, sanitary room, kitchenette and seating area. I find it very exciting, there should be many more innovative ideas. The house tent is back, we thought at first sight: Rarotonga The Swedish accessories specialist Dometic is showing its new Rarotonga tent series with inflatable supports at the CARAVAN SALON. The fabric panels of the six new tents are made from 100 percent recycled plastic and are considered to be particularly sustainable.
Thanks to the Dometic multi-point inflation system, the tents can be set up quickly and save weight during transport due to the lack of poles. In general, inflatable tents are increasingly being used by all manufacturers. And while we're at it: Help2Camp. Help2Camp is an app that helps you with camping. something doesn't work and you're looking for the solution, no operating instructions with you or you're looking for a quick hack: Halp2Camp helps and for just 4.99 you even get the opportunity to get in touch with real people at short notice who are looking for a solution together with the manufacturer , if they don't even know it right away.
Now my favorite caravan: Eriba Touring is a cult We just saw another very old one on vacation – simply quaint, unfortunately it didn't have a shower or toilet, otherwise everything you need in a very small space. Between 5.09 and 5.99 meters overall length, there are seven new models from Eriba . A new chassis from Knott and a longer drawbar should offer better driving stability. If they are too small or want to take more people with them, but don't want to be unfaithful to the brand: there are also longer caravans - the new family layouts are then called Feeling 515 and Nova Light 515 Eura Mobil also relies on Mercedes The models are finally here, which I expected two years ago when Eura Mobil presented the first new Mercedes motorhomes. Maybe for those who haven't been going to the fair for 61 years: there used to be a phase with Mercedes motorhomes, replaced at some point by Ford and Fiat, until Fiat dominated the market for a long time, also thanks to its low price and unexpected longevity .
All beautiful and solid mobile homes There is nothing really new at the Forster subsidiary either. Here, too, they are now relying on Ford Transit - I have been told that the motor vehicle is cheaper than a Ducato, but the prices for the entire mobile home do not seem to be cheaper because of this. But Forster also has the Citroen Jumper and the Fiat Ducato in its range . And before we come to electromobility, accessories again: Fraron: You know that I'm a friend of Fraron's. This is a manufacturer of inverters and technology, one of the few in Germany that develops and builds itself and Fraron is well known in the relevant forums for its reliability and service. Fraron has a new 100 Ah lithium battery: LiFePo4 Iced Energy with integrated battery management + app + heating - integrated heating: If it gets too cold, the battery is heated up. The battery can therefore be used in an outside temperature range of -20°C to +55°C.
In exchange, it fits under the passenger seat of common motorhomes And not unimportant: your own, user-friendly, clear app for monitoring via Bluetooth And almost more important: German support from beautiful Schöllkrippen in the Spessart, real people who try hard if you don't like something works how you want. And now the new world of electric mobility Scudo: An electric vehicle from Fiat that is supposed to be the future of the camper van. The E-Scudo has a WLTP range of 330 kilometers and a top speed of 130 km/h with a permissible total weight of 3,027 kilograms.
I don't want to snitch now - I'm really someone who cares about sustainability. But nothing has convinced me in the field of mobile homes. But maybe that's all to come. Once the box is expanded and the range is 300 kilometers, I'm very curious to see how travel behavior will develop.
As the saying goes: I can hear the message, but I lack faith Pössl Campstar and Vanstar are now available on Mercedes V-Class and Vito The compact camper vans fit in underground garages with a height of 2 meters when the folding roof is closed So far quite well, but And that's what I missed last year: Pössl has an E-Vanster based on a Citroën E-Spacetourer, ready-made as a mobile home. Citroën promises a range of up to 322 kilometers for the van. With the extra weight due to the camping equipment, a range of around 220 kilometers should still be possible. 220 kilometers. Hm, I'm really curious about the reports of a longer road trip. Yes, I know: the path is the goal.
But if I have to think about the next charging station after 150 kilometers , it will be a fun vacation. But at least a start has been made and traveling with a camper van will continue in an electromobile world. At the CARAVAN SALON, Tonke is also showing an extension based on the Mercedes Benz EQV with an electric drive.
There are even two versions to choose from: as a touring with a two-seater bench seat and camping furniture along the driver's side or as an adventure with a three-seater bench seat in the rear and a kitchen module that can be swiveled outwards. The base vehicle promises a range of 360 km, but buyers will find out what it looks like when fully expanded . The kitchen works electrically - consistently, because battery capacity is available, so I don't need space for gas bottles. The kitchen can be pulled out and serves as an outdoor kitchen. All this with a lifting roof, but without a bathroom, but
with an outdoor shower - you still have to plan the toilet. I underestimated Frankia for years. Look at the processing, I find it really amazing in the current world. What is special is that there are smaller mobile homes - five years ago I had the feeling that soon there would only be 8 meters and more. Frankia is now under seven meters.
The MI 7DB is only 6 meters 88 meters long and, as the name suggests, on a Sprinter basis. The motorhomes from the series have a double floor and offer a special rear garage that can also be loaded from behind. The toilet can then be moved on the MI 7MD in order to be able to take a shower.
Interesting concept. Hobby relies on hygge in the upper class of its caravans. I had to ask Nadja what that means. Noble, comfortable, Scandinavian.
So the new Hobby Maxia 585 UL now has hygge. No but seriously - looks really nice. With a width of 2 meters 50 and a length of 7.69, a manageable size Which brings us to a topic that I should perhaps dedicate a separate post to: We were at the campsite in beautiful Plön when a new Hymer drove onto the site and behind it new electric SUV - both with a star.
No, it's not about the envy factor. They want to stay two weeks. But the two belong together. They want to stay for two weeks and the mobile home is also brand new. and Nadja asked the woman why they didn't buy a caravan.
And the woman said that the man wanted it that way and so that they can go on trips, they are now going on vacation one after the other. A mobile home is quite a status symbol, or - just a tip: such a caravan has many advantages and you can even make road trips with it - take a trip to Norway, we have experienced that many times in Norway. And all in all, it's much cheaper than a mobile home that just sits around. Even with kids, who actually only need the playground and friends for the holidays, a road trip with a motorhome is not half as exciting. In this phase of life, we think the caravan is the better choice . I'm sure I'll get angry comments again, but that's how we see things. Ok, let's continue: Hobby also has a cooperation with VW and the new Crafter Maxia Van 680 ET is waiting for you at the fair.
6 meters 84 - that's not small anymore, so I'm curious to see if the concept catches on. Has twin beds and an adjustable seating area. In any case, it's an eye-catcher. I'm not allowed to show you my own pictures,
come by and have a look! We introduced Joa to you for the first time last year. This year they have a new short panel van in their luggage from 50,000 euros. Joa belongs to the Pilote Group. The Joa Camp 54 G is converted into a 5.41 meter short Citroën Jumper and has
a transverse double bed in the rear, a sanitary room, a kitchen block and a seating area. You get a very classic floor plan with a bathroom, shower and toilet. To be honest: We love this size: That's how we built our van back then - just not as nice and without a shower. And in terms of length, this vehicle is also suitable for everyday use.
Topic grilling: Here I have really nice part I just found for you. You know these disposable grills in aluminum shells. Very nice if you want to have a quick barbecue. But unfortunately a lot of rubbish is left behind and aluminum is really an energy guzzler and much too good to end up on the rubbish. That's why I thought this part was great: CasusGrill - the environmentally friendly disposable grill The entire grill is compostable at the end.
Totally ingenious: The bamboo grill lasts until the steak and sausages are good and at the end you can sit by the fire for a while. Nothing is left and the rest can be composted. Ok Let's move on to bigger stories Karman has an awesome mini-van. Minivans are today what Bullis were thirty years ago. Caddies, Dacias and Kangoos are being converted into small mobile homes and Karman now has a ready-made minivan in its range. The concept is exciting: the bathroom with toilet is in the back, kitchen, bed – all at 5.34 meters.
All with a pop-up roof. This is something for the minimalist, but already has a stove and fridge and actually everything you need for camping. Really worth seeing. From 47,000 euros you are there.
Knaus: And now I have to read that out because it sounds like science fiction to me: The Knaus Azur caravan series is making its debut with four layouts. The highlight is its construction, which for the first time integrates the fiber frame technology developed by Knaus in a series model. The self-supporting and high-strength frame consists of 22 fiber frame parts glued by a robot.
Knaus expects better stability and durability from this. And the caravan should also have "self-healing powers". Scratches on the frame, caused by branches for example, disappear by themselves at a temperature of 50 degrees, i.e. after a day in the southern summer sun.
I am very excited about the first scratches - and whether it all works. Otherwise, with the Tourer Van, Knaus offers two narrow, compact semi-integrated vehicles with a VW T 6.1 as the base vehicle. On the one hand it is available with a bench in the direction of travel and on the other hand with two opposite benches in the direction of travel. Face 2 Face also with the Knaus Tourers Ecovip 645 I always wonder who comes up with these names. Eco and Vip doesn't sound cheap - it's from Laika and therefore certainly of high quality. Laika relies on a rear seating group and high-quality materials.
In just a few simple steps, this can be converted either into two single beds or into a large lying area. In front of it are the bathroom and the kitchen block and in the front area there is another seating group consisting of a seat bench with seat belts in the direction of travel and swiveling driver's cab seats. All of this in a length of just 6 meters 36 Niewiadow, you know? We didn't know it. The Polish caravan manufacturer and specialist in light mini-caravans has been successful on the market for 40 years. With the two new models N-Cross Style and N-Cross Family, Niewiadow is presenting its two largest specimens, which in the case of the Family even offer four beds.
Nevertheless, the permissible total weight of the two newcomers remains at just 1000 kilograms. And if you look at them: I think the concept is great – the price too and you have everything you need. Nice caravan. It's best to watch and form your own opinion. Air conditioning: The summer has been very hot and isn't even over yet.
At the fair you will find many air conditioners again: We had just looked at the cheap ones from Sinclair and were very impressed by the quality and the volume or do I have to be quiet . Sinclair air conditioning, I link you in the text you on Womo.blog. Are you a family with four children? Then the camping holiday is not so easy. Sterkemann has a matching caravan that I really liked. With the Evolution 580 PE Kid's, Sterckeman is bringing its new, high-quality family caravan to Düsseldorf. Up to six people can sleep in the 7.5 meter long caravan. With a permissible total weight of 1600 kilograms, the caravan can also be towed by many mid-range family cars.
In addition, it actually has a shower and toilet and once all the beds have been removed, there is enough space for rainy days. Now I'll read this press release: Vario Mobil is renewing its Star series for the 2023 season. The smallest liner from the luxury vehicle manufacturer has a gross vehicle weight of 7.49 tons and a length of 8.25 meters. Compared to the other series of the brand, this is downright compact. The basis is a MAN TGL with 220 hp.
The exterior design of the new star is adapted to its big brother Perfect. Solid elegance prevails in the interior, tailored entirely to the wishes of the customer. No, no envy, please, just awe: what Vario Mobil or Morelo and Co. conjure up again and again is always worth seeing. And it's worth a visit to the trade fair alone. I have no idea what a holiday
feels like with a piece like this - we're more of the Spartan types - but looking at the technology, the ideas and the furniture construction is fun. And if you then buy a mobile home for one or two million, you will also know where you are going with it. And believe it or not, some have even driven as far as India with one of these parts.
First impressions are often wrong! I find the Weinsberg X-Cursion Van based on the VW Crafter to be quite futuristic. 5 88 long and 2 meters 11 wide, it will also be available as a pepper version. The bathroom is exciting, as you only set it up to take a shower. This is a new and nice idea. Of course, we immediately asked ourselves how it is after the shower with the moisture. Because dismantled, it remains.
Wiping everything dry is a hassle. This is definitely an eye-catcher at this fair ------------------- Hey, you did it. We are at the end of our tour of the fair and you should have seen most of the highlights . Of course there's still a lot more to show, if I only think of Pössl or Hymer, Tabbert etc. There are also many small innovations, but we only wanted to show you the most noticeable things and we have certainly forgotten a lot. Now it's your turn. What did you like, what is stupid or doesn't convince you.
Where would you strike immediately? Write us in the comments, visit us on Womo.blog, there we still have many product tests, travel reports and self-assembly instructions for you. Of course, give us a like and subscribe to our channel.
And apart from that, we'll see each other at the fair or with the next video. Ciaoo!
2022-08-23 05:38
Show Video
Other news