Can You Beat Elden Ring With Only Weapon Skills?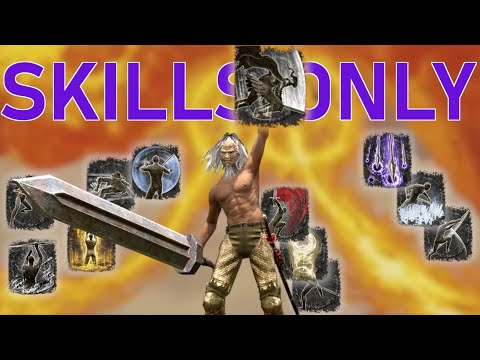 Show Video
Do you like flashy attacks? Do you like trying to do a move and getting interrupted because it takes 2 minutes to wind up? Do you like, dare I say, anime? Then you will probably like this video, because in elden ring they took the weapon arts from Dark Souls 3 and made them better and most importantly way cooler So I will try to beat the game and all the main bosses using only them, to see if it's doable And I tried making Raiden from metal gear as my character, but it turned out like a generic Kpop star I think the samurai is the best starting class, because the weapon art is both strong and cool looking I tried it a bit against a dummy opponent, and we can see that the damage is great up to the point we run out of focus, after that not only we deal poor damage but it also costs way more stamina, so we will always want to have some focus flasks with us or else we basically can't fight That's why before going for the first boss we want to upgrade our flasks, we don't need to go overboard with it and run to the Plateau just yet, but we take all the materials we can find around us In our travels we meet a pot warrior that utters the iconic sentence "help me step tarnished, I'm stuck" I think we would be mechanically incompatible, so we can weapon skill him out of the hole And we help him like you can help me by subscribing to the channel, just with less hits We proceed with his quest a bit by meeting him in a cave where nobody is sure how he ended up in it since he can't go through either of the doors that lead to the room he is in, but this is a fromsoft classic since the dark souls 2 times, and we will need him later because he will give us a very good talisman, and after upgrading our weapon a bit we can do our classic challenge hardness test against Margit Our main problem here is that the weapon art works by first putting the weapon in the sheath and then we attack, so the windup part of the move is pretty slow and we can be staggered out of it, and when it ends it's a bit slow because we motion getting the blood off the blade, that is really cool but it takes time That said, our damage is insanely high so we just have to wait for a fairly big opening and then swing, sometimes he has fast unexpected attacks that will stagger us out of a move, but since they are fast and unexpected they won't deal much damage. We can only attack 6 times per full focus bar, but like we don't need a lot more than six attack to take him down Also obviously since it's weapon skills only we can't riposte if we stagger Our weapon deals bleed damage, even though since we attack quite slowly it's not very good, but it's still enough to take down the big dragon and get the free levels It takes a while, but with a bit of samurai editing magic it will only be a moment I took the bloody slash weapon art from a random knight, that is very cool and very edgy, and I used it to clear Stormhill Castle It works well if you have to cut down falcons, but since it also damages us and it was nerfed to the ground in one of the first patches it's probably not good enough I tried it against Godrick and it still cool at least We stick with our tried and true unsheathe for now, that unexpectedly works the same as in the Margit fight, only that Godrick as a bit more hp and slower attacks While we cut him in half we can understand ashes of war a bit better: every one of them is in a category, like keen, quality, poison, cold, and others, and by equipping them we can either have our weapon scale with that specific type, as in sacred weapons will deal half physical and half holy damage and will scale with faith, but we can also stick with the original weapon scaling with no drawbacks Does this mean that we can use every weapon art without caring about arcane faith and intelligence? Well not quite, but more on that later The Grafted is now the graftee, and behind him we can get into Liurnia, where instead of going straight for Raya Lucaria we want to head to the west and make our way into the Caria Manor for two main reasons First we can defeat a beetle to get the Hoarfrost Stomp weapon art, and then we traverse the Manor to meet Ranni, but only after defeating Loretta I got the stomp with me, that does frost buildup but I forgot that since Loretta is a ghost we can't frost her, and the damage is absolutely garbage, I'll later on figure out why but at the time I though it was simply because they nerfed it too much, so I came back with the unsheathe to defeat her But at this point unsheathe is definitely stale and if you can listen to me it means you are still watching the video, but I am not upholding my part of the deal: showing cool attacks so I will change them much more often from now on Also Loretta gives us less runes than Margit, I get that she isn't very hard but come on We came here to join Ranni's ranks, because after doing that Iji will sell us an emblem that lowers the focus cost of skills by a whopping 25%, basically a must wear in this run Now that Godrick is dead Rogier will show up at the Roundtable, and he will sell us a couple of interesting weapon arts, specifically glintstone pebble, that works like the spell but has a very short range, and spinning weapon, that, well makes our weapon spin We take Glintstone pebble with us to get another weapon art, because it's on a beetle in Sellia that will teleport around and having a ranged attack helps out a lot The new weapon art is double slash, that I am pretty sure is taken straight from Sekiro, and we try it out in the Academy The damage isn't very high per swing, but with the first button press we attack twice and with the second we have three attacks, so the overall damage per second is quite good In addition to that since we are still using the katana every hit will deal bleed buildup, so it's going to be much easier to trigger now, the focus cost is very low so we can easily spam it, and we basically don't have to worry about focus flasks It's a very committal move though, in that once we start attacking it will take a long time before we can dodge again, because we can't interrupt the move mid sequence, so when we use it we need to either be well positioned or ready to get hit in the face. Thankfully I played a lot of monster hunter The low focus cost is very useful against Renalla, because we have to hit three scholars before we can damage her, and I almost got her down in one cycle but I ran out of stamina Phase two begins, and there are many things I could say about this fight and if the weapon art is good, but saying that it lasted less than 30 seconds is probably enough This happens because every hit we do will stagger her and the following hit will connect before her stagger ends, so she is basically locked in place until the game will give her infinite poise and she flies away, a pretty normal thing that games do so that you can't kill enemies in a single combo And wow this actually looked like a Sekiro fight against a weak enemy, too bad I can't riposte Here I found out a neat thing about weapon skills: if we take a magic one, like glintstone pebble, and we use the base weapon scaling the skill will still deal magic damage, and the damage will scale with intelligence, so we can't quite take every weapon art we find and use it without thinking about the build, and that's why frost stomp sucked against Loretta, she has a very high magic resistance That said Spinning Weapon, that is in the magic section, doesn't deal magic damage and thus it doesn't scale with intelligence, and like it makes sense, it's just our weapon spinning, but this means that it's not per category but it has to be considered individually for each skill We want to fight Radhan now, but first I went to the Plateau so that the festival in Radhan's castle will begin, and I also went to the Volcano Manor, this is really important because if we don't we won't be able to progress in Alexander's quest For the Starscourge fight I brought with me Spinning Weapon, because it looks goofy enough to be fun against a giant mad guy on top of a small horse The weapon skill isn't actually that bad, because it attacks really really fast, making it quite easy to bleed enemies, and since Radhan has many hp the bleed is especially effective here Another useful feature is that we can slowly walk around while the weapon is spinning, and that allows us to move to the side just enough to avoid many of his follow up attacks, and we need that because the skill lasts so long that he can finish an attack sequence and start another one while we are still spinning Also I hope you know that if it wasn't for DMCA and stuff this whole fight would be with me silent and "You Spin Me Round (Like a Record)" by Dead or Alive absolutely blasting [me singing the song when the weapon is spinning] This is what they took from us Radhan falls and we can now go to Nokron, but first we want to talk to Alexander here and then at the foot of the Volcano manor, while he is bathing in lava. Since we went to the Manor early we skipped a step in his quest, where he would be stuck in a hole in Liurnia, and it's really important we skip that because else we would have to unstuck him by throwing an oil pot, that will deal 1 damage and since it's not a weapon art we can't use it Now that we talked to him in the lava we are almost done with his quest, and the next step will be the last Here I met Vyke, that definitely had the best weapon skill between us two, and then we go down in Nokron, where after fighting the coolest samurai I can think of that unfortunately forgot his blade we can take an item for Ranni Also we got the pot hat from Alexander In the Manor, if we go to the upper floor we get invaded by a guy that, when defeated, will drop a pizza cutter. Since, you could probably tell, I am Italian I also have a 10% damage bonus with the weapon, so I decided to try it out against Astel by proceeding with Ranni's quest And like it sucks, it should bleed enemies really easily and I don't know if they nerfed it or what but the bleed buildup simply isn't there, and even after ditching the weapon I still had some problems against Astel, probably because I am not supposed to fight it just yet, but also because his head is always a bit too high in the air So I went back to the overworld, because in Caelid we can find fort Gael, in which if we defeat the lion in the courtyard we get Lion's Claw, a physical but pretty cool weapon art And I used it against Astel, but it still wasn't doing enough damage, when I realized something: this skill can be used on all sorts of weapons and it always takes the same time to do, and since the damage comes from the weapon's attack rating if we could find a thing too big to be called a sword, too thick, too heavy and too rough, more like a large hunk of iron, we could deal a lot more damage with the same attack speed, and I think I know just the thing Now the fight is much easier, our damage is great and the weapon art has good range so we can hit its thick skull reliably It can still be annoying, because if Astel decides to do the gravity wave move six times in a row there's nothing we can do, and the weapon art has some superarmor, meaning that we won't get staggered during it by most attacks, but it also means that we can get killed by using it at the wrong time and getting hit two or three times, because if we don't get knocked to the ground we don't have any invincibility frames, so we need to be a bit careful and not overuse it It only takes four or five hits to stun it, and even though we can't riposte we can still hit two more times with the additional damage, so taking it down won't be that big of a deal now In my quest to deal more damage I went to take another weapon art, that we can take by defeating commander O'Neil, and for sure we could take him down from a distance with any long bow skill, but that would be really boring not only for you the spectator but also for me having to do it, so I decided to get my hands dirty.
If we don't get the scarlet rot the fight is really easily, we are at a high enough level that we can just trade hits with him When I said we got a weapon art from him I sort of lied, because we actually get his weapon that has a unique skill, called Rallying Standard, that gives us an insane 20% damage and damage reduction buff for 30 seconds, and I went to try it out against the Regal Ancestor, that we just have to light a couple of flames to fight, and I would say that these two things combined are pretty good and this Remembrance was basically free But we can even deal more damage, and I decided to try it out against the draconic tree sentinel, that we have to defeat to enter the capital First of all we can put hoarfrost stomp on a dagger, because it will deal a good amount of frost damage, and spam it a bit to freeze our opponent, so that he will take increased damage for 60 seconds. Then. Since the Rallying Standard is a body buff, we can use a resin on our weapon while the buff is still active, and with all that we will be able to basically delete the sentinel from the game Ok I thought it was going to be more damage, but like the sentinel is a heavily armored enemy so 1300 points doesn't look that bad. Also my weapon is +14 at this point, and it has been so long since I played an Elden Ring run that wasn't a challenge that I have no idea what it's supposed to be, so you can tell me in the comments if I am spot on or if I am insane because it's too upgraded or not upgraded enough Either way the sentinel is dead Not much to do inside the capital, aside from getting a huge hammer, using a lot of materials to upgrade it, and getting a weapon art that should heal us when it hits, only to realize that we never have enough poise to sustain a hit and that the damage isn't even comparable to a simple lion's claw, so I wanted to get all fancy but we only needed what we already had to defeat weak Godfrey It won't be as easy with Morgott though, because he loves jumping around and dodging and I'm afraid that a slow attack like the claw will be too clunky Fortunately Fort Gael comes to our aid once again, because right in front of it we can defeat a beetle that will give us Flame of the Redmanes, an ash of war that I never even heard before doing research for this run and that I will for sure include in all my future runs. If I am allowed to use skills and it isn't nerfed, that is Since it's a fire attack we want to get the tear that gives us +20% fire damage, dropped by this avatar, and you are probably looking at this thinking that yeah it's a tree it makes sense it takes a lot of fire damage, but this isn't even the strong part of the attack With a big enemy like Morgott it only takes two hits to stun him, and that's straight up insane even if we can't riposte.
On top of that, the damage is absolutely good, it attacks pretty fast and it has a wide and long range, and it can be used on all melee armaments, so nothing to complain about Well, I'd like to complain that it doesn't involve the weapon, it looks like we either spew or shoot fire from our hands while holding the weapon and it doesn't make much sense, but it's so good that we wouldn't swap it for anything About that, behind Morgott we can go in the forbidden lands, and after freezing a bit we will be invaded. If we defeat the invader, and we have unlimited tries to do it, we will get the famous, or probably infamous Rivers of Blood, whose weapon art is not only cool but really really good I forgot to do Fia's quest up until now, so we have to defeat the Gargoyles with the Flame, that I thought was going to be easier, but still we have enough strength to take one down before the other one joins, so it's not really a problem, and then I decided to change build a bit to take the Rivers out for a spin, and yeah this enemies are humanoid so it works well with them and they aren't that strong, but it cuts through them like butter Like I even killed one that I wasn't even focusing, he was just there incidentally But let's try it out against a proper bossfight, and since Fia's quest is over we can face Fortissax The weapon art is especially good here, because he takes additional damage to his head but it's really hard to it, and the skill has a long enough range to hit it reliably Well almost reliably, he will still move it around randomly so it's not like it doesn't suck, it sucks less Fortissax can bleed, since well since he has blood I think that's how this works so our damage is still really good, because this weapon skill bleed buildup is really high, and like it costs a bit more focus than we are used to but it's probably the strongest thing we put our hands on So why not mix the two strongest things we have? We can go and meet Commander Niall in Castle Sol, and this fight is quite hard, mostly because as soon as the fight begins he will summons two knights that help him out and will probably kill us, but we can try to take them all out at the same time with the flames The problem with this fight is that everything is really unreliable, sometimes we can spam the flame attack and stagger them all with no problem, sometimes they walk a bit too much to the left or right and we miss them. When they are defeated he will go into phase two, sometimes immediately sometimes after fighting for a bit, and we usually stagger the commander with three flame attacks, but sometimes it takes like six and some other times I swear I could stagger him with only two A good strategy I found was after we dodge an attack we can use the flames, and when we stagger him we can switch to the Rivers of Blood because with just two weapon arts we will bleed him, and we have just enough time to dodge away after that here what happens is that sometimes he will miss us after he jumps down and we start attacking, and some other times he will hit us straight in the face, some times he will stand still and attack and sometimes he will reposition before doing the same attack, and if we get hit here we will get staggered out of the weapon skill, but at the end of the day we only need to stagger and bleed him twice, so it may take some time but we will eventually get him This allows us to get into the secret frozen lands, but first we want to fight the Fire Giant Phase one was nothing too special, we can't attack from the horse but we just have to climb down and use the lion's claw, since he is resistant to fire I actually didn't look it up but I assumed that the fire giant is resistant to fire, but after half hp phase two begins and I had an elaborate plan where I had to chase down what a painting is representing by falling of a cliff I didn't even know was there, and then crafting some bleed arrows to take him down with a cool weapon skill that literally makes it rain, but it sucks because the giant is too big and it always misses him, so I had to close it out with the Rivers of Blood And like this weapon is good, honestly it's probably too good and every time I want to try something cool I always resort to using it, so new rule I won't use it anymore because else it would be beating the game with just this weapon art Melina tells us what her favorite eurobeat song is, ok this joke is impossible to get, there is an eurobeat song called I'm burning up for you and we end up in Farum Azula, where after jumping on some space debris we have to fight the Godskin duo, a fight that is hard to defeat without a plan. Unless your plan is using a spirit ash, in that case it's easy They are weak to sleep, so there is one weapon art that comes to our aid In the secret frozen lands there are some enemies reenacting the Coen brother's hit movie Fargo, and if we manage to find them we can open the chest in the back to get Trina's torch, that deals sleep damage and has a weapon art that does sleep buildup but it doesn't deal damage I think that the skill doesn't actually do sleep damage, just the flames on the ground Ok I honestly have no idea how this works, but if you spam it long enough one of them will fall asleep, and we just need to do this step once Now that we are in 1v1 we should be able to defeat them easily without taking too much damage, and to do that we want to use lion's claw, because they are resistant to fire since they can throw flames around That I would normally call videogame logic but like it makes a little sense It only takes three hits to stagger them, and like six hits to kill them, but we will have to defeat four of them to win Our damage is high enough that once one of them is sleeping we will only be fighting them one at a time, and if we manage to kill one before he summons the other one we will have a 20 second breather before he respawns on his own, and the main problem we'll have will be dying during the weapon art since they won't be able to stagger us out of it but they still deal damage Also when the sonic apostle start doing his signature move we can just jump on one of these broken temples and he will miss us With their defeat we will get the Black Flame Tornado ash of war, that is absolutely insane but it can only be used on polearms and twinblades, and that includes the gargoyle halberd, that we can drop by defeating the gargoyle in Leyndell Before the next fight though there is one old friend we have to meet If we use a couple of keys we can get to some floating rocks, where we meet Alexander that will challenge us to a duel If we win we get a talisman that gives us 15% additional damage on all weapon skills, an obvious inclusion in the run, and to be fair if we decided to kill Alexander in any moment before now we could have gotten a talisman that gives 10% damage increase for skills, but I think that the hardest fights are in the end so I chose the better talisman but later Also if we loose we can fight him again Here we can fight Placidusax, a strong optional boss that has the misfortune of being on the other side of the flame tornado We want to start out with flame of the redmanes though, because the tornado skill takes a long time to start and we can get staggered while we do it, but obviously if we do it against a stunned boss we will deal the full damage Also they take more damage on the necks, so we want to aim the flames higher The character is shirtless because these weapons weight too much, and just so we are clear I am using the greatsword because it looks cool, not because it deals more damage, this weapon art does not scale with the attack rating It only takes four flames to stagger them, and I tried playing it cool and stun them out of the strong explosion attack, but obviously this is a controlled environment and it was calculated, it's not like I survived out of sheer luck The art of war deals a total of 5000 damage, that is absolutely insane, and it took a couple of tries more that needed because I wanted to take them down before they could fly away the third time and come down with the lasers Before fighting Maliketh I went to clear the Volcano Manor, because we can easily defeat the first boss, since it's just a Godskin Noble, and then we can go and fight Rykard And for the first time in this channel, we can actually do it as intended with the spear in his arena Well almost as intended, because first of all I teleported away to upgrade the weapon, and also because here all the attacks will have white lasers coming out of them, not just the weapon art, but we only have to dodge a couple of attacks, nothing too crazy We almost keep him staggered but not quite, the damage is obviously insane since this is how you should defeat this gimmick, and it took me more than half the fight to realize that we have a follow up attack that deals more damage I guess today we won't be devouring the gods together Malkieth is next, and the double flame setup works great here, because we can attack fast enough to not get staggered repeatedly, with just two casts we can stagger him and after that we can deal the real damage with the tornado, since he is somewhat resistant to fire In phase two it works mostly the same way, it's just a bit harder to stagger him since he jumps around all of the time, but it only takes one stagger and a couple more flames to take him down Gideon is next, and I tried fighting him with vyke's spear, that deals madness buildup, but after dying a thousand times I decided to just barbecue him out of the game Also he is immune to death blight in case you where wondering like me We got to the Miquella's Haligtree next, where I dropped a musical instrument that I decided to try against the next boss after jumping on some roofs and dodging mushrooms This weapon shoots holy bubbles and it looks cool, but it would be really effective only against a very big enemy that gets hit by all of them, too bad that the only big enemy remaining is the final boss that is immune to holy damage And this would be the second time this video that I tried something fancy against Loretta and I just ended up beating her up with a sword What can I say, it works really well Behind her we can reach Malenia, and after a ehm couple of trials I decided that I will probably fight her later, so to take a break I went to fight the Lord of Blood, that I feared was going to be really hard, since all our good weapon arts deal fire damage and he is resistant to fire I started out by shooting bubbles, and unexpectedly it's not very effective against a huge monster with a cult that can take blood out of another dimension And no I am not talking about Jared Leto So mid fight I swapped to the greatsword with the Lion's Claw, and after just one hit all my doubts about the fight being hard disappeared We can power through his attacks no problem, since we take some damage but not that much, and we will stagger him multiple times during the fight for even more free damage If during phase two we mess up too much we may die, usually because one attack hits, we bleed, and while we are staggered we get hit again, but if we stay close to him we will take less bleed damage and we still only need a couple of skills to take him down In this bossrush Hoarah Loux is next, and since he takes good fire damage we switched back to the flame, without the tornado though, since we just need a fast hitting attack Here is where the range of the skill shines the most, because he will often dash away and stomp when we try to use it, but he'll still get hit by it Our damage is really high, since he is supposed to be a tanky boss, and it only takes a couple of hits to stagger him like the rest of them In addition to that in both phases he will charge up at half hp, and this is yet another opening where we can just spam attacks, so if we get a little lucky we only need to dodge a couple of attacks total in the whole fight Also yeah, spells travel from phase one to phase two and still retain damage Maybe it wasn't that good of an idea fighting shirtless against someone that spews fire We only need to fight Malenia now, but we aren't ready yet And I now, because I realized we weren't ready after like 50 tries We only need three things to beat her, first of which is the Bloodhound step weapon art, that we can get by defeating this knight, and we want to put it on a dagger Then we want to go and take the glintstone whetblade, that allows us to take our faithful katana, and put the double slash weapon art on it with the cold infusion, meaning it does frost damage And finally we want a hammer so comically big that it looks like it came straight out of a Tom and Jerry episode, we actually got that like 20 hours ago With those we can go against Malenia and fight her like the second closest game to Elden Ring: whack a mole I don't know where I was trying to go with that joke but bonking her with a hammer feels really good We want to have the katana in the offhand, because we will deal the bulk of our damage with the hammer but if she is frozen she will take some free damage on the spot and additional damage for the following minute, and it's really really easy to freeze her with the multiple hits of the double slash skill, also because she will stagger out of the first two with a dash and end up right in the following three If only there was a weapon that has the same weapon art, but with more range and that deals like bleed damage, right Now hitting her with the hammer is a bit weird, but just because of how her hyperarmor works If she is standing still or in a limited number of attacks when we hit her she will fall to the ground, where we can easily use the weapon art and hit her again, but we need to be careful, because to avoid her being always on the ground they made it so that from when she is standing up to the end of her next attack, if she does one right after, we won't be able to stun her or knock her down, so if we run out of stamina or if we use the weapon art too late we won't be able to dodge and we will get hit, but it does enough damage that doing the second attack is too convenient Same thing happens if we stun her, and remember that we do stun damage to her only when we hit her while she doesn't have hyperarmor This means that every time she is attacking and we try to hit her, maybe because we dodged behind her back or we see an opening, we can do it but she won't even flinch, so we need to either be ready to dodge or to just suck up the damage A thing that comes to our advantage is that at the end of the Lion's claw animation we are pretty low to the ground, and since most of her initiating attack are horizontal swipes we will avoid them even if we are still in the recovering part of the skill, just because they will fly over our head And this same thing happened in the hardest bossfight in this very same challenge back in dark souls 3, so that's pretty cool What kills us in this fight is, as always, her waterfowl dance, because every time we hit her and knock her down she may decide to come back up with the dance, we can't stagger her out of it and most of the time we will be recovering from our attack So in the second slot in the main hand I have a dagger with the bloodhound step weapon art, that is absolutely insane and by using it even from really close to her we can if not avoid all the damage at least mitigate most of it, so it's basically mandatory We want it in the right hand, because if we have a weapon in both hands the default skill will be the one in the right hand, so we just have to swap to the knife and spam the step And I know that we could have defeated her with all sort of cool skills and weapons, but I think that smashing her head in with a hammer so big that it takes up 30% of the screen is what's closest to the spirit of this game Also if for some reason you are doing this run at home please just use the Rivers of Blood, it's basically a free win Only the final boss remains, but unfortunately for them Radagon is weak to fire because of all the burning the Erdtree stuff, and he gets staggered by just three attack I mean he can even be stunned during his cool signature attack, come on The fish, instead, is weak to being hit with a giant sword multiple times, like most people I guess so we don't need much more to win And with that I will say that you CAN beat Elden Ring with only Weapon Skills, and you can even look pretty cool while doing it, and if you liked the video leave a like or even subscribe, I'll see you next time Well you'll see me See the video at least? Why do I always mess up the outro Wait you can't do this challenge? Skill issue
2022-07-21 23:41
Show Video
Other news