BTS (방탄소년단) '찐 방탄회식' #2022BTSFESTA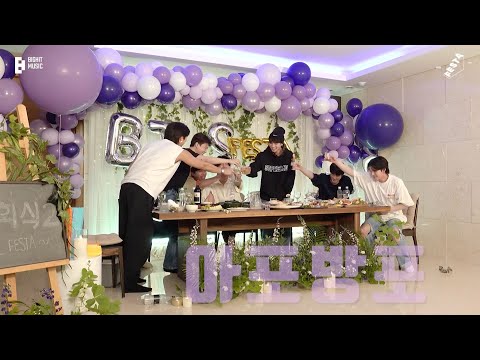 Show Video
[2022 The Real BTS Dinner Party] [NOT scripted, NOT staged! It's all BTS' sincerity of ARMY, by ARMY, for ARMY] [Welcome to the real and honest BTS Dinner Party!] Let's get comfortable Everybody! That wasn't comfortable at all -I'm hungry, let's eat -Let's dig in I don't know what I should drink -Let's go with our favorites -It's this, right? Soju? This, right? Is Jimin having soju today? Go with what you want I'm gonna drink whiskey What's this? Royal Salute -Take that liquor away I'm having makgeolli -This is liquor? Yeah There should be a dongdongju cup What should I drink today? Shouldn't you shake it? I drink cheongju before I switch to takju You do? That's a thing? You really do love drinking You have a routine -I drink the clear part first and then shake it -You make the drink stronger Some people only drink that part Thank you! This is it! -This is it -That's the way to drink makgeolli I drink the top part when it's transparent Yeah, the clear part You drink just the transparent part? Do we start? Can we start? It's already started -Yeah, it did -I don't know what to drink though Just think that the cameras aren't there Okay! I'm in! -Just don't think about the cameras -Let's eat first Yeah, I have to eat first before we start talking Thank you How have you been? Weren't we all at the company just now? Weren't we all working together? No, our fans... Our fans must be curious about what we're doing since there aren't any official planned Yeah What are you all up to these days? Just take the whole thing My life is really busy these days Yoongi is really busy I saw his schedule and it was... It doesn't even include my Pilates and English lessons -Really? -I just do them on my own You're like a trainee I don't know how he does it It's totally different when someone makes you do it And when you do it When I do it on my own It's so fun Let's clink glasses Clink? Let's start with a clink Should we? We all have different drinks! -Good to be here -Cheers! Bottoms up! Huh? Down it! Is that what people say these days? No, I just said it The liquor tastes sweet Does it? Yes, j-hope -How's your drink? -That means your day was hard It was! This is so good -I was so hungry -Thank you, this is delicious -I like whiskey these days -You were drinking a lot of whiskey that time This is different from our past BTS Dinner Parties Your face is already... What? Your face looks drunk Is it that bad? That thing still comes up these days The beer meme? Yeah "I saw this on Instagram Is j-hope that bad at drinking?" Everyone asks me that What do you these days, Jin? Me? I'm into games You're playing games? You know we had like 4-5 days off I ate 2 meals over those 4 days and spent 20 hours a day gaming I don't sleep, I don't eat You should eat a lot here Is it that fun? You're so extra I did hear it's really fun It's fun, I usually don't play games like that Jimin, what are you up to these days? Jimin is working really hard on a song You are? I'm living a busy life too Aren't you gonna eat? I will -Jimin doesn't really eat when he drinks -He doesn't eat up all the food But aren't we eating all at once and then talking all at once? We have to eat first to talk How did it go for the 2018 BTS Dinner Party? We went to a restaurant A restaurant We rented the whole restaurant I even remember the outfits Oh! That day I bragged about spending 28,000 won on a piece of clothing -68,000 won! -68,000 won! -Fashion is complete with good looks -This is great fashion Thank you This fashion is great You look really cool Jimin, do you want some crab? I'm okay for now Does anybody want the king crab? I picked some of the meat Oh, there was that thing For the perilla leaf controversy we even debated about peeling shrimp Jin, I like people who peel the shrimp for me! -I won't peel shrimp but I'll give you this crab meat -King crab are okay What kind of rule is that? What's the difference between king crab and shrimp? Peeling shrimp is a lot of work I just think we can use one set of hands to do the work Let's use Jin's hands today! Take this plate and give me that one Brother! Brother! Eat some I'm okay -Huh? -I'm okay Why are you being so nice today? No, I just want the eomuk-tang Why are you so nice today? Can you just hand me the plate? Do you want some clams? That was a satisfying dinner Jimin is... working on a song? Yeah He asked me to feature in one Irreplaceable season 2? Irreplaceable, man! Yoongi can try singing R&B this time ♪ Irreplaceable irreplaceable ♪ Actually...
It's a bit early to share this here Just say that you're working on a song There's a lot of stories behind it I just thought Jin would go so well with the song so I asked him Was that an official request? I already asked him before You know how much I charge, right? -Huh? -You know the charge, right? That's so mean! He's talking about money! When did I ever take money from you to feature on your songs? Of course I'll do it free of charge We were almost disappointed in you I listened to a part of Jimin's song I heard all of it! Did you? No The one you heard was... A different one? Yeah, it's a different song Why didn't you play them for me yet? I could play them for all of you I'm so upset Hoseok is always number one to Jimin You have to understand that -No, no -We're all second to Hoseok I'm so upset That's not it He was at the company I was just right there So upset! Jung Kook... I told you and everyone else to come see me work -So upset! -Jimin gets really embarrassed when he has to show us his work Anyone would be embarrassed Go on! Say you're sorry I'm sorry! Where do you work from, Jimin? I'm sorry Sometimes at the company sometimes at the PD's house -and sometimes at home -At the PD's house? Yeah He would be so busy if I asked him too Ask me, Jung Kook Yoongi! Yoongi is a factory You know Yoongi's producing rate, right? -He's expensive -Make sure to pay up front He became more expensive after "That That" ♪ That that I like that That that I like that babe ♪ He's so excited already Yoongi might be in a college festival video one day There's a lot of challenge videos doing that dance Yeah, I saw the challenge videos -It's really popular with teenagers -"That That"? Yoongi! His dance is tight! Yoongi practiced the choreography really hard I didn't know but he practiced so hard You were perfectly synced The shoot was two days after our concert When we learned the Grammy choreography -he practiced that too -He stayed behind It was really moving I was like "Why would Yoongi stay behind to practice?" I was looking at the bigger picture You had a plan all along I didn't know I would dance either He loves dancing these days -I love dancing -He dances hip-hop and his groove is amazing It's only been three days Three days I'm starting with isolation like I'm a trainee Like this and the shoulders I'm training my vocals too Really? -I've never seen him so passionate -Do you want to hear what lessons I'm taking? -So you're an all-around entertainer now? -English, Japanese, guitar keyboard, harmonics -You can do all of those? -Dance Pilates Yeah, Pilates You're seeing the dermatologist tomorrow How did you know that? That's our leader He knows everything He's really busy You do all of that? There's a kind of satisfaction making through every day "I have to do English tomorrow?" And I work on English And you're getting better I'm getting better Slowly but steadily I'm thinking five years Isn't that too long? Five years! This is a five-year plan You have to make this a routine You do have to make a long term plan if you want to do anything We're going to work on a song together and when you work on a song there's no time to focus on anything else Even working out is hard So Yoongi living like that makes me respect him so much Yoongi really is amazing You could do it too if you get used to songwriting Anyway it's our 9th anniversary Yeah What's the reason we're gathered here? Did you know? There was something we wanted to talk about on this subject Yeah Why would we release an anthology album on our 9th anniversary? Even my friends asked me about this a lot It's not even our 10th year Then what will you do on our 10th year? You're right Anyway, it's our 9th anniversary and everyone including our fans is wondering why we're releasing an anthology album We're not going to beat around the bush To put it simply Our season 1 was up to "ON" Yeah, originally "ON" was to be our last promotion before we went on a large world tour Touring all the continents for a year to India and Australia for the first time Barcelona Barcelona too We even completed routing the tour We did But during the "ON" promotions COVID-19 broke out so the tour was canceled and we had to take a break It was a really hard couple of months for us and the breakthrough we came up with was releasing singles for the first time was releasing singles for the first time and making an impact on the charts and the public So we made "Dynamite", "Butter" and it's not mentioned as much but "Life Goes On" That one has been shoved to the back I worked so hard on that song! I feel so sorry for it Why is that song...
Because it's between "Butter" and "Dynamite" -It was a mild song without a performance -Yeah, because there wasn't a performance The MV was mild too We filmed the MV here Yeah Are performances a must for BTS? Always! We need performances We're dance singers Dance! Singers! Look at Yoongi dancing We're dance singers Anyway, that was the situation It was so hard not to talk about this for the past two years It was frustrating We couldn't talk about it And if we made a certain choice we might not have been here anymore Those lingering possibilities Let's just go to the Grammys since we were nominated And when we didn't win we tried for it again We were all exhausted from that process If we stuck to our original plan And we would've returned with COVID-19 over Of course, that's all in hindsight And we did get "Dynamite" and "Butter" thanks to this Yeah This situation I know we shouldn't regret the choices we've made but when I saw and heard the reactions it felt really frustrating and unfair for us We can't always make the perfect plan We have to make changes with the situations How many times have we had to change our plans? -Over 5-6 times -It changes 3-4 times in just a year When we look back on the past nine years almost nothing went to plan We just went with the flow reached a bit more and somehow achieved the things we did So many things affected us that it's hard to make a definite statement The mood turned a bit serious but we're going to have to talk about our house too We're at our house right now We have to explain why we're eating here today Our house contract has come to an end There's a lot of memories in this house I just remembered Jimin sleeping in this tiny corner of his huge bed I just miss those moments so much When Namjoon and I shared a room I had the top bunk bed and I hung up so much clothes -That's the other house -The one before this one That was the one over there Near Hakdong Station The one before the last Our room we shared here is gone Yeah, we had -Yeah, we had this divider -Yeah, a divider We had this room divided Jung Kook had his computer here We had a projector screen here Our room was 1 pyeong and we had 3 air purifiers Actually, no It was six The room was only twice as big as this table and there were six air purifiers I was so amazed by him The divider was right here We have so many memories Anyway It's time to let it go We aren't kids anymore Some people might feel disappointed so we wanted to clarify this We lived together for too long Didn't we? I lived with Namjoon for almost 13 years I lived with you since November 2010 I've lived together for 12 years We're a very special case May people will understand but seven guys living together It isn't easy It honestly doesn't make sense It's not easy to do We joked about me snoring but it wouldn't have been fun for the members That was stressful for you too To be frank after we got our own spaces we became closer Yeah, we became closer Even more than when we were together It's the same with family too We're more like family than friends -Yeah, it's true with family too -We fight when we're too close Once a week is perfect Yeah, I really feel that we became even closer now that we live separately We realized how precious each other are And we need to distance ourselves physically and respect our privacy We're almost 30 now Yeah It's not almost for me and Jin Yeah! It's time! I meant our age You don't have to correct everything, Yoongi We shouldn't have to be sleeping and someone turns on the light ordering "Get the mosquito", "Wake up" That's 7-8 years ago Why are you still bringing that up? It's almost been a decade I'm sorry! I'm sorry! I'm sorry! I'm sorry! I have so many stories living with Yoongi I can't even share all those Me too! Me too! He says this every year It's an annual event It was a sensation! Let it go Protect his secret Things with us were uneventful right? We went along great Except that one time Which time? When... I had a few drinks... What? I kept waking you... Yeah, I nearly slapped you then There's many stories like that Like "What's wrong with him?" The contract is ending now and since we're here to clear our stuff out we're talking about these things today but I feel kind of sad now that we're back here Yeah, all these memories are coming up People keep wanting different situations -I'm not sad -The clothes we wore they're still here And our things our beds are still here -Jung Kook, I'm not sad either -This was the perfect timing for this I get what you're saying We were together for so long It was a fun experience living together Now we can appreciate the good things about living separately Wear this if you're cold It's a new kind of fun When I visited each of the members' houses I realized how completely different people were living together All our tastes in decoration and habits are so different My dad's taste is reflected in my place If I tried to do something dad was like "Are you sure about that...?"
All seven of us are so different Our personalities and our tastes They're different We disagree on more things than we agree It's a miracle that we even lived together Yeah This was all possible because we lived together What about him! He was so eccentric So weird! How did you live with us? He's still eccentric! j-hope, he even lived in a basement apartment Yeah He's the most celebrity-like person out of all the Koreans I've seen Jung Kook? Yeah His lifestyle is so cool It's so cool I went to his place and there were three mattresses in the living room! I saw 20 diffusers The fume! The scented fume was... I went in his bedroom and there were two more mattresses So I asked "Which one do you sleep in?" "I got all these mattresses to lie down whenever I feel like it" I go in another room and there are two more mattresses -There's mattresses in the other room too -The most shocking thing for me was laundry where the dining table should be I've never seen someone present his laundry so beautifully like that With the soft lighting Get rid of the prejudice that it's a dining room It's a laundry room now Laundry is important Anyway, we have so many stories There's many more memories of us living together than living separately Yeah -I still remember everything -We've been together for over ten years Living together in our early to mid twenties has a huge impact on me too We started out with the blue house and moved to Nonhyeon-dong The blue house isn't the first! There's another one before that 9-8! The mosquito farm? Someone is raising mosquitoes there I got mad and sucked them in with the vacuum It's hitting me now too but we're completely different people Of course It shows when we see each of our places -Our houses are decorated so differently -Of course -Our houses are decorated so differently -Of course Let's go around and describe our houses My house is like a model home It's really neat I live in every guy's dream home Yours kind of looks like a newlywed house Newlywed? With that game room? It's all white and... The place is bright Newlyweds...!
Kind of like a newlywed home How much of all this can we air? I'm so curious Namjoon's look like it's from Busan Art Fair Namjoon's place is a museum It's a museum Namjoon's Instagram says it all Namjoon's place is really pretty Namjoon's place is chillingly clean I was so shocked It doesn't make sense how clean he is! I was so shocked when I saw things lined up in his fridge! Were you always like this? You were a total slob when we lived together When I get up in the morning -And now your house is so clean -I make the bed first thing I make the bed first thing in the morning You have to make the bed You make your bed? Of course You have to make the bed People who make the bed succeed in life How do you make the bed? You dust them out It's not good for the blankets to do it first thing in the morning Yeah Well, it's not first thing There's this... I heard it's bad I'm really still in my sleep -You just go in and out? -I open the blanket, go in and close it to sleep And when I wake up I'm in the exact same position So you open it? -I open it like this -People like him are so weird to me You sleep like you're in a metaverse capsule Just use a sleeping bag -Even his life is a game! -That's why I have a tent in the living room! Moving around in my sleep is a huge stress for me You move around a lot So I bought a sleeping bag and I even pulled that off myself Really? In my sleep It's incredible that you bought a sleeping bag Who has a sleeping bag for their home? It was when we were living together! When I was in the basement apartment and we had that bunk bed Back then? It was right beneath the ceiling That was legendary when his mattress didn't fit and he sawed it off! To make it fit! It wasn't a saw, it was scissors It was a complete culture shock! I mean! I bought the mattress... You could've just returned it and bought another one That takes too much effort -He cut it with a pair of scissors -Doesn't cutting it take more effort? You could just tap a button and return it Too much effort You're a legend Seriously He's in the top 5 weirdest guys I know He's in the top 5 weirdest guys I know I guess you need to be like that to be BTS You really are a unique guy We're taking a temporary break now Should we talk about why we're not doing the FESTA or making content? Should we get into that? Yeah, we have to talk about the direction we're taking Since the topic of our direction came up Gathering like this today and shooting content "I'm so glad we're BTS" "What would I do if we weren't BTS?" It made me think that I'm happy just being together I started music and became BTS because I had a message for the world I didn't know what I would do after "ON" but then COVID-19 came up so we did "Dynamite", "Butter" "Permission to Dance", "Life Goes On" And I realized the group has definitely changed We have to accept that we've changed For me, it was like the group BTS was within my grasp until "ON" and "Dynamite" but after "Butter" and "Permission to Dance" I didn't know what kind of group we were anymore Whenever I write lyrics and songs it's really important what kind of story and message I want to give out but it was like that was gone now I don't know what kind of story I should tell now I've always thought that BTS was different from other groups But the problem with K-POP and the whole idol system is that they don't give you time to mature You have to keep producing music and keep doing something After I get up in the morning and get makeup done there's no time left for growth And it's not just about music and work I've changed as a human over the past ten years So I needed to think and have some alone time and then those thoughts can mature into something uniquely mine I could balance this with work before But after ten years of living as BTS and working all our schedules I can't physically mature anymore There was something I wanted to do in this world and right now when we're at our best I feel like I should be contributing something to the world but I don't know what that is and I still have to keep working There's just no time for me to think I have to be aware of who I am what kind of group BTS is I need to be aware of why I'm here who the members are to me the path we're going to take as a group to go through interviews and write lyrics But at some point I haven't been sure what group we are For me, it was a big deal that I didn't know what we're going to do as a group from now on I don't know what kind of direction our group has to take Somehow, it's become my job to be a rapping machine and remake music and speak in English for the group Other members are great at performances so I the just quietly go along with them This is how my life kept going The group would go on fine if I just did the work I was assigned but I kept feeling like I was trapped inside myself I wanted to shed that off for a little bit and leave myself alone to think about what I should be doing now but the world wouldn't let me be So I kept postponing it since last year Okay, after this one after this one, maybe after this one But that didn't happen and our members became exhausted I do know it'd still be fun for us to practice dancing together and enjoy ourselves I know when we think of our fans we should practice choreography and show them great performances With all these university festival clips coming up every day I keep thinking that people would love it if we did those too But right now, we've lost our direction and I just want to take some time to think and then return but that just feels rude to our fans and like I'm letting down their expectations We achieved this much thanks to our fans but we aren't living up to their expectations But I think most of our fans wouldn't think like that -Because they know our sincerity -That's true I think 90% of our fans would root for us no matter what kind of music or what kind of direction we choose We can't help but think of our fans no matter what What kind of artists we want to be remembered by our fans I think now, finally we've come to think about what kind of artists we each want to be remembered as to our fans I think that's why we're going through a rough patch right now We're trying to find our identity and that's an exhausting and long process Our fans know us and we know us We have so many things we want to tell them but we can't be honest all the time We want to be comfortable with them but it's so hard and that's worn us out We're trying to slowly figure things out now It feels so wrong to even say that we're exhausted The hardest thing is writing lyrics -We need something to say -Nothing comes out! -You can't force it -There's really nothing to say I have to talk about something that I really feel but right now I'm just squeezing it out because we have to satisfy people's wants and the listeners It's so painful but that's just how this job goes Out of all the times I've made music since 2013 I've never purely enjoyed it It was always painful trying to squeeze out ideas But doing that now compared to 7-8 years ago feels completely different Back then, I had something to say but just lacked the skills Now I don't have anything to say I don't know what to say There's no time to think of the messages to say And because I've mainly done our interviews and written our lyrics at some point I started thinking Maybe this is just my point of view, it's not the group's opinion I keep thinking about that My personal thoughts shouldn't represent the whole group I keep saying "This is what we think" "so you don't have to worry about us" I've started feeling a lot of guilt I have a lot of things to say as an individual but nothing as the group because I've said them all It's all used up, and I'm just one member of the group Just because I can speak English or because I'm our leader -doesn't mean I could speak for us -We'd never think that way -It's just what I'd say to myself -Never In the past I could still balance working on music alone and doing our group promotions but now I can't do them together It's impossible It just won't work I can't be doing group stuff and then suddenly turning the focus to my own work like I'm flipping a switch I just can't I realized I need time on my own We need time to calm down We've been racing forward That's really deep -I think... -Sorry -The reason today feels so fun -No, I'm just envious is because we're already having time individually Right There's already so much to talk about today and if we return after a long time there's going to be so much more to talk about then I realize again that living as a group isn't an easy feat And it was even harder for us because we obsessed over being a group Yeah j-hope told me this before We could focus on our solo work this time and later when we gather again as a group that synergy will be like no other -We'll be better than before -I agree Hoseok actually -talked about these things a lot -j-hope went through a lot That's why I'm taking all these lessons I really respect that I want to try another genre Because rap is something that I've always done and I'm still doing, and I'm good at it But I want to try lots of genres That's why I tried making ad and game music I just think that if I had a solo concert and rapped for two hours that would be boring It would be so boring I should try rapping then It won't be fun at all I'll rap Being a group for so long like you mentioned earlier it feels like I became a machine I have my own hobbies too and things that I want to do on my own Are you happy right now? Right now? -Right now... -How does it feel to play games all you want? Living like this for two weeks, I realized that I shouldn't live like this You shouldn't! You're too extreme I've been living like that and then Yoongi shared his schedule I didn't eat properly for four days I ate like two meals I was playing games skipping meals, not sleeping but then Yoongi sent his schedule I felt... 1 PM English, 3 PM Pilates, 5 PM dance -I realized this isn't how I should live -I don't have breaks either Getting to the next lesson is my break time Do whatever feels right for you Do whatever you want I just feel...
Everyone has a speed that's right for them I'll live like this a little bit longer The biggest reason I'm taking lessons is this I won't be able to do our group schedule I won't be able to go through such a busy schedule like this in a year or two None of the members will When that happens and I have to do concerts and do music I want to be able to do everything I just had to start something I want to dance better I want to dance freely and be hip like Bruno Mars -Then I should learn how to play an instrument too -Wow, Yoongi I should know how to play the keyboard too He's so... You're gonna get burnt out I still realize this after nine years since we debuted but it's really not easy to live like him Of course not I try to live like Yoongi these days Tomorrow, I shouldn't be the same person I was yesterday I should always be a better me That's been motivating me to try different things But it's different from before Before, I was just being greedy -Now you're more practical -But now, I know what I need and do that thing earnestly -How about you, j-hope? -j-hope looks sleepy j-hope isn't talking Me? Yeah He's really drunk When the two of us drink together he doesn't say a word if he's tipsy I do talk less when I'm tipsy -I'm more of a listener anyway -Yeah, j-hope is always listening to us j-hope uses actions more than words He already has great plans -It's more fun listening to your stories -How about you? We want to hear your story Me? -What are you up to these days? -He's been preparing Oh yeah, the preparations I respect j-hope a lot I've really started my solo preparations now -We'll get into that in a while now, but -He wouldn't even go out for a drink with me BTS' stance on solo promotions, solo music is going to change a lot now You'll be the one to start it off I guess that's how this is going So I think we should talk about that change I think that change is what we need right now It's an important part for BTS to start our second chapter I think we could talk about that right now First of all... our mixtape content now... will be changed into albums It depends on what you want to call it "Solo debut" "Solo album release" -They all feel too grand -That's right The mixtape content that we've been making takes the same or even more effort and time especially when it comes to financing as making an official album Mixtapes are actually free music sources that you mix and you send those demo tapes out to agencies "I can rap like this Please give me a call" So it's not supposed to be high quality music A lot of our fans think that mixtapes are our solo content But actually starting with j-hope we'll officially be showing our individual colors... It's actually late for us -It's so late -So late -We're on our 10th year -It's really late So that's the kind of change we'll be having going through I feel this is the right place to mention it It'll sound too formal in articles And I can't just announce on Instagram "We're going solo" I can't do that This is definitely a time we need that change With our group name people think "Wow, BTS" But when it comes down to each member people don't know who each of us are And since we're singers it'd be most effective if we showed that with our music or performance So that's why we're going with albums and not mixtapes from now on It's really symbolic that the songs will be on Korean streaming services now While I was preparing for this I wanted our music to be more accessible for our Korean fans When we release our mixtapes it was hard to access them from Korean platforms so this could help boost the platforms I hope we get to upload the previous mixtapes on Korean sites too -I heard they will go up -Like "Hope World" and "Mono" for me The important thing is that I'm just the start -Everyone's working on their own music -We are Taehyung, tell us what you've been doing -Everyone's working on their music -Tell us, Taehyung, Jimin, Jin So the start feels really important Everyone should tell us about their preparations I get it now that I'm working on my album It feels...
It's different when you're writing your own music -It's hard, isn't it? -But you get through it -You still did it -It's like... After all, I want my music to tell a message to our fans -I'm sure -And it made me feel a lot of things Sometimes younger artists come to me to ask for advice They do? You must be a nice guy Why don't they ever come to me? Because I know a lot of younger songwriters Do they think I'll answer in English? They're just people he knows Younger songwriters or artists come to me and ask me for advice but I don't have much to tell them The life I've lived and the life they've lived are so different but I still tell them to just release it Whether they get criticized You have try first! Or whether you get praised When I think about releasing "Agust D" for the first time I want to throw it all away I want to erase mine from this world My recording kept peaking Mixing was so difficult Your first one? But it's because of that first mixtape that I'm here right now I've been thinking a lot about why people regret the past and worry about the future You see the things that you need to do if you focus on the present -That's true -For real And people aren't generally that interested in you For me... We should take it easy I'm not a solo artist I'm a member of a group and we have fans So it's hard for us to think like that j-hope just yawned Are you sleepy? -Do you want to go and sleep? -I yawn when I drink -Take a nap -You yawned 4 times in 5 minutes What? Taehyung and I have been preparing for a long time and we've made many good songs He played them for me He played them at his place -It was so good -You have to release your music to learn from it And luckily you have a lot of experience and our fans' anticipation's going like this so if you release it now they'll love it And your songs are so good You have to just release it even if you think "I never should have released it" The you'll learn from that experience Taehyung has a plan He does Taehyung is way more thorough than me It shows from his album You realize when you make your own music He... I just began but I think he'll take longer than me Hasn't Taehyung prepared for 3-4 years? I think his will be released next year It's been three years I liked some of your songs that you made Taehyung might really take longer than me When I listen to the entire album all the tracks one after the other and if a track doesn't fit I just take it out That could depend on the order of the tracks Most albums don't flow that naturally either And people usually shuffle their playlist so the track order doesn't matter as much The album I'm working on isn't consistent at all either Even the genre's all different That's more natural these days j-hope's album has a theme but mine is all over the place It's really consistent j-hope's is -I made a story -Mine isn't I received the songs and I'm preparing them The other members all have their release date planned out so I think mine will be the last to be released That's my thought So I hope yours all go well -Yours will be the grand finale -Mine will be out after Yoongi's After Yoongi's How do you feel working on your own album? I feel so grateful for our members Me too That's true We looked great because we were BTS I never could've done anything We could do all of this because we're BTS Exactly -Yeah! -We came all the way here So what are we gonna do now? Do what? The music show we'll finally have for ARMY with the anthology album Right, the music show Oh yeah I think it'll be fun -The music show... -First of all!
First of all, we apologize! To be honest We have to apologize first We're very sorry Honestly, many people will be expecting a performance for Run BTS Most people will The excuse I'd like to make is I don't think we should perform with this kind of attitude I do think that we would have a great time and make it a great performance We would Yeah, we would! But the decision to do a music show was -It wasn't easy -No, it wasn't easy We're not saying this to sound snobby It really wasn't an easy decision When I saw Psy's college festival videos -I thought...yeah! -I saw that too Making an appearance... You've thought about so many things is so important so I'm glad that we got to do music shows We're so sorry we can't do performances like "MIC Drop" or "Fake Love" that people want but we'll show you proper performances for songs like Run BTS when we're all together again -Seriously -For our next concert Yes, for sure The choreography is actually...
It's getting made We have to do music shows now and we had a concert in Korea earlier It was a no-cheer concert -For three days -Yeah, for three days We miss the cheering from Korea so we've decided to take a two week break and practice and then do music shows all to hear our fans' cheers -We've missed that so much -That's just it -Of course -That's the only reason -How much would they have missed it too? -I think that's the biggest reason for us So we won't be doing Run BTS promotions this time but I hope our fans still love our promotion for what it is We ask for your kind understanding -j-hope stop crying! -j-hope! I get that it's touching I keep tearing up Are you here as an audience? You're the star -The Bangtan story -That was the best reaction ever -That was an amazing reaction -BTS story -I just teared up -Variety shows... So we proposed that we film Run BTS one episode at a time I think that's a good idea Yeah, it'll be revealed soon We want to keep Run BTS It's the best We want to continue it It's our own broadcasting channel BTS, it's like a channel name ♪ BTS BTS BTS ♪ ♪ Bangtan Broadcasting ♪ Anyway, like this We have to get friendship tattoos! If we're going to get matching tattoos I think even a single line on the same part would look great That's great! For example That's a great idea Wherever we get it It means we're connected -Even a single line will be great -I actually liked the dot idea too Getting a tattoo the size of a mole -But that'd look too close to a real mole -Okay I want it to be somewhere that won't show -We could get it on our soles -How about the number seven? Jung Kook and I will think of something simple -since we're the only ones with tattoos -With experience The two of us will consult a tattooist Please -For real -We'll do it Let's just do seven! -Something really simple -Seven on our ankles! Seven is kind of... We don't want lettering tattoos I want it to be like a dot or a line Something abstract It doesn't even take a minute to draw a line -I'm down -Like five seconds -How about getting a line within the year? -I like the line idea It's like getting a shot We'll look it up Yeah, it's like that We could get it anywhere People would think it's just a pen mark -It just has to mean something to us -Like this thing? I got this while I was making an autograph -That could work too -Really -It could be a dot on a finger -I wouldn't regret it -It could be just a single stroke -Won't it be weird? If our friendship tattoo is a line... -I think it's meaningful -It would mean we're connected Yeah, we're connected by a line The thing I thought of was I just want it to be simple A pinky tattoo I want it to be simple It would be on the inside and since it's on the palm Like this -Just one line -Red line! Red line! A red line? Doesn't it mean destiny? I don't think I could do that That means love Oh, that's love? But I love our members How about a purple line? Purple? -Huh? -A purple line -I'm all for it but doesn't the color fade? -It doesn't -Really? -It doesn't -We'll think about it -Anyway, that's enough about the tattoo Okay, everyone Lastly...
We won't get to gather like this for a while Not in front of the cameras like today so if you want to say something to our fans and ARMY, this is the time then we'll do a last toast and say goodbye I'll start Let's go like this Being in this line of work I was happy most of the time but I've had a lot of painful moments too I just wish the members don't experience that same pain in their solo work Of course, not every moment of every promotion can be fun That would be true for anyone living in this world If we think about why we started this why we chose to do this it's because it's what I wanted and for me to become happy I don't know when the end is or when we'll die but I just want all seven of us to be very happy until then I'm trying to pursue my own happiness these days Whether that's playing games working on music, or just resting I just love that we get to do those things freely now He's said that a lot We should live doing what we want to We'll all die anyway when we become 100 years old and we won't be working as BTS until we're 100 I don't think that's possible -Right? -I don't want that either I can't be like "Fake love..." That's not happening I just want us to be happy doing what we do until then I want us to have fun I wanted to become an actor at first The reason I wanted to... I haven't heard this in a long time The reason I wanted to become an actor is because I would learn and experience lots of different things depending on the roles I get That's the reason I wanted to be an actor but I became an idol instead and experienced and learned even more than I could've ever imagined You could try acting now, though Now that I've had all those different experiences -I don't have any regrets about it -Now that... I don't think I have any regrets about not pursuing that -But life is long so... -It's long! -It's really long! -And you can go long as an actor Life is long so I might or I might not I don't feel like I would right now Anyway, I got to have a lot of different experiences as an idol I enjoyed it so much and I'll enjoy it so much more going forward I've got to meet such a great team I hope we get to experience many more fun things And thanks to our fans cheering for us Thanks to ARMY we got to have these experiences so I wanted to thank them Thank you I realized again today that everyone has a timeline that's right for them ARMY will have their own motivations and time as well This timing should've come to us earlier but I guess we held it off It should've come way earlier That's it! But we got to do it now Jung Kook's all grown up -Jung Kook's all grown up -Jung Kook! You're so wise You put it way more simply than I did Let Jung Kook talk I don't know when but there should've been a time that we talked about this -Yeah -And I think today's the day You... How should I put this? You were with us for almost...
let's say ten years You were with us for ten years It's not that we want you to understand but... But it'd be nice if you could understand us We're each going to take some time to have fun and experience lots of things We promise we will return someday even more mature than we are now So I just hope that you could give us your blessing That's what I hope for I'll do my best Jung Kook is all grown up -We'll... -I got goosebumps We'll be a better version of us...
Of course we will I firmly believe in that So I hope you wouldn't worry Even better please look forward to that day Yeah I'll do my best Jung Kook's an adult -That was amazing -He's all grown up -That was so well put -That was amazing His vocabulary is so mature Jung Kook summed up everything that I babbled on for 30 minutes I feel comforted -Simple is the best -He's smart -Jung Kook -So clever He's not the Jung Kook from the past Taehyung For me I honestly have so many things I want to do I have a lot of things I'd like to do I hope there comes a chance to show my music to the world And not just music I've wanted to show the things that are inside me for a long time now At some point having these thoughts started to feel wrong I became cautious in even mentioning the things I've wanted to try and it was hard to even say that I'm going to try it Like Jung Kook said when the opportunity comes I want to show you the me that's different from the V that you've known while I have the chance So I won't be just resting or not doing anything I'll be trying to become someone that has a lot to show you so please give us your support Please think of it as a new us j-hope Do you think you can you talk? Open your eyes -j-hope, why are you crying? -It's over He's not crying... -j-hope, it's almost over -It's over Don't cry! Wow I've never seen j-hope like this We've been together for the past nine years and now going on our 10th year I want to thank the members j-hope is making us cry again And I want to thank our fans that have always been with us But now I don't know, I've talked a lot about this with the members but I think we should spend some time apart to learn how to be one again I think that timing is really important right now So I hope you don't see this as a negative thing and see that it's a healthy plan It's not that we're disbanding We're just living apart for a while I think BTS could become a stronger group that way This is a very important time for us and for BTS' second chapter I think this is the best time and step and it's something we all need So I just hope since ARMY has been with us for 9-10 years that you could understand That's all I just hope that all our members stay healthy while they spend time on their own I hope we all live... Stop crying with healthy minds Stop crying Don't cry! Don't cry I'm not crying Anyway, I just wanted to say this That I hope you could understand us I think that's it for me Okay Jimin For me I just wanted to say this Whenever we say "Our ARMY" what does that mean to you? I always wondered if we could ask our fans how they would answer that question Because for us just saying the word "fans" makes us really happy and I don't think the meaning of that word should change I'm not asking for your understanding When the members call our fans as fans as ARMY I hope the meaning behind that word doesn't change when you hear it All this time when we've had conflicts fought, and talked our fans were in the heart of it all So my hope is that you'd take that meaning for what it is I don't say this to try to make you understand We can't separate our fans from us We wouldn't be here without our fans That's what I thought about a lot recently How would we dare to dream that? It's all thanks to our fans So how would we talk about us without them? We've talked about this a lot together but we can't tell you everything directly and that's very sad and difficult at times But if you'd take our words as they are that would be great Don't cry! Who's crying? -Jimin's crying -Jimin's crying Why? Don't cry! Who made you cry? Are you done? Yup! Jimin... It's hard talking about this I saw "Doctor Strange" not long ago You did? I haven't yet Dormammu! The battle? No spoilers! I'm not trying to give out spoilers -There's this concept of the multiverse -Yeah I don't know how you would think but for any ARMY who knows me... I still think in some multiverse there could be a Kim Namjoon that's a normal office worker and doesn't make music at at all But in this universe luckily I wanted to do music and luckily I got in this company and met Bang Sihyuk PD, met Big Hit and I met these guys that are even more talented than I We're better known as BTS now but to me, we're Bangtan I got to meet the Bangtan members and make music together make a speech at the UN We would have already been to the White House by the time this is out We got to go to the White House It's not that I'm special that I got to do all these things I still think about this a lot I debuted as a singer and happened to take on a responsibility in society and even the world in a way We might not even be qualified for all those things We're not that special or smart but the seven of us went towards a united goal with all we've got And when people think of BTS or Bangtan they always mention ARMY You are actually the essence of what we are That's why we can't separate you from us And when I said that recent promotions have become difficult for us I felt so guilty because I'm scared of you being disappointed in us When I say I want to take a break it feels like I'm doing something bad All the members and I were just lucky We just happened to start out from a small place in Nonhyeon-dong and somehow made our way to the White House Everything I want to say is in "Yet To Come" "Yet To Come" would've been released by then This version of the universe is the best version I can possibly think of The thing I want to do and the thing I wish continues is that we'll be together and be sincere when we perform on stage and when we gather and talk like this that we could talk and be happy without thinking about the rules of the world That's all I want You're making me cry! Namjoon's making me cry Hey! Don't cry I just... I want BTS to go on for a long time We have to go through this to do that I want it to last long and for BTS to last long I think I have to retain who I am Because I'm not BTS I'm just a part of BTS So we couldn't fulfill all of your expectations I have so many things I want to say but I can't be open about all of them I always feel sorry about that However, we're always sincere We could make mistakes because we're not perfect We make lots of mistakes and I know that I'm not perfect either Maybe I was lucky enough to speak at the UN and meet President Biden but what I know for sure is that we're BTS and we made it here thanks to you We never know how long we'll be together but I hope we do last long And even if we can't perform as well as we did in the past I always want to be RM of BTS So I hope you recognize our sincerity Right now, we might be stopping for a break and being lazy but that's all for the future ahead of us This is the hardest thing We're kind of unique in that we grow together with our fans But despite all that we can't share everything with them Of course They would understand that That's the hardest thing and the saddest thing Let's make a toast Who wants to make a toast? The youngest guy always makes the toast Yeah, Jung Kook Huh? Make it simple Okay, everybody Do Apo Bangpo Apo Bangpo? Do whatever you want! Do whatever you want -Everybody -Whatever you do is fine What was I gonna say? This is so funny It's been a while since I saw him so tipsy The last time was our LA dinner party I didn't drink that much I'm tipsy because I wanted to be You're free to get tipsy He took the whiskey and drank it by the glass! I didn't even add ice Everybody Your lives and your lives There's so much more to come We won't be dying anytime soon Right For each of our lives and for us let's make a toast -Apo! -Bangpo! I've never seen Namjoon this drunk before! I'm drunk? I love you!
2022-06-21 07:55
Show Video
Other news