Brixton, London: 4K Walking Tour of Art, Food, and Culture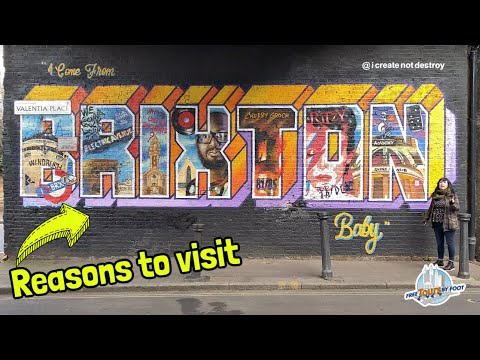 Show Video
Welcome to Brixton. My name is Jessica and I'm one of the guides for Free Tours by Foot London and today, I'm here South of the River in Brixton. Brixton is a really famous part of London known for music, arts, culture, and food particularly of the Afro Caribbean populations. Brixton is about 40% Jamaican and other Caribbean people of other Caribbean heritage and that's what makes it such an exciting and delicious place to be. Now, the tour today, we're going to be walking through some history, some arts. We're also
going to walk through three covered markets that Brixton's famous for including Reliance Arcade, Market Row, and Brixton Village. We're going to sample some food, drink some coffee, talk about beer and rum but first, I wanted to point out the Ritzi. The Ritzi started as the electric pavilion. Keep that in your mind. The word because it's going to come up on this tour. Today, it's an arthouse cinema. On the walk
today, we're going to be talking a lot about the Cultural Hickstory of Brixton and if you like this sort of thing, you should like and subscribe. Also, if you wanted to leave me a tip for being your tour guide today, you can do so below. You can buy me a coffee. You can also use PayPal. I'm Jessica Tour Guide@Gmail. com. We're going to head first to the Black Cultural Archives. Where now we're walking across Windrush Square. That's a relatively new name. This square used to be called Ephra
Square and was known for its grand Georgian houses. However, the name Windrush comes from the first boat to bring over one thousand Jamaican and Trinidadian immigrants to actually to Essex in nineteen forty-eight. 1027 to be exact plus two stoaways from Jamaica. These folks were coming because they were told that they were needed. They were part of the British Commonwealth and they were coming to rebuild London after the blitz and after World War two. Subsequent generations throughout the 50s, sixties, and 70s are also referred to as the Windrush because that was the name of the first boat that came here. We're standing in front of the Black Cultural
Archives. If you want to learn about Black History in the UK, This is the place to come. Brixton is known for its black and minority ethnic owned businesses. In the UK we tend to use the term bame or black and minority ethnic. Although not everybody likes that term so it's always important to ask what people prefer. The whole area is known for supporting black owned shops, businesses and restaurants and history is really important to Brixton. That's why it's worth coming
here. It's a free museum. Come and spend a couple of hours. Learn about the history of the area before you set out walking through the markets. That's exactly what we're going to do now. However, I've been talking about Caribbean immigration. Of Brixton's population of 80, 000 roughly 40% are of Caribbean origin. However, there's lots of other people here from
Africa particularly Ethiopia as well as one of the largest immigrant groups in the area, Colombian people from Colombia represent the largest South American population in the UK. 20, 000 at originally Colombian people live in Brixton and the surrounding areas. So we are going to have our first stop today. Not trying Jamaican food. We will later on. But
we're going to go to a Colombian bakery. So follow me. Oh, what should I have? Can I, is this Yeah, Arepa, right? Yeah, arapa. Yeah, arepa con queso. My my Spanish accent is terrible. Have a repa conqueso please. Yeah. So, Areifa is a cornmeal pancake. Yeah, please. A cornmeal pancake. It's filled with, it can be meat, it can be beans, it can be cheese, and it's also sweetened with cane sugar syrup. So, it's kind of like sweet, savory, that really
amazing combination that makes you just want to keep eating more and more. So, that's what I've just ordered. So it's nice and hot. Nice corn. Check out that cheese. It's like a sweet and savory cornbread. It's really good.
And kind of reminds me a little bit of oddly enough kettle corn which is a sweet and salty popcorn and that's because it has that nice corn flavor from the cornflower. It's got the salty cheese. It's got the sugarcane syrup. So, it's really a perfect snack. It's an excellent way to start our
walk. Now, as I mentioned, Brixton is really known for Caribbean food for things like jerk chicken and patties that we're going to talk about later on but don't neglect the Colombian food when you're in Brixton or the rest of the borough. So later on, we're actually going across the street a bit later and we're going to walk through the entrance of Reliance Arcade. This is a really remarkable art deco building that was just restored and the restoration was completed in 2019 because later on, we're going to be entering right up close. You won't get a view of the facade. So, I wanted to show it to you now, the big rainbow. Uh on the
other side that we're going to see later on, it's got an Egyptian motif. Popular in our deco. We're just coming Morley's which is a historic department store. It's actually eight of them throughout London. This one here built in 1897. Uh nice to see kind of independent London-based chains still thriving, still surviving and here in Brixton, one thing that you are going to notice is that there are a lot of independent shops and businesses. In fact, this is the only place I've ever seen. A Starbucks go out of business.
Uh if you look across the street, you can see right below the underground there. Lots of posters, big wooden sign. Yeah, that used to say Starbucks coffee but because people in Brixton really feel strongly about supporting the local economy, the local businesses went out of business. Pretty rare to see that but we're just going to take a right here on or rather a left on Tunstall Road, we're going to have a look at a mural of one of Brixton's most famous sons and that is here, the mural of David Bowie. So, normally when you see a mural covered in glass or plexiglass, it's a Banksy, right? Well, this one is not by an artist that is as famous as Banksy but still really important London artist called AKA Jimmy C or James Cochran. If you watched our East End Street Art Tour which I think you should. Uh you'll
see a lot of pieces by Jimmy C. We'd see a lot of them on that tour but this is probably his most famous because it's become an official memorial for David Bowie that protected by the council. Uh this was completed actually 3 years before Bowie passed away and the reason why he Jimmy C put it here is because David Bowie is from just a few streets away from here. This is one of Bowie's most famous images of course
Aladdin Sane from the cover of one of his albums and this is become a major shrine for people who want to pay homage to the great rock star himself, the great androgynous weirdo and you know, we need more weirdos. So, I wanted to show you guys this piece before we cross the street in towards Brixton Village and the Brixton Markets. This massive piece of street art. It's a portrait of Michelle Obama and it was done by a London street artist called Dreff. You can see his name signed just in the corner there. It's full name is Nike Draft Design and he is a
Londoner through actually not born in London but he's a East London now. His parents are from Ghana originally and he creates fantastic street art depicting black and other people of color throughout London who've made an impact. Also just people that are kind of average people living their lives making change through small actions. This a little
bit different than that. Okay Michelle Obama not a London or not a Brixton resident drafted this in order to promote Michelle Obama's biography that came out a couple or autobiography that came out a couple of years ago and I think it fits really well here into Brixton. We're going to see some other works by him as we walk along. So, let's head this way. We're going to cross over Brixton Road in just a moment and we're going to start heading down Atlantic Avenue.
You may, if you know the area well, you may be fretting and thinking, oh my goodness, Jessica walked right past a few really important places but don't worry, we're going to be walking back and looping through. If you're coming to Brixton on a one of our tours or if you're coming on your own, can kind of follow my route because it makes sure that you don't end up doubling back on yourself. So the beginning of our tour I talked a little bit about the Windrush generation in the 1940s50s and 60s giving Brixton its really distinct Caribbean feeling which is obviously still all around us today but what was in Brixton before that well in the 1880s 1890s Brixton was the place to be if you were late Victorian middle class this area was known for its electric lighting which was not common on streets at the time and it was also known for one of London's most elaborate and department stores called the Bon Marche named after the famous Bon Marche Department store in Paris. So people were moving here in droves to have a place where you could have a big parcel of land, a large house. However, by even by the
19 tens, 20s, 30s, things were really changing and it changed dramatically in World War two, Brixton was bombed heavily and after War two, a lot of those grand houses that had been middle-class houses started getting chopped into smaller and smaller flats and this left it kind of ripe to become a place for a lot of immigrants to live because you had affordable flats and places to live now let's go back though to the 1890s 1891 you have this street here becoming the first in the UK to have electric lighting which doesn't seem like a big deal now but it was really dazzling for residents and people came from all over London to come and look at this brightly lit street that's where the name comes from however you might recognize the name Electric Avenue from a different context and I would bet that it's from a song. The song is called Electric Avenue by legendary reggae artist Eddie Graham. Eddie Grant wrote this song in reaction to a series of riots that occurred in Brixton in nineteen eighty-one and Grant went on to write the song in nineteen eighty-two. What was the cause of the riots? Something called stop and search that had been implemented and local residences started noticing that the police could stop someone from being suspicious. They're often called sus laws. People noticed that it was mostly black teenagers who were being stopped and searched as opposed to anybody else. There was rising tent from this and then there was a house fire in nearby New Cross. People thought that it was pretty
suspicious and 13 young black people died in that fire. This brought everything to a head and the riots began in the area. Eddie Grant was really horrified by the violence and the police treatment of Brixton people and that's when he wrote the song which would go on to become incredibly famous but a lot of people don't realize that it actually has this really sad and violent episode at its core. Now, Electric
Avenue that we're walking down now today, as you can see, a lot of amazing street stalls selling all kinds of fruits, vegetables, meats, fish, gorgeous Jamaican patties, and food at healthy eaters, herbal treat and it is a place to come and do your shopping. People still come here, meet here. A lot of the vendors and traders here. They're third, second, third, even fourth generation Electric Avenue traders. I'm
going to buy some little white eggplants because I need them for a dish I'm about to make. Can I get about ten of these guys please? Thank you very much. Bye. I got my white eggplants. I'm happy I'm going to make some curry with this. When the street market started in the 1890s through to the 19tens, 20s, they mostly sold, you know, potatoes, carrots, cauliflower, things that average British households ate but as you can see today, it's changed with the demographic demographic of the area. So, it's a lot of really gorgeous tropical fruits
and vegetables that are used in African and Caribbean cooking but of course, It's a great place for anybody to come shopping. Good prices. Friendly atmosphere. Really wide wide selection. All kinds of cool stuff. Heading back out onto Brixton Road, don't worry. I'm not turned around. I'm just going to take us a different way.
Now, we're going to go into Reliance Arcade which I pointed out when we were crossing the street. Reliance Arcade is a was very nearly lost. Very nearly redeveloped and rebuilt. However, that was in the late 20tens but now, it has a heritage protection. It's grade two listed. So, it would be almost impossible to demolish or alter this building. We're
going to talk more about how the markets were under threat but for now, I want to walk us through Reliance Arcade. We're going to see Lots of interesting local shops selling fabrics, selling greeting cards, selling coffee, delicious Ethiopian food. So, let's walk through. I The covered arcade was originally built in the 1920s and you can actually see that parts of the original Georgian houses that were here still make up the exterior but it's a really narrow little arcade. It it kind of reminds me of the ones that are in Central London. Thank you. Like
Burlington Arcade. It reminds me a lot of the similar arcades that you'll find throughout Paris as well. You can see you've got all kinds of really useful places, travel agent, lots of shops selling clothing and beautiful West African and East African fabrics. Also really nice Egyptian food, beauty salons. I think I just said Egyptian food. I mean Ethiopian food. Crucified.
Faith. Now, you can see I mentioned earlier that we would be able to see the Egyptian facade. So, here's the really the iconic Egyptian facade of the Reliance Arcade. Again, this was nearly demolished but it's been shown to have immeasurable heritage value to Brixton. It was originally built in the late 1920s and that's of course when Egyptian motifs were really really popular and it was the first of the covered markets in the area. We're going to go into another one of the covered markets right now which is market row just across the street. Market Row was built a few years later and the idea
was to make it even bigger, even brighter. You're going to see a really big difference between these two. They have similar kinds of traders although this one has more fresh fruits, vegetables, fish, and meat but it is a much larger scale. Market Row is bright, it's airy, it reminds me a lot of different covered markets that I've seen around the world and again, it's pretty amazing that it has survived. It was seriously under threat in the late ninth 2thousand 0s, the odds. Uh it would the whole area. This and Brixton Village which was then called Granville Arcade were meant to be demolished and or not demolished but renovated in a way that made people in the area feel really really worried. They were told that their shop installs were closed
for at least a year and the unwritten kind of message was that the rents were going to skyrocket and as a result the whole area would lose its really traditional Afro Caribbean feel and residents fought back and surprisingly they were successful. They managed to save it and it has a grade two heritage listing which means that it cannot be altered in any significant way. So from the moment I woke up this morning, I've been waiting for this moment which is to get a really good Ethiopian coffee. Ethiopian coffee is some of the finest coffee in the world. People who really feel strongly about coffee, really big kind of coffee fanatics know that Ethiopian coffee is really one of the most flavorful and robust coffees that there is and I it's got kind of a fruity flavor as well. So, we're here inside the Ethiopian coffee
shop Addis in Brixton and we're grab a freshly brewed espresso made with Ethiopian beans. So, she's just telling me everything is unique. This is how they use the cup back at home in Ethiopia. I'm going to. In that area there in Ethiopia. That area. This particular coffee. Amazing. Okay, I just want them to come to my house every morning and make me my first cup of coffee. It's delicious. It doesn't need
any sugar. It doesn't need any cream even if that's how you normally take your coffee. It's got a flavor that you're not going to get at the Starbucks. That's why it went out of business. Cheers. Alright, after that coffee, I'm feeling hungry again. So, I'm
going to go to First Choice Bakers and I'm going to get a Jamaican patty. First Choice Bakers opened up here in Brixton in 1995 and it's considered some of the best patties in the entire capital. So, I'm going to grab one. I'll let you know how it is. So I just got a Jamaican patty from First Choice just patty. The crust is made yellow with turmeric or with egg yolk depending on where you go and these actually have their origin in cornwall, Cornish pasty but it's not a pasty, it's a patty. Cornish miners went to Jamaica to work in the mines in the 1840s and the 1850s and this is what they would take in their lunch. They would be able to have this in
their pocket, keep it nice and warm all day and inside got delicious flavors. Now the Cornish would have had you know meats and stew but in over time in Jamaica added lots of Jamaican flavours to cater to the local population. In particular the magic of the scotch bonnet pepper. I just got a veggie patty. Yesterday I had a chicken one. Have a good day. Potato. It's so good. It's so good. Let's go. So, when I got the
patty, I wanted to get something else too but they are all sold out of it until 4 o'clock today. Uh it's called Guinness Punch. It's kind of like chocolatey milkshake made with Guinness. Really popular in Jamaica and they normally
have sell it in nice bottles but sold out. Uh we're heading into Popes Road right now and I've got another piece by Giraffe. So, remember we talked about Giraffe. He did the Michelle Obama earlier. We've got this one here of Michael
John. So, Michael John's was a local legend, local hero. He was the caretaker and guardian of the toilets here. A really big part of the community. So, Dreff wanted to make sure that he was immortalized as the local legend that he is. So, you see a lot of pieces by Dreff on these kinds of themes and topics. You don't think about you know somebody being the guardian of a toilet as maybe being the most important job. But it really is. Just think about it. You gotta
provide security, cleanliness, and it's a basic human need. So actually deserves a lot of credit. Got some Afghan street food. Brixton is a place where yeah of course you can find Colombian food and Jamaican food, Trinidadian food, African food but you can also find food from all over the world as well. We're going to see that in a few minutes because we still have not gone into one of the most famous parts of the market which is the village.
Um just wanted to point out Pop Brixton here. This is something you're seeing pop up no pun intended all over London is kind of food trucks and food courts made out of shipping containers and that's what's here. They do events. They do, you know, you can watch the rugby etcetera but they've also got lots of different street food vendors and it's kind of a place to come and party open til late at night. So, another cool addition, pretty new as well. Uh all along Brixton Road here. We've got more street market behind us. You can see people queuing up for some good Jamaican food. It's lunch time.
Massive brick big Brixton Recreation Center but we are going to walk down past all of these railway arches. Alright, so I can't pass by this mural by Create Not Destroy without pointing out some of the really fascinating Brixton history that's depicted in each of the letters here. Uh first of all, we've got the Brixton Academy which started out as a massive movie palace just around the corner. Now, it's a huge gig
venue. I've seen some gigs there. If you ever see a band that you like playing there, buy tickets but here on the marquee, we've got Skunk and Nancy. Skunk and Nancy, we're kind of like a rock punk metal band in the nineties, I loved listening to them and the lead singer Skin, a black woman and she's from Brixton. So, she's immortalized right here. One other thing it's important to mention is the Brixton Pound which we can just see in the corner. Brixton is the only community in the world to have its own community dispensed with a dedicated ATM. Dispensed with a dedicated cash point. So these days the Brixton pound. I think the ten pound note
features David Bowie. Other famous Brixtonites are on the different bills. Today it's moving more into a cryptocurrency vibe but it's still a currency that you can use at Brixton shops and restaurants. I think more than 200 participate. Of course next year we've got the Ritzy and Bowie who we've already talked about. Here's something
important to mention Cherry Gross 8185 Cherry Gross was shot by police in 1985 a local Brixton black woman and this kicked off the 1985 Brixton riots in the area we've also got a few here up here it says who is Olive Morris with a question mark she was a black Caribbean member of the Windrush generation who organized in Brixton a lot of community organizing she was a member of the British Black Panthers and immortalized here in the mural and of course, we've got Electric Avenue and then, I love Brixton and the Windrush. So, so much history encompassed in one small mural. Alright, so those of you who've been on any of my tours, if you plan to come on my tours, you know, I am a craft beer nerd. I love craft beer. I like a lot of different kinds of beer but I really love micro breweries and interesting people that are coming together to create unique beer using hops from the UK and from around the world and that can certainly be said about Brixton Brewery. Can get Brixton Brewery beer now all across the country but of course it's often served here in the area at different pubs and taprooms the Brixton Brewery Taproom sadly it's closed right now it opens at 5 PM, but it was started in 2013 by two couples working together and they decided that they were both passionate about beer and they wanted to bring it kind of modern craft beer to Brixton and here it is here you'll see this symbol all around London if you are pubs, definitely give them a try. Their IPA is
fantastic. So, it doesn't take long once you leave the markets on the station road for things to get really residential. Brixton is an amazing place to live. It has lots of parks. It
has obviously the gorgeous markets and beautiful old houses but you can see here what I was talking about earlier. These grand large houses were built as single-family homes in the 1880s and 18 nineties but by the 19fifties, sixties, 70s. They had been split up into really small rooming houses and flats and today, some of still remain flats. A few of them for the lucky few are single-family homes but a lot of them have been kind of split up into maybe two, three, four units and this is where a lot of local people live.
We talked a little bit about typical houses that people living in Brixton but here is another typical style of houses for the UK and for Brixton but okay, it's not that typical. Have a look at this design. You would be forgiven for thinking this looks really really strange but I promise you, the design is actually genius but the rest of the project was never completed. Let me tell you what I mean. This was built between 79 and 1981 by an architect, a female architect called Magda Boravitzka. A Magda Borovitzka was given a brief that she needed to design a block of council estates or housing in order to exist next to a massive viaduct. A massive
piece of raised motorway that was supposed to run right down the center of this street. So just imagine that this whole street behind me across the street. This would have been a huge raised loud crazy, noisy, polluting viaduct. As you can see, it was never built but this council estate design was built to coexist with that viaduct. So, can you see the tiny windows and the kind of big wall? Yeah, this is called Southwick House but locals nicknamed it something else, the barrier block, barrier block. It, the name makes so much sense. It was originally supposed to be a barrier to the
viaduct that was never built. For a lot of years it was kind of reviled and it appeared on you know worst architecture in the UK worst architecture in the world but some of you might know brutalism is kind of coming back into style this is late brutalism and it has its fans these days whether you love it or you hate it Magnaboro Vitzka did the best she could with the design brief that she was given So we're still on Cold Harbour Lane where the barrier block is but I wanted to point out this Walton Lodge sanitary steam laundry. Uh of course with the building as cool as this it wasn't just going to sit vacant to be demolished. Inside it's actually quite a posh restaurant now called you guessed it laundry. Uh it's quite a shabby chic place but it sits right next to the Brixton village one of the Brixton Village entrances.
Uh you'll find these signs throughout Brixton on the different streets. Some of them say Brixton. Some of them say Black Lives Matter. Some of them say Bame owned business. Bame stands for Black and Minority Ethnic. Uh but this is the best definition that I could give for Brixton. So
let's just read it right off the sign. Originating from Bricostain. Meaning the stone of Brixie a Saxon Lord. The global melting pot of South London with an African Caribbean soul where music, arts, culture, and food mix. Thank you. Brilliant. I can't do it better. Let's head into Brixton Village. Now, until a couple of years ago, Brixton Village was actually called Granville Arcade and this is the third of the three different arcades that we're visiting on our tour today. We've already visited Reliance Arcade right at the
beginning of our tour. Then, we went to Market Row. That's where we had that great Ethiopian Coffee and now, we're heading into formerly Granville Arcade these days known as Brixton Village. Again, this was nearly completely restructured, partially demolished, and rebuilt back in 2007, 2008 but it was the local residents fought back and these days it is mostly kind of restaurants but there's still some traditional market stalls Brixton Village is divided into avenues. You can see here on
the sign, we're on the corner of sixth Avenue and Second Avenue and that it's because it's actually quite a large covered structure. Uh you could see a taproom by Brixton Village selling local craft beer. You can grab some Brixton beer there but I wanted to point out a couple of things here. We've got Oracle's Juice Bar and next door, we've got ooh wee. Um this shows you a couple of different vegan offerings in Brixton market. Now, a lot of times vegan food gets lumped in as being trendy, new, a recent thing, that's absolutely not true. Um a lot of cultures around the world
naturally eat vegan whether they're doing it on purpose for religious reasons or whether it's just simply the crops and types of food that grow in the area and Jamaica is one of those places where you have a really thriving vegan food culture called Ital food which comes from the word vital. Rastafarians believe that they should be eating and treating their bodies as if it is a temple and ital food uses fresh natural ingredients, little oil, no salt, and it's mostly if not 100% vegan and so that's where you've got something like Oracle Juice Bar and then next door, you've got a little bit more of a trendy, newer version of vegan food ooey which sells kind of vegan burgers and milkshakes and things like that. So, Before you start thinking, oh, all this vegan stuff is all brand new, it's absolutely not. People all over
the world have been eating this way for millennia. I wanted to point out here Disrupt Space which is a black creative arts agency and they represent black artists. They do events here. So, even though Brixton Market is now got shops and restaurants and cultures from all over the world, there is a lot of effort to ensure that black-owned businesses remain at the heart of the market. That they want to say. So as you can see Brixton Market has changed over the years of Brixton Village as I can say not only has the name changed but alongside the African Caribbean Colombian grocers and shops. You also have businesses and restaurants
from all over the world. So it is kind of a melting pot a mixing pot and these days the market this part of the market. Brixton Village is open until 11 PM. And that's to represent
the fact that there are so many bars and restaurants here. So you can come and have a full night out. Get nice food and drinks. We're going to walk back down this way and check out rice, wings, and tings. So, one of my favorite places to eat when I'm in Brixton is fish wings and tings and you can see from how busy it is that I'm not alone. It is one of the most popular places to
get food and one of the things you can get there of course is fabulous jerk chicken. There's plenty of other dishes in Jamaican cuisine like saltfish and aki which is traditionally eaten for breakfast. All kinds of curries and stews. My favorite is brown stew chicken. I also love curry goat but jerk chicken is probably the most famous dish and what to jerk means is to cover in spices and roast over pimento wood fire over low and slow coals so you get really delicious food kind of flavored by that smoke by those spices but the word jerk has come to mean get lost somewhere in British culture in the last couple of years I remember seeing a few years ago the London's Afro Caribbean community was laughing and having a good laugh at the fact that I think it was Jamie Oliver brand started selling jerk rice You can't jerk rice. You can't cover rice and spices and then roast it over locals. I mean, I guess you could try but a lot of times people these days have taken the word jerk to mean the flavor which is a delicious flavor but it actually refers to the cooking method. So, yeah, you can't jerk rice but if you are in
Brixton, definitely check out Fish Wings and Tings or one of the other many wonderful Jamaican restaurants that are here. I Alright, so after tasting some Ethiopian coffee, Jamaican patty, and Colombian baked goods. Now, it is the end of our tour. I really hope that you guys enjoyed walking through Brixton's markets and culture as much as I enjoyed showing you. Please, the next time you come to London, let us
know if you would like to come on one of our Brixton Tours. We'd be more than happy to show you around. Remember to like and subscribe to this video and watch some of our other videos about street art about London culture, about markets. We have a lot to show you. So again, thank you very much and buh bye.
2022-05-02 21:02
Show Video
Other news