BMW S1000XR Honest Review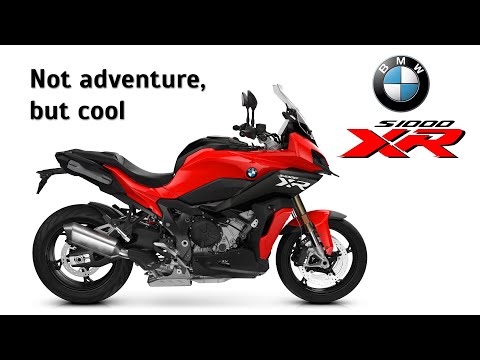 Show Video
I travel a lot on different adventure motorcycles and here is my BMW S1000XR review. People often say that XR are upright sport bikes and I would agree. I'm not a big fan of BMWs and in my opinion their iconic R1250GS is by far not the best adventure. Meanwhile there are some BMWs that I appreciate, and the S1000 lineup are amazing motorcycles and I do admit that.
I ll say more, the BMW S1000XR is my favorite liter crossover. But in spite of that I never thought of owning one. XR is not everyone's best motorcycle, it s closer to no one's best. You should fit it
with your life-style and tempo to forget its cons. The main goal of the video is to explain to those who don t consider the XR and are looking for something more conventional that the XR might be a good choice. Or at least to take it for a test-ride. Foreword. Although today's video is featuring scenics from four countries, the most beautiful ones were filmed in the Netherlands. Holland is the best country to rent a bicycle
and just ride around. But the country is not that good choice to ride a motorcycle. First, there is a greater priority to pedestrians and cyclists. All the best roads are given to cyclists, and motorcycles are not allowed there. Netherlands motorcycle thievery rate is sky high for Europe, their roads are slow and narrow, and even their highways have a speed limit of 100 km/h from mornings to evenings. And at the same time in neighboring Germany the same highways can be ridden over 300 km/h. But there are some unique roads in Holland, like there were made to be ridden by motorcycles. Dikes. Initially, they appeared along major
rivers as a protection from floods, which are a problem in Holland. Most dikes have smooth, fully visible turns, which are pleasant for sport touring motorcycles, if you are not afraid of speed limits. But for the legal 60 they re fine as well. Why is it so unique? Because it usually doesn't come
to someone s mind to construct a winding road on a plain. They make sense on mountains or forests, both have limited visibility and bigger risks. On a dike you can see a kilometer ahead, so you have a minimal risk of hitting a deer or there are tractors passing each other right after the corner. Just relax.
So, what's so special about the XR? Why do I like it so much? The main thing is its perfect engine, the entire motorcycle was designed around it. If I choose a middleweight bike, I would take a 2 or 3 cylinders one, but from over a 1000 ccs motorcycles, my choice is 4 cylinders. In short, revving speed is much higher on a four-cylinder compared to a two-cylinder one, so when you twist your throttle, you get a better engine response. Keep in mind that the conventional dyno chart of an XR and a Multistrada doesn t help because their engines performance is going far beyond the chart and the motor is not going to struggle on 10 000 RPM. So when you hold a huge operation range in your hand, and the revs go high immediately compared to any two cylinder motorcycle, you can just play with it.
And it feels like using a touch screen with an instant and accurate response or having an old car navigation screen. Or like the difference between a laser mouse and a ball one - both mice will reach the corner of the screen at the same time, but it's all about instant response and accuracy. It makes you want to turn the engine more and more, because you get a delight from the very acceleration. Usually, since the engines of such models are made to perform revs, they are slow at low revs, but for such powerful motorcycles this is not a significant problem.
The XR is a quite good city bike, you don't need to add gas on getting away not to let it die. The engine has enough torque and it's not going to hold low revs for a long time anyway. Don't get me wrong, low-revs are better for traffic jams anyway, but you don't have to suffer with the XR either. If you choose only among high-powered four-cylinder adventure bikes, the only modern ones are the Multistrada V4 and the S1000XR. Before the Multistrada, there was only 1 adventure bike with real sporty high-revving dynamics, with enough power even for a spoiled person. Yes, sport bikes are more powerful, but if we increase power, we ll get stuck with limitations of suspensions, brakes and ergonomics, which don't work for laying on a tank. So it doesn't
make sense to increase power over 170 hps. When the XR was released in 2014, I was glad that BMW fans would wake up a little and realize that their boxer with Telelever doesn't meet all their needs. The catch is that BMW has a big sports touring RS with a boxer. By the way, they haven't been using Telelever since 2014. In fact BMW has 2 big sport tourers competing with each other. I have no idea how they separate these two
in marketing. On the one hand, it is obvious to everyone that the XR engine is almost like from the legendary RR sports bike. On the other hand, the XR has 1 cm more suspension, which means it's kind of like an anverture. On the BMW website, the RS is still in the Sport section, and the XR is in the Adventure section. XR dynamics is just crazy. It has much more bounce than the Tracer 9, the Versys 1000 and 1250 GS. Honestly, I can't imagine a person who will qualify this power
in real life as not enough. And I understand those people who want this motorcycle even while there exist some more comfortable motorcycles. Not that many motorcycles can give such dynamics. Among adventures there are only the Multistrada V4 and KTM 1290, all the others are much weaker. Moreover, when I talk about dynamics, it's
not about speed, as many people think. Outside the test-rides, in my real life I never ride faster than 130 km/h on a highway. In the city I wear shorts and flip flops so my speed is 40-50 km/h. Also I really do not feel any pleasure at a speed around 200. And in my favorite mountains, speed rarely goes higher than a 100, but you quickly get used to the feeling of bottomless acceleration on overtaking or exiting a turn. And then it is not so easy to return to a slow bike. Even at speeds below 100, although nobody
can resist keeping the XR from constant overspeeding - this is a very provocative bike, like sports bikes. A huge con of the first gen XR engine was its buzzing - the vibrations are always present but they're especially unpleasant from 5000 rpm. While 5000 is the very minimum, it makes 110 km/h in the sixth gear. Just imagine you always want to scratch your
hands, but if it's a short trip or in the city, it's not so bad. So, because of that I wouldn't ride an XR on a serious trip with monotonous hauls on highways. 130 km/h is 6000 rpm in 6th gear the vibrations make it a complete hell. Moreover, itching is everywhere - the handlebar,
the footrests, the seat. If the rider always goes balls to the wall and often sees the number 200, for him it's not a big difference. At such speeds even on a good road there are many comfort issues and almost every motorcycle will have the vibrations problem. Other competitors at such speeds are not much better, with the exception of a holy Multistrada V4. Sometimes on my travels I meet a Pole riding a sports bike without license plates in the North Cape, or an Indian on a naked bike in the Himalayas. For such people an XR is perfect even for a trip around the world. What pleased me in a good way with XR, even with the first generation is a quite good quickshifter. As you know, BMW motorcycles have a hard quick
shifter that works smoothly only in a narrow rev range. I'm not saying about some latest models. Good quickshifters differ from bad ones in only two ways - in how wide the smooth shifting range is and how quickly the shifting occurs. In terms of the XR, if it had shifting, as on other models of the brand, it would get an argument like: "You just gotta shift at 10,000 rpm and everything will be fine," illustrating these words with an example on an empty road. In dense city traffic, there is simply no
way to always spin up the revs to the limit and control acceleration - either the engine screams all the way, or you switch at medium speeds, there are still no other options. Fortunately, the XR has the best quickshifter among BMW adventure bikes, and it is much better than the Tracer 9 or Versys 1000, but it is not as good as the Multistrada V4's one or the KTM 1290's if you shift in a mid-range. At high revs everything is fine and there is no difference with the leaders. It's also a little annoying that when the cruise control is on, you can't flip up gears to save fuel. On modern cruise controls, this is possible. The gearbox quality is quite refined, but you need to shift gears more often. Let's say the Versys 1000 is more elastic,
in 3rd gear you can ride comfortably in the city at a speed of 50 km/h, XR starts glitching so you have to ride with a ringing engine in the second gear. In urban conditions, you need to shift back and forth. And the clutch lever is a little too hard. In general, the whole bike is hard and tough, you need to push the gears with force, the engine twitches, don't be fooled by the slick plastic - the XR is not for gentle bikers. Properly tuned suspension is still very stiff even on Road mode - it doesn't handle bumps, but the bike handles flawlessly - better than any adventure bike, and cornering is perfect too. It's not suitable for bad roads at all. Two-centimeter hole on the pavement around
the hatch is a pretty tough test and it's scary to hit it on a highspeed. New class of 170 mm tires for heavy adventure motorcycles appeared in large quantities just 7 years ago, before that they rode on controversial 150 mm rubber, as you can see on the table. All the 1200cc models with 150 mm x 17" tires are old bikes from the early 2010s. The 250kg Africa Twin Adventure Sports still rides a 150 mm tire on the back and a 90 mm on the front because there are no options to choose from for its wheel diameters, which makes it not good for riding on pavement. Adventure tires of the 1200 class are always a big compromise. Considering that the vast majority of such
vehicles owners ride on ordinary road tires and do not fully ride on dirt. One way or another they deprive themselves of the charm of a powerful road bike leaning and steering. Having 190 mm tires, the XR consciously refuses any off-road hints, but achieves an uncompromising sports bike handling. And one more non-obvious important factor The choice for your particular riding style from 190 mm rubber is much wider than for typical adventure bikes. Actually, I speak about the Multistrada 1200-1260
only, there are no other adventure bikes with such tires from the factory. Interestingly, the stock Multistrada V4 began flirting with off-roading and refused the sport tires for its 19" wheel. Despite the fact that the V4 suspension feels stiffer than its predecessors, the 1260 is still better in corners due to the sporty geometry of its wheels and tires you really feel it while riding. The sportier Pikes Peak version has both the 17" wheel and wide tires, but its price is much higher. Now, one of the annoying things that makes the XR lose to any Multistrada in terms of touring is that the bike's ergonomics aren't that great.
The seat on XR is like a parable, for most people it will be the most uncomfortable saddle they have sat on, on adventure bikes for sure. Moreover, this was done not because of saving money or in order to sell an additional comfortable seat, but a conceptual decision made by BMW to use a sports bucket seat. They just forgot that no one rides sports bikes for 12 hours a day. The seat here is literally like a bucket. There is the recessed soft part inside, the edge is hard and it's higher than the central part. That's why, when traveling in it, it doesn't matter how you're sitting, or how wide your body is, one of your body parts will numb.
You can hang with one bottcheek, later with another one, but you still can't call it comfortable. Fortunately, this problem can be solved easily by just changing the seat. You can simply change it before trips, if you want to leave the sporty one for everyday riding. This bike seat is the most uncomfortable among any adventure bikes over 1000cc. It is not the level of usual adventure bikes, but if you ride with frequent stops or a motorcycle is used in the city, than it's ok. I traveled for 4 days from morning to evening
and usually stopped once an hour to shoot something - for this riding style it was fine, since I did not have time to get very tired. But I didn't like when I traveled from a gas station to a gas station without stops, that was exhausting. To reach the handlebar you need to lean more forward and lower than one the Kawasaki Versys or Multistradas. Not because they re stupid in BMW, this is a meaningful compromise between an urban relaxed position and making it more or less comfortable to steer while cornering or laying on the tank, but still not like with clip-ons, of course. Obviously, your feets are raised up, so you
can lean the bike lower, but the knees angle is comfortable enough, though it s not straight. This would be it, if I rode the first gen XR only. Now let's add a bit the second generation. I decided to split the review this way because the XR is the rarest example of a motorcycle changing character when changing generations. To put it simply, the XR has become friendlier and more touring-friendly.
I have sort of mixed feelings about it. On the one hand, I really like the old XR, because it is so unique - the angriest upright sport tourer. Considering I haven't ridden a KTM 1290 Super Duke GT, but besides that I've ridden everything. On the other hand, the new XR is indeed better for traveling, and as a single universal bike for everything, it's more appropriate.
First, anyone will immediately notice that XRs have become less vibrating since the 2017th model. The vibrations are there, but they are not particularly annoying on the handlebars and are more notisable on the footpegs and the seat. For a sporty adventure bike, its medium vibrations are already acceptable for touring. The dynamics in numbers is somewhere at the
previous level within a margin of error. But its details are the major changes. it has become softer, closer to the Versys's character, I can say the feeling of a beast has disappeared. Yes, I compare both bikes in Dynamic mode only, obviously. It seems to me that the main reason for that is a significant change in gear ratios of the top three gears, because the bike's more touring character is more noticeable right there. In the city or in the mountains, three gears are more than enough for racing, and then we go to a smooth highway mode. At the sixth gear the first generation XR was running at 5000 rpm at 110 km/h, the new - at 4650 rpm, 130 km/h on the first XR - 6000 rpm, on the new one - 5500 rpm, 200 km/ h on the old one - 9100 rpm, on the new one it's 8400.
The faster you ride, the bigger the difference becomes. Additional information! Gears now need to be shifted less often. By the way, the quickshifter has become even better. It works perfectly on highways, it's
not bad in cities, but it could be better. The gearbox is now smoother so the clutch feels softer. The neutral gear, unlike one the old rough version, needs to be pressed very gently, but it is possible to get in a false neutral as well.
Do you want to hear the sound? The new version had an Akrapovic muffler, the old version had an Arrow. Most four-cylinder inline engines sound pretty similar and have a sporty charm - you either like it or you hate it with only a few exceptions. Arrow is more resonant and louder, Akrapovic is not bad for traveling and bothers less than the stock muffler of the Versys 1000.
The fuel consumption of the engine is quite impressive, which is to be expected from a four-cylinder engine. And keep in mind that the recommended gas for the XR is Premium, and it is not that common. The declared consumption for the first generation was a half liter more, but I got 6.5 liters per 100 kilometers on average on both motorcycles riding in an ordinary relaxed mode and 10-12 liters per 100 km on autobahns when I was riding just as it goes. I wouldn't say I drove only 240 km/h all the time - such empty places on the German autobahns are not so common, the average speed is somewhere around 170-180, not higher.
And yes, the cargo was the same without a topcase, but the windshield on 1st gen bike was a little higher, Wunderlich Sport. By the way, I liked the BMW sports windshield in all modes more than the Wunderlich Sport. Firstly, when you ride over 230 km/h with the Wunderlich, even in its lower position, all the incredible motorcycle stability disappears due to the windflow. And with the original sporty one on the new version, the motorcycle is very stable, it does not move even at over 240 km/h. Usually adventure bikes start floating sideways, already at 180 km/h which is not that pleasant to ride. The XR has such aerodynamics that you can ride 240 km/h for a long as you wish,
and on a highway it will stand like a train, without any feeling of extreme riding style. Of course, there is a huge noise load for your ears so you have to lay on the tank. Again, with the exception of the XR and the Multistrada, there is no motorcycle in the class that can be that stable at high speeds. For normal speeds the Wunderlich is less efficient than the Versys 1000 windshield as I just mentioned. I cannot say that it is touring. It blows everywhere - in the belly, chest, legs, etc.
Moreover, you can't even lay down to keep the wind off at high speeds. In the upper position it buffets as hell. But in general in both lower and upper positions, the wind blows into the helmet starting at 40 km/h. In all modes lower position seemed to me the best. But I have to admit, in a narrow speed range from 200 to 230 km/h, the Wunderlich windshield was better than the stock one in terms of comfort.
If you ride up to 200 km/h, it is better to have the stock windshield in the upper position, wind just blows around and does not hit the chest with a stream. In the lower position it feels like there is no windshield at all and a dense stream of air flows, like you're riding a naked bike. So, you never get touring comfort with the XR windshield. A significant change in the new version is the suspension. The travels are about the same, but the shock absorber is longered by 1 cm, although it is silly to mention it, because the supplier is different.
The new suspension is a lot softer, or just provides a smaller range of adjustment, the hardcore sports bike feel is gone, but it still great handling for an adventure bike. It is neither better nor worse, it's just the point was sport and now it is touring. From a touring point of view, the new suspension is better, but still not enough for bad roads. Suspension is semi-active in front and has 2 modes in the back - Road and Dynamic.
I usually ride motorcycles in their hardest mode, here I often used the Road mode, because there is almost no noticeable difference, it doesn't have that crystal clearness of the first gen, and small bumps are a little bit softer in Road mode. Brakes differ from version to version. Both brakes are not bad, but it s not an ultimate dream. It had not the toppes of their line Brembos on the first gen, they used to be tuned, let's call it sporty. On the second one BMW saved up a little and found a cheaper ones from Hayes, which leaked a little.
The brakes are fine, most buyers who use the XR sparingly will love them. But I'm guessing that many XR buyers are adrenaline addicts and ride them like they stole them. I can understand they l want to change the brakes. I'd like to get super-sharp brakes, not because of necessity, but for the match, so that crazy braking rhymes with the crazy acceleration, otherwise you get a dissonance. I can't imagine how much effort it took to achieve such a result - to make the most uncomfortable seat on a touring bike even less comfortable. It was such a tough task, but they did it.
In this new version, you roll into one position while the side edges of the bucket seat hurt your buttocks or thighs. I made stops to stretch very often, the rest of the time I just suffered. And instead of enjoying the handling and the engine, I just spent time waiting for that minute when I can finally take a break.
Even some dirt bikes with narrow as a rail seats are more comfortable to sit on. It seems like they have decided to make the motorcycle more touring, why not to replace the sports seat with a normal one? Otherwise, in terms of ergonomics, it's a typical BMW. It has its annoying control wheel that gets on your way to use a turn switch while the clutch is disengaged. It has an auto-off turn signal, but it does not always work appropriately. Everything else is convenient. If we talk about the second generation, here we have a BMW classic TFT display. The display is excellent - it doesn't glare, it has a matte finish, it's stylish, but as before, you can't watch fuel consumption and fuel level or something else on the screen at the same time. Only one parameter. And you also have to scroll through a bunch of
unnecessary ones, such as two ride timers and two lunch timers. Do you know anyone who knows anyone who has ever used these timers? The only difference with conventional adventure-bikes is that on the 900XR and the 1000XR screens you can get an additional Sports mode that contains your leaning indicators. It's funny, you know. But the Versys has it too and I would say that it is more convenient there. Summary. In general, I cannot fully evaluate these
motorcycles, their owners just have different mettles. I can ride 200 km/h too, but I'm not sure it's appropriate anywhere, even on the autobahn, or empty Spanish highways that are designed to be driven at 200 km/h. I don't get any emotions from this. To be honest, it's boring, loud, and there are no comfortable earplugs to fully save your ears at that speed. Moreover you understand that no one sees you. And what is more important! In many countries
you can lose your driving license or be sent to jail for riding that fast. For riding on a track it makes more sense to have a dedicated sports bike on purely sports tires without all that superfluous stuff, the XR will not replace a sports bike anyway. We re grown men, I m not trying to teach you - it's just not my vehicle and I make my reviews from a touring perspective. Also, high speed makes your journey boring. Yes, you took it, passed everyone, but what did you see, except highways, which are the same in Europe as they are in Asia. The bike is not made for touring, it s an all purpose city bike that able to take some country roads or an occasional 1000 km trip.
However for someone, this counts as a journey. If you do not know what to choose: a sports bike or a real adventure bike, the XR is the perfect choice because it's the closest thing to a 1000 cc sportbike than anything I've ridden. Let's move on to the comparison section to understand properly how the XR differs from other bikes. The ranking is based on YouTube statistics. Motorcyclists also compare it with the KTM Super Duke, but I haven't ridden it yet. And they also compare it with sports bikes, but apparently, these guys don't understand the difference in types at all but still want a 1000 cc sports bike right away.
I'm not going to spend time explaining why the XR is different from sports bikes with clip-ons. BMW S1000XR vs Ducati Multistrada V4 This is indeed the most popular comparison request, for once not with an R1250GS. The main problem with the XR is the existence of the Multistrada V4. There are plenty of powerful competitors who have upright seating positions, but the whole point is four cylinders.
Even the Multistrada 1200/1260 with two-cylinder engines was different, some prefer 2 cylinders, others like 4 - it's just a matter of taste. And the four-cylinder Multistrada is close to 1000 sports bikes and its performance is similar to the XR s one, so it does make sense to compare these 2 motorcycles. We can say that the XR leans better, and that is true, but for most people it s no big deal, because where should they feel the difference? And after releasing a Pikes Peak version the XR just lost its advantage. The Multistrada easily takes all the features of the XR, and is still one of the most comfortable motorcycles ever made. Plus, with a Ducati you immediately get excellent
brakes, a windshield, a seat and so on. But even a basic XR has something that basic Multistrada doesn't. But as baseline I'm talking about motorcycles with added options and extras, because I still have never seen any basic Multistrada V4.
If we speak about touring, the Multistrada is so much better when you ride bad pavement so there is even nothing to compare to. While it has the same performance. It is really that close, the Multy just has a smoother acceleration. So here the price appears. If it doesn't matter, it's obvious, the Multistrada is better. If we compare basic versions, XR start from
18,000 euros, Multistrada from 19,500 euros. It's an average price from dealerships in Spain, France and Germany. If we consider some similar options, an XR with the same options as a V4 S will cost 21,000 euros, while the Ducati is 22,800 euros. In fact, the difference is from 10 to 15%, while the Ducati's equipment is immediately better: it has much better brakes, complete navigation that has a map, more comfortable seat, great mirrors and so on. BMW has a 5-years warranty; Ducati has 4. It's not a huge difference. The price of Pikes Peak is 28,500 euros. It is much higher, but you're paying for equipment from a different level. If XR is brought to
the same level, it won't be cheaper. But if we consider a used motorcycle, the XR is a good purchase. Firstly, if you are considering a motorcycle just for city rides and short trips, you can safely take the more brutal first generation one with its sporty handling - at least you'l get an unforgettable experience. In Europe, for 10,000 euros you can easily get a 2016 motorcycle with low mileage. For 12,000 euros you can buy a motorcycle from 2018-2019 years with a warranty and a new engine. Multistrada V4 is just too young, so there
are just a few offers, but you can still find some bikes starting from 15,000 euros. Yamaha Tracer 9 I'm surprised this is such a popular request. From the reviews it is not very clear how these motorcycles differ. Obviously, the S1000XR has more power and for some if the Tracer makes enough of it is still a topic. For some people it will not be good enough, it depends on what you re used to. I rode both the old and the new Tracer. It
just happened that I took a brand new Tracer 9 GT for a test ride the next morning after returning these two XRs and I was not bored by the fact of the Tracer's less power. The key difference between the models is that Tracer feels like a toy - it's small, nimble, light, cheery, it's funny to sit on it and rev it up, to jump it lane to lane on traffic, ride on twisties and so on. The difference is just about 13 kilograms, depending on a version, but if the Tracer 9 feels much lighter than its weight, while with the XR it's opposite, it feels like a heavier, longer and bigger motorcycle.
It likes very high speeds around 200 km/h, where the Tracer starts losing go side to side. The difference between them is about the same as it is between a 1000cc sports bike and a 600cc sports bike - not everyone prefers a liter bike, they have different strengths. Plus, the Tracer is smaller and it is better to squeeze through traffic than riding 1000cc competitors, including the XR. The second important difference... You will not believe it, but the Tracer, having its Barbie size dimensions, due to a combination of different factors, is the most comfortable sports touring bike in a 900 and 1000 cc class.
Firstly, it has the smoothest, vibrations-free engine of all the motorcycles of this category. The Versys, the Multistrada V2, the F900XR and others are just not that smooth. Secondly, a stock Tracer has a decent touring wind protection, and good windscreen aerodynamics.
And it also has a great touring windshield that doesn't make a motorcycle ugly. I'm not sure why some say bad things about its ergos, I can say the motorcycle fits my 188 cm for touring. Tracer has a very straight forward and comfy position, but it's knees are a little more bent than on its liter competitors. The only issue is the Tracer doesn't work well for two up touring, it s a sporty motorcycle made for lone riders. And before you call a dealership to order one, I'm reminding you, it has a very hard suspension suitable only for smooth pavement, even its semi-active suspension doesn't work on dirt.
BMW R1250GS and 1200 GS is a low-revving tractor, it doesn't have that XR acceleration. This depends on your experience, of course. If you are used to performance motorcycles, the difference is clear. But it's not only about the engines, the bike's geometry, its suspension, its wheels etc, all together just doesn't give you that sporty feeling that you can get from an XR. Of course the GS is comfier, with better wind-protection, it s better on bumpy roads and it's a better tourer. And it works for any 1200cc adventure bikes. So if you cannot choose between a 1250 GS
and the S1000XR, just take a Multistrada V4. It is the best combo of these two types. BMW F 900XR On the one hand, the 900 has just a same seat as a 1000, with the only difference is the engine is not that buzzy. On the other hand, it has average performance and its suspension is a compromise. Yes, it has some longer travels but it s still a cheap suspension that has neither handling, nor comfort on bumpy pavement. Both motorcycles don't work as tourers.
The 900 is a weirdo, it s not my cup of tea. It's too expensive for beginners, there is a 750GS that's even slower but at least it is a versatile bike. It will work fine for a couple years and then you'll decide which type of motorcycle is for you. I know the 900 is almost half of price of 1000 and you just cannot expect it to have the same performance. But it's still not cheap. And for the same price you can get a Tracer 9. And if you pay a little extra you get a Tiger 900 GT. Both
of them are more refined and you won't wish to sell them in a year. The 900 is more a rich beginner's bike than a motorcycle for years. Kawasaki Versys 1000 In fact the XR has only one 1000cc competitor. It also has a sporty 4 cylinder engine. It's not as powerful. For most the bike is fast enough. It's a sporty bike, but if you just ride one and then throw a leg over another one, the difference in performance will be obvious.
If BMW decide to continue moving from sport to touring, the next gen XR will be something similar to the Versys 1000. Versys is more comfort oriented, even the engine is so smooth that you don't have to work the gearing all the time as well as it's not that buzzy. It has a huge seat for both its rider and its passenger, a relaxed seating position, a decent stock windshield you can tour with and it doesn't make problems at high speeds. Also the Versys is too heavy for a liter bike so it feels like a tourer on a highway and it is good for long rides, but it's bad for turning agility. Another big thing is that Versys works better as a two up touring motorcycle, it has a lot of space for both compared to any bike of that type. And I also like its suspension. Even not the
semi-active one but basic. To be honest, I didn't see a reason to pay extra for the electronics here. The suspension works as it's supposed to work while at same time travels are the same as the XR's. So on the one side it's stiff enough to make some pretty turns, so I don't see that much difference between this one and the second gen XR. On the other side it handles all the small
bumps and potholes. Versys handles broken roads far better than XRs or Tracers, what a surprise I got during my first ride. And one more thing that is also important. The Versys is much cheaper. The stock one costs a little more than 12,000 euros. I think the stock version plus a few extras is the best choice but if you have a bigger pocket, that S version with extra options for 15,000 is your choice. If you take two similar modded bikes, the Versys will
be from 5 and up to 8,000 cheaper than the XR. However I wouldn't chase an SE version, the semi-active suspension is just not much for a Versys, it doesn't provide any significant value. Moreover, Versys has been produced for a very long time and its older generations were good as well. You can find a 2014 model with low mileage for around 5,000 euros. 2018 is around 10,000 euros. It's a great and reliable bike considering its price. KTM 1290 Super Adventure On the one hand, the KTM's performance is wild, but it's not the same as the XR's one, let's say the KTM is nervous.
On the other hand, the KTM works equally well to ride at 240 km/h and to lean in to on twisties, and to ride in dirt, and to ride in city traffic. The most versatile motorcycle over 1000cc, that is a Swiss army knife. There is no other bike who is a direct competitor for the XR, for Africa Twin, for 1250GS and for middleweight dird-oriented adventure bikes at the same time. And the KTM is more comfy compared to the XR, and it's even good at touring. But even the KTM lacks for that sports bikes only four-cylinder 17" wheels feels. If someone cannot choose an adventure bike or maybe
a sports bike, the KTM is not an option. It has the same price as the XR, but it makes an impression of a more luxury motorcycle with expensive components, even a stock basic KTM 1290 has very rich specs, despite the same price. If we compare a used market, you can find a 2016 1190 for about 9,000 euros while a 2018 will be around 12,000. The only problem with it is that people often buy the KTM to ride off-road only, unlike other bikes, so it might happen that it was used on dirt only so you should pay attention to when buying it.
To be continued with other adventures reviews. So please subscribe so you don't miss out and stay tuned.
2022-05-28 21:51
Show Video
Other news