Bikepacking Taurus | Cycling In Turkey On Our Bicycle Worldtour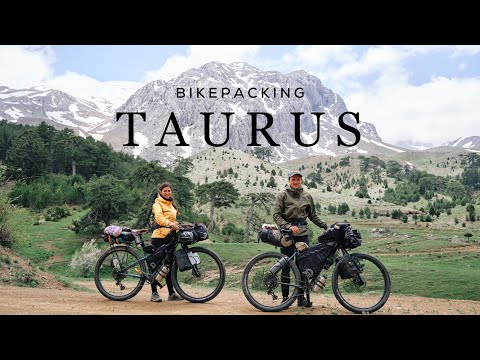 Show Video
Are you ok? Yes Oh oh, sheeps are coming Hi, we are in Aksu now and we tried to find an apartment here Went down to a house were it was written Apartmani And then we knocked on the door and the people said it's full And after this they called somebody and organized another room for us Then I wanted to start cooking and it was knocking on the door They brought us some delicious turkish food Baklava and soup with potatoes Some bread...very nice So we even don't have to cook now But sweets we already took Right now we just left the city of Aksu And we are heading towards Kizildag Milli Parki...a national park right next to Aksu It should be fun We are right now at 1300 meters of altitude And today we are going to climb to 2000 meters of altitude It's going to be rough, but exciting It's a little bit fresh now, so we have to start to get warm Something else? Yeah, when you see the route on Google Earth in the national park it looks like a moon landscape there is nothing there And our goal in the evening is to reach a camping site We are looking forward to it, 50 kilometers today. Let's see how we end up. 300 meters up This time we are better prepared than in Slovenia, right? I think in Slovenia we only had dates And two Snickers. And now we have what?
A lot of Haribo And something more Original Isparta apples How are you? I'm tired 200 meters left I have no sugar in my legs Look Moni, in front of us is snow We are right now at 1950 meters of altitude...100 to go Maybe we should put on the rain clothes? No, I think we will be fine But it's looking not so good ...should be ok This here is our final ramp to 2065 meters to be exact And..I don't know if you can see it but it snows Pretty cold Final ramp, and then from 2000 meters it goes down to 1300 To a small village called Yakaköy And from there on...I don't know if we go further Because from there on goes up again to 1700 to this epic camp site We will see Oh, my gloves Update.. Yes, we had a river crossing..I failed
Now my feet are very wet I think we have on to the next city This next city is called Yakaköy I think we have no choice but to go there and ask somebody if he can help us We are now at the mosque, asking for.. Asking for a safe place to stay We had one warmshower host, he said to us if we are in a small city we can ask for the Muhtar It's like a, the main of the...the governeur of the city Yes, and now they try to organize something I think this is the Muhtar's house...it's written there A young man from the mosque was trying to call the Muhtar... And you changed your socks? Yes My shoes are still wet so I turned on new socks and then the gore socks Now they are warm again This is our meal The young guy who organized this room for us...it's the Muhtar's room they have for strange people
He brought us some food First a basket with vegetables and some sweets, fruits, very nice... And then we wanted to start our cooking, but he said he can bring us something Now he brought us some rice Like a bean soup...beans, rice. And he put on the oven. It's very hot in here, which is good And later he will come back after his prayer and drink tea with us Here Erdogan, and here Atatürk..tey are alway there. That's him.
Such nice people The oven is burning, and we are going to sleep Good night Monika, Good night Erdogan Good night Atatürk What are you doing? Today we are climbing to 1700 meters of altitude Right now we are at 1300 But it's the only climb for today..so, happy face. And what's this in your hand? It's getting sweaty Now we are...yesterday we left theKizildag Milli Park, National Park. And today we are entering Lake Beysehir National Park. Up in the mountains it was so cold and now almost like summer. How is his name? Mustafa? We are writing a warmshower host in Beysehir. The problem is we would arrive at 7:30 pm Yes, a little bit late maybe...so we asked if it's ok.
If he is up to it. Ah he wrote: Ok great we will be waiting for you, please let me know when you're close to the adress that I sent you Perfect...yes A warm shower tonight, nice Allright, let's ride
2022-05-20 17:10
Show Video
Other news