Bikepacking Blackpool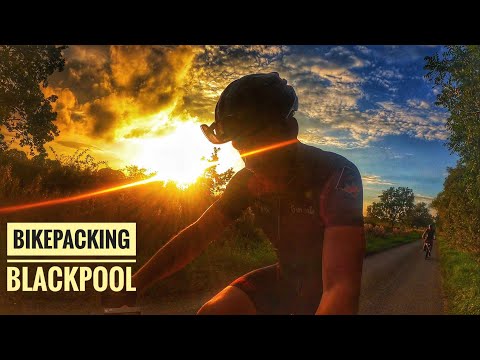 Show Video
Hello everyone, Friday 5:20 pm. Me and Marek are going on a trip, supposedly to Blackpool. Our first plan was Mallaig, north of Scotland, 320 km away. Unfortunately, the weather out there suppose to be capricious, rains expected. Seventy percent chance of rain, so we abandon this plan. We've got plan B, we're going to Blackpool. And now we were supposed to start at 3:00 p.m. but...
it's good that I rode my bike to work and tested it, because on the way back I noticed that the frame of my gravel bike had broken. An hour and a half to change the bike, fit the bags, unpack the unnecessary things into the gravel bike, pack the necessary things into the MTB and instead of gravel we ride the MTB, But hey adventure! It will be nice trip! Our first stop at Lesmahagow. Thirty-something kilometers. No, I'm full, don't give me that. I'd like to eat some rice, that's what I have for the night. So a little shopping is done, there are beers for the evening, and rolls. We're going out of town here, maybe we'll open one. We keep going. It seems to me that we are reaching about 50 kilometers today. Climb up, it was already 16 percent at one point, it will be again soon. We push!
I think we need to turn on the light soon. Well, it's rough! This MTB weighs about 30 kilos... also water, so 33 kg we push up this hill Nice wind turbine...
This is how to lose track of the bike paths, then you have to move through the bushes. Well, it's here, so that's ok. We're at home now, it was definitely too narrow out there. This is what night breaks look like. We need to have water for cooking at night and in the morning. Without water in this weather...
Marek and I are already at the 50th kilometer, almost 60 km. Abington. There is a Welcome Break, so we take a short break for warm food. We will eat and look for the camp in the dark, which will be quite an art. We'll see. We have to look at the maps, maybe there will be something there, maybe there will be a campsite.
But I doubt it, it's such a desert that it hurts my head. So we eat, look for some camp, and see you later. 12:55 pm we are in Ecclefechan. First stop sixty and a few kilometers covered. Today the plan may be 140km, so it would be nice to camp in the Lake District. But we'll see how it goes. It was supposed to be hot, but the weather is, honestly even cold when cycling. But that's good, because if it were like yesterday, we would be dying today.
So we eat here, drink energy drinks and go on the road again. Number one at the front! 199km left to the finish line, so it will be downhill soon. Break at McDonalds in Carlisle, we had to turn around a lot... But we need to eat, because now the uphill stretch will be so long. The worst thing is that I have a technical problem with my chain. It jumps, croaks and you can already see how loose it is.
If chain will survive this route, these will be his last moments. It's going to be replaced right away with the cassette, that's why I'm a little scared, but we can do it! We can do it! I went into the store here to buy a chain just in case because I don't like mine. The worst thing is that I won't have the cassette, but somehow I'll manage with a new chain, so I'll buy it too. Come on, get out of the way. What the hell is it? Bulldog sheep! They have faces like bulldogs, like pitbulls!
It looks like a pitbull! Hey, this is a Pitbull cross! And we have reached the 200th kilometer of our trip, our goal for today has truly been achieved. It wasn't easy, but we did it! In the morning it seemed that it would be impossible, but everything worked out... We made it before the dark of night. We will look for a camp.
But now we wanted cold beer so badly. Such a reward for such a distance. We'll just sit here until the morning and that's it. We will treat ourselves to a golden drink and then we will look for a camp. Good morning, third day, hopefully the last one. Alternatively, we will push a few kilometers there tomorrow.
We're at Ullswater, a campsite. We rested, somehow during the night we found a great place to put a tent. Good point there are showers here. So fresh and clean we went sleep after a very hard day. And today woke up at 6:00, packing stuff. Morning coffee, very delicious. Well, let's eat, change clothes and move on. This is a bike touring route, I say it is a bike touring route by Komoot.
Massacre! Come on, little one, come on, let's go! It's almost the top. Well, move... And we're going down this way. A change of plans with Marek, we stay one more day because we want to do a camp here. This will be our campsite. Seriously, it's beautiful here, a nice forest, so tiny but very atmospheric.
It's shaking out there. Okay! It's good point, that there is a downhill here, but it's kinda downhill, that you have to go uphill immediately. And we have such ideas for drying towels in such weather. We can't afford a dryer. Well, this is a Superman patent. I don't want to believe it, but let's go. Komoot knows better. Look! Watch out for the train! But wow... Oh here, look, okay. Super, super route, thanks Komoot.
You should always check the Komoot to see if it leads through such paths. Hey, I remember this! It was like that in the photo, there was no trace of any path at all. There was a grass like here. You talking to me? ... To you and to the viewers. You swear it's cows, right? No bulls here, right? No no. Oh, you see, those aggressive looks.
Don't annoy the animals. Oh, it's a massacre, and the asphalt route, you know, would probably be half a kilometer longer. Wahoo tells me to drink, so now... Go, go, go, get out of here bye bye. Wahoo tells me to drink, I would drink some vodka for bravery or whisky.
We'll see if at all... No, it's going straight... Okay, let's go! Goodbye, goodbye. We're cycling on an asphalt road, Komoot pushed us offroad through these hills, we're definitely not doing that. We prefer to ride on asphalt rather than trails, hills with high grade climbs. Maybe a little bit more dangerous, but the pleasure is much better cycling this road than trudging through the hills.
Great job done! The last long climb on this route! 105 km left. Except, you know... Komoot still taking us through these hills, but we're going straight, because it's going to cross anyway, so there's no way, no way. We edit the Komoot ourselves on an ongoing basis if necessary and now we will use this option.
We go straight on the asphalt, go downhill straight away, don't bother with any hills, trails and other paths. 240 km, we reached Kendal, and it was falling apart, there's a thunder, so we have to stop here. And so we were supposed to stay here for a break.
To stock up on some food and water, because there wasn't enough there after the Lake District. Well, this thunder and heavy rain are really worrying us. We have 80km left. Probably 88km to the finish line and it's supposed to be a wet and very stormy day. Well, it's a massacre! But we're lucky! It was such luck that we got here and this happened.
I say we're so lucky to get here that our heads hurt. And we're still in Kendal. Unfortunately, we give up. The weather has changed drastically. We don't mind the rain, but there was a storm with a thunder and there was terrible lightning all around. We lost about an hour and a half standing in front of Lidl. And we saw the weather forecast, which showed us that in 4-5 hours it was going to be the same for a few hours. Whether we will be in Lancaster or around Blackpool. We decided that we didn't want to cycle in thunder, we didn't want to waste time making any stops
or even hiding from the thunder and the rain, and we decided that here would be... the best moment to simply end our trip. Back to Glasgow. We have a direct or almost direct, train in 45 minutes, so we'll have a beer here and go back home. So this is the end. So what? See you next time.
Don't forget to thumbs up and subscribe.
2023-09-21 11:40
Show Video
Other news