Backcountry Skiing for 4 Days at McGillivray Pass Lodge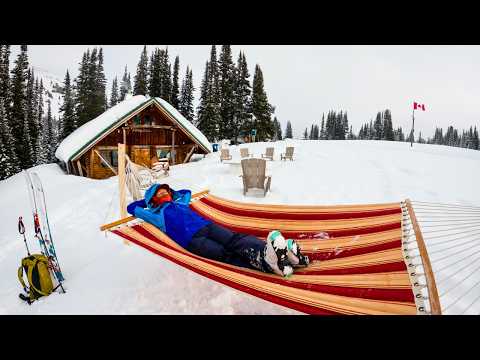 Show Video
The film you're about to watch  is from a backcountry ski trip that Audrée and I took just over  a year ago in March of 2021. 4 of us took a helicopter from Pemberton  which is about 2 hours north of Vancouver to an area called Whitecap Alpine to stay in the  backcountry at McGillivray Lodge for 4 nights. Now the lodge is normally booked  up a couple of seasons in advance but with the pandemic limiting  tourism from outside the region we were lucky enough to have been able to book   fairly last minutes with  our friends Adam and Jill.
Of course, I brought my cameras with me and my goal was really to show what backcountry  skiing is all about for the uninitiated and to show you what it's like to  stay at a backcountry ski lodge. So I hope you enjoy. We're allowed 40 pounds each and I think  Jill and Adam overdid it on the beer maybe. Yeah no puke! Nice. As soon as we arrived, we had a quick  lunch before getting ready to head out for an afternoon of skiing  with our guide for the day Mo.
Mo started with a quick  refresher on avalanche safety. We'd all taken an avalanche safety training course but it never hurts to practice your skills. The first day was a good chance to  get acquainted with our surroundings and the conditions of the snow.
We're gonna head down we're  gonna follow these two tracks. We're gonna enter the same place. Okay.
Just give the cornice like 10 feet of birth. Just go easy for the first couple turns. There's a hidden rock like on the convexity. It's kind of difficult to see. As  long as you're left to the tracks... Unlike when skiing inbounds at a  ski resort, when backcountry skiing you have the added risk of avalanches,  cornices and other hazards. This is why it's so beneficial  to have an experienced guide who is familiar with the area  and the current snowpack.
Coming in hot! Backcountry skiing is completely self-propelled meaning no chair lifts and,  in our case, no snowmobiles. Instead we use special equipment including what are called  skins on the bottom of our skis which allow us to walk uphill. We really do earn every turn we make.
Each ski day ended with an apres,  followed by dinner inside the main lodge. Thank you. It's good to stay hydrated. Thank you. Good morning.
The next morning we woke  up at 6am to have breakfast and to prepare for a full day of skiing. our guide mo briefed us on the plan  for the day ahead and our avalanche   beacons were checked by the guide in training matt Tilt it down a little bit. Okay. We spent the day skiing the Star  Mountain area and had great conditions. We covered 15 km with almost  1,500 meters of elevation gain in 7 hours of skiing before calling it a day. So day two here at Whitecap Alpine and we just finished a really big day of skiing.
Now we're gonna relax with a  shower, maybe some time in the sauna and have a beer outside. So this is the main lodge here and it's where we take all of our  meals and where we hang out at night when it gets too cold to sit outside. Next up we have the shower and the sauna room. This is where we keep our skis.
Over this direction we've got the accommodations, including the yurts where we're staying. And of course the generator  room and the composting toilets. You can see the middle finger back  there which is what we skied yesterday. It looks pretty gnarly from here! That was fun.
On day 3, we were paired with  a different guide Veronica who took us to a new area called Lolita's Bowl. It started out with clear skies but the weather was forecast  to turn in the afternoon. So we enjoyed the views while we could. For a little extra excitement,  we decided to take off our skis for a short boot pack up a  couloir above Lolita's Bowl.
Anyone else wanna go? Okay. Awesome day. Go team! We ended up skiing for almost 9 hours, covering 17 km while climbing  close to 1,700 meters.
We had just one more day of skiing to go. Day 3. Day 4.
Day 4. So it's day 4, and we woke up  to about 8 cm of fresh snow. It's gonna be a little bit  cooler though up on the ridges and the visibility might  not be quite as good today.
But it should be some pretty good skiing. Yesterday was good. We were out over yonder and we did a  bunch of alpine laps in the morning when we had good viz and then in the  afternoon the wind moved in a bit so we were in the trees. We did like some mini golf laps and then rallied everyone for a  big home run at the end of the day. We knocked out like 1,700 meters so  it was a big day in the mountains. It's coming down we got a little bit  of snow in the forecast for today.
7 cm overnight, they said  another 5 to 7 here today. Probably skiing a bit more  trees and a little bit cloudy. Winds in and out, but getting a new zone today. I'm excited. Because of the variable visibility  and all the fresh unsettled snow, we spent day 4 skiing in the trees  in an area called Standard Ridge.
That was amazing! Wow. That was amazing! That was so good eh? Thank you. We really were able to make the  most of all the fresh powder with another 15 km and 1,600 meters  of climbing in 8 hours on skis. We were skiing that notch there.
It's just below or to the left of Lolita's. And then the other notch that we  skied was above Navakov's Nightmare. But I think we skied down probably  like the really easy part of Navakov's.
It wasn't the nightmare. That first one was the boot pack? Yeah. It's blazing hot in there. It's so cold! One last cup of coffee. Well it's Saturday. It's day 5, and after 4 days of incredible skiing it's unfortunately finally time to go home. We're all a little bit sad about it.
Nut we had an amazing time here. The food was incredible, the guides were great and it's safe to say that I skied  more powder in the last 4 days than I had in pretty much my  entire ski career up to this point. So pretty happy with my stay  here over the last 4 days. That's the good stuff right here.
2022-06-08 05:54
Show Video
Other news