An Ireland overland vlog: How wild is the Wild Atlantic Way? #ireland #overlanding #wildatlanticway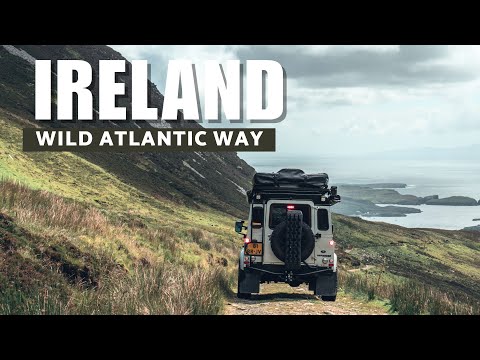 Show Video
Rising from the atlantic ocean there is  this wild island with a fascinating history   and culture a place that's close to our  heart on this island you can find 2 500 km   long coastal road known as the Wild Atlantic Way  an epic route that passes beautiful landscapes   ancient villages and remote beaches we only have  one week to find out how wild this place really is. this is Lewie and the Rover destination Ireland it's in the middle of summer and we are on our way  to a new adventure with the rover fully packed   we drove four hours to the Eurotunnel in calais. When you bring your pet to the UK you first have   to check in at the pet area. You get to scan your pet's chip yourself to avoid it being a stressful situation for them. The whole journey with the Eurotunnel was very good and a relaxed experience Our first night in the United Kingdom   one of the best parts of traveling is  arriving at new places, all the new feelings   the excitement and the confrontation of  the assumptions you have of our country. We spent the night on the property of a  big estate the scenery was tranquilizing! our expectations were already exceeded  our assumptions were already adjusted.
A perfect place for Lewie and for us to  relax before our long drive to Wales. Welcome to Wales. Devil's Kitchen Snowdonia.
For us there is no better way to experience a new area then Hiking. But this time, despite our preparations and research, we under estimated the trail. it all started easy, beautiful  scenery that gave us mystical vibes. But then the climb started a steep mountain wall  was facing us the rain made the rocks slippery The steeper it got the more confused  we got if we were still on the trail.
as there were no signs to be found we got a  bit insecure and asked ourselves if it wasn't   irresponsible to do this with Lewis, but Lewie had nothing on it no fear just the happy him. After two hours we reached the  smoky canyon of the Devil's Kitchen mind you these kind of mountains are not  easy if you want to make it to the top   there are sharp ridges that  have to be stepped over. for us this is the essence of hiking. So we just finished Devil's Kitchen it was awesome. We are all soaked because of the rain but it was really nice all worth it. So we did the devil's kitchen hike   we went all the way up here up there and then we  lost the trail for a bit but luckily we found it   back again and then we went all the way around  to the top and then came back down to the lake.
After we spent a lovely time with my family  in North Wales we went to the coast. in wales there are some beaches where you can drive  your car. We were so excited to try it out   and this experience was better than we  could imagine even with the bad weather! Uur next challenge was taking the ferry to  Ireland with louie as dogs aren't allowed   on deck they have to stay in the car or  in the canal after careful consideration,   should we go or not, we decided to take the  ferry and leave Lewie in his comfy travel crate.
it all went well and we treated him with  an awesome hike in the Wicklow Mountains! Then we started on our quest finding out how  Wild the Wild Atlantic Way really is! from sally gap we were on route to the atlantic way and  arrived at our first stop the cliffs of Moher. don't get us wrong   they are beautiful however later we will show  you a place that we think is even more impressive! by the way Lewie was the real star again   people love to take pictures of  him all the time when we travel. there are three things that you will  definitely experience when you visit Ireland: drinking guinness, seeing a lot of  sheep and the ever-changing weather. As you can see our rooftop tent wasn't storm proof! you know we're trying to fit ourselves into a land  rover defender 90 because it's storming outside   and the tent doesn't hold so we're figuring  out we're figuring out an idee tos leep inside here! so that was our creative solution  and we slept remarkably good   and Lewie didn't find it a problem at all! continuing our route on the wild atlantic way  up the north! the nice thing about this route is   that you constantly drive in beautiful scenery and  every now and then you pass a beautiful highlight   from old castles to mesmerizing lakes.
like we said you can't visit ireland and not drink  a pint of guinness. It was patrick's first one ever   and he took a few more, so that says a lot oh the pizza however... so we started our trip in Dublin and  then visited my family around Dublin   in Lucan and on monday we first went hiking in the  Wicklow mountains and spent some time there then   went back and after that we made our  way all the way to the west coast   and we visited the cliffs of Moher here near Doolin. and took the wild atlantic way all the way up  
this right to Donegal all the  way here and now we are here at Slieve League. we want to bring you along and show you what we  think is the wildest part of the wild atlantic way. We hiked the old pilgrim parts  that leads to an old druidic site. And we can definitely imagine people  thought this place was something special 600 meters high cliffs towering over the atlantic  ocean, three times higher than the cliffs of Moher. there's a hiking path all  along the spectacular cliffs . there are not many places in the world like  this we took some time to take it all in.
these are the cliffs of Slieve League. all right we're here at Slieve League at  the moment it's really a beautiful place   i think it's even prettier as the cliffs of Moher  it's even more spectacular and the beautiful thing here there are no crowds. after our hike we drove  a bit more north and set up camp at our campsite   Next to this campsite is a pub. not just  the pub but the home of Clanad and Enya!
The sun came out and we  enjoy the pint on the terrace. From cliffs to beaches the  wild atlantic way passes it all. By accident we found the start  of a fantastic greenlaning route. we passed friendly locals on our way and they  showed us where to go and now we will show you! These adventures create the perfect bubble. A  bubble with just the three of us no daily routine   no plan, no expectations, no  clock that rushes you. 
Just giving each other quality time listening  with care and just being there in the moment yes Lewie also with you. so what are you eating   some overland cooking Our adventure started with a question: did we  manage to find out if the wild atlantic way is really wild? To test this until the last moment we  did an unmarked hike not the best idea we ever had It was a swamp every step you took could  be a pool of water Lewie enjoyed it though! Murder Hole beach we sat down in the cave  and then we came to this final conclusion   we experienced: rough nature, changing weather,  waves bashing into cliffs a place where people   are kind and beard are black we can look back  and say the wild atlantic way is definitely wild!
2022-08-26 00:10
Show Video
Other news