an Absolute pleasure, Sharing a Day With Cute Japanese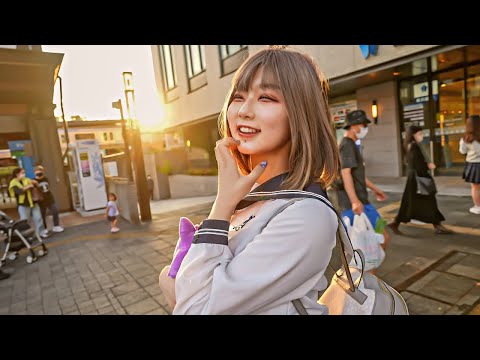 Show Video
hello Her Instagram : si_onn6 hello...I am Shion ... Instagram : si_onn6 Yoroshiku onegaishimasu Yoroshiku onegaishimasu where should we go today? we are going to see around Kamakura do you know this Town well? This is Komachi Dori Thank you okay lets go... it's a nice weather today yeah nice weather...dazzling so Where do you go from? let's go from here I wonder if I don't need to wear masks... because we are outside should be okay yeah should be okay where are you originally from? I am from Osaka Osaka ??so how long have you been to Tokyo? in Tokyo ,about 10 years oh that is long how often you go to Osaka then? about twice a year I don't go back that much because I don't have much free time oh you are busy?? yes very crowded today what are the famous things around here? here...
I think shirasu is very popular " (Shirasu" is the generic name for juvenile sardines, sand lances, and herring. These are eaten in a variety of ways in Japan, such as boiled, dried, and raw with soy sauce) Tabearuki ( eating while walking ) is very popular have you been here many times? I have been here only 3 or 4 times ... because it is Sunday so there are many people because of Sunday where in Kamakura you like the most? I like this street the most there are many food to try so what do you eat here usually? Nama Shirasu...Shirasu-don...sashimi
have you eaten yet today haha? no I haven't eaten yet hehe Komachi-dori is a street that runs parallel to Wakamiya Oji from Kamakura Station East Exit to Tsurugaoka Hachiman-gu Shrine. You can enjoy shopping and a meal. There is a variety of shops and restaurants from the traditional souvenir shop to modern clothing. what is it ? owl cafe Have you been to owl cafe ? No I have not ..I Have only been to cat cafe oh Cat cafe Cats are cute Japan has too many type of cafe yes right hehe... also there are Piglet cafes (there are many type of pet cafe in japan , which usually you can order a drink while enjoying playing with cute animals ) there are many souvenir shops what are popular souvenirs in Kamakura ? oh I wonder what are popular souvenirs?? yeah because it has too many sweet potato snack...
also cookie type it's delicious There are many sweets yes many sweets first time I am seeing this shop Kakigōri (Kakigōri is a Japanese shaved ice dessert flavored with syrup and a sweetener) it's delicious it's good in summer good in summer have you eaten this year? no I haven't eaten yet yeah the time has come to eat this let's buy some kamakura beer here so they have two types (Kamakura Beer is a microbrewery located between Zushi and Kamakura in Kanagawa) would you please show it closer in front of camera? looks very delicious it is Daibutsu Kamakura beer it's delicious hello hello Thank you how is it? do you like the taste? very delicious I love alcohol how often do you drink alcohol? while working usually we drink so I almost drink everyday it seems this shop is just opened yesterday very new beautiful design what are you going to eat? strawberry sweet... thank you looks yummy delicious thank you thank you thank you where are we going next? Shirasu shop that shop over there has special fried egg and Shirasu ..I have tried before In kamakura you can rent KIMONO in shops like this so you can choose your favorite and rent it for the whole day so you want to rent one today ? the other day when I went to Kyoto I rented one Kimono is cute I recommend it if you come to kamakura so can be rented and wear like this , very cute beautiful popular places in Kanagawa Chūkamachi also Yokosuka also Minatomirai these are popular places Chūkamachi has many delicious foods do you go there so often? I go occasionally because it is nearby what food is popular over there? Xiaolongbao Xiaolongbao is delicious also shonan beach is just around there you can just go by walk oh you can actually walk there from here? yes also seeing beautiful sunrise and sunset around Enoshima Island Enoshima is near by here too ? yes just near by can go there by walk ? I think so but with train is much faster Soft Cream Shops over there I haven't tried that yet I haven't tried that yet By the way, have you ever rode Rickshaw? No Haven't what do you think of riding a rickshaw ? I feel shy because everyone looks at it But I think I should try it I recommend it it's fun it is very popular in asakusa it seems in Japan there are many places that have rickshaw traditional places like Kyoto Asakusa...kamakura
it's great ..you can seat one or two people and enjoy a ride also they will guide you around so you can enjoy sightseeing yeah it is very interesting and you can hear the explanation at the same time so is really fun to try also they appear in TV program a lot would you hear explain about this Temple a little? This shrine is called Tsurugaoka Hachiman-gū I think it is the biggest one in Kamakura it's very beautiful there are some open-air shops over there some sort of Festival they sell pineapples it's two hundred yen you like pineapples? yeah I love pineapples how is it? delicious there's a game if you win you can get two piece but I lost oh so you lost? so only one slice? one slice only hehehe this is cute what is it? they have earring and some other stuff gemstone Cute fashion Real leaves is Konpeitō there in other countries too? maybe not sure kompeitō, is a Japanese sugar candy,They come in a variety of colors and flavors. kompeitō cute it is sugar candy some sort of sweets before entering a shrine and Temple we should wash hands also washing mouth I think you think?? not everyone is doing that so maybe it's different Hydrangeas I'm going to take photos Hydrangeas Hydrangeas Blooms around this time it's beautiful Tsurugaoka Hachimangū is the most important Shinto shrine in the city of Kamakura The shrine is a cultural center of the city of Kamakura and serves as the venue of many of its most important festivals with two museums this is Omikuji It's like fortune-telling recommended things to do in the future is written there let's open it What is written? I wonder what ... what should I do if he's not good?? oh I got the best one The best one came out oh wonderful Various things are written about sickness about work... it's a good many things I got the best one I really love this part of Kamakura...it is a combination of many beautiful shops and nature..
let's go let's go how many people? tell them we just talked to... this is a very popular Shirasu-don restaurant Raw Shirasu-don 2 please Salmon roe bowl ,Ikura Don (Japanese Rice Bowl With Salmon Roe) very delicious raw Shirasu-don this one with Less rice this one is raw ...different what is this? 2 type of Shirasu which this one has to be used with Soy sauce please thank you Shion chan what did you order? Raw Shirasu don how about you Hana chan ? Nama shirasu ikura don looks delicious Kuro san how about you ? mine is same too Steam Shirasu-don how is it? delicious all the way you said you want to eat this hehe delicious delicious? Good So how was it ? Shirasu-don was delicious yeah it was very delicious so today later what you want to do? I am going to sleep hehe yeah you got tired today thank you it was really for today thank you let's have fun again okay we reach the station thank you very much thank you take care a special thanks to Kuro San and Milkey Girls Bar Pls check the description for more information
2022-07-17 10:17
Show Video
Other news