ABS TV Evening News 3rd June 2022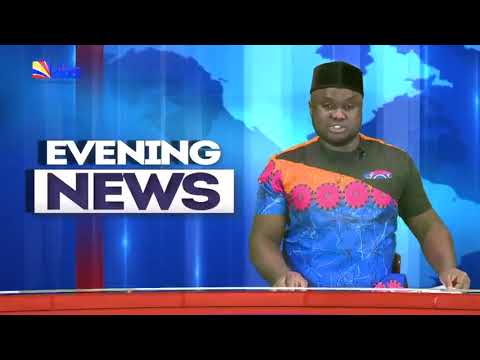 Show Video
The headlines tonight, Anambra state government initiate more measures to tackle traffic challenges. honorable commissioner for culture, tourism and entertainment reassures of state government reserve to reposition tourism sector. Nigerian troops recover more stolen petroleum products across the country. On the foreign scene, tonight, Russian forces controlled 20% of Ukraine territory. And before
the news in detail, here is a special message, Governor Chukuma Soludo has come for a total turn around maintenance of the Anambra state economy and promotion of core Igbo values. Let's give him maximum support for the task ahead. Good evening to you and welcome to the news, I am Ebere Uguna.
Government of Anambra state has declared a state of emergency on traffic hold up across the state. Government house correspondent Ejike Evana reports that the commissioner for information Sir Paul Muso stated this during the post Anambra state executive council briefing held at the government house Oka his report. Now it was commissioner who also stressed that new road traffic management measures have been introduced to ensure that ND Anambra don't spend much time in traffic. The commissioner
who that Anambra traffic management agency was directed to deploy their officers in 20 most difficult areas in the state and disclosed that governor Soludo also directed Adma personnel should be trained by Lagos state traffic management agency Lasma federal road safety core FRSC and the army as well as recruit more people into the agency for increased capacity and efficiency commission Amosu also announced that the state service will be restructured to become more responsive and effective adding that it will be decentralized and brought closer to the people while the Anambra state emergency fire response application has been activated while stating that it was also approved that all the traffic lights will be serviced he added that the commissioner for local government was directed to identify areas in the communities that can be used as bus stops and stated that necessary measures are on to check reckless Anu way driving as well as ensure adequate enforcement of traffic laws. Governor Charles Chukuma Soludo has declared a state of emergency on traffic hold ups in Anambra state. To this end, he has directed Atma to ensure that India Anambra will not spend more than 20 minutes in traffic hold ups. Anywhere in
Anambra state. And for this eh to realize this objective to Atma should immediately deploy their men to twenty twenty most difficult and menacing traffic areas in this state according to the commissioner among other issues discussed at the meeting were adoption of the name Anambra state executive council as against executive council adoption of a policy to introduce urban agriculture to increase food production in Anambra state where every household deploys spaces in their domain to plant agriculture cultural produce, transition from inorganic farming to regenerative agriculture to improve quality of agricultural produce. He said the council also discussed ongoing rehabilitation work on Anambra roads. The revision of laws setting up government parastatals and agencies in the state. Approval for annual procurement of 1 million pound seedlings and 500 coconut seedlings as a way of trying to restore the old MI Obara days.
When palm oil was the stay of the economy. The attorney general has been asked to revise some of our laws and the commissioners, members of Ansec too, have been directed to look at the laws setting up some of the agencies and eh parastatals under their ministry. Because some of these laws are actually archaic. You know, they don't, they don't respond, they are not in tune with the current demands of our time. the chief
press secretary to the governor, Mister Christian Aburime was was also present at the briefing. From the government house, Oka, Ejike Abana, ABS News. Anambra state government has assured its readiness to improve the tourism sector and make it more lucrative in order to show up the revenue base of the state. The commissioner for culture, tourism and entertainment, Mister Don Onyenji gave the assurance while receiving delegates from the Federal Ministry of Information and Culture Abuja, a national commission, museum and monument, correspondent, Emmanuel Chibata reports. The delegates are on a visit to carry out extra research of the legendary Ogunike already on the tentative list of the United Nations educational, scientific and cultural organization UNESCO. A lot need to be commission Onyenji and the team third round the cave amidst tour guards who explained many wonders of the natural creation. Speaking,
commission Oyenji expressed his readiness to ensure that Ogunike and other tourist attractions in the state meet global standard adding that tourism industry is very lucrative outside Nigeria and the ministry under his watch will bring more recognition a lot need to be the commissioner expressed professor Soludo's drive to develop the state's tourism and attempt he said is to showcase Anambra's historical and cultural endowment to the outside world that allowed me to be done to ensure that it gets to the UNESCO heritage site and ehm this government is the solution government because Governor Chuku Masoludo has brought solution to our problems and that is why coincidentally beautifully too they are coming at this time and our prayer is that the destination of this intention the destination of this mission the ultimate of our wishes he wish of Anambra the wishes of Ngi Ogunike, the wishes of Nigerians and Africans and the global community. In having this cave sighted as a UNESCO heritage site and center where the world will see as a sign of joy. will materialize in Jesus name. Amen. The assistant chief cultural officer, Federal Ministry of information and culture. Missus Blessing
Owenyalo, maintained that the federal government is working in collaboration with Anambra state government and in order to make Ogunike not just a national monument but international heritage site. They asked us to come to research and communicate kids. is already on the digestive list of years ago but they want us to see the state it is right now and to know how the federal government can partner with Obike people with eh Anambra state government to make it not only a national eh monument, national site but an international site the aim is to attract tourists from all over the world to lead the international the assistant chief heritage officer, National Commission for Museum and Monument, Doctor Ijeoma Onyejepe, said decay must meet the cultural heritage impact assessment and environmental declared a world heritage site which according to her will not only benefit Ndo of the rare receptions we've really received here especially in the south east and on behalf of the commission, we are working tirelessly to declare Ogunike cave as a as a national monument first and also to be declared as a raw heritage site. In his remark, the
assistant chief cultural officer, Federal of information and culture, Mister Tochukwu Okide, thanked the state government for the warm reception, assuring to work with them, to ensure that the cave is brought to standard of the world heritage sites from Ubunike Emmanuel Chibata, ABS news. The commissioner for environment Mister Felix Odimegu says the ministry will not hesitate to punish environmental law defaulters especially during the end of the month environmental sanitation. We have details. areas visited where streets and markets in Aroma, Ifite, Agwaka, Oguno, Nodu, Ameni, and Ekoka. He expressed displeasure on the non-compliance of the traders at the second market, Ifite Road, Oka. The team
sensitized the people on proper bargain of waste for easy collection and monitored compliance of residents during sanitation. The commissioner said that it is very important to bag the waste properly for easy collection and disposal by the designated government agency. He added that the commission trucks will be made to collect waste from house to house and street to streets. A trader at Ifitoka, Missus Victoria Eke, commended the state government for its effort at cleaning up the state, urging other traders to complement government efforts by keeping their shops and surroundings clean. A seminarian in a church at Stamford road, Oka, Mister John Wachugu, commended the efforts of the ministry for writing the churches and sensitizing them on the best way to back their waste. Anambra state Fanama COVID-19 action recovery and economic stimulus has distributed farming peel to wealth over eleven point five million naira to one hundred and twenty seven farmers across the state. Items
distributed a certified rice seeds improved cassava coatings, fertilizer, agrochemicals and a DOC with drugs, vaccine and feeds, Ebeleze reports. the beneficiaries who are rice, cassava and poultry farmers from Oka North and South Council areas of Anambra state collected the inputs at zero cost. It is expected that over 3000 beneficiaries would be reached within the first phase of the program. Inaugurating the exercise at the agricultural development program office in Oka. The
Anambra state commissioner for agriculture doctor Foster Iheofo charged the beneficiary to put the imputes to good use to subsidize their market costs. Doctor Iyeji Offo who described farming as more important than medical practice, encourage farmers to take their farming activities very seriously because according to him, food is everyday medicine and also the best medicine. So fitness refers to Emeka, Iyaba Oba, village and then replenish the earth, make it new. What he met, you knew it, make it more lively, more vibrant. You know,
damaged, make him break it, but our responsibility to renew it. The state program coordinator of the program, Mister Chips Egbo said, the imputes were aimed at cushioning the effects of COVID-19 on them. Mister Ebu warned that anyone caught indulging in short practices with the imputes will be jailed, appealed for constructive criticism to serve Anambra state farmers better.
Our commissioner Being a practicing farmer, the general of my In fact, Omolu The major guidelines Some of the beneficiaries including Missus Victoria Anaje, a poultry farmer from Umujoka village in Oka South local government area. And Mister Emma from Uroom community in Oka North Council area while expressing joy over the free agric imputes assured of judicious use for multiplier effects and job creation. President along this way for the chief number one capturing of the profiled farmers and redemption of the imputes by farmers go and multiply it in Oka, Ebele Eze, ABS News. Still on the news
tonight, Nigerian troops recover more stolen petroleum products across the country and on the foreign scene, Russian forces control 20% of Ukraine territory. Here is a special message, India Anambra cannot allow criminal elements to hold the state and the people to ransom, donate generously to the Anambra state security trust fund, which has been set up to raise money for combating insecurity in the state. The news returns right after this break, stay with us. Wow. A great opportunity is at your doorstep. An easy way to correct club foot deformity. Oh
yes, Miracle Fit and the Stray Child Foundation, Nande Ezekiwe University teaching hospital, trauma, orthopedic center, offers free treatment of club foot deformity. When a new born have one or both feet turned in and down, it is club foot. And every child deserves the so don't let your God given try to suffer neglect in future hurry now to correct club foot deformity visit Miracle Fit and the Straight Child Foundation at Unamdazikiwe University Teaching Hospital trauma orthopedic center urban New Road Oba every Tuesday by 8 AM the earlier treatment starts the beta the result will be miracle faith and the straight child foundation treating love foods, transforming lives. Have you beg for the rest of the news? Moving on to our national stories. Now, directorate of defense, media operation says Nigerian troops have recovered 1 million, 100 and 7 thousand 400 liters of stolen crude oil, $456, 000, 400, and 50 liters of automotive gas oil, as well as 6, 250 liters of petrol during operation in different parts of the country, between May and 2nd June 2022. Addressing journalist at its bi-weekly press briefing on the operations of the armed forces and the police and other security agencies, the director of defense media operations, Major General Bernard Oyuko, said troops also discovered and destroyed forty illegal refineries, 16 five metal storage tanks, 72 urbans, 23dugout pits, five wooden boats, six trucks, three outbound engines, one AK forty-seven rifle in raids within the period. The director
media operation said the security situation across the geopolitical zones of the country remains dynamic but there has been sustained efforts to build on the successes achieved so far. According to him, all recovered items and as well as 2one criminals apprehended during the operations were handed over to the appropriate authorities for further action. Major General Oyuko commended the support of the media, it shows of professionalism in carrying out his duties and for being objective and unbiased in reportage. He noted that national security is a collective responsibility urging the citizenry to remain supportive as that is the only way to ensure a united peaceful and prosperous nation there will be a SAS of pride to all. And on business news, a two day training and business entrepreneur development has kicked off in Oka, a training organized by rural finance institution building program at the state agricultural development program office in Oka, attracted rural finance institution building program, mentored youth from the ten benefiting local government areas of Anambra state agree correspondent Ebeleze takes the story from here.
Speaking during the opening of the practical section, the state coordinator of rural finance institution building program, Missus Susan Maka Emma Agwali, disclosed that the training was financed by Anambra state government to keep the youths off the street by skillfully engaging them. Missus Emmawale announced that at the end of the training, the participants in their chosen agric enterprise will have a means of livelihood, create jobs and step down the knowledge gathered from ripple effect. Our object is eh growth enhancement support, eh income generation, wealth creation and ehm entrepreneurship in service, some agricultural areas. So I now thought of instead of allowing them to grow now but let me put them together as a group, then train them into so many enterprises in agriculture, that will help them. In her lecture titled, grass cutter production, a resource person professor Cordilia Ebenebe, noted that grass cutter farm, unlike other conventional livestock, where the farm are sighted far from the residential quarters. Grass quarter farms should be closed to the resident of the breeder to ensure security, close monitoring and supervision.
Professor Ebenebe could encourage the participants to go into grass cutter farming said it is a very lucrative business as the myth has too many health benefits. Speaking on market for grass quarter, professor Bennebe disclosed that the breeders have a commodity exchange platform where buyers and sellers meet for business transaction information sharing. My lecture is basically on encouraging young people to go into grass cutter farming because it's a lucrative business, a lot of young people are into it already, many are not. Because grass cutter is so profitable.
That a just a family. That comprise eh a male and four females. Go for 10000 to 150thousand naira. Another resource person Mister Sam Ogo who took them advise them to always apply best management. Use the best species and best quality water for best results. Mister Ogo appealed to government at all levels to invest in fishery business because according to him, there are enough resources, water, land, and experienced personnel that can nurture young fishery entrepreneurs. For some of the
participants including Miss Noren Wabude from Neni in Anocha local government area. And master John Bosco Orika from Libo, Iyala local government area. While thanking Anambra state government for availing them the opportunity to benefit. Appealed for startup parks to enable them to put into use the knowledge they garnered. It's really what it's
more than so excellent. I'm so happy being part of this program. Thanks to the government, the commissioner, I'm so happy to be part of the people that learnt a lot today. I would like to start fishing.
I would expect some finance, some funds, more capitals to start up. You know, starting up, it won't be easy. You will need enough capital to start up. The practical training
featured question and answer session. Now moving on to the foreign scene, now Ukraine's president Vladimir Zelensky says that Russian forces has seized 20% of his country's territory as more schools invasion near its 100th day. Addressing law makers in losing bank, he added that the front line extended for more than 1000 kilometers rushing forces have been intensifying attacks in the city of Severin Donesk in the eastern Dombas region. UK defense official says Russia has seized most of the city in a making ste local gains enabled by a heavy concentration of artillery, Cyril Donesk is the east most city, eastern most city under Ukrainian control and regional governor Sahi Hadai said Russia was trying to break through defenses in the city from all directions. However, he said
Ukrainian troops were carrying out counter attacks, pushing back the enemy on some streets and taking several prisoners in ten straight to street fighting in the city had hampered evacuations, he said describing such effort as extremely dangerous. And on sports news, the Nigerian Olympic committee has assured the nation's contingent to the fast approaching commonwealth games in Birmingham of each free visa process if they meet prescribed requirement and deadline for submission. The 2022 Commonwealth Games also known as Birmingham 2022 will hold in England from July 28 to August 82022. NOC president Habu Gumel said after meeting with the British High Commissioner represented by Jonathan Bacon The political councilor in the commission in Abuja that the host provided all the necessary answers to relevant questions concerning visa applications. On a spare back on said, the British High Commission is ready to partner with the NOC to ensure hitch free visas for team Nigeria's contingent to Birmingham. NOC secretary general Banji Oladapo thanked the British High Commission for their cooperation with NOC and assured that the traveling arrangements for team Nigeria would be monitored. And that's
it on the news tonight remember that you can follow news and programs from any part of the world by liking our Facebook page at ABS radio television. Subscribe to our YouTube channel at the ABS television Oka. Follow us on Instagram at ABS radio TV. You can also log
on to our website at WWW. ABS radio TV. com. Well then just before we go tonight, a quick look at our major stories.
Anambra state government has initiated more measures to tackle traffic challenges. Anambra commissioner for culture, tourism and entertainment has reassured of state government resolve to reposition tourism sector. Nigerian troops have recovered more stolen petroleum product across the country. And on the
foreign scene we brought to you the Russian forces of controlling 20% of Ukraine territory. Here is a special message again. Governor Chukuma Seludo has come for a total turn around maintenance of the Anambra state economy and promotion of Ko Igbo values. Let's give him maximum support for the task ahead. And that's the size of our package tonight many thanks for joining the bulletin, I'm Ebere, Ugunna, enjoy the rest of your evening.
2022-06-06 18:12
Show Video
Other news