Aaj ka din lamba raha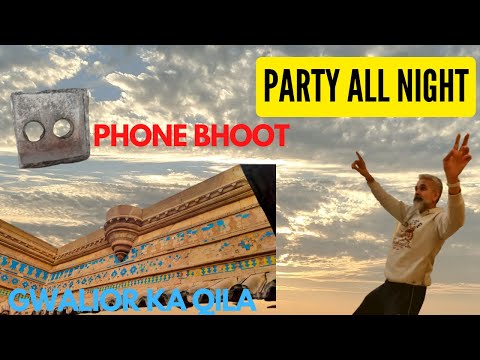 Show Video
Amazing way to reach Gwalior fort Seems like an old bazaar before the fort and we are driving in middle of it. Look at the rocks Vian. uphill climb to Gwalior fort.
Quite steep climb. Lot of crowd because of Sunday Today is Christmas and on top it is a Sunday, Lot of crowd, could not get parking. So this is the entrance to Gwalior fort. One important thing, when you come to Gwalior fort you have to come to Urvai gate.
I don't know how many gates are there to reach fort the gate from which i was coming was very congested with narrow lanes there i met a guy who was asking Rs. 350 for help in reaching the fort. I didn't listen to the guy and finally one person told me to go straight and reach Urvai gate. the fort starts from there. Since it is 25th Dec and Sunday there is lot of rush and there was traffic jam also may if I would have come tomorrow it wouldn't have been this crowded. Let's explore the fort.
This is the way from which king used to move up and down and this is as big as the way from which you came no vehicle is allowed from this gate and you come here by walking. this was the main entry and was called Elephant gate In olden times king used to go up and down by elephant right now we are at the top of Gwalior fort, from here we can see the city Gurgaon oh sorry Gwalior this is the old part of the city as you can see lot of rush today when i was parking the car lot of people have already moved out and lot of car went out, there was jam still there are lot of people in the fort ticket looks like this. Ticket for adult is Rs.25 and no ticket for kid below 15 yrs such a big fort, thousands of people come here. For men there are only 3 urinals in pathetic condition, stinking this is the entrance to Man Singh palace they are dancing with sticks, the mesh design shows Dandia (Dance) of Gujrat called Garba. In olden times the palaces were not planned like this all over the place there were colorful carpets This hall during kings time was Vishnu temple It is believed that earlier there used to be a statue of Vishnu here all the windows used to have statues of Brahma, Vishnu, Shiva.
the gallery behind was used for parikrama on the walls there were colorful mirrors and diamonds later in 1526 when Babur came here, during his period the temple was destroyed. all the mirrors and diamonds were removed by the mughals. but as this was ancient temple you can see the 3 entries every temple's entrance is like this, this is the sign of welcome (namaste) this is the main meeting place called Diwan-e-khas so on the top there is was a sitting for Man singh tomar on the opposite side kings guest. In these windows queens used to sit Ministers used to sit below. It was the court for special people only. King used to sit here Look at the animal, the legs are like horse, half body is tiger and face of an elephant.
Vian ancient Shiva temple, sorry vishnu temple. Let's take a round around it (parikrama) the ancient time was so good Vian this is the secret way which government has closed, this is the second one. this was used by kings, emergency exit. look at the sky Vian, looking so beautiful This is was the place for Dance program The stage given in the middle there King Man Singh Tomar used to sit on both sides Kings servant with fans in their hand used to stand The important guest of King used to sit on the opposite side with Umbrella. the sitting of guest is slightly higher than Kings seat this is because of respect. Atithi Devo Bhava (guest is like god) during night time whenever there used to be dance program the lights were supposed to be used but in olden times no electric lighting system was there but whenever there were dance programs they were done with lights on the right you can see places for torch and on left walls mirrors were used for reflection here small silver color mirrors were used and on these colorful mirrors were used.
light from burning torches used to fall on mirror to light up this place which secret tunnel are we going in what is this, it is so dark here. you are in the last basement of this building and this last basement was called Saffron tank or fire pit you can see here the tank it is not that deep now. but previously this tank was 10 feet wide and 5 feet deep all the 8 queens used to take bath here. This was there there Hamaam (Bathroom) they used to take bath with saffron, hence it was called saffron tank saffron was used since there were no soaps, face wash or shampoos that time to enhance their beauty and fairness they used saffron since this was the bathroom so without permission no body can come here. so if there was any work somebody used to say from the above, you could hear the voice on this phone there are pipes made from lime, completely hollow which were used as telephone made some impressive systems as guide told us that this was the bathing tank for queens but after death of King Man Singh all the 8 queens immolated themselves in this tank there used to be swings attached to these hooks, all the 8 queens used to swing here and sing, hence this place was called swing house. it is believed that Babur in his book Baburnama has mentioned about this place It was the swing house and later mughals turned it into a jail later Aurangzeb converted it to gallows.
our guide is telling us that Aurangzeb's brother Murad was hanged here. right now we are on the other part of the fort ticket for adult is Rs. 20 and for kid below 15yrs there is no ticket. the building on the right is called karna palace this is the palace of Karna Singh, father of Man Singh this palace is made on Jain architecture Vian, shall I imprison you here click one picture of him in Jail. Vian get inside, you are sentenced to Jail. Look here one little thief has been caught that has been sentenced to jail, here is the thief.
how sad he is looking. city on this side is on the other side of the fort what a beautiful sight. sun shining between the clouds Let's look at the city what we can see in the city from here this is the boundary wall of the fort. this is the new Gwalior city this is looking so beautiful Vian this is the complete view this is Karna singh fort from the other side our guide has told that you will not get much architecture to see as these are ruins but here modern people have made painting on every pillar as you can seee this is British ordinance factory, this is the pond / bathing area. here a Jauhar was also done and this is the Cenotaph of Kind Bheem Singh Rana It is constructed only after the death, he ruled here for only 2-3 years. this is the building, mughal army used to stay here basically these are barracks this place was ruled by Hindu kings but for tax collection any mughal king would come or any minister along with his army used to stay here Where are you going leaving me here. Stop...
From outside which was just looking a simple structure which was looking like a wall but from inside it is a big compound Have you seen any shark swimming there who will go down to that reservoir See there mischief of tourists. Water bottles Here some detailing is written here. Only mughal names are given to the places guide told us these were not built by mughals but only named them. in olden times they used to make some impressive architecture. here they have made a tank for water harvesting so the complete complex is in slope directing towards this tank so complete from here till this place water will flow from these drains down to this place and further down from these holes or you can see there, oh that's too far you cant see and this complex down below is also sloping and the complete water in the tank that is the view point from here you can see the city ok this the way, the walking one this is 3km long. Who will have the energy to see the fort after walking 3 kms.
which cannon are you firing which cannon are you firing. Vian - Me, the American one these cannons are of British era and there is British crown made on it and the date mentioned on them is 20th March 1943 this is the archaeological museum at Gwalior fort on the left hand side immediately after the entry and on right side is the fort. as we were short on time we could not cover it. the thing that we did not eat in Allahabad we are eating here in Madhya Pradesh Chana Jor Garam feeling hungry feeling hungry, feeling very hungry have ordered your maggi time right now is 6:30 p.m and fort closing time is 5:00-5:15 p.m after finishing fort there are some food stall out there, we ate some maggi and chana jor garam.
let's move from here toward hotel, as you can see it's dark now as you can see the way on right goes down and this is the entry exit point for the Gwalior fort. the way on left leads to Scindia school, Gurudwara and Mother in law - Daughter in law temple on the back side is the parking for fort driving uphill towards the fort if you are experienced driver than you can manage but if you inexperienced or have weak heart than it will be difficult. because on some points the climb is very steep what game is going on at the back what else are you doing, making hair style Let's move, green signal given to proceed.
this is the point which is very steep from here the fort is visible so from fort we are back to our hotel room and today there is Christmas party going on loud music is being played, hoping it will end soon by 10-10:30 p.m rather then being played till late night 1-2 a.m since loud music is being played right on top of our head, why shouldn't we also party we will celebrate our Christmas in our room Get aside, party is going on the roof. such a pathetic song has come today was a long day, time right now is 11 p.m, meet you guys tomorrow and move to our new destination.
2023-01-09 11:48
Show Video
Other news