A Super Fun Night, Exceptional Street Food: Time Out Market Dubai with the Boys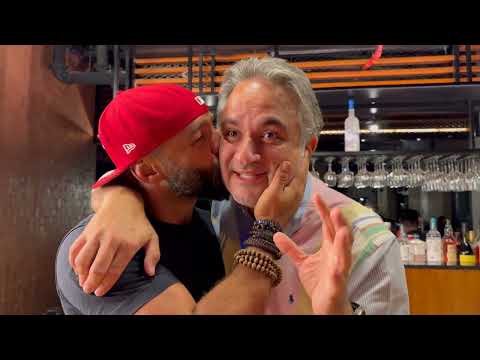 Show Video
You're asking yourself a question, I want to go out today, where do I go, what can I do in Dubai in 4 hours? You can travel to 17 countries in 4 hours. Time Out Market, what can you do at night in Dubai? Lloyd, tell me about Time Out Market. First, how many years have you been working with Time Out? Well, I've been in Dubai for 10 years now, but I've been in Time Out only for 6 months. But I believe, well I know, Time Out is the best that's in the city.
I must say, it's like working with 17 different restaurants, handling 17 different chefs, personalities. But it's multicultural, the diversity, so I think Time Out is, as it says, the best in the whole group. What do people say about Time Out Dubai? How exciting is it in the city? Well, I think Time Out is what everybody is talking about.
I think wherever you go around, people really feel the brand, they know what it's about. But I think there's a lot going on. You've got the gastronomy, you've got the 17 different kitchens, you've got the stage, live music, we've got different entertainment. So it's for all ages, all nationalities, for everyone that likes food and to have a good time. So Monday jazz day? Monday jazz, Tuesday Latin, then Wednesday we've got live music, more acoustic.
Thursday we have a break, and then Friday, Saturday we do live DJ. So it gets a bit pumpy on the weekend. Your favorite food? My favorite food, you're going to put me in a bad spot now. All of them, all of them.
For me it's the best food, it's the best food of all Dubai, there's a thousand plus restaurants. So we selected 17, so the 17 are the best ones of all Dubai. Don't make me have a fight with all the chefs now.
Time Out Market Time Out Market, I came here in the opening. I remember the opening was a day or two ago. We were still wearing masks in the middle of COVID. The days changed and we kept going.
Time Out Market, one of my favorites. Every time I go to Montreal, I go straight to Chicago. I went to Le Martin, New York, and Dubai, which everyone talked about. Why? Because it's divided into sections. The ceiling is very high, the atmosphere is nice. 17 kitchens from all the countries of the world, including Lebanese.
More importantly, one more thing. Sandy, who used to be the GM of Time Out Market, is Lebanese. One minute, there's something even more important. Sandy became the CEO of Time Out Market worldwide. So every time you go to Time Out Market in the world, remember that there's a Lebanese person living all the things, and hopefully there's more Lebanese people in all Time Out Markets. Okay, fast forward, we came back here.
I came back here because today, me and the guys, Rabih, Kareem, and a lot of people will come and meet us in a bit. We'll have fun, we'll eat, we'll have fun. I'll show you that Time Out Market is all the cuisines of the world in one place. You can drink, enjoy, see the fountain, dance, listen to loud music, or low, depending on the room, drink at a very good price, and eat delicious food. Tonight, in Time Out Market Dubai, if you know it or not, we'll start it with a tour in very beautiful colors.
Come on, all of us together, a tour, and we'll start eating. Time Out Market I'm Chef Alexander Stumpf. I'm the executive chef and co-owner of Bibi Social Dining in DIFC in Abu Dhabi, in the Rose Hotel, and then obviously also in Bibi Social here in Time Out Market. Why Time Out Market and how important or what did it change to your concepts being here? Well, Time Out Market, obviously, it's been established for two years. We've been in the market since 7, by this year, November.
Time Out Market was very important to us because it features the homegrown brands who have been successful in Dubai, and it's a very important standpoint for us to be here because there's a lot of attraction of tourists who come into Dubai and want to really experience what Dubai, on the culinary side, has to offer. A little bit about Bibi Social, what you sell, how the concept was developed. Bibi Social was developed of a very creative minds of ours. Basically, we've been working together for more than 6, 7 years before Bibi Social came to life.
What we wanted to do, we wanted to break a little bit the formula of formal dining in Dubai, and also kind of reflect of what is Dubai cuisine. And basically, Dubai, sorry, Bibi's, is basically, we feature, what we're serving is Eastern cuisine. So we travel most likely from the Southern Mediterranean all the way to the Middle East, all the way to Far East, and to Japan, and then come back and settle in Dubai. So all the techniques and all the flavors, what we have experienced, we put all together in some or more of the other dishes. Quick tour in the kitchen? Yeah, sure, please, come. Let's go to the kitchen.
You come to Bibi Social Dining and try our most famous bao. We have them here, we make them every day, homemade in our branch in DIFC, where we're doing 300 to 400 pieces every night. And one of our famous dishes is the soft-shell crab bao. It's a whole deep-fried soft-shell crab with tempura batter, with all the claws and all the head and everything in there, but you can't eat all of it because it's a soft-shell crab.
So one portion is one crab? One crab, yes. What I like about this place is that it's gourmet, high-end. But street food, you can eat something top, wagyu beef, soft-shell crab, bao, different shape, something very weird, strange, sweet potato. You're sitting in a market, light and clean. You can eat it in a star, high-end gourmet restaurant.
You're sitting with your plate and fork and knife in the middle of the tray. This is how it starts. Work, hard work, cleanliness, crispiness. Wow, wow, wow, wow, wow.
It hangs from the floor. Quality. The meat, how well-cooked it is.
The sauces that are shaking here and there. The salt is hitting left and right. A bit of sweetness, a bit of spiciness.
A light, crisp batter. What a balance, what a great job. Let's continue with these.
Sweet potato fries. And not just any. Starch, of course.
Salt, pepper. It gives it a level. From street food to gourmet food. And then. And then, crown of the night.
I feel like I'm having lunch. Look, like a sponge. My feet are going from here to here. And crunch crunch. Big crunch. You can't imagine what this is.
Soft shell crab. One of my favorite things. You can't find it anywhere. Because like tempura, it's crab. I'm not looking for it and breaking it. It's crab, just like it is.
And then comes the bao. The bao is great. The bao is a great thing. No fangule, no baguette, no sourdough.
It's just a bao. It's just a spongy, amazing, sticky bun. It's still early to say that he wins all night. Our days are long. Definitely, one of the best things to have a time out market. Next time, we have a great time out in the country.
We're going to have a fantastic time and just have a great time. And we'll see you next time. Bye. Bye-bye.
Bye. Bye. Bye.
Bye. Bye. Bye. Bye. Bye.
Bye. Bye. Bye. Bye. Bye.
Bye. Bye. Bye. Bye.
Bye. Bye. No, I swear you know it or you don't. Watch the first 3 videos we met in them together, you will know the story.
By the way, for you to know, this is a love story. Don't leave me like this. We will eat meat later. Today, I met him here in Time Out Market, and I love this guy. He is not the king of meat, he is a king.
His heart is like honey. A good man, cute, nice, close to the heart, with a nice smile, and he makes good food. This is cherry on top, Cerisee Le Gâteau. Can I have a pizza? No, I want you to eat so we can continue. Let's continue, this is a tour of the pizzeria. Let's go.
10 minutes in the making and the pizza is still as it is. It cooled down a bit. Oh my God! Oh my God! It cooled down a bit, and the dough is still as it is. The ingredients are great, a lot, and careful. It's half-cooked, I can feel the crunchiness. It's one...
It's one amazing pizza. It's not Neapolitan, and it's not Romanian. It's not Italian, and it's not American.
It's something in between Dubai's inventions. The culinary is amazing. The tomatoes are top. Super good quality. Super super good quality. Burrata...
It's definitely one of my favorites. It has flavor, it has something delicious, it has something nice, it has something crunchy. It has fire, it has love. This is something you must try at Daimark Market. Oh my God! It's Hatem Matar time.
Hatem Double T, Matar Double T. He has everything delicious. I want this, and this, and this, and this, and this, and this, and this, and this.
Most importantly, I want the meat that is stuffed. Anyway, let him choose. I love everything he has. What does poetry say? I love you, and I love who loves you. What else? I love you, and I love you, and I love who loves you. That's it? Poetry and barbecue.
Poetry and barbecue. Welcome to... That would be a really good story. I want to tell you that the brisket is a labor of love. The brisket is smoked at least 18 hours.
18 hours. That's the right reaction. If your brisket does not jiggle, does not do this, it doesn't bend, even if you know nothing about brisket, if it doesn't do this, it's horrible brisket.
We're going to... What you see here is not called Say it with me. It's not called burnt.
It's called bark. By the way, just as a side note, Shannon Walker is one of the world champion butchers in the world and one of my friends from a barbecue festival that we attended in Australia and Brazil three times. And he's here visiting.
Wow, what a good surprise. Is it good? You still have to see when it comes out of the smoker, it's dripping super juicy. Yeah, you take this, you put it behind your ears, you go to the club, the joe is guaranteed.
Or the matar. You can find it at Paris Gallery. It's a breakfast dish at time out.
You can only have it for breakfast and only have it at time out. Come in at 10 a.m. Yeah, weekend.
VVVV VVVV You can have it whenever you want. I'm Tony's cousin, I'm Hatem's friend. Okay, so one side from the lean side and then one from the moist side. I'm not making it up. From the moist side, you don't have to do anything, look. I'm not making it up.
How can I be sure that it's good? I'm sure it's good. Really? 10 out of 10. Right? It's different. Usually, there's moisture, juiciness, like meat. Here, there's smoke.
It's oily. The meat's fat is very good. The spices are strong. The spiciness is nice.
This meat is transparent. Wow, this is so new and different than lots of recipes I've had. All of the stuff that we do is still by hand. Our smoker is completely analog. There's no digital dial.
No alcohol All we need is for one to shake. We're not on the weekend. The people are together. The music is nice. Turn this into the walls.
And then? We come to eat. Sharing tables. Oh, my God. Oh, my God.
Double T, double T. A hero. The meat, the bread, a hero. Comforting food.
Warms the heart. Again? What are you doing? Eat the guy. Unbelievable. King of meat.
King of meat. So emotional, I love it. The food is wow.
The market's number one selling breakfast sandwich. And when we had a breakfast item before it was exactly the same thing but this time we up the ante. What you have on here this is shakshouka sauce.
All of it here. Roast potatoes. Shakshouka sauce to dip. Number one. For the first couple months for the first year, 11 months. 11 months.
Top seller. 2 hour line. If you thought that the excitement or the taste changed, no. Where is the line? Excuse me. Thank you.
It came. The sandwich came but this sandwich needs light, it needs seating, it needs a table, it needs respect. Welcome to the table. Editor's table. What is this Dubai? Today is the third day, there is no empty chair, no empty table, no place on the bar. Today is the third day.
The atmosphere is amazing. What can you do in a day, in one night, in Dubai? You come to Time Out Market. From 6 p.m. to 12 p.m. you eat 17 cuisines and you travel to all countries in the cheapest ticket.
Cheapest in the business class. Now it is time. The summit. The sandwich. The wolf sandwich. I saw the yolk so I am dripping.
The meat, the bread, Oh my goodness. Oh my God. Please come and see the beauty. What a taste.
What a balance, what a feeling, what a big story. What did he do when he invented this sandwich? What did he do? Wow. Definitely an award winning. Regards to Hatem Matar.
Oh my God. Take the camera and come and eat. Amazing vibes. How did you manage to create such an amazing vibe on a Tuesday night? We make it. We make it happen every night. Not only on Tuesdays. The people, the food, the chefs, you.
Thank you. Imagine on a Saturday and a Friday what you've done and all the team is amazing. Food is phenomenal, award-winning, and the vibes are outstanding, and the bar and the drink.
Super good job. Thank you. Thank you very much. You're always welcome. This is your home. Craving, craving, craving. I went to America for a month, I ate a lot of chicken burgers, and how many times did I remember pickles? Pickles is a very big thing.
Dubai is probably the sexiest burger. Everyone talks about it, and it doesn't need anything. Potato bun, Martin's, a piece of cheese, a bit of sauce, it's similar to Big Mac's sauce, and a piece of great chicken, from the inside, super meaty and super buttery, and it's not dry at all.
Crunch, crunch. After a pickle, no one made a sandwich, chicken. After a pickle... Oh my God, get closer, get closer, get closer. This juiciness, softness, crunchiness, simplicity.
It's everywhere. What a hero. Oh my God. Oh my God. The last stop for the night.
I won't be able to do 17. I ate good onions and garlic. I really enjoyed it, but we have to take a break.
The last stop, we had to go outside, to the comfort zone, and go to the Hennad. Butter chicken, one of my favorite stuff. Butter chicken, but here, with burrata. Not with rice, but with naan bread on the side. Butter chicken is something. Something with the smell.
Something with the taste. Something with the creaminess. Something.
Very big. And washing the shirt as well. Man, what is this musty? I'm telling you, what is this musty? You should have eaten with me. Oh. Wow.
We make butter chicken at home. Sorry. I eat butter chicken in Paris. Sorry. The flavors are unbelievable.
Look here. Look here. The spicy chicken. May God protect me. Stop.
Stop. Outstanding. I came on the third day. I want to take a break. Wow.
I'm a big fan. Time Out Market. I'm a big fan.
Wow. We will meet in the next episode in Time Out Market, in another place in the world. Meanwhile, take me home.
2023-10-16 12:57
Show Video
Other news