A Brief History of the Cranberries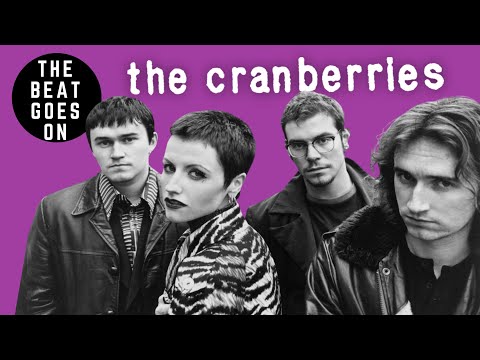 Show Video
Limerick, Ireland 1989 Brothers Noel and Mike Hogan  start a band with their friends,   Niall Quinn and Fergal Lawler. Noel played  guitar, Mike played bass, Niall sang,   and Fergal played drums. Heavily influenced  by bands like The Smiths and The Cure,   they called themselves the Cranberry Saw Us.  They recorded a demo together called Anything,  
but shortly afterward, Niall left the  band to rejoin his old band, The Hitchers. The rest of the band decided to continue on as  an instrumental group, but after a few months of   that, they realized that they really did need a  singer after all. Fortunately for them, Niall's   girlfriend's sister had a singer friend who was  looking to join a band. Her name was Dolores   O'Riordan. Not only could she sing, but she was  a songwriter, writing both lyrics and melodies.   After auditioning with the band, she started  writing lyrics for some of their instrumental   stuff. However, the band couldn't really hear her  that well, so they weren't quite sure if she'd be  
the lead singer or not. Fortunately, she came back  the next week with lyrics and melodies over one of   their instrumentals, and the band was so impressed  that uh…yeah, she was now the lead singer for   real. Oh, and by the way, that song was "Linger,"  which would later be a major hit for the band. Soon Noel Hogan and O'Riordan were a dynamic  songwriting team, and they began recording a demo   to send to record labels. Meanwhile, they began  performing with O'Riordan. Their first performance   with her was in a hotel basement in Limerick with  three other local bands. At their first few shows   at clubs and pubs in town, despite being on stage  they were often the youngest people in the room. Soon the band began rehearsing at Xeric Recording  studio, run by local record label Xeric Records,   owned by a dude named Pearse Gilmore. Gilmore  had already been producing their stuff,  
and he once again helped them record  a demo EP that featured four songs,   including "Linger." Called Water Circle, Xeric  made just a limited amount of copies of the EP,   on cassette tape, I might add, and the band  sold them at shows and in local record stores.   How rare is the EP? Well, a copy of it listed  on Ebay in 2011 for just under $1500. Anyway,   afterward Gilmore decided to become their manager  and helped them produce a "real" EP called Nothing   Left at All. All 300 copies of IT sold out in  Limerick record stores within just a few days.
Meanwhile, Noel had continued to send demos out  to major record labels, and many were indeed   interested. However, by the spring of 1991 nothing  had officially worked out yet. By that time, they   were now calling themselves "The Cranberry's."  Yeah, that's uh grammatically incorrect, there. On April 18, 1991, the Cranberry's played  their first really big show on the campus   of the University of Limerick to around 1,400  students. In the audience was a bunch of talent   scouts for major record labels from London,  including Denny Cordell of Island Records.   After this there was a bidding war to sign the  band between multiple major record labels. Uh,  
yeah, the Hogans quit their  day jobs after that. The band,   now called the grammatically correct "The  Cranberries," did decide to go with Cordell   and Island Records. They also went on  their first tour of the United Kingdom. While they were waiting to move forward with  Island Records, they recorded one more EP with   Gilmore at Xeric Records called Uncertain.  Xeric made about 5,000 copies of this one,   anticipating it to do well, but it actually  didn't do as well as the band had hoped it would.
For the rest of 1991, the band were hopeful  of their future, but did have their share   of doubts as their EP got bad reviews and  they barely made any money at all as they   toured the UK once again. In December, they were  supposed to tour with the breakout band Nirvana,   but Nirvana backed out after their lead singer,  Kurt Cobain, got sick. On January 10, 1992, things   were looking up as the band appeared on the Irish  TV show "On the Waterfront." Soon after that,   they attempted to record their debut full-length  album with Gilmore at Xeric Recording Studio,   but Gilmore had become very difficult to work  with and they felt he was hurting their songs,   so ultimately, they fired him, despite being  locked into a contract with him. They hired   Geoff Travis, the founder of the legendary  Rough Trade Records, to be their new manager. In March, the Cranberries began  working with producer Stephen Street,   who had previously worked with the  Smiths, at Windmill Lane studios   in Dublin to again attempt to record their  debut album. For the rest of the year they  
would continue to perfect it. By that time,  the Cranberries had quite a distinct sound,   especially with the unique voice of O'Riordan,  who had both range and authority. Meanwhile,   the band played a bunch more shows, touring  both Ireland and the UK, now as headliners. Though it was originally scheduled for October  1992, Island released the Cranberries' debut   studio album, Everybody Else Is Doing It, So  Why Can't We? on March 1, 1993. By that time,   Island had already released two singles off  the album, "Dreams" and a new version of the   aforementioned "Linger." However, radio stations,  at least initially, didn't play the songs much.   But the band kept at it, and throughout the  rest of the year, they slowly started to get   mainstream success, especially after MTV started  putting their videos into regular rotation.
In June, the band toured the United States  for the first time. By the end of that tour,   nearly every college radio station and alternative  rock radio station were playing the Cranberries   and Everybody Else Is Doing It, So Why Can't  We? had re-entered the charts having sold more   than 200,000 copies. Based on this new momentum,  Island RE-RELEASED both "Dreams" and "Linger" as   singles in early 1994. "Dreams" got all the  way up to #27 on the UK charts and "Linger"  
peaked at #14. In fact, Island ultimately  re-released ALL of Everybody Else Is Doing It,   So Why Can't We?, and it hit #18 on the  Billboard 200 albums chart and stayed on the   chart for 130 weeks. The album also eventually  sold more than six million copies worldwide. In July 1994, O'Riordan married the band's  tour manager, Don Burton. He was Canadian,  
and they'd eventually settle down  and start a family in Canada.  In the summer of 1994, the Cranberries returned  to tour North America and were drawing more than   10,000 people per show. One highlight  was performing at Woodstock '94. Meanwhile, the band had already been recording  what would become their second studio album,   No Need to Argue. These songs were much darker,  moodier, and a bit heavier than their previous   stuff. Street returned to produce. Island  released No Need to Argue on October 3,   1994, and it was an even bigger hit  than Everybody Else Is Doing It,   So Why Can't We?, peaking  at #6 on the Billboard 200. Its lead single was "Zombie," which was a slightly  grungy protest song O'Riordan was inspired   to write after hearing about the Warrington  bombings, in which two children were killed   by terrorists. O'Riordan's singing in "Zombie"  is unforgettable. I mean, she yodels in it,  
for crying out loud. The band performed the  song on the Late Show with David Letterman,   and it topped charts in eight different  countries, including spending six weeks   at the top of the Billboard Modern Rock Chart. The  music video for "Zombie" also won several awards. Critics generally praised No Need to Argue,   and today it continues to be  the band's most successful album   BY FAR, selling more than 17 million copies  worldwide. It also featured the hit songs   "Ode to My Family" and "Ridiculous Thoughts,"  as well as the single "I Can't Be with You."
On February 25, 1995, the band performed on  Saturday Night Live. Throughout the rest of   the year, the Cranberries toured relentlessly  to promote No Need to Argue, first in Europe,   then touring Australia and Asia for the first  time. This is when the band had arguably reached   their maximum fame, especially O'Riordan, who  paparazzis regularly followed around. In April,   the band headlined a tour of major  American college campuses. On May 15th,   they played a free show on the National  Mall in Washington, D.C., and an estimated   15,000 people showed up. The radio station  that put on the show only estimated 3,000  
would show up, and things got pretty crazy.  A riot even broke out after the local police   made the band stop the show early. By the end  of their American tour, an average of around   20,000 people per night were attending  their shows. Also by the end of the tour?   Rumors swirling that O'Riordan was going  to leave the band to pursue a solo career. But nope, that didn't happen. In November, the  Cranberries decided to finally take a break from   touring and went back to the studio. They decided  to record a new album in memory of Denny Cordell,  
who had died earlier that year. This time they  worked with producer Bruce Fairbairn, who had made   a name for himself working with hard rock bands.  And the Cranberries' new songs were even more   heavier and aggressive than their previous stuff.  Oh, and O'Riordan's lyrics…even more political.
These songs made up what would become their  third studio album, To the Faithful Departed,   released by Island on April 30, 1996. Critics  were more mixed about this one, but it did do   well commercially, topping the album charts  in several countries and peaking at #4 on the   Billboard 200. While it sold four million copies  in six weeks, it sort of fizzled after that.   It did feature four singles: "Salvation," "Free to  Decide," "When You're Gone," and "Hollywood." Both  
"Free to Decide" and "When You're Gone" got a lot  of airplay on pop radio, with both songs reaching   #22 on the Billboard Hot 100. The band was set to  once again tour heavily to promote To the Faithful   Departed, but they had to cancel a lot of shows  after O'Riordan injured her knee. In the fall   of 1996, the band canceled both its European and  Australian tours not only due to O'Riordan's knee,   but her suffering from insomnia, paranoia, and  anorexia. Overall, the band decided they needed   a break from the music industry, and they avoided  the spotlight pretty much all of 1997. O'Riordan   spent most of the year cut off from not only  the outside world, but even from her bandmates.
And here's where we'll take a break from the  video, too. This video is sponsored by Incogni. First, your personal information is being  sold online without you even knowing about it.   Health insurance companies can actually raise  your rates based on your online activity? And   huge loans have been taken under people's  names without them even knowing about it? The good news is that you have the  right to request data brokers to   delete your personal information in  order to protect your privacy. The   bad news is that it would take  you years to do it manually.
This is where Incogni comes in. Incogni helps you protect your privacy by  reaching out to those data brokers on your behalf,   requesting your personal data removal while  also dealing with their objections. Incogni   automates the entire process. You just  create an account and tell Incogni which   personal data you wanted removed. After you  grant Incogni the right to work for you,   Incogni will contact the data brokers to  remove your info from their databases. The first 100 people to use code BEATGOESON at  the link on the screen and in the description   of this video will get 20% off of Incogni.  Thanks to Incogni for sponsoring this video.
Ok, back to the Cranberries In 1998, the band slowly started to  make appearances again. On December 11,   they played at the Nobel Peace Prize  Concert in Oslo, Norway. Meanwhile,   the band had begun recording what would become  their fourth studio album, Bury the Hatchet,   produced by Benedict Fenner. Island released it  on April 19, 1999, and it featured THIS cover,   which Pitchfork once called one of the worst  record covers of all time. I strongly disagree.  
I think the cover is amazing. Anyway, Bury the  Hatchet's MUSIC still got mostly positive reviews   from critics. It featured the singles "Promises,"  "Animal Instinct," "Just My Imagination," and "You   and Me." However, "Promises" was the only single  to get significant radio airplay. Bury the Hatchet  
peaked at #7 on the Billboard 200 and eventually  sold more than 3 million copies, not nearly as   successful as their first three albums. The  worldwide tour to promote Bury the Hatchet,   however, was a smash success, the biggest tour of  their career in fact. It was this tour in which   the Cranberries became the first band to sell  tickets exclusively through their own website. After the tour wrapped up in July 2000, the  band once again returned to the studio to   record new material. Even though the band was no  longer at the peak of their fame, in the studio   they were definitely at the top of their game,  and Stephen Street was back to produce. After the  
merger of PolyGram, who owned Island Records,  with Universal Music Group, MCA released the   Cranberries' fifth studio album, Wake Up and  Smell the Coffee, on October 22, 2001. Critics   once again mostly praised the album, but it did  not do well commercially, only peaking at #46 on   the Billboard 200. It featured three singles:  "Analyse," "Time Is Ticking Out," and "This Is   the Day," but none of them got much radio airplay.  It didn't help that MCA didn't promote Wake Up and  
Smell the Coffee much. Still, the band once again  had a successful tour to promote the new songs. In 2002, Island released two compilations:  Treasure Box for Boys and Girls - The Complete   Sessions 1991-1999 and a greatest hits  album called Stars: The Best of 1992-2002. In early 2003, the Cranberries left MCA and  decided to record some new stuff once again   with Stephen Street. However, by this point,  all of the band was settled down with families,   and they wanted a break. That break would end  up lasting almost six years. During that time,   O'Riordan finally DID start a solo career,  even releasing a couple of albums and going   on her own world tour. Meanwhile, Noel  recorded a bunch of stuff under the   moniker of Mono Band. Mike opened a cafe  with his wife in Limerick, also helping  
his brother record stuff with Mono Band of  course. Fergal joined the band Low Network,   while also performing with and producing  other Irish bands, including Mono Band. Meanwhile, Island released two  more greatest hits collections,   believe it or not. Oh, and a live  album. Gotta make that money, amirite? In 2009, the Cranberries reunited and announced  they would once again be touring Europe and North   America. In 2010, they toured South America for  the first time, and after spending most of that   year touring around the world the band finally  decided to return to the studio to record some new   material, once again with Stephen Street. Recorded  mostly at Metalworks Studios in Mississauga,  
Canada in April and May 2011, these new  songs were more experimental than their   previous albums. Noel later said, "Because  we'd all gone off in different directions,   we all came back into the band with these  new experiences and a new way of working and   it was great." The independent British record  label Cooking Vinyl released the band's sixth   studio album, Roses, on February 21, 2012.  While Roses was a hit with long-time fans,   it failed to gain any mainstream traction, peaking  at just #51 on the Billboard 200. It featured the   singles "Tomorrow," "Raining in My Heart,"  "Waiting in Walthamstow," and "Fire & Soul." And then, another hiatus. In 2013, it appeared  that O'Riordan and Noel Hogan were not getting  
along, especially when O'Riordan filed  a High Court case against him. However,   that was ultimately dropped. Meanwhile,  O'Riordan had her own personal issues. First,   she was addicted to pills and alcohol. Not only  that, but by 2014 she had left her husband,  
Don Burton, after 20 years of marriage. Around  that time she got arrested after freaking out   on a hostess on an airplane. Soon after that,  doctors diagnosed her with bi-polar disorder. That same year, O'Riordan moved to New  York City to join a band called D.A.R.K.,   which was founded by Andy Rourke, the former  bassist of the Smiths. D.A.R.K. would go on to  
release an album called Science Agrees with  Cooking Vinyl. Working with D.A.R.K. had   rejuvenated O'Riordan, and she became more busy  with new music projects than she had in decades. In 2016, the Cranberries reunited once more,  playing a series of shows and then returning to   the studio to re-record a bunch of their hits  acoustically with the Irish Chamber Orchestra   backing them. The result was their seventh studio  album, Something Else, released by BMG on April   28, 2017. It featured ten of their re-recorded  hits, along with three new songs, including the   single "Why?" Critics generally praised Something  Else, and the band went back on a world tour to   promote it. They played mostly smaller venues, and  yes were joined by a live orchestra, baby. Sadly,  
this tour was also cut short after O'Riordan  severely hurt her back. Little did they know,   their show at the London Palladium on May 20,  2017, would be the last Cranberries show ever. For the rest of 2017, O'Riordan and Noel Hogan  recorded new songs back and forth via email. Hogan   would send her tracks and she would send vocals  back. Meanwhile, O'Riordan had continued working   with D.A.R.K. and had planned on recording with  the band Bad Wolves for their cover of "Zombie."   However, the day before she was scheduled to  show up to the studio to record with Bad Wolves,   she died after accidentally drowning in her hotel  bathtub in London. A coroner later found she had  
four times more alcohol than the legal limit  for driving in her system. She was just 46. News of her death shocked fans around the  world. Noel, Mike, and Fergal decided the   Cranberries could not go on without her.  However, they did agree to release one   final Cranberries album with the newest material  they had recorded with Dolores. After getting   permission and support from Dolores' family,  they returned to the studio one final time,   joined by Stephen Street again. Due to some  of O'Riordan's recordings being incomplete,   Johanna Cranitch, who had toured with the band  from 2012 to 2017, came in to help fill in any   gaps. The result was their eighth and final  studio album, appropriately titled In the End,  
released by BMG on April 26, 2019. In the  End was their most critically praised album   since Bury the Hatchet. Standout songs  off it include "All Over Now" and "Wake   Me When It's Over." In the End became the  band's first-ever nomination for a Grammy. Today, the Cranberries are one of the most  successful alternative rock bands and IRISH bands   of all-time. They have sold nearly 50 million  copies of their albums. Their mix of dream pop,  
jangle pop, post-punk, and even Irish folk  gave them a distinct sound that is often   seemingly ubiquitous with the 1990s. Their  success seemed unlikely- a band from a small   city in Ireland that mixed heavenly pop songs  with dark and often political lyrics- but their   success was often driven by the undeniable  commanding presence of Dolores O'Riordan,   a feminist icon who filled a void in the  alternative rock world that countered   the grunge movement. Her influence, in  particular, is not brought up enough. While making this video I went back and  revisited the Cranberries later albums,   and I gotta say, they are just as good  if not better than their early stuff,   man . I especially recommend their final  album, In the End. It's underrated. But   what's YOUR favorite Cranberries song  or album? Also, which band should I   cover next for this series? Keep those  suggestions coming. Thanks for watching!
2022-10-22 11:16
Show Video
Other news