澎湖旅遊Ep1|澎湖花火節|必去美景必吃美食全攻略|叫小賀的店|馬路益|易家仙人掌冰|小萍的店|鯨魚洞|二崁聚落|三仙塔|池西岩瀑|漁翁島燈塔|小門地質探索館|波浪海堤|海悅飯店|Penghu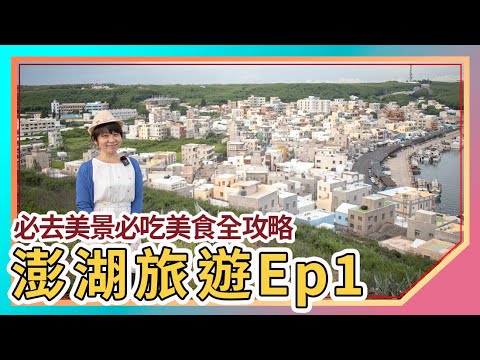 Show Video
We are going to Penghu today. We booked Uni Air Airlines to ride at Songshan Airport and we also booked the Songshan Airport Overseas Parking Discount Project. The parking lot is only 200 yuan a day! yeah! We have paid the parking fee .
This parking lot is the second parking lot of Songshan Airport! That is for passengers who want to go abroad and take flights to outer islands! I think it's a very convenient way! You can make an appointment to park your car here. It only costs 200 yuan on that day, but you must make an appointment 16 days before departure! It will take at least 3 days to park , then his official website has the description of the parking lot at Songshan Airport. We will put it in our information column. It is the use of the parking lot. I think it is very convenient here! Really suitable for those who drive to the airport! Then we are ready to take a flight now, and going to check-in is like going abroad! I'm so happy that we are going to report to the domestic flight . Everyone has to come to the Fireworks Festival. Tonight happens to be fireworks on Thursday , so there are a lot of people today! Until June 30th! Grasp the fireworks festival , let's go check-in so the weight is just right, just right ! Fortunately, confirm again that there is no mobile power supply, lithium battery lighter , no mobile power supply! The batteries are all there! A total of two pieces of luggage to Penghu Oh yeah! The luggage has been hung up, and the two of us have a combined luggage of 20 kilograms because one person can only have 10 kilograms to board the plane! Walk! Hello Kitty flight! Penghu, here we come. Penghu Airport Haiyue! Hello, hello , I'm here, I'm coming to check-in, I 'm coming in, this is the room we'll be staying in for three nights! Not bad, a suite with a double bed, let me visit the place where we are going to live, the toilet is quite big, and the wet and dry are separated! It's quite clean.
This is actually the recommended popular restaurant on the Internet. Our dinner is here. When you come to Penghu, you must come to eat the recommended snacks. This is the first recommended restaurant on the Internet . The signboard is double -boiled pork, parquet, and fried scallops.
Then this is oyster fried . I saw a lot of people have this stinky tofu at every table, and there are also queues outside! The authentic Liujia lemon juice outside this shop is recommended by passers-by who tell us that it is delicious and must buy it. I am so hungry! I'll eat my favorite stinky tofu first. It looks delicious ! I love stinky tofu. They call it Maluyi Roasted Pork Rice , so this is the signature roasted pork . It's very solid. Oyster Oyster Omelette. When you come to
Penghu, you want to eat seafood. It 's delicious! Come and drink Liu's signature lemon juice ! It's delicious! It 's sour and ice-cold, and it 's not very sour. It's sweet and sour , and it 's not greasy and greasy . It's delicious for dinner. New Year Fireworks Festival The home of the Penghu Fireworks Festival, Xiuguanyin Pavilion , the fireworks festival is about to start fireworks. It's
about to start! Then let's go over now Hi! Good morning , today is our first day of self-driving in Penghu! We chose to drive more easily because it was too hot, so we chose to come to the North Ring Road! There are many attractions in the North Ring Road, so our first stop is the aquarium in Penghu, and then we will go to the Cross-Sea Bridge and many other attractions! You have already done your homework, so let 's go with us first! Then let's go to the aquarium first. The aquarium in Penghu is actually quite small! Then his tickets are only 300 yuan . In fact, after coming in, he also has many performances, and there are many shows for everyone to watch! Then I think this place is very suitable for that parent-child. Many people bring children and many young people here. It is also very suitable for summer escape because the air-conditioning is very strong . If you have time and are interested, you can come too! Because there are so many places to go today! We have to rush to the next attraction, so we won't go in.
We will introduce this attraction for your reference! Then let's go to the next attraction. The place we are now is an IG check-in secret next to the aquarium. This is the Gangzi wave seawall . Is it beautiful? This is the net beauty check-in secret . Look at him, you go when the water is high. The picture presented in the middle is beautiful enough, and next to him there is a sea-viewing pavilion , which you can walk up to and watch the waves of the entire embankment. Let's walk around and take pictures
. The design is in the shape of waves. It's actually quite wide. It 's really suitable for taking pictures. It's really full of tides next to it. It's very beautiful . It 's very beautiful. I'm here. I'm here. Ice is super famous. Come and
eat it . It is sweet and sour . Really everyone recommends that you must come to eat Yijia cactus ice. It is super famous. We finally came to the most famous scenic spot in Penghu. This is the sea-crossing bridge in Penghu .
This bridge connects here is Baisha Island, and on the other side is Xiyu Island . The sea-crossing bridge is the longest sea-crossing bridge in Taiwan! Why are there so many people queuing up here just now? Because we are going to visit here, we must also come here to take pictures and visit here. We come from the cross-sea bridge and this is Xiyu Island. The first attraction in Xiyu Island is called Whale Cave! There are actually two parking lots here in Whale Cave.
Actually , it is quite convenient to park there. There are a lot of food here! There are famous rice noodles in small rolls . I'm hungry so let's go find something to eat now! Follow us. We are coming for lunch, so we chose this shop today. It is highly recommended on the Internet. The shop
called Xiaoping has just queued up. The sign is this Xiaoguan Rice Noodles . It's sold out, it 's the small tube noodles, their signature small tube noodles, and just order a small tube braised pork rice and this fried flower stick balls and these are all free side dishes that each table will provide! The free side dishes provided by the boss, come and eat it . I like this one the most. The soup is very sweet and light. It's very windy here in Penghu, so the noodles are delicious! Eat this. This is the most famous one . Every shop sells it. It is very crisp , sweet, and fresh. The
point is that it is very fresh and delicious . We are full. Then we are going to visit the attractions. There is an attraction here! This is the Xiaomen Geological Exploration Museum. This is a new attraction that only opened in January last year! It's free now, you can go in and stroll around , commonly known as the Dinosaur Museum because there are dinosaurs that can call and move! I heard it's very interesting, let's come in and take a look. As soon as we come in, it's the dinosaur Canglong . It
seems to be entering Jurassic World. It's so real! Velociraptor Pterodactyl Wow! It seems real! Lifelike claws will move! Tyrannosaurus It seems that its eyes are really moving. We have finished watching the dinosaurs. Now we are going to see the whales. Is it not the whale cave? Go up the spiral staircase next to the dinosaur museum and go up here ! Come up, after we come up, go to the right is the famous scenic spot Whale Cave . In fact, most of this place is this basalt. What you see is basalt, and then it is the Whale Cave. That is to say , the origin of this is that it was originally basalt.
Then below is a sand shale , which is a stone standing on the sea , and because of the wind blowing, weathering and the impact of the waves all the year round, it keeps falling below , and the sand shale part below becomes an arch, which is very similar to the whale This is naturally a hole from a distance, just an arch , so that point is the whale cave . You can take pictures from a distance or you can walk in to see it. It can only be seen when the tide is low, and the person at high tide cannot go in . When we get there, we can see the whale up close. The cave, the arch of the sea, do you look like an arch? Now that the tide is receding, you can take a photo of the arch of the sea . Where is this very traditional village where we are now? This is called the Erkan Settlement Preservation Area . This is a very famous scenic spot on this Xiyu Island! Then here is the building that retains the most traditional Penghu residences, and you should pay attention to their walls! Their walls are all made of this called yugu stone and basalt, because the northeast monsoon has been very strong in Penghu for a long time, so the wall of the rock like this can block the northeast monsoon . It is very unique! There is also a very famous almond tea and bean flower shop inside , so we can't wait to go in and have a look! I saw Erkan almond tea, a must-buy almond tea , thank you , almond tea is here, let's go out to drink it, then I'll drink it. It's so strong and delicious. Erkan almond tea is very fragrant. The bean flower shop is here. The
bean flower is sold out . There is no more bean flower here . One is also the most famous and well -known bean flower shop.
I found that the wall here actually has one of their characteristics. Some are like lyrics, some are like nursery rhymes , some are couplets . Yes, you can take a closer look , then I found this very distinctive four-sentence couplet that I can speak Taiwanese , please take a look! This is supposed to mean that it is not only a middle-of-the- roader, you will know when you are married, so people can't just look at the outside , but also the inside. It's quite interesting in Taiwanese time, so I'll keep going. I just noticed that a shop is super special.
Many people are taking pictures here. That's it In this cold drink shop, you can take pictures on every side, even the walls, here, and even the windows. Then his name is Xiaohe. There are a lot of people.
As long as you have a low level, you can take pictures so that you can take pictures . Sea Bird's Nest He said it is bird's nest from Penghu. It is full of collagen and just a little sugar. It is delicious and delicious. The
most important added value of coming to this restaurant is that the proprietress will help you take pictures and take beautiful pictures on the Internet. The proprietress is so enthusiastic! In the preservation area of ​​Erkan settlement, there is a spot that is a national third-level historic site, which is Chenjia Ancient House . You can visit it. He is right here in Erkan settlement. You can see that there are some preserved ones. You cannot visit them during the epidemic , but they are all preserved. We came to Penghu.
The secret realm! It 's the little Greece of Penghu, Santorini , let 's see if there's anything like it here! It is really in Greece in the Mediterranean Sea, and here is where you see the harbor and the high and low houses . The place we are in is this point called Sanxian Pagoda , which is the highest point of this Xiyu Island. From this point of view, it really looks like a The feeling of Europe is super beautiful , so be sure to take a picture! Let's hurry up and take pictures. Our current place is called Chixi Columnar Rock Waterfall . This is a basalt columnar rock waterfall! Then why is he called Jiukong Waterfall? Because there is an abandoned nine-hole farm below him, so here is the beautiful net photo that you can take! Then you must master a time, and you must come when the tide is low. The water in the nine-hole farm here will be empty and not full . You can take beautiful photos on it. It is best to come in the afternoon. It's just the time to come, hurry up and take the time to take pictures! Go down and take a photo of the beauty on the net. It's really good to take pictures from every angle
here ! Then you must master that you must come when the tide is low! Otherwise, there is no way to go . It looks good if you take any photos. The place we are coming to is called Yuweng Island Lighthouse . This is the lighthouse on the westernmost side of the island. I heard that it is also very small and it is also a pure white lighthouse with a Mediterranean wind. Then we will stop. Good car, hurry up and take a look, I found a lot of cacti here! We see cactus ice everywhere in Penghu.
It turns out that the climate here is very suitable for planting this cactus . Because it is very windy, only planting this kind of cactus will grow the most. The cactus fruit and the fruit inside it is the cactus ice. There are too many This is where people are selling, so you can see that there are cacti everywhere in Penghu. When you enter the Yuweng Island Lighthouse , you will pass the military base outside! It is not allowed to take pictures outside. If you enter the Yuweng Island Lighthouse, you will be able to take pictures. This name is so cute! The lighthouses of Yuweng Island are all white and have the taste of the Mediterranean, so this place is very close to Little Greece. The
two points are very close to the Greek style . This lighthouse is all white series. I think it is very similar to our Saniaojiao lighthouse in Xinbeigongliao. Fu is very similar. We are also Mediterranean wind . The sunset here is so beautiful. Let's take a look at the sunset.
2022-06-27 00:51
Show Video
Other news