Эстония и Латвия больше не выдают визы россиянам (English subtitles) / @Максим Кац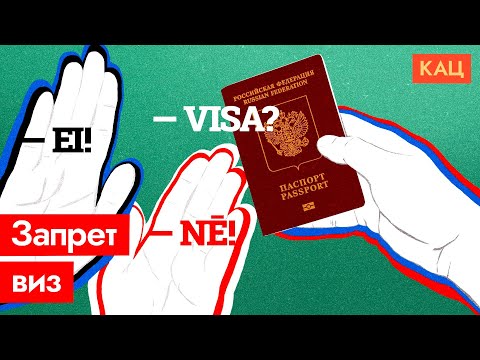 Show Video
Latvia and Estonia have stopped issuing Schengen tourist visas to Russians. Estonia has also stopped issuing residence permits, and there were talks about cancellation of residence permits for Russians in Latvia. This topic concerns many opposition-minded Russians, since Meduza has been working from Riga for many years, and dozens of Russian opposition media have relocated there, and in general many people fled there who don't want or can't live in Putin's Russia.
Plus, many Russian-speaking people live there, they are visited by their relatives, it's a big and important subject. Therefore, today we will figure out what exactly happened, what can be expected next, and why it is the Baltic countries that are introducing such measures. The history of relations between Estonia, Latvia, Litva, and Russia is a complicated one. These countries were passed to Russia by the secret protocol to the Molotov-Ribbentrop pact that divided Europe between Germany and the USSR, then during the Great Patriotic War they were occupied by Germany, and after the defeat of Germany they became part of the USSR. Residents of these countries were subjected to mass deportation and repression. But unlike Russia and most parts of Ukraine and Belarus, Baltic states were part of the USSR for 45 years, not 70.
The difference is huge, even though both 45 and 70 years are a long time. But the difference is that by the beginning of perestroika, the generation of people who saw their homeland as an independent country still lived in Latvia, Lithuania and Estonia, and they wanted it back. These countries had never been fully integrated into the USSR, and even then were considered sort of internal foreign states.
It was in these countries that the first socio-political movements of the USSR were born, advocating independence and the preservation of cultural heritage. Lithuania was the first republic to secede from the Soviet Union. Following it, the same decision was made by Estonia and Latvia. We will not delve into this in detail, I have a separate video on the channel about the history of the Baltic countries. Take a look if you haven't seen it, it's very interesting, their struggle for independence, how they achieved it, it's very interesting and you should absolutely watch it. After the declaration of independence, a lot of the Russian-speaking population remained on the territory of the three countries.
According to the 2021 census, 23% o the Estonian population are ethnic Russians. In Latvia, it's 24%, and in Lithuania it's 4%. Estonian, Latvian and Lithuanian are considered difficult languages, it is quite difficult to learn them even for young people and children, and especially so for older people, they just can't learn these languages, so many citizens of the Baltic countries continue to live without knowing the state language. This situation creates social tension in these countries, because Estonians and Latvians do not understand why a quarter of their country lives, in fact, as if they lived in Russia. At the same time, these countries are developed liberal democracies with independent courts and fair elections.
The Russian-speaking population has political representation, the mayors of Riga and Tallinn speak Russian, in Tallinn the entire leadership of the city is Russian-speaking. In short, people who speak Russian are not infringed on their rights there (no matter what they say on Russian TV). I would like to point out that there are non-citizen passports Passports for non-citizens exist, in Estonia 5% of the population have such passports. International organizations are criticizing certain aspects of this policy, but today it's hardly a discrimitation, many of those who still have them are those who want to have them, people prefer to keep their non-citizen passport as it allows them to visit both the Schengen zone and Russia without visas (Estonians need visas to visit Russia). In general, the tension in relations between Estonia, Latvia and Lithuania with Russia has its reasons.
It was the three Baltic countries that, after the war with Georgia, and especially after the annexation of Crimea, tried most actively to draw the attention of the European Union and the world community to the dangers emanating from Putin's Russia. Their concerns were largely ignored, which was a mistake as it later turned out. Now let's talk about visas and all those new rules.
At the end of July, the Estonian government approved a decision to limit the issuance of visas. More precisely, on the termination of the issuance of temporary residence permits visas for education to citizens of Russia and Belarus. Now Russian students who wish to study in Estonia will not be able to do so. The decree contains another important clarification: Russians and Belarusians will be able to obtain a short-term work permit only if they have a visa issued specifically by Estonia. Previously, it was possible to obtain such a permit with a work visa of any other Schengen country.
Estonian Foreign Minister Urmas Reinsalu officially commented on this decision. The war launched by Vladimir Putin against Ukraine, he said, threatens the security of all EU countries. Including Estonia itself. He said that it is necessary to continue to keep pressuring Russia with sanctions, in the hope that sanctions will help to stop Russian aggression. This isn't the first time that the Estonian government restricts issuance of documents to Russians. Estonia stopped issuing tourist visas for Russians at the beginning of spring.
A similar restriction was introduced by Latvia, the Czech Republic and Lithuania. As for residence permits, Estonia currently rejects all requests from Russians to issue them. Some students cannot even extend the residence permits they have already received, and without them they will not be able to continue their studies abroad. And there are even talks about expelling students that are currently studying in Estonian universities, which is quite weird.
Some universities, after Putin's invasion of Ukraine, decided not to accept Russians and Belarusians anymore. However, it doesn't mean that Estonia completely closes its doors to Russian citizens. Valid residence permits are not taken away from anyone, except maybe those students who cannot extend their permits. Although, some emigrants from Russia and Belarus are clearly afraid of this.
Yes, and the opportunity to enter Estonia, including for the purpose of tourism or visiting relatives, is still there. A Schengen visa is still enough, and it does not matter which country issued it. And Estonia really does not like it.
Recently, the abovementioned Urmas Reinsalu, head of the Estonian Foreign Ministry, proposed to completely stop issuing any EU visas to Russians. He stated this on Wednesday during his three-day visit to Ukraine. Reinsalu has already called on European countries to include such a ban in the next package of sanctions.
For now, it's just a proposal. But still, some European countries adhere to a similar point of view. For example, since August 4, Latvian embassies have officially stopped issuing any visas to Russians, including those for study, employment, or visiting living relatives. Now you can get a Latvian visa only on one condition: if you are going to attend a funeral of a close relative.
Can't do it while they're still alive. According to the State Security Service of Latvia, this decision is due to the aggressive foreign policy of Russia. Now Latvia, together with Estonia, is calling for the European Union to include a complete visa ban in the new package of sanctions.
By the way, the Russian Ministry of Foreign Affairs considers such threats to be quite real. Even the Russian Foreign Ministry already stated that, judging by the actions of the West, the Kremlin believes that the complete ban on the issuance of Schengen visas is possible. The Foreign Ministry is not concerned though — such measures would be quite beneficial for the Russian government. We will talk about why at the end of this video. This whole visa situation has caused a lot of public backlash and made a lot of noise in the news. We turned to politicians from Estonia and Latvia to find out what moods prevail in these countries and what all those measures mean in reality.
Let's continue! And let's begin our conversation with Estonia. After the start of the war, the Estonian state immediately took a clear and pronounced stance - Estonia stands with Ukraine. On February 26, a huge rally in support of Ukraine was held at Vabaduse Square in Tallinn. According to media estimates, there were about 30 thousand people on the square at the same time! The event was attended by many current politicians, including the Prime Minister of Estonia. Moreover, even the Estonian Centrist Party, which, according to our consultant, is somewhat reminiscent of United Russia (they even had a cooperation agreement), took the side of Ukraine. In general, the position of the government and citizens was absolutely clear.
Estonia did not stop with just rallies and statements. The country provides Ukraine with significant financial support. According to the Estonian Foreign Ministry, the state donated one-third of its military budget to help Ukraine. According to analysts, if we calculate by the ratio of GDP, then it is Estonia that is in first place in the rating of assistance to Kyiv. Still, initially there were no talks about any prohibitions for Russians. The visa ban was first announced by Estonian Prime Minister Kaja Kallas.
Moreover, according to local politicians, it was not a governmental decision. The initiative came from the security police. In Estonia, it is called Kapo - it's something like our FSB. However, it soon became clear that such a decision is beneficial for the rating of the Estonian conservative Fatherland party. And if initially it all looked like a simple bureaucratic initiative not related to foreign policy, now it is all turning into a PR move by this very party before the upcoming elections.
This, by the way, is noticeable by the growing ratings of the Fatherland. Since the beginning of the war, the level of support for this party has grown from 6% to 10%. The Foreign Minister Urmas Reinsalu, who happens to be a member of this party, also began to receive more support. This is exactly the same politician who proposed the European Union to introduce a visa ban for Russians.
Conservatives in Estonia are now actively talking about this topic. Like, look what the Russians are doing in Ukraine. We must not let them into Europe, otherwise they will do the same to us. This opinion is popular both among Estonians and among some part of the Russian-speaking population. People who recently advocated liberalism, freedom and human rights are now, according to our consultant, actively calling for the deportation or repression of supporters of Putinism.
Which isn't too liberal. Such sentiments of some Estonian citizens are understandable. People get tired of war and look for someone to blame. Estonians want justice, because their state has for many years urged EU countries not to trust Putin's Russia and not to cooperate with the Kremlin.
But no one listened to them. As a result, now, Estonia has refused Russian gas and Russian electricity. The country has practically stopped buying oil and other goods from Russia. And such support for Ukraine is very expensive for Estonian citizens.
The rise in prices in the country beats all records. As of the beginning of July, inflation in Estonia reached 22%. And this is the highest figure among the countries of the European Union. A resident of Germany, for example, has not yet fully felt the effects from the gradual refusal of Russian gas supplies, but a resident of Estonia has felt it very strongly and wants to take some next step, to somehow take revenge on the source of their problems. Such a search for justice, if you can call it that, is understandable.
Fortunately there are no Russian soldiers there yet and I hope will never be there, but there are Russian students. Surely such a search for justice and retribution seriously increases the radical mood among residents of the country. You should not think that all Estonians, headed by the government, have suddenly turned into Russophobes who expel Russian citizens, expel students, and even do not let Russian residents on the doorstep. In fact, only those who violated the law are expelled from the country or imprisoned.
For example, the guy who came to Estonia from Pskov to buy drones for the Russian army. And even then, they have independent courts so he was sentenced to only four months in prison, although according to the law they could be given a term of up to 5 years. Imagine what would happen to him in Russia if he'd fall into the hands of the Russian judicial system. There is no Russophobia and forced deportation in Estonia. To see this, it is enough to look at just one region - Ida-Virumaa.
More than 70% of the inhabitants of this region are Russian-speaking, many of them have Russian passports. But no one is in a hurry to expel them from the country. Now let's see how things are in Latvia.
Here the situation is somewhat different from Estonia. Latvia, together with Estonia, is among the leaders in the ranking in terms of financial assistance to Ukraine, and Latvia is also one of the most active lobbyists for sanctions against the Russian Federation, for the supply of weapons and humanitarian assistance to Ukraine. From the very first days of the war, the government and top officials immediately launched broad campaign with the message "Russian-speakers of Latvia are not to blame for Putin's crimes", made peacekeeping statements, including in Russian, in order to prevent possible conflicts and violence (which never happened). Also on April 23, in the very center of Riga, near the main symbol of Latvian independence and statehood, the Freedom Monument, a large rally of local Russian- speaking residents "Russian voice against the war" was held, which was attended by hundreds of people in order to demonstrate solidarity with the people of Ukraine, loyalty to Latvia and commitment European values.
At the beginning of the war, Latvia introduced a stricter visa system for Russian citizens. However, it did not stop issuing them completely. There were many exceptions. For example, a visa could be obtained for family reunification, in addition, Latvia granted many Russians political asylum. Many people fled there, some literally on foot.
Even before the Russian invasion of Ukraine, editorial offices of many Russian media outlets worked in Latvia. Like Medusa. And at the end of February, many Russian journalists, fearing political persecution, moved to Latvia. And Latvia accepted them. In total, there were 23 media outlets from Russia in Latvia, more than 200 journalists and members of their families. Experts estimate that more than 1,000 humanitarian visas have been issued.
A large influx of Russians began to raise questions among Latvians - why are there so many of them? Elections are expected in the fall, and just like in Estonia, conservative parties could not ignore this subject. In addition, the Latvian State Security Service recently issued a warning that such a flow of journalists could pose a danger to the country, because many Russian media often act in the interests of the Kremlin don't ask why they think so and why would a media outlet that acts in the interests of the Kremlin would move to Latvia instead of just working from Moscow, such was the wording Such a statement stirred up public sentiment even more, people in Latvia naturally fear that they may be the next target for Putin after Ukraine, and such fears are fully justified, experts say that the three Baltic states may indeed become the next target for Putin. So there is a basis for fear, and it's not difficult to fuel these fears.
As a result, the Latvian Foreign Ministry decided to introduce a ban on issuing visas for Russians so as not to worry their citizens once again. At the same time, you can still enter the country with a Schengen visa issued by another country. No one will turn you around at the border and kick you back. They may ask you what you think of the war though. Now to residence permits.
A few days ago, Zanda Kalnina-Lukashevicha, the parliamentary secretary of the Latvian Foreign Ministry, announced the need to stop issuing residence permits to citizens of Russia and Belarus. Later, this statement was reprinted on Twitter by the Latvian Foreign Ministry itself. But in fact, whatever the Ministry of Foreign Affairs says doesn't matter much when it comes to issuing residence permits.
The document is issued by the Ministry of the Interior. And we did not hear any statements from them regarding the ban on the issuance of residence permits to Russians. It should be noted that such proposals have already been submitted for discussion in the Latvian Parliament. The statement was made by the National Association Party back in March. But the parliament did not approve these proposals, and there were significantly more votes "against" than "for". So for now there are no grounds for the cancellation of issuing residence permits.
This project is not even up for discussion yet. Quite a lot of Russian citizens live in Latvia. Many of them are retired elderly who go to local polling stations during elections in Russia and consistently provide Putin with additional votes.
In the current situation, the long-term conflict between Russians and indigenous Latvians is flaring up with renewed vigor in Latvia as a result of the new war. Liberal European values is a complicated thing, humanity paid dearly to have it, and it often contradicts human nature. You need to work on yourself to satisfy their standards. But in the end it's a very good thing for people living in those countries that adhere to these values, those are the best countries in the world. Xenophobia is embedded in our brains as a mechanism for our survival.
We are comfortable around those who are similar to us, and we try to stay away from strangers. Xenophobia is literally the fear of others. Liberal values, which are most developed in Europe, say that people cannot be judged because of their belonging to a group to which they did not choose to belong. It is unacceptable to endow them with the properties of that group, it is unacceptable to allow or forbid them certain things on the basis of belonging to that group. Humanity, and Europe in particular, paid dearly for these values. And after the start of the war, it was the Baltic countries that showed us all an example of how these values work.
Yes, there have long been problems with the Russian-speaking minority. Yes, there are politicians who have made careers on this. Yes, Russia poses a real threat and danger to them. Still, whenever a journalist from Pskov ran to the border screaming "I'll be arrested there right now," they let him through not only without a visa, but even without a passport. And the Latvian NGOs helped them find housing, settle down, and continue their work from Riga.
And not only in such emergency situations the Baltic countries showed us an example. Meduza has been working there for a long time, Dozhd received a broadcasting license in Latvia. And unlike Moscow, you will not find ads in Riga or Tallinn about renting an apartment on a national basis - like "we won'trent to the Russians".
If that happens, it becomes a topic for discussion in all the media in the country and is condemned by the entire political spectrum. For many years, the structure of society that allowed these former Soviet republics to leave both Russia and Ukraine far behind in terms of economic indicators, in terms of living standards, just did not allow them to discriminate against anyone by nationality, skin color, by color of their eyes or passport. Putin has put himself against that world order. Putin's ideological basis, if such a thing even exists, is precisely to shake out all that tolerance from the world. That is why Putin has sponsored various far-right and conservative parties in various EU countries for many years because they destroy the very liberal democratic values on which Western society stands and flourishes. Putin did not have much success in peacetime.
Yes he had been financing the far right, but they couldn't achieve anything. But because of the war his goals are now slowly being achieved. Now ordinary, not at all bloodthirsty citizens of Latvia and Estonia are calling for the deportation of Russian students and not letting Russians visit relatives. In democracies, political systems respond to public demand, especially before elections. Who would refuse extra mandates and influence? Politicians who say rational things and discuss real measures that could harm Putin and help Ukraine, see their ratings sagging in these circumstances, and those who exploit simple sentiments like "Russian means enemy" see them skyrocket.
The refusal of the Baltic countries from the strategy of accepting Russians fleeing Putinism, and even more so the refusal to issue visas for trips to relatives and these are the main requests for Latvian tourist visas, as well as expelling students from Estonia, is very beneficial for Putin in many ways. Starting from the fact that it is more difficult for his opponents to leave and continue to conduct independent activities, and ending with the fact that all this can simply be shown on Russian television to further fuel militant moods. And this can simply be shown on television successfully. But what is worse, the Baltic states stop being an example for us.
The natural showcase of how people can live when they aren't governed by Putin is being removed from our view. And instead of a fascinating example, there is now a country at our western border that doesn't want you just because of the color of your passport and may expel you from a university just because of your origins, much like a jewish part of my family could be expelled from Soviet universities. Since 2014, Vladimir Putin has been busy providing the most radical and the most marginal societal philosophies with predictive power. When the war started, Yekaterina Shulman said: all the town crazies turned out to be right. And it is true not only for Russia, but for the entire post-soviet space. Like in Ukraine, in the Baltic countries there have always been forces that expected aggression from Russia.
There have always been politicians who said: we must fight the Russian language, Russian culture, restrict or completely stop the entry and legalization of Russian citizens, prevent Russian capital from entering our markets, not allowing it to buy real estate, land, business - because all this is creeping annexation, which will sooner or later call enemy tanks on us. Such talks always sounded extremely inadequate. Russia under Putin is not the nicest of neighbors, it can sometimes cause a lot of trouble, it feeds citizens of other countries with its propaganda, it finances radical politicians, and arranges petty provocations. But how can you possibly be talking about land grabs and occupations in 21st century Europe? 2014 has put an end to such reasoning. Vladimir Putin has made it very clear that all the fears that sounded like pure conspirology have manifested themselves in reality, that no neighbor is safe, that there is always a score not yet settled and historical justice not yet restored. And just in case if someone did not get the message the first time, after February 24 of 2022 it was made absolutely clear to everyone: no one, from Finland to Kazakhstan, is safe, any scenario is possible.
Everything you deemed crazy and inadequate is now happening, right before our eyes. That is why today it is absolutely impossible to say that the fears of the governments of the Baltic countries are based on some kind of fantasy, they are afraid of aggression, they are afraid of flooding the country with potential collaborators. And rightly so.
But fear is a terrible advisor. Because the goal of Putin's aggression is to break Western institutions, to break politics built around people, to break the very way of life of people and send everything back to the archaic, back to collective entities, back to thinking in terms of "national interests", that sees people their well-being as expendables in the name of the higher goal. You cannot defeat Putin by sacrificing European values, because destruction of these values is what Putinism is all about. And of course, when European values are being shattered, when people are being judged by their passports, the war itself falls into the background. Because European countries expelling students because of their origins, or refusing you to visit mom before she dies is a massive catastrophe.
I put my trust into the western system and I think that after a wide discussion in society, possibly after the elections, it will all settle down. But you can't be certain about anything today, so who knows. Anyway, we can say today that, for the first time after the beginning of the war, Vladimir Putin saw the first important success in Europe. Unfortunately, it happened. See you tomorrow.
2022-08-12 16:08
Show Video
Other news