Конфликт на Донбассе и полномасштабная война с Украиной | Как Путин «освобождает» русских (ENG SUB)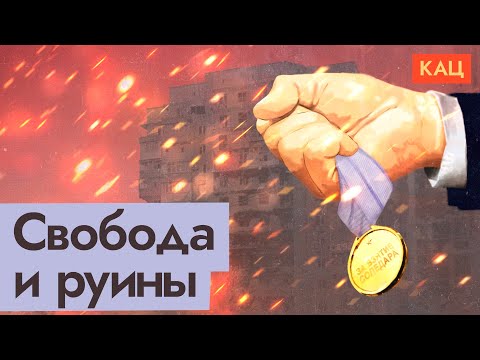 Show Video
Just six months ago, the Russian Defense Ministry's updates would often feature the word "liberation." The agency's spokesman, Lieutenant General Igor Konashenkov, reported about the Russian army "liberating" some towns or cities. However, momentum soon swung in favor of the Armed Forces of Ukraine. Russian troops had to defend and retreat. Now, for the first time in a long while, the Russian side has gotten back to using the word "liberation." This time in reference to Soledar, a town in the Bakhmut district of the Donetsk region.
The internet is awash with videos showing how exactly it's being "liberated.". Not a single building left intact, not one livable apartment. We can all imagine how devastating a house fire can be for a family. Even if no one is injured, their house is damaged, their property lost, and precious family relics destroyed. Even if people manage to escape, their lives are left in shambles for a long time.
I'm speaking only of a hypothetical family. But this footage shows the untold tragedy of hundreds of families. Throughout the Donbas, there are hundreds of thousands of such families: in Mariupol, Volnovakha, Popasna, and other cities that, following intense battles for their "liberation," have been reduced to merely a city limit sign. When representatives of the Russian army speak of liberating a certain city, it can only be interpreted as an assertion that civilians in Izium, Severodonetsk, Lysychansk, and Rubizhne were living under conditions so unbearable, they needed to be liberated at any cost.
This justification is used to excuse the total destruction, humanitarian disaster, and the death of tens of thousands of people caused by the Russian army's actions. This is the perspective of the Russian leadership. In 2014, the Maidan protest happened, as we all know. At first, the protest was peaceful, but it eventually turned violent.
Despite this, the internal Ukrainian civil conflict and clashes between supporters and opponents of Euromaidan ebbed quite soon in the cities controlled by the Ukrainian government. By 2015, Ukrainians had begun to settle their differences on their own. Let's recall that in 1993, our home country, Russia, also had a civil conflict, with ensuing bloodshed. In the fierce clashes between the defenders of the Supreme Soviet and the supporters of President Boris Yeltsin, both sides — who were all Russian citizens — lost lives.
Taking advantage of the situation, neo-Nazi forces briefly emerged in Russia, like the followers of General Albert Makashov or the aides of Alexander Barkashov, who staged marches in Moscow. But late 1993, we, the citizens of Russia, had resolved it all on our own. Elections were held, and the neo-Nazis remained on the fringe. Regardless of their political views, both the Boris Yeltsin sympathizers and Ruslan Hazbulatov's supporters didn't want some other country interfering in Russia's internal affairs. Even those who couldn't accept Yeltsin's victory and dismissed the 1993 events as a coup did not call for a foreign intervention. By the same token, when the political crisis caused by the Maidan events was resolved and street clashes ended, the residents of Eastern Ukrainian cities voiced their views in the most civilized way: through elections.
In the recent general election, the Ukrainians who advocated close ties with Russia voted for the "Opposition Platform — For Life" party. This party has always been openly pro-Russian, and one of its leaders, Viktor Medvedchuk, is widely referred to as a close ally of Russian President Vladimir Putin. Pro-Russian citizens of Ukraine never asked for military intervention to help them. There were no pleas like "Putin, liberate us at any cost! We'd rather die in a war than live in Ukraine!". They simply voted for a pro-Russian party, which became the second-largest in the Ukrainian parliament. By contrast, nationalists only managed to secure one out of 450 parliamentary seats for Oksana Savchuk, who wasn't exactly a fringe radical.
During the current war, pro-Russian parties have been banned in Ukraine. But this is now. Prior to February 24, 2022, no one tried to ban them. Same thing with monuments. Yes, since the spring of 2022, monuments dedicated to Russia-Ukraine friendship and other sculptures have been torn down in Ukraine. But what does it tell us? It tells us that before the full-scale war broke out, these monuments celebrating friendship with Russia, sat peacefully in Kyiv, Pereyaslav, or Senkov. No one touched them during those eight years. They would still be there today if it hadn't been for the invasion of the Russian army.
But let's get back to the political rights of residents of Eastern Ukraine. In local elections, ethnic Russians and Russian-speaking Ukrainians actively elected their representatives from various small parties to their municipal assemblies. A Russian-speaking opposition blogger, Anatoliy Shariy, managed to registe his political party while being abroad. There was an attempt to ban his party, but, while still being abroad, he won a trial in Kyiv in 2020. This is the separation of powers at its best. The executive branch tried to shut down a party, but the judiciary dismissed it. Shariy's party participated in the election and won some seats.
If it hadn't been for this war, the Russian-language blogger, who hates all three of the last Ukrainian presidents, would've continued campaigning from abroad and winning seats in local elections. As for us in Russia, we can only dream of such level of political freedoms. It's impossible to register an independent party in Russia, let alone from abroad. In Mariupol, the Russian-speaking mayor Vadim Boichenko, a chairman of the Russian-speaking party "Vadim Boichenko Bloc," was elected in 2015, and then reelected in 2020. And when someone asked him why he, being a mayor of a city in Ukraine, couldn't speak Ukrainian, he simply answered with: The language we speak is immaterial what is, though, is what we have right here and what we do.
After this minor incident, no one tried to persecute the Russian-speaking politician or relieve him of his duties. Prior to the war, Mariupol residents lived peacefully under the government that they themselves elected. And let's not forget that Volodymyr Zelensky is the democratically elected president of Ukraine, who received support from voters in both Western and Eastern regions of the country. He routed the incumbent, Petro Poroshenko, Zelensky didn't owe his presidency to the Maidan protests — he came to replace the post-Maidan government. Even if we accept the rhetoric that Maidan was a terrible coup, Zelensky's legitimacy as president cannot be denied.
He is the president for whom people voted across Ukraine, including the Donbas. If we consider the Donetsk and Luhansk regions, after 2014, it wasn't the residents of cities that became part of the DPR and LPR that ended up in a better situation, but the residents of those cities that remained under Ukraine's control. In Mariupol, Volnovakha, Izium, Severodonetsk, Lysychansk, and Rubizhne, the civil conflict of 2014 was quickly resolved and transitioned into a political domain, where it subsequently evolved into a more civilized competition between the parties. At the same time, Donetsk, Luhansk, and their immediate surroundings found themselves in a warzone as a direct result of Vladimir Putin's interference. There, fighting between the Ukrainian Army and "people's militias" erupted, with the latter being supplied with weapons, equipment, and manpower from Russia. Artillery exchanges between the two sides of the conflict resulted in numerous civilian casualties.
Why did Russians come to the Donbas in the first place? Why did these people start to seize local administrational buildings? And finally, why did Russians start to fight against the Ukrainian Army near Donetsk and Luhansk? How different would have been the fate of people in Luhansk and Donetsk from that of residents of Mariupol should Donetsk and Luhansk have remained under Ukraine's control? By their nationality and language, they are the same people. All from the Donbas. So if the Ukrainian government didn't engage in genocide or ethnocide in Mariupol, why would it do so in Donetsk or Luhansk? There is also a case of Sloviansk. In 2014, it was briefly controlled by the DPR, but was later retaken by the Ukrainian Armed Forces. No instances of ethnic cleansing occurred, and no Banderites arrived in the city. In 2020, the city's mayoral race was contested by representatives of two pro-Russian parties, Pavel Pridvorov and Vadim Lyakh.
Pridvorov won in the first round, but Lyakh emerged victorious in the runoff. Lyakh ended up elected, despite openly opposing Maidan, and continues to run the city to this day. This illustrates that the residents of Russian-speaking cities in Ukraine are able to determine their own fate through local elections, raising the question of whether they ever needed "help" at the cost of casualties and destruction. However, over the last eight years, we were being persuaded that they needed to be saved and that they were in danger.
The military solution was being discussed… We will soon talk about how the events in Eastern Ukraine truly developed, but let's have a commercial break first. ADS HELPING OUR PEOPLE IN THE DONBAS Let's continue. For the purpose of this video, let's assume that starting in 2014, the residents of Donetsk and Luhansk regions needed help from Russia badly. We obviously don't think that, but many Russians do, given that this has been the official TV narrative.
So, today we will try to conduct a thought experiment on how exactly Russia could support ethnic Russians and Russian-speaking people of Ukraine. Starting in 2014, Donetsk and Luhansk, the capitals of the unrecognized DPR and LPR, have been under the effective control of Russia. Up until 2015, the republics were an active warzone. However, from 2016 onward, the intensity of the war in the Donbas region tapered off. It was no longer a war, but rather isolated clashes and sporadic gunfire, which became increasingly infrequent each year. As of 2021, the conflict was a frozen one.
According to data released by the authorities of the "people's republics," in 2021, seven civilians died in the DPR and one in the LPR. The loss of eight innocent lives is undoubtedly a dire tragedy. However, it cannot justify the outbreak of a full-scale war in which hundreds of people lose their lives daily. The popular saying "they've been bombing the Donbas for eight years" has nothing to do with reality.
The fighting and artillery fire with massive casualties ended two years into the conflict. And then there was the "bad peace which is better than a good war." This means that Russia had six years to ensure that the residents of Donetsk and Luhansk are living good lives. If it had, it would mean that our country really helped millions of people. And it would've served as proof for the rest of the world that the people of the Donbas were better off with Russia than with Ukraine. Now, six years is a lot of time, an entire presidential term in Russia.
In six years, a major city can be completely transformed, as proven by Mariupol and Kharkiv. I have a separate video on the development of these cities prior to February 24. REAL DEEDS Before we move on to discuss how exactly our country could have helped the Donbas, here's my take on this. I believe that our country had no business involving itself in the affairs of Donetsk and Luhansk, let alone making them secede from Ukraine. Like we said at the beginning of this video, people there were doing just fine solving their problems without our interference. If the lives of the residents of Donetsk and Luhansk had truly been in jeopardy, Russia could've reached out to them with a clear offer of assistance.
"To all of those who are concerned for their safety and fear persecution, intimidation, or any other dangers, we stand ready to welcome you to the Russian Federation. We will provide you with housing, benefits for repatriates, and assistance in finding employment." Moreover, Russia could've offered the same not only to the people of the Donbas, but to ethnic Russians everywhere. And not just Russians: there are many national republics in our country that could, on their own accord, invite ethnic Bashkirs, Chuvashs, Mari, etc. to come there. True, this would've spelled trouble for the budget.
But seeing as Israel is willing to grant its passports, financial aid, and a whole load of benefits to anyone with Jewish ancestry, this would've been a great investment. It would certainly be better than the costly maintenance of the unrecognized republics, and ultimately, it is a better alternative to the devastating losses associated with war. Our country could simply invite those who wanted to move from Donetsk and Luhansk and leave the cities alone. In Ukraine, they'd live normal lives just like Mariupol and Sloviansk, determining their own future in local and national elections. Now, suppose that for some inexplicable reason, there was no option to leave Donetsk and Luhansk to Ukraine. Suppose, we're living in the reality where TV host Vladimir Soloviev or Vladimir Putin would be telling the truth and where Western and Eastern Ukraine would be like the Hutu and the Tutsi in Rwanda.
They do not tell the truth, of course, but, for the sake of the argument, imagine let's say they do. What could Russia have done to save the people from the genocide? If the situation really was that dire, these regions should've been annexed, incorporated into the Russian Federation, and officially defended by Russia's armed forces. So why didn't our government that told us that the people there were facing genocide annex Donetsk and Luhansk back then? Let's face the facts. Over the course of the last eight years, millions in Donetsk and Luhansk
and their respective areas were caught up in an odd plight. They weren't in Ukraine, but they weren't in Russia, either. As a matter of fact, there was no jurisdiction there at all. And this legal void allowed some very controversial figures to take power.
Since 2018, the Donetsk People's Republic has been led by Denis Pushilin, the regional handler in the Ponzi scheme called MMM. In 2013, Pushilin's main focus was not on "the Russian world," but rather on the arrest of the MMM members in India. At the time, there was a lot of gloating about it on Russian state-run TV channels... One of the Russians introduced himself as a journalist to attract customers. Along with Alexei Muratov, the head of the MMM, two more men were detained by the police. In this video titled "How i spent this summer," a man celebrates MMM's another successful recruitment campaign with his partners from India.
It's likely that these people will spend their next summer also in India, but it won't be as much fun. ... and Denis Pushilin participated in an emergency MMM conference called on the heels of the arrest of his colleagues. We're waiting for Alexei to get back home, we have many plans here, and we will do everything in our power to make it happen. In the LPR, things were even crazier.
The first leader of the LPR, Gennady Tsypkalov, was strangled to death by his own associates. The second leader, Valery Bolotov, died in mysterious circumstances at the age of 46. Under the third leader, Igor Plotnitsky, infighting escalated to a dangerously high level, with commandos profusely killing each other.
This led to the deaths of Alexei Mozgovoi, Alexander Bednov (also known as Batman), and Pavel Dryomov (also known as Batya). Unidentified assailants also attempted to assassinate Plotnitsky himself. Although he survived the attack, he was later overthrown by the head of the Ministry of Internal Affairs of the LPR, Igor Kornet. Kornet remains in his position as regional minister of internal affairs, despite being implicated in a murder case despite being implicated in a murder case that has been probed by the Russian Investigative Committee since 2017. Would you enjoy living in such a political system? With armed people figuring who must rule by slaying each other? A particularly crazy part is that Vladimir Putin recently hailed LPR bosses Alexei Mozgovoi and Sergei Gorenko as "heroes of the Russian spring."
It is widely known that the late prosecutor Gorenko had gone overboard to ensure that Mozgovoi was found guilty in shooting a family couple along with a 10-year-old girl. Take another DPR hero, Arsen Pavlov, nicknamed Motorola, whom Putin also awarded honors (posthumously, of course). What a hero he was! That's some protector for you! Shooting from a rifle grenade launcher at random right in the middle of the city.
This isn't a way to solve problems. If you did get involved in something you had no business in, at least make the situation better, not worse. So that people in Donetsk and Luhansk could live decent lives. And not be caught in the middle of criminal violence. And certainly, Russia should not have been fostering thugs with machine guns — it should have disarmed them and maybe scheduled for them a mandatory appointment with a shrink.
To reiterate, I believe there was no sound reasoning for separating Donetsk and Lugansk from Ukraine. However, now that they have been separated, it is crucial to establish stable civilian governance in these regions. Although we do not harbor any illusions as to the integrity of Putin-endorsed governors and mayors, it is still preferable for the people of these regions to live under their rule rather than that of the warlords. In recent years, it has become clear that during truces, these warlords get easily bored and resort to indiscriminate shooting, killing each other or harassing innocent civilians, going: "Why aren't you dressed like a proper man, why a woman's haircut?" This is a reality that residents of Donetsk and Lugansk can attest to. But let's get back to reality. What do we have now? Several years of a simmering conflict. Eight years of no-holds-barred lawlessness.
And then, the big war. The war in which almost all male population of Donetsk and Luhansk are forced to fight. Not nearly as many Donbas people have died over the eight years combined as they did over the last 11 months. And for what? IT COULD'VE BEEN DIFFERENT Even if we assume that the residents of the Donetsk and Luhansk regions did have problems with the Ukrainian authorities, obviously they weren't worth the urban warfare. Those local residents who used to be Russia's sympathizers, certainly never asked to blow up their homes and wipe out their cities. This is all a bloody madness! No propagandist can explain to the people standing in the midst of what used to be their homes that they've been "liberated." Residents of every major Russian city have a laundry list of beefs with the Russian authorities.
This is not the reason to start wars and destroy our lives, however imperfect. A bad peace is better than a good war. There are multiple legal ways to support "your" people abroad without military action. One example is priority scholarships and grants. German universities are actively offering scholarships and grants to those who wish to study German culture and history; almost all countries in Europe do this. Russian authorities frown upon scientific and cultural contacts with foreign countries, and see any foreign funding as sabotage. Even though such practices should be adopted, and not feared.
We should be offering scholarships and grants to students and universities that show interest in Russian culture and history. In 1991, under the supervision of the Ministry of Foreign Affairs, Spain established the Instituto Cervantes, whose mission is to promote the Spanish language and culture globally, as well as support Spanish language learners. Today, the Instituto Cervantes has around 80 branches operating in Asia, Africa, Australia, both North and South America, and Europe, including one in Moscow. It's worth noting that Russia also has its own centers of science and culture abroad, but they are not as well-known.
Perhaps it would be beneficial to raise their profile and prestige to a level similar to that of the Instituto Cervantes. Israel has two outstanding programs, Taglit and Masa. Through Taglit, every Jewish person in the world aged 18 to 32 has the opportunity to take a free 10-day tour of Israel once in their lifetime. The Masa program allows Jewish individuals of the same age bracket to study in Israel for free for four or eight months, in a field of their choosing. Neither Taglit nor Masa have any obligations attached, such as obtaining Israeli citizenship or staying in the country for work. The Israeli government takes a practical approach by inviting all Jews, with the expectation that those who are most valuable to the country will choose to stay in Israel voluntarily, rather than being forced to do so.
Russia, being an incredibly rich country, could do the same. Instead of screwing up other countries in which ethnic Russians live, it would make sense to motivate them to come to us. Because in the modern world, people are worth more than territories. It's especially true for our country: what, after all, our country doesn't have enough of — land or people? Imagine if there was a program: every ethnic Russian could take a free tour of Moscow, St. Petersburg, Novgorod, and the Gold Ring cities, we could offer the same thing to the people of all nationalities that live in Russia. MINDING OUR OWN PROBLEMS In Russia, the beloved pastime of public authorities has become comparing itself to the United States.
But only in a bad way. Like the U.S. has a law on foreign agent organizations — let's have a law by which we could label even individual persons as foreign agents, violating their constitutional rights. The U.S. invaded Iraq to oust Saddam Hussein, destroying their entire country in the process. Let's do the same to our closest neighbors and destroy our own country in the process! Show them Americans what we're worth.
Why not learn something positive from the U.S. for a change? They're a federative state, just like us. Every state has its own education, culture, sports, and business hubs. Americans don't think that a good life can only be found in Washington, New York City, or Los Angeles. There are people still alive who remember the hunger in the 1930s' Oklahoma.
Back then, people from Oklahoma were referred to with a derogatory "Okies," which was synonymous with "beggars." Today, Oklahoma has museums, theaters, and world-class stadiums. Colleges range from the University of Science to Civil Aerospace Medical Institute. I specifically talk not about California, Illinois, or Massachusetts — we all know that life is good there — but about Oklahoma, which used to be a backwater state.
It's a nice thing to be helping Russians abroad. Except that first, Russians in Russia must be helped. So that every ethnic Russian, every Karelian, every Mordovian, every Udmurtian, or Ingush, wherever they might be and regardless of their citizenship, know that they can always come to Russia. Not out of fear of something, but simply to raise their living standards, to strive for better opportunities for self-actualization. There are over 170,000 settlements of various sizes in Russia, including villages, stanitsas (a village inside a Cossack host), and auls (a fortified village in the Caucasus). Of course, not all of them can be made perfect, but we could strive for it. We could start with regional centers. Turn them into international centers of science, education, culture, tourism, and business.
Is this task really as unattainable for a country like Russia? Our big problem is that we are not developing our own country, but are constantly trying to impress the others. And then we're offended that foreign countries don't treat us with the same respect and admiration as they do the U.S. and China. We're upset that their words matter on the international stage, and ours not so much. Well, it's only natural. These countries have cutting-edge science, modern education, and huge markets.
We, on the other hand, demand that we be loved for our past achievements, like the victory in 1945 or Yuri Gagarin's flight in 1961. But this is not how it works. Our current government made a mind-blowing fortune selling raw materials, they had talented people and 22 years to play with, which could all be used to turn Russia into a superpower. To make it such that the world would be waiting in lines to gain access to our technology, healthcare, or education. So that every year more tourists would come than Russia's total population.
If you think of it, Russia has a lot to offer, barring poor service and transportation channels. In the summer of 2020, Vladimir Putin said the following: Modern Russia is undoubtedly still in early stages of its development and consolidation. This is true for all aspects of our lives. Our political system, our economy, and so on. We're still very vulnerable, many things in our country were created hastily and are hanging by a tack, as people say. How so? What did they do with these 20 years? 20 years is a lot of time, a historical era can change in 20 years. On April 12, 1961, Yuri Gagarin went to space, even though 20 years prior, the Great Patriotic War (the Eastern Front of WW2) hadn't even started yet.
Today, it's been 23 years since Putin took over. A quarter of a century of pointless eyewash, which ended in an attempt to force others to respect us, for our military strength if nothing else. Turns out we didn't even have that. And the people whose love Putin tried to win, not through improving our country in a way that it would be attractive for them, but through conquering them, through land grab, now curse our country.
And they do it in pure Russian. Just a few days ago, a Russian missile hit a residential building in Dnipro, formerly known as Dnepropetrovsk. Not exactly Eastern Ukraine, but even there, 63% of the residents speak Russian, and 13% are ethnic Russians. And now, for them and for the next generation of Dnipro residents, Russia will be associated with that missile and with the destroyed residential building. I'd like to conclude this video with the following. In the 21st century, our country tried to win respect and love with flash and cash: $300 million fireworks or a stadium worth $48 billion. It didn't work. Then it tried to win it by force. That failed, too.
There is finally the last option. To deal with our own problems and become a truly nice country to live in. It won't be easy. But we just need to start doing it. Before I go, let's hear the People's Artist of Russia Dmitry Nazarov, who was recently fired from Chekhov's Moscow Theater. See you tomorrow! One must not die in the name of peace Must not sacrifice oneself Don't lie to me, please, In the name of peace, one must live For the sake of peace, one must live Not weep, mourning for loved ones, Not scream in their beds, Not drink for their souls Not drink for their souls, Bending under the burden of tears Cursing others, people like you, Getting used to living alone Getting used to living alone In the emptiness of burnt homes, In the world of pulled hairs, Who needs such peace at all Who needs such peace at all That smashes your skull at the wall On which yesterday's idol proclaims That peace is always a fight That peace is always a fight That you must go and die, Dying in the name of peace This I cannot accept This I cannot understand, This I cannot serve One must not die in the name of peace In the name of peace, one must live
2023-01-21 03:48
Show Video
Other news