【最後の車中泊】日本一周ついに完結。愛車で過ごす最後の夜。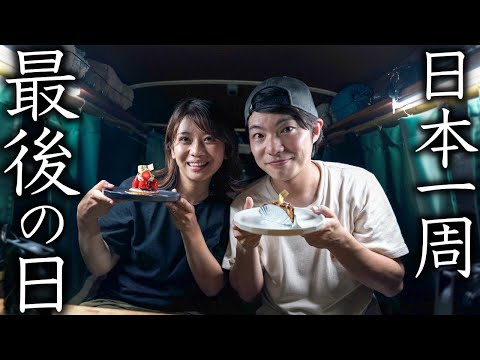 Show Video
We came to a place of memories. We are a couple who are traveling around Japan while living in the DIY light van "Curry". The one-year long journey finally ends with this video. Thank you so much for your support so far! We hope you enjoy our journey to the end! Kenji & Akari Hello. Last time, we visited Kinosaki Onsen in Hyogo Prefecture.
Then, we came to Kyoto, the last prefecture of our trip around Japan. The last is Kyoto. We had a lot of trouble deciding where to end, but we chose Kyoto. As for why we chose Kyoto, First of all, today (video shooting date) is June 23rd. It's Akari's birthday. Thank you.
We were also wondering when to end the journey. It's a special day, so we decided to make it the last day. Today is the last day of our trip around Japan.
I'll be staying one night, so tomorrow will be the last day, but I'd like to end my trip around Japan on Akari's birthday. Finally the last. We went sightseeing in Kyoto for a few days, but we haven't made a video. We went to Kyoto city for sightseeing and ate delicious food.
We was wondering where to go in Kyoto, but we came to a place of our memories. There is a hot spring town called Yunohana Onsen in Kyoto. Kameoka city. A slightly quiet hot spring that is said to be the back room of Kyoto.
I will explain why I came here. How many years ago was it? About five years ago. Five years ago today, June 23rd. On Akari's birthday, I actually came to stay at this hot spring inn and I made the marriage proposal.
It's a memorable place where Kenji marriage proposed to me. It is an inn called "Sumiya Kihoan". We stayed in a large room with a hot spring. At the end of the trip, we came to a place of memories. I thought about staying at a inn, but since it's our last trip around Japan, we chose stay in the car. We decided to finish our trip around Japan with our partner Curry.
We will not stay at the inn this time, but it is possible to use it on a day trip. Have lunch and go to the hot springs. After that, we plan to spend one night in the car in Kyoto city to finish our trip around Japan.
So, first of all, we will go to lunch. This is Sumiya Kihoan. It was just off the entrance to the Yunohana Onsen town. Five years ago, we took a trolley train from Arashiyama to Kameoka, then came by bus.
I didn't come by car, so I didn't remember much. I remember this entrance, but I didn't know the way at all. We went by trolley and returned by Hozugawa Rafting.
We got on the boat. lol It's a trip of our precious memories. Wow, nostalgic. It is a luxury inn. If you stay overnight, it costs over 30,000 yen per person. Better rooms cost more.
Even a day trip costs about 7,000 yen per person. It's high class. First, lunch. There is a restaurant called "Shunzen Zuika" in this ryokan where you can eat lunch.
I had breakfast here when I stayed 5 years ago. A seat with a view of the outside. Green is beautiful. Ah, It brings back memories of five years ago.
I don't remember much. I remember the guest room. When I came here, I remembered my memory. There is a kamado (cooking furnace), and you can eat rice cooked in a pot. We enjoyed our meal while immersing ourselves in old memories. After eating, I would like to go to a hot spring next time.
was delicious. I'm full. Big bath. Separate hot water. The public bath is over here, so I'll go there. I got out of the bath.
We have about 1 hour left, so we will take a break at the library. take a break here. We spend the rest of our time reading.
I'm back in my car. It was an elegant moment. Relax. I got sleepy when I was reading the book. I'm sleepy. I slept for a while. Iol It was a good place. I'm glad I came here after a long time.
The hot spring was comfortable. There was no one. Not many people come here on weekdays. From now on, to head to Kyoto city and spend the last night of the trip by car. It is the end.
Going now. Small voice. lol Kenji and Akari Today's car stay spot "Kyoto Minami Kamogawa RV Site" Arrived at the place to stay today. We will spend the last night in the car here. It's in the city. The apartment is next to it. There is a camper shop next door.
Some sites can be used after making a reservation on the web. You can use the power supply (paid) on the lawn. There are toilets, a shower, kitchen and trash cans.
There is also a vending machine. It was written that the toilet has a washlet. Clean restrooms.
This is the shower room. There is also a washbasin. Coin shower is 200 yen for 4 minutes. There is also a coin laundry. Dryer and washing machine. We didn't use it this time, but it's good for a long stay.
There is a river. Maybe Kamogawa? Yes. Because the name of this RV park was also Kamogawa. The sunset is amazing. The system feels like coin parking.
Get a ticket at the gate, free for the first 30 minutes, then 100 yen every 30 minutes. Up to 3000 yen for 24 hours. For 1 night and 2 days, the maximum is 3000 yen.
It's very good because the facilities are in place. Garbage can also be thrown away. It's still hot inside the car, so I'm out and cool. along the river. I can see the setting sun. The journey is about to end...
Yes. I made preparations for stay in the car. We will make the last meal in the car. It's so hot.
It's dangerous. It's already summer. It's 30 degrees inside the car. The windows are fully open, the door is slightly open, and the back door is open, but it's hot.
The wind is blowing only a little. But I will use fire from now on. The last meal in the car is curry. worthy of the last.
I will make a curry suitable for the last meal in the car of the Curry. However, after all, I didn't make so much curry during this trip around Japan. We may have never made curry in the car.
It may not have been made in the car. I made it outside and ate it inside. I just made it while camping. It's the last time, so I'll make curry without worrying about the smell. Take the plunge and make curry. Last.
It is also the last time to put out the cooking utensils like this. I don't know. lol This is the end of our trip to Japan, but we may spend the night by car again in the future. And here are the spices that I didn't use much after all. spice box.
Wow, it smells like spice. Original garam masala. I almost never used it. Lol This desk also managed to do its best without breaking. handmade table.
But it's about to break. It's not broken. Ah, it's dangerous. Barely safe. It didn't break unexpectedly. I thought this would break first, but it endure.
It endured. It was fine for a year. Okay, Let's do this. Rice. Each action is the last. Act with a feeling for the last. lol
Where were we today last year? Nagano. We also stayed by car on Akari's birthday last year. That's true. You grilled steak, right? I grilled steak and ate cake. I never thought I would still be living in a car a year later.
It was due to end in April. I thought it was over long ago. Cut the onions. I finished cutting the onions. I didn't cut it that much. Lol Rice is dancing.
Curry with okra and chicken. Today's chicken. The last is a discount product that is unique to us. lol
I have a habit of picking it up if there is a discount sticker on it. It is a great deal if you use it immediately. I feel like I always make the same curry. Chicken curry every time.
Our classic is chicken curry. stable deliciousness. It was completed. looks delicious. In the video, it is supposed to be completed in an instant. Lol
It was a little too hot on the way, so I skipped it. lol Served on a plate. looks delicious. Cooking is completed. Last Supper.
I'll enjoy having this. Thank you. Since it's the last, I drink a little beer. I get drunk, so just a little. cheers.
Happy Birthday. Thank you. I forgot for a moment. Me too. delicious.
delicious. Curry is the best in hot weather. It got a little cooler.
The daytime in Kyoto was very hot. I can't stand it if it gets hotter than this. You should go to a high altitude place or Hokkaido. Kansai area is really hot. What should I talk about at the last? don't know. Let's look back on the memories of the trip.
The trip started from Wakayama. Around April 17, 2021. Start from Wakayama. Should I say all this? lol No. It's a long story. lol Our channel was monetized when I was in Fukui prefecture. At the beginning of the trip, I released videos about the sights.
I just took a video of the inside of the car about a month after I left for the trip. I took this video when I was in Fukui. It was filmed in a place like a port by the sea in Fukui Prefecture.
When it was released, it was playing from the beginning compared to the travel video. The video was played with great momentum. The number of subscribers to the channel has grown to over 10,000.
The video monetized our channel. That's why it felt so fast to reach 10,000 people. That one has changed our Youtube life. It had that much of an impact. I learned that the power of videos with a lot of views is amazing. We started YouTube for memories, so I didn't care about the number of videos played.
But I was happy that many people cheered us on. Of course. When we started my journey, we had 400 subscribers. It's about 93,000 thankfully now. (When shooting)
Amazing. About a year. It's been about a year since the channel was monetized. It's great. We appreciate. There were times when the schedule changed due to the epidemic of infectious diseases, but it was a year.
From the beginning, the trip was planned for one year. We couldn't visit every place we wanted to go in a year. It was impossible.
We were filming and editing the video, so it took a while. It may be possible if you are traveling without shooting or editing. We did not go sightseeing on Saturdays and Sundays either.
I think one year is enough if you go sightseeing regardless of Saturdays, Sundays and rainy days. Japan was big. It takes a really long time to go around to a small spot.
It takes time just to go around the main places. A year is a little tough. Also, after deciding to end in June, we were in a hurry. I was really in a hurry for the last few months. Some prefectures don't actually have videos, but we went to all of them. In some prefectures, we didn't visit many tourist spots.
The prefectures we have visited before did not stay long. But we were able to go to all 47 prefectures. We were able to go around Japan. There are many other people who are traveling around Japan and doing YouTube, but they are still traveling. We will be out of car life. lol
I think there are questions about what was good about traveling around Japan and what was delicious. I'm planning to publish it all together in another video. If you talk as you can think of it, there is no end. lol
It looks like it's going to be a long story , so I'm going to make another video. There are many good places in Japan. It felt like the longest year since graduating college. I did something different every day and it was fulfilling.
A year as an adult goes by in the blink of an eye, but this 1 year felt like so long. I feel like my experience points has gone up a lot. I think it has grown a lot compared to the past year. I'm glad I decided to quit the company and travel around Japan. I thought that from an early stage. Lol You've been thinking about it since the day you left the company, not because the number of YouTube subscribers increased.
From the day I told my boss I wanted to quit the company. You got well from that day. lol A weight has been lifted off my shoulders. What is your resolution for this year? It's your birthday, so I'll ask. Lol
I've gotten used to this life without owning things, so I want to continue it. I think so. So take good care of things. I also came to want to use good things for a long time.
After all, I experienced firsthand that if I live this way, I can live even if I have few things. Even if I live at home, I want to live with only the minimum necessary items. I want to live surrounded by things that I like. I want to determine if things are necessary or not for me in this year. Not only things, but also habits up until now.
Do you mean the habit of reading manga on your mobile phone? lol The habit of surfing the internet before going to bed for no particular reason. You don't need that time. I can do something else in that time, so I want to make it a year where I can properly reconsider that kind of thing. I want to do it now that I'm used to a minimal life. For example, I thought I didn't need a TV.
Until now, when I lived at home, I always had the TV on because I liked it. When I got home, I used to turn on the lights in my room and turn on the TV. But I got used to living without TV and thought I didn't need it at all.
I can pick and choose the news I want. You don't have to spend time looking at everything. I can pick up only the information I want. You can watch the movies you want to see because you have a Netflix and Amazon Prime contract.
I don't want a TV. I will live at home from now on, so I don't watch TV except when I need it. It will be used mainly as a monitor when watching YouTube and movies.
I noticed that. We are excited to be able to live in the house. Life at home used to be the norm, but now I'm grateful.
First, I can wash the dishes. I am happy to be able to use water. Also toilet and bath. For example, if you live at home, you can go to the bathroom as soon as you wake up at night, but you can't do it in a car.
That kind of thing will be gone. be released. Not only Japanese but also overseas people often comment that the car is narrow. The reason we live in cars is not because we like small spaces. lol For a year's journey, I chose a small car to make it as efficient as possible. I like the look of this Curry, and I'm happy with it.
We don't change cars just because the journey is over. I'm love attached to Curry. First, this is my current home. lol
Our home and family. Curry did his best. I thought it would break more. I thought there might be a problem that would make it impossible to run.
If the curry had broken down, I think the trip would have ended halfway. I probably wouldn't have switched to another car to continue. Thank you so much for being patient with me.
Because there was this Curry, I was able to complete a trip around Japan properly. I had finished eating before I knew it. It's so hot. Thank you for the meal.
Today is Akari's birthday, so there will be a cake. I will eat cake later. I washed the dishes. I eat cake. I can't believe Kyoto is so hot. I didn't expect to sweat so much on the last day in the car.
It's not a big cake, but I bought it before I came here. It's so hot. Last year I was in Hakuba, Nagano, so it was still cool. Kyoto is useless. Kansai is very hot. The cake like this.
Strawberry and pistachio tart and banana tart. eat this. ♪ Thank you. Thank you for your hard work around Japan. I'll enjoy having this. Same picture as last year. Lol
maybe the thumbnail will be the same as last year. lol delicious. delicious. Less sweetness. bananas and walnuts. I wanted coffee, but it was too hot and I gave up.
I'm from Kansai, so I've been to Kyoto quite a few times. I lived. The two of us even wore kimonos on a date. I think it's also fun to go to Kyoto when we're old. After traveling around Japan and coming back to Kyoto, I thought it was a great city.
Beautiful. The city is beautiful. Is this the last video okay? lol From the beginning to the end, our thoughts and core have not changed. You may think that it has changed on the video, but it is not strange that it has changed. People change and grow, so it's more scary if they don't change. I think it's good that things have changed.
Among us, we post videos on YouTube, but we do not intend to sell our hearts to YouTube. So in that sense it hasn't changed. hasn't changed much. I think some people will inevitably become a journey centered on YouTube.
We decided to try to prevent that from happening ourselves first. So I think I saved it. We traveled the way we wanted. We followed our ideas without being influenced by the opinions of others.
We were able to do what we wanted. First of all, if you are a YouTuber traveling around Japan, I think you will make videos of all prefectures. I'm sure They'll shoot a video no matter what. It wasn't. I'm sorry if you live in a prefecture where we didn't make a video. Sometimes I didn't shoot because of the prefectures I've been to before or because of my schedule.
I would like to praise that we have gone to all 47 prefectures. lol First, I didn't intend to go to the Kanto area. I started traveling thinking that I could not go depending on the situation of the infectious disease. The situation improved, and we wanted to go to all the prefectures. I think the definition of traveling around Japan varies from person to person.
You don't have to go to all prefectures. Some people go around the coast in a single stroke. If we can convince ourselves, that's fine. I think we were able to travel without forgetting our original intention. We were able to prioritize the trip and our thoughts. It was a long trip.
Doing something different every day feels longer. If you are an office worker, you live in the same rhythm every day, so time flies quickly. Travel is completely different. Every day I went to a different place.
That's why this year felt so long. When I grow up, I feel that time passes quickly. For the first time in a long time, when I was young, it felt like a year in elementary school. It was long. We were able to grow, we were able to study, and we worked hard. We did our best.
Both of us made an effort. The viewers may see it as just two people taking a leisurely trip. People sometimes say that they are envious of their leisurely lifestyle. The number of subscribers to the channel has increased, and you may think that it is very smooth sailing. But we tried. We tried very hard. We also set goals.
We wanted to reach 100,000 subscribers. If we surpass 100,000 people, we will receive a silver shield. I thought I would be happy if there was something that remained in shape, so I started aiming for it. During the trip, I came to think of it. If the channel couldn't be monetized in the first place, I wouldn't have thought about it. Thankfully, the number of people who watch the videos has increased, and I wanted to aim for 100,000 people anyway.
At the beginning of the year, the two of us discussed and thought about what to do for that. But we decided not to do what we don't want to do. I think I was able to do exactly that. Setting goals was very significant. Not only did I vaguely wish for 100,000 subscribers, but I pondered what to do.
We wrote down our goals on paper and set milestones. We made a plan and acted on it. And soon 100,000 subscribers. I haven't achieved it yet when I was filming this video, but I saw signs of accomplishment. I'm done eating, so I want to take a shower.
I feel like I talked a lot today. lol I don't know what to do with video editing. It's the last night, so please summarize. I've lived in a car for a year, and sometimes it's hot, cold, rainy, or tough, but I never wanted to quit. It was a fun trip.
It's thanks to the viewers who watch the video and comment. Thanks to Kenji above all. I can cry. lol Don't lie. lol I really think so. I was about to cry. lol
Don't cry. This is not a tearful video. lol Thank you for everyone. It's been a fun year. I was able to do my best because everyone was watching the video. Above all my wife. and a business partner. lol
Thanks to Akari. Before we went on a trip, we lived together but worked separately. We never had the experience of working together.
But this past year, the two of us left the company. And travel and YouTube, which became a job. I think it was great to have the experience of working together to create something. If I had continued to be a office worker without quitting my job, I wouldn't have had such an experience.
The two of us may not have been heading towards a single goal together. In that sense, I am really glad that I made this trip. I don't think everyone can do it.
The decision to quit the job is difficult. There are also difficulties that we can understand only because we have worked there. But I'm so glad I took the plunge and made that decision. Akari understood my desire to quit the company.
Thank you for giving me the OK. Thank you. I look forward to working with you.
Our journey around Japan ends here. However, I will continue to post videos on YouTube. We love traveling, so we would like to continue traveling to various places and making videos. I think it would be nice if we could continue to travel while leaving videos. So, our trip around Japan is over, but we would be happy if you could continue to watch it in the future.
Thank you for your continued support. And thank you Curry. MVP. Thanks to Curry, we were able to monetize the channel and complete the trip safely without injury. We had no major illness.
I think it's all thanks to Curry. Thank you. I'm sorry I haven't been able to wash the car much. We rarely wash our cars. It worked hard even if it got injured.
It was dangerous because I had a flat tire. It could have been something that led to an accident. When we punctured, we were in a safe place, so it wasn't dangerous. I think Curry did a great job too. Thank you. The party is in full swing. lol
You're not good at ending the story. lol Thank you very much for joining us on our loose journey. Is this really appropriate for the video at the end of the trip? lol I would like to end loosely like us. I'm really thankful to you. Thank you for watching.
If you think this video is good, please subscribe to the channel... You don't usually say that. lol Thank you for your nice. lol It doesn't make much sense to say it now. lol
Thank you for watching. Bye bye. It's hot. Good night. The last night was too hot to sleep... lol
The trip around Japan that started on April 17, 2021 ended on June 24, 2022. We visited all 47 prefectures in about a year and encountered many wonderful scenery in Japan. We were able to complete our trip safely thanks to the support of those around us. Thanks to everyone watching the video, people we met on our trip, friends and family.
Thank you very much for your support! Our trip around Japan is over, but I will continue to post travel and outdoor videos! We would be happy if you could continue to support us. Thank you again. Kenji & Akari Don't forget to subscribe, nice and comment!
2022-08-03 18:34
Show Video
Other news