해안을 달리는 노면전차를 타고 둘러보는 쇼난 가마쿠라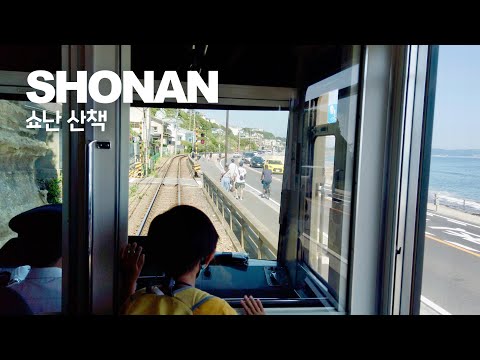 Show Video
The other day I visited a resort near Tokyo, Japan. I went to Shonan About an hour by train from central Tokyo Odakyu Line Fujisawa station From Fujisawa station, take Enoden (streetcar) This course takes you from Fujisawa to Enoshima to Kamakura We're going to try to take a walk on the way. I buy a free pass for one day 800 yen ticket Atmospheric green tram Speaking of Enoshima It's a train that runs along that coast. It's got a nice retro style. Enoshima station is 5 stops away by train...
Get off at the next station of Enoshima station and take a walk. I'm going to stop at Enoshima This is Enoshima station Next is Koshigoe station From here, I decided to walk along the coast. I drew the course of the walk on the map 1-day pass This Eko train (tram) with its atmosphere is very popular.
Many people come here to take pictures First of all, it's safe. Oh wonderful! Walking to the beach Nice atmosphere of the city The road is bordered by the ocean on the other side This is a popular coastal road in Shonan A lot of cyclists. There is a shrine on the way and I stop by A shrine with a history of about 900 years From the next mountain The scenery that you can see is amazing, and they built this shrine Behind the shrine is an observatory There is a small fishing port called Koshigoe There is a long beach towards Enoshima, but Fuji in the distance Weather is fine and people fishing What is the feeling of fishing with a view of Mt. Really nice weather Spring weather without a cloud But the temperature is already 31 degrees (already summer) So you can go to Enoshima by boat We're going into Enoshima. Corona is settling down and more people are coming. Food shops are all over the place from the entrance Mostly grilled squid and turban shell stores And then there are a lot of rice bowl restaurants.
Drinks and squid roast Grilled corn, and And beer! It tastes like soy sauce flavored grilled squid, but... It's the taste of eating outside that makes it taste so good This is a drink called Shonan Gold Sour. This sake is made from golden mandarin oranges grown in Shonan.
Only available in Shonan After a short rest I'm going to take a walk. It's even more crowded than when I was here last year around this time. I think I'll just walk around the shopping street in Enoshima this time.
There's a small street in front of the post office. You probably don't know it. It's a passageway that leads to the ocean And there's a small beach like this.
The sand on the beach in Shonan is almost black It's a little bit different from the image of a bright beach. Black, a coast with its own flavor. The kids are happy.
Come on, let's walk some more. This store with the long line... A store that makes whole squid, shrimp and crab into rice crackers Entrance to Enoshima shrine.
There are many stairs from here. I've been here before, so this is as far as I go this time. There's a dish store at the end of this little road here.
I've wondered about it every time I've been there. I'll drop by today. There is a gulper like this in the store There was a drinking cup with the zodiac on it. Fortunately, there were some left that I liked, so I bought one... And manjuu is also famous. Buy one of the least Then move to Enoshima station It's still early so many people are entering the island On the way to Enoshima station Lots of stores Lots of cafes, nice Enoden is coming Riding the Enoden Enjoy the most attractive course Riding through the city Running between cute residential areas Running along the winding railroad tracks From the back of the residential area The shining blue sea comes into view This is the most beautiful section of Enoden Riding through the city again And running along the coast I want to see the ocean, so I'm going to get off here.
Next stop is Inamuragasaki station It's a small town with a small beach and park A walk course to the next station after seeing the sea I've drawn on the map the course we're going to walk. I buy a drink at a convenience store Lots of cute houses! But I want to see the sea, so I go to the sea Oh, it's cool! Many people are getting sunburned. Come on, let's have a cold drink. Take a sip.
Enjoy with the eyes and ears Feels good This is Inamuragasaki Park Here's another nice place like this. I can already see Enoshima in the distance. I'm going to walk in the park, too. Smaller park than expected Good for a visit away from the hot sun. We're going to take a walk in a quiet residential area. Walking to the next station Lots of beautiful flowers here and there It's really a quiet residential area.
And the streets are clean. It doesn't feel like a vacation home or anything. It looks like it's always been a town The residential area near Enoshima is There are a lot of young people who like the sea.
I feel a spacious countryside here. Arrive at Gokurakuji station The nearby temple is famous for its hydrangea It seems that a lot of tourists visit there. I'll do it next time because I'm worried about slowing down.
Next stop is a place where there is a big Buddha statue. The Big Buddha always appears in Kamakura tourism posters We go to Kotokuin, the Great Buddha Temple in Kamakura, where you can see the Great Buddha This is Hase station About 10 minutes walk from Hase station Arrived Mostly people come to see the big Buddha Except for the Big Buddha, there doesn't seem to be anything else to see. So I recommend you to visit the nearby Hasedera Temple at night. Entrance fee is 300 yen I can see it. The official name is "National Treasure Bronze Seated Image of Amitabha Buddha Height: 11.3m, Weight: 121t At first it was made of wood Later, they cast it in copper.
The gentle mouth line is It is said to be an oriental smile that evokes the self-love of the great Buddha Did you know that there is a window on the back of this Big Buddha? You can never see this window from the front. I think this is a ventilation opening. I couldn't go inside the Buddha statue after the entrance time was over. I have a cup of coffee at Hase station and rest for a while... Our last stop today is Kamakura station. This is the last stop of the Enoden line and also the station where you transfer to the JR line.
Arrival This is the Enoden station Shonan Shinjuku line runs here. This is JR Kamakura station Shopping street connected to Tsurugaoka Hachimangu Shrine The shrine that most tourists come to Kamakura to visit is Tsurugaoka Hachimangu Shrine Long shopping street This shopping street itself is a tourist attraction Kamakura beer Various stores, cafes and restaurants are all over the place You will be satisfied just by looking at this place. You've seen the salt that they put at the entrance of Japanese stores, right? It's salt that's meant to chase away evil spirits. It looks like a store that sells such salt and frames You can see some sneakers that are very Japanese Kamakura beer here too This is the entrance to Tsurugaoka Hachimangu Shrine This is the most important shrine in Kamakura. Built in the year 1,063 History is close to 1,000 years I have an image that it is always crowded with tourists. I heard that the best time to visit is at the beginning of the New Year.
And to the left of the stairs, there seemed to be a huge old-fashioned ginkgo tree It was cut down by a typhoon about 10 years ago. It was a nice ginkgo tree... So I hope you're tying some kind of a mourning sash or something like that. I know many people come to any shrine to pray for health and good fortune.
When I came, I came from the shopping street. I'm trying to go from the road in front of the shrine on my way back. Formerly, this road is the one you walk on when you come to visit the shrine.
I walk it on my way back without meaning Not on a busy street like a shopping street. Not a crowded street It is a road with a nice atmosphere with traditional stores Pleasant path walking among zelkova trees The darker it gets, the nicer the illuminated buildings And here we are at Kamakura station. We are back to our starting point, Fujisawa. (Fortunately, Enoden 1-day pass) Odakyu line is close to the nearest station to my house, so I take Odakyu line to go home. It's getting late there, so I'm going to take the Odakyu line. I'm going to have dinner near my house We come to an Italian restaurant Outside seating is great this time of year! And there's even all-you-can-drink sparkling wine.
Order some food Fried fish Spicy pasta I chose 3 from 1~3 spicy and it was quite spicy But I love this spiciness! Spicy and tasty! Roasted young chicken From tender and refreshing taste It's also delicious with basil sauce and chili sauce Wine is also delicious and I drank many glasses of wine! Thanks for watching!
2022-06-04 23:07
Show Video
Other news