深海400mから上がった怪物イカを解体してみると・・・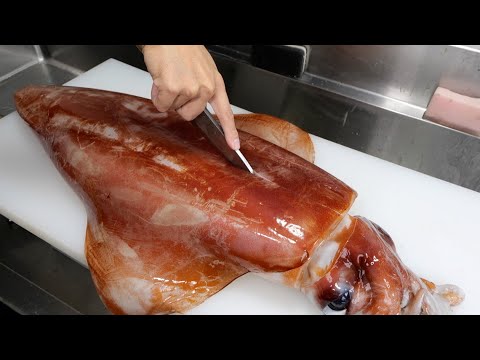 Show Video
Hey guys! Masaru here. Today we're going to look at... THESE! A GREEN TURBAN and a DIAMOND SQUID. And they're food. I was gifted these by the Amami Islands Fisheries Promotion Council. Yes, this video is sponsored.
I've reached a point in my career where I get jobs from public administrations. Crazy, right? I'm so thankful. Okinoerabu island, where I live, is part of the Amami Islands. So the number plates here say Amami. People might think I live in Okinawa but I'm actually in Kagoshima.
Let's take a closer look! This is a diamond squid. It weighs about 8kg and I'd never used it in my videos but these are super common in the Amami islands. These are the main squid we have here.
These can grow up to about 20kg so they're pretty big. An interesting thing about squid is that they live for about a year. So this is only one year old. It could be less.
Squids really grow fast so this is so big but it hasn't lived for a long time at all. The green turban is smaller but it's much older. We call them in Japanese "seashells that glow at night". But they don't glow at all. In the Heian period, green turban shells were used for ornaments called "Raden". They were imported from Yakushima so they became "Yakugai" after Yakushima and later "Yakougai," which is the current name in Japanese.
I usually hunt these when I free dive. The local fishermen caught this squid using the Hatanagashi fishing method and we have a video of that so please take a look. They're unloading the diamond squid. These are all diamond squid bodies. Their tentacles and the bodies are separated to keep them fresh.
As you can see, they're huge. The big ones sometimes weigh about 15kg without the tentacles. It's too heavy for humans to lift up so they're using a crane. The squids are put into this big container and sent to places like Okinawa or Kagoshima. To catch diamond squids they let this big flag float around in the water and fish up the ones that are caught. This is called the Hatanagashi method.
They throw in so many of these flags at once and they pull them up from the deep sea so it's really a laborious task. We're going to fillet this diamond squid today. Let's start filleting these luxurious two! I'm going to start filleting now but I received a brochure from the council so I'm going to follow this recipe. Let's have a look. Diamond squid! Chinese stir-fry.
I've never made Chinese stir-fries. Let's try this Chinese stir-fry dish. Where's the green turban? Here it is. A garlic butter roast for the green turban. Let's try this one too. You can have a look at this brochure by clicking on the link in the description so please take a look if you're interested.
Let's start filleting the diamond squid. First, I'm going to make a cut in the middle. The reason I never used the diamond squid on any of my videos before is because fishermen usually take away the organs and tentacles while they're still on the boat. It's unexpectedly thick. It's so thick! There's a bone right in the middle here. This is the bone.
It's like hard plastic. And in here are the organs. This thing on the edges is the gill.
The gill. I can peel it off with my hands! OK. This is so big. Look at this.
How much "Ikameshi" dish can I make with this? It could probably feed about 50 people. Let's check out the organs! This is where the ink is. It'd be a disaster if I broke this. There should be the liver somewhere in the middle but it's hard to see. Let's open up the head.
Oh no! I broke it. This is what happens when you break the ink sac. It's a disaster.
It's going to be all black. OK. That was catastrophic.
This thing in the middle is the beak. The squid's mouth. A squid's mouth actually looks like that of a bird. Those long things you see in graphics are used to squirt out ink. It's not the mouth.
There's something in here. What is it? It's a mysterious part. No, it's the eye. The eye is so big.
Wow. Can I take this one off too? The eyes are so big. These are scary. Amazing! This body part and the tentacles are usually sold separately. The body part costs quite a bit but the tentacles are cheap.
I'm going to eat this part too. I think the tentacle are going to be tasty too. Now, I'm going to prepare the body part. Firstly, I'm going to take off these fins. This would be better upside down. This feels amazing! I want to keep cutting it forever.
It feels so good. Feels good. Onto the other side. Now, I'm going to peel the skin off.
I'm going to fix up the shape first. Let's cut this part off. I'm going to peel the skin off. That feels good! That feels amazing! Big ones are easier to fillet when they're cut smaller. This one is hard.
I peeled off one skin. We say "one skin has been peeled" in Japanese to mean "someone has matured". Maybe this is where that came from because it looks so different now.
For this white one as well there's some thin skin so I want to peel it. This is satisfying. So now they're square pieces of squid. I'm going to repeat this process four times.
I'll fast forward. It takes much longer than you think... I'm done peeling the skin off its body. I'm going to cook it as is but diamond squid actually taste sweeter when they're frozen once. So I'm going to cut these into little pieces I can use later.
This way I can cook them immediately after freezing them. This is quite rare for food. Freezing and defrosting things usually makes it lose their flavour but for squid freezing them makes it tastier.
Fresh ones are actually hard and flavourless, not tasty. But I don't have the tools to catch squid so I haven't been able to eat fresh squid on the boat to check if it's true. I'd like to buy a winder and catch a squid some time.
OK. Today, I'm going to use this one piece. Now, I'm going to prepare the tentacles. Squid tentacles have teeth on the suckers. I can't get it off. That means it's fresh.
These are the teeth. They stay in your mouth so I'm going to take these off. I think doing this with paper towels would work. Yes, they're coming off.
These squid teeth are so hard. I'll just do it like this. Doing this a lot would get rid of them.
It's annoying when they stick to your mouth so I'm going to wash them off. Now, I'm going to cut these tentacles. The tentacles are way small in proportion to the body. I wonder how they swim.
They squirt out water to swim. This is the arm. Squids have two long arms and they use them to catch food.
This is the middle part between the body and the tentacles. This part has cartilage and should taste good. I hope so. I'm done with the preparation stage.
Now I just have to deshell the green turban. Now, it's finally time for this. The green turban. Let's start deshelling it. Green turbans have their adductor muscles here so I'm going to cut this off. OK.
This is how you do it. The adductor muscle still continues deeper so I'm going to scrape it off with my hand. And now it all comes out. This is a pretty small one but big ones weigh about 2kg. Isn't that huge? This is the inside. Green turbans' livers aren't really tasty so I'm going to take this off.
This is the lid so I'm going to take it off. OK, it's off. Look! This is the mouth of the shellfish.
Its face is here. See the mouth and the face? It has a face like a snail. And the mouth is here so I'm going to take it off. The mouth is hard so the texture is bad. Cooking this part would make it too hard to eat so make sure to take it off.
This bit is the green turban's feet. This is the adductor muscle and it's very soft and tasty. This is all mixed up but the preparation of the food is done. First, I'm going to make a green turban's garlic butter roast. I'm going to follow the fancy recipe.
I've never done anything so fancy. The recipe calls for unsalted butter but the shop on the island didn't have it so I'm using normal one. How much? About this? If I learn how to cook properly I'd be invincible. I'd get all my ingredients and cook them all myself. I'm talking myself up.
I might learn how to cook. Here's garlic. It says "finely chop the garlic and onion". This is going to taste good! And put this in with the butter.
And I need a quarter of an onion. Maybe one-third. No, one-fifth. Now, I'm going to finely chop the onion.
OK. Now, this is where it gets fancy. It says to add Italian parsley. Add the Italian parsley, and mix. I'll do it with my hands.
It won't mix. If you use unsalted butter you're supposed to add salt in here but I used salted butter so I'm not sure what I should do. I won't add it now. I may sprinkle some if it's too mild.
I'm done making the sauce so I'm going to cut the green turban. Green turbans have hard feet so I think it's best to cut them into small pieces. Green turbans are so tasty. OK. Now, today I've prepared a takoyaki maker. It said it on the recipe.
Conches in a takoyaki maker basically means buttered escargots served at Saizeriya. I can't be bothered. I'll just do it like this. OK. On top of this, let's put the garlic butter I made earlier. No enough? OK, now it's ready.
I'll start cooking it when it's time to eat. Next up! Let's make a diamond squid Chinese stir-fry! This part of the diamond squid, the fin, is actually gristle so the texture should be great. So... I'm going to do this... and mainly use the parts that have gristle.
It feels amazing cutting this! It's going to be delicious! I'm going to put the diamond squid in here. Let's cut the tentacles into bite-sized pieces too. From the root...
And onto the body part. I'll cut it like this. Diamond squids are not that hard so I can cut them into larger pieces.
Like this. OK. Now I'm going to make the soup. I'll be using chicken stock granules, pepper, MSG, and salt. Let's start making it. Salt.
MSG. Chicken stock granules. And finally black pepper.
And I'm going to add water to this. For the ingredients, I'm going to use bok choy and the squid. OK. Now, let's start frying. Firstly, sesame oil. Ignition! And I'm going to put the squid in here.
Chinese food is all about speed. And then the bok choy. I'm going to add the soup I made earlier.
Finally, add a bit of soy sauce. Once the flavours have settled down, add the potato starch. Add some scent with the sesame oil, and it's done. Finally, I'm going to make sashimi. It's so big.
I guess this will do? It really starts to look like food at this point. This still looks like jello or something. And I'm going to place them here. The squid looks really nice. And I'm going to add the green turban's adductor muscle.
The frilly bits might change the texture so I'm going to remove them. Green turbans can be a little slimy when eaten as sashimi so you might want to blanch them as well. OK, it's ready! The food is ready Let's try. I'm going to turn on the takoyaki maker and let the garlic butter cook. Ignition! While I wait, I have something to talk about.
From November 11th to December 18th, there's going to be a seafood festival on the Amami Islands. It's at restaurants that serve seafood caught around the Amami Islands so it's an event that can only take place on the islands. For the details, please check out the URLs in the description.
Within the Amami Islands, there's the Okinoerabu Island, Yoron Island, Tokuno Island, Amami Oshima, and more. So please come and check them out. Now that I've been retaking this bit for a while, it's really getting cooked. I'm so excited. Let's try it. It smells so good.
Let's eat! This is delicious. This is so good! Whoever came up with this recipe is a genius. I'm so impressed. Green turbans become too hard when undercooked or overcooked. And even when cooked just for the right amount of time, when you leave them for a while they become really hard.
But I can eat this at just the right timing. The best timing. Green turbans don't have a strong flavour so they go well with a lot of garlic. I'm extremely impressed. I'm not saying all this just because this is a sponsored video. This is simply delicious! I want to sell this myself.
This is so great! Next, let's try the squid stir-fry. Let's eat. This is great.
This would be a familiar taste for everyone. This squid is used in 100 yen sushi restaurants. It's the classic kind of flavour you expect from a squid. Now you know it's made of that huge squid, it changes the way you look at it. Let's try the gristle. This is good too.
I might prefer the gristle. This squid is quite soft so it's not at all crunchy but the gristle part is crunchy and has a nice texture so it's good. Let's try the tentacles too. The tentacle is good too.
The flavour is a touch milder compared to other squid. Next, let's try the sashimi. The manager of the tavern I used to work for told me to eat from the mildest flavoured food first because otherwise the flavours would all get mixed up inside your mouth.
But I couldn't wait to try this. OK, let's try the sashimi. This is a very standard flavour you get on the island. I didn't freeze it but the sweetness is there. It's the first time I've eaten one that wasn't frozen first. The texture is nicer when it hasn't been frozen, I like it.
If you order a sashimi platter on the island, this will 100% be served. 100%. It can be kept frozen all year long. Diamond squid sashimi and yellowfin tuna sashimi are usually included in the platters. A very familiar taste. If I were to try and describe the flavour, it's not too intense, it has a light flavour.
The texture is not too hard but rather sticky and slimy. Let's try the adductor muscle next. This will also be a familiar flavour. This is always delicious. The adductor muscle is kind of like that of a scallop.
It has more of an ocean smell to it compared to the scallop's adductor muscle. It's good. But the garlic butter roast is insanely good so I should've done a garlic butter roast with everything. But the sashimi is good. That was a great meal! I moved to the Okinoerabu island when I was 21, and I'm currently 24.
Having come here out of nowhere and being able to have my video sponsored by a public administration is something I'm so grateful for. It's really because of all the fans. Thank you so much! So I was given this job by the Amami Islands Fisheries Promotion Council. I've been trying various things to liven up the Okinoerabu island.
The aquafarmers within the Amami Islands all get together and work on various projects as members of the Isyomun Network. I've attached the Network's Instagram URL to the description. They also host blue-tourisms, where people can come to experience fishery, and eat the fish they catch. You can even catch yellowfin tuna. Please visit the URL in the description for more information about the blue-tourism.
The URL for the seafood festival from November 11th to December 18th is also in the description. If anyone is interested in the proper recipe I used for today's dish, please check out the URL for that too. Thanks for watching until the end. Bye!
2022-11-20 05:12
Show Video
Other news