$30 Billion Empty CITY WHERE NO ONE LIVES S06 EP.17 | MIDDLE EAST ON MOTORCYCLE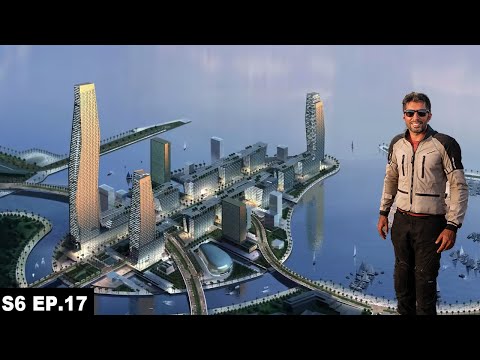 Show Video
It's the first time I have seen this .... Having to get yourself registered upon entering a city. To be honest, so far I'm getting the feeling of a ghost town. This looks like a canal.
It's sea water in fact... but it looks amazing. This right here is the battleground of Badr. Okay Yousef... Allah Hafiz... Say Bye...
Assalam Alekum Everyone and Welcome Back to the Channel from Jeddah. Here we've been trying to get our motorcycle fixed for two days. It's been fixed now so we are gonna resume our journey today. I have already told you that I plan to go to Jordan. But it's quite far away so we are gonna stop every now and then.
And explore the places that come our way. For today, there happen to be a few places along our way.. King Abdullah Economic City for instance. Then there's Badr... where the battle of Badr took place. And then we have Yanbu and Umluj. Yanbu is almost 300 km from here.
Whereas Umluj is 460 km. At the moment, I'm not sure where I'll be spending the night. We'll stop when it gets dark and we are too exhausted to go on. I'll keep on updating you. Lets leave Jeddah and head on to our first stop KEC.
We are all set to leave. I have some friends here. He's from my neighboring town of Shah Kot. And the other one is from Multan. Well, you get to meet someone from Multan anywhere you go. We were just having a nice chat.
Time to leave... Stay with us. Bismillah... In the name of Allah... *Prayer for the journey* I pray to Allah for a jitter free and memorable day. And I wish the same for all my viewers.
We are a little off Jeddah now. Well not a little.. Quite off now. I've put King Abdullah Economic City as my destination in the navigation. That's approximately 100 km from here. The ETA is 1 hour 10 minutes.
We'll make a short stay over there to show you around. I don't plan on staying there for too long. But we'll definitely take a round of the city before we leave.
It's relatively pleasant today... with a cool breeze.... I mean it's always hot and humid here... But it's rather bearable today.
One can ride a motorcycle without much discomfort. We have covered 20 km so far. I took this short break to check the status of both the tires. Praise be to Allah... both tires are fine.
You know that feeling of fear after getting the motorcycle repaired... that something might go wrong again. It's all good now. Hopefully, it's gonna be a pleasant ride now. I was wondering that the whole process of getting the tire fixed cost us 250 SAR. I can only imagine what a new tire would have cost us.
Would be nice if this one keeps working fine. No one is coming from behind... So lets hit the road.... The structure that you are seeing on my right side... is one of the stops of the high speed train between Makkah and Medina.
One is in Jeddah and the other one is here. A train does not necessarily stop at both of these stations. Some trains stop in Jeddah... Some stop here.
Some even don't stop at either of them and go non-stop. You can see that it has a very similar style of construction. It's almost identical to the ones in Makkah and Medina. You can check it out in my Train vlog. My train didn't make a stop here. It just kept going. We are going through Hejaz Gate right now.
There's a registration center here. Don't know if they will let me through. I haven't taken any sort of permission. But we can always try and see if they allow us. Otherwise we are gonna get back on the road and be gone.
That's the registration center. We'll get ourselves registered if we have to. I've experienced this for the first time. Having to get yourself registered while entering a city. Assalam Alekum I'm a tourist. So he has sent us back to get ourselves registered first.
I thought.... may be.... I won't need it... But there's no one here to be seen and the road is closed as well. We'll have to go all the way there and come back. Our registration is complete. The guy here was really nice and efficient.
Hopefully we will be allowed to go now. They just checked my passport... No... I think they only checked my visa. It has a special code called the visa number. The same number that is used to buy a SIM card or rent a room. The whole registration hardly took a few minutes.
Welcome to King Abdullah Economic City The navigation tells me that it's still a 15 minute ride to the city. Let's get there and see. I have already downloaded the map of the city.
So we'll be going around the city and gathering as much information as we can... So that we can share it with you all. The residential area has just started. Apparently, either the construction work is still under way...
Or nobody has started living here... Not in this area at least. Because an inhabited place has a different feel. And that's not what I felt in the previous compound.
However, the next ones tell a different story. It's giving vibes of a freshly built city. This is completely new construction. The plan of this city was conceived in 2005. And it was completed in 2020. To be honest, I'm not sure if it's complete or it's still under construction.
We'll see how much work is already finished. I have a feeling that the construction work is still in progress. It has already cost more than 60 billion dollars. Or that may be the total budget of this project.
That's a really huge amount of money. I have no clue of the motivation behind this. I mean why undertake such an expensive project... Like you have a number of other cities. Developing a city from scratch in desert... That's totally beyond me.
I'm just a traveler and I think like one. We are now riding by the beach side. This whole region is being developed. It's such a large area.. I don't know what's being done here. Going on... I've entered an address in the navigation.
So this area is under development for now... Lets hope to find something which is complete and ready. Honestly, so far, it has been giving me the feeling of a ghost town. But the fact that it's so well maintained, doesn't make it look like one. Not a single soul to be seen.
These houses look so beautiful. That's a college right here. Such a beautiful building. Well this area seems a bit alive...sort of a corporate area. There are people here but they seem to be the ones working in offices.
We better look for a cafe. I can see some electric scooters and bicycles that can be rented. Unlike other places, the thing that I really liked about this place... It's walking on the footpath. That seems like a far fetched notion to be walking on foot in other cities.
Gladly, I see it here. That's a beautiful area. There are hotels and beach walks here. There's the sign of 'I Love King Abdullah Economic City'. This side is closed so we can't go there.
We can only go that way. What exactly is this place... No idea There's a cafe there. I think these are shopping malls. Passing by all these luxurious cars... We are here on our motorcycle, Rangeeli.
There are, in fact, some people here. I've got myself a coffee from this mall and come to the beach. Because this beach is really amazing. Wherever I have visited the Red Sea... it has always impressed me.
The water is so pristine. Since it's windy at the moment, we can see a lot of waves. Perhaps that's why we can't see through this water. In normal condition, the water is so clear that you can even see fish in it.
I've just done some research and came to know that the city has 6 regions. These include residential and industrial areas and an educational complex as well. Other than that, this is the resort area. They also have a huge port area.
And the last one is the financial district area. Nevertheless, the city is still being developed. Let's hope, we'll find it fully developed on our next visit in a couple of years. Let's sit here for some time, drink our coffee and enjoy the weather before we move on.
These are the resorts here. Some are open while some are still closed. But there are some tourists here... Not too many though. We are in the parking lot now.
I entered from the other side. And the parking costs 30 SAR. That's some expensive parking! Despite the fact that there is no one around. I came from the other side to be able to show you around. This looks like a canal. It's sea water... but it looks amazing.
Sending off really good vibes. That building over there is a shopping mall. While the resorts are in that direction. Great location. They have spent a lot of money... but it looks great. But the thing is... there aren't many people here to see this for now.
Neither the houses are inhabited... Nor is there any tourist scene. Could be because of this hot season.
I read that this project is expected to create 1 million jobs. 1 Million... That's a huge number. Our next destination is Badr. That's where the battle of Badr took place.
That's approximately 182 km away. Gonna take 2 to 2.5 hours. Definitely 2.5 hours if we take a short break on the way. There's a city by the name of Rabigh along the way. That's where we are gonna take a short break. Thanks very much bro.
Good Bye He was from Hyderabad and he told me that he has seen me somewhere. I told him that he must have seen me in some Facebook post. We are in Rabigh at the moment. I entered the city as I needed to refuel the motorcycle. The fuel station on the highway was on the other side so I couldn't go there.
I won't have found anything, had I gone forward. So I came here and took a 10 minute break. We are now on our way back to the highway. We still have to go another 125 km.
Could be another 75 minutes. Unfortunately, my charger has started malfunctioning. It gets unplugged at a slight jerk.
I put my phone on charge and it's taking forever. These little things can get really annoying. Normally they keep on working really well. But stop functioning when you really need them. We have finally entered Badr.
We are now headed to the place where the actual battle took place. Just another 5 minutes or so. This is sort of a hilly region. The landscape before was that of a flat desert. At least, now my whole concentration will be on the road. The flat and monotonous terrain can get really boring.
Gladly, the last few kilometers consist of an interesting landscape like this. I think that's the town of Badr. That's such a beautiful mosque. That's a rather unique looking petrol station. Looks like we are there. At least the signs suggest that.
There's a mosque and old town. Here's a roundabout. Is there any name??? I can see a crescent. But no name to be seen. This looks like a tourist area... At least the shops in the area suggest that.
There you are... Where have you been? I took a wrong turn. I took the road that goes straight to the coast, by mistake.
And I didn't realize that and kept going. He has been waiting for an hour with me. Hi. How are you? That's the place? No, it's over there. I was just waiting here.
Let's go then... That's the Badr battlefield. Lets see... Yasir has joined us from Medina. He got here half an hour ago.
It's quite a huge area. I think we can only watch it from outside and going inside is prohibited. This is the graveyard of martyrs of the Badr battle. This is a very special place as the first battle of Islam was fought in the vicinity. And the martyrs were buried here.
Let me share some brief history. When Muslims migrated from Makkah to Medina in the early days of Islam... they were very few in number. The financial situation wasn't very promising either.
So, the non-Muslims of Makkah thought they could easily win in an armed conflict. The warriors from Makkah were 1000 in number. Whereas, the Muslims were only 313. They were short in weaponry and not fully prepared for the battle either.
But they had their faith in Allah. Their faith was so strong that Allah sent His angels to help them in the battlefield. And they ended up victorious. Almost 14 Muslims got martyrdom. While 70 non-Muslims were killed. Almost the same number of non-Muslims were captured as war prisoners.
The rest of them retreated to Makkah. This victory of Muslims sent a strong message to all the tribes in the area. Badr lies along the old route from Makkah to Medina... Many of the companions of the Prophet (pbuh) who lived nearby were also buried here.
Since it's a rather small cemetery and it got filled with time, further burials were then prohibited. It was therefore closed. Renovation work is underway these days. A new cemetery is also being prepared in the area. Previously, the natives of the nearby area were buried in this graveyard. For now, going inside is prohibited.
But it may be opened for people after the renovations are complete. We can't go inside. A policeman came to me while I was standing there. They normally don't allow to shoot a video. You can see some other people visiting the place, with their cars parked nearby. The policeman has left now.
Let me show you the nearby mosque. Then we will leave for the next destination. Let's see if the mosque is open. Renovation works are going on at many places. I think the renovation work will continue in Saudi Arabia for the next few years.
This place sure looks beautiful. The roads are great. There are many shops around.
Nice place overall. Lets see where Yasir is taking us... He knows the location of the mosque.
I think that's the mosque. It's also being renovated. I'm afraid we might not be able to get inside. Nope... We can't get inside... It's closed from inside. It's called Areesh Mosque.
It's built at the spot where the Holy Prophet (pbuh) had his tent during the battle. He managed all his troops from this location. We better get aside as there are cars coming from behind. I hope we are able to get good footage from the outside using our GoPro. I have captured as much as I could. We still have another hour's journey till Yanbu.
I have set up a short meetup at Yanbu. I'm not sure how many people are going to attend. I did get many messages though.
Lets see.... The meetup is at Al-Baik Broast. At least we'll savor their famous broast. Wow... That's a really amazing place. That's so grand. These are all sand dunes.
I can only imagine what could happen here during a sandstorm. It's wonderful without a doubt. And it's just beside the highway to Yanbu.
Finally, we have reached Yanbu. Yanbu is the oil hub of Saudi Arabia. It's a big name in oil production.
But I'm not sure if they only have refineries here or do they extract oil from here as well. O' I just had a hiccup. This is the first time I experienced hiccups during my ride. Assalam Alekum I'm good. Alhamdulillah... How are you? You can park the motorcycle over there. The parking here is quite congested.
Okay Yousef... Allah Hafiz Bye Bye Bye Okay guys.. Allah Hafiz We have checked almost 8 or 9 hotels here. All of them were full.
We were eventually able to get a room after looking for 1.5 hours. It's a small room with 2 beds. A decent room... not luxurious though. At least it's really tidy. Even better that we were actually able to get a room this late in the night.
You can see Yasir in the background. He had told us that finding a room in Yanbu or Umluj is not a problem at all. Ironically we had to suffer a lot before getting this room. I think he had to suffer like this every time he visits. Anyways... all is well that ends well.
We had to pay 40 dollars for this room. 40 Dollars or 150 SAR It's almost 8000 PKR as per today's rates. You can check it out for yourself. Time to sleep..
We'll show you Umluj tomorrow whenever we wake up. I hope you guys must have enjoyed this vlog. And if you have... then don't forget to Like, Subscribe and Share. Remember me in your prayers. Allah Hafiz.
2022-08-11 03:17
Show Video
Other news