ガイドブックには載っていない街"リベレツ"を探訪【チェコ旅#2】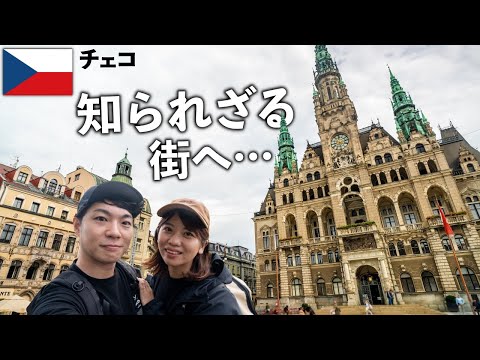 Show Video
We participated in a press tour sponsored by the Czech Tourist Board. September 13th AM8:00 Hello. It's the morning of the 3rd day in the Czech Republic. The time is AM8:22.
Today we leave Prague and head to Liberec. North side. Northern part of the Czech Republic. We will travel by this bus again today. 120 km from Prague, 70 minutes.
Goodbye Botanique Hotel. It was a good hotel. Arrive in Liberec.
About an hour and a half. We came here by bus. It used the highway. You can come by train from Prague. It's a little cold because it's the north side.
Is it about 15 degrees? We're going to see the city hall now. We came out to the square. Oh, what a great building. This splendid castle-like building is the city hall. The tour will start in about 5 minutes.
That's amazing. Enter the city hall. It seems that she will guide us to the most wonderful room. Liberec has a population of about 100,000, so it is about 1/10 of Prague.
It is a town where Japanese tourists rarely come. It was built by a Viennese architect, so it looks a lot like the Vienna City Hall. Since it is a ceremony hall, it seems to be used for wedding ceremonies and celebrations. General tourists can also enter if they reserve a tour. During the summer, tours are held every hour. Climb up to see the scenery.
Climb up the tower through a place like an attic. Very narrow. lol Narrow spiral staircase. It's so long. Look up from here.
Wow, we still have a long way to go. Arrived. It seems that entry is prohibited on this top. Wow, that's amazing.
You can see the square from before. It seems to go round. It's narrow but you can go around.
To the next location. About 20 minutes by bus from the city hall. We came to Ještěd. This is like a television tower.
A television tower on top of a mountain. There are also restaurants and hotels, and it is a symbolic building of Liberec. Have lunch here. It's raining lightly.
There is a cable car, but it seems to be out of order. So walk up the mountain for about 15 minutes. I saw. That's the television tower. It has an interesting shape. There is a round TV antenna.
The one that receives television signals. Speaking of Liberec, it seems to be Ještěd. symbol. high.
It's a little colder. I've climbed a lot. The rain has stopped.
got pretty close. Originally, you can come here by cable car. This is the station. Unfortunately it's out of order now.
I walked hard. You can see the cityscape of Liberec. hotel, restaurant. above the clouds. It's really cloudy.
very fantastic. We arrived. But it doesn't feel that big.
Smaller than I expected. Altitude 1012m. Mysterious image. lol
It was on the top of a mountain. Crying. Are you an alien? Modern art It's like an alien. What's this. lol This building is also cosmic.
Go inside. There is a restaurant inside and we will have lunch here. The seats look like this.
This is Kozel. Kozel beer. About 270 yen for 300ml. Cheers. delicious. This is trout.
This is schnitzel. (A traditional Czech dish, so-called cutlets.) This is fried cheese. delicious. It's full of cheese. It's so delicious. The taste is irresistible for cheese lovers.
It seems that she can show me a little hotel room. I wonder what kind of room it is. Good hotel. Another room.
This one is more compact. You can see the scenery. It's compact like this.
You can also see the scenery from the window. Then go down. winter-like climate. Arrive at hotel in Liberec. Stay here for 2 nights. To the room.
There is atmosphere. lol Interesting color. Clean. What! There is a bear. Is true. pretty. Double bed and chair.
Wow, see-through bath. There is a bathtub. Moved by bus again. I'm so busy. lol
Arrived. Arrive at Sufilov Castle. Castle. Beautiful. Go inside. A castle where aristocrats used to live.
Garden. Wow, it's wide. It's a long way to the building over there. lol
It looks like a cafe over there. The end seems to be a cafe, but it's closing time soon. It's so far away that it might close while you're there. lol This side is under construction. I approached the cafe that I could see from afar. Is it closed already? A trendy cafe.
I'm in time, so I'll have some coffee. lol fashionable. Cute inside too. Coffee Cafe latte foam is fluffy.
A barista with a hairstyle like a composer brewed it for me. So it should be delicious. Leave Sufilov Castle and head to Bohemian Paradise.
Trek there for about an hour. arrival. Trekking.
First, go to the observatory. Forest. forest and big rocks.
This is bohemian paradise. In Czech, the place is called Český ráj. It is a nature reserve area. It means Czech paradise. It is the first global geopark in the Czech Republic, and it seems that strange rocks of sandstone are spreading.
We are still in the woods here. There are no wild bears in the Czech Republic. You can walk safely.
Deer, foxes, and rabbits are said to live around here. Wow, steep road. First lookout spot. Oh, wow.
rocks and castles Oh, beautiful. That's like a scene of a movie. Hrubá Skála Castle. We came to the 2nd observatory. I can see the castle from here too.
sand rocks. You can see the castle. On the way back, we will pass through the rocks. Narrow road. You'll be stuck.lol It's cool in here. Surrounded by rocks. pass through a narrow road.
dark. Narrow and tall. I could see the parking lot. I think we walked for about an hour and a half. I'm tired. Lol
We left Bohemian Paradise and came back to City Hall. Apparently there is a restaurant downstairs. We will have dinner there.
Evening plaza music is played. Sideways. That side is the front. It is a different entrance from the morning. There is a restaurant here. beer type menu. It's underground.
Oh, it's wide. 3 types of beer. Normal, dark beer, half & half. delicious.
The bubbles are amazing. Czech beer has nice bubbles. The bubbles will stick to my face. It's on purpose.
No bubbles. lol I didn't get it. lol delicious. This is beef tartar. This is also a traditional Czech dish. Goulash is a beef stew.
A traditional Czech dish. pork knuckle. very big. It says 800g because it has bones. lol Share it with everyone. sumptuous dinner.
It seems to rub garlic on the bread. And you can ride this as much as you like. (A dish of minced raw beef mixed with onions and other ingredients.) It looks like yukhoe. delicious.
It feels like negitoro. It tasted a little different than I expected. Lol It's a texture like negitoro rather than yukhoe.
It tastes like tomato sauce. delicious. soft. Amazing. lol Pirate food. lol
looks delicious. Should I use this sauce? Mustard maybe. Melty. It looks hard but is very soft.
It feels really melting. Softer than braised pork. Return to hotel. was delicious. I'm full. I'm back at the hotel. Today we spent the day sightseeing in Liberec.
I walked a lot today too. lol I'm tired. It was completely different from Prague, and it felt like an area rich in nature. The cityscape was beautiful, and on the other hand, it was a good place with nature.
It is recommended to come by bus from Prague. There is one bus every 30 minutes, and it seems that you can come in one hour. Places not listed in Japanese guidebooks. I didn't see a single Japanese tourist today.
But in the Czech Republic, nature is rich and it seems to be a famous tourist destination. If it was our trip, we probably wouldn't have been able to visit cities that are not well known to Japanese people. So I'm glad I was able to come to the press tour this time.
From tomorrow, we will continue to visit the Czech Republic. Thank you for watching. Please subscribe to the channel.
2022-10-05 20:41
Show Video
Other news