【北海道/トマム】人生初!全室スイートの高級ホテルが凄すぎた…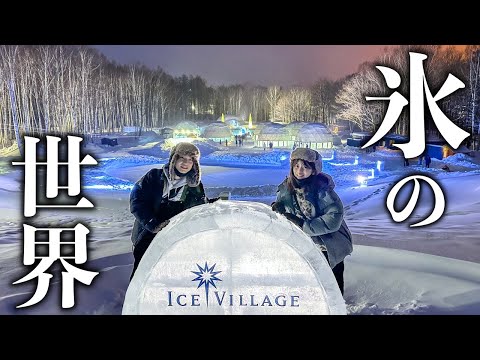 Show Video
We are a couple traveling all over Japan in a small car. We are currently living in Hokkaido, the most natural place in Japan. Hello. This time we came to Tomamu. We came to Tomamu to snowboarding.
Tomamu is a ski resort operated by Hoshino Resorts, a famous resort hotel company in Japan. This time, we will stay at the hotel for 1 night and enjoy it for 2 days. We already went snowboarding in the morning.
We arrived in the morning and the lift was open from 9:00, so we went snowboarding. It's already 3pm now. So I will check into the hotel.
This time, we will stay at the all-suite hotel "RISONARE Tomamu". There are 2 hotels in Tomamu. This RISONARE Tomamu and another is a hotel called Tomamu The Tower.
This RISONARE Tomamu is a luxury hotel with all suites. Tomamu the Tower is a more reasonable hotel. However, since it is Hoshino Resort, Tomamu The Tower is also a luxury hotel. That's why I took the plunge and booked Tomamu The Tower. Tomamu has attractions such as the Ice Village and the Terrace of Frost Tree in winter (Sea of ​​Clouds Terrace in summer).
So I contacted the hotel to get permission to shoot. After that, they kindly gave me an upgrade to the hotel. We're not rich, so we don't usually stay in all-suite hotels. LOL I was able to stay thanks to the kindness of the hotel.
It's not just hotel room upgrades. We will enter the terrace and ice village 30 minutes earlier than the general public for shooting. Special admission. It's not a PR video, but Tomamu cooperates with the video shoot.
Thank you Hoshino Resorts. Lol It's great for us. Thank you. We will enter. This hotel features a Twin Tower. Feels like a tower apartment.
Tomamu the Tower is also a twin tower. Interesting. The appearance is also distinctive.
This is the locker for skiing and snowboarding. This hotel is directly connected to the slopes. Beyond that door is the ski slope. Let's go to our room.
All rooms are suites. Good. Look at this number of buttons. There are up to 32 floors.
Our room is on the 14th floor. It's on the 14th floor. There are only 4 rooms on this floor. All corner rooms.
There are only two over here and two over here. Nice. But actually, I went into the room once to put my luggage.
So there is no emotion. LOL No, there might be again. I was impressed earlier. I was impressed again. LOL This room is Design Suite Fifth Room. It's a room for 5 people.
There are slippers for 5 people. Even though we're just 2. lol Big room. I had heard about the upgrade beforehand.
But I didn't know which room it was. I was surprised because I didn't think it was a room for 5 people like this. This is the living room.
It's amazing. Very spacious. Do you see how wide it is? Really wide. I wonder where to sit. All you can sit.
It can seat 5 or more people. We can have a party. This room alone is amazing, but it's just the beginning. This wasn't all. We still have some rooms.
This side through the living room. I was surprised when I saw it earlier. 4 doors. Lol
I will open it in order. First here. This is the restroom.
It's so wide. The toilet is far away. wide. There is also a washbasin. Next is the back room on the left. Bedroom.
Spacious. 2 beds. There is even a dresser. Open the curtains. The weather was so bad that I couldn't see anything until just now. Wow! amazing.
I couldn't really see anything before. You can see the slopes and Tomamu the Tower. It's so sunny now. A little while ago, I could only see about 2 trees in front of me.
This place is on the 14th floor, so it might be more beautiful upstairs. Nice views. It's dazzling. This bedroom alone is about the size of a typical budget hotel.
The hotel we usually stay at is probably about this size. Sometimes it's even narrower. LOL So wide. I have too much space. Too big for 2 people. It's wide enough to invite 3 people from now on.
Next room. There are also beds here. This is the loft room. There are 2 beds below and 1 above. So we will stay with 2 people, but there are 5 beds. LOL
If you are staying with your family, you can use it as a children's room. It's a room we probably won't use today. There are windows here too. The view from here is also amazing. Tomamu the Tower looks better from here.
Is true. You can see the tower in front of you. Now open the last door. Here is the washroom and bath. There is an observation jet bath.
it's amazing. And big. I've never seen a bath like this before. Come in.
I'll open the blinds. I think the scenery is good. You can also see the scenery from here. There is a sense of openness. You can take a bath while looking at this view. You'll look like a celebrity.
He is drinking something. Maybe wine. LOL Great. And you can take a bubble bath. And, surprisingly, there is a sauna. There is even a sauna in the room. Large enough for 2 people.
It's an authentic sauna. Like this. This door connects to the living room. It has a structure that allows you to go around like this.
I think I can play hide-and-seek. I want to stay here forever. I want to stay here for about 2 weeks. Only 1 night is not enough to fully enjoy this room.
There are 5 beds, I want to sleep in a different bed every day. Good. It's about 3:30pm now, so take a break. At 16:30, we will go to Ice Village. Generally from 17:00 to 22:00. We will enter 30 minutes early and shoot a video.
There seems to be a Seicomart (convenience store in Hokkaido) made of ice. It seems that there is also a hotel made of ice. It's a bit far from this hotel, so there is a bus that circulates within the resort. I'm looking forward to it.
Let's go to the Ice Village. It's a place I've always wanted to go to. Arrived. This is the entrance. This gate is also ice.
That's amazing. Awesome. Is it real ice? Ah, it's cold. It was ice. Ice Village is in the back. I saw. This is also ice.
Ice village. There is a zipline there. It seems cold. I'll try later. Well, I'll go to the village.
It seems that you can go by stairs or slide. LOL I will try the slide of ice. Whoa, that's a little scary. Fast! It speeds up quite a bit. It was fun. The upper part seems to be covered with a tent.
The bottom part is ice. Oh, this is Seicomart. Seicomart of ice.
ICE CHEF. (Hot snacks called "HOT CHEF" are popular at regular Seicomart stores.) Products are lined up. The shelf is also ice. We often use Seicomart. Look, this table is also ice. Today's breakfast was rice balls from Seicomart.
My butt is cold. LOL Interesting. The ceiling looks like this. ICE CHEF's original dessert.
I will try to make frozen yogurt. There are many chairs and desks made of ice. This chair has a cushion.
We will experience here. This is an ice vessel. Add yogurt here and stir. It's cold to hold this.
I feel a little frozen. Melon jelly is used for topping. It hardened a little. This is no ordinary yogurt. Topped with jelly. Smells so good.
Yummy. But cold. LOL It's like yogurt ice cream. The yogurt is a little frozen. Cold. We eat cold food even though it's so cold. LOL
Tasty but cold. Cold but fun. Next is the hotel made of ice. That's an ice church. It seems that the wedding ceremony is being held today.
Isn't it cold? Absolutely cold. Let's take a look at the hotel. Moreover, this hotel seems to be able to stay. It seems that every day is already fully booked. It's a limited-time hotel and very popular.
There is a bed. Wow, amazing! You can sleep on a bed of ice. What's this? Chairs and table. There is even a sofa.
Is this the bed? All made of ice. Look at this. The lights are on. Is it a dresser? You can use the outlet.
Lighting embedded in ice. Interesting. This is fantastic. The ice hotel is limited to one group per day. A regular room reservation is also required. If it's too cold here, the guests will flee to their hotel rooms. LOL
This ceiling is a single piece of ice. It was made by pouring a little water on a balloon every day and freezing it. Warmer than other places. It's so popular that reservations fill up quickly.
I don't have the courage to stay here. LOL It seems that there is a bathroom in the back. Ice passage. There is a hut. Wow! There is a bathtub in the ice! LOL Too awesome. Very strange.
It's too cold before taking a bath. Open-air bath. The atmosphere is really nice.
Sleeping bags and pajamas for cold weather are provided. I may never get out of here. LOL There were various other shops. (Ice general store, ice bar, ice sweets shop, etc.) The atmosphere is better at night. The lighting of the ski resort is beautiful.
Fireworks will go off at 17:30. Fireworks go up every day at 19:30. But if there is a wedding ceremony at the ice church, additional fireworks go up. That's excellent. It was so beautiful. Next, try the zipline.
All set. I'm going to zipline now. There's a zipline here.
It's on ice. Ready, set, go! It was over in a flash, but it was fun. It was so fast. I'm going to visit the ice church now. General visiting hours are as follows.
You can observe a little bit before and after the ceremony. We will take a video with special permission. Ice church weddings are also very popular. Some people make reservations 2 years in advance.
It is a church limited to 1 month in winter. This year, 60 couples are planning to have their wedding ceremony. It seems so cold. LOL The atmosphere is nice. Good. It's a cross of light.
The stairs are of course ice. The bride and groom must be careful when coming down. LOL Amazing. This is also a single piece of ice, just like the ice hotel. Then let's go in.
Entry of bride and groom. So beautiful. And it's warm inside. It's the same as the ice hotel from earlier. Wow, so nice.
It's cold, but I understand the feelings of those who want to hold their wedding ceremony here. The chair of this attendee is also ice. It is also difficult for participants. LOL
But this place is amazing, memorable. I'm going back to the hotel once, and now I'm going to eat dinner. I booked the breakfast only plan. From the hotel, you can walk to the restaurant through the connecting passage.
Oh, It's like a tunnel. This RISONARE now. From here, there is a connecting passage leading to Tomamu the Tower and Ice Village.
I will walk here. I will go to a place called Firefly Street. This is a buffet restaurant "Nininupuri". There are many people. No reservations are required for this restaurant. It's nice here, but I'm not that hungry.
Arrived at Firefly Street. There are many shops. Ramen shop, cafe and bar. There is also a soup curry shop. I want to eat ramen.
It's interesting that the shops are connected. It is convenient because there is a connecting passage. "Takezo" It smells so good. looks delicious. It looks delicious, and there are so many varieties. We ordered shrimp miso ramen and dried sardines ramen. Shrimp miso ramen. looks delicious.
delicious. The smell of shrimp. This is dried sardines and soy sauce ramen. This looks delicious too. Very good. delicious.
It said whole grain noodles. delicious. The flavor is amazing. It was delicious.
I'm full. Firefly Street has an outdoor kotatsu. here. It seems that you can use it with snow boots. Interesting. Let's go back to the hotel.
That's the RISONARE. We will relax at the hotel. She is in the sauna. The angle where you can only see our face. LOL
Bubble bath. It's fun. Do we look like rich? Feels good. Good night. Good morning.
Beautiful weather. I will go to breakfast now. There are about 5 restaurants for breakfast. 2 of them are located in this RISONARE. We will go to the Japanese restaurant called "SORA" on the 31st floor.
Wow, that's awesome. What a nice view. The name "SORA (sky)" is perfect. Even higher than our guest room. After breakfast, we will go to the "Terrace of frost tree" on the top. I'm looking forward to it because the weather is nice today.
Breakfast is half buffet. You can choose from 4 types of main dishes. Assorted sashimi, salmon and salmon roe rice, crab egg rice, pork rice bowl.
Everything looks delicious. I ordered salmon and crab egg. Apart from this, the buffet also has rice.
The buffet also has a lot of food. There were so many kinds. looks delicious. Breakfast is very luxurious. So good.
Looks too tasty. This is the main dish. I'll enjoy having this. It's sunny and the sun is out. I can see the shadow of this tower. Nice view.
Yummy. It's very good. Have breakfast with this view. Well, let's go to the frost tree terrace. Ride the gondola to the top of the mountain.
I arrived at the gondola station. It usually opens at 9:00. We will board the gondola at 8:30 for the video shoot. Yesterday, we rode the gondola for snowboarding. It was cloudy yesterday, but today is sunny. This is a gondola with a cloud pattern.
Only a few gondolas are cloud patterns. Head to the summit. The terrace is located at an altitude of 1088m.
I think we can see hoarfrost today. The scenery is completely different from yesterday. Yesterday I could barely see ahead. I can see very far away today.
It's already sunny today. We were lucky with the weather. You can see the sea of clouds in summer. This is amazing too. We'll be there soon. It is the mountaintop.
This road is closed during the winter. In summer you can stroll around the area. Below this is the cafe and main deck. I would like to see that first. I actually came yesterday, but I couldn't see anything. LOL
Wow, that's amazing. dazzling. So beautiful. Amazing. The scenery is completely different from yesterday. Hoarfrost.
Look. So beautiful. You can see the hoarfrost. It is found only at high altitudes.
So beautiful. Awesome. Next, I went outside. Cloudbar and Cloudwalk. We went there yesterday too but didn't see anything. LOL You can enjoy the majestic view of the winter mountains without doing winter sports.
It is very nice to be able to easily go to the top of the mountain by gondola. Here are some chairs with very long legs. It's called "Cloud Bar".
The scenery is much better than yesterday. We will try. The chair is frozen.
Whoa, it's slippery. It is like this. Amazing view. It's so beautiful. From here you can clearly see the hoarfrost.
Next, I'll go to "Cloud Walk". Wonderful. I couldn't see it at all yesterday. I couldn't see the mountains.
Superb view. Great scenery. I can't help being moved.
Take a break at Kumo Cafe. A cafe with motifs of clouds, sea of ​​clouds, and hoarfrost. Hoarfrost coffee. Interesting.
Haoarfrost chocolate. Cloud soft serve ice cream. This commitment is amazing. It's not a run-of-the-mill menu.
The view from the cafe is also beautiful. All interesting. This is a cloud soft serve ice cream. Won't it spill? This soft serve is hard.
This is hoarfrost coffee. It seems to be a winter-only coffee with the image of hoarfrost. Hoarfrost chocolate. This is also limited to winter. That's interesting. Try it, soft serve ice cream.
You have to eat from the side. The ice cream is hard. It's so delicious.
It feels like rich milk. Not only does it look good, but it also tastes good. It's pretty. Kawaii.
I'll try have the coffee. How should I drink? What is this? Is it candy? sweet. Can't you break it down and put it in? Good. But as expected, it disappeared when I put it in coffee. melted. As expected of Hoshino Resorts, it's amazing.
The commitment to each menu of the cafe is amazing. It tastes good too. I will also eat the chocolate. It's like a branch of a tree. There's something inside.
It's like cream. (It was milk jam inside.) Look at the back too. This is a forest tree motif. Hoarfrost on tree trunks.
How wonderful. I think it's great. Ride the gondola. It was a lot of fun. I might go snowboarding again later.
I'm back. It was fun. The weather was great. It was cloudy yesterday, so I couldn't see much of the scenery. It was sunny today so it looked beautiful.
Yesterday's cloudy scenery made today's sunny scenery stand out even more. It was the best. It's already past 10:00, and I'll check out at 11:00. I'll go snowboarding before I go home.
It was fun for 2 days. There were so many places to see that I couldn't see them all in one night. There are too many highlights and this video can be very long. LOL (The longest 40-minute video on our channel is complete!)
The hotel room is nice and the food is good. The ski slopes are also great. The ice village was also very beautiful. The terrace was also very beautiful.
All good. Whether you do winter sports or not, it's great to be able to enjoy it. This time, I got a upgrade from Tomamu the Tower to RISONARE courtesy of Hoshino Resorts. They also cooperated in shooting the Ice Village and the Terrace of frost tree.
This is the most famous resort hotel company in Japan. It was easy to shoot and I am grateful. Even The Tower is more expensive than a regular hotel, so I can't go there often.
But on the contrary, it makes me feel special. I think you can come for a reward trip, anniversary or celebration. I would like to come again if I have the chance. Thank you Hoshino Resorts. This is not a PR video. LOL
Thank you very much for your cooperation in the shooting . So it's a pity, but it's over. Thank you for watching until the end. Accident happened.
She forgot 360 degree camera on Cloud walk. LOL I got too excited and forgot. Another customer found it and turned in it to cloud cafe. I thought the happy memories would disappear. LOL The camera is back safely.
Thank you for someone's kindness. Everyone, please be careful not to lose anything. Don't forget anything just because you're excited. Subscribe to our channel! Let's continue to have wonderful trips with us.
2023-02-28 17:04
Show Video
Other news