Чому сюди їдуть переселенці? І головне - чому залишаються? Вінниця сьогодні | Країна Героїв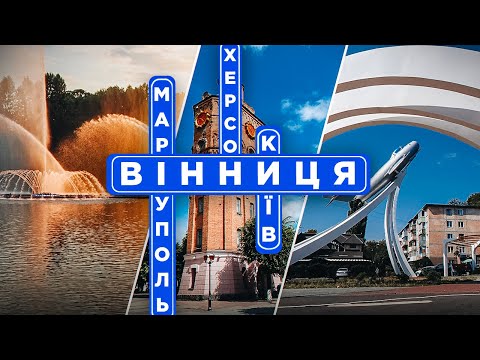 Show Video
I am Evgen Synelnikov. - We need to redo everything. - Definitely. That's hard! You are out. You've earned money for the car. Why would you give it to someone? These are trophies from the russians. Damn, Ukrainians know how to surprise. What matters is the heart...
It's really delicious. Laptops, printers. Is this also all going there to the front line? Yes, this is at the request of military units.
Hello everyone. Greetings from Vinnytsia. Today we're going to find out how life has changed in the most comfortable city in Ukraine. As usual, at the beginning we go to visit old friends, the heroes of our past trips. - Am I distracting you? - No, it's fine. - Let me help you with something. We're going to pack now. You' ll see how it really packs up.
You will have a unique opportunity to do it all. - Let's finish the tour here. - Yes, let's take a little tour. There are things that concern household appliances - torches, batteries, mobile phones, routers. Come here. Look. These are the things you put in every car - a jack, a fire extinguisher, a booster, a tool kit, a rope, and this is to fix tyre punctures in the field. The only thing is that we ran out of cigarette lighter wires .
We take every normal replica of a cover, they are not original, and we fill it in. - Let's see what you have here. - And here we have tactics: radio, PS, dry showers, shoulder pads, shoes...
- Tactical glasses. - Yes. And this is a stretcher. The best thing you can buy with money and much more. - We recently filmed people in Odessa who produce stretchers. - Yes, by the way, they are from Odessa. It makes sense because if you are carrying a wounded person, he is well fixed and then it is easier for the medics to work with him. Soap-shaving things.. and different coffee. These are clothes, towels, bedding. These are already the leftovers of humanitarian aid.
We are slowly moving away from humanitarian aid, because we can't physically carry everything. We have food here. There's baby food and leftover uniforms at the very end. We are going to sew the uniform. All the uniform you see is from the fabric that was available. Yeah, well, that fabric is worth its weight in gold these days. And now we are preparing for autumn. Footwear. Theey're made in Vinnitsa. "Stymul".
They do well. I've been wearing such sneakers for 2 years. I use a lot. Take the boxes and let's go. Did you put the chainsaw in or just the holders? - Did you just drag the holders? - No, it's fine. Have you uploaded everything? Take the laptop, please.
- Zhenia, take the printer. - Ok. I'll give you some paint. Are these laptops, printers, is this also all going there to the front line? Yes, they are. This is at the request of the military unit.
Bread. - Where should the fire extinguisher be put? - It's in the car. - Is it also on the front line? - Yes, it is. There's the community of Zhurany, Pikivska Slobidka villages in Khmelnytskyi district. And they baked all that deliciousness.
There's homemade bread at the bottom, and these are pickled cucumbers. And these two bags are with meat, sausage, lard. They have prepared all this. - So all those fridges with food in them? - Yes, there's food there. You can try to pick it up. Is this a new car or have you redesigned it? Initially, it was a beautiful Navarro of silver color.
At the request of the military, we repainted it in black matt colour. Redesigned chassis. The oil and filters have been changed. There was a problem with the steering wheel. We've repaired it. The driver's seat was redesigned. You see the fabric is different. It was destroyed. How many cars have you delivered so far? You said today that 9 cars are going to come in.
- How many cars have we delivered? - More than 50. - More than 50 already? - We've already lost count after 50. How many cars will go today - 8 or 9? 9 cars. The 9th is Navarro. It is very interesting to watch our volunteers. It's such a 'world of its own', life of its own. They work and work. Why do you do that? I need it.
And how do you find people to go there? Well, there is a squad of madmen, as I call them. They're guys who fought, but because of certain injuries they cannot serve in the AFU now, but they know all the nuances of how to get in, how to drive up. They can distinguish when something is flying towards them and when it is not. They all hear it. They understand everything, they don't need to explain. A full-scale invasion has begun. Vinnytsia remained a safe place in the middle of the country.
- But after that it was a big missiles strike. - Yes, it was intense. There are roughly three phases. The first phase was when the big exodus from the Kyiv agglomeration began, when the traffic circle of 4 km took 6 hours, i.e. everything was crawling.
And you were just praying so that nothing comes to you. And then half the night people you know write to you, call you asking where they can stay. And you're helping to organize a shelter for refugees. And all these actions were one thing.
Then it all came off a bit. There was a missile hit the television tower, which is located here. People realised that there's the war going on and that you have to go to a bomb shelter. Then again, the war faded into the background. And then the tragedy with the House of Officers. After that, the point of no return was the clear understanding that the only option to negotiate with the russians was to eliminate them. That's it. There are simply no options. You have a huge hub. You have a large number of different things. We were lucky with the location that Yura provided us with this room.
And we were lucky to have a really motivated team assembled and when everyone took on a piece of work and slowly got it done. And everyone can replace someone who is absent. How many people are doing this - connecting different countries, picking, piecing, loading? - The core of the team is actually 12 people. - Just 12 people? In total. Some of them work remotely in Kyiv and abroad,
and the main decisions are taken collegially. If there is a problem somewhere, so it's hard for one person to solve it. In this situation, only teamwork is possible.
A kind of mini general staff on a volunteer local level. Little, but a general staff. Throw it on your back like this. You know, meetings like this are always inspiring and give you the confidence that this country is unbeatable, because everyone is doing what they can in their place. And our next heroes are not exception.
- How are you doing? - Great. As normal as possible at this time. And what is it? This story began on February 24. My wife and I, after starting a full-scale invasion, decided that we should open a café and help with what we can, with what we know best. It's about feeding people. For several days we ran around in shelters, hiding from explosions and all that was going on.
Then we decided that we would go out, open a café and then we'll see what it would be like. We wrote in social networks that we are ready to provide the military and territorial defense with free food, thereby supporting them. It was cold outside. They needed to keep warm. We have coffee and hot food. Come and eat. We started offering our specialities as long as there were products available.
And the products ran out. Very quickly. And there was no way we could get stocks of new products, because all the suppliers were not working. We started buying up what was available in the shops.
What could we cook - we don't have a kitchen. We have a small grill in which we cook the speciality and a small oven in which we bake the cottage cheese pancakes. Well, what else can you cook here — no hood, no stove. We brought one multicooker from home, the other was borrowed from a relative's house. What can be cooked in the multicooker? Porridge. We went to the market and bought what was there. There were leftovers of buckwheat.
Now it's called "buckwheat caviar". We bought this "buckwheat caviar" and some more cereals. There was chicken, we started buying up chicken drumsticks and other things.
And what did we do? We baked chicken drumsticks, cooked porridge, packed it all in boxes. Someone gave us boxes to pack, because we've never had one here, we didn't cook such a thing. And we gave them out for free to everyone who came to us. We come to your question. We put up these posters, left markers here and decided that people could leave some inscriptions what city they came from, their wishes to us, wishes to the putin, to the ship and so on. You can read a lot of wishes there.
There are many hard stories. Even now it's hard to tell. We were already closing. A car pulled up. It was with holes of bullet or possibly shrapnel. A man comes out, asked to go to the toilet.
We asked if any help was needed. He burst into tears. What was the matter? He's from Chernihiv. Someone else was in the car with him. His flat was hit by a missile from Grad or other weapon.
Everyone died except him. All the neighbors died. Many people died, he was the only one left alive. He jumped out into the street, took some more neighbours who were there. They took someone's car, which he was able to start, and drove here.
We were the first people he came to see after all that. They drove and drove and drove all the time. I see there's a "Chornobaiivskyi Ulych" here. This, as I understand it, is something new, right? - So is Lendlease. - That's right, Lendlease. - These are trendy things. - These are our specialties. By the way, we have an alternative. If you're hungry, I highly recommend you to try either Chornobaiivskyi Ulych or Lendliz Ulych. This is a very interesting unusual thing about fast food.
- We call it Vinnytskyi Ulych - Let's try Chornobaiivskyi Ulych. - Can you do it? - Yes, of course. Great, we'll do it in a minute.
- Will you film it? <i>- Yes, of course.</i> I'll film it and I'll eat it. It's good.
- Is this your creation? I've never seen anything like it. - Yes, it is. There is a similar dish. In fact, it's the grandchild of the Polish casserole. They do a similar thing on a loaf with fried mushrooms, ketchup and mayonnaise.
They decorate it with these sauces. We took this idea as a basis, completely redesigned this loaf, this baguette. This palyanytsia-baguette is made to order according to our recipe. And the filling is my own design.
- Delicious. - Enjoy your meal. It's really delicious. <i>This is a real Ukrainian fast food, street food.</i>
This is an alternative to classic fast food. We all know shawarma, kebab, burgers, hot dogs, and pizza can still be called as street food. We decided to provide people with an alternative, something unusual.
Because there is only shawarma everywhere in Vinnytsia. You could call it the capital of shawarma because it's everywhere. At the Urozhai Market is a shawarma hub because everywhere you look, there are shawarma places. <i>Leave it. Eat it behind the scenes.</i>
- Ok. <i>- Enough!</i> Well, order yourself another one. I don't have to share it with you. <i>And with me?</i> Really delicious. And the bread itself is very tasty. - I also wanted to ask you something. I see you have sauce there. - Yes, there is such a thing.
- Is this your sauce? - Yes, it's of my making. - I'll get it and show you up close. - Ok. At the moment, there are three choices.
There are more of them, but they are over. They are quickly sold out. There are three choices left - the top ones. - "For those who are in the tank", "Death to the enemies!", - See, "For those who are in the tank." Here's our military man with NLAW is launching a surprise for those who are in the tank.
"Death to enemies" is one of the most famous and popular sauces. On Russian TV Solovyov himself showed it and said that we are fascists, Nazis, and that it looks like the blood of children. It goes best with fried moskals. I will say that the names of these sauces were created before it became a trend. All three sauces are in this set. - It's also all so nicely packed. - This is our branded packaging of gift sets.
- Great. - A present. I love it... Oops! We all miss it.
- You're right next to McDonald's. - Yes, we are. - They're competitors. - They don't work. They don't work. It's firstly. Secondly, we are not competitors. We give a completely different product in a completely different format. Therefore, we can say that we complement them.
They complement us and we complement them. It's tasty at your place. I think it's even tastier than there. - And healthier. - I wish you will have the same network all over the world.
We are working on it. Dima, order yourself another one, because I'll finish this one. The love of black humour is like the legs of Russian soldiers one has it, one doesn't. Friends! A moment of support for the domestic manufacturer or "I recommend what I buy myself".
Those who follow me on Instagram may remember the stories with the poster "People are flying into space, but you can't even make some damn thing". To be honest, I really like this kind of simple but also fun stuff. And it turned out that the one who produces these wooden posters is the Ukrainian company WoodPosters.
And they invented and created this format themselves. That is, it is a poster not on paper, but on wood. When the full-scale invasion began, the company didn't stop and continued to do what it does best: motivate and inspire. The messages have become more radical and the humour even blacker. Since 26 February, the author's series of military posters from the founder of the company, Petro, began to be produced. And the 'Never Give Up' poster appeared unexpectedly even for WoodPosters in the office of Commander-in-Chief Valerii Zaluzhnyi.
And this photo went viral in the memes. And you may not have noticed, but even in UkrYoutubProject videos we often see these posters on the location walls of the characters in the episode. For example, the episode about Dnipro had the poster "Hoverla stands - Dnipro roars".
This is also WoodPosters. In short, if you like motivational and ironic expressions, and need to decorate an interior or make a gift, I recommend WoodPosters. The range is huge, by the way. And a variety of posters are easy to combine and create sets and collections. Also, for UkrYoutubProject viewers there is an offer with free delivery by the end of November.
Just indicate in a comment to your order that you're from UkrYoutubProject. Friends, we are now on our way to another of our friends who are involved in education for children. It's very important now. The wooden frame burned down and everything was in a state of disrepair, the roof collapsed and we had to demolish the remains.
And after that, you need to give up. But we decided that we would build a new house. There is no money, no strength, no materials, but we wrote on Facebook that we had a disaster. Zhenia... Salute. Hello. Hello! - Cool stuff. - We made up a name for her. - What is it called? - Bada Boombox.
So let it make those kinds of sounds, not what it was before. Well, first those sounds has to be there, and then these ones. And this is crazy Dasha, and crazy Anichka with her . This is crazy Katia.
We built this house twice. If you want this story of those times, there will be a link somewhere here. It was the episode we had. At first we had the idea that there were children who were not suitable for school for various reasons. Some parents say that we want our child to have a longer childhood without worries, homework and all that.
We'll teach them everything ourselves, but we need a place to hang out. The other children at school got their portion of bullying and this school is sitting right here. Some children are dysflexic and are being pressured there. And there are a lot of such children, as it turned out.
And we decided to create a space for children who don't want to go to school. And to call it "Crazy School". We've been enjoying here with the kids for almost a year.
We had crazy projects, classes, there was such a movement. Speakers from all over the world came here at school. And then the war started. It was the first day. And it was Dasha's idea that let's write that it is possible to stay here. Kyivians are on their way, there is nowhere for people to sleep.
On the road, which they used to spend 3 hours, now they spend 12-15 hours. They are with children, with animals. Let's open the doors of the school. And it turned out that we were the first shelter in Vinnytsia.
We reacted very quickly. For the question of "where to stay in Vinnytsia" the answer was "at the Crazy School". And the endless calls began.
We even had a Roma tabor. Seriously. It's not that we're like a Roma tabor here, no. A girl called, her name was Diana. I didn't pay attention to her accent. And then I came in and I saw that there were 16 people lying on the first floor. But it was very clean, very nice. They left order behind. The people are very nice.
For all the time, we have never checked the documents of those who spent the night here. It was all on trust. People just called. It was often the case that people settled in and only afterwards we came and looked at them.
We quickly did the fundraising i.e. our friends from all over the world, seeing what was going on here, started offering us help in different ways. One of the ways was money. And we spent it on shelter, on mattresses, on minimal food. This is a process that takes time and effort.
- So, urokochna (a lesson room). - Yes, it is. We have a timetable hanging here. A reminder that we used to live a normal life. Here you can see that most of the subjects are not like those in a ordinary school, such as yoga, circle, CHGK (what, where, when), psychology. Skeleton is a very important character.
It was at our very first location, when we rented a flat. We made a skeleton for Halloween and put it on the door. And when we were moving, the children told us why we weren't picking up the skeleton. We picked it up, took it with us and then they dressed it up differently for every holiday. For New Year's Eve they made him a hood, for Thanksgiving they made him a turkey or something else. We have such a friend. The co-founder, let's say. Buddy.
It must be creepy to take a room like that when they say, this is your room and there's a skeleton there. - Where did you come from? - From the Kharkiv region. It's how the girls told you. We stopped for a few days. Right here. Thank them very much. What do you think of this kind of democratic education? What do you think about it? What do I think? I used to work in an ordinary kindergarten.
It is not something that is new to us. But some elements still need to be present. We have already visited the city of Poltava and Kremenchuk during the war. We had to. The people everywhere were welcoming.
What does this prove? That neither the Russian language nor the Ukrainian language mattered. What matters is the heart, mind and humanity. - After the victory, do we go back and rebuild? - Sure. We will rebuild everything and strive for the best, as we have seen how it can be and how it should be.
It's so cool. You have travelled around Ukraine, you've seen how it could be and you will do it there little by little as it should be. I don't think that just a little. I think such a life-changing moment has already come. So it's not going to be a little bit. It will be everything at once. - Ukraine is great, right? - It's wonderful. It's just wonderful. Let's wait for a victory and all will be fine.
Peace to everyone! Putin - die! That needs to be added. Everything is possible. I'm also agree and want peace. Vinnytsia received Ukrainians from all affected regions and cities, in particular from Mariupol. And there is a special help center for Mariupol residents here.
- What's up? - Everything is fine. We're working. We work for the sake of our dear Mariupol residents in the Vinnytsia region. How many of them are there? You probably have the most accurate information. Let me start by saying that we opened on May 24. If we talk about numbers, how much we have worked with our Mariupol residents, in 3 months we have already registered more than 3 thousand of our dear Mariupol citizens, who live on the territory of Vinnytsia community as well as on the territory of Vinnytsia region.
- Thank you very much. - You're welcome. How are you here? Have you settled in already? Yes, we rented an apartment here. I went to Mariupol in June, tried to pick up my grandfather.
And how is it? He said flatly that he wouldn't go because his wife had died here, the friends had died, that he wasn't going anywhere. But it is very hard to look at Mariupol. I couldn't even spend the night there. I went to a village nearby. Because there is nowhere else to live but in the villages Houses were completely destroyed. Our flat burned down completely,
and in building where Grandpa lives, the ground floor and half of the second floor burned down. And his slab on the floor survived. Those are the times. The first floor burned down, the second burned down, and his floor survived, and that's a good thing. That's still okay. Our key operating philosophy is to support and help our Mariupol residents. Speaking of support, at our centre we provide such counselling - legal assistance, psychological assistance and medical assistance. That is, people come to us, ask professional experts about some problems, and we provide them with professional appropriate counselling.
In terms of assistance, we provide humanitarian aid - we give out food and hygiene kits. But we are always expanding this list, because needs increase and there are requests for other things. We cooperate with international donors, volunteers, with anyone who is willing to help us today. In order to get help, you have to be registered in Mariupol, or how do you check for that? Yes, we have a list of communities that were part of the Mariupol City Council. Mariupol welcomed a very large number of people from Donetsk in 2014, almost 200,000. We didn't say they were refugees. We called them "our new Mariupol residents."
Those who apply to us must have either a Mariupol regional territorial community registration or a displaced person's certificate from Mariupol. Kind people are here. There is no animosity about the Russian language. No one says that I won't talk to you if you only speak Russian. Because my children are small, they don't speak Ukrainian very well. - For now. - For now, yes.
But they treat us very well. There's a very good attitude towards displaced people in general. They help us, yes. The city of Mariupol took the fall from the first days of this full-scale war. The city has been completely besieged. The russians and the so-called DNR were not letting people out, although we organised evacuation convoys. We've been working on this for a very long time. We tried to do everything to get them out of there as quickly as possible.
But when our people approached these zero checkpoints, the russians told them "We don't have orders to let people out of the city". We first opened such a centre in the city of Dnipro. It was the very first. We realised that there were a lot of people who were leaving the area and there was a transit point where they stayed. There were a lot of them. That's why we first opened the center there. When we opened this center, it was very difficult, I can tell you. The support of both international partners and the municipalities that hosted us was very important.
I would like to note that 11 such centers have already been opened in Ukraine. We don't stop. 4 more centers are being prepared for opening. We will expand this support to help our Mariupol residents. In the heart of the city of Vinnytsia, we opened the heart of Mariupol. Many people from Mariupol come to us today, not because they need help, but simply because they want to meet their fellow Mariupol residents and just to talk.
That is, it's not even about a volunteer anymore, not about help, but about communication. The task of the center is not just to distribute humanitarian aid. The main task is support. I wish we could have a Ukrainian flag hanging over our city of Mariupol and we will rebuild it for sure. And we'll run through our fountain. - Oh, it's a pity for the fountain. - It was taken out.
- Taken out? - The fountain was taken out and its facilities. - The fountain was taken out. - Come on. When all the fighting ended a little bit, it was one of the first to be taken out. All the equipment that was in hospitals was taken out completely. Modern, new. We have opened new cardiac centers, modern centers of medicine.
Everything that survived, they took everything out in the first days. And even now some ferry from the Russian Federation is coming into the port and everything is being taken out little by little. Unfortunately, it is. - And where are you from? - From Mariupol. - How do you like Vinnytsia? - It's very good.
- Good? And what do you like? - There are a lot of new buildings here. And this city is also beautiful. - What about the people here? - They're nice too. Vinnytsia is not only a hospitable city, but also very compact. Therefore, from Mariupol to Kherson it is 100 metres.
- All over again, because he didn't film it. - Oh, ok. - So you make your own ice cream. - Yes, we do. We've been making ice cream for 15 years. 20 years ago, my husband and I went to work in Italy. We were working there. Then we learned how to make delicious ice cream.
And we came to Kherson to make natural ice cream, which we called Perfetto. - You have recently moved to Vinnytsia. - Yes, I did. That's the way the circumstances were. I understand. What were we supposed to do? Life goes on. You need to live, work, do what you can. We love our work very much.
As I understand it, it's a new ice cream place in a new town. Is it difficult to carry on doing your job during a war? How can I tell you? It's not difficult, but it's scary. But it's worth it. We live right next door. People come here all the time. All the time. I am very pleased that people like our product — both cakes and ice cream. It's actually very tasty. There's a piece of our love there. All of our recipes are author-made and as natural as possible.
Our pride is our signature Kherson cake. In 2019, we won the contest in the city of Kherson as the "Signature cake of the city". I've been designing this box for a year. Because I really wanted it to have the kind of window on top.
Tradition and love for the hometown inspired the creation of a taste that is associated with Kherson. Where do you get your strength? That's a lot of money, firstly, and secondly, it's a lot of risk. Thirdly, there is a war going on, but you still make such a bright place for people, with ice cream. You know, when you do what you love, the strength comes by itself.
- Tell me honestly, has the salary been reduced? - No, it hasn't. - No? - We didn't do that. We have a lot of people not only from Kherson. Vlad, what city are you from? Makiivka. Yulia, where are you from? Rubizhne.
And the guys from Vinnytsia. Tell me please, has Vinnytsia changed with the arrival of Prefetto? Yes, ice cream is very popular and very tasty. Everyone likes cakes. I advise you to come and try. And how do you make it? We have two types of ice cream — fruit and cream. The cream ice cream has farm milk, cream and natural additives. If it is nut ice cream, we add walnuts. If it's chocolate ice cream, we add chocolate. If it is a marinata, so the cherry jam is added there.
Fruit ice cream is prepared in a completely different way. 80% are natural fruits and sugar syrup. Is there a magic of Italian ice cream? The technology is Italian - Gelato artigianale, they invented it. But ours is better, right? The technology is Italian, but in 15 years we have created our own recipes. We have author's tastes, such as sugar-free and lactose-free. It's ice cream made from dates. I'll tell you so. There are flavours that we will soon be teaching Italians to make such ice cream.
For example, we have ice cream, it's not in the window at the moment because we have over 100 kinds of ice cream, which is called Mr Took. It's an ice cream with pumpkin seeds. We crush the roasted seeds and add them. Your eyes light up when you talk about ice cream. I've been loving ice cream since I was a child. We have ice cream with alcohol. Grapefruit-lambrusco.
- Is it with alcohol? - Yes, there's a little alcohol added, Lambrusco. This is for you. What's the blue one? It's called Pouf Adzouro. And where is the production itself located? Now the production is temporarily located in Kyiv. But we have found a production workshop in Vinnitsa and we will move there completely. Everything in Kherson has been occupied. Unfortunately, we don't have any access there.
Is there a community of people from Kherson in Vinnytsia, do you probably meet in some way, communicate? Yes, there is a community of Kherson residents, which is organized here. Chats and groups. What's going on here? Now? There is a workshop for children of internally displaced people. Good morning. I'm glad to see everyone here.
My name is Olena. My surname is Pavlova. I study Podillia cuisine. And today we will prepare a unique soup that you have never eaten anywhere in your life. We'll make apple soup.
We cook dishes from Podillia cuisine and introduce them to our culture with the help of our cuisine. Because different regions of Ukraine have their own culture, their own dishes, have their own culinary legends. Podillia, fortunately, is rich in culinary legends. And cooking, first of all, it calms down, and it gives a feeling of home. When you cook, you cook mostly at home, and you cook for yourself, or for those you love.
This is a very good therapy and a very good opportunity to get acquainted with our region, with our Vinnytsia and to love it even more. - Are all these kids newcomers? - Yes, someone is from Mariupol, someone is from Kharkiv. Someone has experienced some kind of stress. Well of course the road and the loss of home is always stressful. and today Vinnytsia is home for them.
And in order to make them feel comfortable in this home, we decided to organise workshops like this. I didn't think they were so knowledgeable about food, about some spices. Today they called up to ten spices. They have tried many different dishes.
And they have their own kind of cuisine. Especially if we are talking about coastal areas such as Mariupol and Kherson, there's a very special cuisine in general. influenced by Greeks and Ukrainians among others, and it's all very nicely mixed. And they like it. They especially like to make varenyky. Varenyky is awesome in general.
Stupid question. Why do you need it, after all? Well, it's so cool. They're so open. They're so great. You give and receive a great pleasure from them in your process.
Secondly, you learn more about the culture of other regions from children. They perceive it all differently. They do everything with a childlike directness. They tell so many stories. And these stories enrich me too. I give to them, they give to me. It's such a very nice exchange.
- How often does it happen? - We do this almost every Saturday and Sunday. Should you make an appointment or pay for it? We make an announcement. It's all free for children. This is an initiative of the restaurants that host us, the City Council, and the Podillia Cuisine Club. And that's how we do it in such a collaboration. - Great. And how many people are there in Vinnytsia now? - There are a lot of displaced people.
There are about 30,000 in Vinnytsia, and almost 400,000 in the region. Because this region is safe, it is at the intersection of paths. It's convenient to move in here. And it's a comfortable place to live. All our children's camps are full. All the sanatoriums, dormitories are full, even the schools were accommodated.
So many locals were taking people to their homes. When it all started, I definitely had a transshipment base in my apartment. Some people came, others left.
And when we started volunteering, we made a volunteer kitchen. We were feeding displaced people, both the AFU and the territorial defence forces. When a request came in for Podillia cuisine, we came up with this cherry borsch, which has already become a Vinnytsia legend. And in many restaurants you can already try it.
It's the kind of special that you can't get anywhere else, but in Vinnytsia they do. - Cherry borsch? - Yes, it is. Let's have a borsch! - We'll take it. Can we take it? - Borsch?
- Yes, one portion. - Of course - Great. - You can taste it. - I missed it. - Oh what a smell!
Sorry. - Oh, thank you. - You are welcome. Enjoy your meal. Thanks. Just like in a previous life. We taste borsch. What have I learned? There is no beetroot in this borsch.
That is, here the color is given exclusively by cherry. It tastes like a typical Ukrainian borsch. But with that sourness that the cherries add, it's more intense and has a long-lasting flavour. First it's the taste of borsch. After that, the taste of cherries, and at the end there is still such a light taste.
Very tasty. Damn, Ukrainians know how to surprise. I travelled all over Ukraine. I tried so many borsch that it seemed that it was already impossible to surprise me with borsch. It's possible! Vinnytsia can.
We have two borsch on the table. Which means what? This means that we will have.... - That's right, you soaked my headphones in borsch. - Sorry. Clearly you are not a cameraman. It's very interesting.
Well, is it delicious? It is unusual, but very delicious. It is interesting to try meat with cherries. It should be delicious. What do they say — beef with sweet is delicious? I want to remind you that such borsch can be tasted only in Vinnytsia.
And this is a great reason to come here to visit. - Have you tried the meat? - No, I haven't. Not yet. - Is tastes well? - The meat is awesome.
Well, since we've gone by tradition – Better at home, now comes an interesting character. - Maks, salute. - Welcome. - Thanks. Bongiorno. - Bongiorno. - Did I break your glasses? - They are fine. - Super. - Come in. Let's go and have a look.
Give us a little tour. What are you doing? What's interesting? How's your mood? Guys and girls prepare clothes for painting. I paint clothes. By the way, I can paint on you, if you want. You have a black T-shirt, just right for a gray spray can.
But not this one. This is varnish. There's a car in the background. This is an experiment. For the AFU, we paint a car for the front line. - Art car to the front line? - Art car to the front line.
- Let's go take a look. - Let's go. Bogdan provided us with this car. Together with the Hypnotunes group, they earned money in Europe. I think he can tell you better about that. Stupid question, but still. You're out, you've earned money for the car. Why would you give it to someone?
For the war to be over. The russian world on Ukrainian territory is very bad and we want it to end. - How did you paint it? - I'm not done yet. I'm just curious. A military car. There should be a special khaki color. In fact, we do it in several balls. This isn't the final version yet, because here black is very prominent right now, but it is so done so that when it all gets covered in khaki colour, it will be thicker and more saturated.
It's hard for me to explain it technically, especially as I don't have any specialized education. Therefore, on my intuition I try to make it so that it looks like khaki. Please tell me about these drawings. About the form itself, how did you find it? - Don't, we're anti-smoking. Sorry. Later. - Okay.
It all started when, being in discomfort, I started drawing patterns. And little by little I started creating some characters, entertaining myself, creating some stories, inspired by what's around me in the moment. For example, some events, or some music is playing. I've been looking for myself for years in terms of creativity. I was engaged in various creative activities.
And at one point I found it and was happy with the fact that I could create something, create new things. And now I'm maniacally filling more and more space. - Is this house not yours? - No, it isn't. - Have you just paint someone's house? - Yes, I have. - And he's like, "Man, this is cool!"? - Yeah.
It all started from the fence. I don't know what there will eventually be in this house, but I see it as a kind of art café or a shop. And of course out of all this I help the occupied Nova Kakhovka. I continue to volunteer remotely. Our people at headquarters, who are left there, are helping the residents of the city.
It is better for them to take humanitarian aid from us than from the russians. Look whose it is. Russian humanitarian aid. Don't take it! We will continue to do everything we can little by little. To fight on this front. Even in the creative. Even with these drawings, you can do a lot of good things.
I haven't tidied up in a while, as you can see. I'll add some light now. How do you like such a baby? - Do you paint them? - Yes, but it's so cool that I don't even want to.
This is a trophy from the russians that shot at them in Bucha. Beauty. It's a fly. RPG-22. I've painted it. These are trophies from the orcs. But not only from them.
I'm currently collaborating with the museum. From the point of view of security, I won't say the name. I even have a certificate from the Ministry of Culture. I'm doing a big exhibition in the museum space, and on a barter basis they give me things like this. Lachen provides me with information support. And we are now helping four divisions.
These are the SSO Azov units, the Novyi unit, with operations in the Kherson direction and the guys who gave us the trophies from under Kyiv. I've launched a fundraising for UAH 2 million and I want to raise 500 thousand for each team, each unit. And those people who donate the biggest amount to a monobank card get this musthave, this is for the second place, this is for the third place.
This, as far as I remember, is a helicopter gun. - I have designed such a marker. - Cool. This is for the 4th and 5th place and a few more things. I'm making all sorts of things out of sleeves at the moment. I try all sorts of different things. - What times are like, - So is the art. Tell me, please, why did you move to Vinnytsia? Why did you choose this city? On 1 July I had an exhibition at Kyiv Art Gallery Lavra.
And I liked Vinnytsia for a personal reason, and because the logistics are cool and the housing costs are good. It's a bit more expensive now but it's ok. Will you return to Nova Kakhovka after the victory? Or has Vinnytsia already become native? I'll be back for sure, because it's a terrible feeling when even before the war... It is not that I would be a super patriot of Nova Kakhovka. And that I don't need anything else besides it.
There's not enough oxygen there as they say. But still, it's home. There're native people and native streets. And all Nova Kakhovka residents need to talk about this city in the media as possible as they can. I can talk about it in a creative way, so I filled a large space in the passage with two words - Nova Kakhovka. And a QR code for the evacuation of Novokakhovians.
This is the mission we started to do. And there're already about 30-50 people out, unfortunately I don't have the actual number, but it is likely that there are 50 people already. There were 30 earlier. It's already been a week and a half. A colleague of mine is managing it now. And we evacuate people.
At first we thought we would give up 5,000 UAH for each person. This is an outing to Zaporizhzhia. These are people who cannot leave at all because they have, for example, three children. Well, where can they find 20,000 UAH? And the transporters don't care. - Does it cost 5,000 UAH to leave? - 5,000-7,000, it varies. Who should they pay to 5,000 UAH? To the transporter.
They also charge money for risks there. And there are times when they stand for 3,5,7 days in Poland. The sum is not super unbelievable.
You and I are grown men who can find it somehow. But when that's a mom with three kids... it's difficult. We work with such people and with pensioners, we take them out. Yes, at first we thought of doing it this way.
I am not going to give all the details because it puts the whole situation in danger. - I don't talk about it very much at all. - No, you don't have to. It will be after the victory. - Well, let's get started. - Let's go. That's about it. It turns out that Vinnytsia is not only welcoming the displaced, but also believes in the AFU and is actively preparing for the next tourist season. - It used to be Lenin Street? - Yes, and even earlier, Postal Street.
The last stop of the first Vinnytsia tram was the Women Gymnasium, and then there was the ravine and cemetery, which was called Kalicha. In fact, this was the border of Vinnytsia in the 19th and 20th centuries. And now there will be a tourist hub here. I think it will be right after the win. When the war ends, we open it right away. What is a tourist hub? A tourist hub is a place where everything that develops tourism and the tourist itself will be concentrated. We will be waiting here for everyone who is looking for a vacation in Vinnytsia, but in a different format.
And conference tourism, medical tourism, extreme tourism, genealogy and everything possible. Everything beyond the fountain, conventionally speaking. - Anything that isn't just the fountain, - Not the fountain. Let's go have a look. Let's go. This will be the future digital interactive kiosk. Here you can choose information, leisure activities, where to go, how to get to different points in the city and around the region.
It's going to be 24/7. When there are no people here, this is the place to find out information. Tell me, please, this is a beautiful building, in the very center, it's restored. Everything here is sensory, everything is nice. Does the government give the money for that or how does it happen? This is a 100% investment by the City Council. Let's go and have a look. Great.
- Welcome. - Thank you. I want to ask a provocative question. There is a sea in the south. There is the Carpathians.
There is the industrial east. What would be the attraction of Vinnytsia? I think that you have realized today that Vinnytsia is a city of comfort. - This is the city of harmony.. - Zen… Have you heard about the Vinnytsia zen? Or have you felt it? I've felt it.
Vinnytsia is historically very balanced. It used to be on the edge of the empire, then it was in the centre, as it is now, of our country. Our geography and history is east, west, south, north. We want to be such a comfortable hub for leisure tourists, for business tourists, for medical tourism. In general, this balance is Vinnytsia's main attraction, which was also attracted before the tragic events. And now it helps a lot in the psychological rehabilitation of those who come to us at this time.
Tell us about bricks - what are they, how are they and why are they interesting? You may have noticed that there are a lot of historic brick buildings in Vinnytsia. Silicate brick is the basic building material, as conventionally speaking in the North or West it is wood, or somewhere sandstone. Here it is brick.
The most valuable thing is that, as part of the reconstruction, we found several royal bricks. They have different stamps. And the stamps are a separate story, because the sign Prima, London, everyone thought it was made in London. In fact, there was an enterprising brick maker called Isaac London, and he wrote the correct letter N and the inverted one accordingly.
Well, it's like Abibas, or Reesbok, Rita and all these trademarks. This brick here is very valuable, because it has been burned and it has been dismantled. It bears witness to the year of 1944, when there was a fire due to the retreat of the Germans. People ask us on every floor, what is this? I used to joke that if someone didn't like something, they would hang themselves here.
A bit of black humour. This mezzanine wasn't here. It was the designer's idea, as the height allowed, in order to extend the possibilities of this space.
And in fact, it's three in one. It's a small co-working space. It's a library of all sorts of travel and local history literature. It's an event space with a screen and a projector. There will be an opportunity for online streaming. Because we know from our covid experience that it's better to make a hybrid format. And this mezzanine is a lounge area on the first floor. Great. Everything is modern.
What is it? In fact, the idea of creating a conceptual, philosophical By Vi brand dates back to February, when we were first established. But it already has its own presentation. We held a presentation of this brand at the end of June. The brand was joined by 25 master craftsmen. It's very cool that you have an understanding that tourism is very important.
It's important! - Everybody promote tourism! - Even now. How has Vinnytsia changed? Yes, it seems to me that it was just starting to be like Vinnytsia again. Because there was a real flow here for months. And you have a house full of things to go and people on all the bed. And it's an uninterrupted flow. And there's such people can sit at your house in the evening that it's just sur.
Because these people in this city specifically at the same time would never, under any circumstances, be able to get together, but they have. I mean, it's such a very great thing. And I am happy all the time that the creative community, which I also belong to, is as active as possible in this. In Kharkiv, in Odessa, all the guys are working hard. All of them are nice, let's say so. I was talking to a woman today and she says to me, "It used to be east, west, centre for me, but now we are all mixed into one".
There's just such a nation - normal people, that's all. For me, it's like this right now. All people are normal, they know each other. Everyone is a phone call away. And sometimes in half a day such issues are solved that you would never think you could have solved such issues. What is KUT? KUT is a collaboration of Ukrainian creators. These are people who really do something. It is not an imitation of activity.
These are people who are close in spirit, who are ready now, today, to build a culture around. What is art? It is an act of creation. This is creativity, this is an active position. An artist is never a delivery boy.
We have to build a dialogue with the local government, with the state authorities. We have to build our horizontal cultural structure. That is the way it was before - all through the capital. Pyramidal.
But now everything has to be horizontal. We all have to know each other. - Cultural decentralization. - Definitely. It is all funded by the European Union. This programme is approved in advance. Because of the war we have included assistance to internally displaced persons. We have included activities such as artherapy again to internally displaced persons.
Wait, are we talking about art, culture or assistance to IDPs? And culture is also a certain kind of therapy. For example, a workshop with clay. People come with their children. They sculpt. They have fun, they feel good. They have nothing in common with this city. Just yesterday they were running away from the war.
I saw when I come to someone. I've been an arms dealer for 10 years, so I always dressed like this. Almost nothing has changed before and after 2014. But a child understands that something like this looks like a military uniform. - And you're so big on your own. - Well, of course. But I mean the style of clothing. Of all the people, the children reacted to this one - trousers in this colour. They immediately step back.
They understand that a military man in uniform with a machine gun - he is dangerous. - How can these children be resuscitated back to normal? - Back to childhood. This is all very necessary.
Stupid question, but still. And why is culture needed now? There is a war going on. Well, let's see what they shoot at first. Museums, cultural centers, houses of culture. Dergachi. Oleg Kadanov's Che Orchestra when we were passing through in Kharkivshchyna, he came out on purpose because the first Che Orchestra concert was there. There were concerts there.
Now everything is bombed. There is no roof. Everything is stacked inside. And we could see that there was a volunteer centre there. There's no military stuff there. There were used clothes, old sleeping bags etc.
- So you think they are targeting the culture, right? - Definitely. Well, let's remember that mustachioed Mikhalkov, that freak. The man, in all seriousness, like everyone else out there, claims that if Ukraine exists, then Russia does not exist. So, it is quite obvious for them that Ukraine should not exist in general. There is a question regarding the culture. It is also provocative.
When we refuse the Russian language, we partly refuse this ball of culture, which was also ours. My parents grew up on these films. "Spring on Zarechnaya Street" was filmed in Zaporizhzhia and they love it very much.
But now it is kind of a Soviet film and it is invasive. What to do about it? We are a democratic society. We don't want to break anybody on the knee, do we? But what we are talking about now? We are talking about the fact we do not have the right to teach children the specific things that form belonging to that culture for public money. Whoever wants to read a book - there is no official censorship in Ukraine. Those things that specifically promote a threat to territorial integrity and things like that are forbidden in our country.
Nothing else. Anyone who wants to read optionally Bulgakov and his White Guard, who constantly shits on Ukraine, Ukrainians, Kyiv, its intergovernment all his Ukrainophobic expressions, can do so. Perhaps others of his work did not. He mocked a lot of people. Should we study him at school? To shove these things into our children with our mother's milk.
All these things. We see how the russian propaganda machine works. It works with senses. Where does the senses come from? Ther're form the culture The thinnest, lowest very first ball, which they put you under, like a thin crust in the apple strudel. There they immediately put the idea that the Soviet soldier is a liberator. - They immediately give a certain noun a certain adjective. - Well, yes. The soldier is a liberator. Who have these orcs liberated?
They have put everyone in GULAG. They put everyone into the concentration camps. Mini Vinnytsia. - Hello. - Hello. Is it part of art and culture in general? Such a mini-park. In theory, yes. You can't say it has nothing in common with culture.
But architectural heritage usually stands apart, if we talk about it. But this image, for people who haven't been to Vinnytsia yet, is a very good thing; it's a kind of hook that everyone will reach for. And I want to see it. Where is it? It's very beautiful. I'd like to see that. This and that. And then people go and visit. In fact, we have a very decent tourism industry now, which is dedicated to historical, material and architectural heritages, all the places around Vinnytsia, also very cool. - We do not know the country. We don't know our country. - That's what I wanted to hear. A man has arrived. Where is Vinnytsia? What is there to see in Vinnytsia? You can see this, you can see that.
This, by the way, is the crypt where Mr. Pyrogov, an outstanding surgeon and physician, is buried. - We have been there. - It rests right beneath this church. So now we have domestic tourism, and after the war, believe me, there will be tourism from Europe here to see what it is really like, what kind of "beasts" they are, that they fought for their independence, for their freedom. And how much they value democracy more than comfort and than many other things. And our greatest current intention is to awaken interest in people.
Not to force. Not to push them somewhere. An interest. Only through self-will, openness, curiosity. And what is it? Where have I been living for so many years and didn't know anything about it. The basic principle in this direction should be competitiveness.
The biggest American museums operate on a grant system. That is, they are not promised anything for the next year. They have to be of interest to people. They have to attract them. They have to compete for them. And for young people, and for older ones. They have to sell tickets.
They have to do some kind of provocation in the information field. Yes, to be necessary. - To go towards people. - But not just to exist.
We have someone who sleeps in a hall conventionally next to the skeleton of some mammoth or australopithecus with a cudgel and that's it. Nobody needs it. Nobody goes there. Only the competitive principle can ensure our development. Did I get it right? In order for our culture to have a development in the right direction, we need to re-do things. Definitely! To destroy what we have, all these ministries and others. To destroy carefully, but to destroy unequivocally.
This is the kind of country you want to live in, where everybody can do anything, and if you do not disturb anyone and it is beautiful, go on. Do love! Black-browed. But not with moskals.
2022-10-30 09:47
Show Video
Other news