1899 to 1977 ഈ കാറുകൾ കണ്ടാൽ കിളി പോകും | Explore The Classic Cars Museum in Buraidah KSA Tourism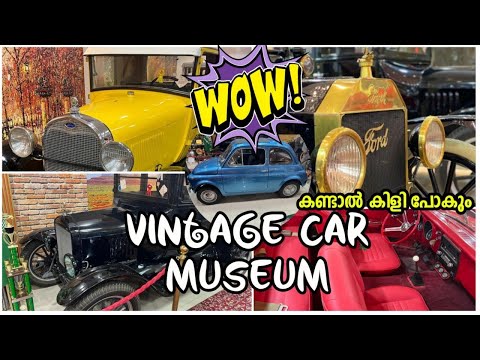 Show Video
If the car stops somewhere, use this picas to mow the ground, find the petrol, dump it and go. Oh guys ..we have M 80 here !! Hello guys.. Today we are in front of Classic Car Collection Museum in Buraida This is a museum with an amazing collection First we are greeted by these 3 vehicles The picas on top of this jeep, being in saudi, dig the ground after petrol, find petrol, pour petrol, go, That's why this is put here.. ( just kidding ) Its interior is kept clean 2 seater. The rear seat is folded down. The model is 55 Here is a Ford car It is not open. But all this is maintained very cleanly
The museum is located there The first to be seen is the 77 model datsun pickup Then a different yellow color cheverlet car Is this the first time the company has become like this? no They changed it later It is not hydraulic. The mechanic says it's the air system Can be adjusted up and down by air system These are Chevrolet cars ..don't damage the cars by touching here Anyway the car is super. It is modified This is the bottom of the Hardley Davison bike Nur, a Turk, gives me the information about the car. 1952 model Ford tractors are now seen Seen here is a 1982 model Toyota vehicle The peculiarity of these cars is that even a single screw is used which is original It's a big job to keep all this going I will tell you about the fees here later Now we are looking at a 1969 Chevrolet model car How is the car? Isn't it super? Even a new car will probably not see such finishing It is maintained so beautifully by this mechanic Noor This car is a 1967 model.
Look at its engine.. everything is very well preserved All its parts are original and not a single screw is duplicated Mostly there are cars of Chevrolet and Ford companies Next up is a 1951 model Ford truck This is the last model that came out when Ford discontinued this one model This is a 1951 model vehicle. The number of this vehicle is also 51 !!! I see a bicycle here.. is it new? Noor : No...it's old
Noor says.. This is an electric bicycle made by Yamaha company for women It is an electric bicycle I also work in Yamaha company This is a 1941 model Dodge car OH MY GOD .. OUR M 80 IS HERE !!!! Guys ..our m 80 is here but this is Honda's 70 There is a bike like this in Kerala and it is used to sell fish This car is a 1962 model car They have got many trophies, how did they get it? All these cars participated in many rallies, exhibitions and events. That's how I got these gifts.
The cars here have also participated in some rallies outside Saudi Arabia Noor: When we participate in the rallies, we will get the prize if everything is found to be original after careful checks by the organizers. Me: So not even a single part of this is different? Noor : NO!! This vehicle is a 1964 model catla car This is Ford's tractor. Petrol... not diesel. All vehicles are better than each other.. In this one part are the gifts and certificates received by abu Nasr (onwer). This is a 1915 model Ford car It would be a surprise if he didn't get a trophy for this Photo of Abu Nasser (owner) with Ameer and Qasem Ameer in Riyadh This is the cup they got as the first prize in the program held in Riyadh Dariya Another feature of this car is that there is no other car like it in Saudi. This is a 1915 model Ford This car came from outside Saudi Arabia.
This car will move in a small way This car seen later is a 1925 model We are amazed when we see such cars There is a car like this in the Titanic movie This is a 1930 Ford car This car shocked me.. 1899 model car!!!!!!!!! Noor introduces me to the parts of this car This is the clock on this car. Here you have to put it back and run it When you turn it here, the gas will flow into the engine and the car will start First you have to press this pump and let the gas down..then you have to start it It's hard to believe... a car so old is so beautifully maintained What we are seeing here is a 120 year old car!!!!!! UNBELIEVABLE !! Behind this is a stepini This car is the "starring car" in American movies It is a tubeless tire.. it will not be punctured This is another car in the same category This car is a 1929 model vehicle This car is the "starring car" in American movies :) 1930 model We are gifted with good views in this museum..
This museum in Buraidah is definitely a must visit for you Let's get to know its owner. Noor, a mechanic in Buraidah for 33 years, told us everything in detail Now here is like a steward here There is also a small Fiat car here Noor says that this car is similar to mr been's car But there is a difference between the two cars There is another incident here..let's see that They got so many cups and certificates from many rallies and exhibitions This one thing is amazing. 1915 model car approved No matter how much I see, I can't get enough Noor explains how it works It moves by stepping on these two parts It goes almost like pedal boating on a lake This watch is the vehicle's heating control meter The person inside the car can understand exactly how hot the engine is This car is of the same style.. well maintained all cars There is a storage space in the back of the car Guys ..This is the owner of this museum Abu Nasr.. All this belongs to him ..
He speaks a little Malayalam (the language of Kerala). Abu Nasser is invited to speak He and the mechanic Noor are very polite, everyone is welcome here.. I will tell you the entry fee information. ( Understood ) The 1965 model car can be seen outside the museum.. This is because there is no room inside There are cars there too.. This one is a 1959 model car On top of this, Saudi Oil Company is seen.. What is this, Noor?
This is also an actress who participated in a television show (joke). The first car we see outside is a 1951 model Ford Then the Jeep model seen is a 1955 model The front part of this car is jacked up. This car is a nissan 77 model When I bought this car in 77, it was a new car.. now it is old (funny). This video ends here.. Like if you like.. Comment I have given the fee, location, etc. in the description.
2022-07-27 15:00
Show Video
Other news