Tin thế giới mới nhất 26/5 | Trung Quốc điều tiêm kích bom tập trận bắn đạn thật ở Biển Đông | FBNC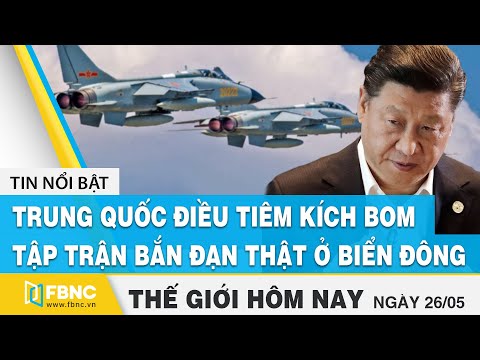 Show Video
China sends bombers to practice live ammunition in the East Sea China's mysterious H-20 strategic bomber 'may be able to strike second island chain' China has crushed opposition in Hong Kong, Taiwan fears it is next Chinese ships enter Japanese waters off Senkakus South Korea to Use AI, Drones to Track Illegal China Trawlers 'A matter of time': New Zealand's foreign minister warns China 'storm' could be coming Egypt's Sisi, Biden discuss Gaza cease-fire, reconstruction U.S. Biden announces to double FEMA funding for extreme weather Sony files patent to turn people's facial expressions into emojis TOURISM INDUSTRY IN KASHMIR, INDIA FULL PASSIVE BECAUSE OF THE PASSION This is FBNC's Today's World news Welcome to FBNC's May 26 Today's World news A brigade attached to the PLA Southern Theater Command Naval Aviation Force organized JH-7 fighter bombers for a live-fire shooting exercise at a maritime target range in the South China Sea, While the announcement came only a few days after a US warship trespassed into Chinese territorial waters in the region, The JH-7 fighter bomber recently also made an appearance at an exercise in the Taiwan Straits. since the exercise was a regular one aimed at enhancing combat readiness, analysts said that it was not a targeted response, The JH-7 fighter bomber recently also made an appearance at an exercise in the Taiwan Straits.
two days after the USS Curtis Wilbur made a transit in the Straits and sent wrong signals to Taiwan secessionists. Recently, the South China Morning Post quoted expert Jon Grevatt of the open source intelligence company Janes (UK) as saying that the H-20 strategic bomber developed by China has a stealthy wing design to attack. 2nd and outer island chain. The three island chain strategy was originally built by the US to surround China and the Soviet Union. Accordingly, the first island chain begins in the Kuril/Chishim archipelago, ends in Borneo and the northern part of the Philippines. The second island chain is usually counted from the Bonin Islands (Japan) to Mariana Islands (referred to as US territory) east of the Philippines.
The third island chain begins in the Aleutian Islands and ends in Oceania the important part being the location of the Hawaiian Islands. The statement was made after the Modern Weaponry magazine of the Northern Industrial Corporation (Norinco) of China published four design images on the computer of the H-20 bomber. The H-20 bomber model has been in development for many years and is a mystery as the image has never been officially released. The newly released images show that the aircraft has a weapon compartment, two adjustable horizontal tailplanes, radar in the front and two air intakes on either side. All are covered with a dark gray material that absorbs radar signals.
The bomber has a very similar appearance to the model in the video released in January by another Chinese state-owned company, the Aviation Industry Corporation of China (AVIC), which is believed to be responsible. developed the H-20 model. Previous reports had said that the H-20 would be equipped with nuclear conventional missiles, have a maximum take-off weight of at least 200 tonnes and a payload of up to 45 tonnes, tonnes, and was expected to fly at subsonic speeds and potentially fire four powerful hypersonic stealth cruise missiles. Jon Grevatt, the released pictures showed that the H-20 prioritised stealth and long distance over speed. "So that means the strategic kind of advantage of that aircraft is that it would be able to strike as what they call a strategic bomber, strike targets a long distance away, perhaps in the second island chain and beyond," Ahead of the Chinese Communist Party's anniversary on July 1, many are making a pilgrimage to the Party's most revered landmarks. Gloria Tso reports.
Across a large square in the northern Chinese village of Xibaipo, row after row of people have lined up with their fists and flags held high. Chanting slogans like "I will fight for socialism" and "I will never betray the Party," This parade has attracted the participation of young people: "I am excited. I feel I'm taking on a responsibility too, to strive for the realisation of Communism. As a young person who is (soon) entering adulthood of course I (and others) carry the future of our motherland.
I have come to Xibaipo to learn about the red (communist) spirit so that I can build the new China better and better." Chinese government officials say visitor numbers have stepped up at party landmarks like Xibaipo and Yan'an. Party researchers say the promotion of further study of the party's history is not only to celebrate the founding of the Party, but also to cultivate knowledge and loyalty.
Roughly 90 million of China's 1.4 billion people are party members. Foreign Minister Joseph Wu said in an exclusive Canadian interview with CBC News Network's Power & Politics. Mr.Wu is calling on fellow democracies to voice more support for his country in the wake of an increasingly hostile China, citing the dismantling of freedoms in Hong Kong as a sign of Chinese expansionism.
Foreign Minister Joseph Wu said in an exclusive Canadian interview "If you look at the Chinese actions, it doesn't stop in Hong Kong. Look at Chinese military activities in the East China Sea and Taiwan Strait and South China Sea. What we see is an authoritarian regime trying to expand its influence beyond the first island chain," Minister Wu told host "In the Chinese expansion, Taiwan stands on the front line," "We suffer from Chinese influence operations, infiltration, disinformation campaigns, cyber attacks and military threats, also diplomatic isolation." Minister Wu says the Taiwanese people view what happened in Hong Kong as "tragedy of the modern times" that should not be allowed to happen again.
Taiwan has been sounding the alarm about China's military actions this year. China has flown warplanes into Taiwan's air defence identification zone and deployed an aircraft carrier group near the island for exercises in April; drills that China said will be conducted on a regular basis moving forward. The General Committee and the Plenary Session of the 74th World Health Assembly(WHA) on Monday rejected some countries' proposals to invite the Taiwan Region to the WHA as an observer. The WHA's rejection of Taiwan-related proposals for the fifth consecutive year fully demonstrates that the one-China principle has become a universal consensus that is unchallengeable in the international community, China urges the United States to follow China in adopting a scientific and cooperative attitude to work with the World Health Organization (WHO) in origin-tracing and respond to the world's concerning questions around the biological lab at Fort Detrick, During a regular press conference in Beijing, China, Foreign Ministry spokesman Zhao Lijian said: Foreign Ministry spokesman Zhao Lijian said: "The Wuhan Institute of Virology of the Chinese Academy of sciences issued a statement on March 23 According to the statement,the Wuhan Institute of Virology had not been exposed to COVID-19 before December 30, 2019, and a 'zero-infection' record is kept among its staff and graduate students so far. According to Zhao, China has adopted a scientific attitude towards working with the WHO in origin tracing, which has won acclaim from international experts. Contrary to China, the United States has always hidden its response to the global attention to the biological lab at Fort Detrick.
The spokesman called on the U.S. to be responsible in this regard, and help the globe to conquer the pandemic at an early date. foreign minister Nanaia Mahuta has warned, New Zealand could find itself at the heart of a "storm" of anger from China, exporters needed to diversify to ensure they could survive deteriorating relations with Beijing. Mahuta's comments come as the New Zealand government faces increasing pressure to take a firmer stance on human rights violations and crackdowns by China, It was one of the minister's more frank discussions of the vulnerability of New Zealand's trade dependency on China China accounts for more than $33bn of New Zealand's total trade, and nearly 30% of exports.
However, relations between the two countries have been strained recently after New Zealand and its Five Eyes allies suspended an extradition treaty with Hong Kong in response to Beijing's imposition of new security laws in the special zone. New Zealand has issued statements expressing "grave concerns" about China's actions in both Xinjiang and Hong Kong. The Japanese coast guard detected four Chinese ships in the waters around the Senkaku/Diaoyu Islands, an incident that took place earlier in the day, involving two Chinese ships attempting to approach a Japanese fishing boat in this area. One of the Chinese ships is said to be armed with an automatic cannon. This is the 16th time that Chinese government vessels have intruded into Japanese waters off the Senkaku Islands. The Japanese government maintains the islands are an inherent part of Japan's territory, in terms of history and international law.
Chinese fishing is increasing security risks near South Korea's tense nautical border, pledging to deploy advanced technology to crack down on illegal trawling. Minister of Oceans and Fisheries Moon Seong-hyeok said in an interview that that illegal fishing must be "completely eradicated," South Korea has long complained about Chinese trawlers operating in the Yellow Sea Moon told Bloomberg News on Friday, "When it comes to illegal fishing, whether it be foreign or domestic vessels, we will crack down," South Korea will from next year increase its maritime surveillance systems using drones and artificial intelligence. South Korea, which lists the U.S. as its main military ally and China when it won from Washington a termination of bilateral missile guidelines that have long restricted Seoul's development of missiles to under the range of 800 kilometers. The move could put more major Chinese cities under South Korea's missile range.
Although Beijing denies any illegal activity, the United Nations Security Council said in a report it suspected North Korea of selling hundreds of fishing permits a year from the likes of China to fish in the waters in violation of international sanctions. Soldiers in Mali have detained the president and prime minister of the interim government, The detention of President Bah Ndaw and Prime Minister Moctar Ouane on Monday came hours after a government reshuffle left out two soldiers who led the coup in August last year and raised fears of a second military takeover. Mali's interim prime minister Moctar Ouane earlier said soldiers brought him to the president's office under duress.
In a joint statement, the UN and AU called for the "immediate and unconditional release" of Mali's civilian leadership The Russian Foreign Ministry accused the United States of exceeding the limit under the New Strategic Arms Reduction Treaty (New START) and said Washington's number of launchers and bombers exceeded the 101 limit. New START is the only remaining legally binding treaty on nuclear arms control between Russia and the United States. Under the treaty, each country's nuclear arsenal was limited to 700 intercontinental ballistic 1,550 nuclear warheads and 800 launchers. New START has been in effect since 2011 and is scheduled to expire on February However, before that, on February 3, the US and Russia agreed to extend the New START treaty for another 5 years, until February 5, 2026 US President Joe Biden called Egypt's President Abdelfattah al-Sisi on Monday (May 24) and they discussed strengthening the Gaza ceasefire, urgent humanitarian aid to the strip and international efforts to rebuild it, the The two leaders also discussed ways to revive the peace process between Israelis and Palestinians US President Joe Biden affirmed that Washington will make efforts to ensure Egypt's water security. Presidents El-Sisi and Joe Biden also discussed a range of important regional and international issues, including the Israeli-Palestinian conflict and recent developments in Libya. Regarding the Palestinian issue, the two leaders discussed solutions to restore the peace process between Palestine and Israel.
US affirmed its support for the Egypt-brokered ceasefire between the Palestinian and Israeli factions, and stressed that Washington will coordinate with international partners to support the Palestinian Authority and the reconstruction in the Strip. Regarding bilateral cooperation, US President Biden affirmed his desire to strengthen relations with Egypt in all fields. In February, the Czech Republic filed a lawsuit calling for the cessation of operations at the Turow coal mine located near the Czech border and alleging that Poland had violated EU law by extending the mining period at Turow to 2026 Recently, Polish Prime Minister Morawiecki emphasized that he will not close this coal mine and continue to negotiate with the parties. The Czech Environment Minister said that the Czech government is ready to negotiate with Poland on the Turow lignite mine, an area that the Czech Republic wants to stop exploiting due to a dispute over issues related to groundwater pollution. The European Commission stressed that the region will not receive money from the EU's green transition fund after Poland extended the time allowed for mining operations at Turow. The Polish government has said closing the Turow lignite mine would result in the layoff of thousands of workers and cutting power to millions of homes.
It says the Czech Republic and Germany still operate lignite mines. Poland's continued heavy reliance on coal is a source of tension within the EU, as it seeks to meet ambitious targets to reduce the bloc's greenhouse gas emissions and prevent warming up globally. U.S.President Joe Biden announced on Monday he is doubling U.S. emergency spending
to help communities prepare for hurricanes, storms and other extreme weathers, The $1 billion will help communities prepare for weather-related disasters like hurricanes, floods and wildfires, with a portion allotted specifically to disadvantaged communities. while launching a new effort at NASA to better understand and track the impacts of climate change. According to New Zealand media reports, Prime Minister Jacinda Ardern has been endorsed by Queen Elizabeth II for the nomination for New Zealand's next governor general within the next five years. Accordingly, children's rights activist Dame Cindy Kiro will begin to replace the position of incumbent Governor-General Dame Patsy Reddy after her term ends in early October.
This is the first time in New Zealand's history that an indigenous woman has taken the position of representing the Queen of England in this country. In the statement, Prime Minister Ardern expressed her pleasure that Dame Cindy has agreed to take on the role of New Zealand's next Governor-General. Prime Minister Ardern said Queen Elizabeth had supported the nomination of the Prime Minister of New Zealand and thought Dame Cindy was a perfect fit for the role of Governor-General. Dame Cindy is a well-known figure in New Zealand academia. She holds a PhD in social policy and a Master's in business administration.
Dame Cindy has made significant contributions to the fields of education and health in New Zealand over the years. Queen Elizabeth II is currently the head of state of New Zealand and the Governor- General is the Queen's representative in New Zealand at ceremonial events, such such as the opening of Parliament. In addition, the Governor-General also plays a constitutional role by signing laws, dissolving the National Assembly and appointing a new government. In the context of the COVID-19 pandemic still showing no signs of cooling down, the time we spend indoors is increasing day by day.
Not only that, meeting each other on social networks is also gradually becoming more popular than in real life. Therefore, Sony has recently carried out a bold idea so that we can not only communicate with friends faster, but also have more fun. Specifically, the documents indicate that Sony has recently patented invention built into PlayStation game consoles that can convert our facial forms into emoticons. The camera built into the game console will capture an image of our face, then the facial recognition methods will simulate and select the most suitable emoji possible.
China's Huawei Technologies said it will launch its new Harmony operating system for smartphones on June 2, It's the company's biggest move to deal with U.S. sanctions from 2019, which banned Huawei from access to U.S.-born technology. That included Google's Mobile Services and Android applications, which were vital to Huawei phones. its biggest move yet aimed at recovering from the damage done by U.S. sanctions to its mobile phone business. The spread of the COVID-19 pandemic has plunged tourism in the Indian-controlled Kashmir into a complete standstill, rendering a large number of local people jobless and their lives hard-pressed.
The gorgeous Dal Lake, located in Srinagar, the summer capital of Indian-controlled Kashmir, used to see hordes of tourists in May of previous years. However, there are only some boatmen hanging around on the banks, earning no money. Abdul Gaffar is one of these boatmen who row boats for tourists to support his family. Since March last year when the COVID-19 epidemic started to spread in India, he has never made any money. "I can only row a boat to earn money and support my family. There were almost no tourists since the outbreak of the epidemic.
and no one knows when it will come to an end." Tourism is a pillar industry in the Indian-controlled Kashmir region. According to local tourism industry insiders' estimates, the Kashmir Valley receives at least one million tourists every year, and about 450,000 locals earn their living from tourism. These are FBNC Today's World news Thank you for watching
2021-05-28 02:14
Show Video
Other news