Tin quốc tế mới nhất 9/6, Trung Quốc tung "vũ khí pháp lý", tập trận pháo binh dằn mặt Mỹ | FBNC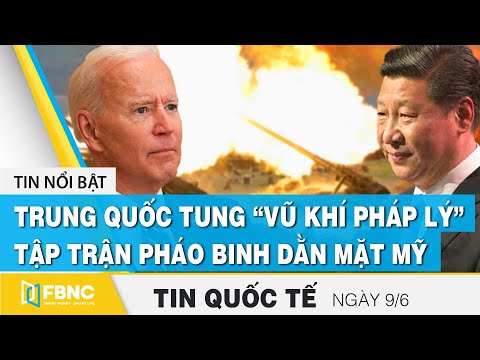 Show Video
China unveils new legal weapon to hit United States and other Western rivals with tougher sanctions PLA Eastern Theater Command's advanced howitzers test new tactic in coastal region Can the Malaysian air force handle more airspace incursions by Chinese planes? China military flybys near Taiwan plunge after US-Japan statement U.S.-Russia relations 'not about trust' -WH's Sullivan Blinken signals possible resumption of US-Taiwan trade and investment talks Blinken claims Iran's nuclear bomb 'breakout time' may soon be a 'matter of weeks', Nuclear weapons spending swelled $1.4 billion amid pandemic: report Welcome to FBNC's morning International news China unveils new legal weapon to hit United States and other Western rivals with tougher sanctions Western governments have been piling pressure on Beijing over such issues as Hong Kong's freedoms and the treatment of Uygur minority in Xinjiang The bid to pass such a law comes after China imposed new rules at the start of the year against what it called "unjustified" foreign action against its citizens and businesses. The rules were meant to defend national interests in the face of a rash of sanctions from Washington on Chinese tech firms and officials, Beijing said then. But analysts said the rules lacked details and they did not expect test cases to surface immediately.
Monday's announcement of the new law appeared to build upon and give legal teeth to these "blocking rules", which allow aggrieved parties to report damages to the commercen ministry and sue for compensation in Chinese courts. A slew of Chinese companies have been targeted by the US, including most notably telecommunications giant Huawei, which has been subject to restrictions aimed at cutting it off from key components made with American technology. The Chinese People's Liberation Army (PLA) Eastern Theater Command recently dispatched some of its most advanced artillery pieces to a coastal region and practiced the indirect fire tactic, which analysts said on Monday can reach longer ranges and is more flexible than previous approaches.
An artillery brigade affiliated with the 71st Group Army under the PLA Eastern Theater Command was recently mobilized to a coastal region and held an all-elements, long-range live-fire tactical exercise with multiple types of munitions, using the indirect fire method for the first time, after being newly equipped with the advanced PCL-181 self-propelled howitzer systems, Indirect fire is a tactic used by artillery troops who do not have direct lines of fire. Instead, they use calculated trajectories based on targeting data provided by other reconnaissance units to guide projectiles to hit targets, Compared with direct and semi-indirect fire, indirect fire can reach longer ranges and enables artillery pieces to be deployed in a more scattered, flexible pattern. The tactic could also be utilized to actively hide the artillery's positions while still being able to hit targets, the expert said. In the exercise, the self-propelled howitzers established firing positions behind a dam, which blocked the line of sight between the troops and their targets. A fixed-wing drone was then launched, and it conducted reconnaissance and positioning on hostile targets, After receiving, processing and synchronizing the targeting data, the howitzers fired in unison. Starting in daylight, the 10-hour exercise eventually extended into the night, and the troops also practiced firing under dim light.
On May 31, 16 Chinese People's Liberation Army Air Force (PLAAF) planes entered the airspace above Malaysia's exclusive economic zone in the South China Sea, the largest Chinese air force entry into this airspace that has been publicly recognised by Malaysia. This raises the question of whether Malaysian airpower is ready for this looming scenario. First, Malaysia's existing fighters, including the sub-sonic Hawks, would be sufficient to scramble to track the PLAAF's slow-moving Il-76 and Y-20 transporter aircraft deployed over Malaysia's exclusive economic zone in the South China Sea this week. However, if such PLAAF missions become frequent, like what Japan and Taiwan are encountering, the additional sorties and flight hours required of the RMAF would mean a greater maintenance burden.
As the Malaysian air force has suffered from some logistical issues, this greater burden could erode readiness. Since Malaysia must retain air defence over its whole territory rather than just the eastern states brought into focus on Monday, this capacity shortage challenge could be more serious. Second, Chinese fighters, either from an aircraft carrier or land bases, may join future operations for escorting or other purposes. Therefore, Kuala Lumpur needs similarly advanced fighters for tracking or intercepting approaching foreign counterparts. In this contingency, the Hawks may not be sufficient, and the burden of operating the eight F/A-18Ds and 18 Su-30MKMs would be heavier. Aside from these hardware concerns, how to handle such a contingency without triggering inadvertent escalation would be a severe test for the RMAF.
Beijing appears to be backing off from aggressive moves that would antagonize Washington over the hot-button issue after the U.S. and Japan made their first statement naming Taiwan in decades. A total of 257 jets, mainly J-10 and J-16 fighters, flew into Taiwan's ADIZ during these incursions for an average of 3.4 aircraft per day of incident. Since April 16, an average of 1.9 Chinese jets has entered Taiwan's ADIZ per day of incursion. No incidents involving 10 or more aircraft have been reported.
Su Tzu-yun, from Taiwan's Institute of National Defense and Security Research, said the Biden-Suga statement had a clear impact. China wants to avoid antagonizing the U.S. over Taiwan, while demonstrating Beijing's military might to those at home ahead of the Communist Party centennial, noting the recent uptick in provocations against Southeast Asian nations. Over 220 Chinese vessels have been moored by a reef in the Spratly Islands, US Secretary of State Antony Blinken on Monday (Jun 7) signalled a possible resumption of trade and investment talks with Taiwan stalled since the Obama administration, but gave no indication of any willingness to pursue a full-scale trade pact Taipei has been seeking. At a House Foreign Affairs Committee hearing on the US State Department's annual budget request, Blinken was asked about the Biden administration's position on a bilateral trade agreement with Taiwan. "I'd have to refer you to Katherine Tai, the US Trade Representative, but I know we are engaged in conversations with Taiwan, or soon will be, on some kind of framework agreement," Any such agreement is likely to irritate China, which claims Taiwan as its own territory.
Bonnie Glaser, a Taiwan expert at the German Marshall Fund of the United States, said Blinken's comment was a signal Washington was likely to move forward with a resumption of Trade Investment Framework Talks (TIFA) with Taiwan that have not been held since the Obama administration. She said the administration had probably not made a decision on whether to take the much larger step of pursuing a bilateral trade agreement with Taiwan, however. "Senior Biden administration officials have been encouraging USTR Tai to hold a round of the TIFA talks, She said Taiwanese President Tsai Ing-wen was keen ahead of an August referendum that could reverse her January decision to lift remaining restrictions on imports of US pork and beef to show some progress on trade talks with the United States.
White House national security advisor Jake Sullivan said on Monday. U.S. President Joe Biden's planned meeting with Russian counterpart Vladimir Putin is not a "reward" for Putin but instead the most effective way to hear directly from him to understand and manage the differences between Washington and Moscow, "The relationship between the U.S. and Russia is not about relationship of trust.
It's about a relationship of verification. It's about a relationship of clarifying what our expectations are and laying out that if certain kinds of harmful activities continue to occur, there will be responses from the United States. US Secretary of State Antony Blinken said talks to revive the Iran nuclear deal are stalling, claiming Tehran may soon cut its "breakout time" for a bomb to mere weeks as the country insists US sanctions are impeding an agreement. Speaking to lawmakers during a House Foreign Affairs Committee hearing on Monday, Blinken said that despite ongoing discussions in Vienna to return to the nuclear deal, still unknown whether the two sides will be able to reach an agreement, adding that Tehran's nuclear program continues to trudge ahead in the meantime. Meanwhile, its program is galloping forward. if this continues, it will get down to a Iran, for its part, insists its nuclear energy program is for civilian purposes only and that it has no intention to build a weapon.
While the International Atomic Energy Agency, UN's nuclear watchdog, has repeatedly confirmed the Islamic Republic is not diverting fissile material for military use and until 2018 affirmed its full compliance with the nuclear deal the body warned on Monday talks around monitoring its activities are becoming "increasingly difficult." Since the US withdrew unilaterally from the nuclear deal under the Donald Trump administration in 2018, Iran has taken reciprocal measures to scale back its own compliance with the agreement, expanding its number of active centrifuges and enriching uranium beyond caps set out in the pact. Tehran has maintained it will return to all terms of the deal once Washington resumes its own compliance, which would mean lifting a raft of sanctions imposed under Trump.
President Joe Biden, however, has been reluctant to drop the penalties, instead embarking on new negotiations in hopes of arriving at an amended nuclear deal that is "longer and stronger" Even as the pandemic raged and economies around the world were devastated, nuclear-armed countries last year increased spending on atomic weapon arsenals by $1.4 billion, campaigners said Monday. In a fresh report, the International Campaign to Abolish Nuclear Weapons (ICAN) detailed how the world's nine nuclear-armed states continued to swell their spending on such weapons. ICAN, which won the 2017 Nobel Peace Prize said This represented a $1.4 billion increase over 2019 spending, The United States spent more than half of the total amount, at $37.4 billion,
accounting for roughly five percent of its total military spending last year, China was believed to have spent some $10 billion, and Russia $8.0 billion, according to ICAN's estimates. When taken jointly, the nuclear-armed states, which also include Britain, France, India, Israel, Pakistan and North Korea, spent more than $137,000 every minute in 2020, it found. The increase in spending came not only while the world was grappling with its worst pandemic in a century, but also as many other countries were banding together to ban nuclear weapons. Last October, a treaty championed by ICAN to abolish the weapons received its 50th ratification, triggering its entry into force in January this year. More than 20 companies producing nuclear weapons profited from the business last year through existing or new contracts, with 11 Western companies alone raking in $27.7 billion in new or modified nuclear-weapons contracts,
The top companies profiting from such contracts were Northrop Grumman, General Dynamics, Lockheed Martin, Raytheon Technologies and Draper. For every dollar spent last year lobbying governments to spend more on defense, $236 came back to companies in nuclear weapons contracts, the report found. Vice President Kamala Harris offered an optimistic outlook for improved cooperation with Guatemala after her meeting with Guatemalan President Alejandro Giammattei on Monday. She also delivered a direct warning to migrants considering making the trek: "Do not come. Do not come." Harris said.
"I want to emphasize that the goal of our work is to help Guatemalans find hope at home," "At the same time, I want to be clear to folks in this region who are thinking about making that dangerous trek to the United States-Mexico border: Do not come, do not come." Harris also promised a new program focused on creating education and economic opportunities for girls there, among other new initiatives. so they no longer felt the need to flee their homeland for better opportunities in the U.S. the Biden administration announced that the Justice Department would create an anti-corruption task force and an additional task force to combat human trafficking and drug smuggling in the region.
Carefully applying varnish on an artwork made out of toothpicks and other smaller pieces of wood, Jamal Saleh al-Hassan is meticulously crafting collages depicting traditional houses, the Iraqi marshes or historical buildings in his city of Mosul. Once a carpenter, Hassan suffered from health problems, a light stroke and a partial hearing loss. Too ill to work, he found himself jobless and unable to provide for his family after 2004 His wife, Afrah Mwaffeq Abed, started to work as a taylor from home to cover their expenses.
Until, several years ago, Hassan decided to start drawing on wood. "I lost everything. But I couldn't just stay unemployed, I needed to work and express what I have inside me," I could not believe that this creation was coming from my own two hands. So I told my wife, 'I became a painter! At this age, and after all this suffering, I am a painter!" According to Abed, they used to sell a piece for about 50 USD, but prices gradually went up as the couple became more established within the local art scene. Over time, Hassan's condition improved, Abed said. From being nervous and ill, Hassan has now stopped taking medicine she said, underlining the beneficial impact art has had on her husband's health condition.
These are FBNC's morning International news Thank you for watching See you in the next FBNC's morning International news
2021-06-10 05:57
Show Video
Other news