Tin quốc tế mới nhất 27/5, Nga – Trung tuyên bố Mỹ đã ngã khỏi "chiếc ghế bá quyền" | FBNC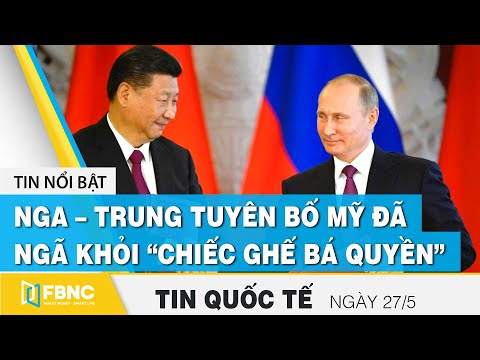 Show Video
Welcome to FBNC's May 27 Morning International news here are today's outstanding news Killer robots need ethical rules, US and Chinese analysts agree China, Russia eye fixing 'global disorder' amid US withdrawal Wellington faces pressure from US, but shouldn't sacrifice its interests Russia Starts Developing Fifth-Generation Light Single-Engine Fighter US lifts missile restrictions on South Korea, ending range and warhead limits US lifts missile restrictions on South Korea, ending range and warhead limits Mysterious airbase being built on volcanic island off Yemen Much Bigger Thing to Worry About': UFOs Are Alien, Not Some Terrestrial Tech Autonomous weapons systems, or "killer robots," have no fear, no anger, and no guilt or hesitation about pulling the trigger. They do as their programming tells them to. From U.S. operations in Afghanistan to the recent Israel-Hamas conflict,
unmanned vehicles have been in heavy use. But the impact of drones in the autumn 2020 clash between Azerbaijan and Armenia caught the eye of many military experts around the world. Peter Singer, a strategist at the New America think tank "The Azerbaijanis used drones to incredible new effect," "They took out over 40% of Armenia's tanks and armored fighting vehicles, and over 90% of their artillery and missiles, utilizing a mix of airstrikes and drones." "Fifteen years ago, the question in war was, 'Will there be a role for drones?'" "Coming out of that war, no one's questioning whether drones are going to be used in war," Autonomous weapons systems are expected to play a major role in future combat, since all three players in the great-power competition have incentives to switch to them from humans. The U.S. has just endured a grueling two-decade war on terrorism in Iraq and Afghanistan,
where many lives were lost. Russia has a declining population and a shrinking military and will need robots to sustain its forces. China, due to its past one-child policy, has a military almost entirely made up of each family's only child.
But say a robot is tasked with hunting for Scud missiles from among a "library" of targets, choosing from those it sees. Who, or what, would keep it from attacking a Scud near a school? How much is the machine allowed to do on its own, and who among its human overlords takes responsibility for unintended engagements? These questions of "machine permissibility" and "machine accountability" are just some of what countries will wrestle with as lethal autonomous weapons are increasingly deployed in theaters of war. The Pentagon does have guidance on autonomy in weapon systems: Directive No. 3000.09, which was issued in 2012 and extended in 2017 Commanders and operators should exercise "appropriate levels of human judgment over the use of force," it states.
Top Chinese diplomat Yang Jiechi and Russian Security Council Secretary Nikolai Patrushev the 16th round of strategic security consultations on Tuesday, which is a high-level meeting focusing on strategic cooperation in confronting both regional and global security and geopolitical threats. Chinese analysts said that the recent change has been generally caused by the decline of US hegemony, The US hasty pullout from Afghanistan is resulting in surging violent attacks in the country, and the Palestine-Israel conflict has caused heavy casualties but the US stance was blocking international mediation through the UN Security Council. These are all the signs that make China, Russia and other relevant countries worried due to the wavering "Pax Americana," Yang Jiechi and Nikolai Patrushev shared the same statement saying "won't let the US or any other country speak with it "from the position of force." Yang, a member of the Political Bureau of the Communist Party of China (CPC) delivered a message in a phone conference with Russian President Vladimir Putin on Tuesday, which reiterated the bilateral relationship between China and Russia.
The Russian president, hoping Yang transfers his greetings for Xi and two top leaders will maintain close communication. The two sides also discussed issues related to the China-Russia comprehensive strategic partnership, reiterating the importance of the Treaty of Good-Neighborliness and Friendly Cooperation between China and Russia and celebration of the 20th anniversary of the signing fo the treaty, in addition to number of hot topics on global affairs. Among a wide range of topics, how to confront "the challenges posed by the US-led Quad alliance" that may pose security impacts to China and Russia would also top the agenda of security talks, Russia's Sukhoi company began work on the creation of a tactical single-engine fighter of the 5th generation, which will be built using stealth technologies and Su-57 developments, the source said.
"During the creation of the aircraft, it is planned to widely use the groundwork developed in the framework of the creation of the Su-57, including the state-of-the-art product 30 engine, radio-absorbing coatings, on-board radio-electronic equipment, a weapon system," To date, all fighters made in Russia, including the state-of-the-art Su-57, are equipped with two engines. Currently, single-engine fighters are widely used in the world. The most famous and most demanded of them on the world arms market are the American F-16 and F-35 fighters, the Swedish JAS-39 GRIPEN and China's J-10. The presence of only one engine significantly reduces the cost and labor intensity of aircraft production, and also simplifies and reduces the cost of its operation and maintenance.
China strongly condemns a UK body investigating the claims of "genocide and crimes against humanity" against Uygur people in northwest China Xinjiang government officials told a press conference on Tuesday. the so-called tribunal is not a judicial body and has no legal basis for establishment, The so-called investigations and trials are being used to attack Xinjiang and smear China, adding that such acts are interference in the country's internal affairs. The New Zealand Foreign Minister reportedly warned of a potential "storm" in trade cooperation.
Mahuta further suggested that New Zealand exporters need to think about diversification in case relationship with China worsen China's Foreign Ministry on Tuesday praised China-New Zealand bilateral relations based on mutual respect and interests and urged the country to shrug off external disruptions to jointly advance the relationship and expand areas of cooperation, In an interview with the Guardian published on Monday, Mahuta said that if Australia is "close to an eye of the storm or in the eye of the storm, we've got to legitimately ask ourselves it may only be a matter of time before the storm gets closer to us." Mahuta further suggested that New Zealand exporters need to think about diversification in the context of COVID-19, Zhao told a routine press conference in Beijing. "It is hoped that New Zealand will continue to uphold the spirit of striving for the first place, and the principles of mutual respect and equal treatment, to meet China halfway, enlarge the pie of cooperation, eliminate external interference, South Korean President Moon Jae-in announced a joint decision Friday with the United States to terminate guidelines that have long restricted Seoul's development of missiles. Moon described it as a "symbolic and substantive" measure demonstrating the robustness of the alliance along with a recent deal on sharing the cost for American troops stationed on the peninsula. Some believe the lifting of missile development restrictions for South Korea could be part of a U.S. strategy to counter China in the region. "The termination of the missile guidelines reflects how the Biden administration lays importance on the ROK-U.S. alliance,
and it shows Washington's trust in South Korea in terms of national capacity, Only 16.7 percent of South Koreans feel friendly toward Japanese and 20.2 percent of Japanese do so toward South Koreans, a survey showed Tuesday, underscoring the soured relations of the two neighboring countries. Tokyo-Seoul relations have sunk to their lowest point in decades following South Korean Supreme Court rulings in 2018 that ordered Japanese companies to compensate plaintiffs who were laborers during Japan's 1910-1945 colonial rule of the Korean Peninsula. Since early April, negotiators have been meeting in Vienna to hash out a step-by-step initiative that would allow for the US and Iran to come back under compliance of the 2015 (JCPOA). To date, no clear pathway has been drawn out, but officials have stated some progress has been made.
Israeli Prime Minister Benjamin Netanyahu doubled down on past remarks on Tuesday and urged the US to steer clear of rejoining the Iran nuclear deal. Netanyahu issued the commentary following a joint meeting with US Secretary of State Antony Blinken, Netanyahu said, "I can tell you that I hope that the United States will not go back to the old JCPOA because we believe that that deal paves the way for Iran to have an arsenal of nuclear weapons with international legitimacy," While Blinken did not push back on Netanyahu's commentary, he did emphasize that the US would continue to consult with Israel regarding the full resumption of the 2015 nuclear deal. "We will continue to strengthen all aspects of our long-standing partnership," "And that includes consulting closely with Israel, as we did today on the ongoing negotiations in Vienna, around the potential return to the Iran nuclear agreement." The Israel Defense Forces, or IDF, has confirmed that an Iron Dome battery accidentally shot down an Israeli Skylark drone during a recent conflict with Palestinian militants in the Gaza Strip. The downing of the Elbit Skylark unmanned aircraft has reportedly caused great concern among Israeli officials, An IDF spokesperson would tell Haaretz, "As part of the round of fighting in Gaza and as part of the defense of the country's skies, an IDF Skylark drone was hit by Iron Dome," "The incident is under investigation."
It's not clear when the incident occurred. "the IDF is worried about it because the entirety of the IDF's combat plans prepared in recent years are based on multi-dimensional fighting "The shooting down of a drone raises doubts whether the IDF is sufficiently prepared and possesses the necessary capabilities to conduct a long period of fighting without harming its own forces." An estimated 4,300 rockets were launched toward Israel and there were some 1,500 IDF airstrikes in the nearly two weeks of fighting, A mysterious airbase is being built on a volcanic island off Yemen While no country has claimed the Mayun Island airbase shipping traffic associated with a prior attempt to build a massive runway 3.5-mile-long island years ago links back to the United Arab Emirates.
Emirati officials in Abu Dhabi and the UAE's embassy did not respond to requests for comment. Satellite images from Planet Labs obtained by the Associated Press showed construction vehicles building a 1.85km (6,070ft) runway on the island on 11 April. The runway on Mayun Island allows whoever controls it to project power into the strait and easily launch airstrikes into mainland Yemen, It also provides a base for any operations into the Red sea the Gulf of Aden and nearby east Africa. Family members of 21 runners who died when freezing rain and strong winds a weekend mountain race in northwestern China have rejected offers of compensation and want to know how the tragedy could happen, Reports said about US$150,000 in compensation has been offered for each victim, but family members were quoted as saying that the compensation offered was too little and local authorities had not provided an explanation why things went so wrong.
"This was not purely a natural disaster. There was a great deal of human error," the paper quoted one family member as saying. A joint investigation team, including officials from the state meteorological agency and the sports ministry, Saturday morning in the Yellow River Stone Forest tourist site in Jingtai County, Baiyin City has held a race when Abrupt and extreme weather of hail, freezing rain and high winds plus temperature plummet struck the area during the race, 21 have been confirmed dead in the accident.
151 of the 172 participants in the race were confirmed to be safe, Senator Heinrich remarked that, considering what kind of feats UFOs seem to perform, "you wouldn't want a human being or any living creature in something that moves that fast and changes direction that quickly." While certain figures have suggested that some UFOs might be advanced craft deployed by a world power, US Senator Martin Heinrich has argued that such technology appears too advanced for us mere humans, When asked by the media outlet whether UFOs are related to foreign governments or aliens, Heinrich chose the latter, saying that it's a "much bigger thing to worry about." Earlier, Nick Pope, former UFO investigator for the UK Ministry of Defence, suggested UFOs that were spotted buzzing US warships back in 2019 might've been hypersonic drones, though he appeared uncertain about who – or what may have been operating them.
And former US Senator Harry Reid also previously claimed that "Russia is involved in this" when asked if UFOs could be an indication of China's technological prowess. Two riders from the Yakutsk region in Russia's Siberia are on a year-long horseback journey to Moscow, and aim to trek further into Europe. and did COVID-19 tests and paperwork to continue their ride. Duguidan Vinokurov and Michil Neusrtoyev left their hometown of Oymyakon, said to be Russia's coldest place, in February and reached to the regional capital of Yakutsk in May to do COVID-19 tests and paperwork The cold was the first challenge for us," The main goal of the journey is to promote the local Yakut horse breed, which the riders say roams free despite Siberia's freezing winters and hot summers. The riders left Yakutsk on Friday (May 21) continuing on the 9500-kilometre trek to Moscow.
They hope to reach the Russian capital by May 2022 and then ride on through Europe. Spain's Bienvenido Aguado has landed the biggest dirt to dirt Frontflip in history "So my name is from Barcelona, and I just did the biggest front flip ever with a downhill bike at the Darkfest course. It was quite windy, so we didn't get as many laps as we wanted. But it was time. All the pressure was out after doing it, and I am the happiest dude on the planet right now."
Darkfest 2021 mountain biking event in Stellenbosch, South Africa. Aguado's 30m effort beat the previous best of 21m by Canadian Tom Van Steenbergen, which was set in 2014 Darkfest is part of the Fest Series, a number of events held around the world to accommodate maverick mountain bike freeriders. May's "flower moon" appeared larger than life over the ruins of ancient Corinth in central Greece late on Tuesday, (May 25) casting its glow over the ancient castle and the Temple of Apollo, before it reaches its full peak phase on Wednesday.
but it will appear full for three days in between, from Monday night to Thursday morning, according to NASA. It will be the closest full moon to the Earth of the year, making it appear bigger and giving it the title of supermoon. Moons were often given their names by native American tribes These are FBNC's May 27 International news Thank you for watching See you on the next FBNC's International news
2021-05-29 23:55
Show Video
Other news