Tin quốc tế mới nhất 12/12 | Mỹ phát triển vũ khí tuyệt mật để chiếu tướng Trung Quốc? | FBNC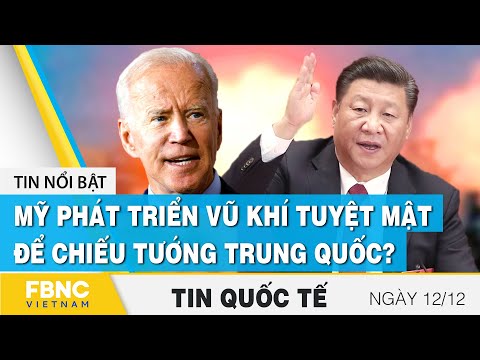 Show Video
US takes aim at China with Indo-Pacific military spending plans: analysts Milestones with 2 new planes show the US and China trying to improve on the same important mission To Bolster F-22 Raptors, F-35 Fighters, Is US Developing 'Highly Classified' Drones To Checkmate China? Why China's Nicaragua move is as much about the US as it is about Taiwan Russian Air Defense Missile Systems Spotted Moving Closer To Ukraine Despite appeals from Ukraine, Biden admin holds back additional military aid to Kyiv amid diplomatic push Recovery efforts begin after tornadoes rip through several states, killing dozens Drone footage: Storm Barra causes worst floods in 20 years in northern Spain Evacuation underway from quake-rattled island US plans to channel US$7.1 billion in defence spending to the Indo-Pacific region in the next financial year to counter a rising China will escalate confrontation between the two powers, analysts say. The spending package was part of the National Defence Authorisation Act, or NDAA, passed by the US House of Representatives on Thursday. The bill will move on to the Senate for final passage by the end of this week. The legislation earmarks US$768 billion for national defence, including US$7.1 billion for the Pacific Deterrence Initiative (PDI), a US$2.1 billion increase in the Pentagon's initial request.
The PDI is a six-year, US$27 billion plan to increase US strength in the Indo- Pacific, including in missile defence systems, logistics and collaboration with regional allies. The funds will be spent on flights and voyages to "sustain a baseline steady state presence" in the Indo-Pacific, according to the summary of the bill, with plans to add new capabilities and initiatives down the track. Zhao Tong, a senior fellow at the Carnegie-Tsinghua Centre for Global Policy in Beijing, said the funding indicated that the US was determined to confront China head-on in terms of military might, as the two countries diverged over Taiwan and the South China Sea. Zhou Chenming, a researcher from the Yuan Wang military science and technology institute in Beijing, said the PDI investment indicated the US would upgrade its integrated joint forces with a precision-strike network along the first and second island chains in the Pacific to further contain China. "The Biden administration claimed the US military does not want to have a military conflict with China, but the PDI shows Washington is trying to stir up tensions among regional parties, which might result in military conflict with Beijing."
The NDAA also includes sections calling for Taiwan's participation in the 2022 Rim of the Pacific Exercise and recommending Taipei's asymmetric defences be strengthened to counter a possible attack by the People's Liberation Army. New refueling aircraft in development with the US and Chinese militaries hit important milestones in recent weeks, demonstrating both militaries' focus on long-range operations, a vital capability in the vast Pacific. On November 28, a Y-20 aerial-refueling plane was one of 27 Chinese military aircraft to fly into Taiwan's air-defense identification zone, a security zone declared by Taiwan that is not territorial airspace. The Y-20 tanker can refuel fighter jets, like the stealthy J-20, and larger aircraft like the H-6 bomber, five of which took part in the November 28 flight. Days later, the US Navy said its newest refueling aircraft, the MQ-25 Stingray, had arrived aboard the USS George H.W. Bush for "its first test period aboard the aircraft carrier."
The Navy issued an $800 million contract for the MQ-25 in August 2018, and the unmanned aircraft took its first flight a year later. During June 2021 test flight with a Navy F/A-18 Super Hornet, it became the first unmanned aircraft to conduct aerial refueling with another aircraft. The Navy plans to acquire 72 MQ-25s, each able to offload 15,000 pounds of fuel — enough for two aircraft — at a range of 500 nautical miles from a carrier, adding roughly 300 nautical miles to the Super Hornet's range. The MQ-25 will extend the range of the US Navy's carrier air wing, and while it's focused on refueling, Navy leaders have ambitions to give it more missions, such as intelligence-gathering and airstrikes. The US Air Force is counting on two highly secretive unmanned aerial systems or drones to take on its arch-rival China in any future military conflict, according to a top Pentagon official. Major military powers across the world are currently focusing on the development of sixth-generation fighter aircraft, which are expected to roll out in 2035-40. The next-generation aircraft will feature what is called the
"system of systems", which distinguishes them from previous generations of jet fighters. These programs will include a manned combat platform that will work in harmony with a variety of unmanned combat aerial vehicles (UCAVs), many of which will have a high level of autonomy. There is no doubt that the US is currently leading this race. Considering the US' technological advantage, it is reasonable to expect that its program outcomes will influence future airpower scenarios. In a recent statement, Air Force Secretary Frank Kendall told Politico that USAF will start looking for funds to develop a pair of classified drones that would serve alongside fighter jets and bombers. He acknowledged that they're both unmanned air combat vehicles, or unmanned platforms designed to fly alongside fighter jets such as the [Next Generation Air Dominance fighter], the F-22, or the F-35. On the other side, they can operate with bombers such as the B-21.
The projects' existence will be publicly reported in the budget request, which will be sent to Congress early next year, but the contents will be kept secret, he said. The revelation is the clearest sign that the US is counting on autonomous weapons to provide it an advantage in the intensifying military rivalry with China. One of the most possible options for the US is to commit itself to a "loyal wingman" program, which involves a drone that uses artificial intelligence to operate beside piloted aircraft and complete tasks that are too unsafe for fighter pilots. Another possibility is that the new unmanned projects will coexist with the Next-Generation Air Dominance (NGAD) program and the B-21 bomber, both of which are officially classified. Another factor to take into account is that the US may partner with Australia and the UK, both of which are exploring similar initiatives. Boeing is leading the initiative in Australia, while Northrop Grumman has been chosen to lead the project in the United Kingdom.
The CIA is overhauling how it trains and manages its network of spies as part of a broader effort to transition away from 20 years of counterterrorism wars and focus more closely on adversaries like China and Russia, multiple sources familiar with the move tell CNN. Under the new policy, the CIA's so-called mission centers — the units within the agency focused on particular geographic regions or transnational challenges — will have more control over the assignments and language and other training that an operations officer receives over the long term. Still, senior officials insist the agency has not taken its eye off the ball when it comes to counterterrorism. Burns, speaking on Monday at The Wall Street Journal CEO Council Summit, listed China, Russia, Iran and "continuing counterterrorism challenges that we don't get to neglect or walk away from" when asked what keeps him up at night. Beijing's wooing of Taiwan's ally Nicaragua on Friday is not just retaliation for the island's independence efforts but it is also a sign of intensifying rivalry between China and the US in America's own backyard, according to observers. Nicaragua brings to four the number of Central American nations that have established formal relations with Beijing in recent years, following Panama in 2017 and El Salvador in 2018 The Dominican Republic in the Caribbean also switched to Beijing in 2018 Honduras may be next, with president-elect Xiamara Castro indicating she may switch ties to Beijing after claiming victory in last month's election.
Li Da-jung, professor of international relations and strategic studies at Tamkang University in Taipei, said the US was facing a rival for influence in the region. "Beijing has in the past few years wooed away four … Taiwan allies ... in Latin America. This definitely will help increase its influence in this part of America which is considered the US backyard," he said. The US has long been concerned about increasing Chinese influence in the region. When El Salvador established ties with Beijing, its officials warned
about China's intentions to turn the La Union commercial port in El Salvador's east into a "military base". Wang Jianmin, a Taiwan affairs specialist at Minnan Normal University in Fujian province, said the sanctions could be part of the reason Nicaragua had switched to Beijing. "China can back up Nicaragua in the United Nations as a UN Security Council permanent member and also help with the nation's economic development … This is useful for China to improve relations with Central America."
But Wang said other Central American nations might not follow Nicaragua's decision because US influence was still significant. China was Nicaragua's third-biggest trading partner in 2020, following the US and Mexico, with a trading volume of US$913.35 million. China branded American democracy a "weapon of mass destruction" on Saturday, following the U.S.-organized Summit for Democracy, which aimed to shore up like-minded allies in the face of autocratic regimes. "'Democracy' has long become a 'weapon of mass destruction' used by the U.S. to interfere in other countries," a Foreign Ministry spokesperson said in
an online statement, which also accused the U.S. of having "instigated 'color revolutions'" overseas. The ministry also claimed the summit was organized by the U.S. to "draw lines of ideological prejudice, instrumentalize and weaponize democracy (and) incite division and confrontation." Ahead of the summit, China ramped up a propaganda blitz criticizing U.S. democracy as corrupt and a failure. Instead, it touted its own version of "whole-process people's democracy" in a white paper released last week that aimed to shore up legitimacy for the ruling Communist Party, which has become increasingly authoritarian under leader Xi Jinping. While the U.S. has repeatedly denied there will be another Cold War with China, tensions between the world's two largest economies have spiraled in recent years over issues including trade and technological competition, human rights, Xinjiang and Taiwan.
The U.S. Treasury on Friday sanctioned two high-level Chinese officials for human rights abuses in the Xinjiang region and placed Chinese AI surveillance firm SenseTime on a blacklist for its facial recognition technology targeting the Uyghur minority. The United Nations' human rights office is finalising its assessment of the situation in China's Xinjiang region, where it has allegations that people have been unlawfully detained, mistreated and forced to work, spokesperson said on Friday (December 10). Rupert Colville said that the office of U.N. High Commissioner for Human Rights Michelle Bachelet hoped to publish its report in coming weeks and that there had been no progress in talks with Chinese officials regarding her visit.
Earlier, an unofficial British-based tribunal of lawyers and campaigners said Chinese President Xi Jinping bore primary responsibility for what it said was genocide, crimes against humanity and torture of Uyghurs and members of other minorities in the Xinjiang region. Colville said those "deeply disturbing" findings were still being analysed, adding: "But we have of course similarly identified patterns of arbitrary detention and ill-treatment in institutions, coercive labour practices and erosion of social and cultural rights in general." There was no immediate reaction from China, which has in the past said Western powers were seeking to denigrate its reputation by inventing and exaggerating problems in Xinjiang. Russian military hardware, including medium-range surface-to-air missile systems, continues to pour into areas of the country adjacent to Ukraine, as concerns grow that Moscow could be preparing some kind of new invasion of Ukrainian territory. Videos that recently emerged on social media appear to show an extensive array of Buk-M1 air defense systems and related equipment, together with tanks and artillery, at a rail marshaling yard relatively close to the border with Ukraine. Meanwhile, Chief of the Defense Staff in the United Kingdom, Admiral Sir Tony Radakin, has warned that a full-scale invasion of Ukraine "would be on a scale not seen in Europe since World War Two." These are by no means the first such movements of Russian military equipment close to the country's borders with Ukraine, but it is significant that air defense systems are now also present in such strength. Previously, Western intelligence
and open-source analysts have tracked Russia's positioning of heavy armor, artillery, and even long-range missiles in these areas. For them to operate in a potential conflict, they would require a protective 'umbrella' provided by the highly mobile Buk-M1 system, as well as other air defense systems. Meanwhile, Russia already possesses a considerable airpower advantage over Ukraine, and each additional air defense system in the region further erodes Ukraine's ability to conduct any kind of meaningful air operations in a future conflict. Official Ukrainian reports suggest that there are now approximately 100,000 Russian troops in the areas adjacent to the borders with Ukraine. Meanwhile, the Washington Post published a story stating that U.S. intelligence assesses the figure to be smaller, at around 70,000 Russian troops, but that Moscow is
planning a large-scale intervention into Ukraine involving at least 175,000 personnel on the ground. The Biden administration prepared a $200 million package of additional military assistance for Ukraine in recent weeks but held off on delivering the aid despite appeals from Kyiv and some lawmakers, according to three people familiar with the issue. A source familiar with the matter, however, said there are a number of other options on the table for further assistance to Ukraine, including a much larger package of aid that would be approved in the event of further incursion by Russia.
Earlier this week, National Security Adviser Jake Sullivan told reporters President Joe Biden told Russian President Vladimir Putin that if Russia launched an attack the U.S. would impose tough sanctions on Moscow and would send more military aid to Ukraine. The source familiar with the matter said Sullivan was referring to this much larger package of potential aid, not the $200 million shipment. The administration's delay of the smaller shipment of weapons and military equipment was designed to give more time for diplomatic efforts to defuse tensions and to retain leverage in the case of a Russian attack on Ukraine, the three people familiar with the issue told NBC News.
The smaller package "has been on the president's desk for roughly three to four weeks," said one of the sources briefed on the issue. Although it's unclear what the proposed $200 million aid package includes, Ukraine has asked for air defense systems, anti-ship missiles, more Javelin anti- tank missiles, electronic jamming gear, radar systems, ammunition, upgraded artillery munitions and medical supplies, according to two people familiar with the request. A bipartisan group of 22 House lawmakers wrote a letter to Biden on Wednesday urging the administration to speed up military help to Ukraine.
"To maximize deterrence, it is critical that at least some military aid — Stingers, Javelins, drones, and anti-ship missiles — are provided immediately. The Ukrainian state must be equipped with the tools necessary to defend itself and the region against Russian aggression," the lawmakers wrote. In a commentary published Friday in Foreign Affairs, Ukraine's foreign minister, Dmytro Kuleba, said it was vital "to deepen military assistance to Ukraine."
"We have our own capable military forces in Ukraine, and we don't expect Western countries to put boots on the ground," Kuleba wrote. "We do, however, need more weapons to be able to defend ourselves. Everything counts, from ammunition to medical equipment, but we are in particular need of air and missile defenses." Kuleba said only firm resolve from the United States and NATO would succeed in countering Russia.
"For too long, the West has declined to take Putin's ambitions seriously and responded with delay, indecision, and weakness. It is time to meet them with strength."
2021-12-13 16:41
Show Video
Other news