Tin quốc tế 10/9, Tướng Mỹ tiết lộ vòng vây an ninh cuối cùng có thể bị Trung Quốc đe dọa | FBNC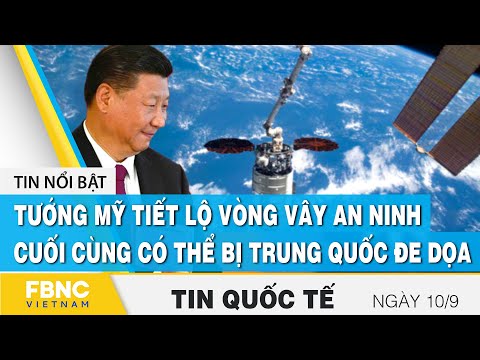 Show Video
Experts, legislators call for Taiwan to deepen defense ties with Japan Slovak representative calls for closer Taiwan ties Suga to attend Quad summit in Washington US Space Force chief convinced China would use satellite killers World wary of Taliban government as Afghans urge action on rights and economy US, allies agree to join efforts on Afghanistan Wang Yi Attends First Foreign Ministers' Meeting on the Afghan Issue Among the Neighboring Countries of Afghanistan N.Korea puts hazmat suits on parade for national day, but no missiles Blinken Says Delay in Nuclear Talks With Iran May 'Not Reproduce Benefits' of JCPOA Revival Japanese Prime Minister Yoshihide Suga will travel to Washington later this month to attend the first face-to-face leaders summit of the Quadrilateral Security Dialogue. Suga, U.S. President Joe Biden, Australian Prime Minister Scott Morrison and Indian Prime Minister Narendra Modi aim to strengthen the four-way partnership in the Indo- Pacific region in response to China's growing clout.
The Japanese prime minister on Wednesday kicked off preparations to participate in the Quad summit. Suga will not run in the ruling Liberal Democratic Party's leadership election in late September, meaning that he will step down as prime minister in a few weeks. But he has decided to attend the meeting in Washington in response to Biden's invitation. The two leaders are also expected to meet on the sidelines of the Quad summit to affirm their cooperation toward peace and stability in the Taiwan Strait, echoing their bilateral meeting in April. Quad leaders had agreed at their virtual summit in March to meet in person by the end of the year. Though they had stopped short of criticizing China by name in their joint
statement from that event, they had pledged to "meet challenges to the rules-based maritime order in the East and South China Seas." The leaders had also agreed to set up expert working groups on coronavirus vaccines, critical and emerging technologies, and climate change. In Washington, they are expected to discuss how to better distribute vaccines to developing economies to counter Chinese vaccine diplomacy. At a separate meeting in August, senior Quad officials had discussed specific areas for cooperation in maritime security and cybersecurity toward a "free and open Indo- Pacific." Gen. John Raymond, the chief of the U.S. Space Force, says that the security of the final frontier faces a "full spectrum of threats" from China that needs to be countered by allied cooperation.
The Chinese have built and are building "everything from reversible jammers of our GPS system -- which provides navigation and timing with precision --, to jamming of communications satellites," Raymond told Nikkei in a recent telephone interview. "They've got missiles they can launch from the ground and destroy satellites." Raymond was the first person appointed to lead the Space Force, established in 2019 The body serves as the sixth branch of the military at a level comparable to that of the army and navy. Raymond's military career spans more than three decades, mostly in the Air Force. He was stationed at the U.S. Yokota Air Base in Japan from 2010 as vice commander of the
Fifth Air Force. In his observation, the U.S. faces a space domain that has gotten "a lot more competitive." If a conflict breaks out with China or Russia, one of the first things to be carried out would be an attack on U.S. satellites to severely damage America's capacity to fight, the reasoning goes. Raymond is especially concerned about China in this respect. Not only is China developing "killer satellites" with robotic arms to incapacitate other satellites, he said, the Asian power looks to field antisatellite missiles and equipment to jam GPS services.
During June's NATO summit, the leaders for the first time issued a joint communique stating that an attack on any member in space would trigger Article 5 provisions invoking collective defense. Raymond says this position recognizes that cooperation with allies in space has become increasingly important. Given that NATO said in the communique it would respond to threats "on a case-by-case basis" it appears the body will consider and discuss the exact nature of such threats. The Space Force chief said U.S. allies should improve the speed and precision of intelligence sharing as well as expand military exercises in preparation for national security emergencies. Slovakian representative to Taiwan Martin Podstavek has said that there are still many areas that Slovakia and Taiwan can cooperate on, and he urged Taiwan to expand relations with the EU in order to gain more European support in the international arena. Podstavek on Wednesday (Sept. 8) told Taiwan News that he was surprised by the warm reactions and Facebook messages from the Taiwanese public after news that the Central European country was donating a shipment of COVID-19 vaccine doses broke out in July "We really want to have close economic and people-to-people relations," Podstavek said. A Slovakian business delegation had been scheduled to visit Taiwan in May but was postponed after Taiwan's COVID situation grew more serious.
He mentioned that from 2000-2010, many large Taiwanese investors had come to Slovakia to seek opportunities, including Delta Electronics and Foxconn, adding that Taiwan is currently the Central European country's second-largest investor in Asia. However, the representative said that Taiwan is still merely scratching the surface in terms of cooperation with Slovakia and within central Europe. The representative praised Taiwan's Southbound Policy and said that Taipei should treat Europe the same way. The economic and political power the EU has can help Taiwan increase its international participation, which is why Taipei must increase its visibility in the region, he said. Opening-up is China's basic national policy that will never waver, a foreign ministry spokesperson said on Wednesday. Spokesperson Wang Wenbin made the remarks in response to a question on the remarks by some people in the United States concerning Chinese government's efforts to strengthen market regulations.
"It is fundamentally conducive to the fair, orderly, and sustainable growth and development of the Chinese economy, and is good to the world economy in the long run. Chinese and foreign investors, business operators, and consumers will eventually benefit from it," he said. China has announced it will implement across the country a negative list for cross-border services trade and support Beijing and other localities in piloting the alignment of domestic rules with high-standard international free trade rules. The State Council issued measures to promote trade and investment facilitation and deepen reform and innovation in pilot free trade zones, in an effort to enable trade, investment, international logistics and the financial sector to better serve the real economy. "China will, as always, provide better safeguards for foreign investors to do business in China. We will work with other parties to uphold openness and cooperation for mutual benefit, share development opportunities and jointly promote world economic recovery and growth," Wang said.
China and the US are making a somewhat bumpy journey toward climate cooperation, with Chinese officials and experts still calling for partnership between the two countries to tackle climate change, but urged the US to change its hostile attitude toward China and treat China-US cooperation more sincerely. US climate envoy John Kerry reportedly said recently that China can do more in terms of tackling climate change, implying that China's efforts are insufficient as long as it continues to build coal-fired power plants. Li Haidong, a professor at the Institute of International Relations at the China Foreign Affairs University, told the Global Times. "The US has shown hypocrisy and short-sightedness on the issue of climate cooperation with China.
has politicized the climate issue and tHe Weiwen, a former economic and commercial aken it as a diplomatic tool against China, and yet tried to shift the blame to China," counselor at the Chinese consulate general in San Francisco and New York, also criticized the US for "finding fault" with China, as blaming China for not doing enough in tackling carbon emissions does not hold water. "Power generation using coal, petroleum and natural gas accounts for about 60 percent of overall power generation in China and the US. Power generation using recyclable energy accounts for 29 percent in China, compared with the US' 20 percent. But this does not include carbon emissions from California wildfires and wars the US launched," he said. According to Wang Shouwen, the Vice Minister of Commerce, it will be unable to step up cooperation focused on green development and low-carbon economy without healthy and stable bilateral trade ties. He also noted that the nature of China-US economic and trade relations is mutually benefit and win-win. Wang Shouwen and Wang Yi made the remarks after Kerry recently pointed out that the climate issue is not a geostrategic weapon, suggesting that the US will work with China on climate change but crack down on other sectors. Lin Boqiang, director of the China Center for Energy Economics Research at Xiamen University, also told the Global Times that the premise of China-US green cooperation is that the US should show more sincerity and a cooperative attitude. But their crackdown measures, like starting anti-dumping investigations
into Chinese energy exports and concerns about so-called technological theft, are creating obstacles to China-US green partnership. Foreign countries greeted the makeup of the new government in Afghanistan with caution and dismay on Wednesday after the Taliban appointed hardline veteran figures to an all-male cabinet, including several with a U.S. bounty on their heads. As the newly appointed ministers and their deputies set to work after they were named late on Tuesday, acting Premier Mohammad Hasan Akhund urged former officials who fled Afghanistan to return, saying their safety would be guaranteed. "We have suffered heavy losses for this historic moment and the era of bloodshed in Afghanistan is over," he told Al Jazeera. Tens of thousands of people left after the Taliban seized power in mid-August following a lightning military campaign, many of them professionals fearing reprisals because of their association with the Western-backed government. In Kabul, dozens of women took to the streets again to demand representation in the new administration and for their rights to be protected. More broadly, people urged the leadership to revive the Afghan economy, which faces steep inflation, food shortages exacerbated by drought and the prospect of international aid being slashed as countries distance themselves from the Taliban.
The United States underscored its wariness on Wednesday. "This is a caretaker Cabinet," White House spokeswoman Jen Psaki told reporters. "No one in this administration, not the president nor anyone on the national security team, would suggest that the Taliban are respected and valued members of the global community." The Taliban's announcement of a new government on Tuesday was widely seen as a signal they were not looking to broaden their base and present a more tolerant face to the world. The Taliban has promised to respect people's rights and not seek vendettas, but it has been criticised for its heavy-handed response to protests and its part in a chaotic evacuation of thousands of people from Kabul airport.
The European Union voiced its disapproval at the appointments, but said it was ready to continue humanitarian assistance. Longer-term aid would depend on the Taliban upholding basic freedoms. Saudi Arabia expressed hope the new government would help Afghanistan achieve "security and stability, rejecting violence and extremism." The United States and its allies and partners have affirmed joint efforts to ensure freedom of movement and the protection of women's rights in Taliban-controlled Afghanistan. US Secretary of State Antony Blinken and German Foreign Minister Heiko Maas co-hosted an online meeting on Afghanistan on Wednesday. Foreign ministers
and other officials from 22 countries, the European Union, the North Atlantic Treaty Organization and the United Nations took part. He pointed out that the announced list of names consists exclusively of members of the Taliban or their close associates, and no women. Maas expressed concern as well, saying he cannot take an optimistic view. Blinken added that the US and the international community will judge the caretaker Cabinet and the Taliban by their actions. Japanese Foreign Minister Motegi Toshimitsu told the participants that Japan will continue to work with the global community to achieve the safe passage of those who wish to leave Afghanistan.
He added that Japan will help to step up anti-terrorist measures to prevent Afghanistan from becoming a hotbed for terrorism. Motegi explained that the Japanese government sent its Middle East envoy Uemura Tsukasa to Doha, the capital of Qatar, to negotiate these issues with the Taliban. Motegi also pledged about 200 million dollars in aid for Afghanistan and its neighbors by the end of this year to build shelters for evacuees and to supply food and water. China has decided to urgently provide 200 million yuan (30.96 million U.S. dollars) worth of grains, winter supplies, vaccines, and medicines to Afghanistan according to the needs of the Afghan people. Chinese State Councilor and Foreign Minister Wang Yi made the announcement on Wednesday when attending the first meeting of foreign ministers of Afghanistan's neighboring countries in Beijing via video link. Wang said China has decided to donate 3 million vaccine doses to the Afghan people in the first batch. China is also ready to provide more anti-epidemic and emergency
materials to Afghanistan under the China-South Asian Countries Emergency Supplies Reserve. Chinese Foreign Minister Wang Yi urged the acting Afghan government to keep its promises to gain international recognition, during an online meeting with his counterparts from five other neighboring countries of Afghanistan. Noting that Afghanistan is now standing at the crossroads of history, Wang said that the country is still facing severe challenges, such as humanitarian issues, people's livelihoods and the COVID-19 pandemic. Some international forces may also use political, economic and financial means to create new troubles for Afghanistan. Wang also said that the changes in the situation in Afghanistan have brought complex effects to the international and regional anti-terrorism situation. He urged the Taliban to resolutely cut off from all terrorist forces and take effective measures to restrain and combat terrorist forces.
The Taliban has recently made positive statements on issues such as forming a government, fighting terrorism and making friends with its neighbors. "We welcome the Taliban's positive attitude towards political construction, anti- terrorism, and relations with neighboring countries after entering Kabul, but the key is to put them into practice. There are two key points: first is to be inclusive; and second is to resolutely fight terrorism. We hope the Taliban can learn from the past, actively interact with all ethnic groups and factions under the interim government, keep its promises to the outside world, and become more recognized globally," he said.
Beginning on 6 April this year, the US and Iran have held six rounds of indirect negotiations on re-establishing the Joint Comprehensive Plan of Action (JCPOA), also known as the nuclear deal. The process stalled without substantial advances after a new Iranian president came into power last month. US Secretary of State Antony Blinken warned Iran on Wednesday that there is little time left to rearrange the nuclear agreement, urging Tehran to rush JCPOA negotiations that ended earlier in June with no additional date assigned. "I'm not going to put a date on it but we are getting closer to the point at which a strict return to compliance with the JCPOA does not reproduce the benefits that that agreement achieved," Blinken said at a presser after negotiations with his German counterpart Heiko Maas.
Responding earlier to pressure, Iran noted that "talks will not succeed if they continue under duress." The Trump administration withdrew from the agreement in May 2018, immediately reimposing a number of strict economic sanctions, despite IAEA reports noting that Iran had been complying with its nuclear obligations. Over the next year, Iran has urged JCPOA members to facilitate the lifting of restrictions as the country has suffered economic difficulties. Before the assassination of Iranian nuclear physicist Mohsen Fakhrizadeh in late 2020, Tehran had not allowed any significant violations of the agreement. Soon after the killing, however, Iran increased the degree of uranium enrichment, installed more advanced centrifuges and produced uranium metal. According to the latest IAEA report, Iran has recently quadrupled its reserves of highly enriched uranium, having at its disposal 10 kilograms of highly enriched, at up to 60 percent, uranium,
2021-09-11 09:04
Show Video
Other news