The digital revolution in schools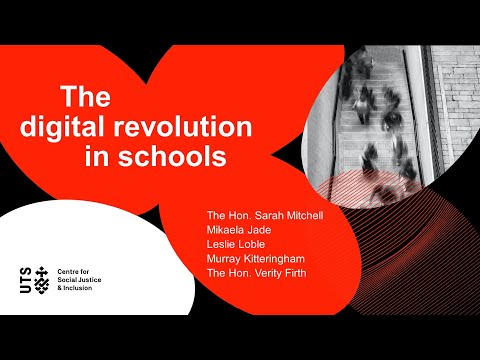 Show Video
VERITY FIRTH: Hello, everybody. Thank you for joining us at today's event. We'll just wait about 20 seconds as people enter the virtual room. Alright. I think we might begin now.
We've gone over the 100 mark. That's quite a good starting rate. I'd first like to welcome you all here today. I want to particularly acknowledge the traditional lands upon which all of us are meeting. I know that there'll be many and varied different traditional owners from wherever you're joining us obviously, but I'm on the land of the Gadigal people of the Eora Nation, which also happens to be the land that UTS is built on, and I want to pay a special respect to Elders past and present, particularly as traditional custodians of knowledge on the land on which our university is built.
My name is Verity Firth. I'm the Executive Director of Social Justice at UTS and I head up our Centre for Social Justice and Inclusion. It's my pleasure today to be joined by some very distinguished guests: Minister Sarah Mitchell, Mikaela Jade, Leslie Loble and Murray Kitteringham. I'll have an opportunity to introduce them all properly in a minute. But, before we begin, a couple of pieces of housekeeping. Firstly today's event is being live captioned.
So to view the captions, you click on the CC panel button at the bottom of your screen in the Zoom control panel. We'll also be posting a link in the chat now which will open captions in a separate window if that's how you prefer to use them. Now, if you do have any questions during today's event, you are able to ask them and you can do that via the Q&A box.
The good thing about using the Q&A box, apart from it's the only way you can ask your questions, is you can also upvote other people's questions and I will then moderate the questions. I tend to ask the ones that have the most votes most of the time. We do ask people, however, that you stick to the topic and keep your questions short and relevant. Now, to kick us off today, I would really like to welcome Professor Andrew Parfitt. He is the Provost and Senior Vice President here at UTS and he's going to officially welcome us all to this discussion. PROF.
ANDREW PARFITT: Thanks so much, Verity, and let me also just begin by acknowledging the traditional owners of the lands on which we are, noting that we're probably dispersed all over Sydney and beyond at the moment, and pay respect to Elders past and present and those emerging leaders who are going to take us towards a more reconciled future and a future that is perhaps different to what we see at the moment. Let me also welcome the panellists, in particular Minister Mitchell. Thank you for your time today for this really important conversation, the Future of Education: The Impact of Digital and Other Technologies on Education. They've been topics that have been around for a while but nothing like a good pandemic actually to bring them to the front because I think, if we're honest as a university, and probably in the schools as well, we've had varied experiences of the use of technology in education. We've learnt some positive things.
We've done well to adapt quickly to the use of technologies and remote learning. But I think the best explanation at least for universities that I've heard is that what we've got at the moment is emergency remote learning and there's still a way to go in terms of building the types of engagement that we need and particularly for a University of Technology where we have laboratories and studios and all of that engagement that occurs on our campus that is now being done in different ways. The impact of other tools like artificial intelligence and how that can be used to inform learning and the ways in which that works are important conversations. And another parallel conversation with that which links to it very strongly is the very timely issue of access and participation to education and progression through schools, and, again, this is not a new topic.
At UTS we have had the U@Uni program where we are exploring different pathways from school to higher education, recognising that sometimes attainment in traditional ways is not the best indicator of success in the future and how do we broaden that out, and in a year where we'll probably have the most disrupted HSC cohort for a generation, that issue is timely again. How can people be confident they can progress in their lifetime of learning from schools in an environment where we're all learning in one form or another what we do? So welcome to our panellists, who are going to explore a range of issues with us today, and thanks to them for their time and I hope that you all do enjoy the conversation, engage with the conversation and hopefully it will be thought provoking as we create a future that will undoubtedly be very different to what it is at the moment. VERITY FIRTH: Thank you very much for that, Andrew. As Andrew so wonderfully introduced in his remarks, the world is in the midst of change. Some of it is brought on by the pandemic.
Another was change happening anyway. And we're in the middle of a tech revolution and the education sector is too. Access to digital advancements is changing the way we educate young people but the unequal distribution of that access has exposed a crushing divide in our education system.
The digital divide has particularly come into stark relief during the pandemic. While just 3% of high income households don't have access to the internet, the rate increases to 33% amongst the lowest income households, and this obviously presents a major barrier and risk for children who are learning remotely. Unequal distribution of access too and ease of using digital devices is another growing issue that's only getting worse at the moment. So while there's a lot to be excited about in the digital revolution in schools, and there really is there's an amazing array of interesting and innovative things we can do there is also a lot to be concerned about and we need to ensure that the benefits are experienced equally and that teachers and students are equipped to get the most from technology and retain their full agency. Is it too soon to talk about AI and education when some students still don't have digital devices or internet connectivity? So, to begin today's discussion, it's my absolute pleasure to welcome the Minister for Education and Early Childhood Learning, The Hon.
Sarah Mitchell. Minister Mitchell is a passionate believer in education and invested in the public education system both personally and professionally as a graduate of Gunnedah High School and with her children in public schools as well. She is committed to ensuring that every child, no matter where they are from, has access to a top quality education.
Since becoming Education Minister in 2019, Sarah has led evidence based reform with student outcomes at the heart, including introducing mandatory phonics and creating the School Success Model to bring more transparency into the system to ensure students receive the support they need to succeed. Since entering Parliament in 2011, Sarah has served on numerous committees and as the Parliamentary Secretary for Regional and Rural Health and Western New South Wales. In 2017, she was appointed Minister for Early Childhood Education, Minister for Aboriginal Affairs and Assistant Minister for Education. In 2019, she was appointed Minister for Education and Early Childhood Learning. Over to you, Sarah. THE HON.
SARAH MITCHELL, MLC: Thank you. Thanks, Verity. Good morning, everybody. Thank you so much for the opportunity to be a part of today's discussion. I'm joining you all at home in Gunnedah, so I'm on beautiful Kamilaroi land, and I pay my respects to Elders past and present and emerging. Very timely to be here I guess as part of this panel today, talking about the digital revolution in schools, and I think picking up Andrew's point, while we're in the midst of a pandemic, I think some of these issues have certainly been in the front of mind of many.
Obviously this is something that governments, education experts, have been grappling with for the last couple of decades. I think the work we have done in education and our systems over the last few years have meant we are in a position now where we do have learning from home across the state to be able to use technology. I often think that if we were doing this pandemic 20 years ago, we wouldn't be doing some of the things that I have seen. Just earlier this morning I was on a Zoom class with a music group of year 12 students from Keira High School, looking at how they were using technology and delivering their class remotely in these circumstances. Many schools are using Zoom, Google Classroom, all of the different applications that are available, and, of course, complementing that with I guess what we call the old fashioned way: books and pens and paper and pack as well. I think that is important in this discussion because obviously sometimes I think there's an assumption that learning from home means learning online and in some cases, yes, but in others, when you do have those gaps that you mentioned at the beginning, Verity, we've got to be aware of how we can deliver education remotely, knowing that every household is different and every community is different.
So there's a few things I just wanted to talk about I guess in my opening address and really looking forward to hearing from the other panellists, many of them whom I know and have worked with, and it's great to be here with them. I guess just a couple of things from my perspective. One of the key issues I find really is making sure that we provide that support when it comes to connectivity, and for me being a rural member of Parliament and someone who grew up in regional New South Wales, we do still have that divide between metro and rural, but I really think that the digital processes are going to be the way that help us going forward when it comes to bridging some of that gap. The first issue is obviously connectivity and I know that there'll be people joining us from all around the state today but the reality is that we've had to invest a lot of work, quite hard, to bring a lot of our schools in regional communities to having basic internet access. There's been hundreds of millions of dollars invested by us to do that, working with Telstra. We have our Connect to Country schools program, which is all about wifi.
We have some mainland schools in New South Wales that we are moving off satellite on to fibre. That will all be happening within the next year or so, which is important because we've got to get that basic connectivity right, and I think that's been a real key investment for us. If we don't have that as sort of the minimum standard when it comes to our digital connection, we're not going to have the infrastructure that we need to build on top of that. So I think that's been a really important thing that we focused on and it's been a challenge, even though it's very much at that basic level, making sure you've got what you need to underpin when it comes to digital infrastructure and technology. We've also got our school digital strategy. Again, I'm sure many people involved in this forum today will be aware of that and it's about how we empower schools in terms of their own digital future and capacity, what are the skills that they need in terms of improving educational outcomes, using technology.
And I think that's important. We shouldn't be having technology in our classroom just for the sake of it. It's got to have meaning. It's got to be evidence based. It's got to lead to better outcomes and make it easier for our teachers and students to engage.
That's a key part of what we want to do through our digital strategy. Again, there's a big focus on what we're doing in our rural communities. We've got a program rolling out called the Rural Access Gap. The acronym is RAG, which is terrible. We should have probably thought about that before we called it the Rural Access Gap. However, I think the concept behind it is really important.
So there's about 1,000 rural and regional schools that will be getting upgrades through that. We started with a pilot out in Dubbo, learnt some really good lessons by doing that, and it just opens up a world for our teachers in terms of being able to access each other, even if they are working remotely. Online lesson delivery I was at a school in Dubbo Orana Heights Public. They were doing Zoom lessons with Taronga Zoo in Sydney because they couldn't get the kids there but it means they don't miss out on those opportunities. I think that's really important as well.
If we can use our digital technology to bridge that gap that exists between metro and regional, we know we're going to have better outcomes for our students overall. So I'm really excited about that RAG program. 1,000 schools will benefit over the next 18 months.
It is extra devices; it is better connectivity. It also is moving our things online. That is something all schools will benefit from, and parents. Things like being able to do the school enrolment forms online rather than having to fill out those paper forms.
It is easier for families. It is much easier for our very hardworking school admin staff who don't have to spend literally hours of data entering to put those forms in. Digitising what we can in terms of our paperwork is also really important and part of the work that we want to do in that space. I guess the last point that I would make too and, again, I think we have certainly noticed during the pandemic, again picking up on what you said, Verity, is that there is inconsistencies. I am very cognisant of the issues in rural communities. I think the current lockdown in Sydney and south western Sydney and the impacts on those communities as well I have been meeting regularly with our principals from that area of Sydney, and that digital capacity, the ability of students to access what's available to them, I think these are the sorts of issues coming to the forefront during the pandemic.
I would also say too one of the things that we found is the ability to use digital options for things like assessing students, and many of our teaching staff would be aware of the check in assessments we brought in last year when students returned to the classroom. They were easy to use. Within two days we had results back to teachers so they knew how their children were tracking in the classroom.
That realtime technology has helped in many ways in terms of teaching and learning and assessment as well. Lots of exciting things. A few challenges to work through but a good opportunity and I'm very grateful to be asked to be part of today's discussion and I am looking forward to hearing from others on the panel as well. So thank you very much. VERITY FIRTH: Thanks, Sarah. That was wonderful.
Alright. Now, my job is to introduce our panellists. We're now going to open it up to a panel discussion and, as I said before, there is also an opportunity to place your questions in the Q&A box.
So, our panellists: Mikaela Jade, Leslie Loble and Murray Kitteringham. Mikaela Jade is the founder and CEO of the award winning company Indigital, Australia's first Indigenous Edu tech company. Mikaela has a background in environmental biology with a degree from UTS, as well as a Master of Applied Cybernetics from ANU. She has spent most of her career as a national parks ranger. Her company Indigital delivers Indigenous designed digital skills training for primary and high school students as part of their work. It enables Indigenous and non Indigenous kids to connect with and learn from Indigenous Elders about cultural history, cultural knowledge, history and language, while learning digital skills in cutting edge technologies.
Welcome, Mikaela. Leslie Loble is a very newly appointed Industry Professor at UTS. She is here funded by the Ramsay Foundation, examining how education can more effectively develop and apply artificial intelligence based technology to lift achievement and outcomes and use those insights to identify better how to systemically overcome disadvantage. Leslie is a recognised national leader of public purpose reform and innovation in Australia and the US. Leslie previously headed major divisions for 20 years in the New South Wales Department of Education, working across schooling, early childhood and tertiary education in Australia's largest and most diverse education sector. Leslie has been appointed by Australian governments and public purpose organisations to some 20 major governing boards and advisory committees.
In the US she served in top level roles for five years in the Clinton Administration. Welcome, Leslie. Murray Kitteringham is the Principal of Sir Joseph Banks High School in south west Sydney, a low socioeconomic status high school where 82% of students are from language backgrounds other than English. Murray has lead managed the school for six years and has overseen some key changes, including ensuring the school's vision of excellence, opportunity, innovation and success reflect the aspirations of the community and replacing the school rules with values Think, Respect, Learn to teach the behaviours we want to see. Sir Joseph Banks High School is one of the highest growth high schools in the state, and over the last seven years, 100% of students have been on an ATAR pattern of study, with 60% of year 12 having attained university placement.
Welcome, Murray. MURRAY KITTERINGHAM: Thank you. VERITY FIRTH: I'm going to kick it off with you, Murray.
You get the first question. And I want you to talk a bit about your experience obviously as principal of a low SES high school and what role technology is currently playing in teaching lessons and providing feedback to students. MURRAY KITTERINGHAM: Well, Verity, just a little bit of context. Our school is in Bankstown, so we're one of the lockdown LGAs. I guess the journey that we've been on over the last four years, it's not been something that's just happened recently. It has been one that was partly fortuitous when COVID first lockdown came around.
I guess I just wanted to include the broader audience because I wanted to come at it slightly from an infrastructure point of view to start with. When you're beginning from ground zero, you're in a low SES community and you want to get the devices in the hands of every single student, obviously that costs a lot of money and it can't happen overnight. So what we decided to do was to adopt a growth strategy and start with year 7 first, and it was not only growth of the devices but it was growth of our teachers' professional learning that we could make mistakes in a smaller capacity before we expanded them right across the school and really get a handle on how we were going to use these devices. We decided to go with Chrome Books because they didn't have a large hard drive on them and as soon as you open them, they work straightaway so you don't have time lagging in logging on. And we gave every single student a laptop and tied it into their voluntary fee.
So if you pay your voluntary fee, then you're paying off your laptop, and that's how we sort of financed a BYOD in a low SES community. And what we found pretty quickly was that the kids were turning up with devices and the teachers weren't able to actually plan overnight every single lesson online, and that's where we had that divide between where we've got the devices here, they're walking through the door with those devices, what are we going to do to make sure that we can give our staff that professional learning and bring everyone on the journey together? And I guess the challenges that we face in all schools is that we have digital natives walking through the doors with these devices in their hands and we also have digital dinosaurs. And I would include I'm a Gen X person. It's taken a lot of learning for me to understand how we can actually learn together.
As a school, I was really proud of the fact that our staff were uncomfortable but they were willing to take on the challenge and could see the value in that. And it did come with quite a few complications about developing that capacity across our staff. But what we did do was roll out the professional learning, and each year as we went by, we found ourselves at the start of lockdown last year with half of our school Year 7, 8, 9 with devices. People were using them better and better as the years went by and then COVID hit. If we've got I guess the silver lining in the dark cloud that is COVID and we're always looking for some positive an opportunity that has come out of something that's such a negative for so many is that this has really launched so many schools into the next level that they otherwise wouldn't have without COVID happening. All of a sudden, we were given very short notice all schools were given very short notice to go into remote learning.
We were in a position where half the school had devices, but as you mentioned in your introduction, 30% of the community half our school didn't have devices, but 30% of the community is an accurate reflection of people not having internet at home. So what we did was we beg, borrowed, stole perhaps a little less of the stealing but ABCN, the universities have come in, businesses had donated and we used our equity funding and we got the devices in the hands of the rest of the school, and that way we were able to go 100% online and focus on what those structures look like. I guess with the teaching and learning, that was the biggest challenge.
How do we bring our whole staff on to Google Classroom that were typing with two fingers like me and how do we bring them into the fold of, "This is what technology digital learning, online learning looks like" in a very short period of time? I think that we I'm just being very open and honest. I think that all schools really struggled with that. We're much better at it this time around, but we did get to the point where we were delivering lessons through the Google Classroom predominantly but we also used Microsoft Teams to a lesser degree.
There were some people that were more confident in that area. And we got that learning online and running pretty well, and this is where the real gains were made, though. Once we came back from lockdown, we decided we weren't going to look back. We decided that we'd gone to all this trouble to move online. Yes, we fumbled.
Yes, we learnt how to do screencast. We learnt how to embed things into the Google Classroom and Microsoft Teams so kids didn't have to print off things. If you're printing things off and then taking photographs and uploading things, it's very clunky and it doesn't really work, but we learnt how to do that as a school and then we continued face to face.
So when the kids came back, we said, "You know what? We're not going back. We're not going to go back to textbooks and work sheets. We're going to do online learning face to face", and that's where we were able to use the time in between last lockdown and this to really build upon the structures that we had. Our Year 7 started with a connected curriculum.
18 of our one hour periods per 50 period cycle were with Year 7 using Microsoft Teams every single lesson and all of their learning was online and we learnt a lot more about how to embed learning into that platform. I guess if you're looking for a pathway forward, though, and from what we've learnt from this, Google Classroom is a great place, it's got many features, but it operates like a feed, like a Facebook feed, where the learning can drop down. It's terrific for people like myself that can get on and navigate their way fairly quickly. But Microsoft Teams absolutely is, I believe, and our staff feedback has been that the potential for using One Note and it operates more like a book where you can turn the pages and you can bookmark things the features on Microsoft Teams are that much more powerful once you become more comfortable with that platform. So lots of opportunities there for differentiation. The teachers are putting screencast embedding screencast into their lessons, and that frees them up when they're face to face to be able to let the kids go on independently, learn asynchronously in the classroom and then they can go around and move across other students and give the attention to where that's needed when we're face to face.
But it's an authentic flipping of the classroom and that also operates right now when we're in remote learning online. We've set up a whole infrastructure. Our whole school is online. We would prefer to be face to face but we can operate as a school because of the advances we've made I guess in that downtime to building that platform, creating the website and linking that learning into a broader platform.
We're about to bring SharePoint on I know many schools have gone down our pathway but that's our next step in the adventure. VERITY FIRTH: That's great, Murray. I love what you said about continuing the online environment even once school returns, and which presumably made this second round of lockdown so much easier in terms of the quality that was able to be delivered to the students. MURRAY KITTERINGHAM: Yes, we're really able to expand upon what we'd first achieved and refine our practices and our processes and work together, and look, the technology, it's just a tool. It can be a doorstop.
It doesn't really actually do anything. What I'd like I guess the biggest message is it's the people that are driving that teams approach. It's the opportunity to collaborate online. I can operate my whole school through my mobile phone now.
All of those apps are available on my phone. The email is. We're connecting in this platform. Everything is available in an app on your phone.
I don't think I could have said that only a few years ago. VERITY FIRTH: Yes. Now, Mikaela, the Indigital Schools program that you run is designed to be delivered in class by teachers, often in remote communities, and what steps do you take to ensure educators are equipped to be able to run that program, and tell us a little about your program so people understand? MIKAELA JADE: Yes. Verity, thank you for having me. And, Murray, congrats on the progress you've made in your school.
It's really inspiring. We're a social impact education technology company and we, with our skills, knowledge, networks and devices, are investing in the future and we're doing that by investing in educators, so not just teachers but Elders in our community, community knowledge holders and the kids. I think what's really exciting is the role that the private sector can play in closing the digital divide and it's something that we strive to do every single day in Indigital. We started our work looking at how could we democratise access to the spatial web and the suite of spatial web technologies for First Nations people.
I started my company in remote Kakadu. So I have lived 21 years in remote communities and really understand the technology challenges, and also I understand as a Darug woman that these same challenges are faced in Western Sydney in my own community. So we make sure that we work with teachers and communities to understand a real key question, which is what is the digital divide you're closing? Everybody is at a different stage of their technological journey across Australia and internationally.
But our ethos is: do what you have where you are with the knowledge and skills you have access to in and around your community. And we work with schools to help them understand where they're at on their journey and what technology we can offer them or show them to help inspire future leaders in the spatial web. So we work primarily in mixed and augmented reality. The way that we democratise this technology is to create an AI based platform that's web based because augmented reality technology to produce is around $50,000 to $150,000 per application, so we thought that is absolutely ridiculous. How can we make a solution that allows even little kids to create their own augmented reality because they're going to grow into a world where everything has a spatially aware digital twin and if they can't see that, they can't understand how they fit into that story. So that's what we do and that's how we do it.
We've also got a platform. So we use Microsoft Teams as our platform and we have Microsoft Community Training as our learning management system and they're integrated so teachers only need to go into one environment to go through our lessons and they're supported by lesson plans, by videos and other resources inside that one environment, so not asking teachers to run around. But I think the really great thing that we've designed is because we're the private sector, we can do this we've been able to bring 200 teachers together from all around Australia so they can help each other on this journey too. So the dialogues that we're having by bringing teachers from Ukala to Bruny Island to communities in remote Western Australia to New South Wales is they're having these conversations for the first time around spatial web technologies and the tricks and tips they're using in their own classrooms to explore how this can be used as educational material and tools. VERITY FIRTH: I love that. That's the really upside of connectivity, isn't it? That reaching out across the country.
Minister Mitchell, talking about reaching out about across the country, you're currently in Gunnedah and you have been a vocal advocate for ensuring that regional and remote students obviously have access to the best education. What do we need to do to make sure equal access in a rural and regional sense but possibly, also having listened to Murray, in terms of western and south western Sydney, to make sure that equal access to the education benefits of digital devices and applications happens? THE HON. SARAH MITCHELL, MLC: Look, I think that's probably the million dollar question, Verity.
I think certainly from a regional perspective, probably what I spoke about earlier in terms of some of those programs that we're investing in terms of digital infrastructure and they're not small amounts. The upgrades to connectivity of $300 million odd. The rural access gap is $365 million. So it's significant money and really that I guess is about trying to bring the regional students up to a level playing field as much as we can when it comes to just access to the very core basics of the infrastructure. But I think the second part then is what do we do with it? I think one of the things that we've found particularly over this period of time, and picking up Murray's point about having to provide devices to students, I think between last year and this year, there's been something like an extra 20,000 devices that the department has given to schools to give out to students. About 13,000 dongles.
So we're doing what we can to get that access and connectivity up there. But it does pose a question in terms of what can students access at school? What do they access at home? What are some of the benefits that we need to make sure it is available to everybody, regardless of what happens when they walk outside the school gate? But I think one of the most inspiring things that I have seen, and it's in a regional context, but I think there's capacity to do more with this, is many of you would be familiar with our Aurora College model which Adrian Piccoli started when he was the Education Minister, which for rural students has given them the opportunity to access subjects online that they wouldn't normally be able to access. We have used that in the last year or two to bring in opportunity classes for year 5 and 6 students in schools that don't currently have that on offer. So it's just given an opportunity to some of our rural kids that didn't exist before we had those platforms. I met a student last year who's at school up in Guyra who wants to be a doctor. Guyra Central School doesn't have enough of a school cohort to do physics and chemistry, but she's doing it through Aurora and wants to go back and be a GP in a regional community.
That's the sort of stuff that for me makes my heart sink. To be able to support someone like that particular student is what we should be doing. That's how we've got to use the technology for the greater good.
If there's opportunities to look at our digital platforms, look at how we can expand that, take the lessons from COVID and I think Murray raised an excellent point in terms of his school, using it online but using it in the classroom as well, I think that we have some good opportunities going forward in terms of what we can expand, how do we deliver this. Yes, the devices and the infrastructure has to be number one, but then how do we think a bit outside the square and what more can we do? I try to be glass half full and think how we do turn this into a positive experience for our students in time? VERITY FIRTH: Yes, I think it's definitely true to say the pandemic has forced all of our focus on this and there has been some upside to do that. Leslie, I will come to you now because Sarah is talking about infrastructure is obviously important, devices are obviously important, but what's the next step? You're currently looking at how automated machine learning and AI's digital and data capability can transform education. And as part of this, I've heard you describe yourself as a techno optimist.
So what do you think are some of the opportunities, once we've got the infrastructure stuff settled, and then we're looking at the real opportunities? LESLIE LOBLE: Thanks, Verity, and what an honour to be here with all of these fantastic people and I can't wait to hear from the audience. Look, AI is almost synonymous with tech. It's quickly moving in that direction.
So in a sense, we've heard lots of examples that only will get better and better, but Mikaela talked about AI in her application. Democratising the tech. And I suppose in the end, technology is a big part of our lives. It makes our lives better on the whole. All of us are realistic.
It doesn't always deliver tremendous benefits and we may get into that later. But AI can provide us with early cancer detection. It can help tackle climate change with better energy efficient buildings and transport systems, and it's hard to imagine our personal lives without using those countless applications on our phone, Murray, that are really AI augmented underneath them. So in education, there actually are quite a few applications. We certainly have heard about one from Mikaela. But even the earliest years have come across an application that is developed by a speech pathologist and it's early phonics for very young children but it operates both in First Nations languages and in English.
Phonics not being an English concept. And it operates and can personalise that and, frankly, can also tap into Elders and building their knowledge and delivering that to children. At the student level in schooling, we have increasingly adaptive technologies around learning and we have apps that are especially powerful for children with special needs. For teachers, we've got realtime formative assessments and increasingly those connected to curriculum suggestion engines, so you're getting fast information and assistance or suggestions about what materials might be useful, and certainly at the system level, you can have everything from cutting the administrative costs to hopefully freeing those up for additional use.
But, look, the teachers and obviously school leaders are going to be central to this in the schooling space. I went back in getting ready for this and read the Geoff Gallop report, and on average, 55 hours a week are being spent on an awful lot of tasks and, as he and others have said, teachers have two jobs. They have to teach and they are an administrator. McKinsey did a bit of study in the US and came up with very similar conclusions, and the startling conclusion that less than half the time of teachers was being spent in actual working with students and teaching and learning. And AI can certainly help with a lot of that work the planning, the reporting, the administrative tasks that are taking teachers away from what they enjoy the most and what students obviously value the most.
So lots of opportunities and I am sure we'll get to what we have to be aware of as we go forward because there are a lot of things. VERITY FIRTH: Well, that was in fact going to be my next question, which was, OK, excellent, you're a techno optimist, that all sounds great, but what are some of the risks of bringing AI and machine learning into classrooms? LESLIE LOBLE: Absolutely. None of us involved in this conversation would be naive about the issues that are emerging around AI and autonomous systems. So there are quite a few risks. There's technological risks.
Is the system even designed well? There are big ethical policy and governance risks. Who is making decisions on this? Where does all this data go? Who is controlling it? There are even bigger existential risks about issues of human agency and machines. It is not limited to AI.
But even within education, I think we have some particular things we have to be conscious of. What is the teaching and learning model that's underpinning the system that somebody is using? Is it evidence based? Are we confident that AI is augmenting good practice, because there's a risk, of course, that it could be augmenting not good practice? And then there are certainly issues around equity, not only in access, which people have talked about I mean, already we see the best technological applications and systems tending towards schools that have more resources or you find a lot of AI augmented applications that are marketed to parents and they can be quite expensive. So the foundation of the work I'm doing is absolutely about how does a potentially powerful technology get better used for disadvantaged students? I'm not so worried about other people getting access to it. I'm quite worried that we get very good quality, that we get the strong systems around it to make sure it's serving the public purpose, and that it's widely available with the right sorts of controls over it.
VERITY FIRTH: Yes. I think that's spot on. Mikaela, in your experience, have you seen any unexpected outcomes from bringing your Indigital programs into classrooms both good and bad? MIKAELA JADE: Absolutely. I found myself becoming a human rights advocate at the United Nations over the work that we did because, as a developer and a new developer, I realised that I was in custodianship of 80,000 years of human knowledge and the responsibility that comes with that, and the realisation that in the first iteration of what we built, that was absolutely irresponsible and I needed to completely rethink how we created the program in a way that acknowledged our intellectual property and well, our cultural intellectual property mostly but also privacy and making sure that we have a robust system that protects students' privacy. I mean, we're dealing with these devices oh, you can't see. I've got a phone.
I have a virtual reality headset. I've got a mixed reality headset here. We are dealing with devices that have viewpoints and perspectives of your entire environment and it's spatially aware, so understanding the hardware and software that underpins those devices and what privacy constraints there are in those devices and being clearly articulate about that with teachers and Elders and community members.
So I think there's a sense of responsibility that if we are going to develop education technology products, we need to be open to carrying out regular risk assessments on what we're seeding into the classroom environment, and we do that at Indigital and we're really excited actually to have a law tech firm come and do a risk analysis on our platforms and technologies that we use so we can have that external confidence that what we're doing is with the utmost safety. In terms of unexpected outcomes, often I don't know if this is unexpected; I expected it but maybe other people didn't is the human connection that comes from the program that we do, the relationships that are built between educators and Elders in the community. We've had some really 100% of the programs that we've run where we've done a deep immersion of individual schools, Elders have become part of the classroom.
They continue to show up in the classroom a year later on a weekly basis. They create programs together with students in the community, like Muswellbrook High have worked with Uncle Glen to create a beautiful augmented reality storytelling piece of work along the Muscle Creek area that the whole community can immerse themselves in through cultural storytelling. So it's not just the things we do in the classroom.
It's the ripple effect and connections that happen across community, and what communities decide they would like to do with their new digital skills and what role that the students can play in that towards community projects. So there's a lot of positives and negatives of the program. I went and did a Master of Applied Cybernetics because I was like, wow, there's a whole lot of stuff that I don't know about what I'm doing and I really need to immerse myself and become like an expert in this because not many people are doing this in the education technology space and I would hate to be one of those people that creates something for great purposes with great intention but actually ends up seeding something in the education system that has a perverse outcome for our First Nations communities but also other people we work what. VERITY FIRTH: It is incredible what you are doing in terms of the rich, traditional eons old traditional knowledge and cutting edge technology and bringing that together.
It's quite revolutionary, isn't it? How have you found that? MIKAELA JADE: I don't see it as a dichotomy because my ancestors have fought and worked in at least three dimensions for 80,000 years, so for us it's really the point of time and we're lucky to live in this time where the technology actually caught up with the way that we experience the world and the way that we educate our young people. So to be able to work in technologies that work with hand gestures and work with the way that our eyes and eye tracking and our voices and our ability to create things literally with our hands in a digital space is actually quite congruent with the way that we express ourselves as First Peoples. VERITY FIRTH: That's great.
Alright, Murray. Do you have anything to add in terms of benefits and risks? MURRAY KITTERINGHAM: From listening to the breadth of the conversation here, I'm sitting here thinking of the opportunities that exist. We're sitting in this the platforms that we're using right now and they're really freeing our teachers up to get themselves out of the centre of that old school synchronous learning where the teacher is standing there and delivering the lesson. It's the chalk and the talk. It's the endless worksheets. Textbook type learning.
And the opportunities that we have by putting the devices at the centre and the learning onto those devices to free the teachers up to be able to do what they do best, which is connecting the kids to their learning and not having to stand and deliver so much. The opportunities that we've heard here they're really exciting, aren't they, that these sorts of things are opportunities for not only the future but for right now. I'm really interested in seeing some practical applications of how we can embed these sorts of things more easily into the platforms that we've got. Lots of opportunity here as far as taking that leap of faith that schools have taken through COVID in setting up their structures. I guess the most important thing to me when we were setting our structure up is that we weren't just doing synchronous learning through Zoom online and we weren't just trying to deliver old school learning online; that we were really looking at what the technology could do to empower the teacher to be able to be more of a coach and a mentor and stand alongside in partnership with their students as opposed to tying themselves up into that standard delivery mode. I know lots of schools at the moment are going into this online learning and delivering through Zoom from the beginning of the day to the end of the day and it's quite exhausting for the teachers and the kids as well and overwhelming.
So, look, the opportunity that I think we need to take now is looking at how we actually use technology as a tool, a powerful tool, to free our teachers up from having to stand and deliver. I don't want to see our teachers reading Shakespeare for an hour or two online because that's what they might have done in the classroom. It just doesn't really fit. How can you change that up so that the kids are doing what they need to do independently? This asynchronous model and blended learning I think is the way of the future. It's a real I guess the blockers that many of our teachers have is that they don't know what they don't know. There's a fear of technology.
The two finger typist like me, how can I possibly be confident and competent in this platform that seems to foreign to me? And there's a lot of opportunity here for the tools that exist through professional learning, targeted professional learning as a school, and having that vision for where you want to be maybe further down the track, two, three years time. But what do I do next? What's the next step I need to take? I'm on the journey. Where are my staff at? Are we finding it difficult? Are the conversations in the classrooms, your online classrooms, one of anxiety and fear and frustration or is it a dialogue is the narrative around: "Isn't it exciting? Look at this. How about we can embed this? I have found this fantastic piece over here. I didn't realise how easy it was.
All you've got to do is you do this and you do that, plug it into here and hallelujah, I'm free to be able to go off and do this stuff over here. Look, there's a lot of opportunity right now in these difficult times. I'm excited by AI. I'd love to know more about it. It's an area for my development.
I'd love to connect with Leslie and Mikaela and see what you might like to come and do at Sir Joseph Banks High School. I think if we can do it at little old Sir Joseph Banks in Bankstown, then anyone can do it. We are doing it.
We're feeling a sense of confidence and satisfaction that the work we're putting in is coming home to roost. Our whole community is feeling a lot more at ease this time. We would rather be face to face. Just take that next step.
If you're not sure what it is, send me an email; give me a call. I can connect you to the communities. We've done it. We're happy to show people how to do it if you're interested and we're also happy to connect with people to understand how we can improve. VERITY FIRTH: I love that. So I'm coming now to you, Minister, and then we're going to quickly ask a few of the questions that have come up on Q&A.
But really what Murray is saying that Leslie and Mikaela also alluded to is how do we bring technology into the classroom in a way that actually builds the agency of our teachers and builds the engagement of our students and parents and communities? I suppose from a sort of systems point of view, as a Minister, how do we do that? How do we help them, particularly staff I assume, particularly the teaching work force, have better and more engaging learning experiences? THE HON. SARAH MITCHELL, MLC: Look, I think it's about as we have all sort of said, it's not just about having the technology. It's how we use it and what we do with it. I think a big part of it has to be making sure that our work force is confident and, as Murray said, seeing the benefits and advantages of using technology in the classroom.
Mikaela, to go to your example when you were talking about students engaging with Elders and, you know, what an amazing learning experience and that would be something that would have such a profound effect for so many people in so many ways, and I think that Muswellbrook example for the whole community, that's exactly what we need to be doing here. I visited a lot of schools. One of the things that I love we have our STEM share kits that some school communities will be familiar with and it's kids doing everything from coding, preschool aged children doing Bee Bots. I've been in virtual reality up Everest with a group, even outer space. It's not just the fun and novelty fact of using something like VR but how that further enhances the learning happening and that evidence base Leslie spoke about. Once the novelty wears off, unless there's purpose in the pedagogy and the rationale behind it to enhance the teaching and learning, that has to be key and we have to equip our staff to have the confidence when it comes to using technology, noting that we have a pretty broad age group.
We have different people coming from different backgrounds working in different schools as well. I really think that professional development piece is the key. But I also think beyond what we do in the classroom picking up the points around particularly that Leslie made about the amount of time that is spent by teachers doing some of that admin work. One of the good things that I found with our Rural Access Gap program is speaking to a couple of the teachers in Dubbo, they all have the same laptops now, the same system.
So they had said to me they would normally spend the last week of the summer holidays at school, planning, teaching, working out what they are going to do. They all did it from home. A lot of them had younger kids. It gave them a better work/life balance to be able to do what they needed to do but also to have that harmony across systems.
So I don't think we should underestimate what that means. Even other areas like, say, our teaching work force, if you can get people to go out to schools in more remote communities or areas that might be a bit more challenging but if you can build online professional development networks, mentoring, find a way to manage when you might not be able to have people together in person, again I think that's important in building confidence in our work force as well using technology to address an issue that's not new, but maybe it's a new way to bridge some of that as a divide. So I think there's some good stuff underway but more that we can do as well in that space. VERITY FIRTH: So given we have six minutes left, I'm going to pull some of those questions together.
The first four questions in terms of the votes are really about infrastructure issues. I might put them to one side at the moment because I think but just in terms of letting the Minister know what the views of the audience are, it's really about infrastructure. They're talking about where students have multiple kids in the family and there's only one device that the mum owns. Data, like you can have connectivity but do you have a good enough data plan? The fact that non English speaking backgrounds and Indigenous students, rural and regional. But all of the top rating questions are all about infrastructure issues and something we collectively really do need to tackle. What I want to get, though, is just to the question which I thought was very interesting beyond infrastructure issues from Margaret Tipper, who says: "Online learning is great but it obviously needs complementary learning around the loss of social contact and those synergistic learning opportunities and the emotional impacts.
I feel like I need that too. Have we got any ideas? I hope that Education will be looking at recovery programs when children return to school in terms of just re engaging again in a face to face environment." So can I start with you, Minister.
Have you been thinking about this? THE HON. SARAH MITCHELL, MLC: Yes, absolutely. And I think we've got to build on I guess what we learnt last year.
The learning from home period then was about 7 weeks and it was earlier in the year and obviously now I think I have lost count of how many weeks we're up to now, Murray. You might have to jump in and tell me. I think we're up to about the same now and still in a pretty dire situation unfortunately. But the short answer is yes. Obviously we were able to bring in some things last year.
We did our COVID tuition program, which was some one on one intensive support for students that did really struggle with learning from home and we have had that in place all year. Obviously we're looking at what else we might need to do in that space but I also think the key point is wellbeing. We have to look at what we do to support our students and our staff when we get back. It's hard for kids and families. It's really hard for our teachers and principals, trying to manage learning online and all the other business they've got to do to run their schools as well. So we are looking at what we need to do.
We're talking to the profession. I have had some good conversations about that with some of our stakeholders already but I think the key is let's get through period that we're at and then when we come back, there'll be more work to do to really help everybody settle back into school and see what further supports we need, both academically but also in a wellbeing sense as well. VERITY FIRTH: Murray, as a frontline person, did you what did you do to promote coming back to school? MURRAY KITTERINGHAM: Look, I absolutely agree with the Minister that when we get back, we absolutely need to do that, but the reality is when we get back, we're focussing on what we can do right now.
The feedback I'm getting from my staff are that they miss the kids. They miss each other. Teachers are in the business of human interaction. That's our core business, relationships, and that's almost like a grieving process that's happening right across the world with teaching and learning, that that centre of our practice is that relational pedagogy and how do we engage with the kids in a way that's going to try to you're never going to replace face to face, but how can you address it right now? We can't do Zoom lessons face to face all day because of the dongle and infrastructure issue and I'm very happy to talk about how we've resolved those infrastructure issues, because I believe we have. But to address the wellbeing issue, we've created a 1 to 3 slot in the afternoon where the kids are not expected to be anywhere or with anyone in particular, and on our website, you can go to the Learning Hub in the Curiosity Cloud where the kids have a platform there where they can play. They can engage online.
We have Chess Club happening online. We have the kids who can create coding and games. There's craft stuff on there. So they can actually get in and use that platform. It's all we have right now and it's all we have for the future. I don't think that we can wait two months, three months, four months and get to that point.
So we've got those platforms that the kids can engage online. It's not ideal. It's not perfect. But it's also I guess more realistic than waiting another two or three months, and keeping our community as connected as we can through this platform and there is an opportunity there to do it. We're doing the best that we can.
We're constantly uploading and changing what's on that website but any school can go in and access that, and I'd encourage you to do so. Go in and have a look. There's some fun stuff for the kids to do. We also have the more critical response. We put those QR codes online so that the kids and the community, if they are having difficulties, then they can connect with the QR code or a link to our wellbeing team.
It's not just the counsellors. We have a whole team of people there that receive those kids that need that face to face and connection, and our wellbeing team are touching base with the broader community right now. So lots of things you can do now. VERITY FIRTH: That's wonderful. And now last but not least, I'll give the final words to Mikaela and Leslie.
We've got. One minute left. Leslie, you go first. Anything you would particularly like to say about that re integration piece or anything really? LESLIE LOBLE: So, firstly, don't tell anybody that I'm a New Yorker and an optimist. I mean, that's oxymoronic. But I am going to say that I think what we have learned from COVID is that there is a limit to the machine and to the digital and I think that is the best you know, these issues are really significant.
I have young adult children, and it doesn't matter what age, this is really hitting a lot of people. But what we have learned is that we absolutely need to protect and sustain the human, and I think that's the best thing because it means that we can keep the technological innovation in the right place and that is as serving our needs and making sure that it doesn't extend beyond what is that crucial human interaction. VERITY FIRTH: I love that.
Thanks, Leslie. Mikaela, you get the last word. MIKAELA JADE: I get the last word! Thank you. I have three quick points on it. Firstly, something that we're doing in our company is acknowledging that third space.
So we used to have the third space between work and home and we no longer have that anymore. So I'm even talking to my kids about creating that third space. Once you hop off the computer, make space for yourself to disengage from the school work that you're doing and into your home life. So it can be as simple as putting on a different top or something like that.
The second thing is there's a great company called Grow Your Mind which deals with this exact thing. So I would recommend teachers checking them out. The third thing is the technology is coming where we will have holographic interaction.
I'm already working in the spatial web, having international meetings with people with holographic avatars. It's a little better for your brain to deal with than trying to deal with a two dimensional thing. Also the sense of touch is coming. So it is coming.
It is being built. But, in the meantime, I think looking after our mental health as practitioners, as teachers, as educators, as Elders, as students is 100% the priority. VERITY FIRTH: Thank you.
Thank you very much for that, Mikaela, and thank you again to all our panellists for joining us today. That was a really great conversation. I know there was a big lot of engagement happening over here on the chat.
So thanks again and thank you, everyone, for joining us and we'll see you next time.
2021-09-05 21:58
Show Video
Other news