Texas A&M Leaders on National Security Innovation and Military Modernization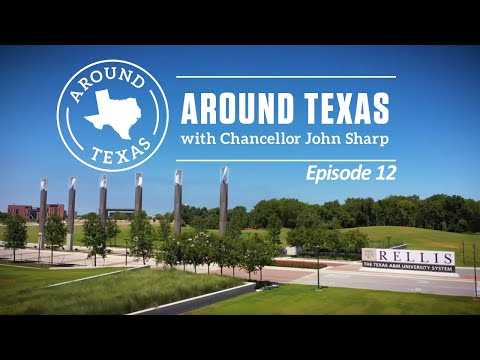 Show Video
- [John] On this episode of Around Texas, we'll talk with Kathy Banks, the Dean of our Engineering School and Vice Chancellor of Engineering and National Labs. She will talk with us about our RELLIS Campus, national security and some really interesting technologies. Also, Colonel Ross Guieb is with us. He's the new Executive Director of the George H Bush Combat Development Complex at the RELLIS Campus.
He understands the challenges of military modernization, and he'll be instrumental as we help the Army prepare for the future. All this and more on this episode of Around Texas. [soft instrumental music] - [Announcer] The Texas A&M University System is like no other in the world, across our great state, the system is home to 11 universities, and eight state agencies, where our people learn, teach, save lives and make the world a better place.
In our new show, you'll meet these people, you'll see where they work and you'll experience what makes Texas and the Texas A&M System so special, welcome to Around Texas with Chancellor John Sharp. [soft instrumental music] - [Announcer] Nestled along the Brazos River, in Central Texas, is a 2,100-acre campus, with a proud, patriotic past, and a world-class future of innovative excellence. The RELLIS Campus is an ecosystem for advanced research, testing, education and workforce training, a community for collaboration among the government, academia and industry. Nine miles from Texas A&M University, on the Western edge of Bryan, Texas, the former military base has made history, serving the nation and advancing science. RELLIS stands for six Aggie core values: respect, excellence leadership, loyalty, integrity and selfless service.
The campus is a million plus square feet of modern labs and offices, and serves as a gateway to the abundant assets of the entire Texas A&M System. The array of capabilities is poised to expand with the opening of the George H Bush Combat Development Complex. The BCDC will feature two test rangers, one for hypersonic and laser systems, the other, for battlefield communications and autonomous vehicles.
The BCDC will accelerate US warfare modernization by attracting top researchers from universities, the military and the private sector. The complex will be like the Center for Infrastructure Renewal, Texas A&M Transportation Institute, and other RELLIS facilities, conceived and created for cutting-edge collaboration. The goal of RELLIS is simple, solve the world's most complex problems, to build a better tomorrow.
M. Catherine Banks grew up in Whitesburg, Kentucky, a small coal mining town, where the high school girls, in the 1970s, were expected to take classes in home economics, not physics, but young Kathy Banks had her own ideas. She was an independent thinker with a persistence and resilience that helped her become one of the nation's top engineering researchers, educators and leaders.
Her career brought her to Texas A&M University in January, 2012, where as Dean of the College of Engineering and Vice Chancellor for the A&M System, she has advanced the university stature, among the nation's best engineering schools. She hired scores of acclaimed faculty, and spearheaded a research and development transformation at the RELLIS campus. She collaborated to start EnMed a unique degree program aimed at spurring next generation medical technology. She led the Texas A&M System to win a national competition to co-manage the Los Alamos National Laboratory.
She led a fundraising campaign to build the Zachary Engineering Education Complex, which uses design, technology and art to enrich learning. She persuaded top A&M System officials to discard the cap on undergraduate enrollment and set a target of 25,000 engineering students at Texas A&M, by the year 2025, as Kathy Bank says, "It's not about the numbers, it's about the fact that this state needs more engineers, and students, from all backgrounds, deserve this opportunity." - [Student] We're Texas A&M International University. We achieve.
We explore. We innovate. We lead. We give, and then, we give some more. We're Texas A&M International University, we're Dust Devils and we go beyond.
- You're about to see an interview with Kathy Banks, I should note that we shot this when she was head of all things engineering here, and before she was sworn in as President of Texas A&M University. We always knew she was going places, but we just didn't know how far. I hope you enjoy this interview. - So welcome Dr. Banks, and we're here to talk about RELLIS and its future as a global hub for innovation and especially, in the area of national security, so let's talk about hypersonics. - [Kathy] Um-hum.
- There was some big news with regard to hypersonics and A&M's role in that and how it was designated by the Pentagon, why don't you tell us about hypersonic flight systems for the United States, and really, for the entire world and how RELLIS is gonna play the key role in that. - Um-um, happy to, thank you for having me. Texas A&M has one of the premier hypersonics research and development programs in the country.
You may think that we just started doing hypersonics research when we became engaged with Army Futures Command, but we have conducted research and we've been funded, over the past 20 years on hypersonics, and now we're ready, we laid the foundation for the next step, which is this large contract we just received. - So speaking of large contracts, there was a competition, I think, between A&M, Purdue, MIT, Notre Dame, Georgia Tech, for hypersonic research, tell us how that turned out. - Many universities were competing for this funding, it was a very large contract, $20 million a year for five years. Our consortium is called the University Consortium for Applied Hypersonics, we lead the consortium, we have 145 members, these are members from industry, universities as well as national laboratories. It's very exciting, we have large companies such as Lockheed Martin, Boeing and smaller corporations as well. And the whole focus of this consortium is to build a base of innovation and workforce, to advance hypersonic flight systems in the nation.
- So it's safe to say that in the field of the science of developing hypersonic weapons for the United States military and hypersonic flight in general, Texas A&M is playing the lead role with regard to the development of that. - I believe so, particularly with our plans for the BAM, the new hypersonic test tunnel, at RELLIS Campus, that will be a very unusual, unique test facility. - Tell us about BAM, tell us about the Hypersonic Test Tunnel, what it is, when we're gonna start construction to that. - Let me talk a bit about the tunnel itself, it's a kilometer long, enclosed tunnel, it'll be the largest enclosed tunnel of its type in the country, it's approximately two and a half meters in diameter, it will be used to test hypersonic prototypes, hypersonic test systems as well as high energy lasers. So it will be highly instrumented, and we will be able to learn more about hypersonics, and directed energy and lasers, than any other time in this country's history. - BAM, as we call it, is not the only thing being built at the Bush Combat Development Center Complex out there, tell us about the IPG, the Innovative Proving Ground, and what that's all about at RELLIS.
- We're very excited about IPG as well, we were very fortunate to receive $50 million from the state, at the last legislative session, to buy instrumentation for IPG. IPG is a large testbed, outdoor testbed, for autonomous vehicles, subterranean, ground, air, and the communication that exists between those different types of vehicles, it will have 5G network, we will have a research 5G network as well, will have a great deal of sensors and high-end technology to allow us to design new technology to place on those vehicles, send the information to a headquarters building and evaluate whether we need to change design in the field. This will allow us to move from laboratory to prototype and to the marketplace a great deal faster. - Obviously, this requires a lot of brain power, you have to have the best people, right? Tell us how the Governor Abbott's Governor's Research Initiative and the Chancellor's Research Initiative, provided the funds to recruit and bring all those folks here. - Well, that's been instrumental, very instrumental. Let me give you an example, Dick Miles, Professor Dick Miles joined us from Princeton, recently, he is an expert in high energy laser, he actually leads our research initiative in lasers that we have at BCDC.
He was recruited using funds through the Governor's University Research Initiative and the Chancellor's Research Initiative, we would not have had the funds to recruit someone of his caliber unless we had help such as that. - One of the things I'm proudest of that engineering played big key role in is 10 years ago, we had somewhere in the teens in terms of National Academy Members, and now, we have 48, something like that, and a bunch of those are in engineering. - [Kathy] Yes. - Congratulations on that.
Tell us why you think the Army Futures Command decided to contract with Texas A&M. - You know, I believe Army Futures Command, I believe they were intrigued by our dedication to service to the nation and our history first. They were also intrigued by our vision to really link the work that's conducted in the laboratory with the end product, they were intrigued in the aspect of the plan to use soldiers, and other users in the technology development. AFC was very interested in hypersonics, obviously, I believe we're the top university group in the country working in hypersonics, we also have other areas of strength, materials for extreme environments, for example, sensors and systems, different types of infrastructure associated with Army needs, that was a plus. And I would say last, there are many other reasons, but lastly, I think it very important is that we can conduct classified research on campus, I mean, that puts us at the forefront of our competitors. - Tell us about the building you're building for Army Futures Command at the Bush Combat Development Center, and what's gonna be in there, when are those folks, when is gonna be finished, and when they're gonna move in? - Well, we have a building called RIC, Research Integration Center, and that center will house all the think tank, the aspect of headquarters, that would be sensor development and data use, in a control center in that particular building.
So we will have the control center, the electronic control center that I mentioned before, we will have a makerspace, we'll have offices for the military, it will be the hub of activity at BCDC. - If you look into the future and you see, okay, we've got the hypersonics tunnel, the BAM, you've got all these kinds of things, do you think industry is going to be moving in to be closer to all of that research? - Absolutely, there's a great deal of interest in industry now to come to campus, we will have space for startup companies as well as larger companies who want to have a small office here to work with researchers, from the idea all the way to product development. You need to be on campus, you need to be in college station, you need to live with us to be able, I believe, to really develop the best type of product. - Your engineering folks played a big role in Texas A&M doing something no university in the state has ever done before, and that is exceed for the first time, this year, a billion dollars in research expenditures.
A bunch of that is gonna be happening on the RELLIS campus? - One area I'm really excited about that we're just building is detonation, Elaine Oran, Professor Elaine Oran came to us, recently, from the University of Maryland. She's an expert in explosions and she's building a 200 meter long tunnel to test explosions, two meters diameter, 200 meters in length. And in that tunnel, she'll be able to understand a great deal more about how explosions happen, she will be able to conduct research that would protect us, not only in the military, but also in home environments, as well as industry environments from explosions, in fact, she can actually study the processes behind supernovas. - What are the practical applications that are used here on earth that are learned from the explosions that will happen in that tube? - Chemical processing plants or oil and gas refineries, those types of facilities are very concerned about explosions and she can test what type of materials that she needs to protect against explosions, but also what are the conditions under which a massive explosion would occur? - And tell us about the CIR that you built there, it's been operating for several years now at RELLIS. - One project we're working on there, is a project that looks at asphalt. So asphalt, if you can use more recycled material in asphalt, you can decrease the cost, as well as increase the performance.
And we have a Corrosion Center in the CIR now, that will test pipes, pipelines, particularly, they're focused on pipelines now, and so, they will be able to test a pipeline to determine whether it's corroded or not while it's underground, and that's certainly a help. And we have the Smart Grid Center, and so, that group is now working on a proposal to connect Texas with the AC transfer for West and East, and we would then have a continuous transfer of AC throughout the continent. - Well, five years ago, RELISS was a cow pasture.
- [Kathy] Um-hum [chuckles]. - What do you think it's gonna look like five years from now, 10 years from now? - Yeah, I think it was worse than a cow pasture [chuckles]. We had some buildings there, but I will remind you that AgriLife had a facility there that was actually filled with snakes as well as people, so it was quite an interesting place, RELLIS, back five years ago, so, I hope that in 10 years, we'll be able to say that RELLIS is the premier national security research and development testbed. - [John] Great. - Enough said. - Sounds good, well, Dr. Kathy Banks, thank you very much
for your insights and for all you do, and the amazing work that you've done in the Engineering College at Texas A&M. - Thank you, it's a pleasure to be here. - And we'll be right back. [lively music] - [Student] Our passion guides us.
Our traditions unite us. And generations of Aggies have changed the world. Forged in gold, we stand ready to serve. We are Texas A&M. - [Announcer] Army Colonel Ross Guieb has prepared his entire life for his latest mission, to lead the Texas A&M University System's efforts helping the US military accelerate high-tech innovation. He grew up in an extended military family, learning from his grandparents, parents, uncles and aunts, about the importance of resilience, thinking ahead and serving a purpose greater than yourself.
He joined the US Army and shared those lessons with soldiers under his command. He rose to the rank of colonel, learned how to lead large organizations and how to reform them. Over the past four years, Guieb helped stand up Army Futures Command, a massive reorganization to accelerate army modernization. After a 29-year career, he left the Army in 2020, and became Executive Director of the Bush Combat Development Complex. Two of his three sons are sophomores in the Texas A&M Corps of Cadets. "Our mission is for future soldiers," Guieb said, "we will make sure our kids and grandkids have the right concepts, the right structures, and the right equipment to fight and win convincingly.
Texas A&M is a perfect place to make it all happen, with its world-class research, undaunted patriotism, and the know-how to do national security work, Texas A&M is uniquely qualified for this vital mission." - Welcome, Colonel Guieb. - Yes, sir, first off, thanks for having me.
- You recently hosted Commanding General Mike Murray. - I did, I did. - Tell us what y'all chit-chatted about. - We focused in three major areas. First, we focused on the really world-class facilities and the progress.
Gave him a tour of the Research Integration Center, gave him the vision of how all those pieces and parts of the complex comes together, help him visualize that. The second thing we spoke about was the people, 'cause what's important to us is important to the Army Futures Command and DOD, and that is how do we build a bench of scientists and engineers that support national security, whether it be in our labs, army labs or DOD labs, or national labs, how do we get that pipeline going with engineers and scientists. And then, the third thing we spoke about was the mission, where are we with the mission of delivering what we promised to deliver. So we walked them through our first year's accomplishments, and then, we discussed years two through four of the cooperative agreement and what that looks like. So all in all, really, I think he came out of there with a better understanding of where we are currently, and then, he had a better understanding of the people that we have that are part of this. For example, we told him that we have close to 60 students, graduate and undergraduate, as part of this, which he was really amazed at that number, and that doesn't include the research engineers, and the scientists and professors, that we have working on their projects.
- I think Texans would be really interested to know of the conversations within the Pentagon, within the defense industry, within our allies, about what's going on here at RELLIS. Talk a little bit about that, and what folks were most excited about. - That's a great question, you know, in September, I think maybe September, we had Secretary McCarthy here, so he was then the Secretary of the Army, he came here and saw a vision, your vision, it was being executed, and he had this idea of really trying to close the loop to deliver our prototypes faster to industry and to our government partners. So since then, I mean, we've had people that, most of the defense primes, if not all the defense primes that are interested in hypersonics directed energy, we've also had the Intel Community looking at our 5G capabilities and those research tests networks that they're gonna come into effect in the Innovation Proving Ground.
Just recently, we had our first use case on the Innovation Proving Ground, we had the next generation combat vehicles testing their RCV-Lights, for three weeks, so I thought that was a great win, it was close in. And what's interesting about, what I told General Coffman, the director, is that we haven't even broken ground on that Innovation Proving Ground, and you're already testing. And I said, this really talks to what we're all about, and that's how to get to yes, how to support the defense. I would say also, we have the Army Test and Evaluation Command coming to see how they can be a part of our ecosystem, they have aging facilities throughout the United States, we do not, so they wanna know how we can collaborate, one, and then, use IPG as part of their ecosystem, and then, two, help them think about how to modernize their own aging evaluation and test areas. We've got allies also thinking about how do they, how can they participate in what we're doing, and I think what the way they want to do it is through Army Futures Command or another DOD partner. - Tell us what you think this place is gonna look like five years from now, 10 years from now, if you had to look in your crystal ball.
- Well, I equate the RELLIS to almost be like Las Vegas in the 1930s, where there's a lot of energy, there's a lot of building, only, the focus is on national defense, research. I believe that it will be the center of excellence in a lot of the areas that we're focused on, mainly hypersonics and directed energy, and then also 5G, 5G has really been an interest area in a lot of, as I said, Intel Community, in DOD partners, industry partners like Dell, so there's a lot of folks that are waiting to see or waiting to partner in this entire effort. So I really see it as being the central hub for applied research, not only for Texas, but really, the United States.
- And of course, we owe a great deal of thanks to the Texas Legislature, Governor Abbott, Governor Patrick and the speaker. - [Guieb] Right. - For beginning this process with $50 million in funds. - [Guieb] Right. - I think they certainly are getting their money's worth with regard to that, tell us about what you think the Innovative Improving Grounds are gonna look like four or five years from now, is it gonna be the place where the majority of the testing for autonomous vehicles is gonna occur, what do you think that's gonna look like? - Yeah, so I think the Innovation Proving Grounds is gonna be a focal area for DOD, right? It will be an enabler for DOD testing, I mentioned earlier that Army Test and Evaluation Command wants to partner, and in order for us to validate those Army tests, we need somebody from Army Test and Evaluation Command to validate the test, so they're willing to put people in the Research Integration Center, so that they don't have to test these vehicles more than once, because it'd be more cost-effective to run the test here on the IPG, and then, have the validator from Army Test and Evaluation Command give it the stamp of approval.
So we see this as a complimentary focus area or test area for DOD, so that's moving right along, we have that visit in two weeks actually, they're excited to come and see what we have to offer, and then, to teach them some things about modernizing their own test areas. - I think Aggies certainly know that it's in our DNA, public service, service to the nation, service to the state. - The culture of Texas A&M is similar to the culture of the the Army. - I suspect your two boys are getting a pretty good dose of that in the Corps.
- They are, they are, twins in the Corp, they're both sophomores, one thing that they really have found is that the fabric of our DNA is about service. - Well, Colonel Guieb, we're glad to have you here, almost as glad as we are to have your twins. [laughs] And we're glad to have you here as the Executive Director of the Bush Combat Development Center and look forward to wonderful things that are gonna happen at Texas A&M in service to our country. [piano playing] - Thanks for watching and we'll see you Around Texas.
- [Announcer] Around Texas with Chancellor John Sharp is underwritten in part by Sarah and Ross Perot Jr. [lively music]
2021-04-27 13:29
Show Video
Other news