Technology in Politics: What We Don't Know and Should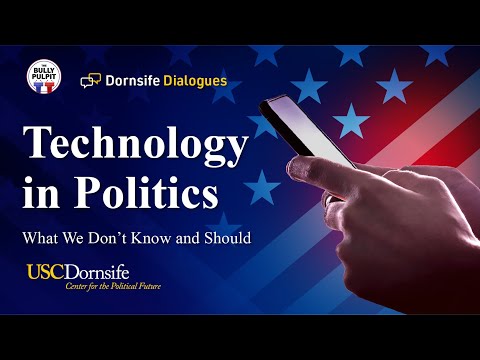 Show Video
WELCOME BACK TO DORNSIFE DIALOGUES TODAY'S EVENT ON TECHNOLOGY AND POLITICS IS ANOTHER COLLABORATION WITH OUR TERRIFIC USC CENTER FOR POLITICAL FUTURE WHICH CONTINUES TO DEVELOP AND HOST SOME OF OUR MOST POPULAR PROGRAMS. AS WE KNOW THERE'S NO POLITICAL VIABILITY THESE DAYS WITHOUT A CAREFULLY MANAGED ONLINE PRESENCE AND INCREASINGLY SOPHISTICATED WAYS OF LEVERAGING TECHNOLOGY CONTINUES TO CHANGE THE LANDSCAPE IN COMPLICATED WAYS. SOCIAL MEDIA, FOR EXAMPLE, ENABLES BROADER FUNCTION FOR CONSTITUENTS. SOPHISTICATED DATA ANALYTICS TECHNOLOGY CREATES SIMILAR TRADEOFFS. PERSONALIZED AND TARGETED INFORMATION SENT TO US BASED ON OUR HABITS AND PREFERENCES MOEGT BE FUN TO READ BUT ALSO REINFORCES EXISTING BELIEFS. I'M LOOKING FORWARD TO WHAT OUR EXPERT PANEL HAS TO SAY ON THESE ISSUES AND MANY MORE. THE CONVERSATION TODAY WILL BE GUIDED
BY OUR MODERATORS WHO WILL BE INTRODUCED BY OUR PANELISTS. BOB IS THE CHAIR IN PRACTICAL POLITICS. HE IS AMONG THE MOST SOUGHT AFTER DEMOCRATIC POLITICAL STRATEGISTS WITH AN UN-PARALLELED RECORD OF CONSULTING FOR HIGH LEVEL CAMPAIGNS AND ADMINISTRATIONS. MIKE MURPHY, OUR OTHER CODIRECTOR,
IS ONE OF THE MOST CELEBRATED REPUBLICAN STRATEGISTS IN THE NATION. MIKE HAS WORKED ON SIX REPUBLICAN PRAEZDENTIAL CAMPAIGNS AND HAS LED MORE THAN 20 STATEWIDE CAMPAIGNS TO VICTORY. HE'S ALSO AN IN DEMAND POLITICAL PUNDIT APPEARING FREQUENTLY ON NBC, CNN AND NPR. BOB AND MIKE, TAKE IT AWAY.
I'M MIKE MURPHY. I'M CODIRECTOR FOR THE CENTER OF POLITICAL FUTURE AT USC. JOINING ME IS OUR ESTEEMED DIRECTOR BOB SHRUM, AND A VERY ESTEEMED PANEL TO TACKLE THIS INCREDIBLE AND POWERFUL TOPIC, A TOPIC I'VE BEEN LOOKING FORWARD TO FOR MONTHS TO HAVE THIS PANEL AND DISCUSSION. JOINING US IS -- AND I APOLOGIZE IF I MIGHT HAVE MISPRONOUNCED YOUR LAST NAME. HE'S
AN ASSOCIATE PROFESSOR OF PSYCHOLOGY AND COMPUTER SCIENCE AND THAT CRITICAL INTERSECTION HERE. HE'S AN EXPERT IN SEMANTIC ANALYSIS ESPECIALLY IN POLITICAL LANGUAGE AND SOCIAL MEDIA WHICH IS WHERE ALL THE POWER OF THE CONVERSATION IS NOW. HIS RESEARCH SPANS THE BOUNDARY BETWEEN PSYCHOLOGY AND ARTIFICIAL INTELLIGENCE. WE'RE EXCITED TO TALK ABOUT THAT. CHERYL IS THE FOUNDER AND SHEAF STRATEGIST OF SPECIFIC CAMPAIGN HOUSE, THEY BOTH SERVICE DIGITAL AGENCIES SERVING NONPROFITS AND POLITICAL ORGANIZATIONS. SHE WAS DEPUTY DIGITAL DIRECTOR IN 2016 FOR THE LEADING PRO-HILLARY SUPER-PAC, PRIORITIES USA ACTION. JOHN IS THE EXECUTIVE CHAIRMAN AND
FOUNDER OF A SOFTWARE COMPANY CALLED X1 DISCOVERY. SHE HAS AN EXTENSIVE BACKGROUND COMBINING STRONG KNOWLEDGE OF BOTH THE LAW AND SUPPORTING TECHNOLOGY IN THOSE KEY AREAS. MOST IMPORTANT OF ALL HE'S A USC ALUMNI. AND FINALLY MY OLD FRIEND FROM THE OLD REPUBLICAN WARS FROM DECADES AGO KATIE IS JOINING US. SHE WAS CREDITED WITH BUILDING A GLOBAL TEAM RESPONSIBLE FOR MANAGING ELECTIONS AND WORKING TO GET GLOBAL GOVERNMENTS AND ELECTED OFFICIALS FROM ALL LEVELS TO USE FACEBOOK AND INSTAGRAM AS A WAY TO CONNECT AND ENGAGE WITH THEIR CONSTITUENTS. SHE'S ALSO THE FOUNDER AND CEO OF ANCHOR CHANGE,
A CIVIC TECH STRATEGIES FIRM FOCUSED ON DEVELOPING SOLUTIONS AT THE INTERSECTION OF TECH, POLICY AND BUSINESS FOCUSING ON GLOBAL ISSUES RELATED TO DEMOCRACY, ELECTIONS AND CIVIC ENGAGEMENT ONLINE. AND LET ME SAY BY WAY OF FULL DISCLOSURE I'VE BEEN IN THE PAST A CONSULTANT OF FACEBOOK. I CURRENTLY DO A BULLETIN FOR THEIR NEWSLETTER. IT'S FREE ALMOST EVERY WEEK. WE'RE GIVING SOME FACEBOOK
FAST BALLS I THINK IN THE QUESTION DEPARTMENT IF YOU NOTICE ON THIS TECHNOLOGICAL PLATFORM ZOOM WE'RE NOW ON YOU CAN CLICK AND ASK A QUESTION. SO WE'RE GOING TO HAVE A DISCUSSION BUT WE'RE GOING TO LEAVE TIME FOR YOUR QUESTIONS SO SEND ANY REALLY TOUGH ONES TO BOB, SEND ME ANY SOFTBALLS AND I'LL READ THEM TO THE PANEL AND THEY WILL ANSWER. SO LET'S KICK US OFF. BACK IN THE BRONZE AGE OF POLITICS WHEN I STARTED OUT. TRUMP STARTED IN THE STONE AGE. I WAS A LITTLE LATER IN THE BRONZE AGE.
WHEN YOU GO TO A LOCAL CAMPAIGN THE KEY THING THE CAMPAIGN MANAGER HAD -- LET'S SAY YOU WERE RUNNING FOR STATE REPRESENTATIVE OR MAYOR OF A SMALLER CITY -- WOULD BE A LOCK BOX. A GRAY STEEL KEY, AND YOU'D OPEN IT AND THERE WOULD BE # $500 OF STAMPS IN THERE. AND VOLUNTEERS WOULD COME IN AND THEY'D DOLE OUT THE STAMPS. NOW IN THE DIGITAL ERA THE STAMPS ARE FREE.
IS THAT GOOD? IS THAT BAD? WE'RE GOING TO DEBATE THAT AND DELVE INTO IT BUT WE KNOW THE IMPACT IS TREMENDOUS. SO LET ME KICK IT OFF TO ANYBODY WHO WANTS TO ADDRESS THE TOPIC AND FEEL FREE TO JUMP IN. WE'RE NOT SUPER FORMAL IN THESE THINGS. WHAT DO YOU THINK ARE THE BIGGEST THINGS TECHNOLOGY PARTICULARLY DIGITAL TECHNOLOGY HAS DONE TO CHANGE POLITICS BOTH IN THE FUND-RAISING ERA AND POLITICAL COMMUNICATIONS AREA AND VOTER PSYCHOLOGY, HOW PEOPLE CONSUME INFORMATION, WHAT THEY TRUST, WHAT THEY DON'T TRUST? LET'S KICK OFF WITH THAT BIG PICTURE. WHAT ARE THE BIGGEST IMPACTS? WHO WOULD LIKE TO START? >> I'M HAPPY TO JUMP IN. THANKS FOR HAVING ME. I'VE BEEN THINKING ABOUT THIS A LOT BECAUSE 2004 WAS ACTUALLY MY FIRST PRESIDENTIAL CAMPAIGN AND CAMPAIGN I WORKED ON. AND THAT WAS -- YOU THINK ABOUT
THE RAPID RISE IN CHANGE AND TECHNOLOGY OVER THE YEARS, WE NEVER REALLY HAD A CHANCE TO CATCH UP AND THINK ABOUT -- WE HAD A VERY UTOPIAN VIEW OF WHAT THIS TECHNOLOGY WAS GOING TO BE AND DO IN TERMS OF POTENTIALLY DEM ACCURATIZING OUR ELECTIONS, HELPING OUR VOICES GET OUT. BUT NOW IN WHAT I CALL THIS RECKONING PHASE OF TRYING TO FIGURE OUT DO WE REALLY LIKE WHAT SOME OF THESE THINGS HAVE BEEN. AT FIRST THAT SEEMED LIKE A WONDERFUL THING TO NOT BE RELIANT ON BIG DONORS, BUT NOW YOU HAVE CANDIDATES WHO WILL GO AND SAY EXTREME THINGS TO GO AND GET THOSE SMALL DOLLARS FROM ALL AROUND THE-COUNTRY AND IT ACTUALLY CAN BE GIVING US DIFFERENT INCENTIVES TOWARD WHAT OUR POLITICIANSEROUS SAYING AND WHAT THEY'RE DOING ON THESE PLATFORMS. I'M READING AN INTERESTING BOOK CALLED OUTSIDE THE BUBBLE PUT OUT BY OXFORD THAT TAUKZ ABOUT HOW THE INTERNET HAT HELPED TO BRING MER PEOPLE INTO THE PROCESS THAN NORMALLY WOULD. >> WE'VE DEMOCRATIZED FUND-RAISING AND CAMPAIGNING. WHAT DO YOU THINK IS GOING ON OUT THERE?
>> I THINK IT'S A REALLY COMPLICATED QUESTION IN THAT THERE ARE BENEFITS LIKE KATIE WAS SAYING, THERE HAS BEEN AN EFFORT TO BRING MORE PEOPLE INTO THE FOLD, TO ENGAGE WITH MORE PEOPLE THAT MIGHT NOT HAVE PREVIOUSLY CARED ABOUT POLITICS OR FELT LIKE IT IMPACTED THEM OR IT WAS SOMETHING THEY SHOULD BE INVOLVED IN. AND SO I THINK THERE DEFINITELY IS SOMETHING TO BE SAID THERE WITH DIGITAL, MAKING IT MORE ACCESSIBLE. I DO THINK, THOUGH, THAT THERE ARE SOME OTHER THINGS THAT WE DEFINITELY CAN UNPACK HERE ESPECIALLY AROUND TARGETING AND PRIVACY. ONE OF THE THINGS WE'VE SORT OF SEEN OVER THE LAST ELECTION CYCLE OR SO IS THAT A LOT OF BIG TECH FIRMS HAVE STARTED TO CRACK DOWN ON TARGETING AND PRIVACY FOR HOW CAMPAIGNS OR DIGITAL AGENCIES LIKE MYSELF CAN USE DATA TO REALLY HONE IN AND FIND THE PEOPLE WE'RE LOOKING TO MAKE SURE THE MESSAGE IS ACCURATELY GOING TO THE SPECIFIC AUDIENCE. AND SO WE'RE REALLY SEEING SOME THINGS THAT ARE BOTH ON THE GOOD END OF, YOU KNOW, WE'RE OPENING UP MORE TO MORE PEOPLE BUT WE'RE ALSO SEEING SOME CHALLENGES HERE WHERE WHEN TARGETING IS LIMITED TO, FOR EXAMPLE, GOOGLE IN THE 2018, 2020 CYCLE INSTEAD OF POLITICAL ADVERTISEMENTS THEY'RE NO LONGER GOING TO ALLOW ADVERTISERS TO USE ANYTHING OTHER THAN AGE, GENDER AND ZIP CODES FOR PEOPLE THEY WANTED TO REACH. SO IF YOU'RE LOOKING AT POLITICAL
LEANINGS OR TRYING TO REACH BLACK VOTERS IN TEXAS OR LGBT VOTERS IN CALIFORNIA, WE DON'T HAVE TO ABILITY TO DO THAT WITH THE TARGETING PARAMETERS, WHICH MAKES IT DIFFICULT FOR COMMUNITY GROUPS AND CAMPAIGNS WHO KNOW THEY HAVE A VERY SPECIFIC PERSUASION AUDIENCE THEY'RE TRYING TO TALK TO. >> SO IT'S MECHANICALLY HARDER TO TARGET NOW, BUT WHAT ABOUT THIS GLOBAL ISSUE OF PRIVACY? A FEW WEEKS AGO MY WIFE GOOGLED SOMETHING, NEXT THING YOU KNOW SHE HAD AN AD ON HER FACEBOOK ACCOUNT AND IMMEDIATELY SHE UNPLUGGED EVERY COMPUTER IN THE HOUSE AND THREW THE ALEXA IN THE SWIMMING POOL BECAUSE THE THELRY WAS THEY'RE GATHERING ALL THIS INFORMATION AND THE CRITICS OF THE TECH COMPANIES WILL SAY, OKAY, THEY'RE TAKING POLITICS OUT BUT THEY STILL USE THE TECHNOLOGY ANYWHERE ELSE THEY CAN TO VIOLATE PRIVACY, AND THEY HAVE ALGORITHMS THAT START BEING PREDICTIVE. I DON'T THINK ANY CEN VOTERS KNOW THEY CAN PULL YOUR PROFILE. SO DIGITAL ALLOWS US TO COLLECT SO MUCH INFORMATION. AND I'D ALSO LIKE TO GET OVER TO JOHN AND MORTAZA, YOU KNOW, WHAT ABOUT THE PSYCHOLOGY OF THIS, THE KIND OF REINFORCEMENT APPLICATION WHERE ON SOCIAL MEDIA WHERE, OKAY, THERE MIGHT BE LESS PAID TARGETING BUT YOU CHOOSE WHO YOU FOLLOW AND YOU FOLLOW WHO HAVE BECOME A TRUSTED SOURCE FOR YOU, BUT THERE'S NO EDITOR, THOUGH VERIFIER. HOW DO
WE KNOW THAT WHEN MY COUSIN TWEETS SOMETHING ULR ABOUT EXCUSE ME ON ON FACEBOOK OR TWITTER AND SAYS SOMETHING ABOUT DON'T GET VACCINATED BECAUSE THE NEEDLES FULL OF NANO PROBES THAT WILL GET TO YOUR BRAIN AND IT GETS REPEATED. YOU KNOW, THE PSYCHOLOGY OF ALL THIS, HOW IT TENDS TO WORK WITH HUMANS. EITHER OF YOU GUYS WANT TO COMMENT ON THAT? >> YEAH, SO I'D LIKE TO TAKE A STEP BACK AND TALK ABOUT TARGETED ADVERTISING. IT'S FINE FOR GOOGLE TO, YOU KNOW, RESTRICT THE NUMBER OF VARIABLES THAT ARE AVAILABLE, FOR EXAMPLE, RESTRICTING THE USE OF POLITICAL ORIENTATION AS A VARIABLE, BUT THEY HAVE SO MANY DIFFERENT VARIABLES THAT ARE CORRELATED TO THESE PSYCHOLOGICAL FACTORS THAT NOT HAVING POLITICAL ORIENTATION IN THERE IS NOT GOING TO MAKE A HUGE DIFFERENCE. ESSENTIALLY WHAT THESE TECH COMPANIES AND COMPANIES LIKE CAM MERGZ AND ANALYTICA AND OTHERS THEY'VE BEEN ABLE TO COMBINE THE DATA FROM OUR PUBLIC LIVES AND PRIVATE LIVES. AND ESSENTIALLY BY DOING, CONNECTING THE
WEBSITES WE VISIT TO THE AMOUNT OF TIME WE SPEND ON DIFFERENT POSTS WITH HOW MUCH WE EXERCISE WHAT RESTAURANTS WE GO TO, WHAT SUPER MARKETS WE GO TO, THEY'VE BEEN ABLE TO ESSENTIALLY GIVE THE KEY TO OUR PSYCHE TO THESE OTHER COMPANIES THAT CAN THEN USE TO MAKE MORE TARGETED ADVERTISING AND MORE IMPORTANTLY USE IT FOR REFRAMING STRATEGIES AND CAMPAIGN MESSAGES BASED ON VERY TARGETED POPULATIONS. SO I THINK, YES, REMOVING SOME OF THESE VARIABLES AT THE SURFACE MIGHT SEEM IT'S IMPORTANT, BUT GIVEN THEY HAVE SO MANY OTHER VARIABLES THAT CAN PREDICT THE VARIABLES THAT HAVE BEEN REMOVED, THEN THAT'S NOT GOING TO MAKE A HUGE DIFFERENCE AT THE END OF THE DAY. >> ON THE PRIVACY ISSUES IN SOME ASPECTS IT'S GETTING BETTER. CHERYL MENTIONED THE ENFORCEMENT SHE'S SEEN BY THIRD PARTIES THAT ARE USING THE FACEBOOK PLATFORM. THERE'S BEEN -- FACEBOOK HAS KIND OF GONE ON SOCIAL MEDIA PLATFORMS AND ADDRESSED THAT. THEY WERE FINED
$5 BILLION IN 2019 FOR PRIVACY ISSUES. THEY ARE ADDRESSING THAT ESPECIALLY TO USER INFORMATION USED BY THIRD PARTIES. TO YOUR POINT, THE SOCIAL MEDIA PLATFORMS AND GOOGLE AND THE INTERNET THEY CAN USE DATA THEMSELVES IN WAYS THAT ARE VERY AGGRESSIVE. THERE ARE LAWS THAT CAN MONITOR YOU, THE GPR HAS I THINK ENABLED USERS TO REQUEST THAT THEIR INFORMATION NOT BE USED IN THAT WAY. CALIFORNIA RESIDENTS HAVE ADDITIONAL RIGHTS OTHER THAN -- MORE SO THAN THE GENERAL POPULATION OF THE U.S.
UNDER THE CALIFORNIA CONSUMER PRIVACY ACT THAT WENT IN EFFECT THIS YEAR. YOU CAN ACTUALLY NOW ONLY DELETE FACEBOOK BUT ASK FACEBOOK TO DELETE ALL THE INFORMATION THEY HAVE ON YOU. THE BIG LEGAL BATTLE COMING UP IS ALL THE ALGORITHMS. THAT'S WHERE THE PENDING LEGISLATION IS. AND THERE'S NOTHING WRONG WITH PEOPLE GOING AND LIKING A POST FROM, YOU KNOW, A POLITICAL PARTY OR LIKING FOX NEWS. THE PROBLEM IS THAT BY DOING SO
THEY THEN GET INTRODUCED -- THE ALGORITHM SELECTS CONTENT ABOUT QAnon OR CONTENT THAT PROMOTES RADICALIZATION. AND IT'S ALL ABOUT ENGAGEMENT, RIGHT? THE MORE PEOPLE GET ENGAGED, THE MORE MONEY FACEBOOK MAKES, THE MORE MONEY THE SOCIAL MEDIA PLATFORMS MAKE. AND THAT'S WHERE I THINK THE BIG BATTLE WILL COME IS THIS NEW LEGISLATION OR POTENTIALLY LAWSUITS OVER THOSE ALGORITHMS. >> GO AHEAD,
BOB. >> I WANT TO JUMP IN HERE BECAUSE I WANT TO ASK A QUESTION BUILT OFF THAT. THERE'S A LOT OF CONTROVERSY NOW ABOUT FACEBOOK AND ITS IMPACT ON 2020 AND JANUARY 6 th. ARE FACEBOOK AND TWITTER SHAPING ELECTION OUTCOMES, AND ARE THEY BEING PROPERLY REGULATED? DO WE NEED MORE LEGAL RESTRICTIONS ON SOCIAL MEDIA? >> TO HOP IN HERE REAL QUICK, I THINK THERE'S TWO -- THERE'S TWO AREAS TO LOOK AT THIS. ONE IS THE ORGANIC SOCIAL MEDIA, SO THAT'S JUST WHAT PEOPLE ARE POSTING. I CAN
GO POST, MY MOM CAN GO POST. ANYONE ON THE PANEL OR WATCHING THE PANEL CAN GO POST TO FACEBOOK, AND THEN THERE'S THE PAID ELEMENT OF THAT. THAT'S WHAT CAMPAIGNS, SUPER PACS, THEY'RE PUTTING MONEY BEHIND IT TO GET IT TO PEOPLE. I THINK WHAT JOHN WAS
TOUCHING UPON WITH THE ALGORITHM AT THE END OF THE DAY WE HAVE TO REMEMBER FACEBOOK IS AN AD PLATFORM. THEY'RE THERE TO KEEP PEOPLE ON THE PLATFORM FOR AS LONG AS POSSIBLE SO THEY CAN SERVE THEM AS MANY ADS AS POSSIBLE. AND SO IF THAT MEANS CONTINUING TO SHOW THEM THINGS THAT ARE GOING TO BE THE MOST CLICK BAITY OR THE THINGS GOING TO ELICIT A REACTION MORE SO THAN SOMETHING ELSE, YOU'RE PROBABLY GOING TO TAKE MORE ACTION OR BE WILLING TO SHARE SOMETHING LIKE THAT ON YOUR OWN FEED. ROB, BACK TO YOUR QUESTION ABOUT ARE THESE PLATFORMS ACTUALLY INFLUENCING POLITICS? I WOULD SAY YES. IN THE WAY BACK IN 2004, 2008 IF THERE WAS SOMETHING HAPPENING WE WOULDN'T BE INUNDATED WITH SORT OF A TUNNEL -- A TUNNEL VISION OF PEOPLE SAYING LIKE I AGREE WITH YOU, I AGREE WITH YOU. WE KIND OF WE READ THE NEWSPAPER, WE SAW THE NEWS. YOU WEREN'T SEEING TENS OF THOUSANDS OR HUNDREDS OF
THOUSANDS OF PEOPLE ALSO SAYING, YES, THIS IS A PROBLEM, THIS IS AN ISSUE. I THINK THAT POSITIVE REINFORCEMENT FOR PEOPLE PUSHES THEM TO THE EXTREME ON EITHER END. AND TO YOUR QUESTION ABOUT ARE SOME OF THESE NEW THINGS BEING ENFORCED ON THE PAID END OF THAT, TO THE ADVERTISING END I WOULD SAY NO. WE SAW IN THE LAST -- IN THE 2020 CYCLE THERE WERE A HANDFUL OF RULES THAT FACEBOOK HAD PUT FORWARD. YOU KNOW,
YOU CAN'T SAY THINGS LIKE ELECTION DAY IS TOMORROW OR ELECTION DAY IS TODAY WHEN THEY HAD THEIR -- THEY PUT AD MORATORIUMS SO NO NEW ADS WITHIN A CERTAIN PERIOD OF TIME. AND WE SAW CAMPAIGN OVER CAMPAIGN THOSE RULES WERE BEING BROKEN AND THOSE ADS WERE STILL BEING PUT OUT THERE. I THINK THERE'S DEFINITELY TWO ROADS HERE ON ORGANIC BEING PROBLEMATIC BUT ALSO THE PAID AREA BEING PROBLEMATIC. >> SO DO WE NEED MORE REGULATION? >> AGAIN, THERE'S REGULATION PENDING. RIGHT NOW YOU HAVE SECTION 230 WHICH HAS PRETTY BROAD SHIELD FOR THE SOCIAL MEDIA PLATFORMS. IT WAS DESIGNED TO PROTECT
THEM FROM LIBEL LIABILITY, DEFAMATION, BUT IT'S BEEN APPLIED MORE BROADLY. SO WHAT'S HAPPENED CONGRESS, BOTH THE HOUSE AND SENATE INTRODUCED NEW LEGISLATION LAST WEEK TO SPECIFICALLY TARGET, NOT TO GET RID OF 230 BUT TO AMEND IT SO IF THERE WERE ACTIVE ALGORITHMS THAT INTRODUCE CONTENT THAT INCITE VIOLENCE OR PROVIDE DISINFORMATION REGARDING HEALTH INFORMATION DURING A PANDEMIC, THEN THAT WOULD REMOVE THAT LIABILITY. THEN IT'S GOT TO PASS CONSTITUTIONAL MUSTER. AND THERE IS FIRST AMENDMENT
CONCERNS THAT, YOU KNOW, I THINK NEED TO BE LITIGATED OVER THIS BECAUSE THAT'S AN UNCERTAINTY THERE. >> THAT STRIKES ME AS A BIG PART OF THIS. >> YEAH, NO. LISTEN, I THINK THERE'S A LOT OF DIFFERENT AREAS WHERE WE NEED REGULATION, RIGHT? THERE'S SORT OF FIVE AREAS I'VE BEEN LOOKING AT. ONE IS CERTAINLY TRANSPARENCY. HOW DO WE BETTER UNDERSTAND WHAT'S HAPPENING WITH THESE PLATFORMS, GET RESEARCHERS THE DATA BUT DO SO IN A PRIVACY-SAFE WAY, WHICH IS MY SECOND PILLAR OF REGULATION IS AROUND THE PRIVACY. AND THOSE QUESTIONS, MIKE, YOU WERE ASKING
AROUND WHAT ARE THE RIGHT GUARDRAILS IN TERMS OF NOT ONLY HOW THE PLATFORMS USE DATA BUT I DO REALLY THINK THERE NEEDS TO BE A LOT, TOO ON THE CAMPAIGNS AND THE DATA CAMPAIGNS HAVE ON YOU. TO MY KNOWLEDGE I CAN'T GO TO THE DNC OR RNC AND ASK THEM TO SHOW ME ALL THE DATA THEY HAVE ON ME RIGHT NOW AND HOW THEY'RE USING THAT TO TARGET ME AND I DON'T LIKE THAT VERY MUCH. THE THIRD HOUR IS REALLY AROUND DEFINITIONS. YOU KNOW, CHERYL WAS TALKING ABOUT ADS, AND ALL THOSE THINGS FACEBOOK
TRIED TO DO, FULL DISCLOSURE I WAS SUPER INVOLVED IN A LOT OF THOSE DECISIONS. BUT EVEN TO DEFINING WHAT A POLITICAL OR ISSUE AD IS, WE NEED A LOT MORE SPECIFICITY IN ORDER TO ENFORCE SOME OF THOSE THINGS. AND, YOU KNOW, ALL THE PLATFORMS ARE TAKING THEIR OWN DEFINITIONS RIGHT NOW WHICH MAKES PEOPLE LIKE CHERYL'S LIVES SO MUCH HARDER. I THINK THE FINAL TWO AREAS WHERE WE NEED TO LOOK AT REGULATION IS HOW DO WE ENCOURAGE MORE COMPETITION? I LIKE LOOKING AT DATA PORTABILITY, WHERE IT WOULD MAKE IT EASIER TO IMPORT YOUR NETWORK OF PEOPLE FROM ONE TO ANOTHER.
MERECAT, IT WAS TAKING OFF BECAUSE IT WAS UTILIZING YOUR TWITTER NETWORK, AND WHEN TWITTER CUT THEM OFF THEY PRETTY MUCH DRIED UP AND DIED. SO IS THERE A WAY TO FOSTER MORE COMPETITION IN THAT WAY? AND WE NEED ACCOUNTABILITY FOR MORE CEOs LIKE MIKE ZUCKERBERG. I THINK ONE OF THE THINGS PEOPLE DON'T LIKE THERE'S NO REAL WAY TO HOLD HIM ACCOUNTABLE. IT DOESN'T FEEL
LIKE HE CAN BE FIRED IN ANY WAY, SHAPE OR FORM GIVEN THE DECISIONS HE'S MAKING. AND HOW BIG A PLATFORM FACEBOOK IS I THINK THAT DRIVES PEOPLE BONKERS AND THERE NEEDS TO BE ACCOUNTABILITY IN SOME SHAPE OR FORM. >> FACEBOOK WAS USED FROM WHAT WE ARE NOW LEARNING TO SPREAD THE LIE THAT THE ELECTION WAS STOLEN AND TO GET, YOU KNOW, SOMEWHERE BETWEEN 35 AND 40% OF PEOPLE TO BELIEVE THAT AND A VERY HIGH PERCENTAGE OF REPUBLICANS. ISN'T THAT A FUNDAMENTAL THREAT TO DEMOCRACY AND TO THE CREDIBILITY OF THE SYSTEM? >> ABSOLUTELY. AND I THINK THIS GOES
BACK TO CHERYL'S POINT ABOUT THE FALSE SENSE OF CONSENSUS THAT THESE SOCIAL MEDIA PLATFORMS PROVIDE IN ECHO CHAMBERS. SO AS A GROUP HAS STARTED YOU MAY HAVE A FEW PEOPLE. BUT AS LIKE MINDED INDIVIDUALS JOIN THE GROUP PEOPLE START THINKING EVERYBODY IN THE GROUP HAS THE SAME TYPE OF WORLD VIEWS, AND THAT CAN BE DANGEROUS. WE HAVE RESEARCH NOW SHOWING IN OTHER OFF RIGHT MEDIA SOURCES AS CLUSTERS IN THE SOCIAL MEDIA NETWORK BECOME MORE HOMOGENIUS IN TERMS OF SPEECH THEY USE THE HATE SPEECH GOES UP. AND BY SIMPLY ASSESSING THEIR WORLD VIEWS AND TELLING THEM THEY'LL BE
JOINING A FATES BOOK GROUP IN WHICH OTHER MEMBERS SHARE THE SAME MORAL WORLD VIEWS THEY'RE WILLING TO TAKE MUCH MORE EXTREME ACTION TO PROTECT THAT GROUP. NOW YOU CAN IMAGINE THESE GROUPS AND YOU HAVE TRUMP'S MORAL RHETORIC ENCOURAGING PEOPLE TO GO AND FIGHT FOR THEIR RIGHTS. AND THEN THIS ECHOING IN THESE CHAMBERS. AND PEOPLE HAVING THIS, AGAIN, FALSE SENSE OF CONSENSUS THAT EVERYBODY THINKS THAT THIS IS WHAT'S GOING ON. THIS CAN BE VERY POWERFUL AND VERY DANGEROUS. >> YOU KNOW, THERE'S KIND OF A PRESUMPTION IN SOCIAL MEDIA THAT BACK TO MY STAMPS ANALOGY, WE USED TO TALK ABOUT THE PRECINCT, THE TEACHER ACROSS THE STREET, THE FIREMAN DOWN THE STREET, THE DOCTOR NEXT DOOR ALL KIND OF NEW EACH OTHER. NOW
IT'S DIGITAL. SPEAKING IN A HIGH SCHOOL 800 MILES AWAY YOU'RE IN DAILY CONTACT WITH BUT ONLY THROUGH SOCIAL MEDIA. SO I GET SHARING INFORMATION ABOUT RAILROADING OR GRANDCHILDREN IS EASY AND PRETTY HARMLESS, BUT ARE HUMANS BUILT TO SHARE POLITICAL INFORMATION THIS WAY WHERE THE STANCE GETS BIGGER, THE HOTTER THE INFORMATION? SHOULD IT BE EASY FOR, YOU KNOW, A JANUARY 6 th INSURRECTIONISTS TO FIND OTHER PEOPLE LIKE THAT SO EFFORTLESSLY SERVE BY THE UMP IMPLICATION OF A DIGITAL PLATFORM? ARE PEOPLE -- ARE HUMANS UP TO THE TASK OF COMMUNICATING POLITICALLY IN THESE DIGITAL ENVIRONMENTS THAT HAVE SO LITTLE FRICTION, JUST TO STEP BACK A LITTLE BIT. I'M NORMALLY A FREE SPEECH GUY BUT THERE ARE A LOT OF OTHER WAYS TO EXPRESS YOUR FREE SPEECH OTHER THAN PUTTING UP A POST ON FACEBOOK AND IF YOU'VE GOT A FOLLOWING IT WILL BE STICKY AND THEN THE ALGORITHMS WILL AMPLIFY OR THE GOOGLE SEARCH ALGORITHM WILL PUSH YOU TO THE TOP OR WHATEVER IT MIGHT BE, LET ALONE WHETHER YOU GET TO ADD MONEY TO IT TO SPREAD THE FIRE MORE. THAT'S A QUESTION I DON'T THINK HAS BEEN ASKED A LOT, BUT I THINK THERE'S A CASE -- THE NEXT STEP AND, YOU KNOW, THIS IS A PSYCHOLOGICAL ISSUE. WE'RE GOING TO HAVE REALLY DEEP
FAKES. WE'RE GOING TO HAVE ABRAHAM LINCOLN BEING VERY BELIEVABLE. WE'RE GOING TO HAVE THE CANDIDATE DOING TERRIBLE THINGS. IT'S GOING TO SPREAD, SO IS THE TECHNOLOGY TOO ADVANCED? LIKE WE DON'T LET EVERYBODY DRIVE A ROCKET SLED FOR PEOPLE TO SHARE POLITICAL OPINIONS ON. OR IS THAT TOO DRACONIAN OR ANTI-SPEECH? >> NO, I'M WITH YOU. I THINK BECAUSE OF THE NATURE OF OUR SPECIES WE ARE VERY MUCH TRIBAL. AND
WE VALUE THE IN GROUP AND WE PUSH AWAY THE OUT GROUP, AND THAT'S HOW WE'VE EVOLVED. WHEN WE USED TO LIVE IN VILLAGES WE WANTED TO MAKE THE COHESION OF THE GROUP TOGETHER TO PROTECT OUR GROUP. AND ONE WAY TO DO THAT WAS TO PUSH THE OUT GROUP AWAY AND NOT LET THE OUT GROUP WHICH MIGHT HAVE DANGEROUS IDEAS OR EVEN DANGEROUS PATHOGENS INTO OUR GROUP. AND THAT'S HOW
WE'VE EVOLVED. NOW WITH THIS TECHNOLOGY WE'RE BASICALLY SIMPLY FEEDING THIS DESIRE TO FORM MORE INCLUSIVE -- I'M SORRY MORE EXCLUSIVE IN GROUPS AND PUSH AWAY THE OUT GROUP AND DEHUMANIZE THE OUT GROUP. AND THAT'S WHAT THESE ALGORITHMS ARE ACHIEVING MORE THAN SIMPLY SPREADING THE NEWS AND SHARING THE INFORMATION. AND I THINK AT THE CURRENT STAGE OF OUR SOCIETY THIS IS DANGEROUS. >> A REALLY GOOD POINT. AND, YOU KNOW, THE OTHER
PROBLEM IS THE MISINFORMATION. THERE'S AN NYU STUDY RECENTLY THAT SHOWED MISINFORMATION ON FACEBOOK WAS SIX TIMES MORE LIKELY TO BE SHARED. AND THAT'S BECAUSE YOU CAN CRAFT THIS SITUATION TO BE AS INCENDIARY AND ENGAGING AS YOU WANT BECAUSE IT'S FALSE. WHEREAS THE TRUTH IT'S MORE NUANCED AND COMPLICATED. IT'S NOT
THE END-ALL IN TECHNOLOGY AND POLITICS, BUT IT'S REALLY ABOUT TRIBALISM AND THE SENSE OF GRIEVANCE BREEDING FUEL HERE. FACEBOOK CAN TURN US ALL OFF OVERNIGHT, AND THESE ALGORITHMS ARE CODE AND VERY SPECIFIC AT WHAT THEY'RE DOING. AND THEY JUST -- THEY HAVE THE SHAREHOLDERS ALSO TO ANSWER TO ON THE OTHER SIDE. FACEBOOK ACTUALLY GOT SUED BY THE SHAREHOLDERS FOR ACCEPTING THE $5 BILLION SETTLEMENT FROM THE FTC. THE BOARD OF DIRECTORS OF FACEBOOK JUST CAN'T DO THIS OVERNIGHT AND ALLOW THE PROFITS TO TANK. I THINK THEY'D ALL GET SUE BY THE SHAREHOLDERS. IN SOME CASES IN
THE CORPORATE WORLD AND SOMETIMES THEY WANT REGULATION TO PROVIDE UNIFORMITY BUT ALSO GIVE US THE REASON TO COMPLY. I THINK THAT'S REALLY WHAT HAS TO HAPPEN HERE. THERE HAS TO BE MEANINGFUL REGULATION. I THINK YOU'LL SEE IT FIRST OUT OF EUROPE.
THEY'RE ALREADY MOVING TO REGULATE THESE ALGORITHMS. SO I THINK THAT WILL BE WHERE THE IMPACT IS FIRST SEEN. >> IF WE REGULATE ALGORITHMS JUST A CRITICISM FROM THE RIGHT. FACEBOOK IS ALWAYS IT'S FUNNY BOTH SIDES AGREE THEY'RE MAD AT FACEBOOK. THE LEFT SAYS THEIR THE TOOL OF PUTIN AND ALL THE CRITICISM WE'VE HEARD. THE RIGHT SAYS THE ALGORITHMS
IT'S LIKE PHYSICISTS, THEY'RE FINGERPRINTS. SO THE ALGORITHMS ARE ALL WRITTEN BY BERNIE SANDERS SUPPORTERS IN SILICON VALLEY. YOU HEAR THIS EVERY DAY OF THE WEEK ABOUT FACEBOOK. SO WHO
PICKS AN ALGORITHM AND HOW DO YOU KEEP AN ALGORITHM IN THE POLITICAL SPACE WHERE MY NEGATIVE AD IS BOB SHRUM WARNING TO THE VOTERS ABOUT THE CANDIDATE. WHO POLICES THE ALGO ON THE QUESTION SHOULD THERE BE ALGOS PUSHING ON THE ISSUE. WHO POLICES WHETHER THEY'RE RIGHT OR LEFT-HANDED? >> I THINK THEY'RE REALLY BASED UPON ENGAGEMENT I SUPPOSE, NOT A MATTER OF CHANGING -- LISTEN, YOU CAN GO AND LIKE A LOT OF BERNIE SANDERS CONTENT AND PRETTY SOON YOU'RE BEING -- YOU'RE PRESENTED INFORMATION THAT'S REALLY FAR TO THE LEFT, RIGHT? IT'S ALL ABOUT ENGAGEMENT. SO THERE IS A MOVEMENT ALSO THAT MAKE THESE ALGORITHMS MORE TRANSPARENT TO KNOW WHAT'S GOING ON BUT YOU CAN ALSO TEST THEM. MAKE THE RESULTS ARE ARE THIS PERSON IS ENGAGING THIS WAY AND THIS IS THE CONTENT BEING INTRODUCED IN THE NEWS FEED. SO I THINK THAT THE WHISTLE-BLOWER HAS SOME PROPOSALS ABOUT JUST INSTEAD OF TRYING TO PREDICT HOW THE USER IS TRYING TO ENGAGE BECAUSE THAT'S WHAT THESE ALGORITHMS DO. BASED
UPON THEIR PAST CONDUCT, BASED ON THE PROFILE, THIS IS THE CONTENT THEY'RE GOING TO ENGAGED IN MOST. I THINK WE NEED TO BE MORE OBJECTIVE AND SAY LOOK BE MORE CHRONOLOGICAL OR RANDOM OR YOU CAN DO IT WITHOUT FAVORING ONE POLITICAL SIDE OR THE OTHER. >> YEAH, I WANT TO JUMP IN THERE. A COUPLE
OF THINGS. ONE, THE CHRONOLOGICAL FEED IS NOT AS GREAT AS YOU THINK IT MIGHT BE. ANOTHER DOC CAME OUT OF THE WHISTLE-BLOWER STUFF WHICH WAS A STUDY WITH THE TEAM I WORKED CLOSELY WITH DID ABOUT HOW THE -- THE DOWN SIDES OF DOING A CHRONOLOGICAL FEED. AND SO I THINK IT'S AT LEAST WORTH LOOKING AT BECAUSE IT'S CERTAINLY NOT A SILVER BULLET IN THINKING ABOUT THIS. THE SECOND THING I THINK IT'S REALLY IMPORTANT TO REMEMBER THERE'S A COUPLE OF DIFFERENT ALGORITHMS WHEN WE'RE TALKING ABOUT THIS. THERE'S THE ALGORITHM SORTING THE CONTENT YOU ALREADY WANT TO SEE, THE STUFF FROM YOUR FRIENDS, AND THE SEPARATE RECOMMENDATION ALGORITHM THAT SHOWS YOU NEW CONTENT THAT YOU MIGHT WANT TO SEE BASED UPON THOSE THINGS YOU'VE LIKED. AND THERE'S BEEN
CONCERNS AROUND BOTH OF THOSE TYPES OF ALGORITHMS AND THERE'S A THIRD ONE OF THE ADS YOU SEE AND ALL OF THE THOSE PLAY INTO WHAT YOU SEE ON YOUR NEWS FEED. I THINK IT'S WORTH THINKING ABOUT SOME OF THIS. IN FACT, SOME OF MY FORMER COLLEAGUES ON THE SPECIFIC INTEGRITY TEAM AND THEY'VE GOT SOME RECOMMENDATIONS ON WHAT ALGORITHMIC TRANSPARENCY MIGHT LOOK LIKE SO PEOPLE CAN HAVE A BETTER SENSE WHAT ARE THE INPUTS THESE COMPANIES ARE USING GOING INTO THE ALGORITHMS. AND THERE ARE SOME FOLKS LIKE DAPHNE CELLAR AND OTHERS. SO I THINK THERE'S A COUPLE OF INTERESTING WAYS TO POTENTIALLY GO AT THIS. >> SO I WANT TO TALK ABOUT A VERY SIMPLE ALGORITHM. OH, NO,
GO AHEAD, CHERYL. >> I WAS GOING TO SAY I THINK ONE OF THE THINGS WE TALK ABOUT A LOT ESPECIALLY IN LIKE REGARDS TO THE 2020 ELECTION AND WHAT HAPPENED ON JANUARY 6th IS FACEBOOK. BUT AT THE END OF THE DAY IF WE LOOK AT WHO IS ON FACEBOOK THEIR AVERAGE USER IS OVER 50 RIGHT NOW. SO WHEN WE'RE THINKING ABOUT HOW DO WE TALK TO AND THEN WHAT IS THE NEXT GENERATION, GEN-Z AND BEYOND SORT OF COMING UP IN THE POLITICAL SPACE, HOW ARE THEY VIEWING POLITICS, HOW ARE THEY SEEING IT, THROUGH WHAT APPS? I THINK HAVING A CONVERSATION AROUND TIKTOK WOULD ALSO BE HELPFUL HERE. THERE WAS A
RECENT STUDY DONE THAT FOUND IF YOU LIKED TRANSPHOBIC TIKTOKS WITHIN 14 DAYS OF BEING ON THE APP AN HOUR A DAY IT WOULD HAVE BROUGHT YOU FROM SORT OF CONTENT THAT PROMOTED TRANSPHOBIA ALL THE WAY TO SORT OF THE NEO NAZI AREA AND CONTENT. WE DON'T REALLY TALK ABOUT TIKTOK ALGORITHMS OR THE INFLUENCE IN POLITICS ON TIKTOK NEARLY AS MUCH AS WE DO ON FACEBOOK. BUT SEEING AS, YOU KNOW, GEN-Z COMING UP IS GOING TO BE ONE OF OUR BIGGEST VOTING BLOCKS. AND AS THE OLDER GENERATIONS START TO TEETER OFF, IT'S WORTH HAVING A CONVERSATION ABOUT -- >> BOB'S ON MY SPACE AND HE OWNS AN EIGHT TRACK, SO, YEAH. BUT
YOU'RE RIGHT. IF YOU LOOK AT THE TOPOGRAPHY FACEBOOK IS YESTERDAY'S STORY. >> BUT I WANT TO GO BACK TO THE ALGORITHMS FOR A MINUTE BECAUSE I THINK TO MOST PEOPLE THEY'RE LIKE A BLACK BOX. THEY'RE IMPENETRABLE. THEY REALLY DON'T UNDERSTAND THEM. AND WHAT I WAS FASCINATED WITH WAS ONE OF THE REVELATIONS IN THESE FACEBOOK PAPERS WAS THAT SOMEONE AT FACEBOOK HAD SIGNED ON A FAKE ACCOUNT IN NORTH CAROLINA, HAD FOLLOWED DONALD TRUMP AND WAS SUDDENLY BEING INUNDATED WITH QAnon MATERIAL. SO IT SEEMS TO ME THAT'S A PRETTY SIMPLE ALGORITHM. I MEAN IF YOU LIKE TRUMP WE'RE GOING TO
SEND YOU ALL THIS STUFF. KATIE COULD TALK ABOUT THAT. >> IT'S A BIT MORE COMPLICATED THAN THAT. I DON'T KNOW IF MORTEZA OR JOHN OR OTHERS WANT TO CHIME IN. BUT YOU WOULD BE -- YOU'D PROBABLY BE SOMEWHAT SURPRISED WHEN YOU ACTUALLY START GETTING DOWN INTO TRYING TO DEFINE SOME OF THE CONTENT. AND I THINK A LOT OF WHAT THE FILES SHOW IS HOW DIFFICULT -- HOW THE DIFFICULTY FACEBOOK IS HAVING WITH THEIR AUTOMATED INTELLIGENCE AND WHAT'S CALLED CLASSIFIERS TO ACTIVELY FIND AND IDENTIFY THIS CONTENT, HOW MUCH THAT IS STILL IN A NASCENT STAGE AND DOESN'T CATCH A LOT OF CONTENTCH. >> THAT'S EXACTLY RIGHT. AND THAT'S WHY I DISAGREE WITH
ALGORITHMIC TRANSPARENCY. FOR MOST PEOPLE IN THE WORLD IF WE PROVIDE EVEN THE CODES FOR THE ALGORITHM THEY'RE NOT GOING TO BE ABLE TO UNDERSTAND WHAT'S GOING ON. IF YOU PROVIDE THE CODES TO ENGINEERS, THEY'RE NOT GOING TO UNDERSTAND WHAT'S GOING ON.
TEASE ARE SOPHISTICATED ALGORITHMS WITH BILLIONS OF PARAMETERS THAT GETS AUTOMATICALLY UPDATED, AND THEY LEARN OVER TIME ABOUT PEOPLES BEHAVIORS. AND THEY OPTIMIZE BASED ON ENGAGEMENT. SO, YES, WE CAN BLAME THE ALGORITHMS, BUT IT IS -- ALGORITHMS ARE THESE HUGE, NEURO NETWORK BLACK BOXES WHICH WE'RE STILL TRYING TO FIGURE OUT HOW THEY OPERATE, BUT IT IS THE FOCUS ON ENGAGEMENT. SO THE ENGINEER OR THE CEO OF THE COMPANY DOESN'T CARE WHAT THE ALGORITHM IS DOING. THE CEO WANTS ENGAGEMENT
TO GO UP. SO IT IS THE DEPENDENT VARIABLE THAT'S PROBLEMATIC HERE, NOT THE ALGORITHM. THE ALGORITHM IS SIMPLY TRYING TO MAXIMIZE THE VARIABLE THAT THE CEO IS INTERESTED IN. >> SO NOW THAT WE'VE SOLVED FACEBOOK BECAUSE WE HAVE LIMITED TIME, LET'S MOVE ON A LITTLE BIT. I WANT TO TALK
ABOUT THE FREE SPEECH ISSUES AGAIN. DONALD TRUMP HAS BEEN BANNED FROM TWITTER. IS THAT AN APPROPRIATE MODEL OF HOW THESE THINGS SHOULD BE POLICED? IS IT ENOUGH? WILL THERE BE ANOTHER TWITTER IN A YEAR AND HE'S NOW LAUNCHED A DIGITAL MEDIA COMPANY TO BUILD HIS OWN PLATFORMS. THE ALGORITHM IS GOING TO LOVE THAT BECAUSE EVERYBODY'S GOING TO AGREE ON 50 VARIABLES. WHAT DO WE THINK ABOUT THAT AS AN INTERMEDIATE STEP? SHOULD THERE BE MORE BANNING? SHOULD YOU BE BANNED FOR LIFE, OR IT DOESN'T MATTER BECAUSE THESE COMPANIES START CONSTANTLY REINVENTING THEMSELVES AND THE SAME HUMANS ARE GOING TO FIND ANOTHER WAY TO USE ANOTHER PIPE TO SEND THEIR MESSAGING. WHAT DO WE THINK ABOUT TWITTER BANS? >> THE TWITTER BAN WAS ALL ABOUT INCITING VIOLENCE AND PRAISING THE VIOLENCE ON JANUARY 6 th. AND THERE'S A TERMS
OF SERVICE AND INCITING VIOLENCE VIOLATES TERMS OF SERVICE. THEY CAN GET IN TROUBLE FOR NOT ENFORCING THEM. SO THERE HAS TO BE SOME -- THERE ARE A LOT OF EXCEPTIONS MADE FOR PUBLIC FIGURES. >> AND ENFORCING IT. ANY OTHER OPINIONS ON THE BAN? ANYBODY THINK IT WAS A BAD IDEA, UNFAIR? NO, GO. >> I STRUGGLE WITH THIS ONE. I STRUGGLE WITH THIS ONE BECAUSE I COME AT IT FROM SUCH A -- I'VE ALWAYS HAD SUCH A FREE SPEECH VIEWPOINT ON THESE THINGS AND HAD A REAL STRUGGLE WITH PEOPLE NOT BEING ABLE TO SEE WHAT THEIR ELECTED OFFICIAL HUSBAND TO SAY, AND I AGREED WITH IT IN THE MOMENT, BUT LONGER TERM I DO WORRY WHAT THIS LOOKS LIKE SHOULD HE RUN AGAIN IN 2024. AND I LOOK AT STEVE BANNON WHO'S ALSO BEEN DEPLATFORMED WITH SOME OF THESE THINGS AND HE STILL HAS A WIDE AUDIENCE. HE'S DOING ALL THESE
REGIONAL DEALS WITH DIFFERENT TV STATIONS AND RADIO STATIONS AND STUFF LIKE THAT TO GET HIS MESSAGE OUT THERE. AND PART OF ME WORRIES DOES THIS JUST PUSH THIS MORE UNDERGROUND AND IT'S ACTUALLY HARDER TO BE KNOWING WHAT THEY'RE DOING AND WHO THEY'RE REACHING RATHER THAN IT BEING MORE OUT THERE. I HONESTLY HAVE NOT COME THAT FULLY DOWN YET ON WHAT I THINK THE RIGHT THING IS. I WONDER IF THERE'S MORE NUANCED APPROACHES WHERE A LOT OF PEOPLE WERE TALKING ABOUT MAYBE THEY CAN HAVE AN ACCOUNT ON A PLATFORM LIKE FACEBOOK BUT IT DOESN'T SHOW UP IN THE NEWS FEED. IT'S NOT AMPLIFIED, NOT PUT IN THE RECOMMENDATION, AND YOU HAVE TO GO RIGHT TO THE PAGE TO ACTUALLY SEE THE CONTENT. MAYBE IT DOESN'T HAVE THE ENGAGEMENT BUTTONS ON IT.
I DON'T KNOW BUT I THINK THE BLACK OR WHITE OF LEAVE IT UP OR TAKE IT DOWN ISN'T NECESSARILY GOING TO BE THE RIGHT THING. >> ANYBODY ELSE ON THAT? ALL RIGHT, WHAT ABOUT -- HERE'S SOMETHING THAT WORRIES ME. THE DEATH OF DISCOURSE. WE'RE IN THIS TRIBAL MODEL WHERE I'M RIGHT, YOU'RE EVIL IS THE BANNER FLOWN BY BOTH PARTIES THAT'S TELLING US OR THAT'S REALIZING THE FACT RATHER THAN TELLING US THAT THE NEXT GENERATION OF VOTERS IF YOU WANT TO TALK TO THEM YOU NEED 9 SECOND TIKTOK VIDEOS BECAUSE THAT'S ALL THEIR ATTENTION SPAN IS GOING TO REWARD.
AND OF COURSE ALGORITHMS THAT SAY OH, THE SHORTER STUFF WORKS BETTER SO FAVOR THE SHORTER STUFF BECAUSE WE GET MORE ENGAGEMENT AND THE CEO MIGHT MAKE ANOTHER $100 MILLION. HOW DO YOU EXPLAIN THIS COMPLICATED STUFF IN AN EMOJI FILLED, VIDEO STIMULATING UNIVERSE? OR DO YOU JUST SAY GO TEAM? IS THAT A PROBLEM OR AM I AN OLD FOGEY OVERREACTING TO IT? >> I THINK I CAN START WITH THIS ONE. I THINK A LOT OF WHAT WE DO WHETHER WE THINK ABOUT OUR OUTREACH AND AUDIENCE IS, ONE, MEETING THEM WHERE THEY ARE. SO IF WE'RE TRYING TO TALK TO YOUNG VOTERS
WE'RE PROBABLY NOT GOING TO SPEND A LOT OF TIME ON FACEBOOK. NO OFFENSE TO THOSE WHO DO. IF WE'RE GOING TO TALK TO OLDER VOTERS AND LOOK FOR OLDER VOTERS WE ARE GOING TO BE TALKING TO OLDER VOTERS. AND SIMILARLY WHEN WE START TO BREAK DOWN THE OTHER DEMOGRAPHICS, ETHNICITY, LANGUAGE PREFERENCE, LEVEL OF EDUCATION, LEVEL OF INCOME, SO MUCH OF WHAT WE DO IN TERMS OF SERVING THEM CONTENT IS MAKING SURE WHAT WE PUT IN FRONT OF THEM IS GOING TO RESONATE WITH THEM. SO I THINK IT'S HARD TO SAY LIKE ACROSS THE BOARD WE NEED TO HAVE THESE, YOU KNOW, 7 TO 15-SECOND REPUBLICAN SNACKABLES. IT'S HARD TO SAY THAT SNACKABLES ARE NOT
GOING TO CONVEY THE MESSAGE WHEN MAYBE THEY'RE PART OF A LARGER MEDIA PLAN THAT INCLUDES A 2-MINUTE VIDEO EXPLAINING A PARTICULAR ISSUE AREA OR BANNER AD, SO THE AD IF YOU'RE READING LIKE A NEWS WEBSITE THE ADS ARE ACROSS OR DOWN THE SIDE. MAYBE THOSE ARE ALSO SORT OF LAYERING ON MORE INFORMATION. SO I THINK IT REALLY COMES DOWN TO SORT OF WHO YOUR AUDIENCE IS AND DO THEY HAVE THE ATTENTION SPAN OR THE BANDWIDTH TO READ AN 800-WORD SORT OF EXPOSE OR DEEP DIVE ON "THE WASHINGTON POST." >> WELL, WE WERE SHOWING MY YOUNG DAUGHTER FOR THE FIRST TIME "THE PRINCESS BRIDE" AND "THE GRANDFATHER." THERE'S A
WONDERFUL LINE AND THE KID GOES THIS IS A BOOK, WHAT WE USED TO CALL TELEVISION. IF A KID WANTS A CHOICE THEY'RE GOING TO GO FOR THE SNACK NOT A BALANCED MEAL. WHAT DIGITAL DOES IS GIVE PEOPLE CHOICES AND DISRUPT THINGS AND CREATES BILLIONAIRES. THE SENTIVE SEEMS TO BE LINED UP TO BE A
SNACK-HEAVY DI. SHOULD THERE BE PUSH BACK ON THAT, OR IT'S JUST A WAY OF COMMUNICATION WE'VE GOT TO ADAPT TO WHAT IS? >> I THINK THE LAST THING YOU SAID REALLY HIT IT ON THE HEAD, IT IS THE SORT OF WAY OF COMMUNICATION. AND I THINK THAT IT'S SOMETHING WE'VE SEEN SORT OF GENERATIONAL REGENERATION. WHEN THE RADIO BECAME THE THING AND PEOPLE WEREN'T JUST EXCLUSIVELY READING NEWSPAPERS, THERE WAS THAT SAME SORT OF FEELING, WHEN TV BECAME A THING, WHEN STREAMING BECAME A THING. EVERY
GENERATION, EVERY DECADE HAD THAT SORT OF PIVOT AND SHIFT. AND I THINK WHEN WE'RE TALKING ABOUT IT ESPECIALLY LIKE MYSELF AS A PRACTITIONER, IT'S LESS ABOUT LIKE HOW CAN WE COMBAT WHAT WE DISAGREE WITH OR WE DON'T THINK IS THE MOST EFFECTIVE AND REALLY LET THE DATA SPEAK FOR ITSELF? WHAT IS EFFECTIVE RIGHT NOW? WHAT IS WORKING RIGHT NOW AND REALLY JUST LET THE DATA DRIVE OUR APPROACH AND OUR STRATEGY. >> LET ME JUMP OFF THAT, AND BEFORE WE GO TO AUDIENCE QUESTIONS ASK EACH OF YOU A GENERAL QUESTION. ARE YOU FEARFUL ABOUT THE FUTURE OF DEMOCRACY IN THIS DIGITAL AGE, AND WOULD IT HAVE BEEN DIFFERENT IF DONALD TRUMP HADN'T COME ALONG? AND ANYONE CAN START BUT I'D LIKE TO HEAR FROM EACH OF YOU. >> I'LL START. I AM FEARFUL, AND I THINK THAT, YOU KNOW, WE HAD A PANEL ABOUT THIS LAST YEAR ON TRIBALISM.
AND ONE THING THAT WAS EMPHASIZED THAT LEADERSHIP DOES MATTER. IT'S THE JOB OF THE LEADERS TO -- TO APPEAL TO THE BETTER ANGELS OF OUR NATURE, NOT THE WORST ANGELS OF OUR NATURE. I DO THINK THAT DONALD TRUMP HAS BEEN TRANSFORMATIVE FOR BETTER OR FOR WORSE. >> MORTEZA, ARE YOU FEARFUL? >> I AM FEARFUL AS WELL. I SEE TRUMP AS A CONSEQUENCE NOT AS A CAUSE, TOW. I THINK THIS IS MORE OF, YOU KNOW, THE
PROPERTIES OF OUR SOCIETY AND THE PROPERTIES OF HOW THE TECHNOLOGY IS AFFECTING OUR SOCIETY. AND NOT JUST THE U.S. I MEAN WE SEE DONALD TRUMPS ALL ACROSS THE WORLD. WE SEE A DONALD TRUMP IN HUNGRY, IN BRAZIL. WE SEE THEM ALL OVER, AND YES, THEY ARE USING SOCIAL MEDIA FOR THEIR BENEFITS. MAYBE NOT WITH THE SAME EXTENT OR TO
THE SAME EXTENT AS DONALD TRUMP, BUT SOCIAL MEDIA IS PLAYING AN IMPORTANT ROLE IN FEEDING THESE THEOCRACIES. AND PEOPLE WHO WANT TO HAVE CONTROL OVER THE MASSES. AND I THINK IF THERE IS NO REGULATION THE TREND WILL SIMPLY CONTINUE. AND WE WILL HAVE MORE COUNTRIES AND MORE, YOU KNOW, PLACES IN THE WORLD MISUSE THESE SOCIAL MEDIA WHICH WERE INTENDED FOR PASSING ON INFORMATION TO ESSENTIALLY HAVE MORE CONTROL OVER THEIR POPULATIONS. >> ANYONE ELSE WANT TO WEIGH
IN? >> YEAH, MAYBE I'M NERVOUS. I DON'T THINK ALL HOPE IS LOST YET. BUT I THINK THE NEXT FIVE YEARS IS WHERE THE DIE MAY BE CAST IF WE DON'T ACT OR TAKE SOME ACTIONS. I'M PARTICULARLY NERVOUS ABOUT 2024 BECAUSE NOT ONLY WILL THERE BE THE U.S. PRESIDENTIAL ELECTION THAT YEAR BUT ELECTIONS IN INDIA, INDONESIANA, MEXICO, TAIWAN AND THE U.K. AND THE EUROPEAN PARLIAMENT. AND THAT'S NEVER HAPPENED BEFORE THAT WE'VE
HAD ALL THESE COUNTRIES GO TO THE POLLS AROUND THE SAME TIME. AND I'M WORRIED COMPANIES, THE MEDIA, THE GOVERNMENT AND INTERNATIONAL ORGANIZATIONS JUST ARE NOT READY FOR THAT MANY ELECTIONS TO BE HAPPENING ALL AT THAT SAME TIME. PLUS JUST THE FACT IT'S GOING TO BE SUCH A HUGE GEOPOLITICAL MOMENT IN TERMS OF THE POTENTIAL CHANGES AROUND LEADERSHIP. >> AND I TOO SORT OF ECHOING THE SENTIMENT OF EVERYONE ON THIS PANEL, I TOO AM VERY, VERY NERVOUS AND FEARFUL ABOUT THE FUTURE OF OUR DEMOCRACY. I'M COMPLETELY IN FAVOR OF REGULATIONS WITH THE CAVEAT THAT THESE REGULATIONS REALLY NEED TO BE DONE WITH SORT OF A SCALPEL AND NOT A HAMMER. I THINK WHAT WE'VE SEEN FROM A LOT
OF SENATE COMMITTEE HEARINGS AND THINGS LIKE THAT, SOME OF THE PEOPLE WHO ARE BEING TASKED WITH MAKING THESE REGULATIONS AND WORKING ON LEGISLATION JUST AREN'T -- AREN'T IN EVERY DAY. SO THEY THINK, YOU KNOW, WE'RE GOING TO PUT THIS REGULATION UP, IT'S GOING TO HELP SOLVE THESE THINGS BUT WITHOUT REALLY KNOWING OR UNDERSTANDING THE NUANCE OF, WELL, THIS MIGHT ACTUALLY IMPACT VOTERS OF COLOR MORE OR IMPACT WOMEN VOTERS MORE AND HAVE A NEGATIVE IMPACT THERE. SO I AM REALLY FEARFUL BOTH ON THE DIRECTION OF WHERE POLITICAL DISCOURSE AND CONVERSATION IS GOING AND LEVELS OF EXTREMISM BUT ALSO WHEN IT COMES TO REGULATIONS, I DON'T HAVE A LOT OF CONFIDENCE THAT THE REGULATIONS ARE BEING DONE OR BEING CREATED BY PEOPLE WHO DON'T NECESSARILY HAVE A NUANCED UNDERSTANDING OF THE IMPACT AND WHAT THOSE REGULATIONS ARE GOING TO BE. >> SO ONE QUICK POINT AND PEOPLE SHOULD SEND US QUESTIONS BECAUSE WE'RE GOING TO THAT IN ABOUT TWO MINUTES, SO PLEASE SEND THEM INTO THE CHAT ROOM. I HEAR A LOT ABOUT DIGITAL TECHNOLOGY AS WONDERFUL BECAUSE IT'S DEMOCRATIZED FUND-RAISING, TAKING IT AWAY FROM THE BIG BUNDLERS. I ACTUALLY TAKE THE OPPOSITE VIEW. IN THE OLD DAYS YOU NEEDED
MONEY TO COMMUNICATE WITH PEOPLE WITH ADVERTISING. SO YOU'D GO MEET WITH SMALL GROUPS OF ELITES, LABOR UNION LEADERS IF YOU'RE ON THE LEFT, CONSTITUENCY GROUPS ON THE RIGHT, THE CHAMBER OF COMMERCE, IDEOLOGICAL LEADERS WHO MIGHT BE IDEOLOGICAL BUT THEY WERE PRAGMATIC. NOW IF YOU GET REALLY MAD ON AN E-MAIL LIST THE MARJORIE TAYLOR GREENES OF THE WORLD CAN GET MONEY ON THEIR OWN WITH NO DEMOCRATIZING OR CONTROL. >> I THINK THAT'S A REALLY DANGEROUS CONVERSATION TO WALK INTO, RIGHT? BECAUSE WHERE IS THAT LINE DRAWN OF THIS PERSON IS QUALIFIED OR THIS PERSON IS PRAGMATIC VERSUS WHERE THEY MIGHT BE KIND OF A NUT. AND I THINK WHEN LINES LIKE THAT ARE DRAWN, THEY TYPICALLY TEND TO BE DRAWN NOT IN FAVOR OF PEOPLE OF COLOR AND NOT IN FAVOR OF WOMEN. SO WHEN THINKING ABOUT THAT I THINK IT'S KIND OF
A COMPLICATED -- IT'S A COMPLICATED QUESTION TO ASK WHEN WE'RE THINKING ABOUT SEGMENTING WHO SHOULD BE QUALIFIED TO GIVE AND WHO SHOULDN'T. >> LET ME JUST QUALIFY, ANYBODY CAN GIVE. BUT I'M TALKING ABOUT ELITES USED TO -- THERE WAS A FILTER PROCESS THAT WASN'T SO MUCH IDEOLOGICAL BUT PRAGMATIC. I DON'T SCORE MARJORIE TAYLOR GREENE TWO PLUSES FOR BEING FEMALE IN A CONGRESS THAT DOESN'T HAVE ENOUGH WOMEN AND ONLY ONE POINT FOR BEING CRAZY BECAUSE SHE HAS A FUND-RAISING LIST AND CAN RAISE ALMOST $5 MILLION AND ALMOST UNTOUCHABLE THROUGH TIJTLE FUND-RAISING. SO I TAKE YOUR POINT, CHERYL, ABOUT YOU DON'T WANT THE FILTER TO OVERREACT. HAS
DEMOCRATIZING LOW DOLLAR FUND-RAISING TO TAKE POWER AWAY FROM THE GATE KEEPERS A GOOD THING, A GREAT THING OR A THESE DAYS A MIXED THING? MAYBE I'M TOTALLY WRONG. >> I THINK I'VE BEEN THINKING ABOUT IT IS A LOT BECAUSE IT'S THE INCENTIVES IT'S ENCOURAGED, RIGHT? BECAUSE THE FACT YOU CAN GO AND YOU CAN FUND RAISE ACROSS THE ENTIRE COUNTRY. AND I CAN'T BELIEVE I'M SAYING THIS AS A REPUBLICAN AND I DON'T THINK I WOULD HAVE SAID IT A FEW YEARS AGO. BUT DO WE MAKE IT THAT PEOPLE CAN ONLY FUND RAISE FROM PEOPLE IN THEIR DISTRICT OR THE PEOPLE THEY REPRESENT? WOULD THAT CHANGE THE INCENTIVES AT ALL? I DON'T KNOW IF IT WOULD OR NOT. YOU FIND THESE THINGS TO TEND TO
JUST MOVE -- THERE COULD BE UNINTENDED CONSEQUENCES NO MATTER WHAT. AGAIN, THIS IS ONE OF THOSE THINGS I DON'T WANT TO THROW THE BABY OUT WITH THE BATHWATER IN TERMS OF SOME OF THE VERY GOOD IT'S DONE IN HELPING PEOPLE TO BE A PART OF THESE CAMPAIGNS, BUT IT ABSOLUTELY NEEDS SOME MORE GUARDRAILS AROUND IT. >> OKAY, I THINK IT'S TIME FOR QUESTIONS UNLESS ANYBODY HAS A WRAP UP THOUGHT THEY'D LIKE TO CONTRIBUTE.
QUESTION ONE IS SOME PEOPLE BLAME SOCIAL MEDIA FOR THE FUNDING A CULT. SOME PEOPLE BLAME SOCIAL MEDIA FOR THE DISINFORMATION AND DIVISION IN AMERICA. BUT THE MAIN CAUSE ACCORDING TO RICH IS THE MASSIVE DISSEMINATION OF FALSE PROPAGANDA BY MAJOR MEDIA OUTLETS, POLITICIANS AND FOREIGN GOVERNMENTS. HOW MUCH OF THIS ATTACK ON SOCIAL MEDIA IS AN
ATTACK ON REGULAR PEOPLES SPEECH RATHER THAN ADDRESSING THE ACTUAL SOURCES OF DISINFORMATION? ANYBODY? >> I THINK IT'S A REALLY INTERESTING QUESTION AND AN INTERESTING CONVERSATION TO BE HAD. WHEN IT COMES TO SOCIAL MEDIA I WOULD THINK ABOUT IT LESS AS SORT OF THE END-ALL, BE ALL AND MORE OF A VEHICLE TO GET INFORMATION OUT THERE. SO WHEN WE THINK ABOUT SOME OF THE MORE EXTREME NEWS NETWORKS LIKE OAN, INFO WARS, CONVERSATIONS LIKE THAT THAT ARE HAPPENING, A LOT OF HOW THEY GET THAT INFORMATION OUT THERE IS THROUGH SOCIAL MEDIA, SO WHILE FACEBOOK MIGHT NOT BE THE PEOPLE WHO ARE PRODUCING THAT CONTENT, THAT CONTENT MIGHT BE PRODUCED BY THESE SEPARATE, INDEPENDENT OUTLETS, A LOT OF THE WAY THAT INFORMATION, THE LANGUAGE, THE VIDEO CLIPS, THE POSTS ARE THROUGH SOCIAL MEDIA, AND I THINK THAT SORT OF OPENS UP A CONVERSATION ABOUT ACCESSIBLE, RIGHT? AM I GOING TO GO TO A SPECIFIC NEWS WEBSITE EVERY SINGLE DAY JUST TO LOOK AT WHAT THEY'RE POSTING? OR AM I GOING TO GO TO A SOCIAL MEDIA PLATFORM WHERE I CAN SEE EVERYTHING FROM FRIENDS AND FAMILY, AND THEN I'M ALSO GETTING INCLUDED IN SORT OF THE WAVE OF POLITICAL NEWS INFORMATION? SO I THINK THERE'S A BIT ON BOTH ENDS, BUT IT'S IMPORTANT TO REMEMBER FACEBOOK AND SOCIAL MEDIA DOES OPEN UP ACCESSIBILITY WHERE IT MIGHT NOT HAVE HAPPENED BEFORE. >> AND GOOD POINT, AND I HAVE ANOTHER PERSPECTIVE FROM A LEGAL STANDPOINT. WE TRACK COMPUTER EVIDENCE WHETHER IT'S IMPORTANT NETWORKS BUT ALSO ON SOCIAL MEDIA. AND YOU TALK TO LITIGATORS THESE DAYS AND THEY'LL SAY SOCIAL MEDIA IS THE NEW E-MAIL. AND THAT'S WHERE ALL THE
EVIDENCE IS. AND I'VE BEEN TRACKING THE JANUARY 6th CASES. YOU LOOK AT THE INDICTMENTS AND 90% OF THE EVIDENCE PROSECUTORS ARE CITING IN THEIR INDICTMENTS COME FROM SOCIAL MEDIA PLATFORMS. AND THE REASON FOR THAT IS THAT, AGAIN, THE USERS WANT TO GET ENGAGED THEMSELVES. THEY WANT AS MANY LIKES AS POSSIBLE, AS MANY RE-TWEETS AS POSSIBLE. SO BY DOING THAT YOU'VE GOT TO MAKE POSTS THAT ARE COMPELLING. AND, YOU KNOW, IT'S EASY IF YOU'RE A CELEBRITY TO DO THAT WITH YOUR OWN CONTENT. BUT FOR EVERY DAY
FOLKS, YOU KNOW, A LOT OF THAT CAN BE DONE THROUGH INCENDIARY POLITICAL CONTENT. BUT IT'S ALSO CONTENT THAT CAN INCRIMINATE YOU AND, YOU KNOW, IN THE CRIMINAL CONTEXT OR CIVIL CONTEXT. AGAIN, IT ALL COMES DOWN TO ENGAGEMENT. AND THAT STUDY WHERE MISINFORMATION IS GOING TO BE SIX TIMES MORE LIKELY TO BE TERMS OF ENGAGEMENT THAN TRUTHFUL CONTENT. >> IF TECH COMPANIES CAN PREDICT BY CONSUMER BEHAVIOR NEARLY BETTER THAN I CAN RIGHT NOW AS THEIR ALGORITHMS BECOME SMARTER AND MORE SOPHISTICATED, IT'S NOT TOO FAR-FETCHED TO THINK ONE DAY THEY'LL NOT ONLY BE ABLE TO PREDICT MY BEHAVIOR BUT ALSO INFLUENCE AND DRIVE MY BEHAVIOR. THAT MAY ALREADY BE HAPPENING. WHAT ARE THE PANELISTS THOUGHTS ON THIS AND HOW IT IMPACTS CHOICE IN, QUOTE, FREE AND FAIR ELECTIONS. BECAUSE
ELECTING GOVERNMENT OFFICIALS IS LOT MORE IMFACTFUL THAN BUYING A PAIR OF SOCK. AND I NOW HAVE AN URGE TO BUY A PAIR OF SOCKS SO I THINK THE INTERNET HAS ALREADY STRUCK. WHAT DOES IT SAY? DOES IT CONTROL BEHAVIOR, OR JUST IT'S EFFECTIVE TO -- >> IT ABSOLUTELY CAN. I MEAN IF IT
CAN CONTROL OUR CONSUMING BEHAVIOR IT CAN CONTROL MANY DIFFERENT FACETS OF OUR LIVES. AND IT ALREADY DOES. IT ALREADY CONTROLS WHAT WE LOOK AT IT. IT ALREADY CONTROLS WHO WE LISTEN TO. AND IT CAN DEFINITELY PREDICT OUR BEHAVIOR. MAYBE NOT TO THE -- YOU KNOW, TO THE FULL EXTENT THAT THE COMPANIES LIKE TO CURRENTLY. BUT WE SHOULD REMEMBER THAT THESE COMPANIES HAVE INFORMATION ABOUT EVERY LITTLE DETAIL OF OUR LIVES, HOW MUCH TIME WE SPEND TALKING TO OUR SIGNIFICANT OTHERS AND HOW MUCH TIME WE SPEND PRIVATELY.
SO IF THIS INFORMATION IS AVAILABLE AND IF THERE ARE SMART ALGORITHMS OUT THERE, THEN, YES, THEY CAN PREDICT OUR BEHAVIOR TO A GOOD EXTENT. >> I WOULD COMPLETELY AGREE WITH THAT, AND I THINK IT'S SOMETHING WE TEND TO FORGET IN THE POLITICAL SPACE IS THAT IN THE CORPORATE SPACE THEY'VE BEEN DOING THIS FOR A LOT LONGER AND DOING A LOT BETTER THAN WE ARE. SOME OF THE DATA POINTS WE DON'T GENERALLY TALK ABOUT IN TALKING ABOUT POLITICAL THAT THEY DO USE IN CORPORATE SPACES ARE THINGS LIKE GEO PRICING. IF YOU WALKED INTO A TARGET TARGET JUST KNOWS YOU WALKED IN THERE. WHETHER THEY KNOW YOU'RE ON THE TARGET APP, THEY KNOW YOU AS AN INDIVIDUAL WITH YOUR PHONE THAT LIVES AT THAT ADDRESS JUST WALKED INTO A TARGET. SO THEY KNOW IF YOU'RE THE TYPE OF PERSON THAT GOES INTO A TARGET THREE TO FOUR TIMES A MONTH. THEY'RE THE TYPE TO KNOW WHAT IT IS YOU BOUGHT FROM THERE, TO KNOW HOW
TO SERVE YOU OTHER ADS. SOME OF THE THINGS WE HAVE SORT OF BEEN EXPERIMENTING WITH ON THE POLITICAL SIDE IN ORDER TO BETTER TARGET PEOPLE BUT FROM A CONSUMER I'M A LITTLE BIT CONCERNED WE HAVE THIS MUCH DATA AVAILABLE ARE THINGS LIKE WHAT LANGUAGES YOU SPEAK. IF YOU HAVE A SPANISH KEYBOARD ON YOUR PHONE DID YOU KNOW THAT THAT DATA IS FOR SALE? AND SO IF SOMEBODY WANTED TO TARGET PEOPLE WHO SPEAK SPANISH KNOWING THAT YOU HAVE A SPANISH KEYBOARD ON YOUR PHONE GIVES THEM THAT ABILITY TO DO THAT. DATA POINTS LIKE INCOME LEVEL, LEVEL OF EDUCATION, WHERE YOU WENT TO SCHOOL, WHEN YOU GRADUATED, ALL OF THAT DATA IS AVAILABLE FOR CORPORATE AND CONSUMERS. AND SO IT SORT OF BECOMES A QUESTION OF HOW AND IF WILL POLITICAL USE THAT TO INFLUENCE AND BUILD MODELS ON VOTERS AND THEN INFLUENCE THE OUTCOMES OF THE ELECTIONS. >> ABSOLUTELY. IN FACT, THAT'S WHY I KEEP MY PHONE IN A FARADAY CAGE HERE TO GO RIGHT OFF THE GRID. OLD TRICK I LEARNED WORKING
IN THE FORMER SOVIET UNION. THANK YOU, EVERYBODY. THIS HAS BEEN INCREDIBLE. APPRECIATE YOUR EXPERTISE. WE HAVE OUR NEXT BULLY PULPIT IS COMING UP ON WEDNESDAY, NOVEMBER 3 rd. SO PLEASE JOIN THE CENTER FOR POLITICAL FUTURE NEXT WEDNESDAY FROM 12:00 TO 1:00 P.M. FOR A DISCUSSION
ON THE U.N., UNITED NATIONS CLIMATE SUMMIT. ALL THE DETAILS AND REGISTRATION AND ALL THE INFORMATION ABOUT THE CENTER IS ON OUR WEBSITE, THE USC CENTER FOR POLITICAL FUTURE. YOU CAN FOLLOW US ON TWITTER. THANK YOU SO MUCH, EVERYBODY. I THINK IT WAS A REALLY GREAT
DISCUSSION. BOB, ANY FINAL WORDS? >> NOPE. I WANT TO THANK OUR AUDIENCE, AND I WANT TO THANK CHERYL, JOHN, KATIE, MORTEZA. I THOUGHT THIS WAS A REALLY INTERESTING DISCUSSION. AND IT LEFT ME APPREHENSIVE ABOUT WHERE WE'RE HEADED AND WHETHER OR NOT A FREE SOCIETY CONSTRUCTED THE WAY OURS IS COMPATIBLE WITH A DIGITAL SOCIETY THAT'S BEING CONSTRUCTED THE WAY IT'S BEING CONSTRUCTED. THANK YOU ALL VERY MUCH.
2021-10-27 16:53
Show Video
Other news